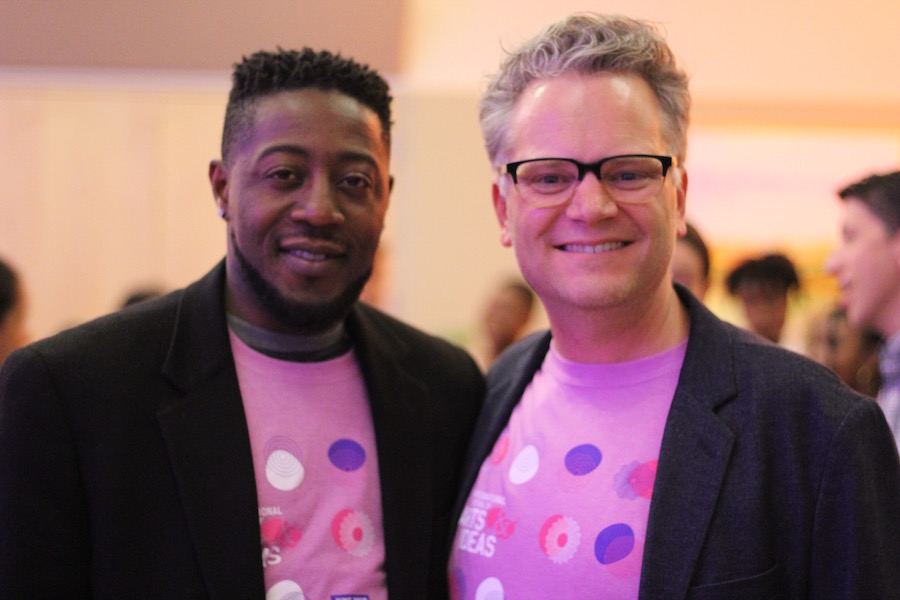 International Festival of Arts & Ideas | Arts & Culture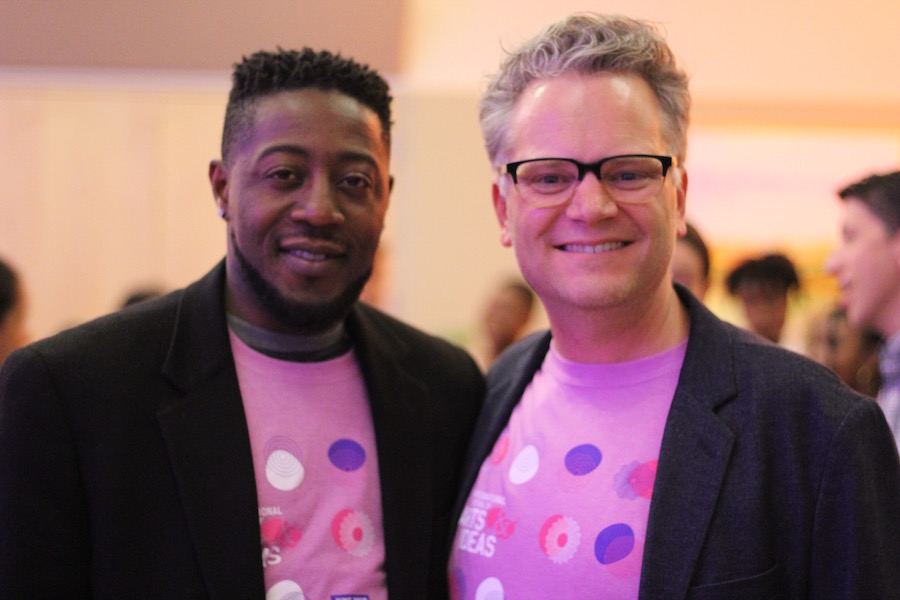 A & I Neighborhood Festival Coordinator Chaz Carmon and Festival Co-Director Chad Herzog. Lucy Gellman Photos.
Chad Herzog gave the International Festival of Arts & Ideas four years. Now he's saying goodbye to New Haven—and finding it harder than he once thought it would be.
The International Festival of Arts & Ideas announced this week that Herzog, who supervises programming as one of three co-directors of the festival, has been named Executive Director at UA Presents, the performing arts arm of the University of Arizona in Tucson. He begins there August 1, after the conclusion of this year's festival.
"It's extremely bittersweet," he said in an interview Thursday afternoon. "I'm really proud of the work that the festival's been doing. I'm proud that the festival recovered after 2016, when the money was taken away. Realizing how hard 2017 was for everybody, we still were able to make a festival happen."
Focusing on the past two years, Herzog added that "I'm proud of the work that we've been doing in this city." He praised the Undoing Racism workshop that Arts & Ideas sponsored in October of last year as a place for New Haven's arts professionals to talk about diversity, equity and inclusion. He called the
Herzog joined the festival in June 2015, initially responsible for coordinating and implementing artistic programming. In 2016, he helped see the festival through a massive budget cut from the state, during which programming shrank. After the departure of longtime director Mary Lou Aleskie in 2016, he joined Elizabeth Fisher and Tom Griggs as a co-director of the festival in fall 2017.
At that time, Herzog said the festival's plan was to reopen a search for an executive director as the festival approached its 25-year mark, which will fall in June 2020. Reached by phone Friday morning, Co-Director Tom Griggs confirmed that leadership would not be bringing on a third new director, but added that "the country and the world is filled with incredible arts administrators and we will find someone to continue" Herzog's work.
He also noted that the team has already laid much of the festival's groundwork for next year, including a grant application that has already been submitted to the National Endowment for the Arts.
"It is bittersweet because we will miss Chad and the way that he does his work," Griggs said. "We so much enjoy working together, and respect the work that we each do. It's been a really great experience, this threesome that everyone didn't understand. It worked because we all three worked together."
And yet, Griggs said, he and Fisher are also thrilled for Herzog. His departure comes as staff and board are just starting to read through the results of a community-wide survey from consultant Michael J. Negrón, which they hope will inform decisions as they reopen a search for new executive leadership next year. While Griggs said the group received the 89-page results only this week, Griggs said that staff already want to involve the community and may schedule an "Ideas" program around those findings this summer.
Herzog, meanwhile, is getting ready to head west—after the 24th festival is over in late June. It's not the first time he'll be living in Arizona—he grew up in North Phoenix, graduating from high school in 1995 and then moving to the East Coast for college in Pennsylvania.
Thursday, he recalled a series of field trips to Tucson, including one with his middle school jazz band to compete on the same university stage where many of UA Presents' performances take place.
His return to that part of the country marks almost exactly two decades away. At UA Presents, he will be responsible for connecting the university's nearly 45,000 students with arts and culture on a daily basis.
"It's really awesome," he said of the position. "When you think about the role of a university in this country, it's to 'train' future scientists, politicians, business people, lawyers, even artists. But what we fail to train are future audience members or culture goers. And that's what I'm excited about … making sure that arts and culture become central and core to all of our lives. If we don't start doing it now, what does that mean for our future?"
He noted cuts to arts offerings in both public schools and community spaces that have turned culture into a rarefied and sometimes economically prohibitive activity. Currently, he said, most teens and young adults don't have a context for live performance outside of their houses of worship, local sporting events or cultural activities in which they or their siblings participate.
"In the world that we live, how do we make sure that we're creating future culture-goers?" he said. "I'm really looking forward to spending some time getting to know the area, getting to know what's making things tick and figuring out who we can be working with."