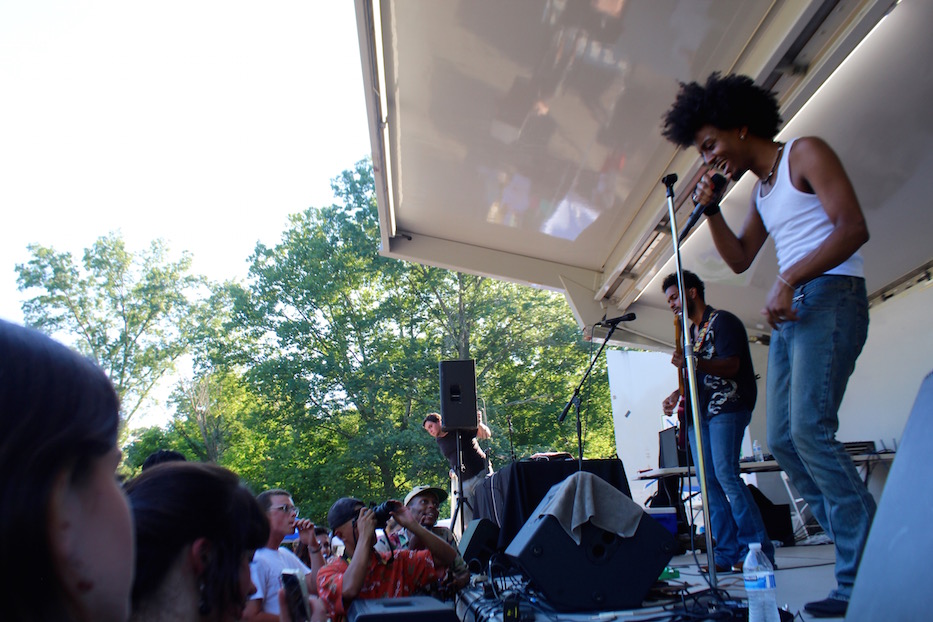 Culture & Community | Music | Arts & Culture | Visual Arts | Westville | Edgewood Park | Skateboarding | Arts & Anti-racism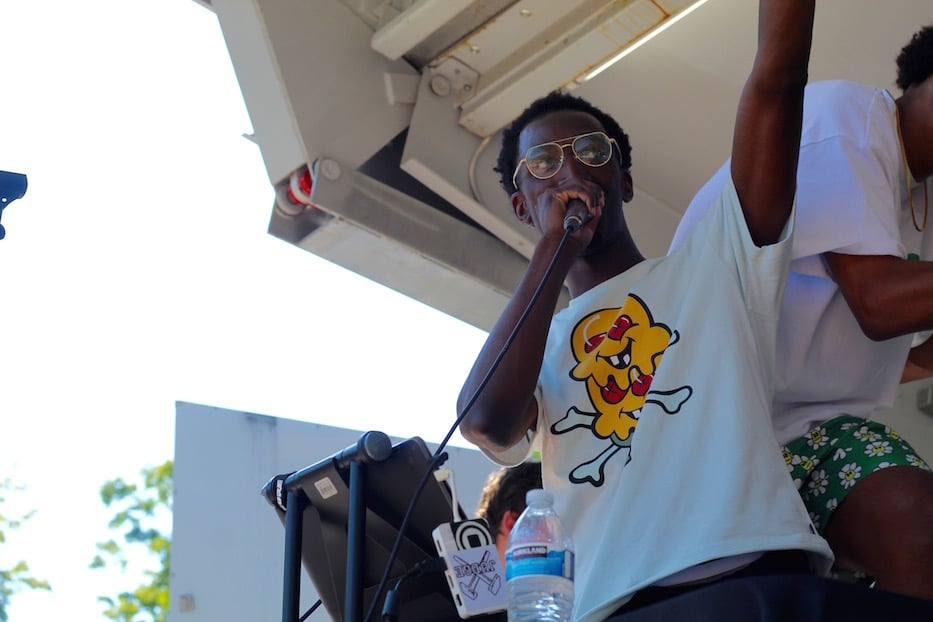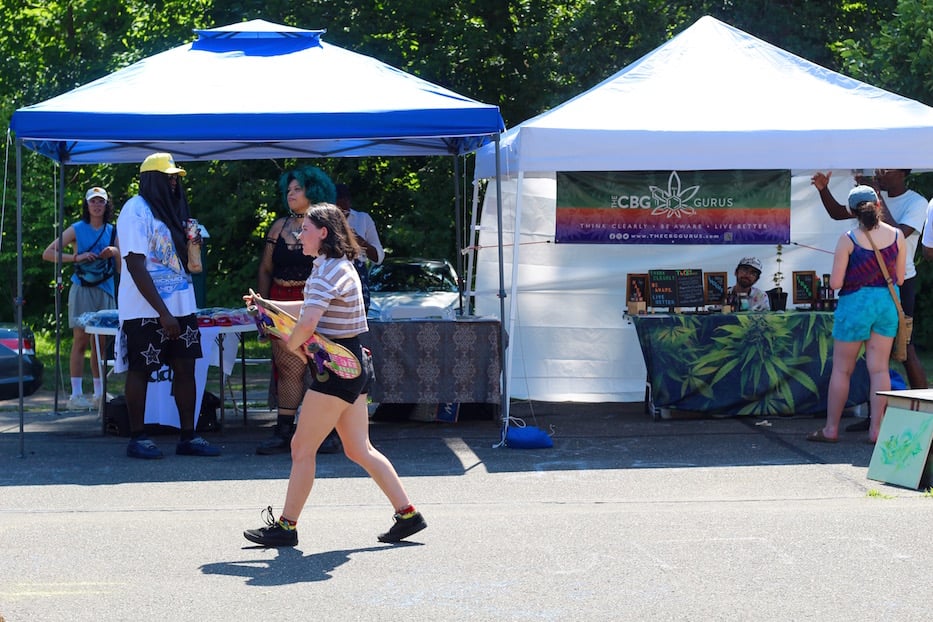 Top: Musician and organizer Trey Moore, who pulled the festival together in under two months. Bottom: Booths for Amira Brown and the CBG Gurus. Videos from the event are at the bottom of this article. Lucy Gellman Photos.
Drums floated through the air as dozens of people nudged toward the stage, grooving into a sweaty summer evening. At stage left, Tim Harewood came in on guitar, jamming in the thick heat. At stage right, Dwele Coore laid down a carpet of sound on the keys. In front of drummer Kaylen Powell, Trey Moore spun around, and began to sing. Note by note, his years-long vision of a music festival was coming to life.
"Everybody come in, it's the last set of the day," he had said just moments before. Three dozen voices cheered in response. "Come in come in come in."
The historic summer heat was no match for musicians, vendors, and dozens of skaters Saturday, as the inaugural Seeing Sounds Music Festival rolled into Edgewood Skate Park for an hours-long celebration of arts, fashion, skate culture and music. The brainchild of musician Trey Moore, the festival nourished the strong bond that exists among skating, music, and fashion.
Videos featuring several of the performances are at the bottom of this article.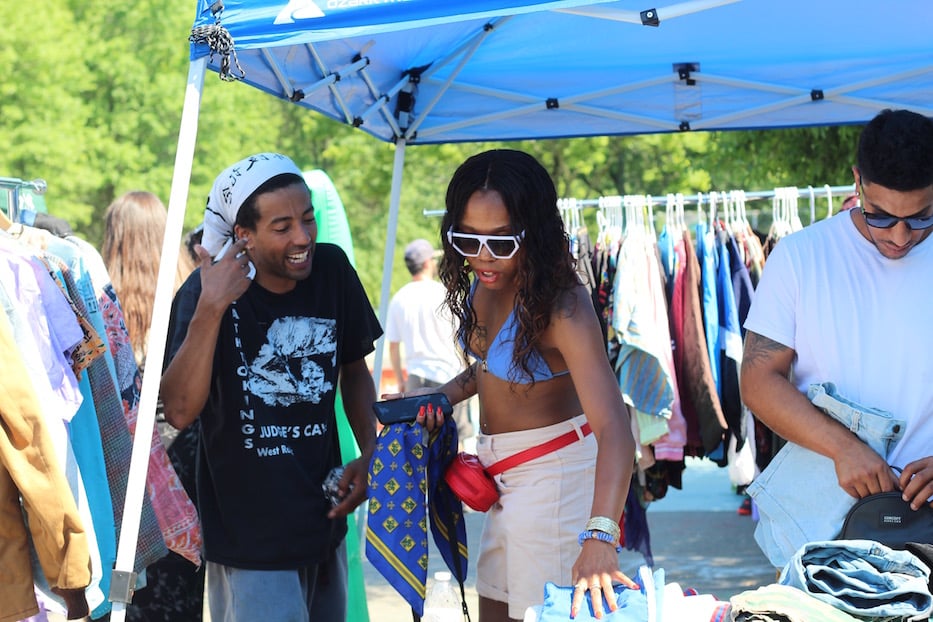 Nate Blair of Elm Thrifted was one of Saturday's vendors. He's been running the business for about two years, he said. Lucy Gellman Photos.
"I've wanted to do this since I was a teenager," said Moore, who organized the event in just under two months. "It was born out of the desire to see people together. I was like, 'I need this here.' We have all these amazing artists here, and all we need is the space to perform. Eventually, I want amusement park vibes, along the lines of Afropunk."
At its core was an eye toward community care, from a synapse-crackling lineup of musicians to cold bottles of water that seemed to appear from thin air. After checking the forecast for the day, Moore set up water and cooling stations, complete with a large misting fan. It seemed that there was a constant line at George's Ice Cream, as attendees nibbled ice cream sandwiches and multicolored sno-cones that glittered in the sun. Moore praised Roller Magic, Long Wharf Theatre and Black Haven, who all jumped in with support.
Vendors arrived Saturday around 11 a.m., and were moving to the music by the early afternoon. As temperatures continued to rise, DJ Ch'Varda kicked off the sun-soaked party with a set from the city's stage. Skaters jogged into the lot with their boards, soon rolling across the park to the music. Steve Roberts, who grew up using the park and now runs the group Push To Start, alternated between skating, listening to the music, and helping man a booth ringed by Acid Wood skateboards.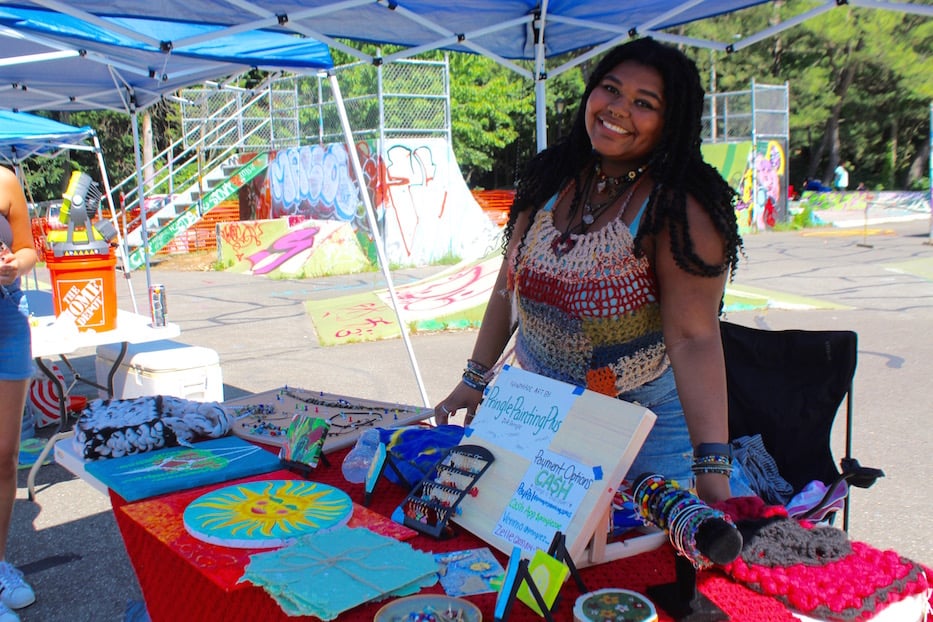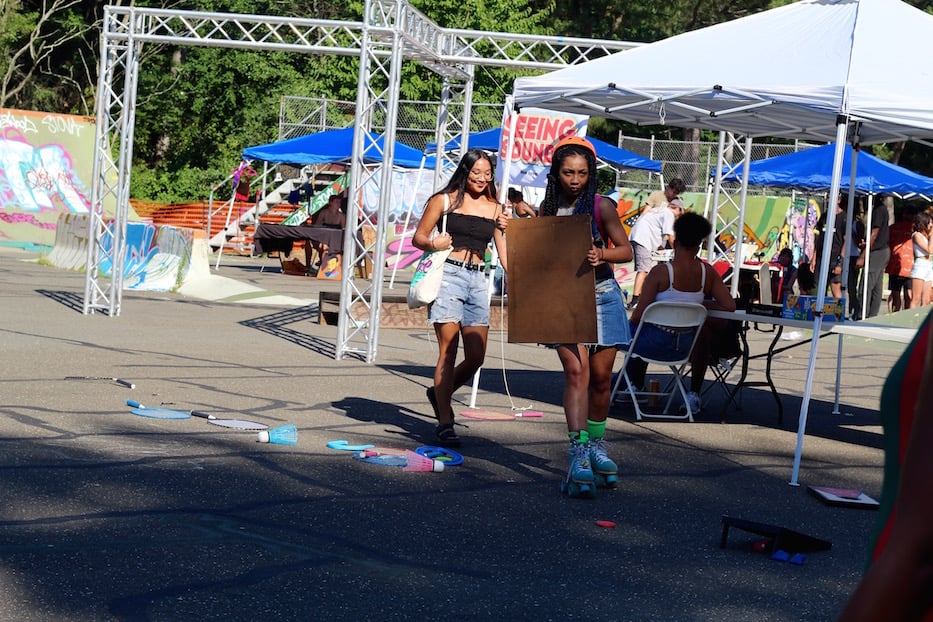 Top: Artist Zoē Pringle. Lucy Gellman Photos.
Several yards back, artist Zoē Pringle greeted attendees beneath a tent for Pringle Painting Plus, where crocheted designs, handmade paper, canvases and hand-beaded jewelry stretched out over a bright red tablecloth. Born and raised in Milford, Pringle started making art seriously as a teenager, but kicked her practice into high gear during the Covid-19 pandemic.
It came from a pandemic-era realization that "I needed to follow my dreams," she said. Pringle graduated from high school in 2020, just months after Covid-19 pushed schools online. In May of that year, she lost her great-grandmother to Covid-19. Around her, she saw people dying as waves of sickness and unemployment swept through Connecticut.
"I was like, 'What am I gonna do with my life?'" she recalled. As she chatted, she sported a hand-crocheted top, the open back to which kept things breezy. "So many people were passing away from Covid."
She landed back at her artistic practice every time. When she started school at Southern Connecticut State University, she declared a minor in art alongside her degree in psychology. Because she cares about both art and mental health, she said, she ultimately hopes to pursue a career in art therapy. In addition to craft, her work dovetails with a belief in environmental sustainability: many of her materials are repurposed and upcycled.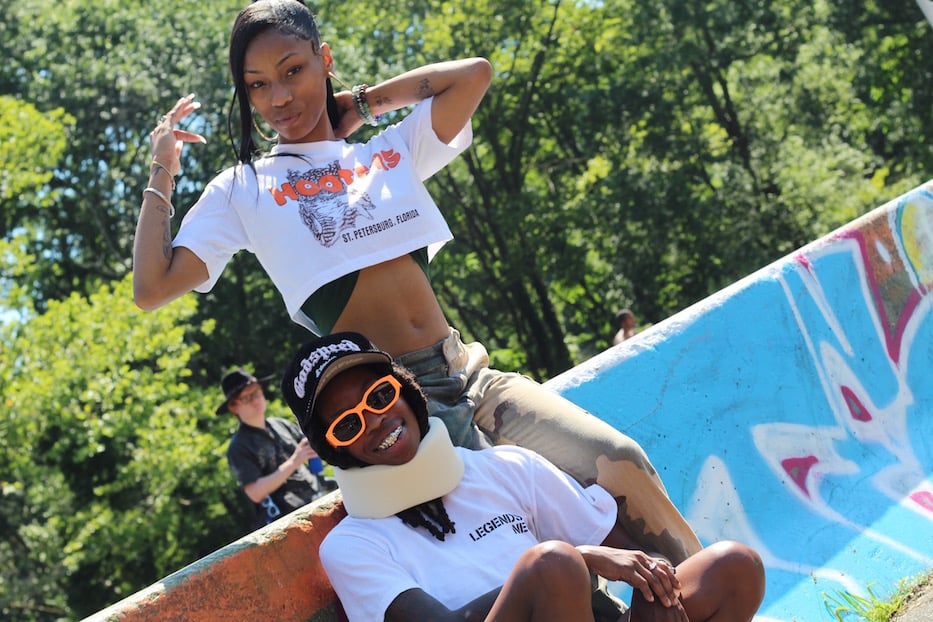 Tonija Monet and Snowsa. Lucy Gellman Photos.
Back on stage, Tonija Monet had a crowd under her spell. Swaying at the mic, she welcomed Snowsa, the two in constant motion as their voices rose over the steamy sprawl of asphalt. In the parking lot, The Rolling Roti and Portobello food trucks served up Guyanese and Colombian dishes to hungry attendees.
As Monet jogged back down from the stage, she said she was grateful for a space like the festival to perform. Now 25, she's known Moore since high school, when the two overlapped at school plays and talent shows. For a while, she said, they lost touch. Then he reached out on Instagram to see if she would be part of the festival. After years of pandemic postponements and cancellations, she was eager to get back to the stage.
"It felt amazing, especially because I haven't performed for a while," she said.
"We call her Beyoncé," Snowsa cut in as T!LT set up at the mics. "I'm honored to be here. It's nice to see the community come together."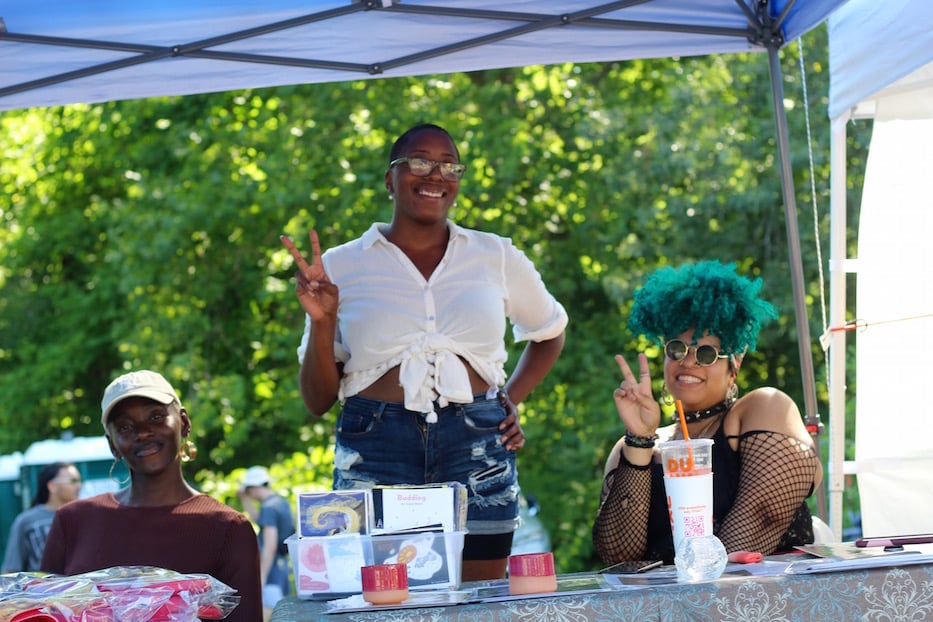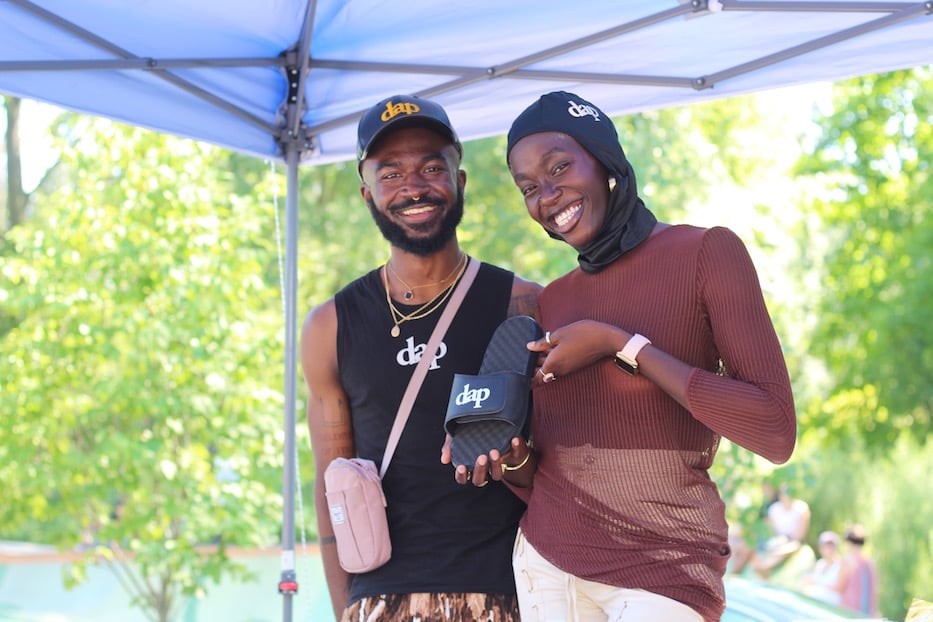 Top: Sarah Ngongi, Amira Brown and El The Poet Goddess. Bottom: Sarah Ngongi and Sam Dapper. Lucy Gellman Photos.
Around the skate park, things had started to heat up. A few already-shirtless punks gathered at the lip of the stage, ready to form an inanimate, sweaty mosh pit of two. To the left of the stage, artists Amira Brown, Sarah Ngongi and Sam Dapper dipped into a conversation that spanned fashion, art making, and—likely by default—the oppressive heat.
Dapper, who traveled from Boston for the festival, showed off a preview of his eponymously labeled fashion line, set to launch through his website later this summer. A musician and photographer, he described the path to "finding myself as an artist," which has included stops in Atlanta, Boston and now New Haven. "It feels awesome to just be part of the community," he said.
Just yards away, artists Herve Locus and DeadBy5am welcomed a steady, constant stream of people to their booths, some wandering right from the stage as others came from the Harwinton-based CBG Gurus. Beneath a tent for DeadBy5am, the brand's founder (he asked that his name not be used) seemed completely at home in the park—partly because Saturday marked a full-circle moment.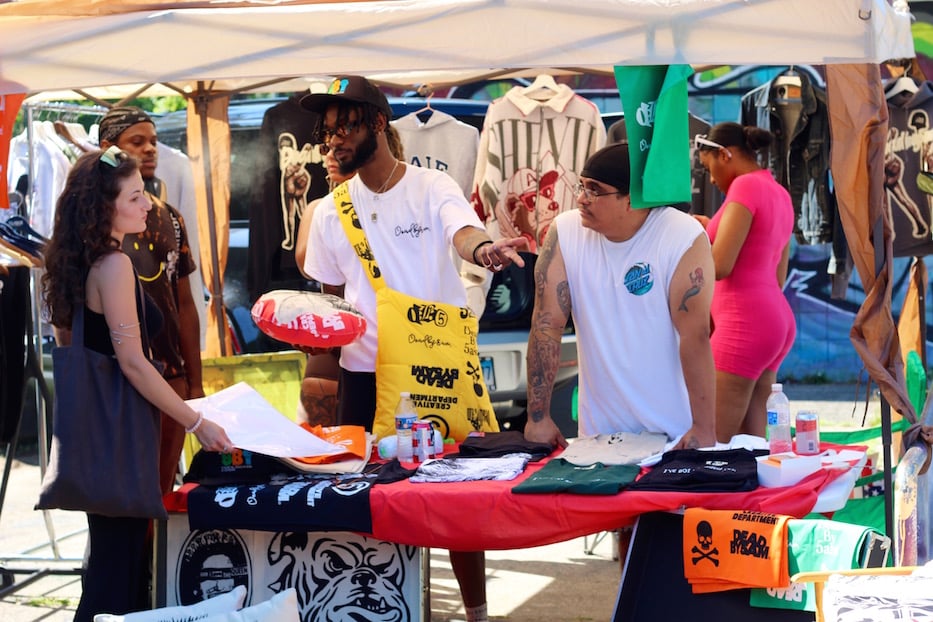 The DeadBy5am booth. Lucy Gellman Photos.
As a kid, he fed the birds at the duck pond by Chapel Street and Ella T. Grasso Boulevard. When he was 13, he learned to ride a unicycle in the park. He was excited, he said, to come back with his brand years later.
"I can't [describe it]," he said of DeadBy5am, which has steadily grown for roughly a decade. "It's something you touch. It's something you feel. I just wanna create. I just wanna use these hands to make things that people love."
Beside him, friend and colleague Jose Roman recalled a childhood spent skateboarding in the park, which he called "very dear to me." As he spoke, a few dozen new skaters rolled into the park, some lacing up roller skates as others carried boards beneath their arms.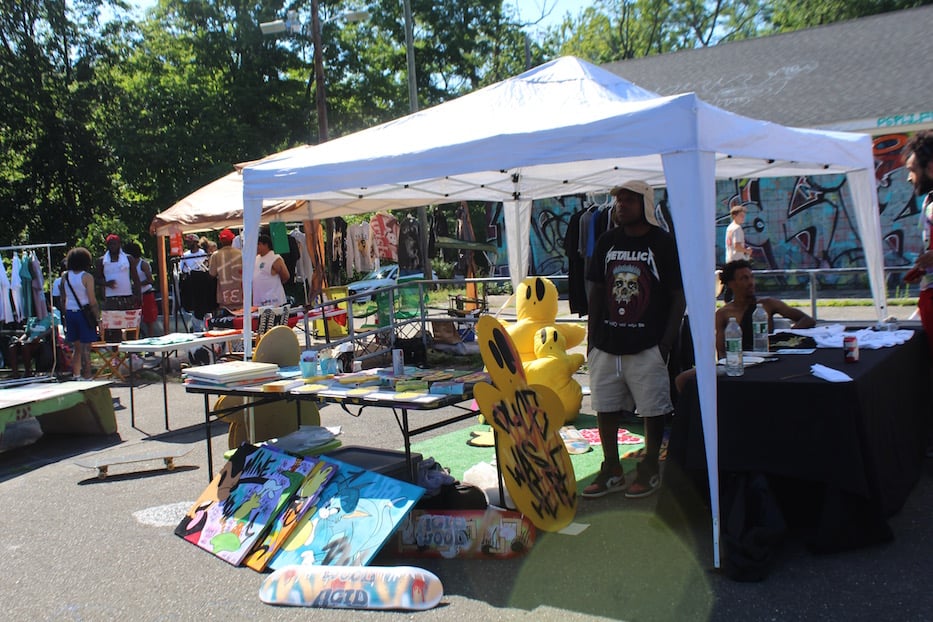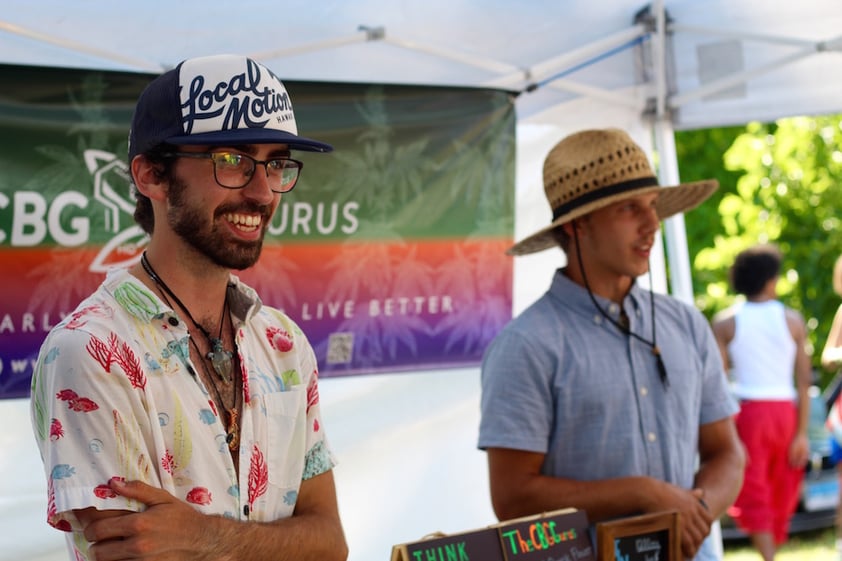 Top: Herve Locus. Bottom: Shawn Magill and Jacob Honig of The CBG Gurus.
He wasn't the only one to come with dozens of fond memories of the space, which has enabled thousands of nollies, fakies, switches, grinds and grabs as skaters have come into their own. Buzzing between his own artwork and the stage, Locus said that he'd never seen something quite like the festival, which brought together skate culture, fashion, visual arts and music.
Born and raised in Queens, he now lives nearby in Westville, and estimated that he's in the park every day. Saturday, he came with his camera ready, documenting the festival even as he sold work.
"This is dope," he said. "This is part of how we use public spaces to express ourselves. We come here, we express ourselves, we have fun, we play. It's a good vibe."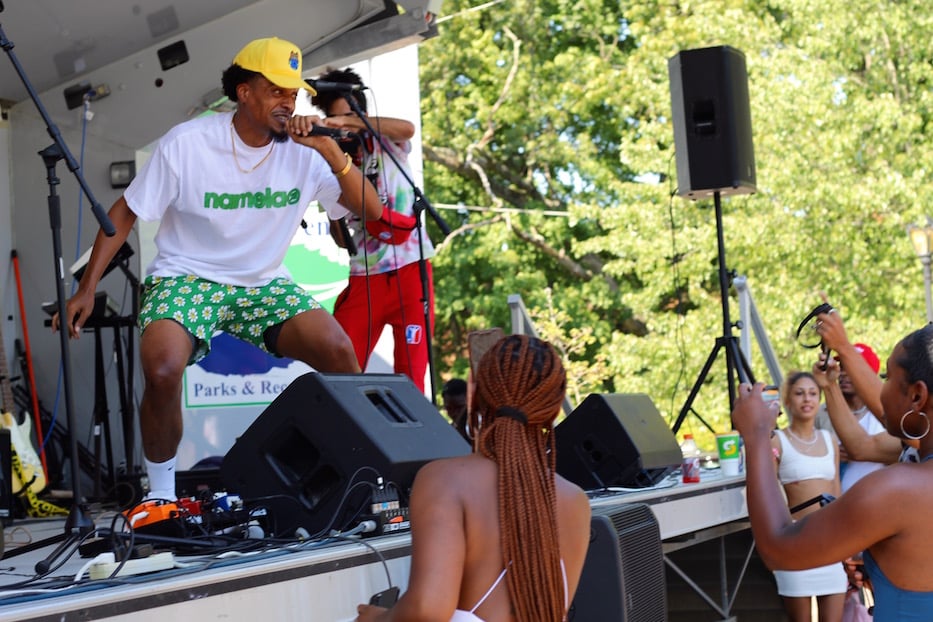 Daykwion Aleman. Lucy Gellman Photos.
Onstage, Daykwion Aleman was sinking all the way into that good vibe, cycling through a set that sampled Moore's "Better On Your Own," then flowed into his well-loved "Dummy." As listeners multiplied in front of the stage, Aleman dipped down to sing right to people, extending a hand as if to brush away the summer heat.
When he wasn't onstage or mingling with other vendors, he was showing off Namela, his own brand of rolling papers, for sale in a neat orange packet with a rainbow stretching across the front.
Born and raised in Fair Haven, Aleman has been making music "ever since I can remember," he said. While he no longer skates, he also grew up learning to skateboard at Edgewood Park, and it still holds a place in his heart. For him, Saturday was a meeting of worlds that he called "amazing."
"This festival just feels special," he said.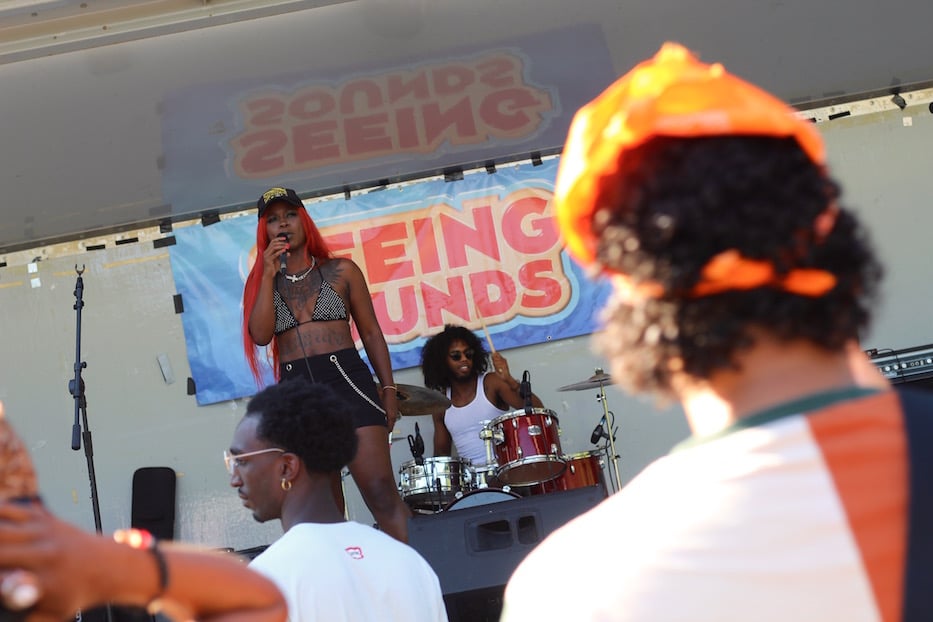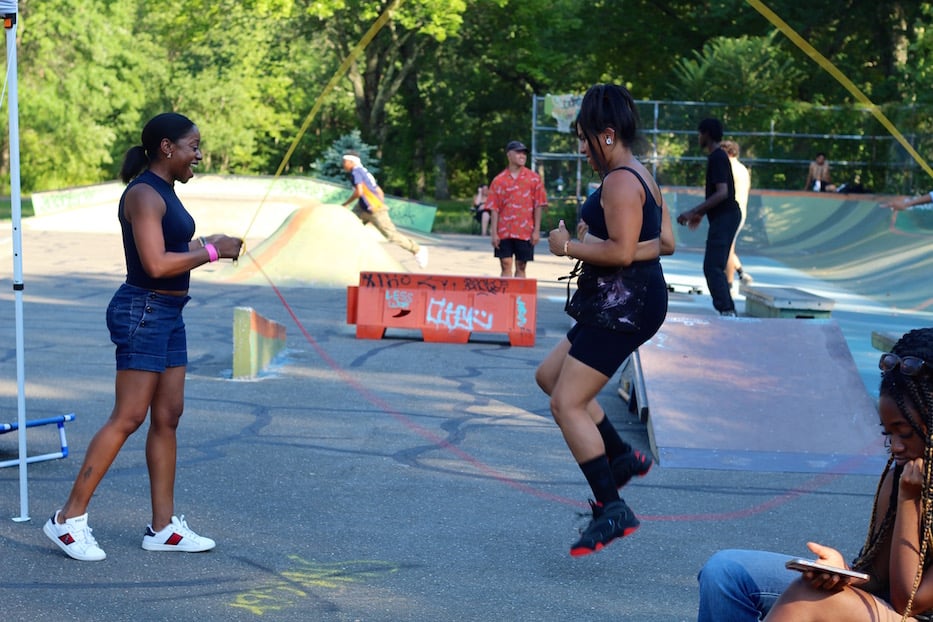 Top: Kelia Myles. Bottom: Double Dutch. Lucy Gellman Photos.
For the next few hours, his words rang and echoed over asphalt. Just a little after 5 p.m., Kelia Myles sang away the heat with "American Dream," drawing listeners close to the stage as her lyrics wrapped tightly around each other. With the mic steady in her right hand, her right sliced through the warm air, keeping pace as she jumped octaves, dipped into rap, and then pulled a songbird from her throat. Between songs, she beamed over the crowd, shouting out "the beautiful Black women" that she saw in front of her.
"I'm livin', ok?" she said. A growing audience cheered and swayed at the front, some listeners hanging near the back. Close to the end of her set, she brought them in, with a chorus that the audience sang together.
"I have to teach you to hook," she said, lifting the mic to her mouth. As she did, the lyrics—Kiss my Black ass-kiss my Black ass/Kiss my Black ass-kiss my Black ass/Ain't no justice in these streets/No justice and no peace—became a meditation that soaked the skate park in sound.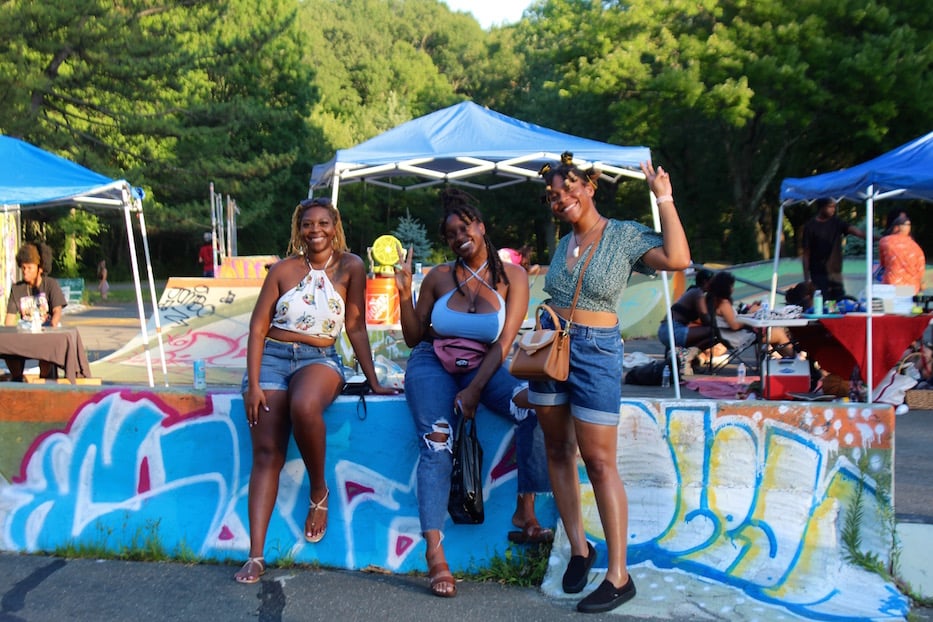 Friends Alysha Brice, Meagan Jordan. and Ashley Wright. Lucy Gellman Photos.
Across the skate park, friends stuck out the heat together, some dancing as others opted for double dutch, competitive games of Jenga, and long conversations that wove around each other. What seemed like moments after Myles left the stage, the musician ammar asked the audience for a mosh pit, and members delivered in full force. They laughed; listeners didn't always jam so hard to their songs, they said.
"Play 'Alone!'" a voice yelled out from the crowd. ammar futzed with equipment, tested out the key, and then sank to their knees to get closer to the crowd. No sooner were they singing than they held out one hand, covered in a loose crocheted glove, to the audience. At the lip of the stage, a few fans sang along to every lyric.
Born and raised in West Haven, ammar later said that their mission as a musician is to both add to and share the legacy of punk as a Black art form. Their favorite groups include the legendary Detroit-based group Death, as well as Bad Brains and the Velvet Underground.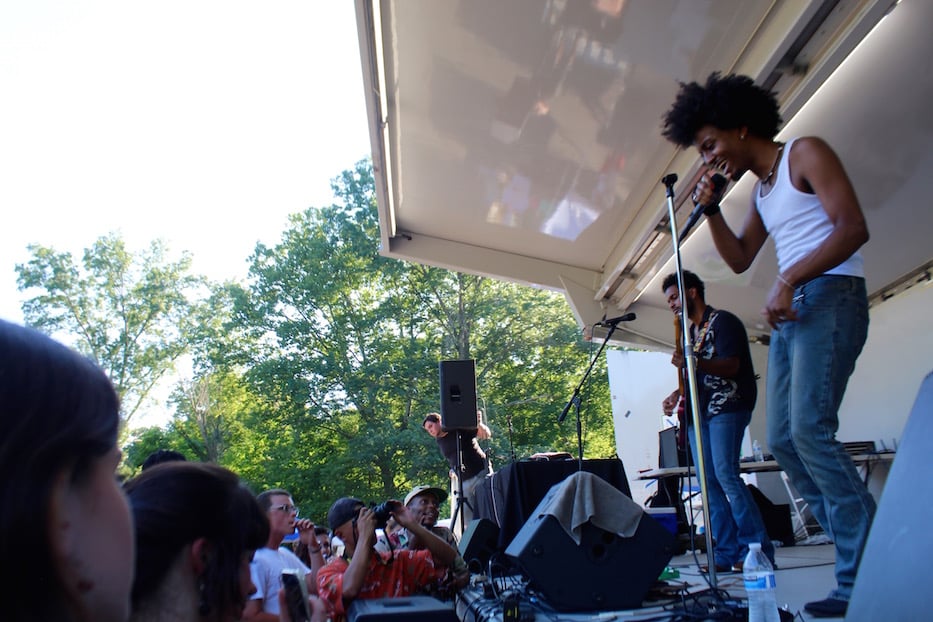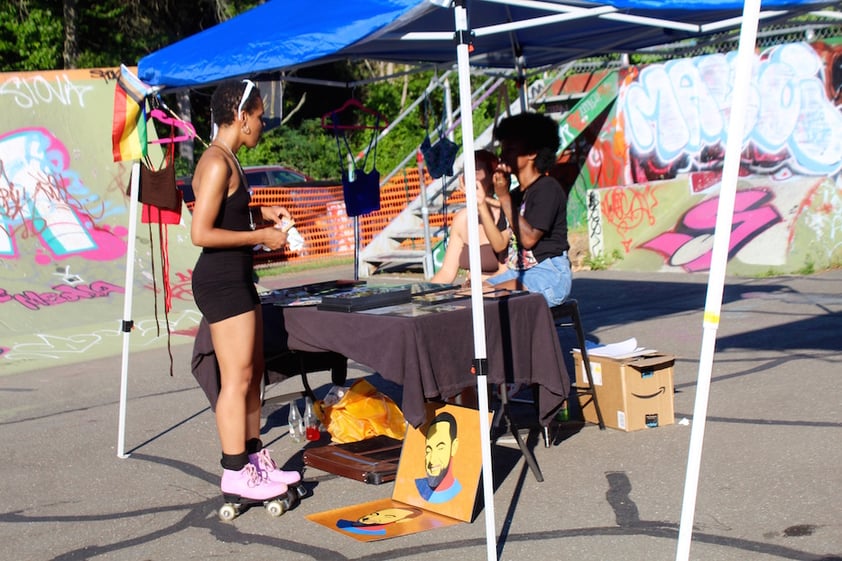 Top: ammar mid-set. Bottom: Empress (on roller skates) with Stache Jones and Kamryn Surprenant. Surprenant is an artist. Lucy Gellman Photos.
As Moore's closing set grew near, new attendees came with their friends and families, some holding babies on their hips as others cradled water bottles with the same precious delicacy. Soon, over a hundred people spread out across the skate park, as more continued to skate and bike through the space.
No sooner had he opened with the promise to keep it short—"I'm pretty sure my kidneys are failing," he said, in reference to the heat—than a pint-sized listener toddled onstage, and fiddled with an extra pair of drumsticks beside drummer Kaylen Powell.
"Shout out to the toddler," Moore said to laughs, applause and cheers before serenading the crowd with "UFO." "I can't compete with that."
Lucy Gellman Photos.
And yet, he could. Moore soared through tracks from his Summer Daze and Boy Next Door, mixing in some of his favorite covers. As he played, the festival's title seemed particularly apropos: the heat trapped music, as if the sound waves might materialize in brilliant color above listeners as they danced it out. The title is an homage to the band N.E.R.D., which in 2008 released a studio album of the same name.
The festival is just getting started, Moore said before the evening was over. A month and a half ago, he committed to the first iteration of the day because "I believed in my idea more than I did before," he said. In part, the pandemic was also a wakeup call: he lost friends and family, and realized that he was getting older and still hadn't acted on his festival dream. Watching it become a reality, he's now excited to grow Seeing Sounds' footprint.
From where he stands (and plays), New Haven deserves it, he added—it's a city that doesn't yet have its own sonic summer trademark. Philadelphia has the Roots Picnic. New York has Afropunk. Boston has Summer in the City and neighborhood concerts. What about New Haven?
"I wanna take these gifts and use them," he said.
Learn more about Trey Moore's music and work here. Watch performances from the festival above.