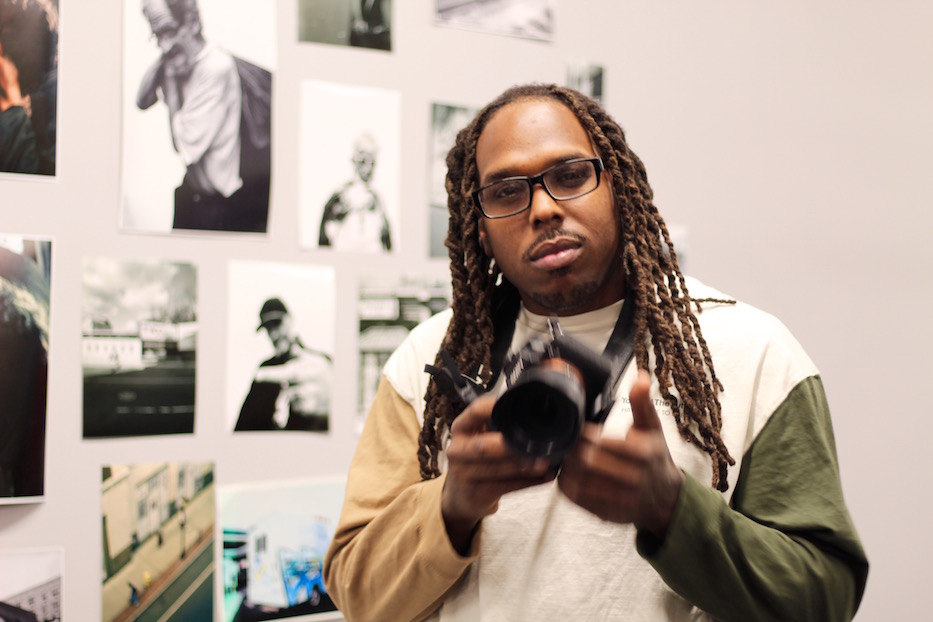 Culture & Community | Photography | Arts & Culture | Visual Arts | Skateboarding | Arts & Anti-racism | The Devil's Gear Bike Shop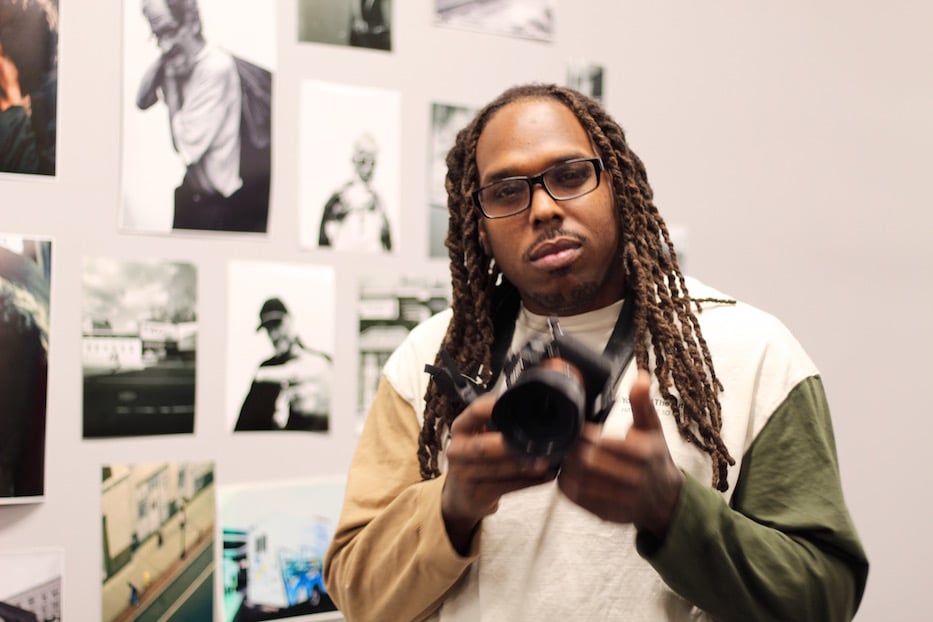 Photographer Herve Locus at The Devil's Gear Bike Shop last Friday. Store co-owner Johnny Brehon said he hopes to do pop-ups every few weeks going forward. Lucy Gellman Photos.
Sir-Michael Burrow stands suspended between the federal courthouse and the office tower at 195 Church St., bending both buildings to the will of his skateboard. His right leg is a line, one foot sending the board into the air at an angle. The left lifts at the knee. The board stretches out toward a first-floor window like a tongue. A viewer can anticipate its sharp crack on the pavement when the moment ends.
Burrow is one of hundreds of skaters that photographer Herve Locus has captured in the last three years, as skating blossoms around the city. Last Friday night, his work popped up downtown, turning The Devil's Gear Bike Shop into a temporary art gallery. Skaters, bike nerds and fellow photographers alike buzzed around the Chapel Street space, many with their boards tucked gently beneath their arms.
"This needed to happen," said Johnny Brehon, who co-owns the shop with Matt Feiner and Greg Ledovsky. "People just need to be together, and what makes sense? To bring in the people who break down the doors—artists. New Haven is so segregated and the Devil's Gear has always been a cornerstone in the community."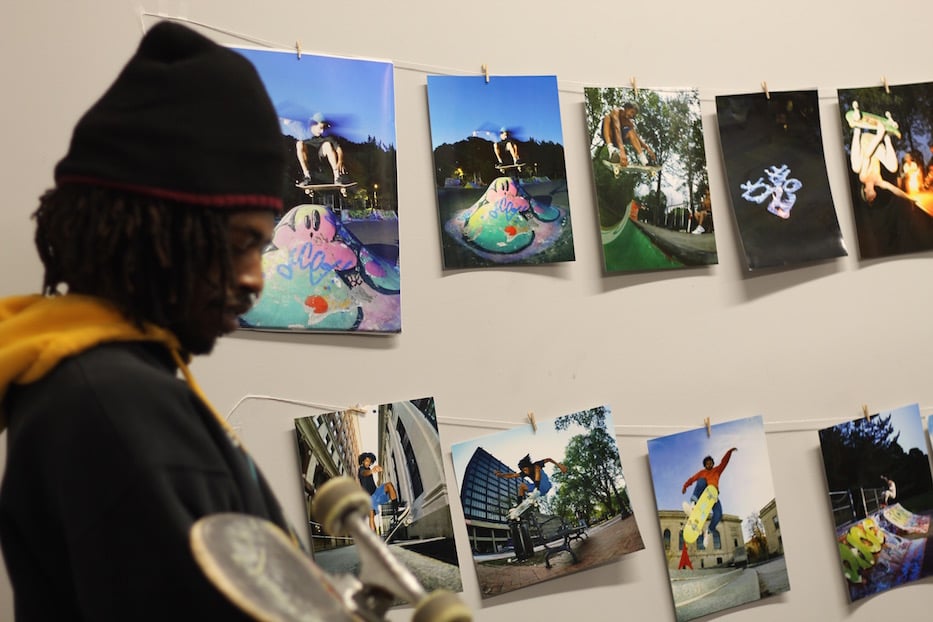 Sir-Michael Burrow checking out the photographs, including portraits of himself.
While the show came together in just days, Locus has been shooting in digital and film since he was 17, and skateboarding since he was just a kid. Born and raised in Queens, New York, the 31-year-old artist fell in love with skating when he was 12, and a friend gifted him a sturdy maple board to cruise around on. On the streets of Queens, Locus learned its fierce, propulsive language, discovering a new way to move through his borough. When he received a Nikon at 17, the camera also became part of his daily routine. The two often go hand in hand: he both skates in and documents the city's skating community, from photos and polaroid portraits to videos. From a Nikon, he has graduated to a Sony that he is rarely without.
Three years ago, Locus moved from New York to New Haven's Westville neighborhood to be closer to his mom, a Queens native who now runs a daycare in West Haven. When he visited the Edgewood Skate Park for the first time, he found a community of skaters eager to mentor each other, show off their skills, and welcome him in.
From Westville, he branched out across the city, spending time discovering both its sanctioned skate bowls and DIY skate spots, including Beinecke Plaza to the New Haven Green to the Ninth Square. In October, he photographed the opening of a new modular skate bowl off George Street during Artspace's 2021 Open Source Festival—then returned to skate it himself.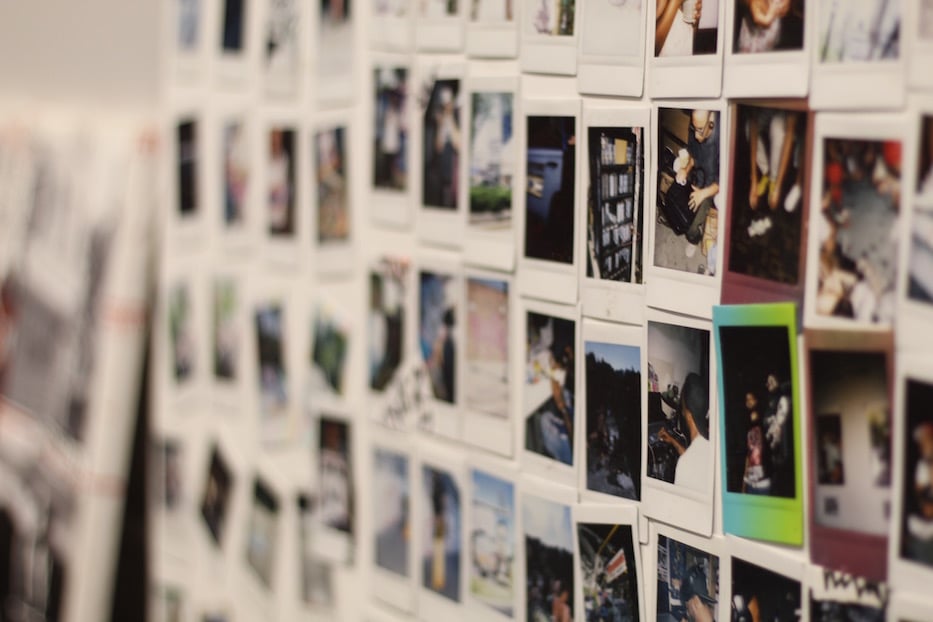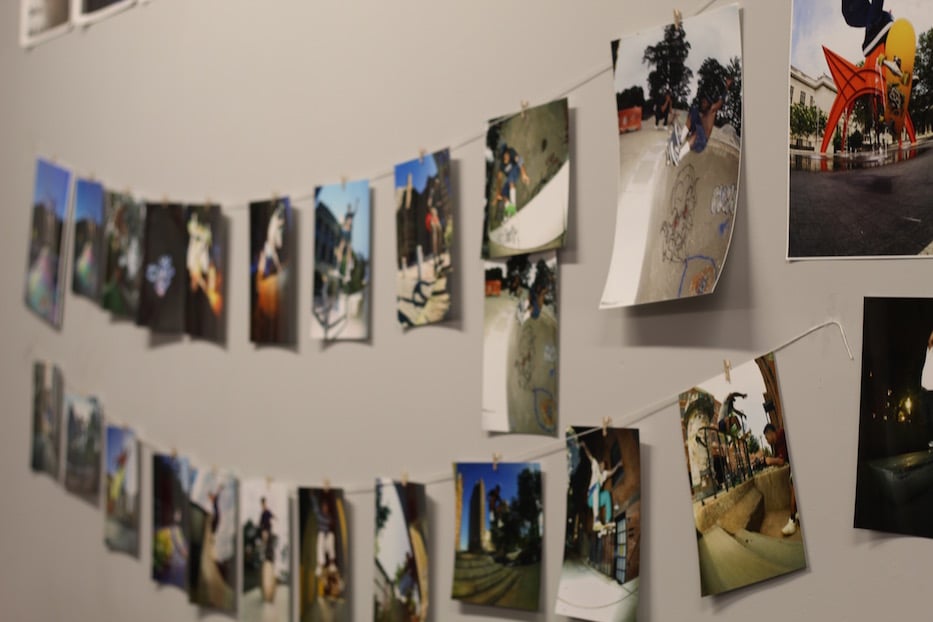 In vivid color and occasional greyscale, the photographs show a vibrant and growing subculture. In freeze frames, skaters turn the city into a kinetic canvas, making New Haven's plazas, alleyways, sidewalks and civic spaces both each other's and their own. They sail from Audubon Street railings and take flight outside bustling high schools and quiet coffee shops, their arms raised triumphantly in the air. They soar over the stone pylons and low-slung chain link that sit in front of New Haven's gingerbread house of a City Hall. They coast down railings and glide down the sudden slant of the bowl in a George Street parking lot, seemingly fearless.
They are full of life, a reminder that this year and this city cannot hold them down.
Locus is masterful, with an eye for timing. Friday, he said that he often shoots in a crouched or supine position, placing his body beneath the board to capture its rider in flight. In one image taken outside the Wadsworth Athenaeum in Hartford, a skater jets through the air, his board orange and yellow beneath the thick white rubber of his sneakers. Alexander Calder's bright Stegosaurus rises in the background, beyond a blue-black pool of water on the stone. Locus is on the ground, his camera cocked to the sky to take it all in. The result is crisp: there is only the suggestion of a blur.
"You let the surroundings become part of your art," he said Friday, taking momentary breaks to share the night with his young nephew, Dallas, and mom, Angie Kelly.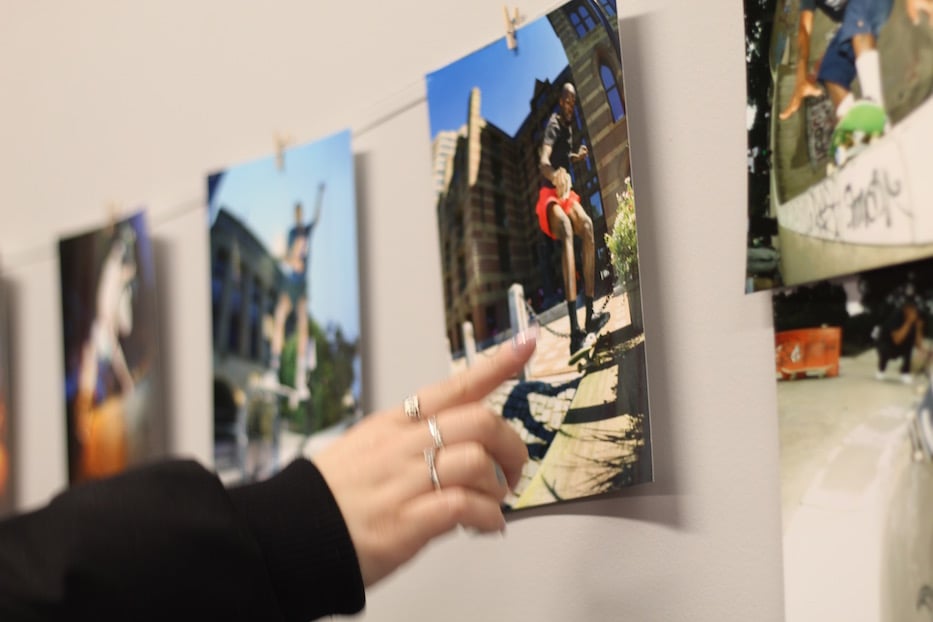 A viewer checks out a close up of Steve Roberts skating in front of City Hall.
There's no need for labels: the images do the talking all by themselves. They capture a DIY aesthetic that extends to graffiti, murals, cross-city skating spots, and hundreds of tiny polaroids that have an intimate, sometimes confessional quality. There are lush, long exposures of the city at night that make the light melt and warp, sparkler-like. There are skaters who palm the Ninth Square skate bowl mid-trick, just making sure it's still there, as fire dances in the background. There's an image of Burrow midair, his board making an arc over a bench on the Green.
In a few images, Locus has experimented with layers, pairing his longtime graffiti writing practice—"It's a huge part of my life," he said—with his photography. Friday, he included several small collages of graffiti art, the images pressed flat against old UPS packaging and thick text in black magic marker. He laid the works at viewers' foot level, as if they were offerings. It was a small, candid reminder that his subjects are as deserving of display and dignity as photographs in any of New Haven's formal gallery spaces.
His sharp, deeply feeling eye extends to a recent series of portraits taken on the New Haven Green, downtown, and in the city's neighborhoods. One woman, who he refers to as "Lil Mama," looks right at the camera as she points the double barrel of a super soaker at the viewer. Another subject, his knuckles neatly tattooed, comes up close to the lens and shoots Locus a sideways bird that is perfectly in focus. A third shows a man's weathered face in close up as he trudges forward with a black garbage bag of cans..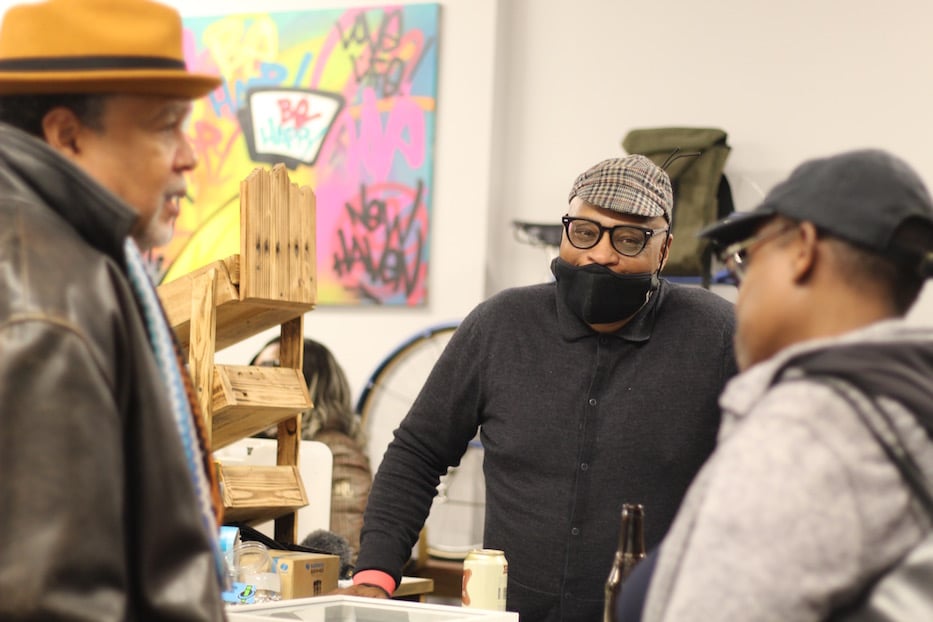 Johnny Brehon at last Friday's event.
"Growing up in Queens for me, it was rough," Locus said Friday. "A lot of the people that I capture, that was my surroundings … It was hard. And it was beautiful. It made me who I am today. It's not easy, but there's appreciation in the struggle."
Sometimes the subjects are not people at all, but distressed bus stops, Fair Haven sidewalks cloaked in light and shadow, storefronts whose metal roll-down grates bloom with graffiti. He pointed to the photograph of a small inflatable pool, kids dipping their hands and feet in as a nearby figure holds a hose over the hot sidewalk. Tank tops and bare, sweat-slicked backs populated the image, telling the story of a blistering summer day in the city.
"Some kids in the summer, they go to the beach, the pool," he said. "Some kids don't have those resources. So they fill up a bucket and splash around outside."
Steve Roberts, whose advocacy helped lead to the Scantlebury Skate Park, surrounded by members of the city's skating community.
Friday night, a steady stream of visitors came into the space, pulled toward the photographs as laughter and chatter bounced off the walls. Scantlebury Skate Park co-founder Steve Roberts, who has known and skated with Locus for three years, walked around excitedly, comparing notes with fellow skaters. Every so often, he found his way over to the photographs, including frames of himself jubilantly rising through the air.
"It's just cool!" he said. "This is what's supposed to happen. People think art needs to be up in a gallery. No! I feel like this [the Ninth Square] is such an underrated section of New Haven. More stuff like this, more stuff like the bowl needs to happen."
Moments later, he had slipped into a discussion with Santiago Achinelli, who had just arrived from a jazz listening session at the Institute Library next door. A handful of other attendees headed toward a rack of Acid Wood Skateboards, a brand from skater J. Joseph that is constructed and screen printed in New Haven. For Brehon, who has long spoken about biking as a way to bridge communities, that's the point of pop-ups in the Chapel Street Store.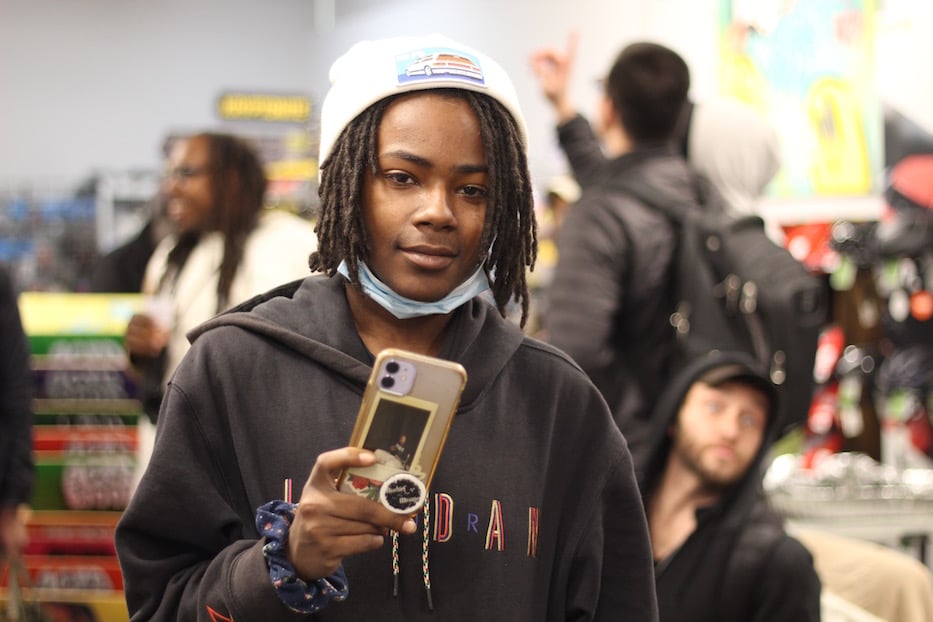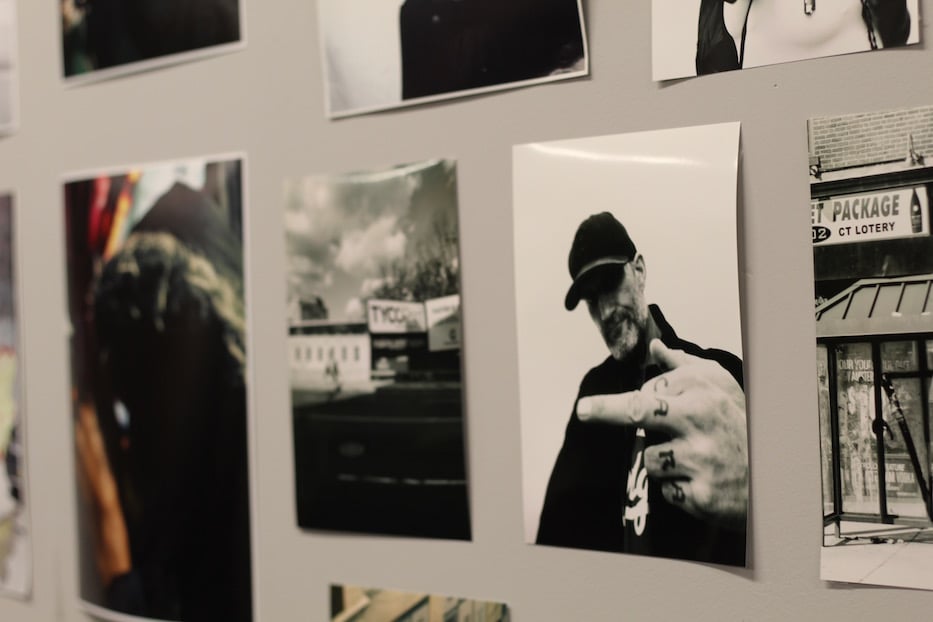 Top: Panda. Bottom: Some of Locus' recent photographs.
Near the photographs, seasoned galley-hoppers, theater goers, board members from the International Festival of Arts & Ideas, board game players, skaters and passers-by all found their way to each other. Some held their boards gingerly as they stared at the images, picking out their friends and colleagues among the bright prints.
A student in film and television at Southern Connecticut State University, Burrow pointed to the exhibition as a valuable teaching moment. As a culture, he said, skateboarding sometimes gets a bad rap as rebellious or disrespectful. In reality, it's an entire universe dedicated to sharing space, complete with its own rules.
"It [the pop-up] shows the real stuff that not everybody gets to see," he said. "It shows skating in a different way. I think some people don't understand skating—there's rules to it. There's an art to it. It's kind of like speaking a whole different language."
Nearby, a skater who identified himself as Panda chimed in. Raised in Bridgeport, Panda now skates almost exclusively in the Elm City, where the streets are easier to glide along. He met Locus through skating, and has remained close with him since. As he spoke, he held up a polaroid from the artist that he keeps in his phone case.
"Here, the skating community is open and vibrant," he said. "Everyone accepts everybody."
Follow Herve Locus at 9th_visual on Instagram.