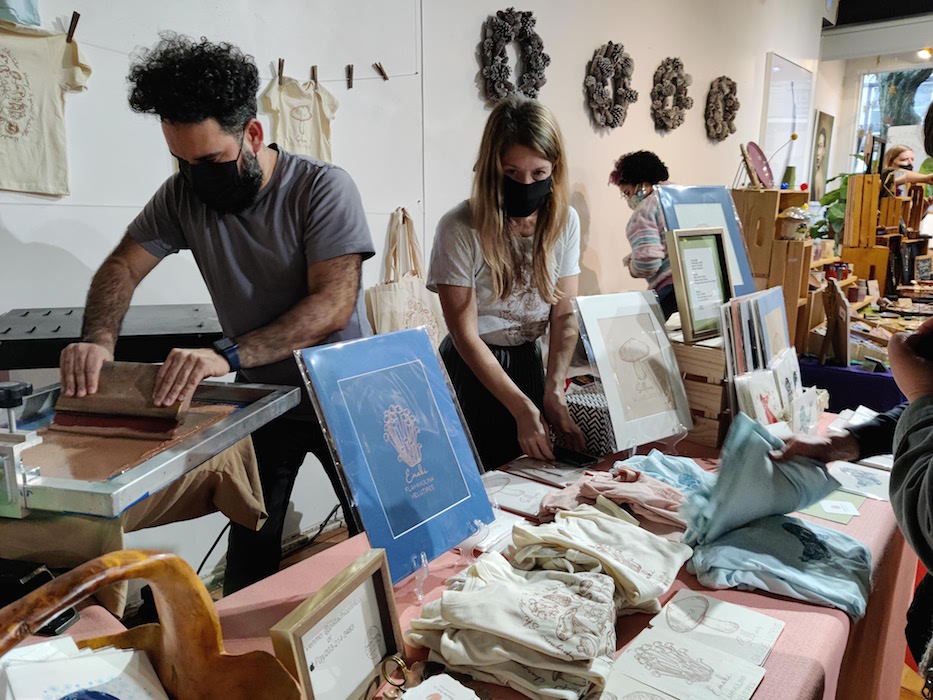 Economic Development | Lotta Studios | Arts & Culture | Visual Arts | Westville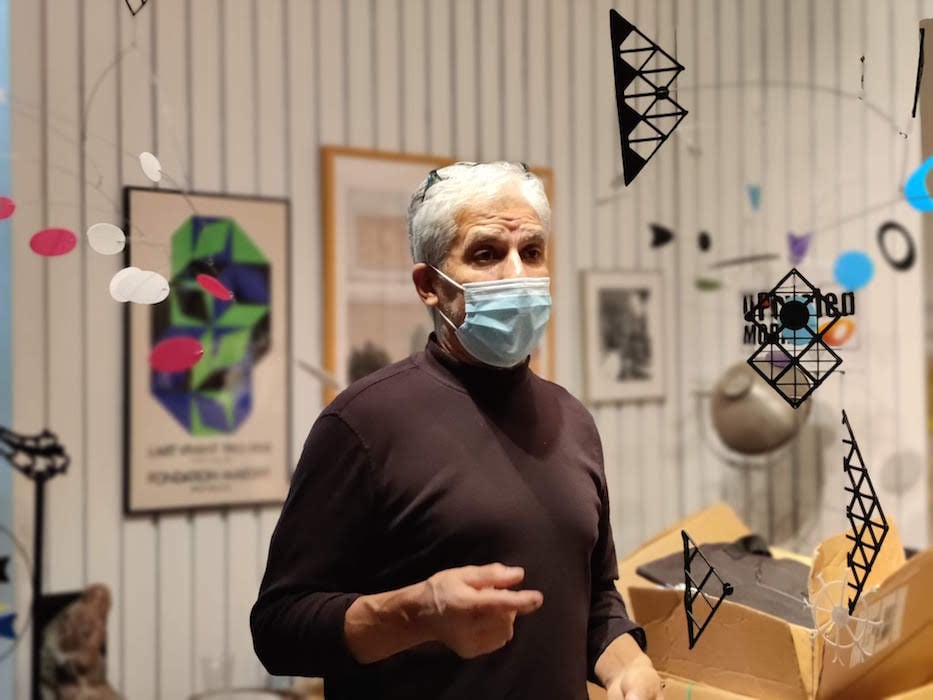 David Sepulveda. Jadan Anderson Photos.
Upstairs at West River Arts, a pink, dotted mobile beckoned from the ceiling at UPcycled Mobiles in Studio #206. Varying patterns of light pink and white oval-shaped plastic hung from aluminum wire, feather-like. A black plant crate, formed into the shape of a heart, topped the design. From one angle, the mobile's backdrop looked like a vinyl record covered window. From another, it revealed shelves and shelves of books.
Underneath the pink mobile, painters Don Wunderlee and Michael Angelis chatted with UPcycled Mobiles co-owner David Sepulveda about his work.
They were attendees at Lotta Studio's annual Anti Mall Shop Small, a one-day event meant to showcase local artists and makers instead of the big box chain stores that sometimes dominate the holiday season. Saturday, small businesses popped up at 903 Whalley Ave. as longtime Westville artists showed off their studios at West River Arts above. It marks Lotta Studio's expansion on the block, into the former home of Neville Wisdom's shop and design studio.
"'Anti Mall'—I guess that's just to discourage big capitalism," said Lotta Studio co-owner Mistina Hanscom Saturday. She later added that this is the sixth year Lotta has hosted a holiday event, and the fifth that it has used the "Anti-Mall" title. Last year, it went on an unwelcome pandemic hiatus. The Westville Village Renaissance Alliance (WVRA) did host an online marketplace in its absence.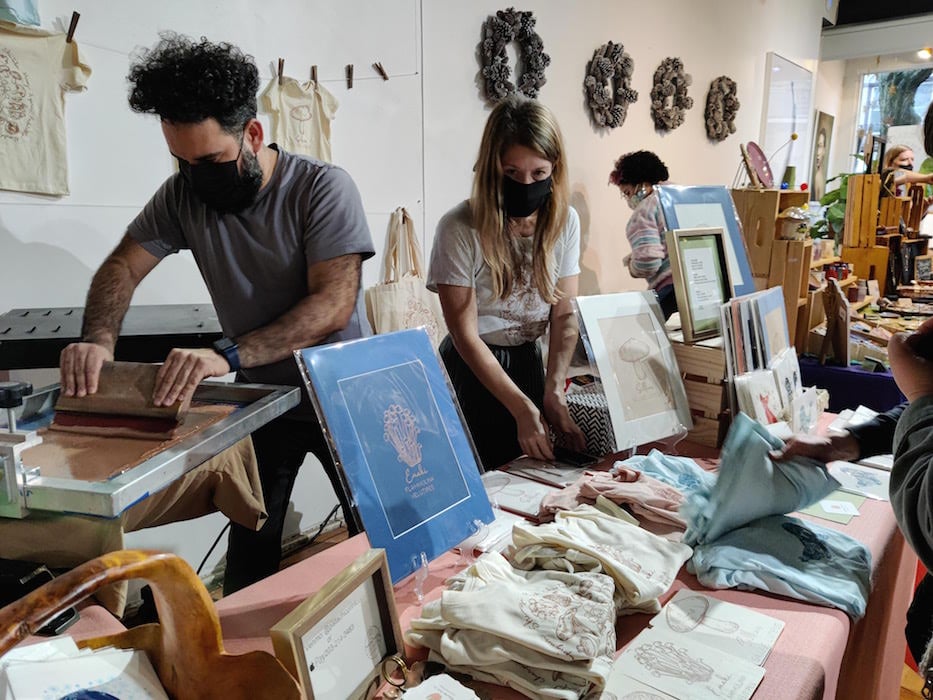 Diego De la Cruz and Molly Hennessy of Pistachio Print Co.
Downstairs, vendors sold products ranging from stickers to pieces of furniture. For Diego De la Cruz and Molly Hennessy, that meant design and screen printing. Hennessy spent 17 years creating and teaching art. De la Cruz brought 20 years of screen-printing experience to the table. Together and "with love," they founded their small business Pistachio Print Co., which offers custom screen-printed apparel and live events.
At the Anti Mall, de la Cruz and Hennessy offered live printed t-shirts with mushroom-themed templates, featuring species from enoki to sillius, in iridescent rose-gold ink, as well as an assortment of screen-printed cards and wooden prints.
"She's got the design eye," de la Cruz smiled, glancing over at Hennessy, who was handing her customer a shirt. "I'm just the printer guy!"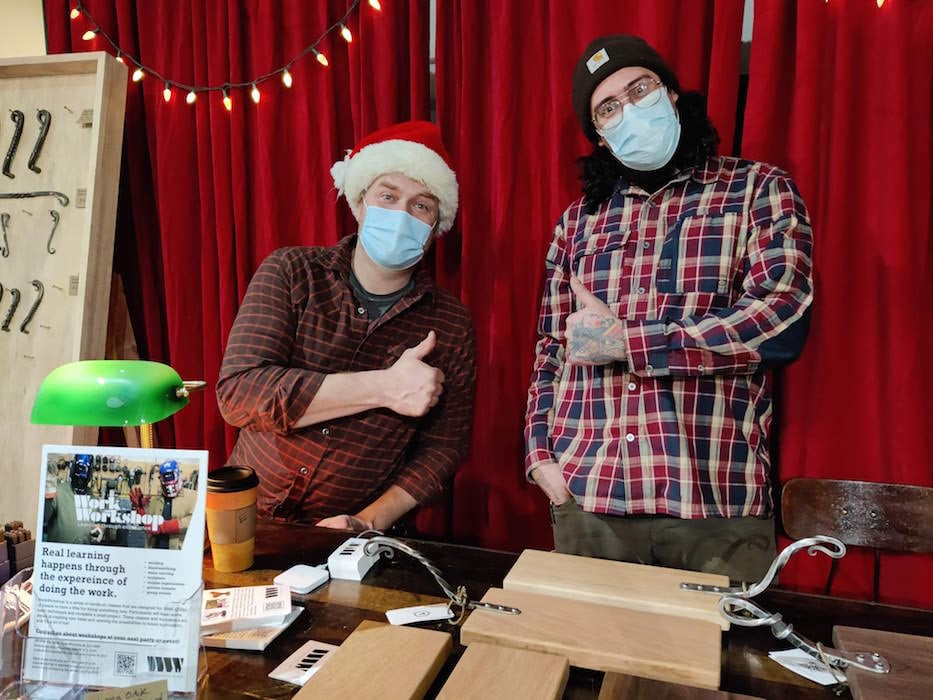 Erich J Davis and Travis Smith.
Just two tables over, Erich J Davis was vending for two small businesses. One was EJ Davis Aesthetics, a small business Davis launched in 2007 that specializes in handmade custom furnishings and works of art for architects, designers, real estate developers, and homeowners. The other business was The WorkWorkshop, an educational outgrowth of EJ Davis Aesthetics that provides a series of blacksmithing and welding workshops out of Davis' Bethany-based metal shop. Both he and his WorkWorkshop employee Travis Smith fielded questions.
"I think many people just have no idea how these sorts of things are made," Davis said, gesturing toward his hand-forged iron bottle openers, hanging from nails on a wooden board.
"There's so much time and thought that goes into the whole process, and I thought I could just offer people a chance to experience that process for themselves."
More than selling a product or turning a profit, he added, these businesses are a source of joy. "I am making a point to enjoy my life right now. And, I'm putting beauty into the world," he said.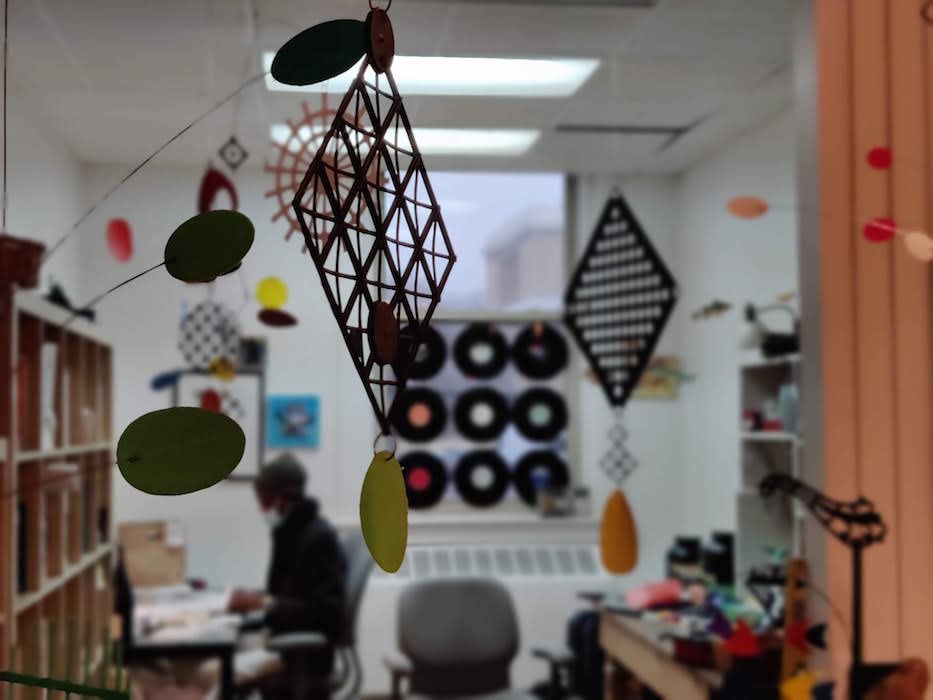 At West River Arts upstairs, artists welcomed visitors back for a masked "Second Saturday." In Studio #206, Sepulveda called partner and co-conspirator Semi Semi-Dikoko the "technical genius" at UPcycled Mobiles, which the two co-founded in 2019 as a way to reuse discarded plastics and other detritus.
Semi-Dikoko, who handles incorporating new technology into their art, is an IT architect at Enterprise & Systems. Sepulveda, a retired art teacher who recently designed the set for Legacy Theatre's production of "A Christmas Carol," daylights as a set designer, interior designer, landscape designer, and occasional snow sculptor. He spends the rest of his retirement creating these mobiles.
"I'm not in the studio as much as I'd like to be," Sepulveda said. "When I make pieces, it's usually five or ten at a time. I often work like that in periods of intense emotion in my life."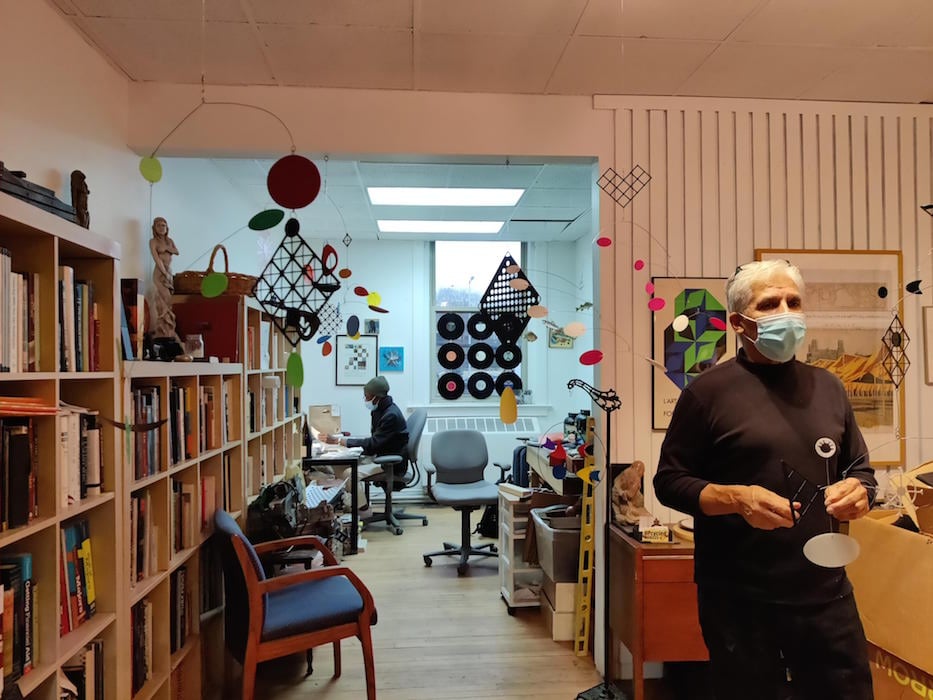 "I never really lay out a plan for their design," Sepulveda said. Project Co-Founder Semi-Dikoko is in the background.
Semi-Dikoko and Sepulveda's pieces are made primarily from wire and discarded plastic material, like the black plastic from plant crates or orange plastic from the Tide-brand laundry detergent bottles. They're cut by hand or Computer Numerical Control techniques (CNC) into custom shapes. The plastic pieces are then hung delicately together by branches of wire.
Popularized by Alexander Calder in 1931, mobiles are kinetic sculptures that constantly shift form, becoming a different piece with each gentle turn. Movement is the point—hence the name "mobile."
"I never really lay out a plan for their design," Sepulveda said, gesturing to a mobile with a unique branch structure. "It's all improvisational."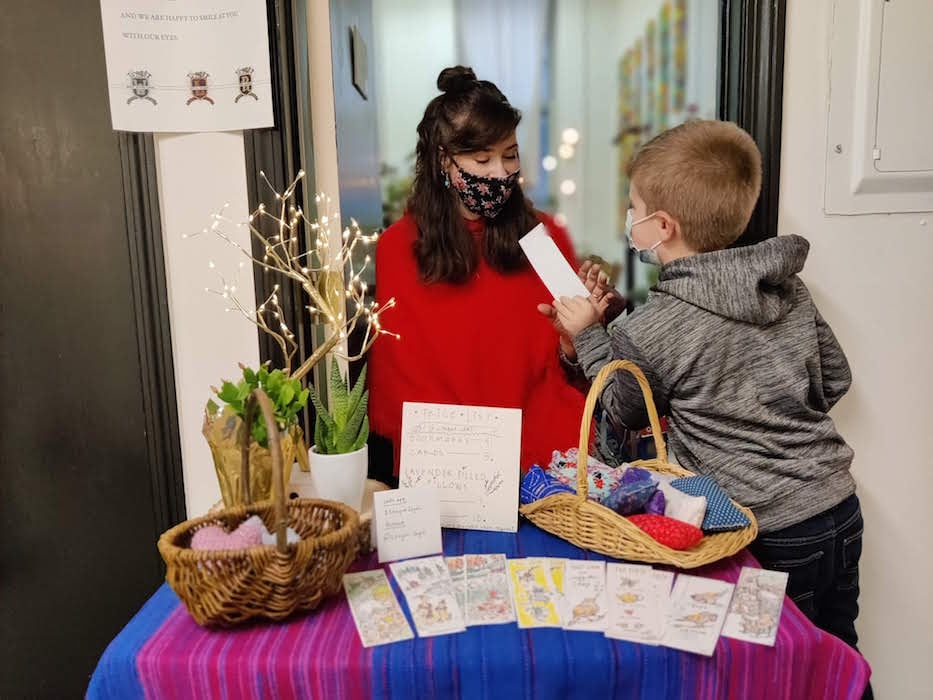 Azoff's daughter Shayna Segal.
Down the hall in front of painter Caryn Azoff's studio, Azoff's daughter Shayna Segal was selling her own art, a spread of knitted hearts, delicate hand-sewn lavender-infused cushions, and her own illustrations on bookmarks and greeting cards. Her sons happily rummaged through the books in the studio behind her.
A graduate of the Maine School of Art & Design, Segal has been making art for a long time. "I don't remember a time where I didn't love working with my hands, making things," she said,
The bookmarks in front of her were original illustrations, first sketched in pencil, then given form by black ink. At the last stage, the illustrations were painted with watercolors, which often playfully spread over the bold, black lines. "It's so much fun," Segal said. "And you can see the fun come out in the illustration!"
Segal especially loves children's illustrations, and has worked on children's books. As one of her sons climbed on her lap, she smiled at him and said, "My kids definitely inspire me."
Her son, without missing a beat, beckoned her to listen to him whisper, "You inspire me." She laughed.
Sepulveda and Semi-Dikoko, Azoff, and Wunderlee's studios are three of 12 upstairs in West River Arts that are open to the public every second Saturday of the month. As Mistina Hanscom ushered visitors around the vendor tables downstairs, she described how the space has grown into a community for working artists since she and her husband Luke founded Lotta in 2015. The two, who run a photography business, know from experience how essential a space to work and to gather can be.
"We moved here knowing full well the flood of artistic strength that has existed in Westville since the 1980s," she said. "I guess as the young newcomers, still full of energy, we wanted to create something for our fellow artists here."
Learn more about Lotta Studio here.