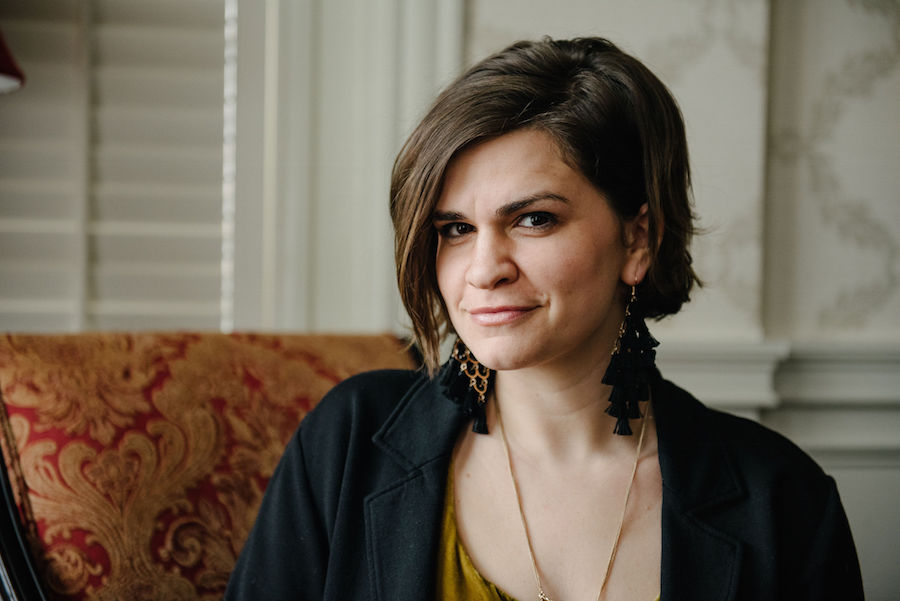 Culture & Community | Erector Square | Jessy Griz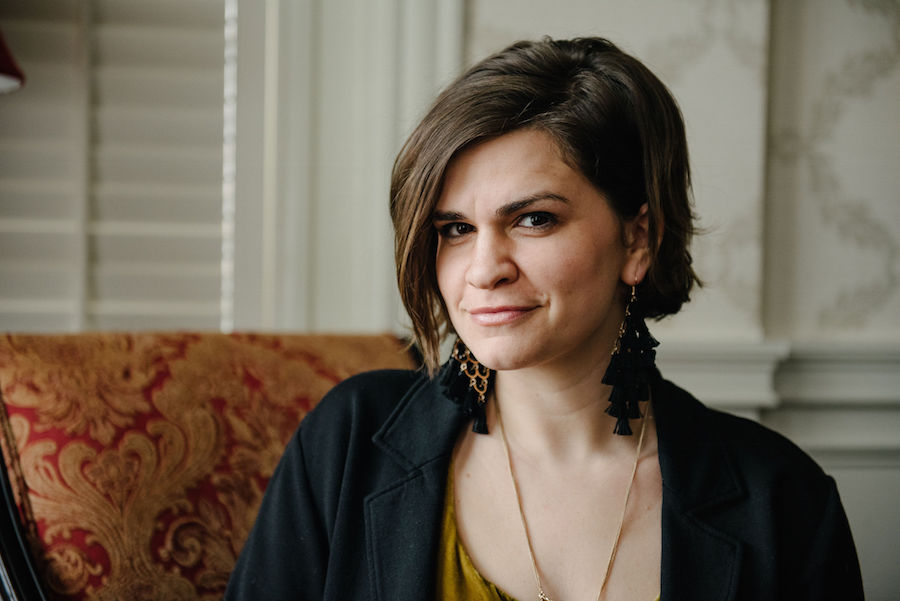 Jessy Griz: "It's looking at all the ways that we nurture ourselves." Joel Callaway Photography.
First Jessy Griz figured out what was making her sick. Then she figured out how to get better. Now, she's trying to help New Haveners figure out the same thing.
Griz, 30, is the founder of a new women-focused health coaching practice in Erector Square, in "a very hygge" studio tucked into the fifth building of the labyrinthine complex. A musician and pastoral counselor by training, she said the practice marks the latest chapter in how she is using arts, spirituality and counseling as a springboard into holistic wellness. While her work is most closely focused on women, she said that she welcomes all clients into the space.
"It's looking at all the ways that we nurture ourselves," she said in a recent interview at Fussy Coffee. "It's looking at our primary relationships … our career, spirituality, our home environment. How much are we cooking at home? How do you feel when you walk into your home?"
It's a practice that she came to through two reckonings of her own—one with faith and another with a diagnosis of the autoimmune disorder Hashimoto's thyroiditis. Born and raised in Providence and then Baltimore, Griz grew up steeped in religion, the youngest of three children to parents who met at Southern Connecticut State University. Her dad was a minister in the Assemblies of God (AG) church, which meant "a lot of behavioral restriction," but also a lot of love in the house. Her mom studied social work, raising three kids before declaring a specialty in palliative care.
"Home life was a lot of prayer, a lot of right and wrong, a lot of moral lessons," she said. "We were definitely raised to be Evangelical Christians."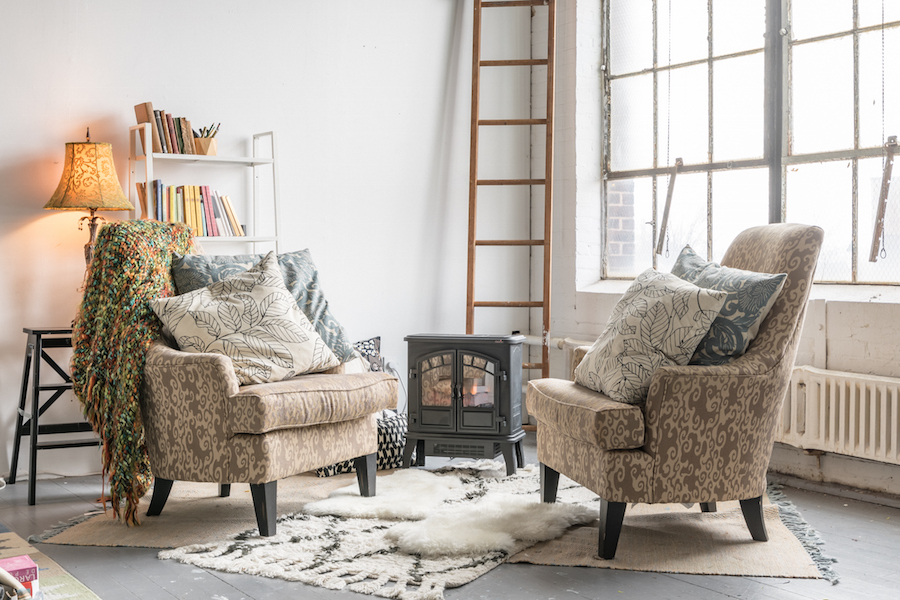 Griz' studio, which is located on the third floor of building five in Erector Square. Joel Callaway Photography.
It was a childhood that Griz remembered as "really fun," where people were constantly cycling in and out of their old colonial house for spiritual guidance. When she was still young, her parents started a ministry out of their basement, sometimes bringing in 100 people in a single day. There was always an extra person at the dinner table and at least one living in the house, with youth groups crashing there in the summertime.
"It was a house marked by laughter," she said. "My dad and my mom have a very good sense of humor. We had a lot of fun, too … playing in the rain, making forts, lots of stuff like that. So I have this weird combination of whimsy and religion."
But Griz started to struggle with the doctrine the older she got. She could feel something slowly shifting in her, she said, "but there was no space to process it." As a teenager she attended the University of Valley Forge, a small AG college in Pennsylvania where she could major in pastoral counseling. She loved the small campus, studying music and art alongside her major concentration. There, she said she leaned "everything I know about the do's and don'ts about counseling."
Then only semesters in, she started getting sick. She gained weight even though she was working out three times a day. She was tired constantly. When she went to doctors, they wrote it off as overwork and fatigue. It took her three years to receive a diagnosis of Hashimoto's thyroiditis. Then she was sick for another 10 as she learned to manage the disorder.
She was still piecing her body back together when she moved to New Haven in 2012, to study art therapy at Albertus Magnus College. She found an Evangelical church in the city, but found that the services weren't sitting quite right with her. In one of her classes at Albertus, she noticed that she was painting the same image over and over again: a big church building covered in chains, in the middle of a vast field.
"I was like, 'I want to find God in the field,'" she said. "I want to find God in the marketplace and the world, and I want to believe that God and this universe are big enough that they're out there. Not stuck in these four walls."
Griz left her church, and became an art teacher in the New Haven schools. She worked constantly, trying to manage her both thyroiditis and her songwriting on the side. Her voice splintered from talking constantly in the classroom; she couldn't do her own music after a certain point. Then in January 2018, she burned out. She left the school where she was teaching and took six months "just to recover."
During that time, her faith—or spirituality, as she prefers to call it—and approach toward wellness became yoked with each other. Even before leaving her teaching job, she had started attending Elm City Vineyard downtown, where she found a gospel of acceptance that she hadn't heard in its entirety before. She began to compose music for queer friends and drag shows, including pieces for Louis Antonio's annual Escapade at Lyric Hall.
And she started to listen to the women around her, each of whom seemed to have a story of fatigue and overwork. A light went on, she recalled—she left those conversations buzzing with energy, "feeling alive." In her own life, she took a position at Breathing Room Yoga and enrolled at the Institute For Integrative Nutrition, where she finished her studies in March.
Now, she said, she wants to do that work with other women—by talking through it. In sessions, Griz listens to clients' concerns then comes up with a set of suggestions, exploring with them "the best next steps," from schedule and sleep to diet and personal wellness practices. She focuses on how their food is affecting the other areas of their lives—and how those other areas are affecting their diet. She said that her hope is to help other women get to a place that she had to get to on her own.
"I didn't have a health coach, so I had to listen to the universe and look for signs and ask for guidance, and I was led on this path of healing step by step," she said. "The first step was rest, just stop everything you're doing … and then I followed that scary step. But I would rather someone not have to be on an invisible path. Because it would have been easier."
To find out more about Griz' practice, visit her website. Photos by Joel Callaway Photography.