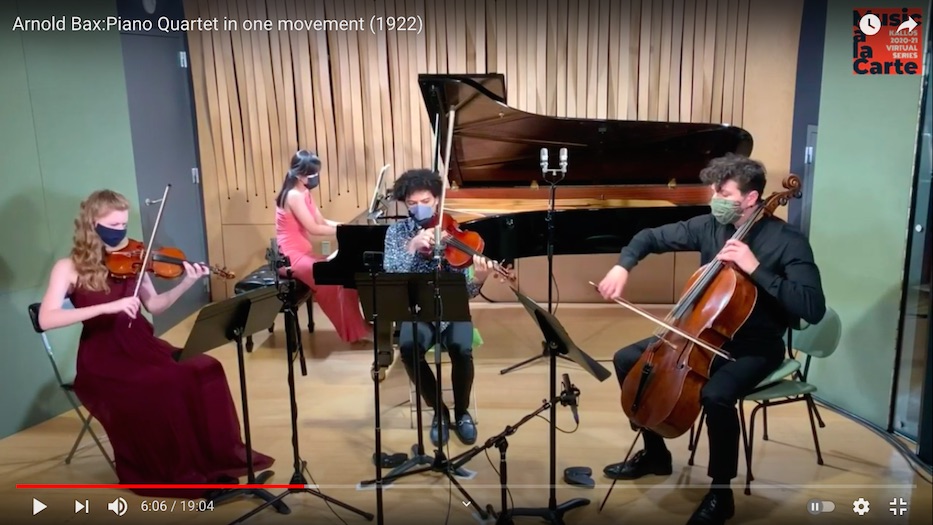 Music | Arts & Culture | COVID-19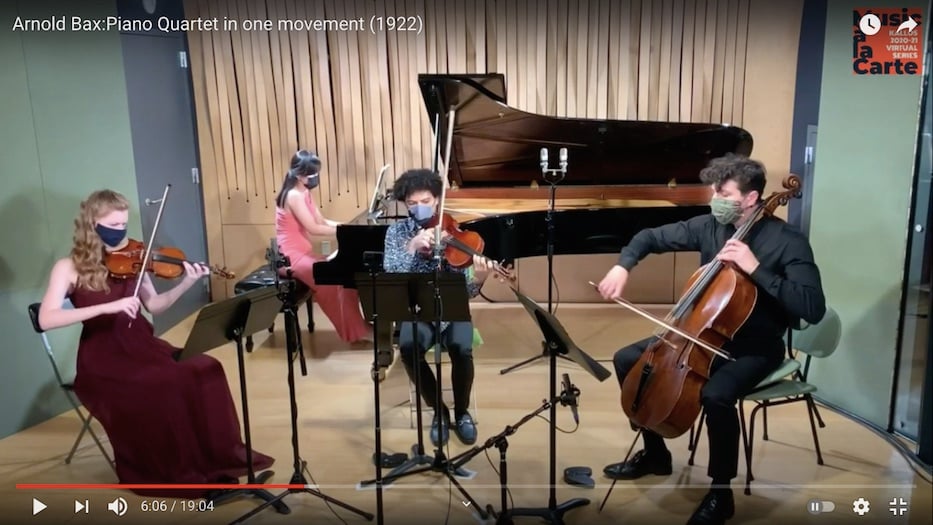 Screenshot from YouTube.
In a studio on Crown Street, an argument had exploded somewhere between the piano bench and the strings. Violin and viola were at war with each other, so heated it felt like they might leave gash marks. Piano made its entrance, shuddering as fingers came down on the keys. The cello looked for kindling to throw on the fire.
The music, written almost a century ago and an ocean away, had awakened to the first weeks of 2021. In a year already unspooled by conflict and attempted resolution, it felt right on time.
The Kallos Chamber Music Series returned to the virtual stage this week, with the second installment of Echoes That Remain, a three-part series in its 2021 program Music à la Carte. The title of the series comes out of the 1918 flu pandemic, the duration and aftermath of which marked a shift for composers across the globe. The third and final concert is scheduled for Jan. 25 at 7:30 p.m.
Tickets and more information for the concerts, which were recorded at Firehouse 12 last month, are available here.
Monday, violist Jordan Bak, cellist Joshua Halpern, violinist Kate Arndt and Kallos Founder and pianist Min Young Kang appeared for Arnold Bax's Piano Quartet in One Movement, written by the British composer in the aftermath of the flu pandemic and the First World War. Due to a chronic heart condition, Bax was unable to fight in the war. During those years, he focused on his music instead.
That did not mean that he was exempt from the trauma of war, Bak noted in an introduction before the performance. Instead, it consumed him well after the war had ended. He was especially shaken by the Easter Rising of 1916, the jarring pain of which comes through his work. As he wrote, his marriage fell apart. His relationship with his family became strained. All of it pervaded his music.
"During this time, even though he was reaching new heights in his career, he really was emotionally distraught," Bak said. "The feeling of losing so many people and such wartime conflict ... all of that emotional turmoil really left him emotionally reeling."
From the moment the quartet began Monday night, listeners could hear that stress and strife within the work itself. In the piece, strings begin in unison, marching forward with a kind of crazed persistence. Sound comes in short, muscled bursts, sharp and articulated. Together, strings conjure an image of someone shell-shocked and unfixed in time and space, just trying to put one foot in front of the other. Beneath them, the piano is sonorous but never becomes muddy.
The sound isn't exhaustion, so much as mania. Strings climb, increasingly more agitated by the moment. Piano pulses beneath them. Less than two minutes in, it leads to a call and response that chases itself until it is dizzy, then pulls back just as suddenly. For a moment, it seems as if a curtain to another universe has opened.
Bax's slow undoing stops; there's a sense of resolution. The piano—masterful under Kang's able touch—mellows out. Strings slow down; it sounds as if the violin and cello are dancing with each other. Beside them, viola sings, sorrowful and slow. Monday, musicians' breath came drifting in and out of the recording.
In the end, a sense of despair grips the piece and becomes a tidal wave. Bax's sense of panic and trauma is almost palpable: it's the kind of piece of music that can make one's blood pressure rise and heart race.
Monday, musicians played through it all. Masks on, the four talked to each other in a shorthand of glances, arched backs, furrowed brows and wide open eyes. Bak and Halpern watched each other carefully, violin building off of the cello and cello slowing at the violin's command. As she played, Arndt let the viola become an extension of herself, its voice piercing and unbelievably lonely in the space.
Just six minutes into the piece, Kang turned the piano into the loudest voice in the room, notes swelling in the air. She began a back and forth with Bak, in a sort of conversation already steeped in darkness. Piano pleaded, insisting there were brighter days ahead. Violin responded that maybe it was too far gone. Piano pushed back, then unleashed a slow, simmering rage.
In Kallos' able hands, Piano Quartet in One Movement became a powerful reminder of the way history chases its tail until it has exhausted itself. While Bax died in 1953, his contemporary audience finds itself gnawing on some of the same old bones that haunted the composer. War on a global scale hasn't ended, it just looks different. Social isolation isn't old news. The flu pandemic may be over, but Covid-19 is far from it.
The panic—a claustrophobia, almost—feels especially present in a month that has included domestic terrorists storming the Capitol and a Covid-19 death toll that now includes over 400,000 Americans. So too the glimpse of resolution, like a light at the end of a very long, unfinished tunnel. Along the way, Bax pushes listeners to feel it all deeply; to take in the sweet and the very bitter. Kallos does, and the series is stronger for it.
Join musicians in the Kallos Chamber Music Series next Monday, Jan. 25, for Johannes Brahms: Piano Quartet No.3 in C minor, Op.60. Tickets and more information are available here.