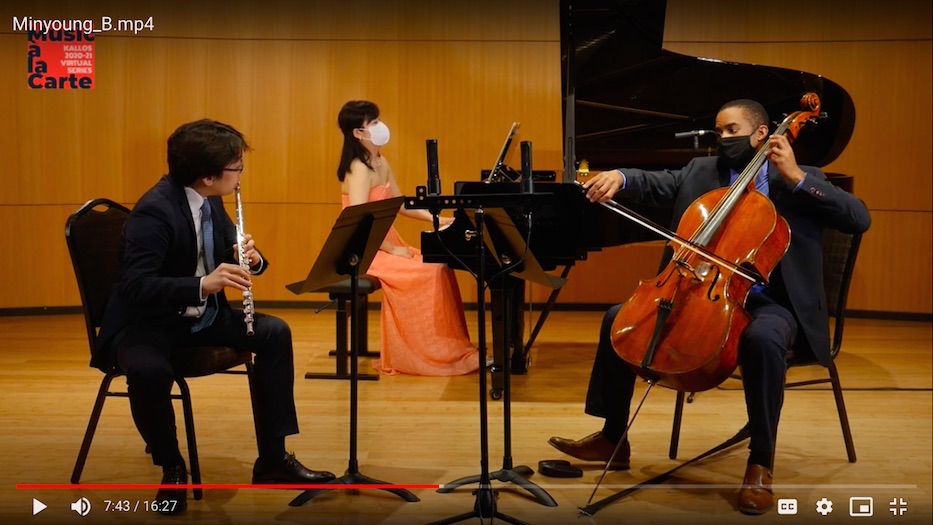 Music | Arts & Culture | COVID-19 | Kallos Chamber Music Series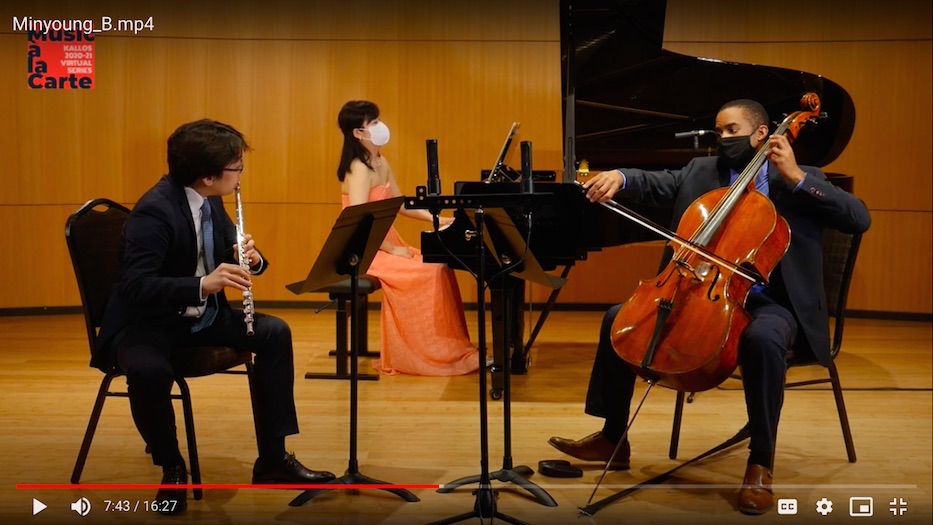 Still from Min Young Kang Video.
Beomjae Kim lowered his mask and lifted a flute to his lips as his eyes swiveled forward. Through a shower curtain, Khari Joyner drew his bow, loosing a long, full breath from a cello that seemed more like an extension of his body. At the piano, Min Young Kang lowered her head and started to play. Her hands flew over the keys, wrists gliding.
This was chamber music meant to ward off a plague. Somewhere, the spirit of Joseph Haydn had risen and was sending a beam of light into the universe.
Haydn's "Trio No. 28 in D major, Hob. XV:16" lays the groundwork for Music à la Carte, the newest initiative from the Kallos Chamber Music Series. Starting Nov. 2, the series will present four mini-concerts, spread out in 15-minute increments over four weeks. The series then returns in January for another four weeks of music with a group of new musicians.
Kang said the title, which translates to "music on the menu," is a nod to the bite-sized design of each concert. Tickets and more information are available here.
"As we all know, this season is particularly difficult, and it's really important because all of our musicians have really suffered due to COVID-19," Kang said in an interview Tuesday, speaking over Zoom from where she is staying in New Jersey. "I really wanted Kallos to be a supportive platform to showcase the amazing talents of these musicians. We are all overjoyed to be able to play again, and to be able to make music together. Even masked up and rehearsing with a partition."
Kallos was originally formed in New Haven in January 2019, as an intimate space for chamber music in the city. Its last concert was in February of this year, less than a month before state-mandated closures of concert halls, large and small theaters, entertainment venues and most businesses. As a working musician and an educator, Kang had performances lined up for the spring and summer, including a trip to Spain to record an album with the violist Jesus Rodolfo.
All of those were gone in days. She watched weeks, and then months, of work disappear overnight, and listened as the same happened to her colleagues across the country. European borders closed, and Rodolfo found himself unable to get to Spain at all. A long-awaited concert in October was postponed, then cancelled. She went from playing in concert halls and wood-paneled classrooms to sitting at home for hours with her 18-month-old daughter. She entered a state of what she called "quiet turmoil."
"I had to face fears and anxiety that I've never had before," she said. "When COVID-19 first broke out, I thought it would not last too long. Inside of me, I was growing anxious and helpless. We all know this feeling … it made me really passive. In my mind, I knew I had to do something, but I could not get myself up. I was not able to touch the piano for almost two months."
During that time, Kang was also faced with a barrage of pre-recorded online programming and on-the-fly virtual experiments, including classical performances that asked viewers to be on their screens for an hour or more. She started thinking about what it would look like to split those concerts up, so that listeners weren't expected to stay on their couches for 60 to 90 minutes. In August, Music à la Carte was born.
The program breaks down four pieces or music over four weeks. On Monday night, the trio will kick off the season with Haydn, putting something bright into the universe before millions of Americans head to the polls. The following Monday, the three return with Gabriel Pierné's "Sonata da Camera," a soaring game of call-and-response between cello, flute and piano.
It will come as a prelude to Philippe Gaubert's "Trois Aquarelles," a work that Kang called "exotic and dashing." The three musicians finish the month with Bohuslav Martinů's Trio for flute, cello and piano. Aware that finances are tight for many of her friends, colleagues, and students, Kang has set up tickets on a sliding scale, from $5 up to $100.
An anonymous donor made it possible to pay for a recording space and subsidize the tickets. Because Kang wanted "to give back to the community a little bit," ten percent of the proceeds from each concert are donated to a local nonprofit, starting with the New Haven Scholarship Fund. Concerts are recorded before they air; rehearsals entailed players in masks and separated by a shower curtain for droplet protection from the flute.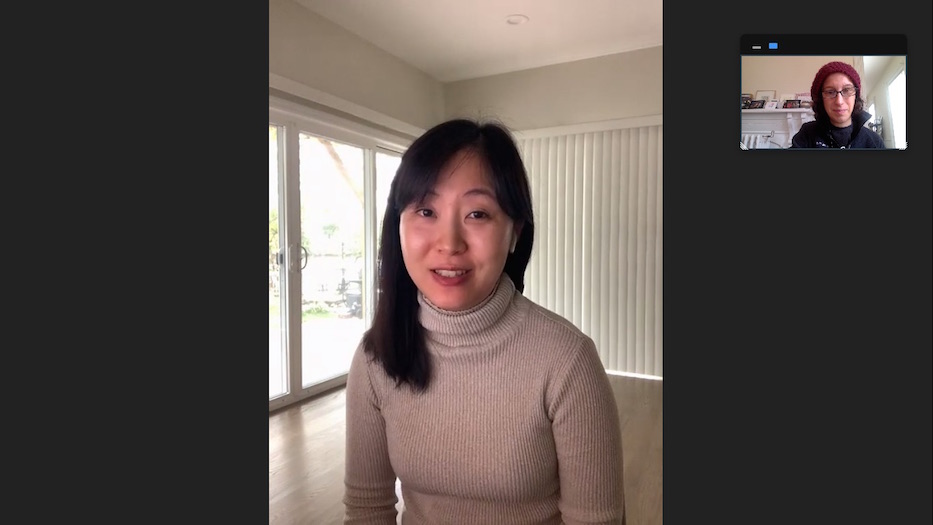 Kang in a Zoom interview Tuesday.
"We were really thrilled to be able to play chamber music again," she said. "It's like regaining your passion, your first love, after a long hiatus from the stage or any kind of rehearsal. Everything is totally different, but we are still making it work."
Haydn's trio for flute captures that excitement. In a playful flirtation, piano opens the piece and then invites in the flute, which swoops in and sings along. After just seconds it breaks with the first melody over the keys, soaring on its own terms. The cello, beneath it, is a witty repartee; it asks and then answers in short, exuberant bursts. The piece is hard to listen to sitting down: it demands dancing, with whatever fancy footwork one is able to summon in quarantine.
Kang added that the primary purpose of the series is to spread joy at a time when it feels increasingly hard to find in the world. She acknowledged that there is a darkness to this year, persistent as COVID-19 cases rise across the state and people face down anxieties around the presidential election and another second wave of the pandemic.
The music is a kind of balm to that, she suggested. Since starting to practice the piano again this summer, she has experienced a fresh, blooming kind of jubilation that reminds her why she loves the instrument and the genre. In September, she and Rodolfo recorded in New York City after realizing that they would probably not get to Spain this year. Now, she is excited for listeners to experience live—if virtual—chamber music after months without the series.
"I really hope our listeners can feel the joy and the excitement that we have during the concert," she said. "I hope that people feel that chamber music can be for everyone. We performed with our masks, so you won't see our faces. I hope they can feel our joy."
"I hope we can demonstrate that chamber music is still important," she continued. "Our big desire is to communicate with the audience. That our music making, even when we can't be in person, can get through that barrier."
Find out more about Music à la Carte at Kallos Chamber Music Series' website.