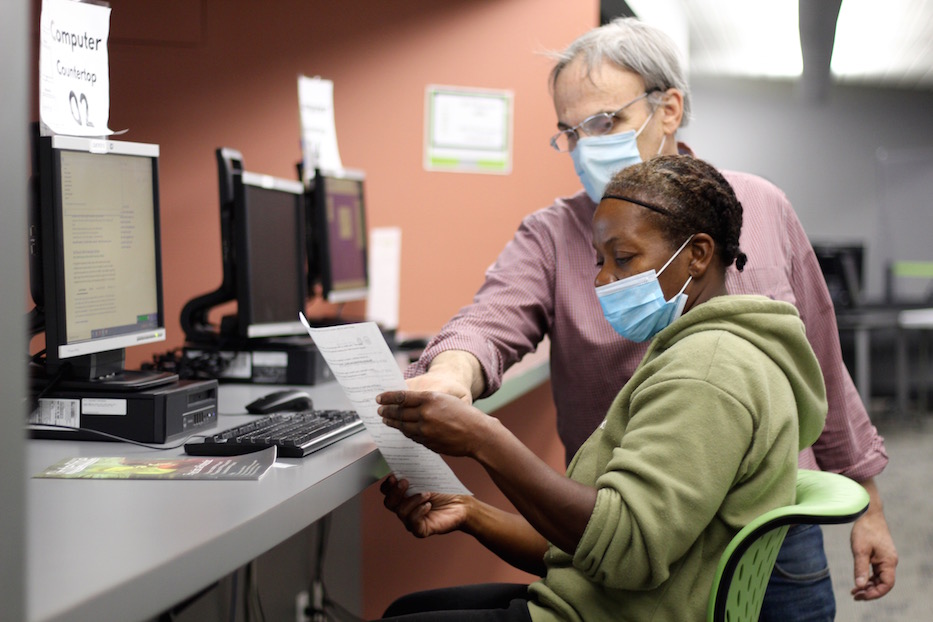 Books | Downtown | New Haven Free Public Library | Public Health | COVID-19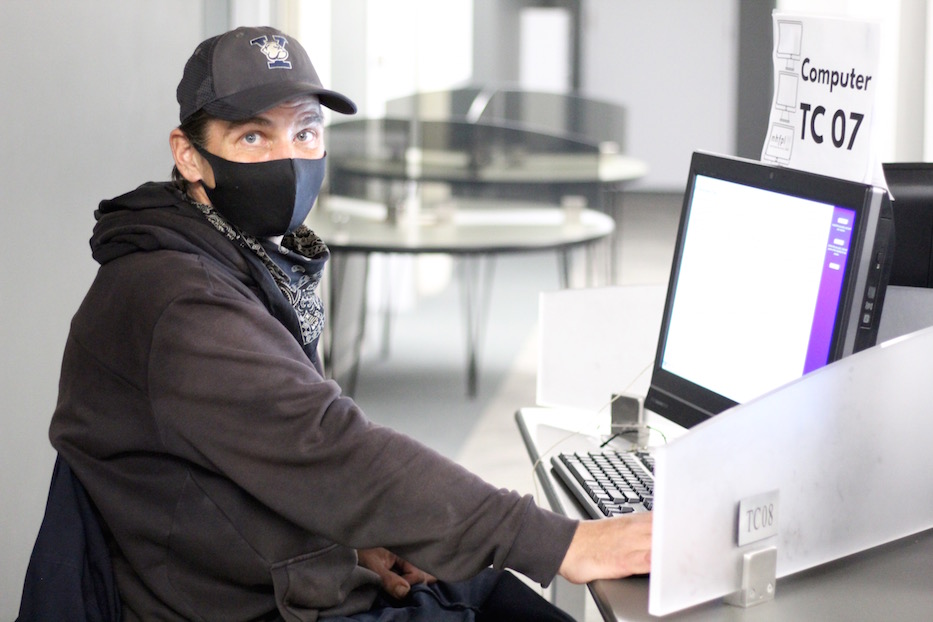 Lucian Samsel: "It's a repreive." Lucy Gellman Photos.
Almost every day now, Lucian Samsel has a routine at the New Haven Public Library. After the VA shuttle transports him from West Haven to New Haven, he heads to the library's reopened tech center, where he can search for a job to replace the one he lost during COVID-19.
Samsel is one of a handful of people who have returned to the library on a limited basis, as it reopens its tech and study centers by appointment. In the past months, staff members have been working towards a larger-scale reopening, complete with self checkout, browsing services, more janitorial staff, touchless faucets, and time-limited slots to stem the spread of COVID-19. It comes as Gov. Ned Lamont moves into Phase 3 of a reopened economy.
It also comes as Lamont sends an infusion of $146,730 to the library, as part of $2.6 million in federal CARES Act funding going to 65 libraries across the state (view a full breakdown of funding here). Lamont's office made that announcement last Thursday.
"We're building a runway for November," City Librarian John Jessen said in a phone call last Thursday. He added that the date for reopening is subject to change based on both the library's progress and the state of COVID-19 cases in New Haven. He is also in the midst of filling jobs: 13 full- and part-time employees left the library between March and October.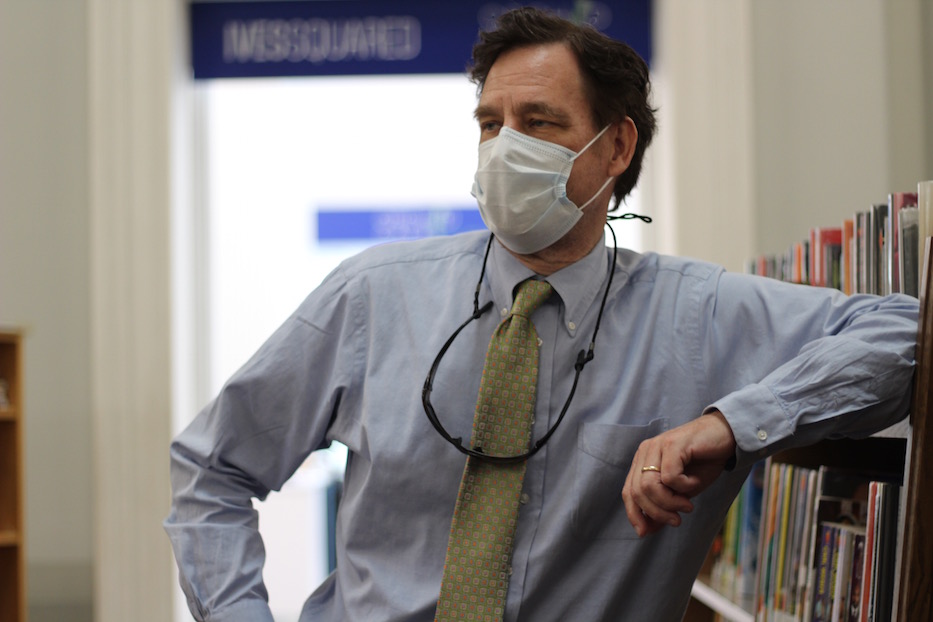 Jessen at the NHFPL in July, when the library announced curbside pickup. Lucy Gellman File Photo.
The new funding will help cover cleaning expenses, new personal protective equipment (PPE), and contact-less measures meant to keep both staff and patrons safe. A new self-checkout system called meeScan is set to start by next month. The library will be continuing its curbside pickup service at all five branches.
Friday morning, staff members and a trickle of patrons cautiously orbited each other, some making photocopies as others checked in on the state of an ongoing inventory project and geared up for one-on-one and group virtual classes. In the building—eerily quiet, even for a library where the mayor once made jokes about whispering etiquette—bottles of hand sanitizer now dot tables and desks. A tall, thick layer of plexiglass has been installed at the main circulation desk. New measures are in place for social distancing. Everyone who enters the building must have a mask and keep it on.
Just past 10 a.m. Friday, people started arriving for their appointments in the tech center. Samsel, who uses the computers to search for jobs and update his resume, rolled in a little before noon. Since the center reopened, he's been coming to the library three to four days a week, a bus commute that takes him from his home in West Haven to the New Haven Green.
Public Services Administrator Sharon Lovett-Graff.
If he can't get the VA Shuttle, he hops onto the 265 bus, which lumbers down Congress Avenue after starting in West Haven. Friday, he braved the morning's rain to get there, the brim of his baseball cap still damp as he took off his jacket and logged in.
Prior to the pandemic, Samsel spent his days as a welder, a job that he landed after military service and trade school in the 1990s. In March, he lost his job due to the pandemic. While he applied for unemployment immediately, it took him six weeks to receive his first check. In between, "I survived by doing small jobs," all of which amounted to barely enough to pay for rent and food.
When he found out the library's physical doors were closed ("The library never closed," Jessen is quick to say of the months when the library was entirely virtual), he called once a week to see when it would be open again. Now that it is, he spends a few hours applying to trade positions around the region.
Friday, he was finalizing his resume for a welding gig in East Haven. He said he loves the tech center, where muffled footfalls join the hum of the copy machine and steady tap-tapping of keyboards. On the days he doesn't come into the library, he has to search on his cell phone for jobs. He gets distracted easily.
"For me, it's a reprieve," he said. "All the resources are right here, around us."
He feels like he's on a financial deadline, he added. He and his wife are expecting a baby on January 1, and he wants to find steady work to support them. He joked that he is hoping it will be the first child of 2021, because that timing feels like a good omen for a new year.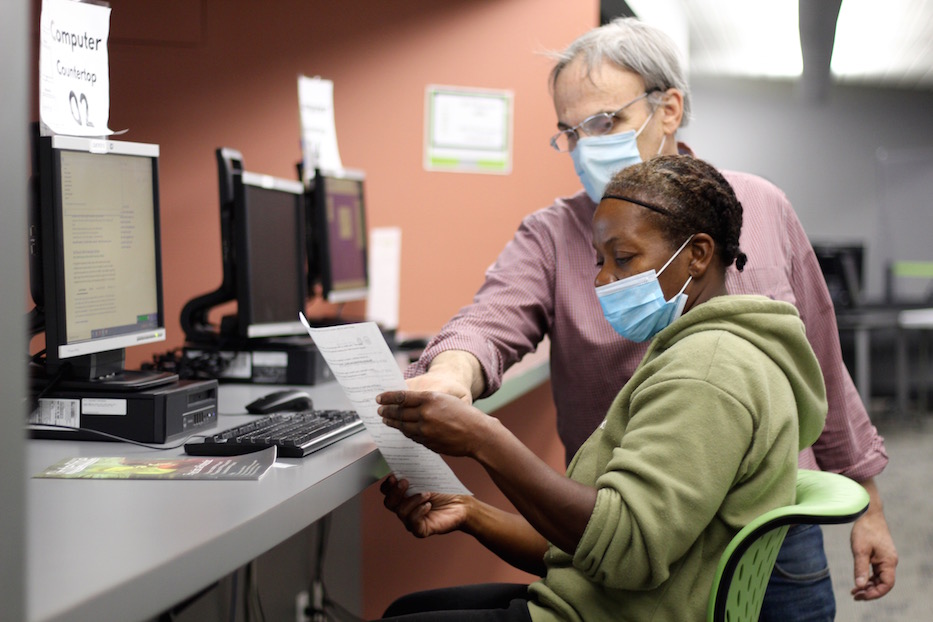 Barbara Murray with Seth Godfrey.
Across the center, New Havener Barbara Murray was on the hunt for a copy of her birth certificate. After growing up in Honolulu, she ended up in New Haven three decades ago. Before the pandemic, she was working at the Amazon warehouse in North Haven. She lost her job around March. Now, she said, she needs a copy of her birth certificate for a trip to the Department of Motor Vehicles.
Seth Godfrey, manager of reference and adult learning, brought over a sheet of paper on the state office of vital statistics. A copy of Centerline sat beside her as she typed quietly. Because appointments are time-limited, she kept checking the computer's built-in clock.
"It plays a huge role in my life," she said of the library. "Everyone don't have computers. There's a lot of people that need help, that need these resources, and they can find them here."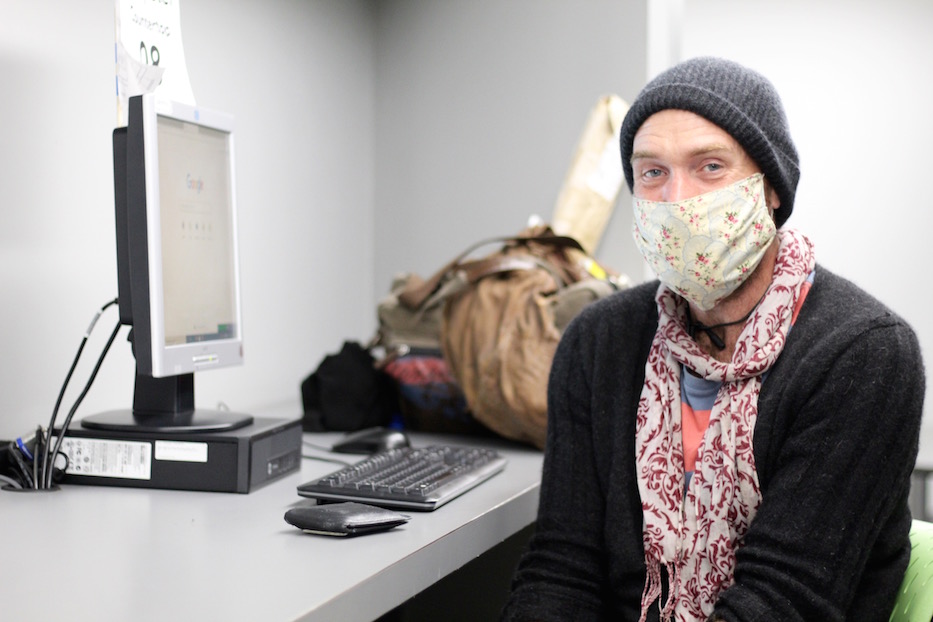 Kevin Bryar, who came to New Haven from Northampton, Mass.
Further down the same bay of computers, Northampton, Mass. transplant Kevin Bryar was checking his email and searching for an apartment in the city. After coming to New Haven a month ago, Bryar has been in transitional housing while looking for work. Signing up for a library card was one of the first things he did when he arrived. He now comes to the library three to four times a week.
With experience in the restaurant industry—one of the hardest-hit by COVID-19—Bryar has struggled to find work in New Haven. Friday, he was waiting to hear about a final offer from Tomatillo Taco Joint, a little shop on Broadway Avenue that will give him a steady stream of income. He said he's eager to get back to work.
When he isn't in the tech center, he uses the library's curbside pickup option to order books by Oscar Wilde, Henry David Thoureau and Benjamin Hoff. It gives him a chance to unwind.
"New Haven is such an amazing place," he said. "There's an intelligent weirdness to the city, I think. Here, I'm able to get the information I need."
Across the hallway, library staff have set up a study center with newspapers, spaced-out tables and librarians on call. Godfrey said a few people have come through to get resources from the local history room and stake out a quiet place to work for a few hours. A week ago, a nursing student came through to study for an exam.
Curbside Pickup & Online Programming Soar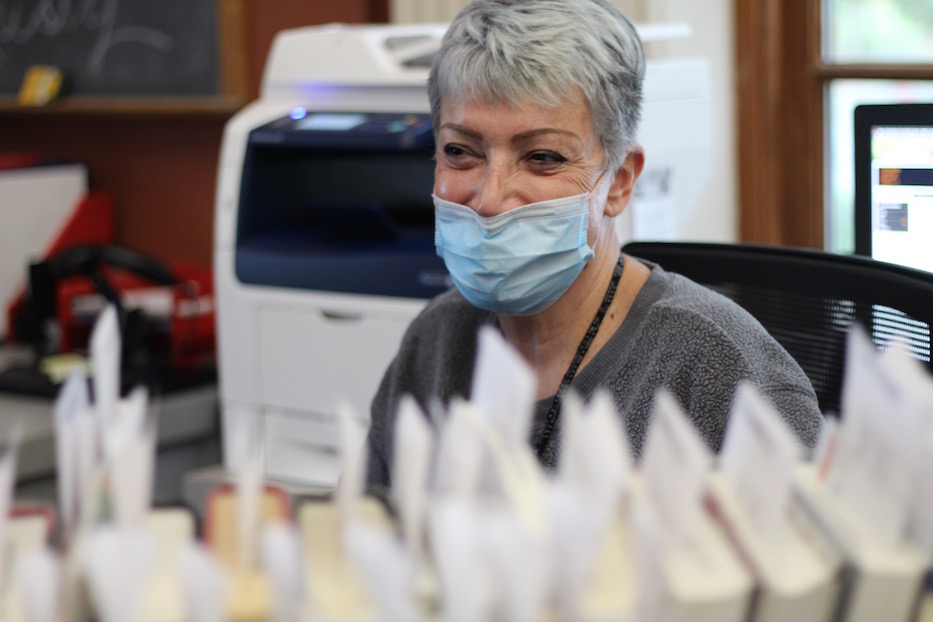 Manager of Circulation Services Maria Tonelli.
Upstairs, Manager of Circulation Services Maria Tonelli was surrounded by hundreds of books, carts positioned around her desk like a bibliophile's miniature fortress. Since the library began curbside pickup services in July, the main and Mitchell branches of the library have seen requests skyrocket to hundreds of books per week. When Tonelli returned from a long weekend earlier this month, she had 123 requests waiting for her.
She loves seeing what different readers go for, she said as Billy Joel played on quietly from the radio. Friday's pickup load—around 200 books—included a tourist's guide to Greece, lots of Dr. Seuss and Pete The Cat, and twin copies of Isabel Wilkerson's Caste. Jerry Craft's New Kid, which just won a Connecticut Book Award, sat on a shelf nearby with its black-and-yellow jacket glinting in the light. A pulpy romance from Nora Roberts waited a few titles away, with a cluster of neat purple grapes perfectly centered on its spine.
When Tonelli isn't fielding requests, she's working with a team on the library's first inventory in years, going over thousands of titles that the library has and thousands more that it may need. That process is taking place at all five of the library's branches, including Stetson as it prepares for a move to the new Q House next year.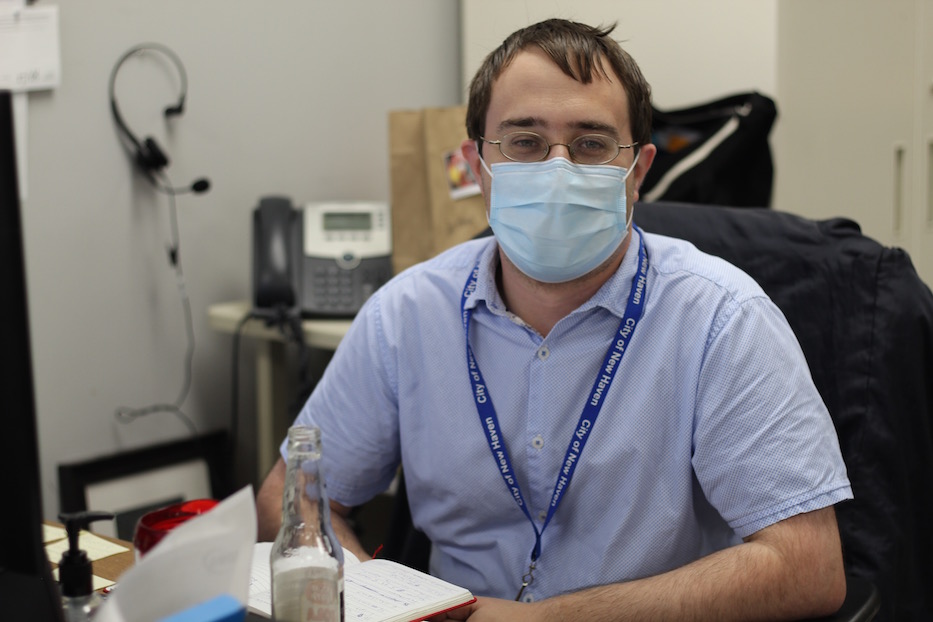 Library Support Professional Arthur Volanth upstairs. It's his job to make sure the tech doesn't fall apart.
Jessen noted that a number of patrons don't seem particularly ready or eager to come back inside, which means the library will continue to lean on its digital offerings through next year. On the second floor, support professionals are there to make sure the library's online offerings are running smoothly.
Still, several New Haveners have asked when the library will allow them to come back in and browse books. While the library's branches in Fair Haven, the Hill, and Dixwell have seen fewer requests for curbside pickup, they've gotten calls for tech and printing help. In an ideal world, Jessen said, he wants to serve those needs as soon as possible and keep everyone safe.
"People are really nervous," he said. "It's kind of like a restaurant. I think that's the way the library population is too. What we want to get to is where we can have a kind of transactional relationship with people in the building for smaller amounts of time. And of course, we want to be able to open our doors."