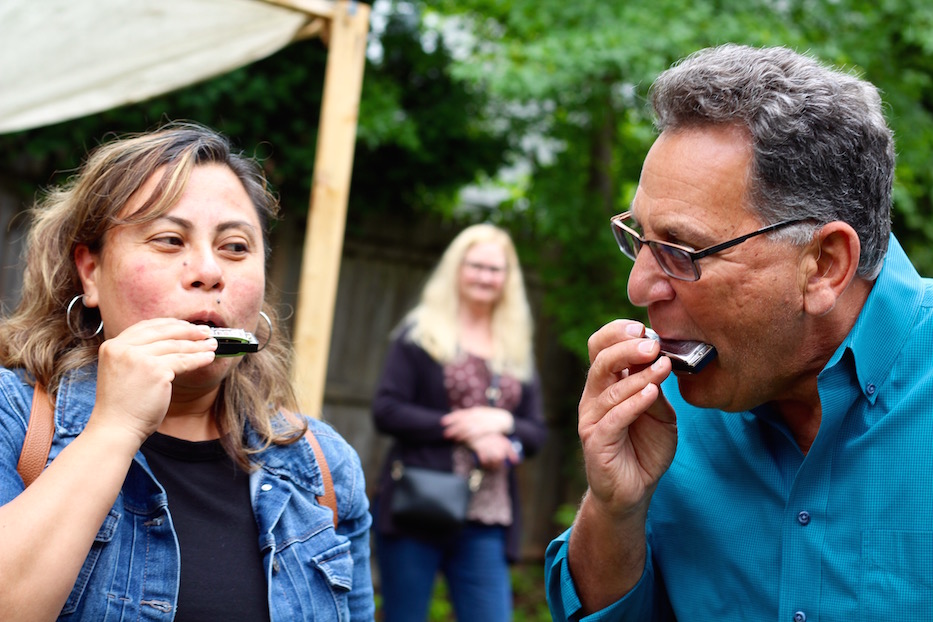 Make Music Day | Music | Arts & Culture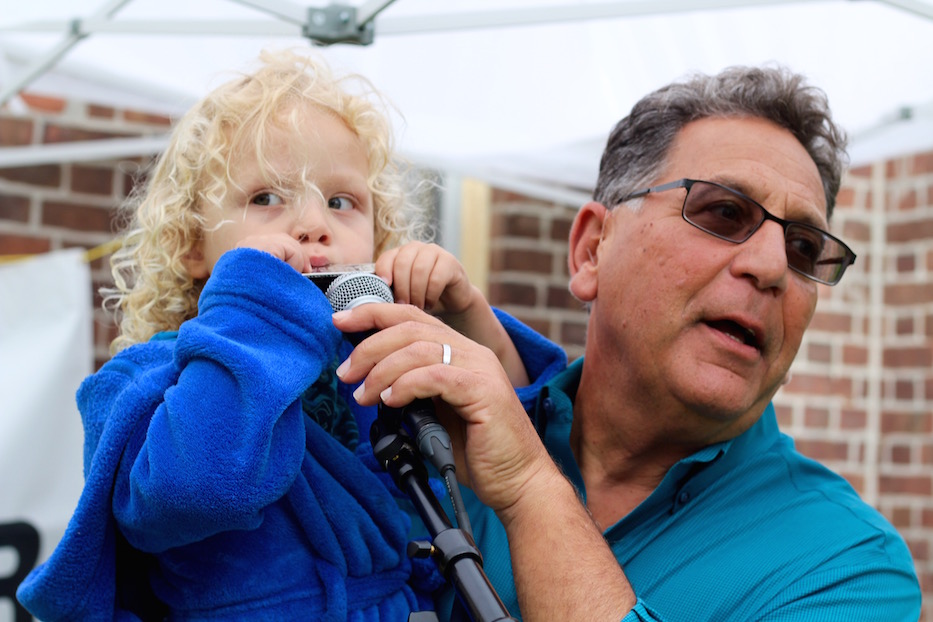 Chris DePino scooped George Tinker off a patch of wet grass. Under a nearby tent, a microphone sat at the ready. Tinker wriggled with anticipation, waving his arms in the air with a huge smile. He had all he needed: a harmonica, two little palms to hold it, and a few fingers to keep the instrument steady. He had dressed for the occasion, head to toe in a fuzzy, hooded blue onesie that gave concert tails a run for their money.
Friday, Tinker was one of hundreds of planned and impromptu performers at the second annual Make Music New Haven, a festival of music making that stretched across the city and into Hamden from 8 a.m. until the wee hours of the next day. This year, over 70 venues participated, from parks and community theaters to video stores, art galleries and community centers.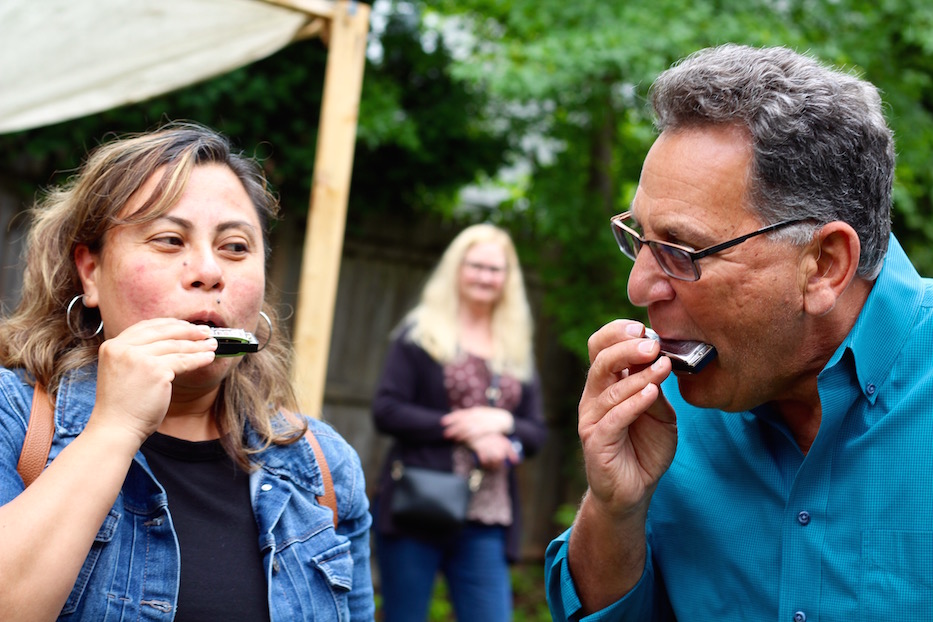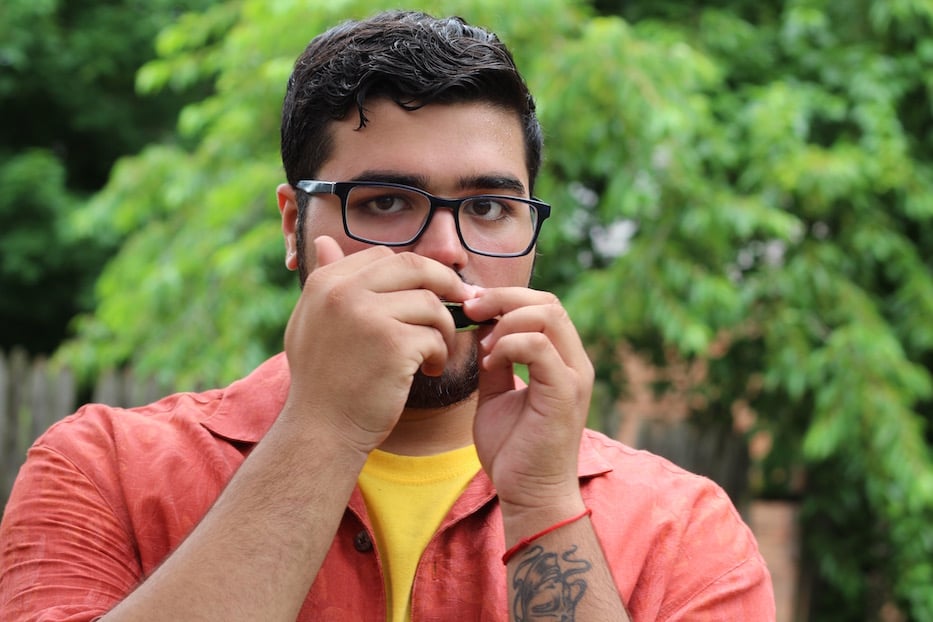 The event was organized by The Arts Council of Greater New Haven with several local venues and artists. It is inspired by the decades-old Fête de la Musique, a citywide celebration of music conceived under France's Cultural Minister Jack Lang in 1982. Unveiled in Paris that year, it has since spread to over 120 countries and hit the U.S. 12 years ago.
This year, over 1,000 cities participated worldwide, including several across the state. In all, New Haven's contribution included over 100 artists in over 70 acts, up from 42 artists in 21 locations last year. After a soggy start that rained out drumming atop East Rock and an instrument petting zoo at Jocelyn Square, artists got to work across the city.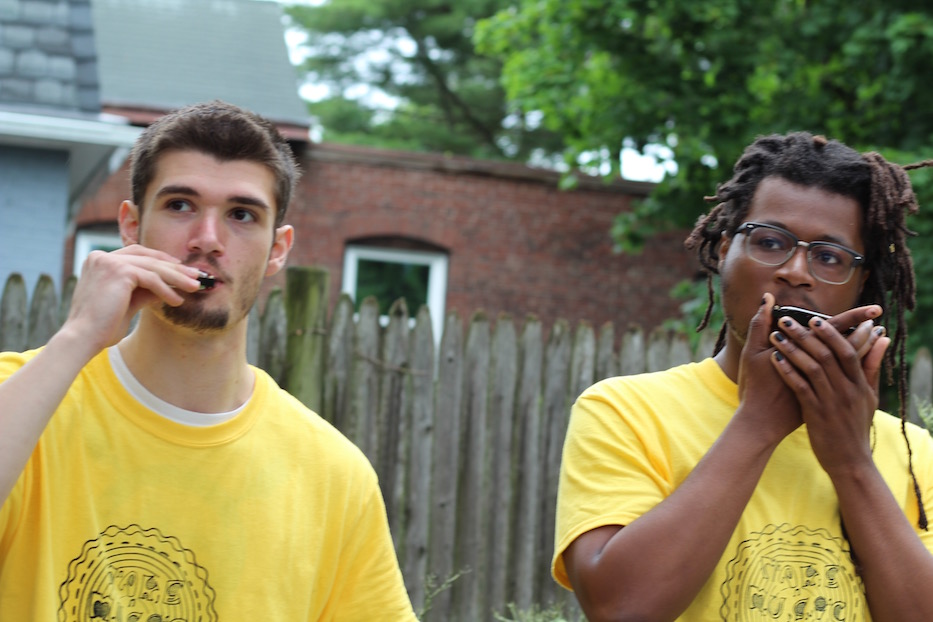 One of those young musicians was Tinker (pictured at top), who turned out for the second year in a row with his mom Beth. Just short of noon, the two rolled into the Ely Center of Contemporary Art for some of the first performances of the day. As kids decorated paper plate tambourines and a few parents laid out blankets, Tinker walked around on the grass, head nodding to Nick Di Maria as he finished up a jazz set.
Around noon, DePino swept in carrying a stack of small white boxes, each of them containing several harmonicas. As Performance Curator Briana Williams passed out the handheld instruments, DePino gave the first direction of the day: attendees would have to channel their younger selves. Otherwise this wasn't going to work.
One by one, they tried it. Walking around the space, he conducted them in groups, lifting his arms as if the music was about to make him airborne. A hzzzzzmmmmm sound came from one side of the center's backyard. A sudden, metallic wail shot up from the other. As far as DePino was concerned, that meant they were doing great.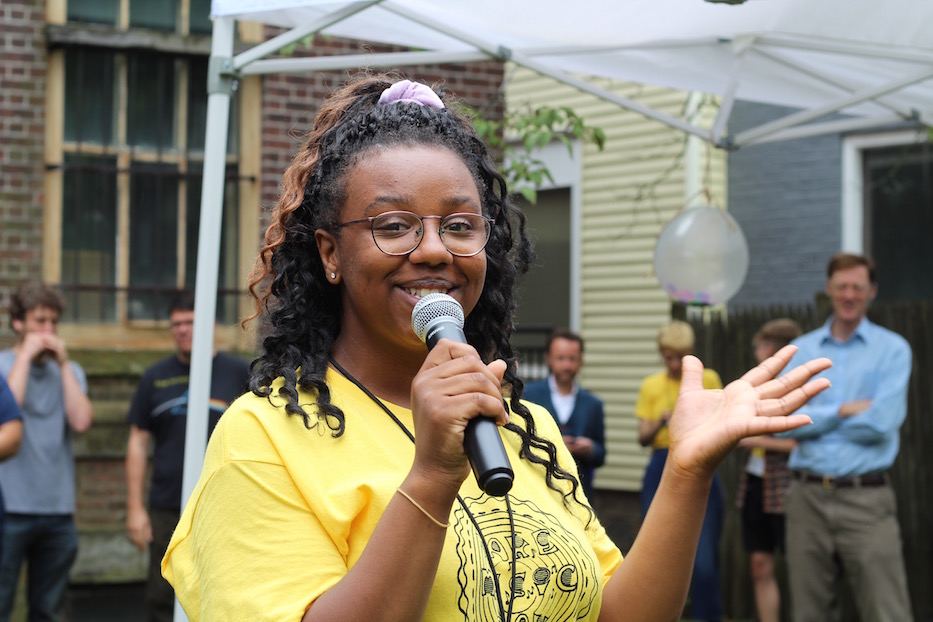 Briana Williams, who helped curate a full day of performances for Make Music New Haven at the Ely Center of Contemporary Art.
"Welcome to the beauty of what my life and my love is about," he said as groups around him played. "It's an instrument that you can play anytime, anywhere, under all circumstances. It'll never let you down. And it is always in tune!"
Across the city, musicians tuned their own instruments as they began sets that ranged from folksy to blues to jazz, acoustic and klezmer. At Best Video Film & Cultural Center in Hamden, KYLE kicked off an inaugural collaboration between the center and Marrakech, Inc. that was born after last year's Make Music Day celebrations in the city.
"Our collaboration with Marrakech, Inc. as part of Make Music Day was a stirring example of the power of music to reinforce community and enrich lives," said BVFCC Co-Founder and current Executive Director Hank Hoffman after Friday's events were over.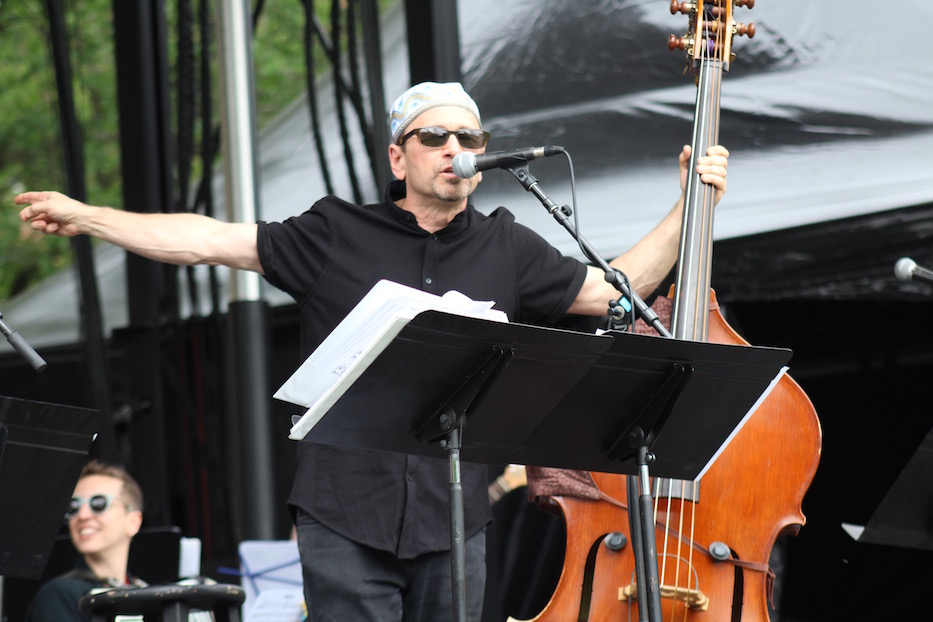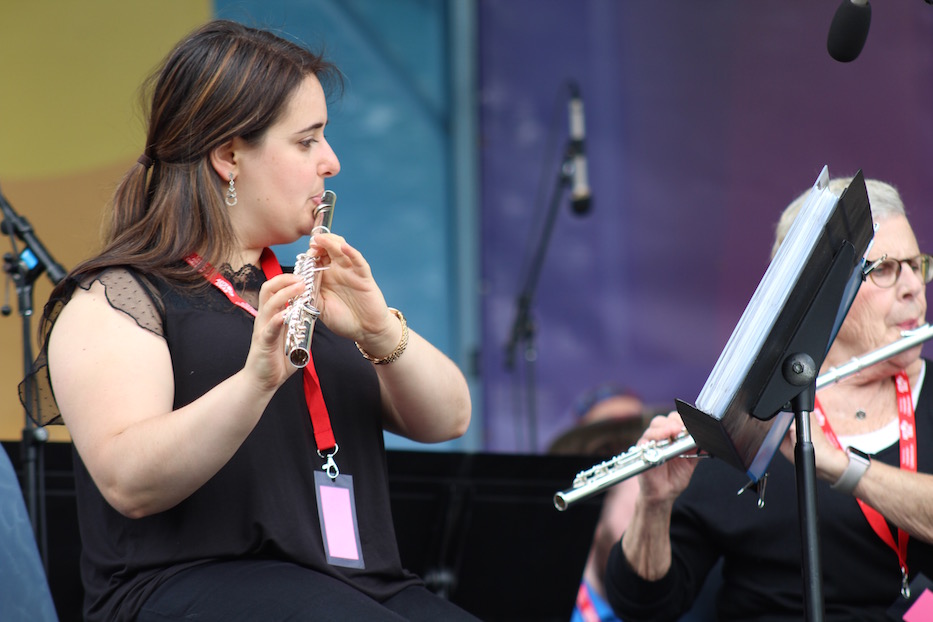 Musicians from the Nu Haven Kapelye hit the Arts & Ideas main stage.
Just down the street at the Whitneyville Cultural Commons, another lineup began for the day, artists flowing in and out of the space. Down Whitney in New Haven, the Ely Center was heating up. One street over on Audubon, strains of music flowed out from the Neighborhood Music School and new open air piano on the street, where the street is one of the stops on the city's Free Keys Piano Trail.
Music carried New Haveners downtown, where a local lineup packed the main stage at the International Festival of Arts & Ideas all afternoon. At just a little after 2 p.m., a crowd gathered to catch the Nu Haven Kapelye, a local gem that is also the largest klezmer group in New England.
As bassist David Chevan introduced members of the group, attendees clapped along in their seats and at tables that dotted the green. Beth and George Tinker made an appearance somewhere in the front, supercharged and ready for some dancing after the morning's harmonica performance.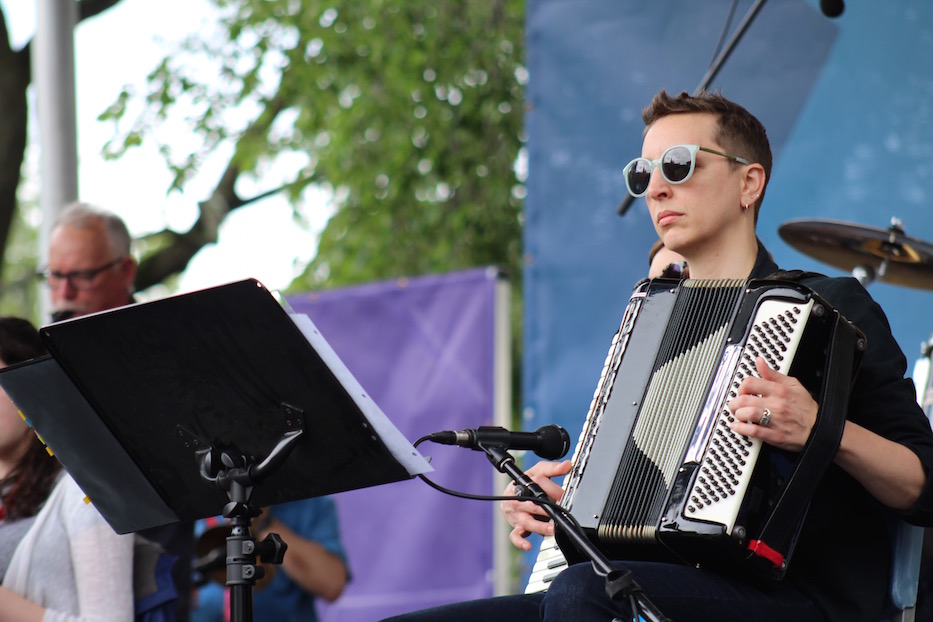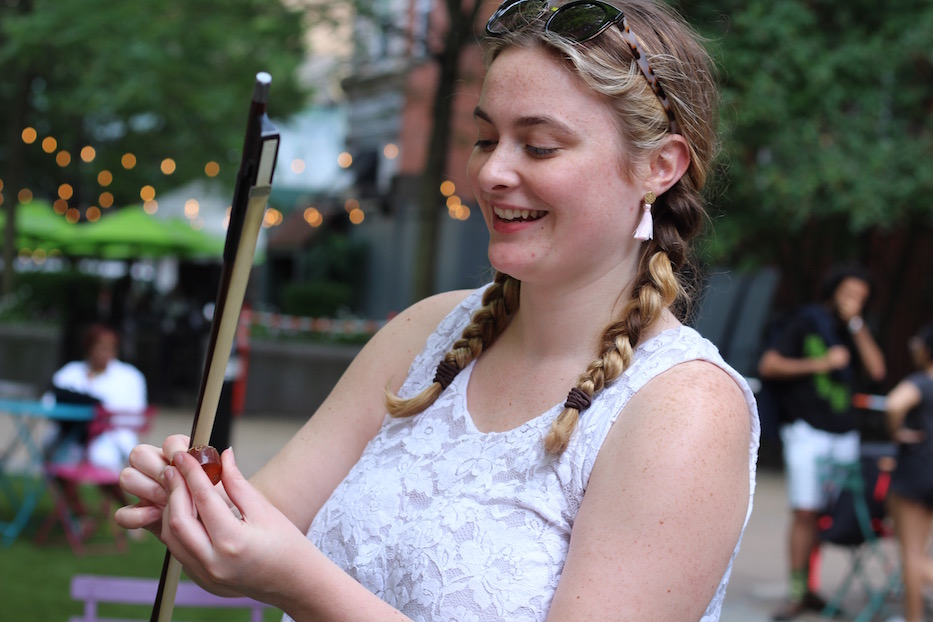 Music seeped through downtown, strains of guitar and electronic stretching from beneath the marquee at College Street Music Hall to Artspace New Haven, where DJ Lisa B. was spinning tracks against Erin Lee Antonak and Kim Weston's exhibition Seven Spans.
It wove back up Chapel Street and Whalley Avenue, where musicians cycled in and out of Hull's Art Supply and Lotta Studio. It flowed from Temple Plaza to Cafe Nine, then out to Bregamos Community Theater in Fair Haven, where performers were just warming up for drumming and bomba.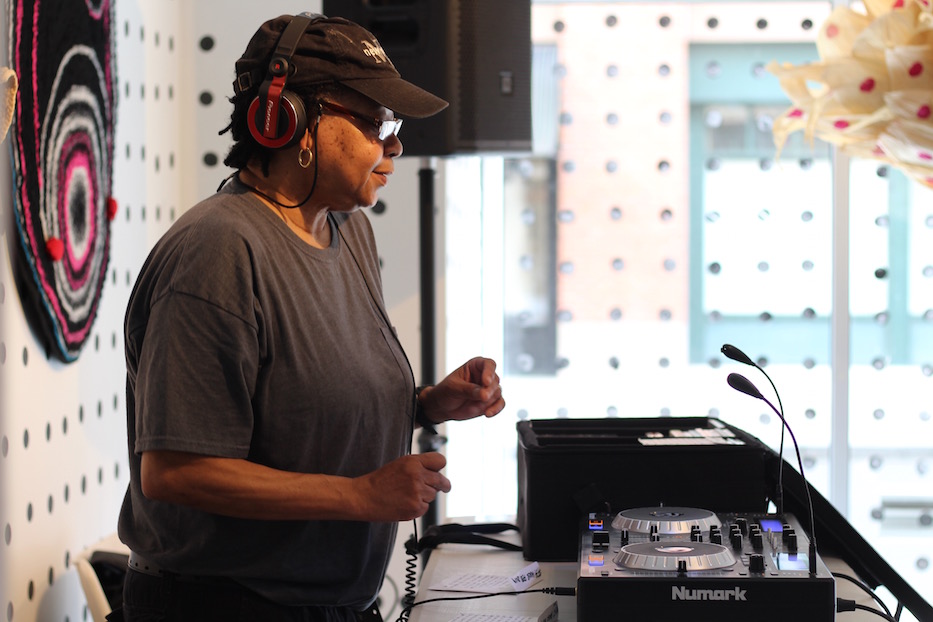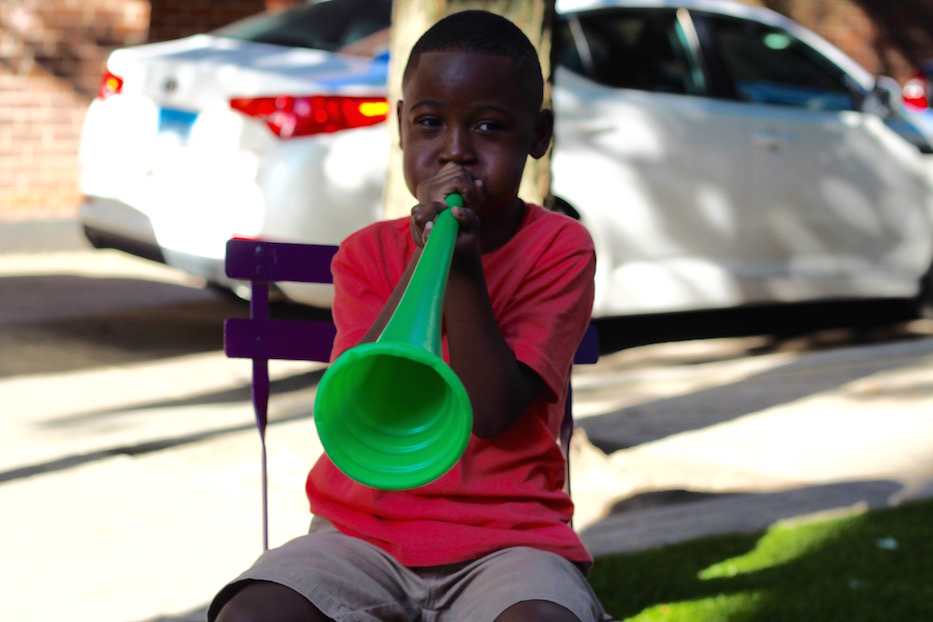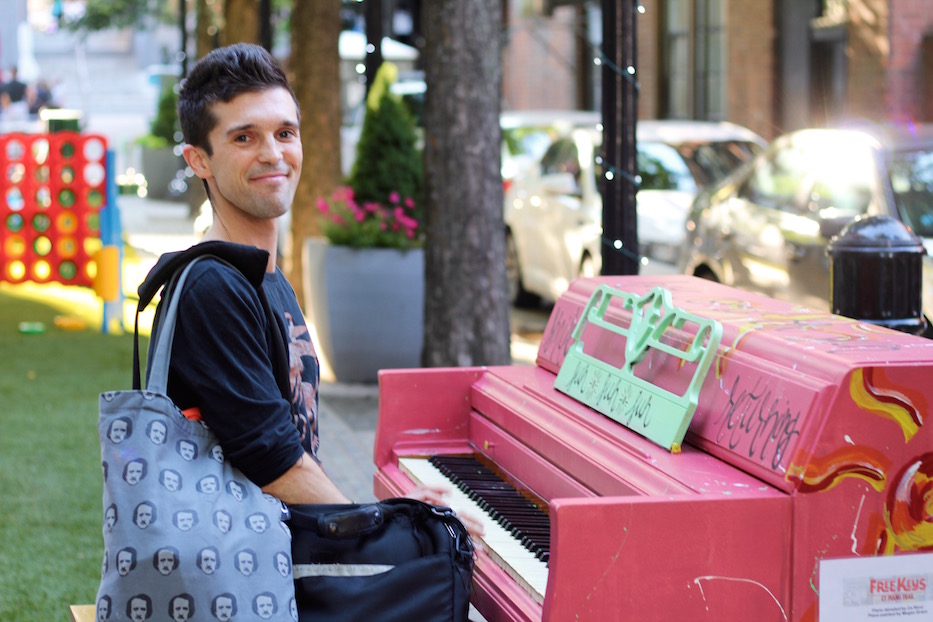 New Haveners took note around town, some becoming part of the performances as they stuck around and danced, or hummed along to musicians who played familiar tunes. Around Hull's, they stuck around the doorway and then headed to other shops to see where another rogue guitarist might pop out of the woodwork.
In Temple Plaza, a few swayed as they sipped local beer and celebrated Friday afternoon. The evening was just getting started, with a lineup of porch appearances and shows that traveled from Three Sheets New Haven to Cafe Nine and around the corner to The State House. Read more about those here.
To watch videos from Make Music New Haven, click below and check out these articles by Brian Slattery and Karen Ponzio in the New Haven Independent.