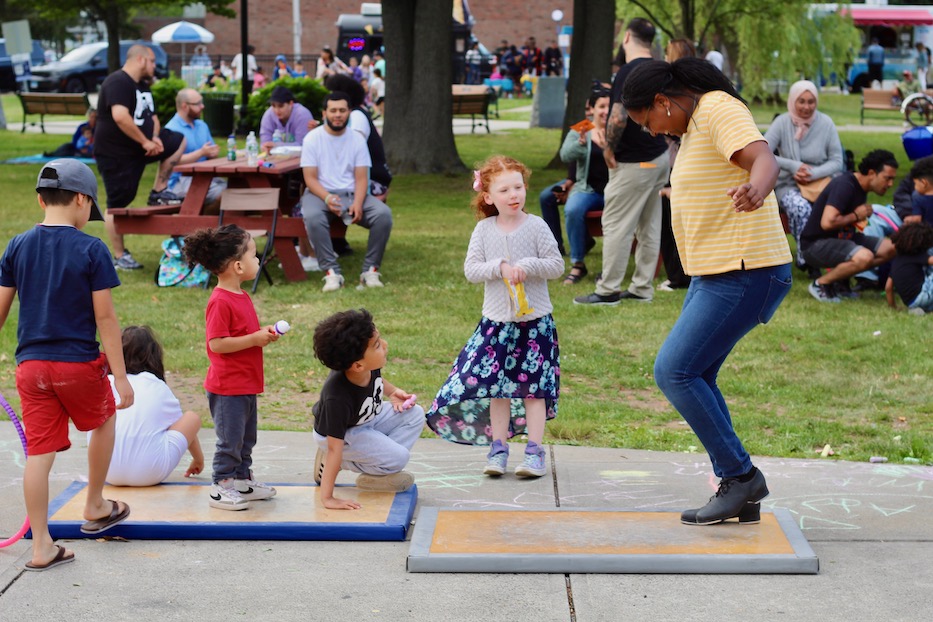 Culture & Community | Make Music Day | Music | Arts & Culture | West Haven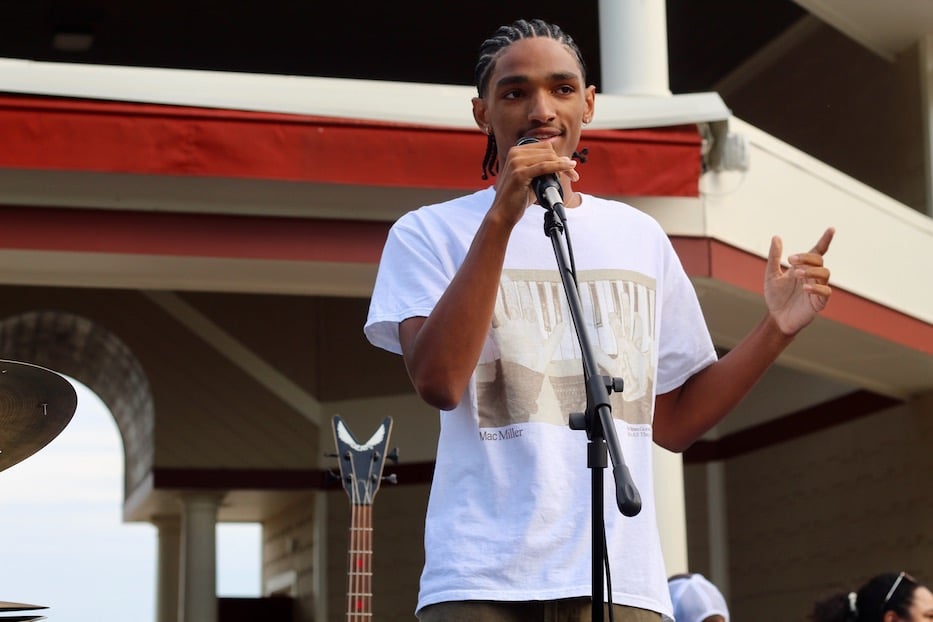 Walker Perry, a.k.a. Le Saint. Lucy Gellman Photos.
Le Saint's vocals drifted over Old Grove Park, winding out towards the water in one direction and the grass in the other. In front of the stage, pink and yellow hearts bloomed across the pavement, chalked with the messages I Love Music! and West Haven Rocks! At the mic, Le Saint bobbed to the lyrics, written in his dorm room at Morehouse. A few pint-sized fans rushed the stage, one holding up a parent's phone to record.
Musicians set the soundtrack Wednesday evening, as Make Music West Haven jammed, tapped, belted and crooned its way into summer from Old Grove Park and the surrounding Oak Street Beach. A collaboration among ArtsWest CT, the West Haven Child Development Center, musician Fernanda Franco and several nonprofit partners, the day put a Westie spin on international Make Music Day celebrations, which spanned the country and the globe for the 41st year in a row.
Now in its second year in West Haven, it doubled as a celebration of ArtsWest CT, which has found its first brick-and-mortar home at 377 Main St. this summer. It will share the space with Umbrella Impact, a youth empowerment organization. More on that below.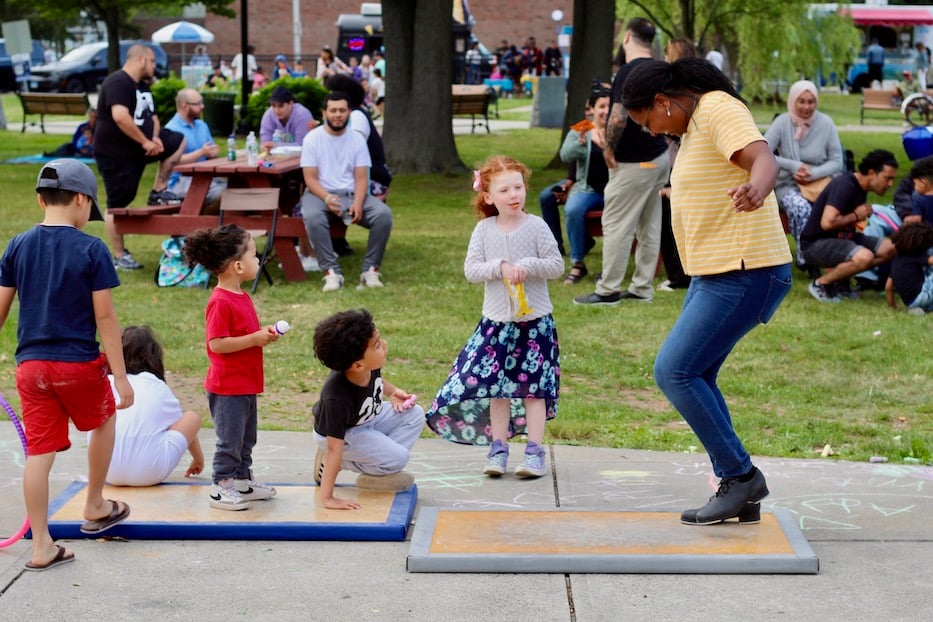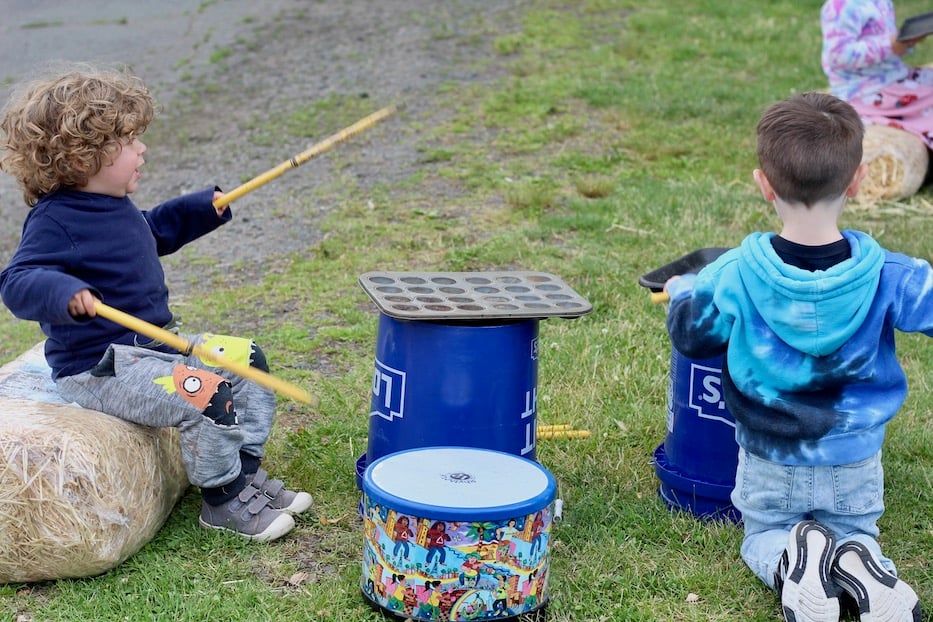 Top: Dancer Zaneta Nicholson. Bottom: Koa Dolomont and new friend Cole Bernard.
"To have a big June party like this is just awesome," said Elinor Slomba, president of ArtsWest CT, as the artist Mixashawn cycled through genres on the stage. In many ways, she said, it feels like the start of an arts calendar that runs June to June. "I'm so grateful that the movement has grown" to include West Haven and the region.
Held on the summer solstice each year, Make Music Day is a worldwide, day-long celebration of music that first came to New Haven in 2018. It is based on France's decades-old Fête de la Musique, a celebration of music conceived by France's then-Cultural Minister Jack Lang in 1982.
Wednesday, that fête took many forms, from chalk art, bucket drumming and homemade Brazilian cuica drums to a guitar jam that played out the last strains of daylight. Taking the mic early in the afternoon, Morehouse College freshman Walker Perry introduced himself as Le Saint, a moniker under which he's been making music and performing since 2019. As he looked out over dozens of families who had gathered to watch, he later said, it felt like a homecoming.
Born in Middletown, Perry moved to West Haven when he was a kid in 2015, and has lived there with his family since. Years ago, he picked up the piano, followed by other instruments, he said. It was only during high school, spurred by news of a coming global pandemic, that he became interested in songwriting, performance, and producing.
By December 2019, he remembered Wednesday, he and his friends had heard bits and pieces about "how Covid was going to change everything." It made him motivated: that month marked his first song, and an interest in songwriting that helped get him through lockdown. When he headed to Morehouse last fall, he said, he kept writing. His first song Wednesday, "Contradiction," was written and produced entirely in his dorm room. After hearing about Make Music Day from his mom, it seemed like a no brainer.
"I think it's a really cool opportunity," he said. Around him, attendees filled the space with vibrant chalk art and nibbled on Greek food, ice cream, and fragrant, cheesy treats from Pau Pau's Pizza Cones. Beyond the park's picnic tables and sprawl of concrete, sound rolled in from a percussion station that volunteers had set up for kids.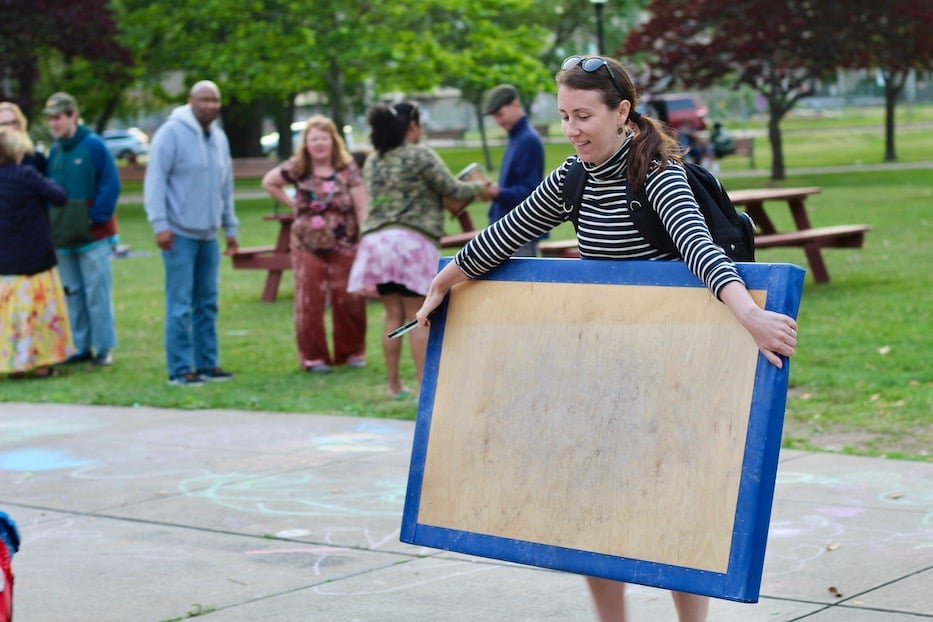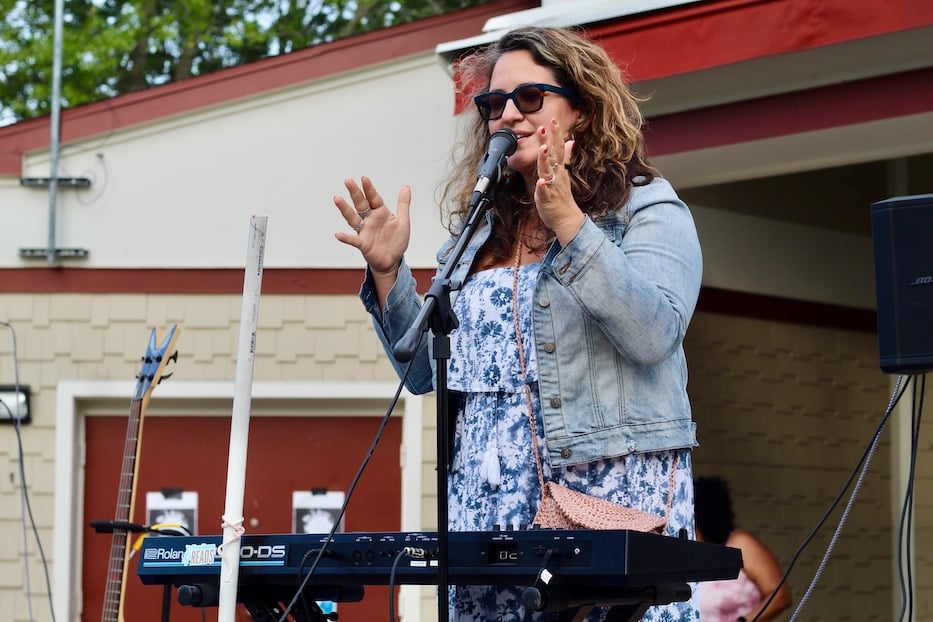 Top: Dancer Alexis Robbins, who turned up to tap with Nicholson. Bottom: Musician Nicole Zuratis, who moved to West Haven in late 2019.
As Perry walked back through the grass, musician Nicole Zuratis took the stage, her fingers fanning out across a keyboard as she adjusted the mic and began to sing. When she dipped into an anti-mansplaining ballad, attendees stopped what they were doing to look up and listen, some giggling at the lyrics. Around the stage, a few attendees came in close to record every moment. Her blue-and-white dress, the color of delft ceramics, flapped and billowed in the breeze.
Ba-by-ba-ba-by/Love that makes me weak in the knees! she sang. And there ain't nothing better baby than the birds and the bees/But I gotta draw the line/Or I know you're gonna pout ... I got some news/Before I kick you out/You're much more clever when you shut your mouth!
Listening as her five-year-old son Ryan hopped around with a handmade maraca and rhythm tapper Zaneta Nicholson, recent West Haven transplant Nicole Campbell said she was grateful for the event, which encouraged music-making among both of her young children. Earlier in the afternoon, she and Ryan had fashioned maracas out of plastic spoons, Easter eggs, beans and colorful tape, and shook them every so often at the sound.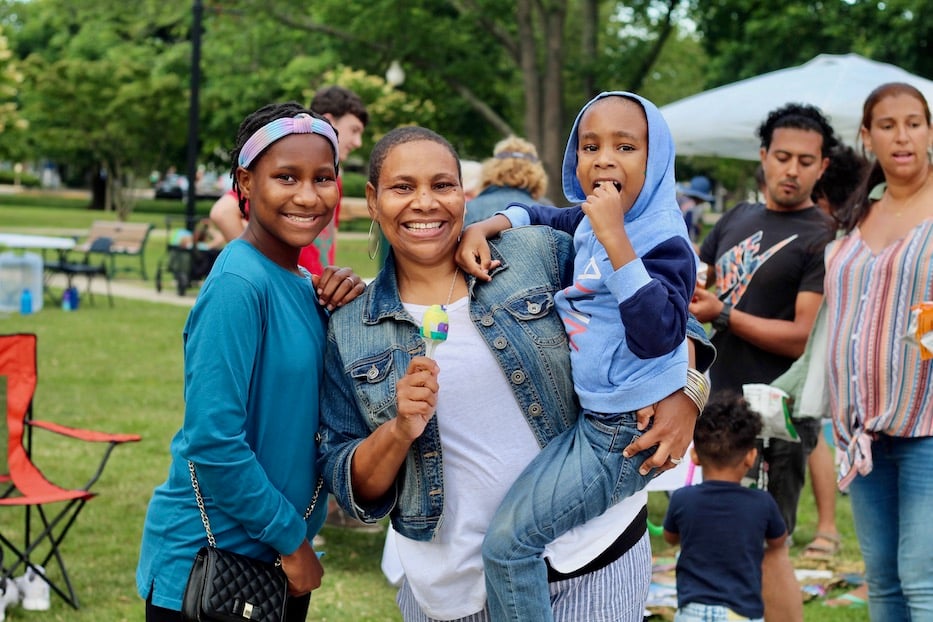 Mom Nicole Campbell with her daughter Abby and son Ryan.
"If you have an instrument and you want to play it, shake it from where you are!" Franco declared from the stage as acts rotated for the fifth or sixth time that afternoon. On cue, Ryan proudly lifted and shook his new maraca. Smiling, Campbell gave hers a little shake too.
They were far from the only ones making music. Across the grass, two-year-old Koa Dolomont hammered out a beat on the bucket drums, instruments made out of overturned plastic paint buckets from Lowe's, then exploded into laughter as an impromptu game of tag unfolded.
A few feet away, Charlene and Phoenix Teschemaker started a mom-and-son percussion jam, excited to have the time to connect through music.
Gabriele Ortiz, who is Koa's mom, said she was thrilled to see the day unfold in West Haven. At home, her husband plays the guitar and piano, and Koa loves to sing along. She pointed to how many activities there were for kids and families, in part thanks to a collaboration with the West Haven Child Development Center.
"We love it," she said. "It's just awesome to see all of this."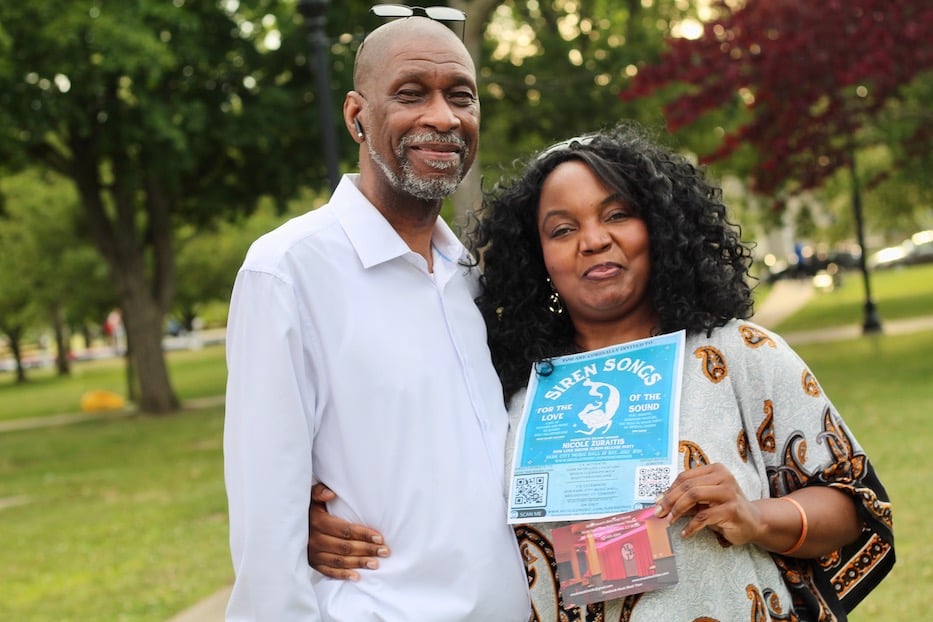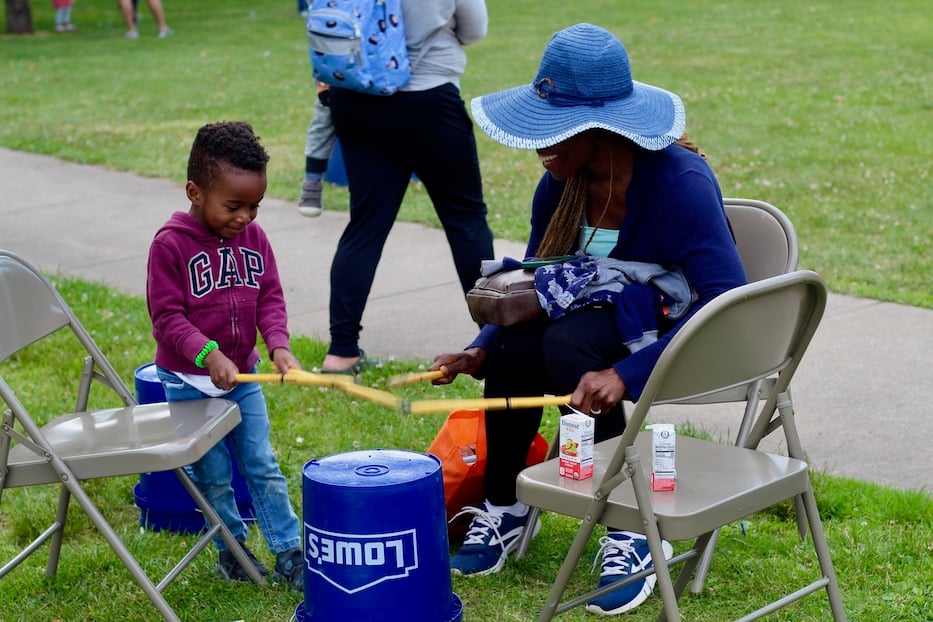 Top: Craig Hargrove and Shavon Smith. Bottom: Charlene and Phoenix Teschemaker.
That was also true for Craig Hargrove, who runs the Music Back Then Performance Center on Bull Hill Lane with co-owner Anthony Willoughby. While Hargrove was born and raised in New Haven, he's lived in West Haven for decades—long enough to call it home, he said Wednesday with a smile.
As a small business owner and champion of artmaking and artists, he saw Wednesday as a chance to support musicians of all ages in the town. While it marked his first Make Music Day, he said, it certainly wouldn't be his last.
"I enjoy all of it," he said. "This is the future. When I look around, I see the next generation of musicians ... the city needs it."
Before leaving, Zuratis took one last look around, and smiled, totally content. In December 2019, she moved to West Haven from Brooklyn, where she and her husband were growing their careers as professional musicians. When the world came to a shuddering halt three months later, the two pivoted, figuring out how to run a virtual piano lounge and recording studio from their home.
She also became involved with Save The Sound, dedicated to the preservation and stewardship of the Long Island Sound. When she reached out to Slomba to promote an upcoming music fundraiser in July, Slomba told her about Make Music Day.
"She took me in with open arms," Zuratis remembered. On Wednesday, she'd been having a hard day—she is planning a tour, and found herself fed up with the amount of administrative work involved—and felt it all melt away when she made her way into the park. "It just reminded me of the healing power of music," she said.
Close to where she was standing, Zaneta Nicholson tapped amongst a small gaggle of children. After dancing for a quarter of a century—25 of her 28 years—she said she's excited for any chance she gets to flex her dance muscles. Wednesday was particularly special: young dancers flocked to her two wooden boards as quickly as she'd put them out, and danced alongside her until dusk. "It definitely warms my spirit," she said.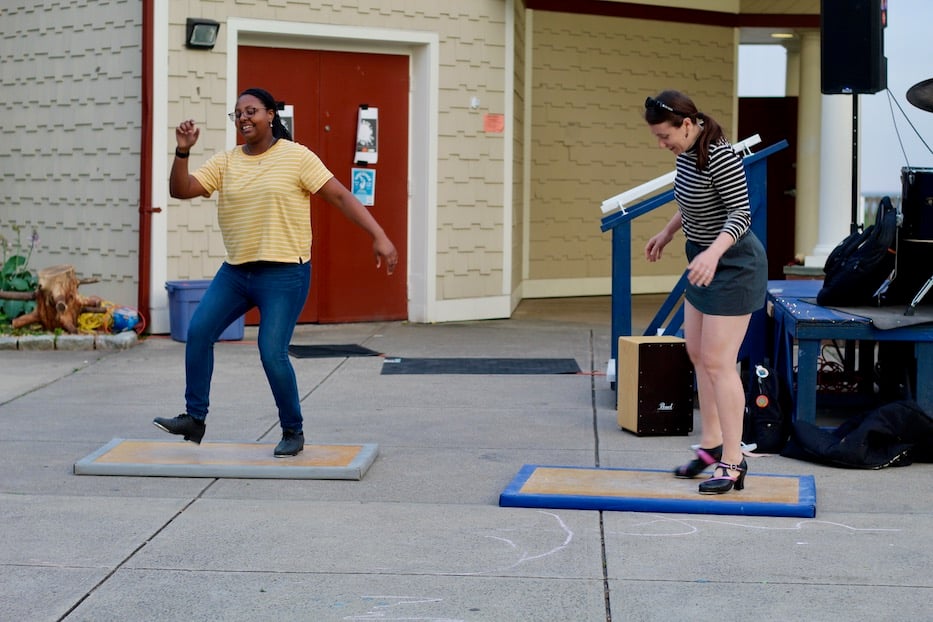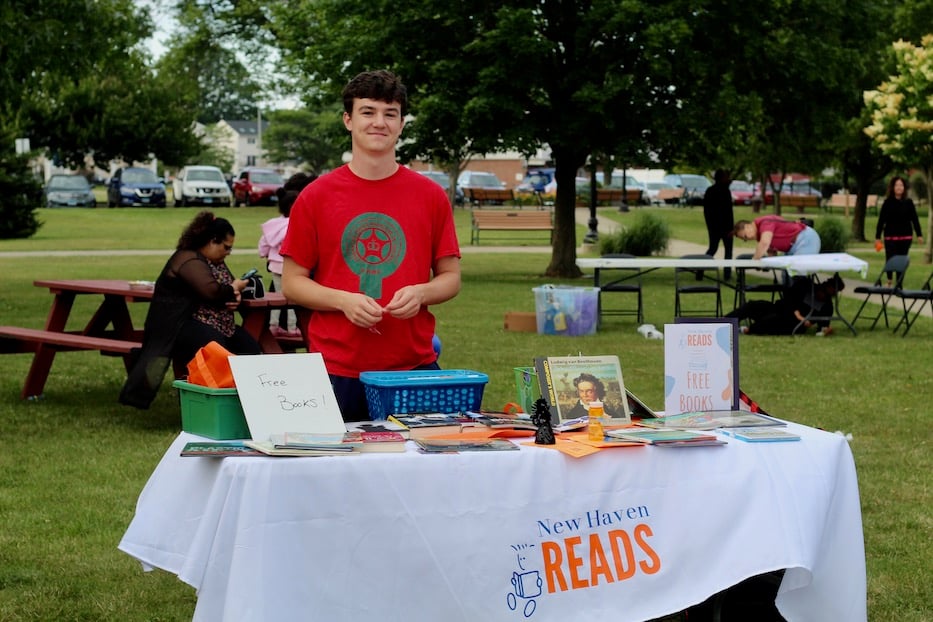 Top: Nicholson and Robbins. Bottom: Owen Lamonthe, there with New Haven Reads. Other partners included Long Wharf Theatre and the Dominate The Day Foundation.
As the manager of a restaurant by day, it also helps her let go of the stress of her work days and lose herself in movement and music, her body an instrument as she moves. She tries to dance every day, on boards that she normally keeps in the basement. Wednesday, she would wait as new performers took the stage, clock a rhythm, and begin to groove in time with the music.
"It's nice to come here and remember that there are happy moments in life," she said. "Tap helps me escape from the stress."
Back onstage, Mixashawn was working his magic. He moved seamlessly from a wooden flute to a berimbau, paying homage to its Afro-Brazilian roots as he played. From jazz standards to smooth, buttery and blues-inflected pieces, he flowed into songs that addressed polyester, waterways, and the enduring wreckages of colonialism. Around him, kids from the West Haven Child Development Center—where he had a residency prior to Make Music Day—danced in front of the stage, at home in the words.
At one point close to the end of his set, he took it back to 1917, unspooling a soulful version of "Amazing Grace" to which the audience was invited to sing along. While it is at its core a gospel song, he said, "Amazing Grace" has roots that range from Scotland to the Cree Nation. As an Indigenous artist himself, he later said, he finds that confluence of music history interesting.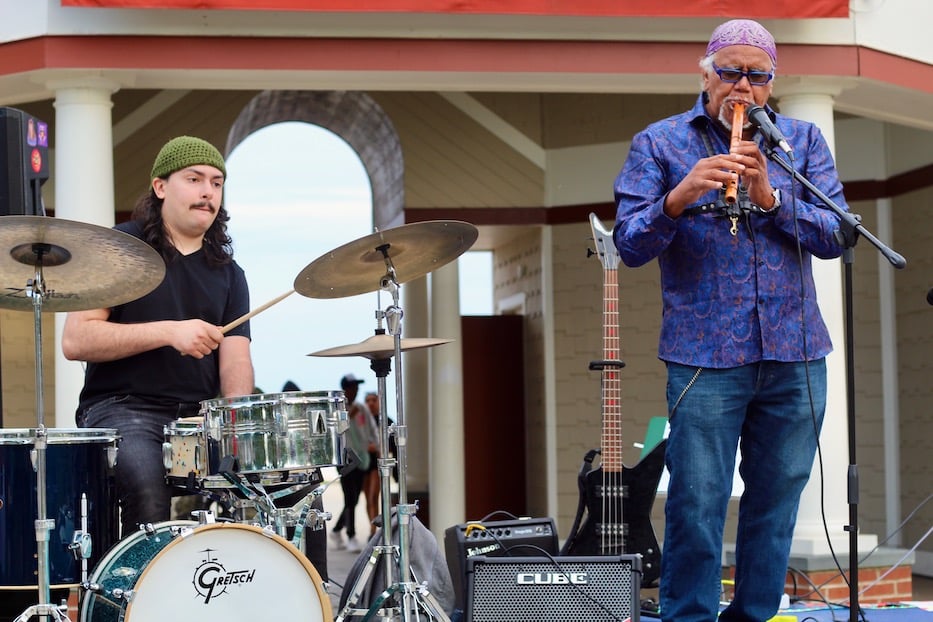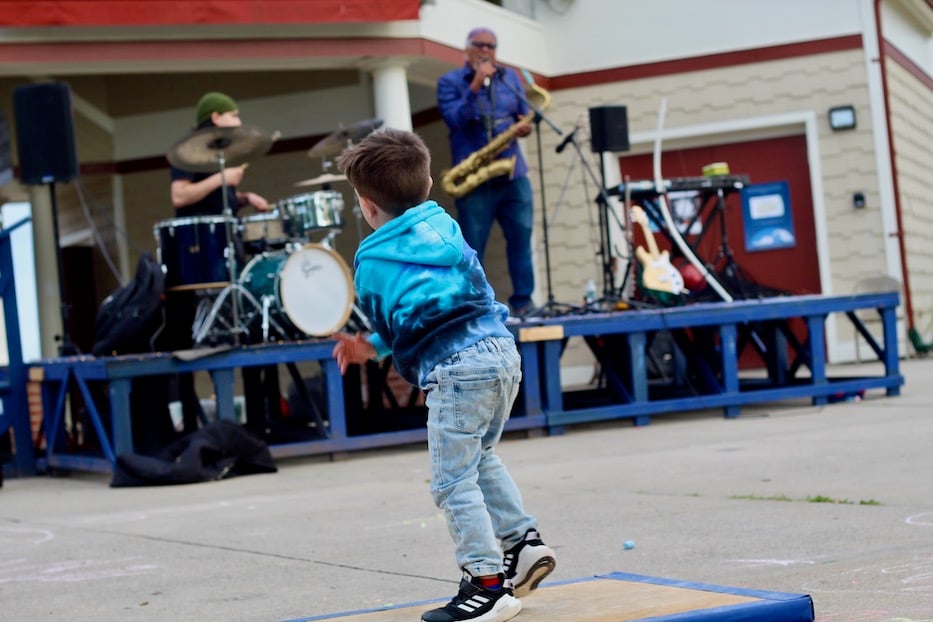 Top: Drummer Michael Larocca and Mixashawn. Bottom: Cole Bernard, 4, flexes his dance muscles.
"I'm sure you know the words," he said, to the intimate crowd that had stayed until close to dusk. Before he ended, he put a spin on Curtis Mayfield's "Amen," paying homage to King Tut ("the oldest man to fly on a plane!") to drive home the harm done by white supremacy and Western extraction across the globe.
"It's beautiful!" he said after the set, calling his music "omnipop." "I love working with these young people."
Franco, who sits on the West Haven Child Development Council and had been buzzing around as the afternoon's emcee, brought it home with a percussion jam. The frontwoman to FaTE (Fernanda and the Ephemeral) and outreach director at New Haven Reads, she said she was moved by the sheer number of people who came out to the event.
Last year, she performed at Make Music New Haven in Scantlebury Park, for the students at New Haven Reads. To see hundreds cycle through the West Haven park surprised and delighted her.
"Oh my gosh, it's so fun," she said. "I love how many people came out."
A Flourishing West Haven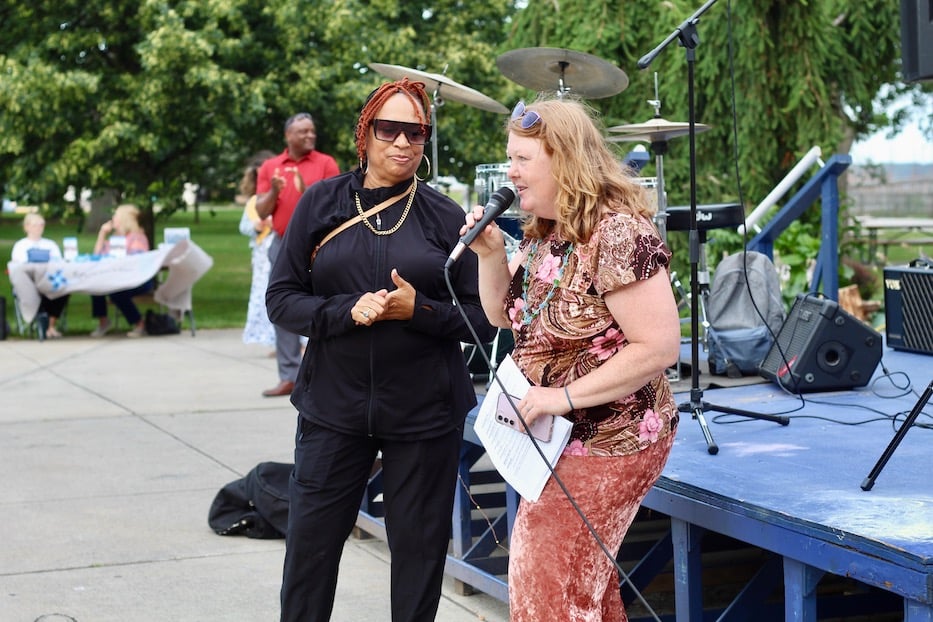 Umbrella Impact Founder Nasiyra Clayton and ArtsWest CT President Elinor Slomba.
The mellifluous event doubled as a formal announcement that ArtsWest CT, which for years has advocated for an arts hub in the town's former Masonic Temple, will be moving to 377 Main St. this summer. As of this month, ArtsWest and Umbrella Impact together have signed a two-year lease for an office suite at the address. Slomba said that the suite, which is on the building's lower level, is fully accessible.
While it marks a pivot—Slomba, with artists and arts organizations from across the town, had hoped for a $3.5 million renovation of the Masonic Temple funded by American Rescue Plan Act (ARPA) dollars—Slomba said she is optimistic. The space opens July 1, with a series of summer events across the town that will follow.
"Collaborations beyond the arts - with [the] West Haven Public Library, Bridges Health Care, and the West Haven Early Childhood Council - have built an infrastructure of trust and engagement," she said in a press release and comments Wednesday evening. "We are ready to start occupying a real footprint and it makes sense to do so downtown."
As music bloomed around her Wednesday evening, Umbrella Impact Founder Nasiyra Clayton said it marks a step toward a more unified West Haven. The organization teaches young people "character, community, and financial skills," and provides incentives for academic achievement.
"It is a pleasure and an honor," she said. "We are going to flourish together as a community."
For more from Make Music West Haven, check out the Arts Council's Facebook and Instagram.