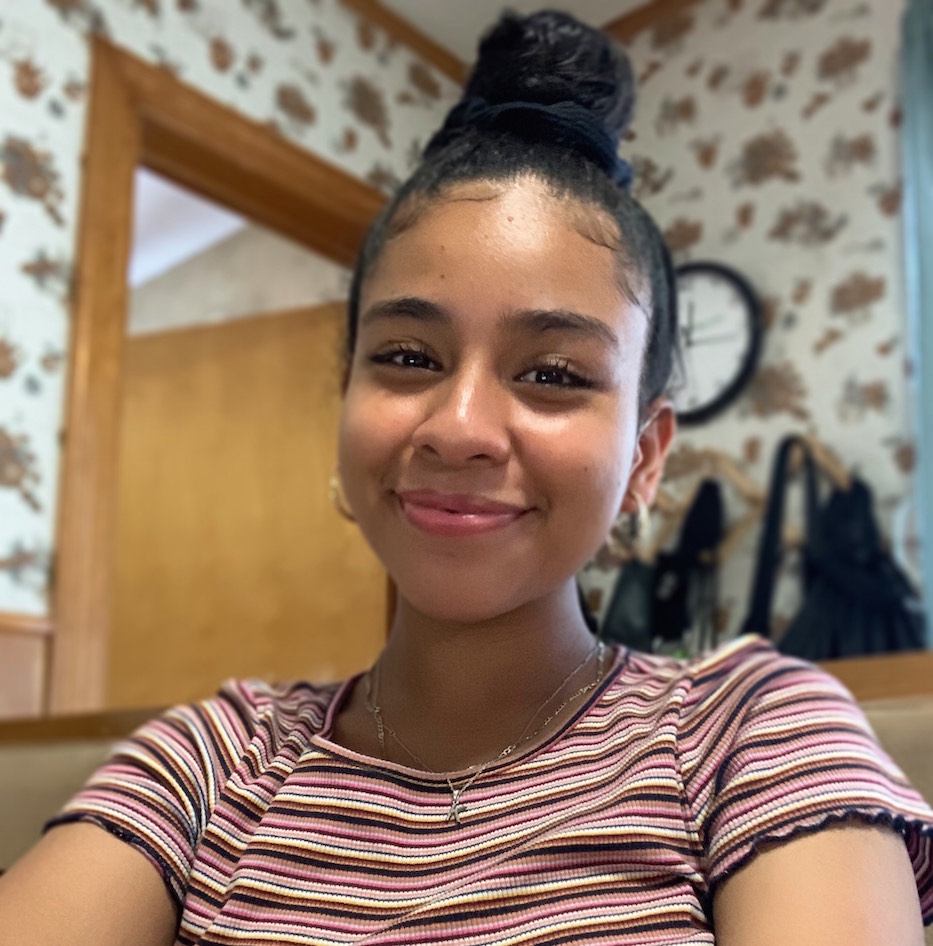 Creative Writing | Education & Youth | Painting | Poetry & Spoken Word | Arts & Culture | Visual Arts | Metropolitan Business Academy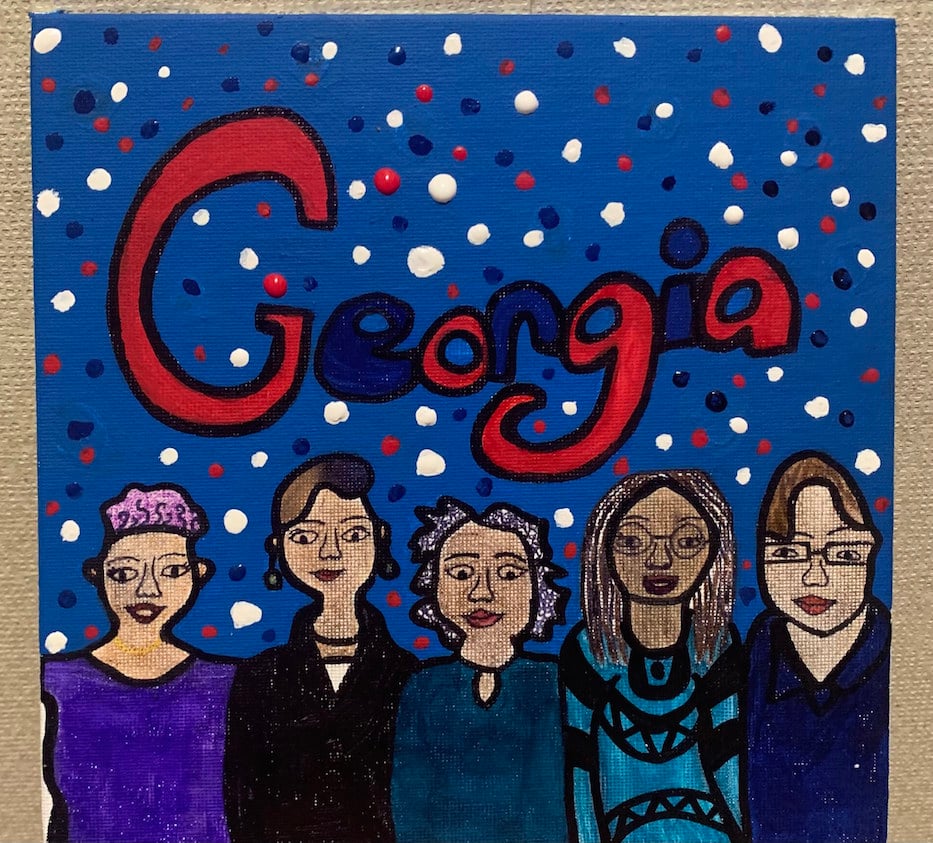 Karyme Baranda's painting The Amazing Women That Helped Georgia Turn Blue. From left to right, Baranda has pictured Tamieka Atkins, Deborah Scott, Stacey Abrams, Nsé Ufot and Helen Butler. Photo courtesy Karyme Baranda.
The women stand shoulder to shoulder, a portrait of power against the blue canvas background. At the left, Tamieka Atkins opens her mouth as though she's about to speak, her eyes wide and smiling. Beside her, organizers Deborah Scott, Stacey Abrams, Nsé Ufot and Helen Butler stand tall, watching a state turn blue for the first time since 1992.
Over their heads, the word "Georgia" explodes in vivid red and blue color. Thick polka dots fill the frame, like a confetti falling from the American flag.
The painting is the brainchild of Karyme Baranda, a senior at Metropolitan Business Academy and one of the winners of the 2021 African American History Month Arts and Writing Competition from the Connecticut People's World Committee. This year, she joined several of her classmates in submitting to the contest as part of her AP U.S. Politics and Government class.
The idea came from Metro teacher Leslie Blatteau, who teaches the course and tries to yoke the advanced placement curriculum with current events for her bleary-eyed first period students. When she saw that the contest's theme was "Georgia On My Mind: The Third Reconstruction," she was struck by the topic's timeliness. Ultimately, seven Metro students placed among a total of 11 winners and honorable mentions.
"I've seen it [the notice for the competition] come through every year, and usually I'm caught up in the rat race of teaching my AP class," Blatteau said in a phone call Tuesday afternoon. "But this year, we had the time to do it, and the topic was particularly relevant."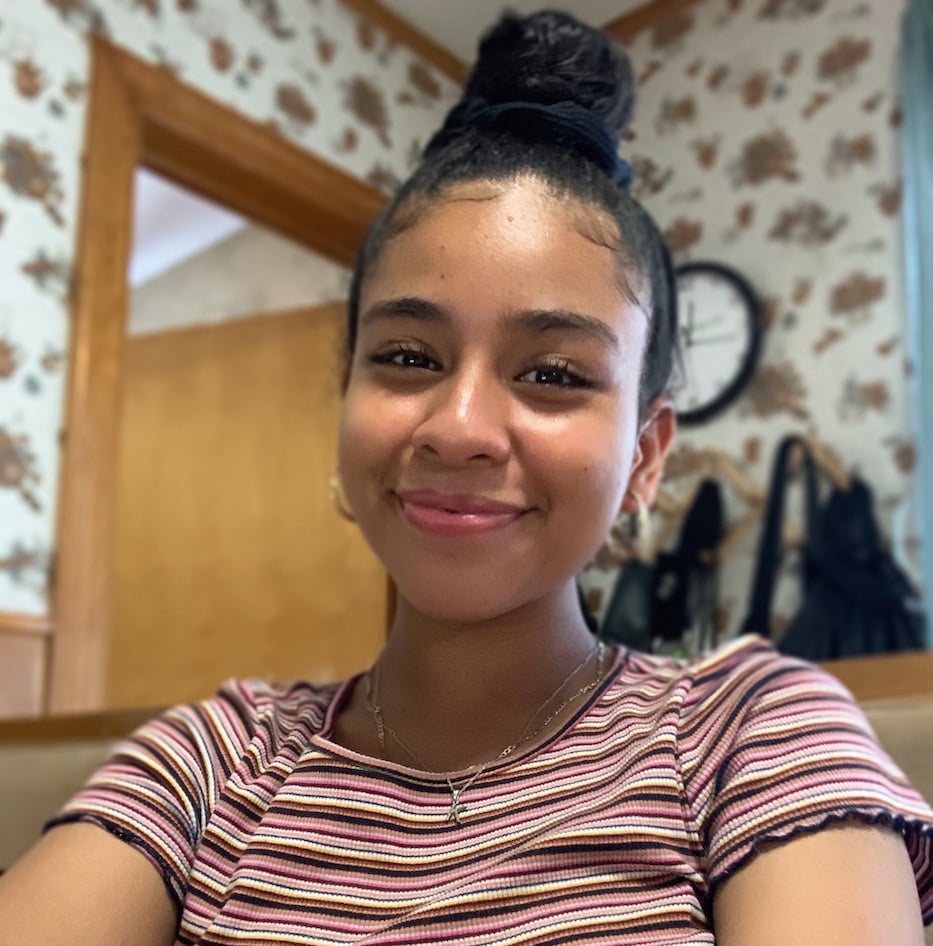 Karyme Baranda, who described herself as an artist and aspiring nurse. Baranda began high school at Cortlandt V.R. Creed High School, but transferred to Metro when it closed in 2018. Karyme Baranda Photo.
Each of her students brought a different approach to the contest. A self-described artist and aspiring nurse who lives in Fair Haven, Baranda "knew that I wanted to draw Black women" as soon as she heard about the contest. While doing research on the topic, she came across a tweet from voter rights champion Stacey Abrams shouting out the women who helped turn Georgia blue for the first time in almost 30 years. By then, she'd heard of Abrams, whose name has become synonymous with the state's democratic victory. But the tweet, which was embedded in a New York Times article, was a revelation.
She started looking into the other women Abrams mentioned, who she hadn't yet heard of. She learned about Atkins, a grassroots organizer who leads ProGeorgia in the fight against voter suppression. There was Scott, the executive director of GA STAND-UP (Georgia Strategic Alliance for New Directions and Unified Policies), and voter registration champion Ufot, who focuses specifically on voters of color as she leads the New Georgia Project. Finally, Baranda delved into the work of Butler, the executive director of the Georgia Coalition for the People's Agenda.
"I feel like, especially in these times, it was hard to be proud of being American," she said. "It's hard to be proud of being from here. When you're younger, you have to do the Pledge of Allegiance or the National Anthem in school. I feel like , since we were younger, we've been taught such a whitewashed history. Here are these five amazing women, Black women, who people have never heard of."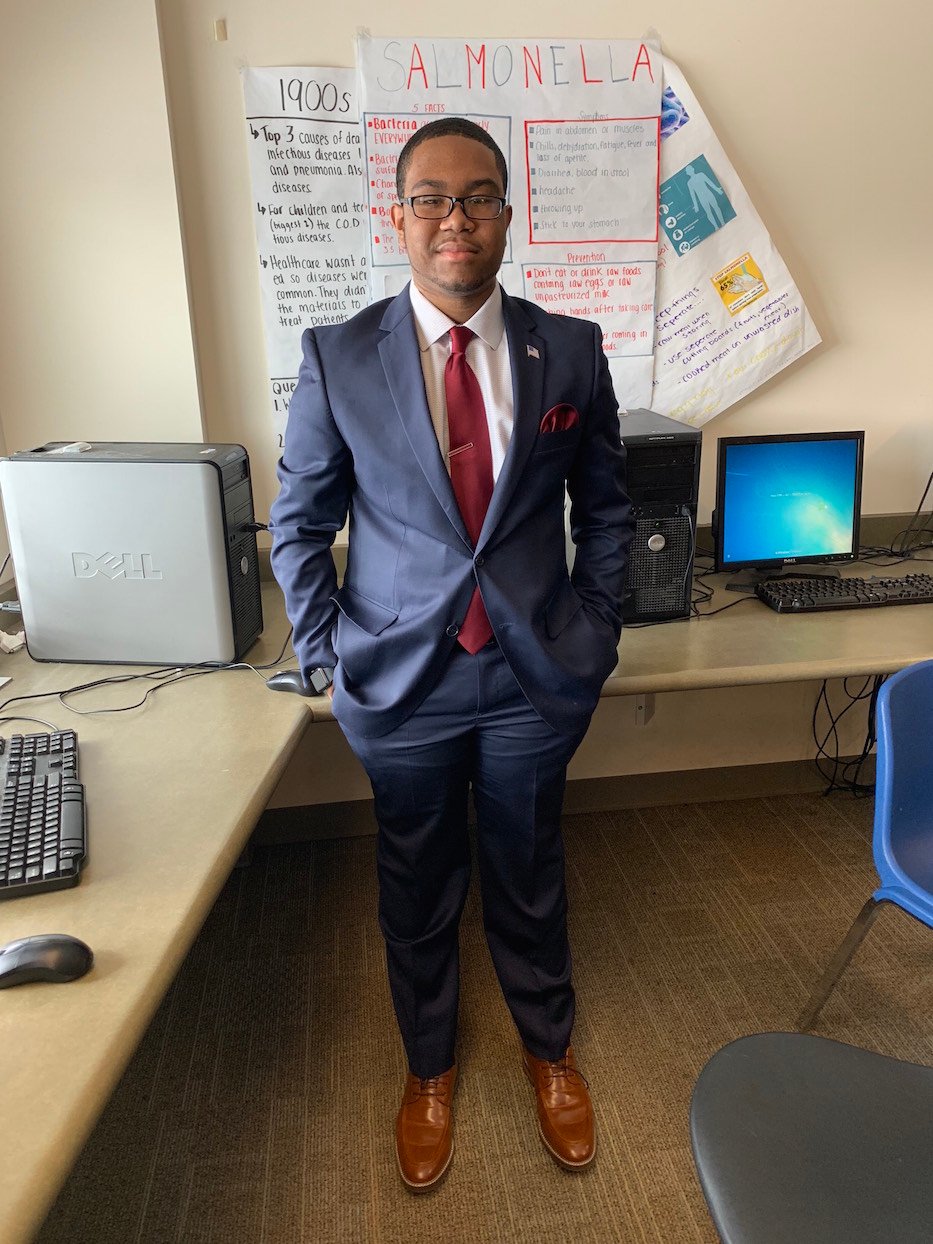 Demarques Stevens. Pre-Pandemic Contributed Photo.
Other students turned to the written word. An aspiring legislator, senior Demarques Stevens submitted an essay titled "The Third Reconstruction," mapping a course from the first Reconstruction in the late nineteenth century to the second in the 1950s and 1960s to the possibility of a third in the present. Stevens said he sees the current moment as a constant political tug-of-war: every step forward on the left is met with divisive, often violent pushback on the right.
Stevens was born and raised in New Haven; he follows city and state politics as well as national races and legislation ("I'd give Lamont a B+," he said after one particularly thoughtful pause on the phone). He called the past four years a personal education, as he comes into his own political consciousness. While he never supported former President Donald Trump, he identifies with the Republican party's vision of an ostensibly small government, he said. At the same time, he likes that the Democratic party is generally more accepting of Black and Indigenous people. He is still unsure of which party he wants to register with when he becomes eligible to vote.
In the essay, he chronicled what he sees as the signs of a third reconstruction, from the the first 10 Black billionaires in United States history to the rise of politicians including Abrams, Harris, and Andrew Gillum. To that, he said, he also sees "attempts to discredit those," including the 2013 Supreme Court decision in Shelby County v. Holder, the Jan. 6 insurrection at the U.S. Capitol, and acts of state-sanctioned violence that allowed the murders of George Floyd, Breonna Taylor, and Ahmaud Arbery .
"I think a contest like this is very important," he said. "This period in time is sitting with me a lot. Usually I talk about politics with family, or it's for a grade in a class. This allows us to show people that the modern generation isn't just phones, and social media, and TikTok. We are aware of our history. We as youth have a very powerful impact."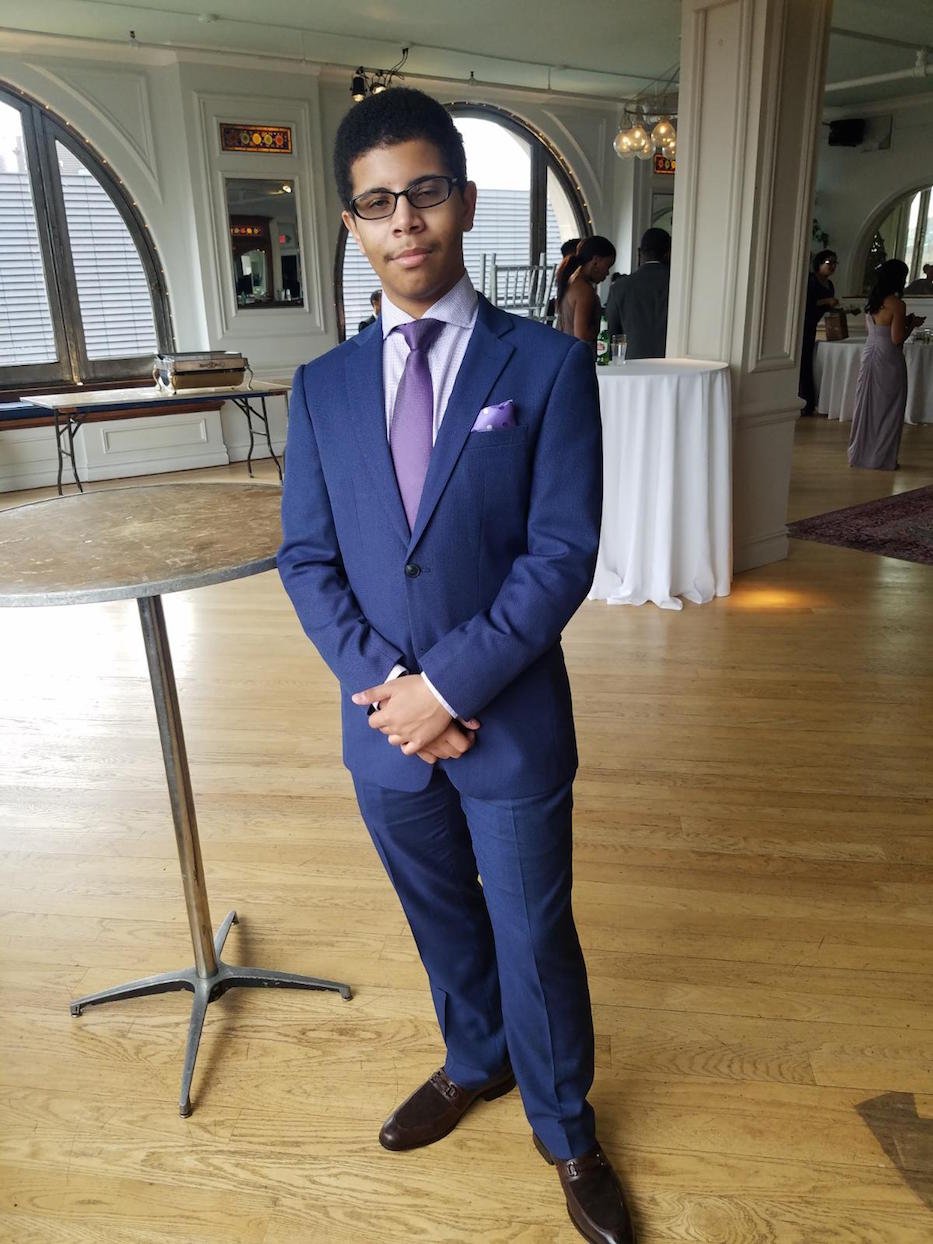 Samuel Bampoe-Parry: "This entire fight for equality is important to me, in that it's left not to a certain individual, but an entire generation." Contributed Photo.
Several of the students also turned to poetry, the tradition of which has often gone hand in hand with the fight for civil rights. In his poem "We Are Here To Stay," senior Samuel Bampoe-Parry said he channeled "a mixture of Malcolm X and Martin Luther King, Jr.," thinking of how both of them would react to the history that's being made this year. He also went to nineteenth-century poetry, including Samuel Taylor Coleridge's "Rime Of The Ancient Mariner." The poem ultimately won second place for writing.
"Hear hear hear us now," he writes in the poem, with an urgency that is palpable even from the page. "We raised our voices not our fists/To regain all that was taken from us/We strive for equality/But we know it's not easy."
Bampoe-Parry, who lives in North Branford, drew from his own experience as an immigrant, young Black man, and student of both U.S. and world history. He was born in Monrovia, Liberia, in late July of 2003, at the end of the country's second civil war. As a toddler, he lived first in Maryland, then moved to Connecticut. He fell in love with history in middle school, because it helped him understand the world around him. "It paints a picture," he said.
As a young student, he was constantly observing the world around him. It led him to ask questions, he said—like why New Haven's schools sometimes lacked tech equipment, while schools in North Branford had MacBooks for every student. In high school, Bampoe-Parry grew an interest in international relations, which he hopes to study in college after graduating from Metro. Following the murder of George Floyd last summer, he attended a march and rally in New Haven with his dad. It stayed with him as he wrote the poem.
"I just mainly say this entire fight for equality is important to me, in that it's left not to a certain individual, but an entire generation," he said in a recent phone call. "What I mainly want to strive for is seeing how and where we can fix the issue."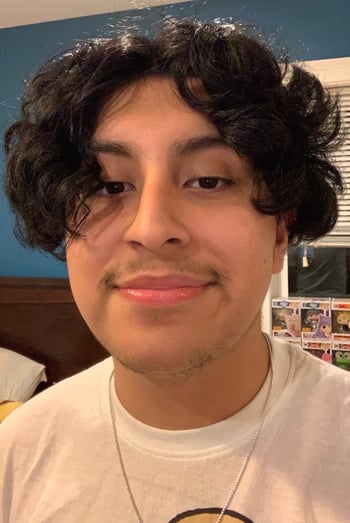 Senior Bryan Lozano's "Vote!" won the first place in poetry writing. As he wrote, he thought about all those who fought for the right to vote so that he and his peers could one day duck into a booth and cast a ballot. In English class, he learned about the poet Langston Hughes, and pored over Hughes' "The Negro Speaks of Rivers." His poem became a call to arms, asking readers—and by extension, voters and soon-to-be voters—to come together for a third reconstruction.
"I know what we must do/Just like in the past," he writes in the poem. "We must come together/Spread the word, educate each other/Building brothers and sisters back in arms/We can't do this alone."
For Lozano, the message is also personal in a year upended by the twin pandemics of Covid-19 and systemic racism. Taking remote classes from his home in Fair Haven, he has spent the last year trying to "really buckle down" and succeed in school, while also lending his voice and his pen to the social justice fight. Last summer, he joined thousands of protesters in downtown New Haven to march for Black lives. At Metro, he was part of a team of students that organized events for Black History Month this year. He said he wants to ensure that those events continue beyond February.
"You can't be silent," he said. "If you're not there, if you're not saying something, you're basically ignoring it."
Blatteau said she "was so excited to see them [students] rise to the occasion." Currently, students are finishing their analysis of Congress, moving from the legislative branch of government to the executive. Last month, they studied the U.S. government through a "Black Twitter spotlight," analyzing tweets from Vice President Kamala Harris and U.S. Sen. Raphael Warnock among others.
For March—which is also Women's History Month—Blatteau added a unit on "women making history in government." When the CROWN Act passed and was signed into law last week, students learned about State Rep. Robyn Porter, then watched the signing ceremony as it was broadcast from Hartford. Tuesday, they talked about U.S. Rep. Pramila Jayapal, who is the first Indian-American woman to hold that position.
Blatteau added that she's ready to get back into the physical classroom on April 5, although the learning process never stopped. Because the year ends in June, she said that she's most intent on "making sure the community can stay intact" as some students transition to hybrid learning and others remain fully remote.
"We'll just hold on and buckle up and finish the ride," she said.