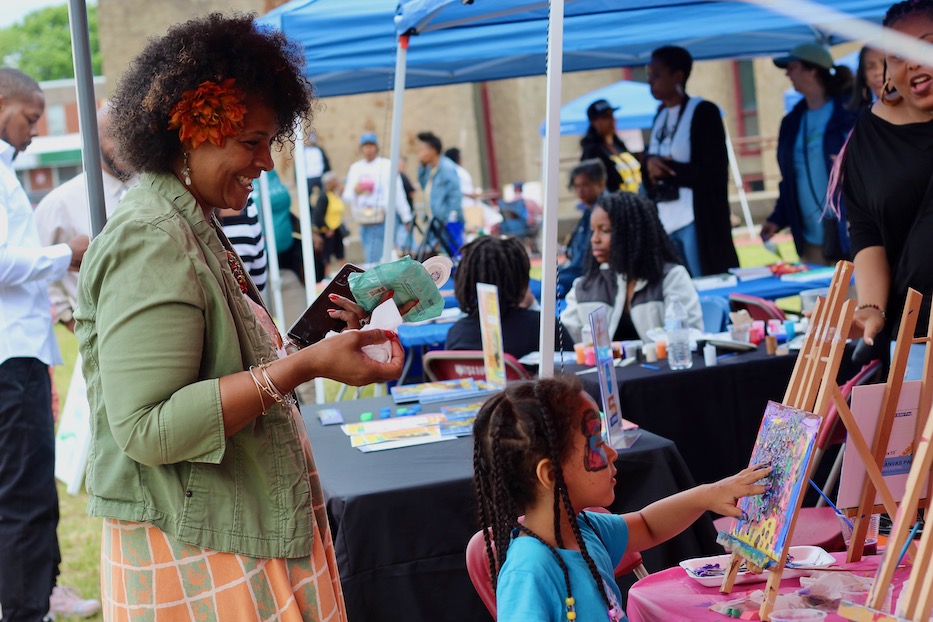 Culture & Community | Dixwell | International Festival of Arts & Ideas | Arts & Culture | New Haven Free Public Library | Arts & Anti-racism | Dixwell Community Q House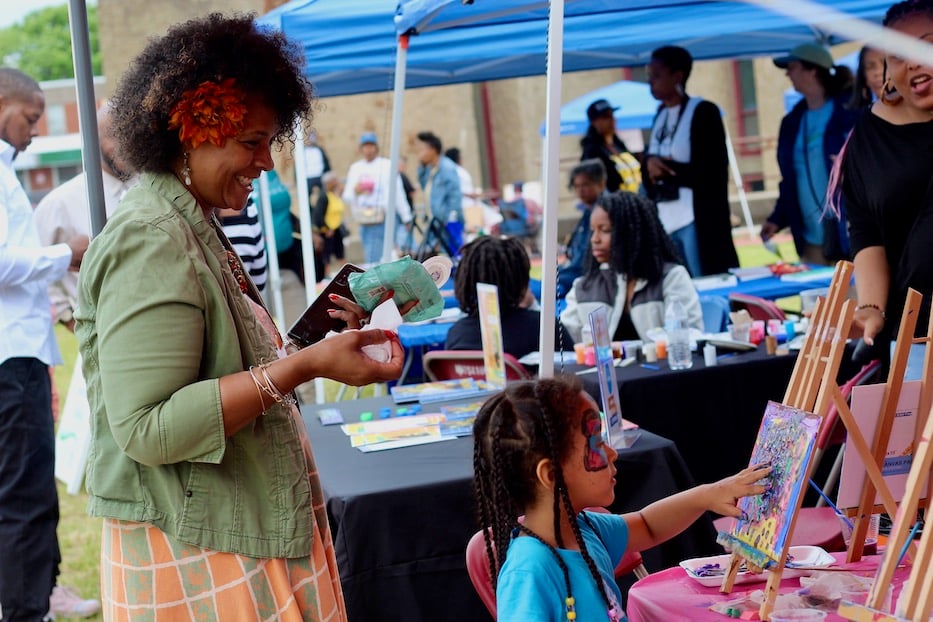 Sheree Baldwin-Muhammad. Lucy Gellman Photos.
Five-year-old Kiarra Herring dipped her hand into a pool of blue paint, and began to work it onto the canvas in bold, circular motions. Nearby, a passer-by crouched at a bright orange bench, and wrote down the words You are strong! Behind them, hula hoops multiplied on the lawn by the Dixwell Community Q House, laughter rising into the air.
Saturday afternoon, hundreds of attendees embodied a spirit of community care at the tenth annual Dixwell Neighborhood Festival, a four-hour, song-and-dance filled celebration from the International Festival of Arts & Ideas and a neighborhood-based planning committee. From painting and social service stations to three generations of music-makers onstage, the festival warded off an early June chill for an afternoon of artmaking and reminder of tight-knit community.
This year, committee members included Stetson Library Branch Manager Diane Brown and Jacqui Glover, both lifelong New Haveners who have helped raise generations of city residents through their work in the neighborhoods For the first time since 2019, it was also part of a full weekend that included the Elm City Freddy Fixer Parade, which returned triumphantly to Dixwell Avenue on Sunday afternoon. On Friday night, a concert at Terminal 110 kicked off events.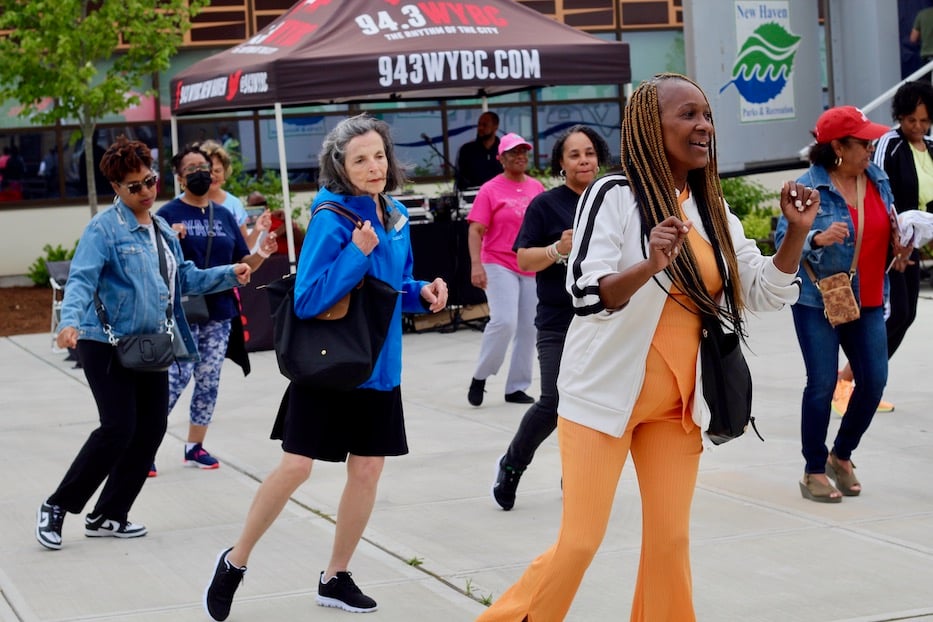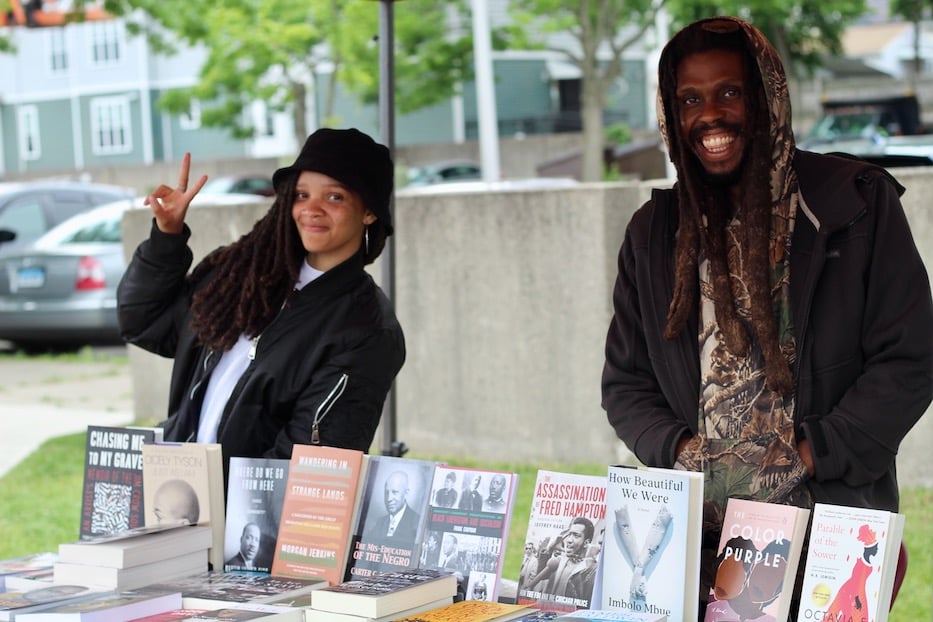 Top: Line dancing outside the Q House. Bottom: Nyzae James of BAMN Books and Dishaun "Farmer D" Harris. Lucy Gellman Photos.
"People sacrificed for me when I was younger, so now it's my turn to sacrifice for those who are coming up," said Brown, who grew up in Newhallville, and has for years organized both the Freddy and the neighborhood festival alike. "Everything today has been good. I'm grateful that the weather held."
From a beginning blessed by drums and young voices to a fierce and fashionable finale, the festival conjured those first easy moments of summer, when an outdoor dance lesson can turn into an entire afternoon of discovery. On the sprawling patio outside the Q House, sisters Scheri and Xan Walker led a group in line dancing, participants breaking a sweat even in the cool weather.
As they changed direction and stepped to the side, Scheri Walker wove among them, bouncing to the beat even as she checked dancers' footwork.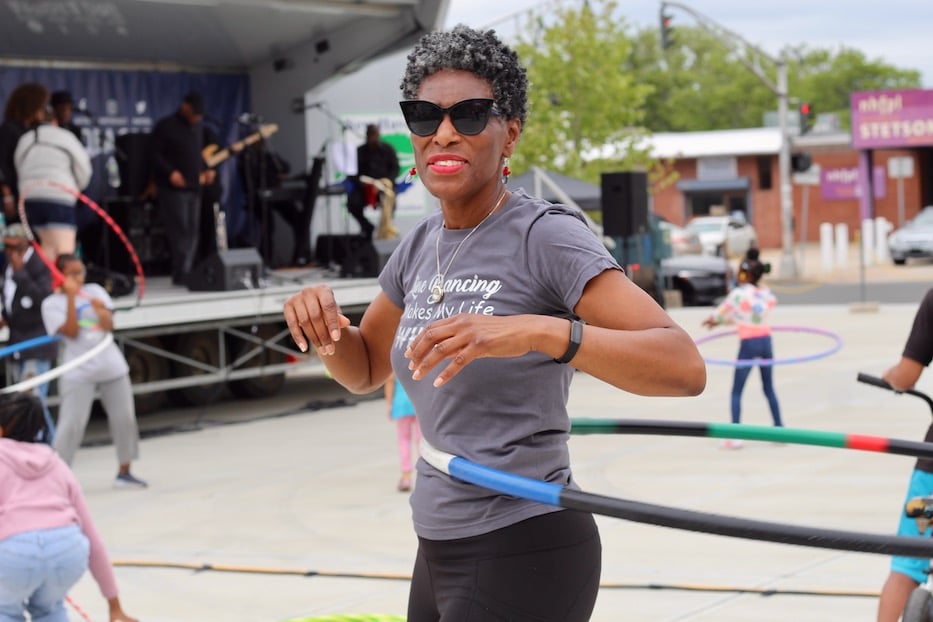 Scheri Walker, who stuck around for a lesson from Hood Hula's Diamond Tree. Lucy Gellman Photos.
For her, it represented a chance to spread the gospel of line dancing to those who may not have heard of it before. Raised in New Haven, Walker first tried line dancing in 1999, when she found a class for it at the old Elks Club now scheduled for demolition.
She loved it, she said, but couldn't breathe in the club's smoky air—so she found another class and kept moving. A decade later, she was teaching it herself.
"It's a wonderful way to help people exercise in a fun, social fashion," she said. "You exercise your brain while you're exercising your body. I think it's also important for adults to show children that they can do an activity that's safe, fun and multigenerational."
That message seemed to resonate across the festival, as pint-sized painters approached equally small canvases and foam palettes, and hula-hoopers' shrieks of delight filled one corner of the Q House lawn. As the smooth stylings of Le Mixx wove over a crowd, artists at a vendor market set out everything from books by Black authors to carefully beaded necklaces and matching jewelry sets.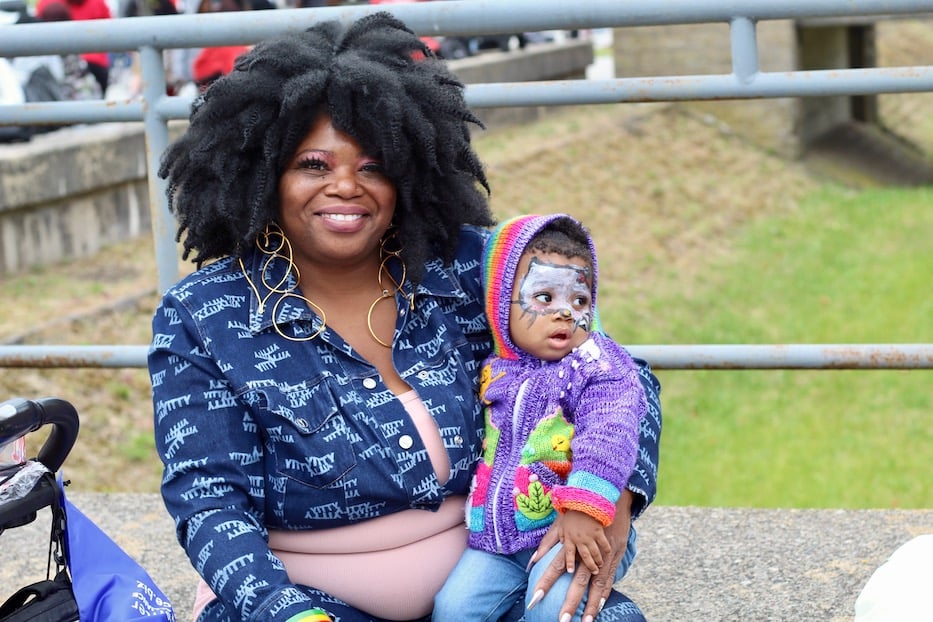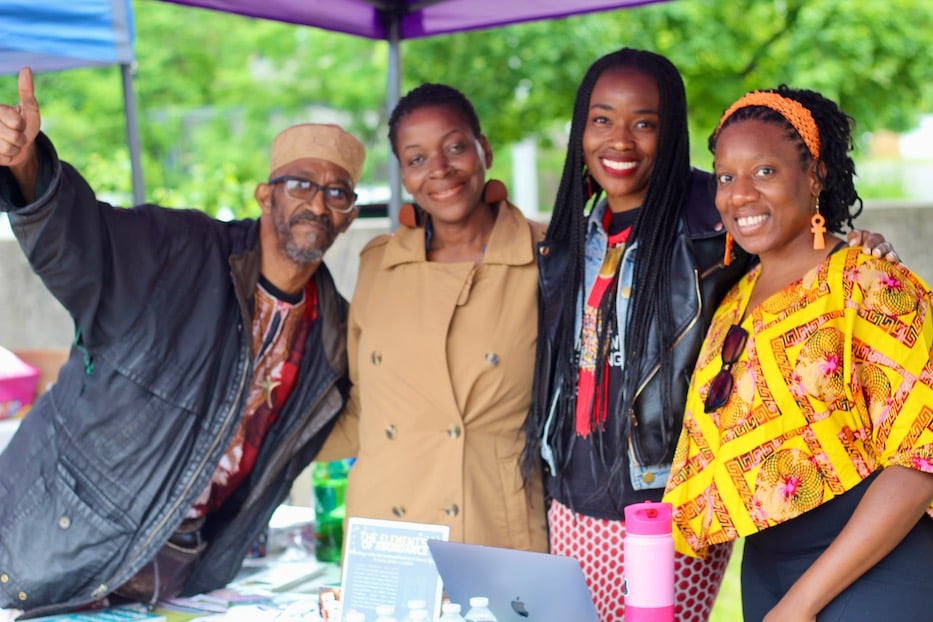 Top: Marcey Lynn Jones and Azarii Teague. Bottom: Drummer Michael Mills, Shayla Streater (Earth) and Hafeeza Turé (Wind) of the Elements of Abundance and Hanan Hameen-Diop. Lucy Gellman Photos.
Taking a moment to catch up with musician and Creative Hearts, Inc. founder Manny James, community organizer Marcey Lynn Jones expressed her gratitude for the event, particularly as part of a revived of Freddy Fixer weekend. As she chatted, her granddaughter Azarii Teague sat still on her lap, taking everything in after a full day of face painting and activities.
"I'm glad that we're back," she said, pointing out friends and neighbors she recognized in the crowd. "Everybody is out here … It's so good to be able to reach out and touch people."
Nearby, representatives of Bench Haven and the evolving Haven Arts Park invited attendees over to check out a bright orange bench, on which a QR code waited to take them to a website describing the project. Messages including I have hope! and We love you! bloomed across its bright surface. One couple had simply drawn a cartoon pig, complete with a round snout and curly tail.
Lorena Mitchell, city coordinator for community mental health initiatives, explained that the benches were inspired by Zimbabwe's friendship benches, on which "grannies" provide peer-to-peer support and counseling in which they are trained. In so doing, the works are intended to fight the isolation and loneliness that may lead to depression, anxiety and suicidality.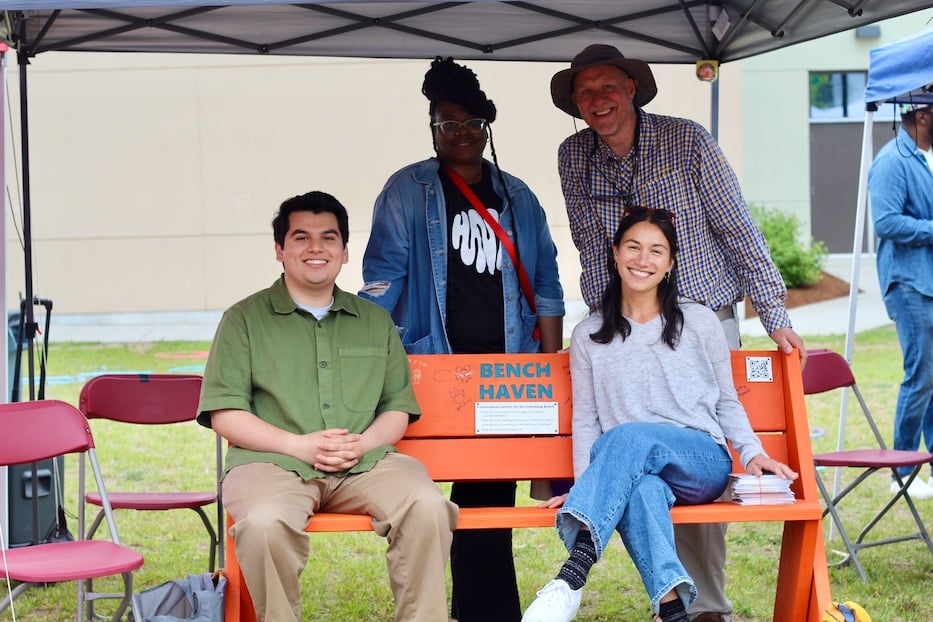 Haven Arts Park Managing Director Joaquin Soto, Haven Arts Park Executive Director Typhanie Williams, city Coordinator for Community Mental Health Initiatives Lorena Mitchell, and CMHC Foundation Director Kyle Pederson. Lucy Gellman Photos.
Using the friendship benches as a creative launchpad, Haven Arts Park Executive Director Typhanie Williams found that many cities have similar initiatives. In New York City, for instance, peer counselors from ThriveNYC run a series of benches based largely in neighborhoods of need, all of them painted an eye-catching orange. Bench Haven started with the same idea.
While the benches do not yet come with peer-to-peer counselors or grannies, they will go into neighborhoods where there are currently barriers to finding, affording and accessing mental healthcare, including West Hills, Dixwell, the Hill, Newhallville and Fair Haven. Saturday's bench, for instance, will live inside the Stetson Branch Library. Last month, Mitchell installed one in a pocket park along the Farmington Canal.
While she would like to grow the program to schools, playgrounds, clinics and churches, Williams said, people have already been referring to them as "buddy benches." That tells her that the approach is working. She credited MakeHaven's Lior Trestman, who may be known across town for his number of orange clothes, with choosing the color.
"We're excited to feel out this project," Mitchell said, noting that the city was eager to partner after seeing how enthusiastic arts organizations and artists were about mental health. "Each of these benches will live in community."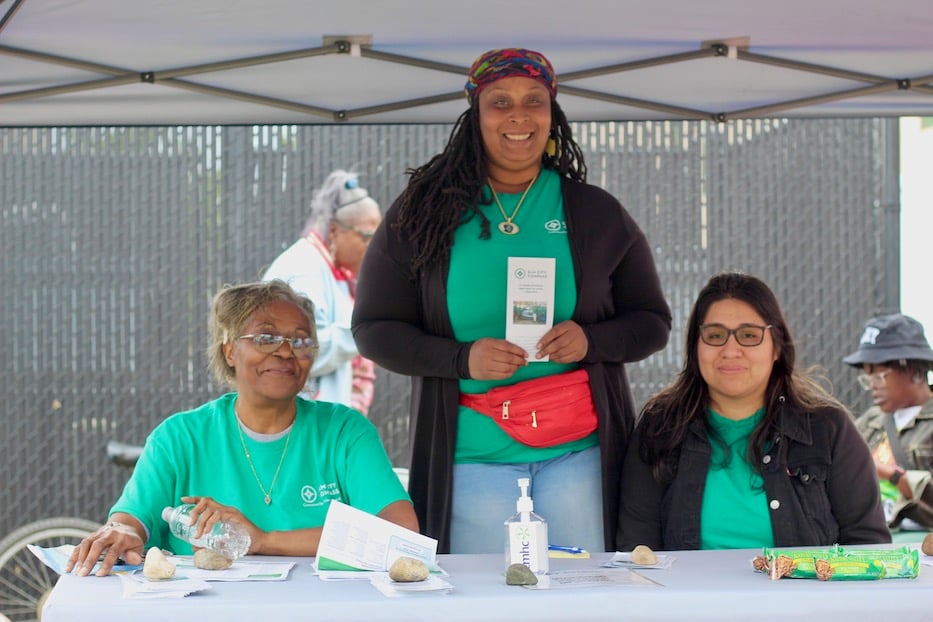 Angela Hatley, Sun Queen, and Ana Paola Juarez. Lucy Gellman Photos.
It was nearing 3 p.m., and the festival seemed like it was far from over. On one side of the lawn, poet Sun Queen took a break from Elm City COMPASS' Community Advisory Board to get a late lunch from the Cool Runnings food truck across the street. Born and raised in the city's Newhallville neighborhood, Queen said that she has a soft spot for community events like the festival, which bring people together to celebrate.
Back at their tent, New Haveners Angela Hatley and Ana Paola Juarez continued to spread the word about COMPASS (Compassionate Allies Serving Our Streets), a stretch outreach and crisis response team that is currently in its pilot phase with the city.
Hatley, who has long been a champion of the city's Hill neighborhood, said that she was inspired to join the community advisory board after by state-sanctioned murders of Trayvon Martin, Michael Brown, George Floyd, and thousands of other Black men and women killed at the hands of law enforcement.
"We value our police, but they're overstretched," she said. She pointed to the fact that members of law enforcement are often asked to respond to crisis situations in which they are not trained, from instances of domestic violence to substance use disorder. It leads to police walking into scenarios they are not prepared to handle or deescalate.
Juarez, who had been listening quietly, said that it's also a personal connection that leads her to the work. Last year, her fiancé took his own life while in mental health crisis. She believes that if he had easier access to care, he might still be alive.
"It's important that we get the word out that you're not alone," she said, adding that the festival was comfortable to feel "like someone's backyard."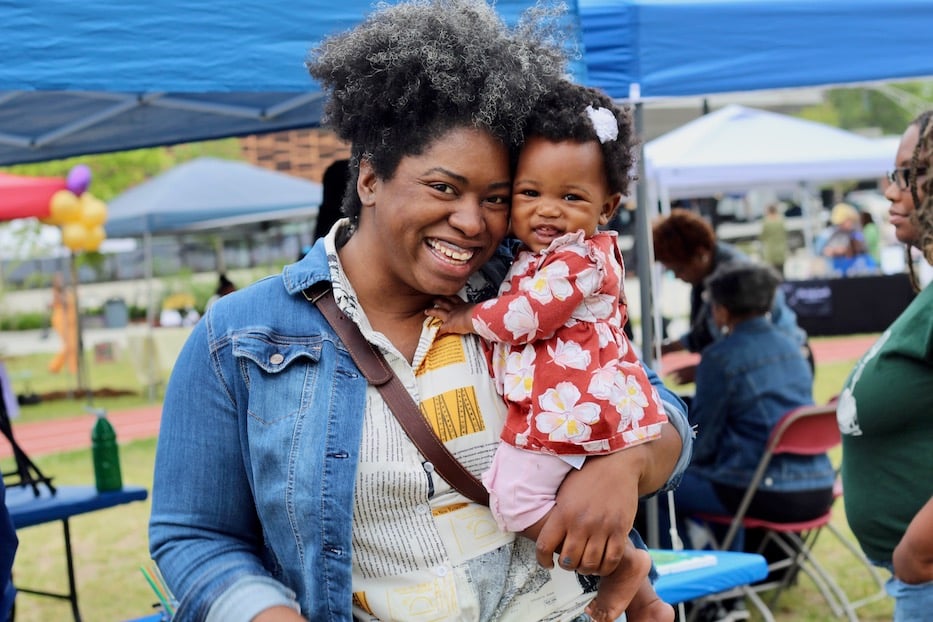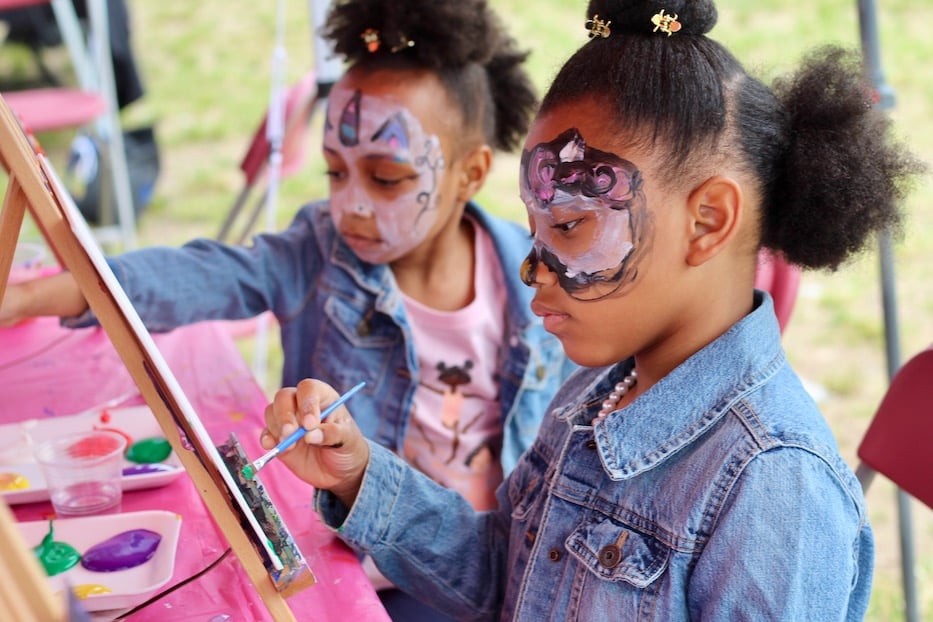 Top: Jasmine Nikole with her daughter, Miella. Bottom: Sisters Brooke and Brielle Goldson. Lucy Gellman Photos.
That focus on healing extended to every attendee, no matter how young. At artmaking stations placed beside each other, artists Jasmine Nikole and Sheree Baldwin-Muhammad guided tiny painters through a series of rainbows, landscapes, and fields of color, cheering on each tentative breaststroke as it appeared on the canvas.
Nikole, who was running the activity as part of her work with Cornell Scott-Hill Health Center, pointed to the restorative power that artmaking can have. In her work with the health center, she has brought multiple paintings into the space, all focused on healing. In one, a young boy stands surrounded by affirmations, ready to greet the day. In another, completed in the thick of Covid-19 social distancing, three women embrace.
Saturday, she said, she hoped to bring that to young attendees at the festival. When Nikole faced a personal loss herself in 2019, "it was art that pulled me out of my sorrow," she said as she watched her young son William start on an artwork of his own. "This is absolutely healing."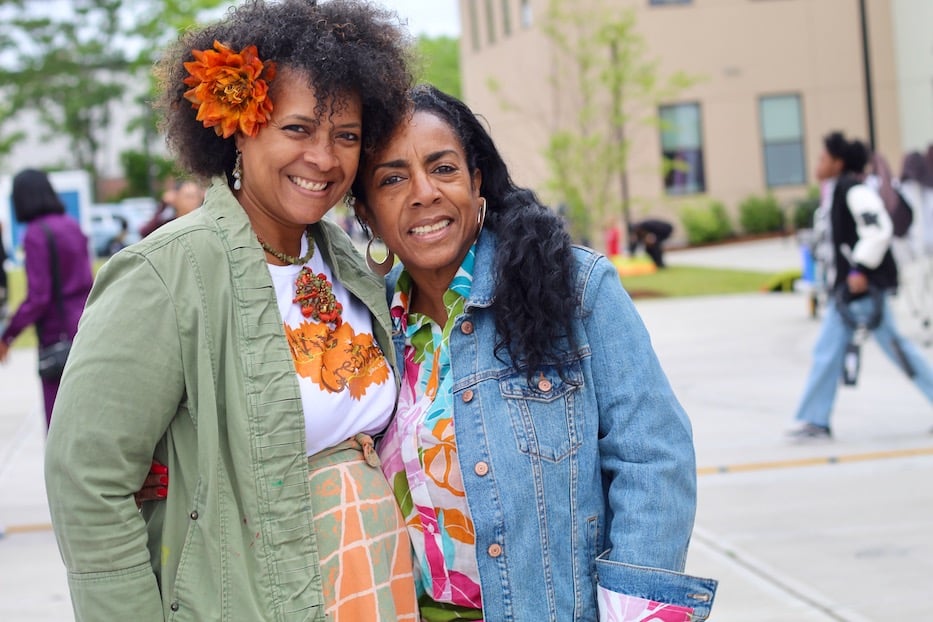 Sheree Baldwin-Muhammad and Stetson Branch Manager Diane Brown. Lucy Gellman Photos.
One tent over, Baldwin-Muhammad was also walking kids through painting, half a dozen vivid canvases already drying on the table. She was midway through contemplating a rainbow design when five-year-old Kiarra Herring returned to her seat, submerged her entire hand in blue paint, and decided she wasn't finished working. From a simple landscape, the canvas became layered with color, with blues and greens so thick they added depth to the canvas.
"I love watching the kids create," Baldwin-Muhammad said. She remembered one young attendee who had come through the tent just an hour or so earlier, and told Baldwin-Muhammad that she didn't know how to paint. Less than 30 minutes later, she was asking for a second canvas. "It helps build confidence."
Several other vendors made sure that the festival stayed literally sweet. At her tent, chef Sheila Howard of Auntie Sheelah's Cheesecakes had nearly sold out. Since launching her small food business, she has grown her culinary footprint to the Wooster Square Farmers Market and several vending events across the region, including in Waterford.
"I absolutely love this," she said. For her, she said, Saturday also felt like coming full circle: it reminded her of the Freddy Fixer weekends she grew up with. Surrounded by slices of lemon blueberry and banana split cheesecake, she said that it was good to be back.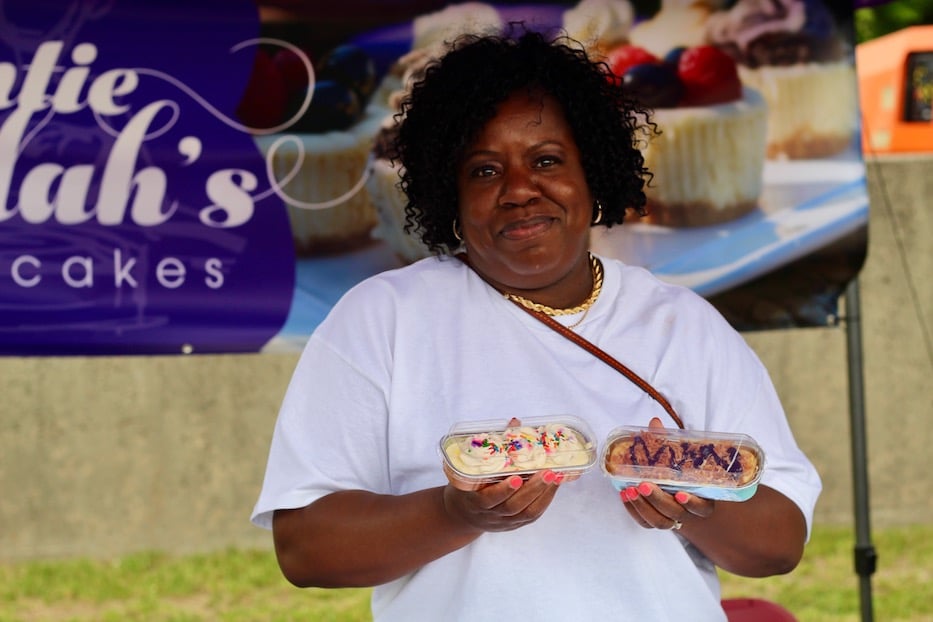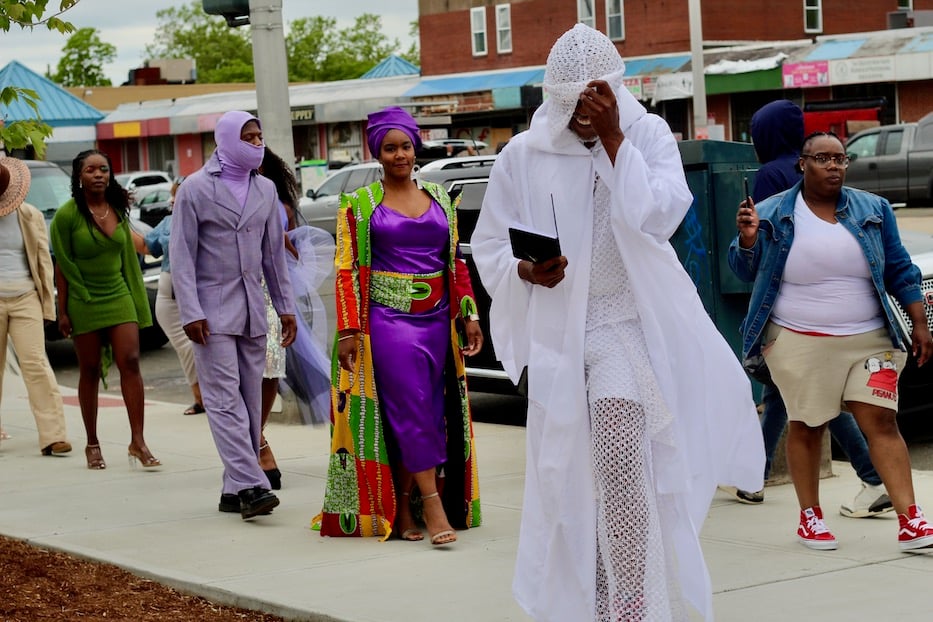 Top: Sheila Howard of Auntie Sheelah's Cheesecake. Bottom: Donald Carter with his models, who come from all over the state for his fashion shows. Lucy Gellman Photos.
Back on Dixwell Avenue, there was a commotion as the doors to the old Stetson Branch Library swung open, and over a dozen models spilled out into the parking lot and headed for the sidewalk. Once they had made it across the street, designer Donald Carter jumped on the mic, music pumping beneath him as he strutted forward in all white.
"This is easy breezy couture, all right?" he started, and cries of "yesssss!" rose from the crowd. "How bout that? I'm about ready to bring the models to the runway."
As if he had snapped his fingers, SĀHGE Academy Founder Arden Santana swished onto the runway in a purple silk gown and flowing batik coat, squares of yellow, green and orange vibrating as it billowed out behind her. Across her back, patterns came to life: green, violet and pink ovals, birds flying through each of them. She looked regal. Even a fleet of motorbikes passing on the street took note.
"Purple is majestic," Carter said as she walked forward in long, floating strides and the bikes revved their engines. "Purple is the color of the moment."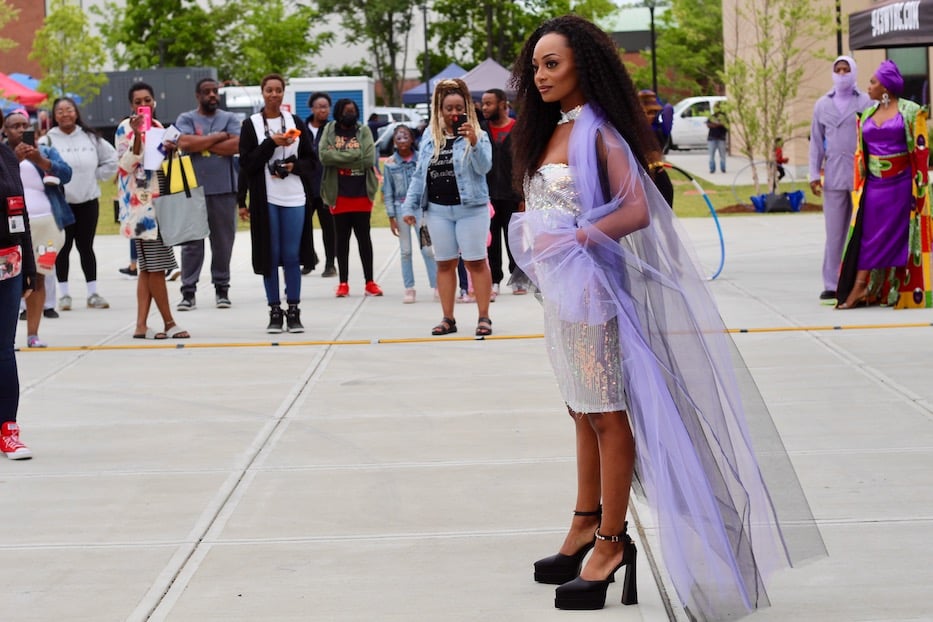 The models were just getting started. One took the runway in chunky black heels, a shimmering silver minidress, and a long cape made of lavender and black tulle. "Okay, she is giving you fa-shion," Carter said. "Not fashion. Fa-shion. She's showing you how to walk."
The models kept coming, showing the breadth and sheer vision of Carter's style. Draped dresses in green and off white gave way to flowing numbers from his Royal Collection, a mashup of Terminal 110 and Tudor England. Young models rocked patterns in brilliant leopard print, delft blue and white, and a zigzag black and white stripe that seemed to undulate on a body.
"I got nothing to say about this diva," he said as 11-year-old model Harper Hauteur half-danced onto the makeshift runway, her arms windmilling as she walked. "She's giving you couture, darling. Go ahead, show them, show them! Show them! That is a supermodel in the making!"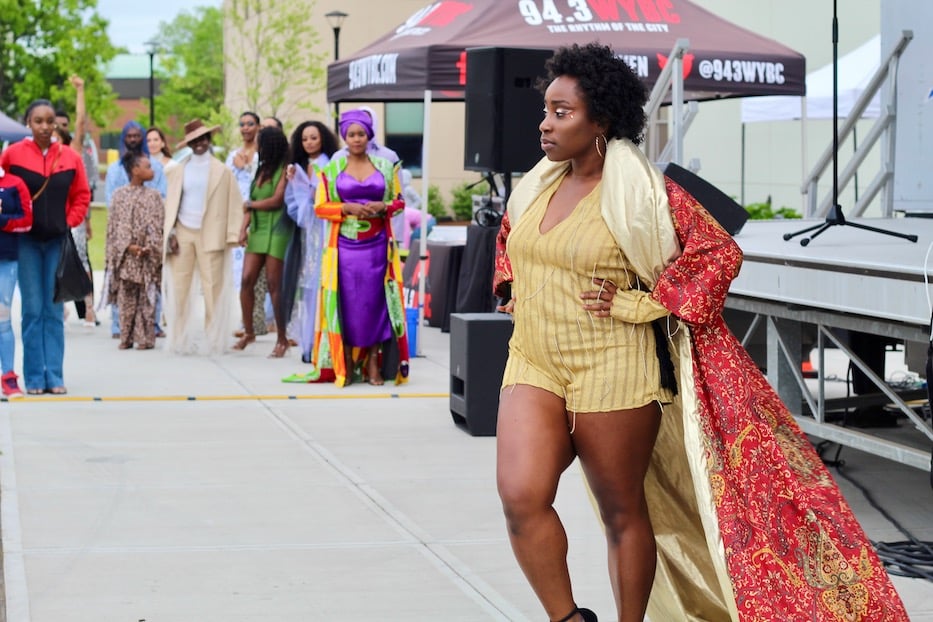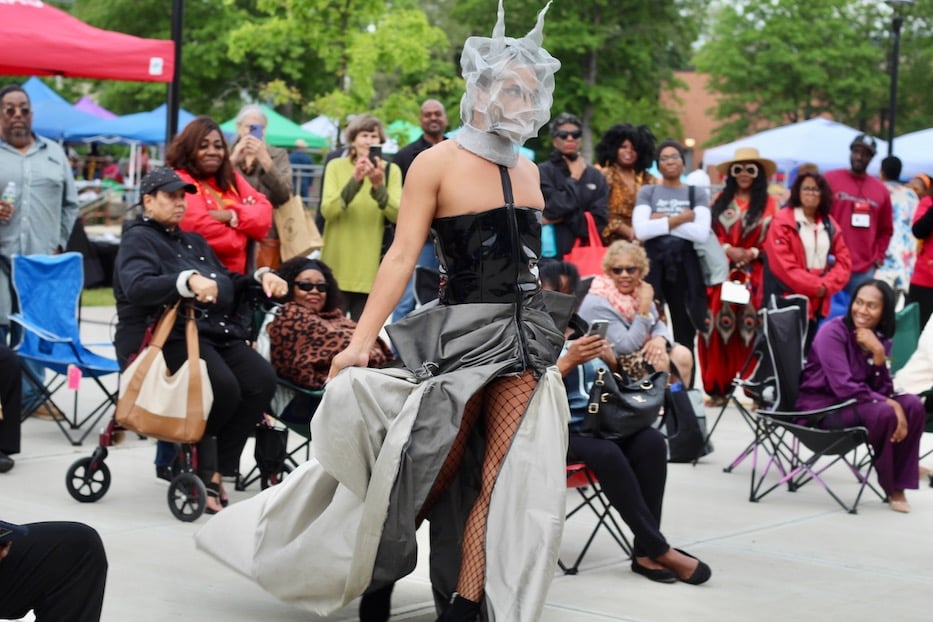 He had saved the best for last, he added minutes later. To screams from the audience, he invited on his last model, who rocked a fixed leather bodice and mesh and wire headdress with pointed horns. If androgyny has always been part of his oeuvre, he said, this was taking it to the next level.
In an interview after the show, Carter said that his mission goes far beyond couture—he seeks to instill in his models and audiences the same self-confidence that fashion has instilled in him. Years ago, he was afraid of public speaking. Now, he pushes himself to do it in his role as designer-turned-emcee. It has taught him that he can do just about anything he sets his mind to, he said.
"The platform is a great platform to show and be shown," he said. "And this—" he motioned to the festival, and the parade route just feet away from him on the street— "is showing pride in New Haven and the community."
To watch more from the festival, click on the video above.