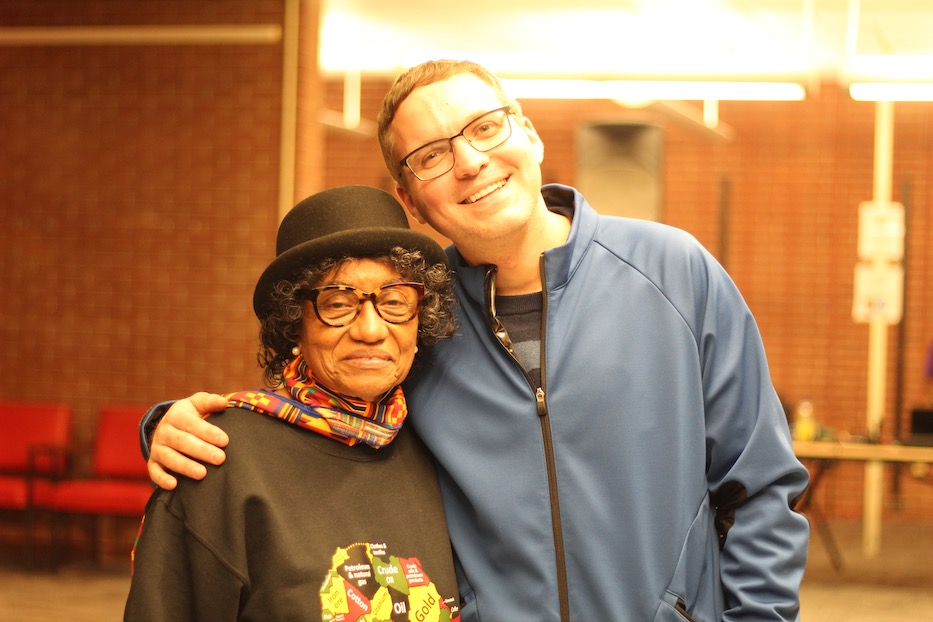 Culture & Community | Dixwell | Arts & Culture | New Haven Free Public Library | Arts & Anti-racism | Dixwell Community Q House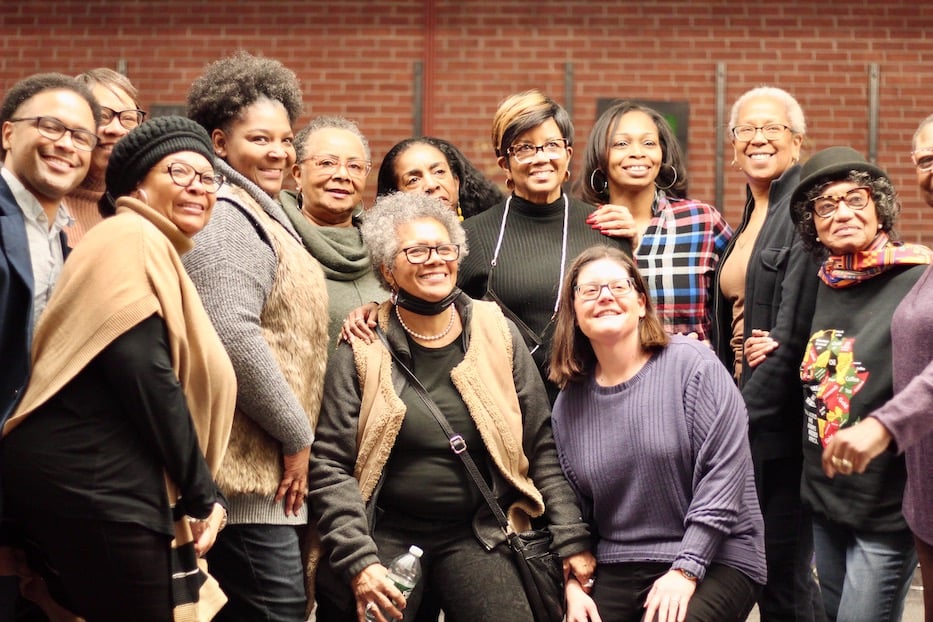 Lucy Gellman Photos.
Stephanie Hunt will remember jazz performances that filled the whole space and flowed over the stacks. Beverly Richardson will always think of the building as a safe haven for her kids, and thousands of young Dixwell neighbors. For Ms. Ella Smith, it's where her children, and then her grandchildren, and then her great-grandchildren fell in love with literature for the first time.
It may be empty now, but 200 Dixwell Ave. is full of history.
Saturday night, a few dozen people filtered through the old Stetson Branch Library to say goodbye to the building with a dance party and evening of impromptu story sharing. Two weeks after Black Haven hosted its pop-up festival inside the space, bibliophiles and Dixwell neighbors alike returned to send the building off into its next chapter one last time.
"It's bittersweet," said Branch Manager Diane Brown, who has held her position since 2006, and now works out of the new, two-story Stetson Branch Library across the street. "I'm gonna miss this space. There's a lot of memories here—whole generations of children came through this building."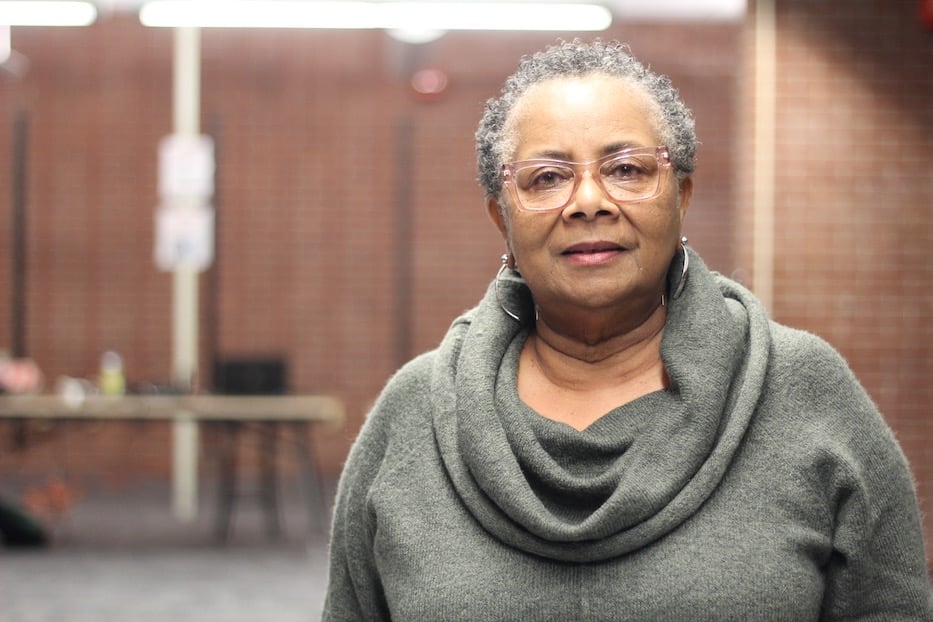 Beverly Richardson, who spent decades in the old Stetson Branch Library and knew Brown's mother, Ms. Lillian Brown, long before Brown was a librarian. When she was a child, Richardson's mother ran a day care in Dixwell, and Stetson was part of the fabric that helped it run. "This is history to me," she said.
For over half a century, the Stetson Branch stood at 200 Dixwell Ave., nestled in a midcentury shopping plaza between a beauty supply store, a pizza place, a smoke shop and a Caribbean restaurant that moved to West Haven last year. If it was an unlikely spot for a library, that never seemed to bother the kids who saw it as a second home, some there every day after school and in the summertime. Outside, a signature mural still beckons with the word R E A D in big block letters.
This spring, it is slated for demolition as the Connecticut Community Outreach Revitalization Program (ConnCORP) begins its work on its $220 million mixed-use development project ConnCAT Place. Patrons have migrated to the new branch just across the street, where Brown still runs near-daily programming and community partnerships with a small staff.
Saturday, dozens came back into the old building, pointing out the phantom bookshelves, now-absent computer stations, bare walls and the weathered spots on the carpet where musicians once played. In the center of the room, a neat black-and-white tile stage doubled as a dance floor. Friends reminisced about all-ages music shows and sun-soaked summertime festivals between those walls, decades of history unwinding between them.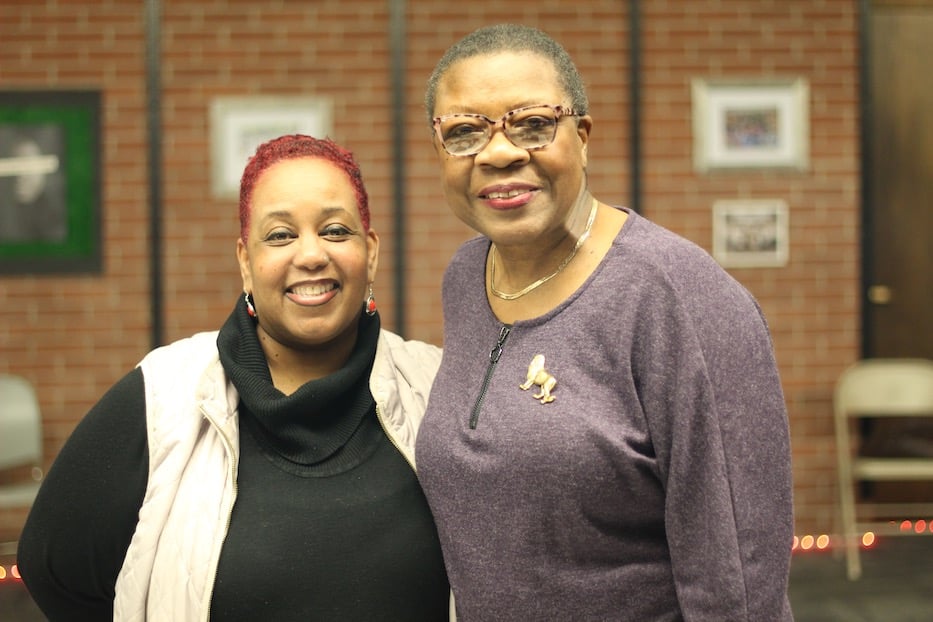 Rhonda Taylor, who worked as a library assistant from 1997 to 2021, and Lensley Gay. Lucy Gellman Photos.
For Lensley Gay, site coordinator for the Family Resource Center at Brennan Rogers School, Stetson has always been part of her New Haven story. When she first moved to New Haven in 2003, "I found the library a place of comfort," she said. As an advocate for children and families, she knows firsthand that a library is never just a repository for books: it can save a child's life and transform how they see the world.
She recalled a 2013 visit from Connie Napper, one of the last surviving Tuskegee Airmen, as one of her favorite memories in the space. As she watched him, she was amazed by the patience with which he answered every question, signed every poster, and stayed to shake every hand.
"This is the anchor for the community," she said. "If it's not here already, they make things happen. For me, it's amazing to see people so in tune with the community. They are the heartbeat of the community."
As she walked around the space, retired Library Assistant Rhonda Taylor savored her time back in the building. Growing up in New Haven, Taylor "lived in the library," spending most of her time in a branch location on Portsea Street that no longer exists. It was there that she fell in love with books, even as then-stern librarians tried to shush her. It wasn't the bubbly library she knew years later, as an assistant at Stetson—but it was still home.
"Back then you had to be quiet," Taylor said with a laugh. As a kid, she got kicked out of space for making too much noise. "So I would go for a bit and then come back."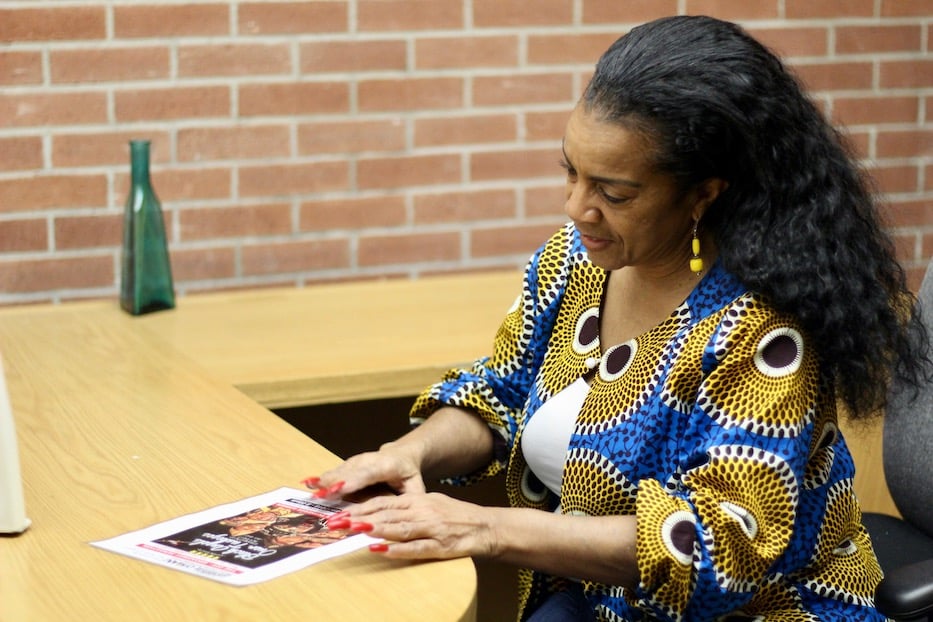 Branch Manager Diane Brown in her old office, where a poster for Nappier's 2013 visit had fallen behind a desk. Lucy Gellman Photos.
When she started working as a library assistant in the late 1990s, it felt like part of a Taylor family tradition. Her mom, Darlene Taylor, worked at the library before she did, and Rhonda took to the work instinctively. While she initially worked at all of the library's branches, Stetson was her favorite—and she found that she was beloved among its young patrons.
She fell in love with not just the books, but the people, who cycled through for karate and chess classes, "Africa Is Me" dance and drum lessons, lectures, crafting and concerts. Stetson was her spot even when she wasn't on the clock: she would bring her kids and grandkids into the library for endless hours of entertainment.
"I loved it," she said. "The kids were the best—" she laughed "—And the worst. The parties, the Halloween [nights], the concerts … just everything we'd do. We'd do so much for the community. That's what I miss. I miss the community."
Two years after retiring, she still refers to Young Minds and Family Learning Librarian Phillip Modeen as her "work husband," and he to her as his "work wife." Saturday, she said that she'll miss the Stetson family—who she frequently visits across the street—when she moves to North Carolina this or next year.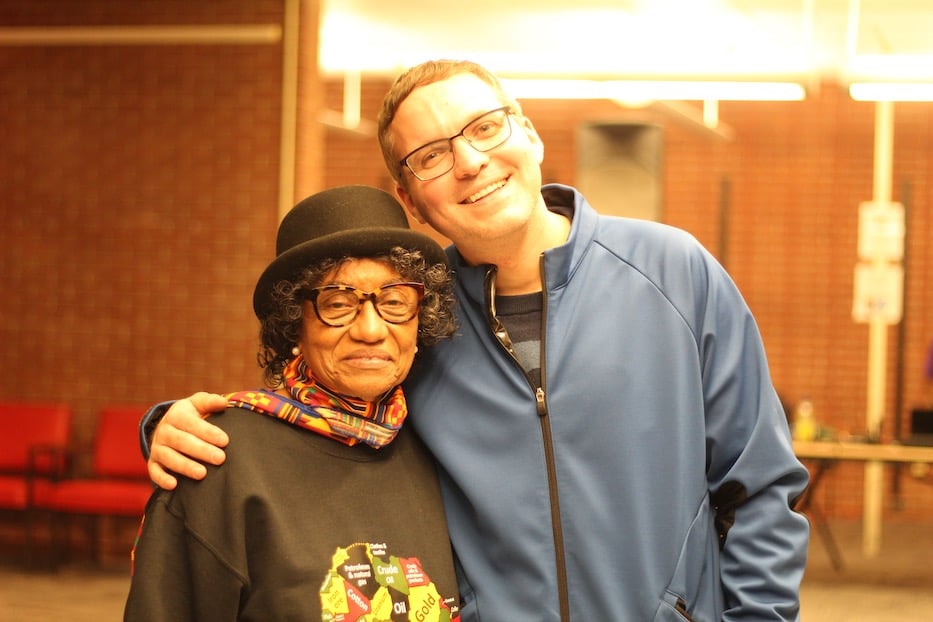 Ms. Ella Smith with Young Minds and Family Learning Librarian Phillip Modeen, or "Mr. Phil." Lucy Gellman Photos.
In the center of the dance floor, Ella Smith cut a rug in the space last time, a felted black hat resting snugly atop her head. Over three of its four locations, Stetson has served five generations of her family, from her parents to her great-grandchildren. She remembered "so many community meetings" held out of the building, where she always knew that she could bring her kids and grandkids, find the right book, and slip right into programming for all ages.
Now, she visits the new Stetson "a couple times a week," after spending time at the Dixwell Senior Center in the new Dixwell Community Q House. She recalled bringing her 7-year-old grandson, Emarius, into the library to learn lego robotics with "Mr. Phil," Modeen's nickname among most patrons under 10.
When she was getting dressed Saturday, Smith said, she chose the hat specifically so she could tip it at the end of the night. Before leaving the building, she raised a hand to the brim, and lowered it just so. She wouldn't be back to 220 Dixwell Ave., but she'd be back at Stetson soon.
For Modeen, who has become known and loved simply as "Mr. Phil," it's a fond farewell and an emotional one, too. Over a decade ago, the space was where he fell in love with New Haven and with librarianship. In 2008, Brown was Modeen's undergraduate professor at Southern Connecticut State University (SCSU), and taught students about the role of a library as a community center and civic space.
Brown's lessons were electrifying: no one had talked to him about a library like that, Modeen remembered. No one had told students that their most important charge as librarians was to serve the public. Part of the course, he remembered, was coming to Stetson and getting a library card.
He started volunteering in the space shortly afterwards.
In 2015, after his graduate studies in library science, he became a part-time librarian at the NHFPL. When he was assigned to Stetson, "it was a beautiful, full-circle moment," he said.
"Stetson was so alive then," he said. "I think for a lot of students, it's [library science] academic. Diane made it real."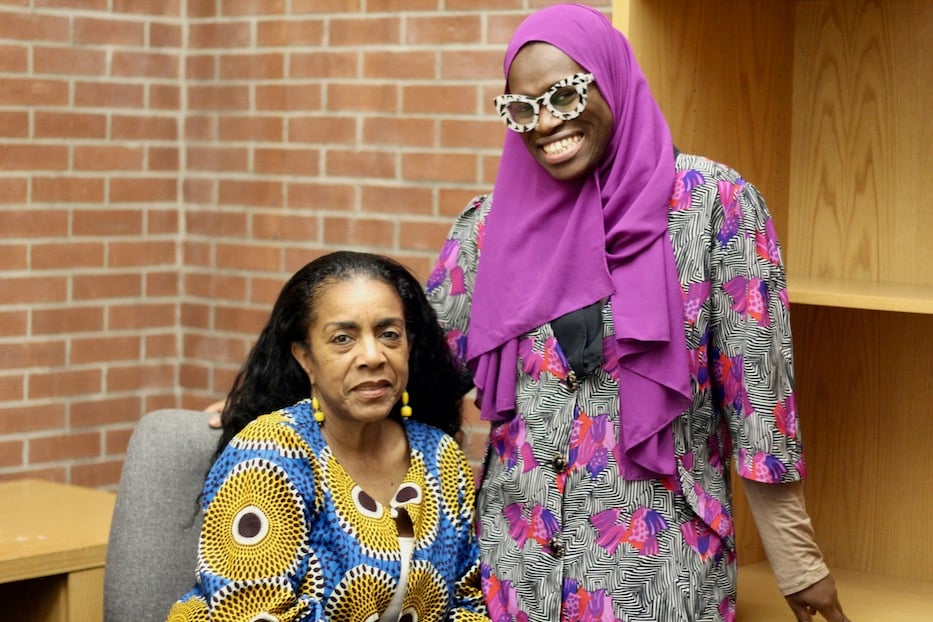 Stetson Branch Manager Diane Brown and Black Haven Founder Salwa Abdussabur. Lucy Gellman Photos.
Almost every day, students from Wexler Grant Community School would come back through the library on their way home, a tradition that has continued with weekly young minds programming across the street. Around him, Stetson hummed with activity, from cooking demos to skate clinics. Brown, he said, never said "no" to a programming idea.
"It was always 'Let's try it, and see what happens,'" Modeen said. It still is. "She never shut anyone out."
Nearby, Brown made the rounds, catching up with attendees as music floated through the space. She popped into her old office, where a desk and swiveling chair still sit against the exposed brick, as if they are waiting for her to come back for good. As the night wound down, she tucked herself instinctively behind a table where the reference desk used to be.
Her love for the old building took a while to catch up to her, she said as she sorted bottled water and bags of popcorn. As a branch librarian and then branch manager, she turned 200 Dixwell Ave. into a de facto community center, with after-school programming, chess classes, free community concerts, theater talkbacks, and African dance and drum. After the closure of the old Dixwell Community Q House in 2003, she filled a void.
But when Brown moved across the street in March of last year, "I didn't think about it right away," she said. Between 2020 and 2022, she and a skeleton staff had navigated pandemic shutdowns, reopened 200 Dixwell Ave. for curbside pickup and printing services, planned summer festivals, weeded and then moved an entire collection of books, and kept serving a community even as the library's physical doors remained closed. It was only after she had a moment to herself in the new building that she realized how much she was going to miss the old one.
"And then it hit me," she recalled. After making sure she could slip away for a little while, she returned to her old office and sat there, remembering the thousands of pint-sized patrons who had given her the energy to come to work every day. Some are now parents themselves, who bring their kids back into the space to see her.
Almost a year after the new Stetson opened its doors, "we're thriving," she said. In 11 months, it has become the same safe haven for community members, who can now lose themselves in activities, an entire floor for young readers, and an all-ages collection dedicated to the African Diaspora. On Saturday alone, she had welcomed artist Iyaba Ibo Mandingo for a puppet performance, then stayed for the dance party across the street.
"I feel blessed," she said. "I feel blessed."