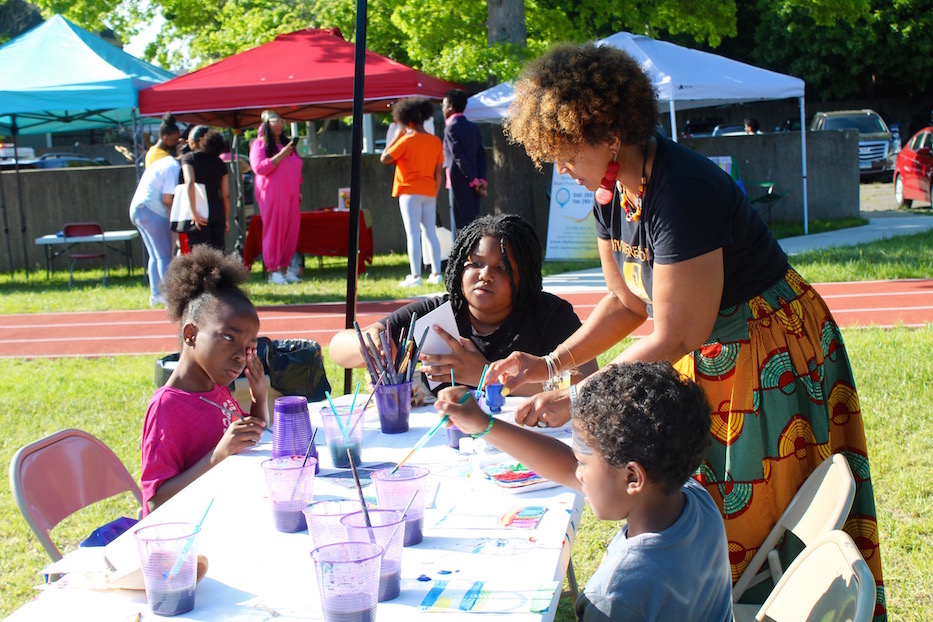 Dixwell | International Festival of Arts & Ideas | Arts & Culture | New Haven Free Public Library | Dixwell Community Q House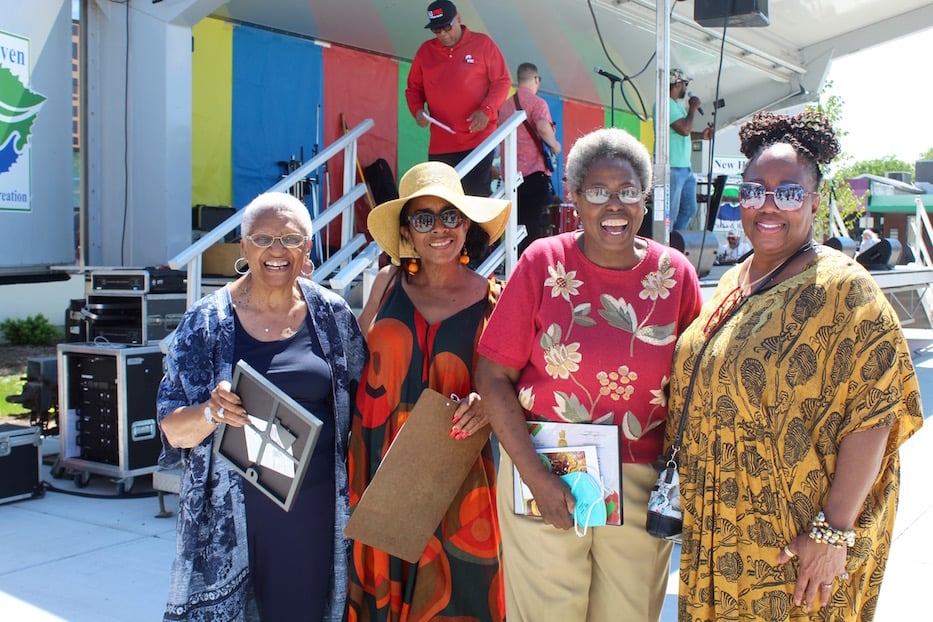 Stetson Branch Manager Diane Brown (in orange and black) with Concerned Citizens Jacqueline Bracey (at left) and Curlena McDonald. Lucy Gellman Photos.
Drums rang out across Foote Street and wrapped around a growing crowd beside the Dixwell Avenue Q House. Michael Mills called out to the drummers, and suddenly it was a percussive heartbeat, vibrating all the way to Winchester Avenue. Overhead, the sun rose higher in a nearly cloudless New Haven sky. As musicians played, the sound drifted heavenward, a benediction.
Summer came early to Dixwell Saturday afternoon, during the ninth annual Dixwell Neighborhood Festival and first Stetson Branch Library open house from the International Festival of Arts & Ideas, New Haven Free Public Library, and New Haven Department of Arts, Culture, and Tourism. Part concert, part vendor fair, part fashion show and part building dedication, it welcomed the community to the new Stetson with hours of sun-soaked celebration. As emcee, WYBC Host Juan Castillo and a number of New Haven-raised musicians kept spirits high all afternoon.
Over 750 people attended the event, scheduled on what would have been the annual Elm City Freddy Fixer Parade weekend. From speakers' first hello to the afternoon's last musical act, it doubled as an homage to the late City Librarian John Jessen, who was laid to rest last Wednesday. It is Arts & Ideas' oldest and longest-running neighborhood event, to which the festival has since added analogues in Fair Haven, The Hill, Newhallville, and West Rock/West Hills.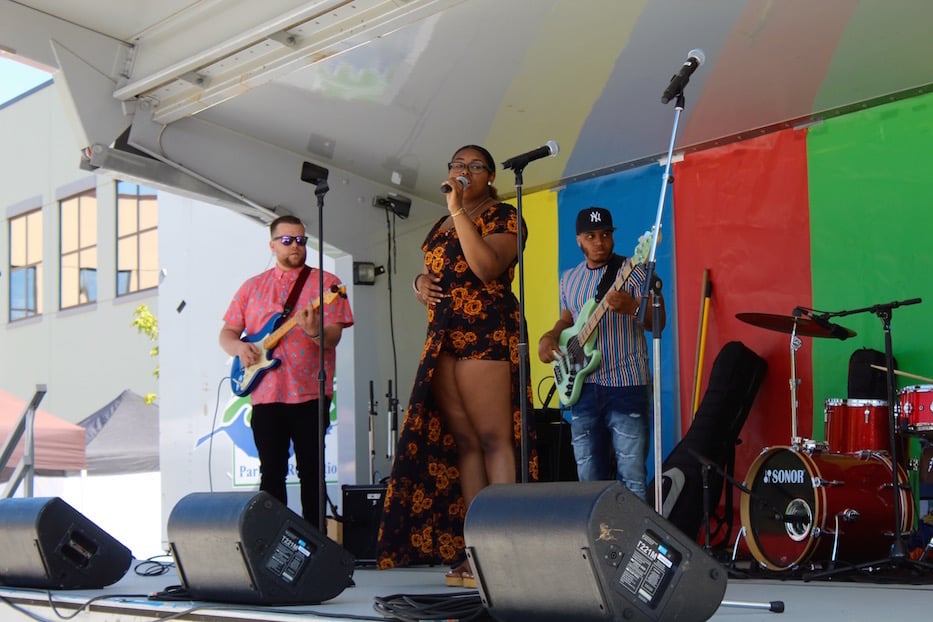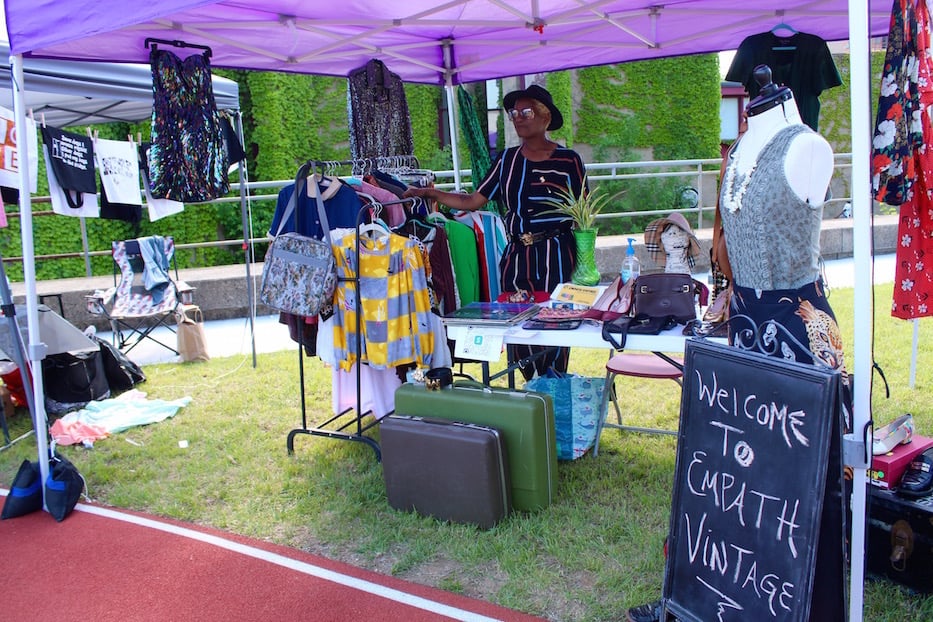 Top: Musician Manny James likened watching his students perform to "winning a grammy." Here, Neveah Random serenades the crowd. Bottom: Over 60 vendors, like Empath Vintage's Ashleigh Huckabey, turned out for the event.
"John Jessen actually signed the checks and gave the go ahead and gave the money just a few weeks ago so we could have this festival," said Stetson Branch Manager Diane Brown, who organized the event with festival committee members Nina Silva and Jacqui Glover. "John liked to party. John loved music. John would want us to carry on, so that keeps me spiritually lifted. So we're gonna carry on."
As drummers welcomed attendees to the sprawling patio, over five dozen vendors set up their tents across the field, arranging them in and outside of a new track that cuts through the grass. One by one, posterboard and chalk signs appeared, advertising mobile bookstores, waist beads and African-print fabrics, homegrown publishing businesses, multimedia artists and stations for plein air painting. On the far right of the field, staff from Cornell Scott Hill Health Center did blood pressure checks beside a group of hula hoopers.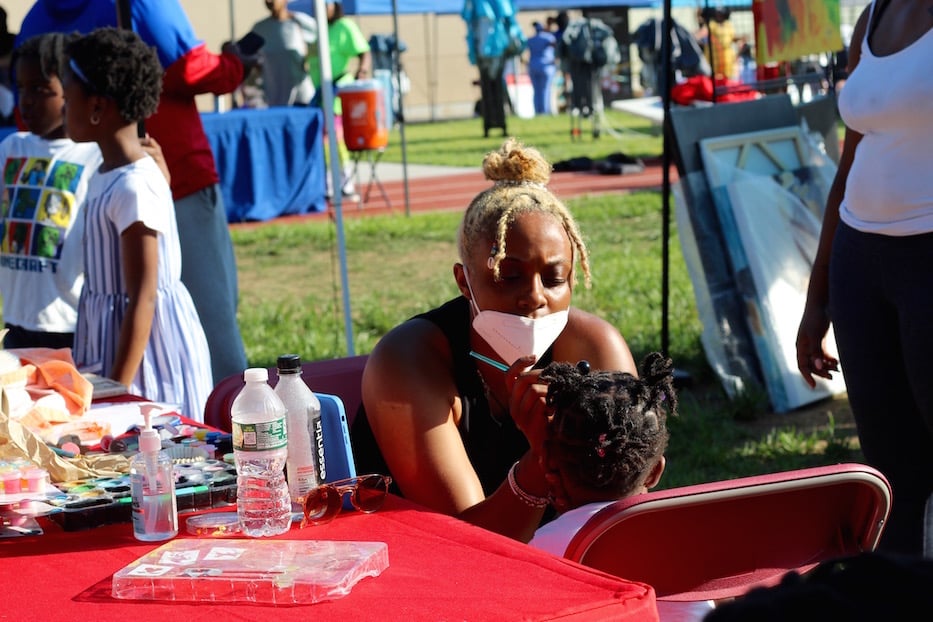 Laughter wound its way through the grass, friends catching up as kids barrelled toward the face paint tent on their pint-sized legs. On the patio, attendees shed their layers as they set out lawn chairs. Dozens of families trickled in, drawn by the sound of music as it floated from Dixwell Avenue all the way up Henry and Foote Streets. In the front row, "Hood Hula" instructor Diamond Tree balanced a hula hoop on her arm, then transferred it to her wais.
Back onstage, Brown turned her attention toward a group of "Concerned Citizens"—or as she calls them, the "Hopeful Queens"—who worked closely with the city and the late architect Regina Winters to bring the Dixwell Community Q House to fruition. They include Carroll Brown, Jacqueline Bracey, Curlena McDonald and former Mayor Toni N. Harp, who appeared with her granddaughter Zoey on her hip. As each received an award from the festival, they noted how essential the new Q House is to nurturing a new generation of New Haveners.
"The reason that we do this work is so that young people will have a place to go where they'll be safe, where their education will be supported, and they'll have fun together," Harp said as Zoey clapped her tiny hands. "So we're doing it for the kids."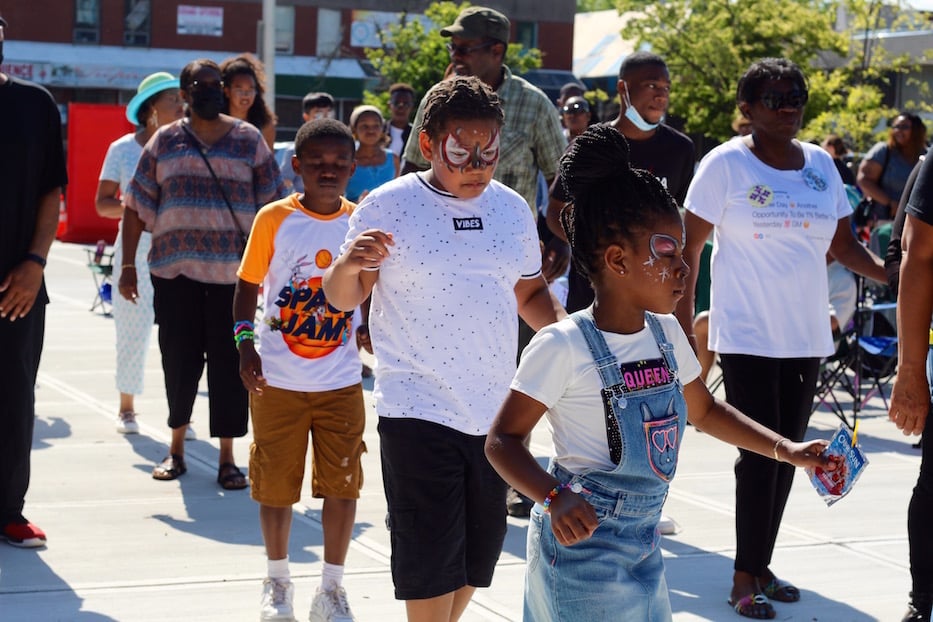 Face painting and old fashioned line dances met as Juan Castillo emceed the event.
The new Q House, opened last November, represents the third iteration of the building since 1924. Originally founded as a settlement house at 98 Dixwell Ave., the Q House moved to 197 Dixwell Ave. in 1969, when a new building went up at that address. That building closed officially in 2003 and fell into disrepair. It remained that way until 2017, when construction crews demolished the old building and set the stage for the current one. The city held a formal launch in 2019. Last year, the new building opened after over three years of construction.
Stetson, which has also occupied many homes since its founding in 1917, has become its anchor. Coming from downtown, its wide double doors, wooden columns and clean, large-lettered sign are the first thing that people see. Inside, Brown has built a 23,000-book African diaspora book and media collection, designed with both the neighborhood and New Haven's Black community more widely in mind.
The head of the Concerned Citizens, Bracey herself has spearheaded efforts to revitalize the Q House since at least 2009. A third generation New Havener who now lives in Hamden, she grew up in the old Q House, and called Saturday's festival a joyful continuation of its storied history. As Castillo flowed between acts, she recalled spending years inside the old building, from youth basketball games to her own tenure as director decades ago. Seeing it open to the public is like coming home, she said.
"We are keeping the legacy alive," Bracey said. "This is a community effort."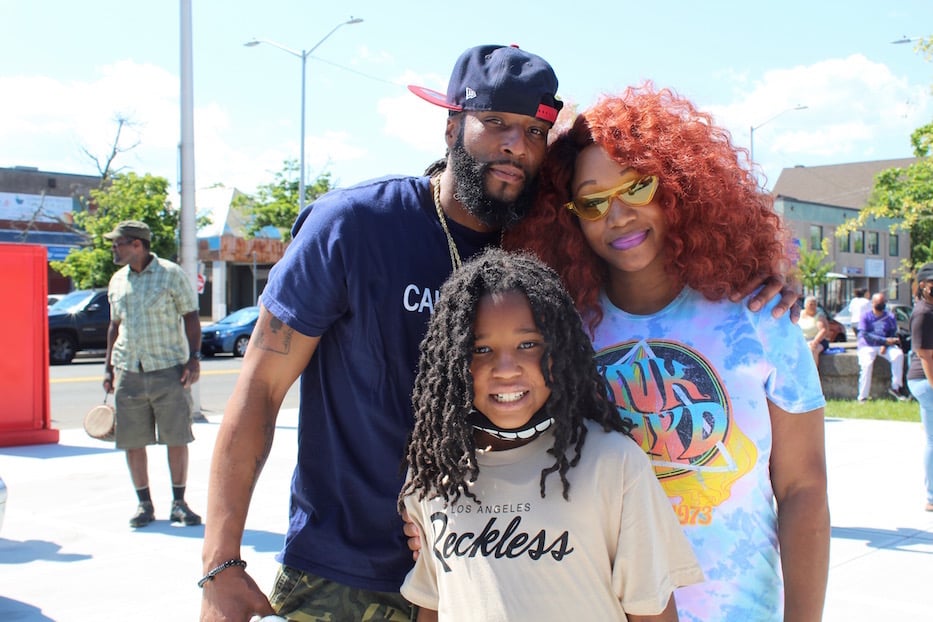 Nine-year-old Azari Taveras with proud parents Brandon Taveras and Deja Moore.
No sooner had Bracey praised the site than a parade of young performers, all students of musician Manny James, took the stage one by one. Fans of Creative Hearts, Inc., which James founded in November 2020, moved close to the stage, many lifting their phones to record. To the first notes of "I'll Be There," nine-year-old Azari Taveras brought the mic slowly to his mouth and looked out at the crowd. Taking a second mic behind him, James beamed and prepared to sing backup vocals.
Azari began to sing, his voice blooming around the words (watch the performance here). In the crowd, attendees clapped slowly to the beat, some lifting their arms at James' urging from the stage. They swayed, letting the lyrics soak the patio in sound. James, who later compared watching his students sing to "winning a Grammy," joined in on the second verse. He later praised Brown, who he met earlier this year when she brought Jaigantic Studios to Stetson, as "really pouring into me."
As student Neveah Random got the crowd moving with the first strains of "I Wanna Dance With Somebody," the vendor fair heated up on the field behind the Q House.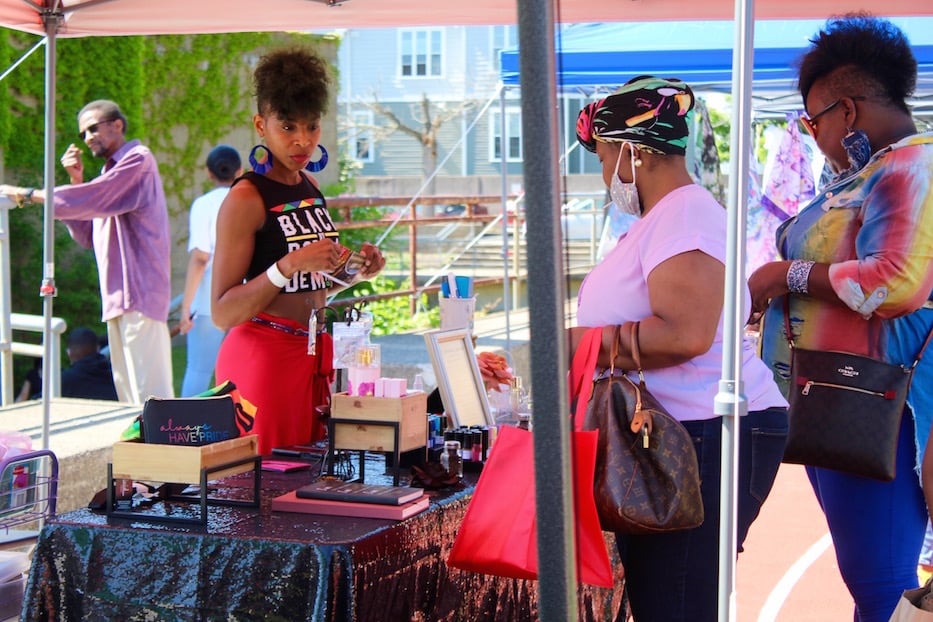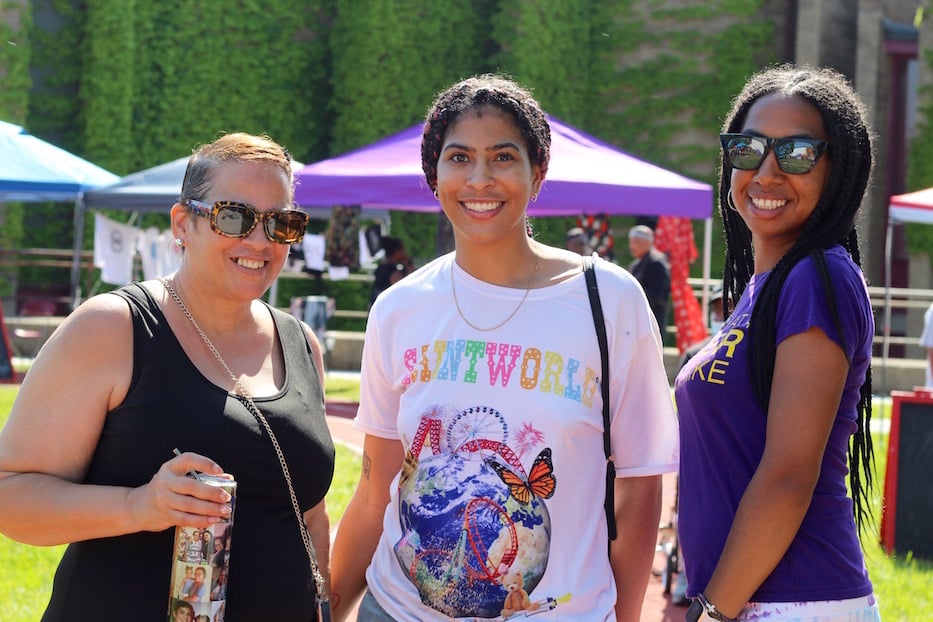 Top: Rosetta Washington. In Wholesome Approach, she blends mental health and natural makeup. Bottom: Nina Silva, Tania Bussey, and Shamain McAllister.
Beneath one of the first tents, Rosetta Washington of Wholesome Approach welcomed customers, waving her hand over a display of fragrances as she tried to find the right one for each person. A licensed clinical social worker and makeup artist, Washington launched the business in 2020 as a way to bridge her two worlds.
When a woman and her daughter stopped by to glance over products, she walked them through a line of fragrances. A warm breeze blew through the space, ruffling her hair as she chatted.
"Bolder?" Washington asked, and the woman nodded. She grabbed a salt shaker filled with coffee beans and scanned the fragrance display.
"Smell the coffee beans," she said, picking up another vial.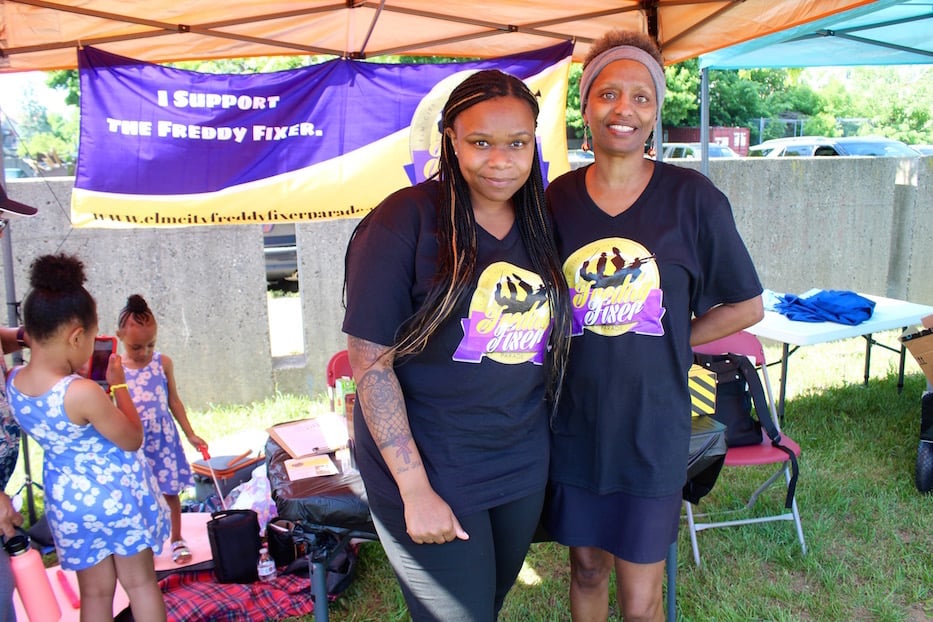 Chanelle Goldson and Petisia Adger of the Elm City Freddy Fixer Parade Committee, Inc.
A few booths over, Elm City Freddy Fixer Parade Committee, Inc. President Chanelle Goldson and longtime organizer Petisia Adger handed out information about the parade committee, upcoming Freddy Fixer gala, ongoing fundraising efforts, and meetings to jumpstart next summer's 56th annual parade well before 2023. This year, the committee made the decision not to hold the parade for both financial and logistical reasons.
In the months since, it has since convened planning meetings at the new Stetson, in an effort to rebuild the parade from the ground up. Last month, it also held its now-annual neighborhood cleanup on Dixwell Avenue, a nod to the long legacy of Freddy Fixer luminaries Frederick Smith, Edna Baker Carnegie, and Charles Twyman. Now, Adger said she is focused on making sure the event returns in full, festive force next year. In 2019, the parade drew thousands of people to Dixwell Avenue for an hours-long celebration.
"We really need to get people to continue to help us," Adger said. Around the tent, attendees scooted by, checking out clothes, home goods, and books from Elm City Candle, Empath Vintage and authors Darius Good and Sylvia Cooper to one side, Black Girls Are Sunshine and Pearl Studio to another. Authors and booksellers popped up in every direction, paying homage to the library nearby. Every few moments, friends found each other and embraced, skin glowing in the bright sunlight.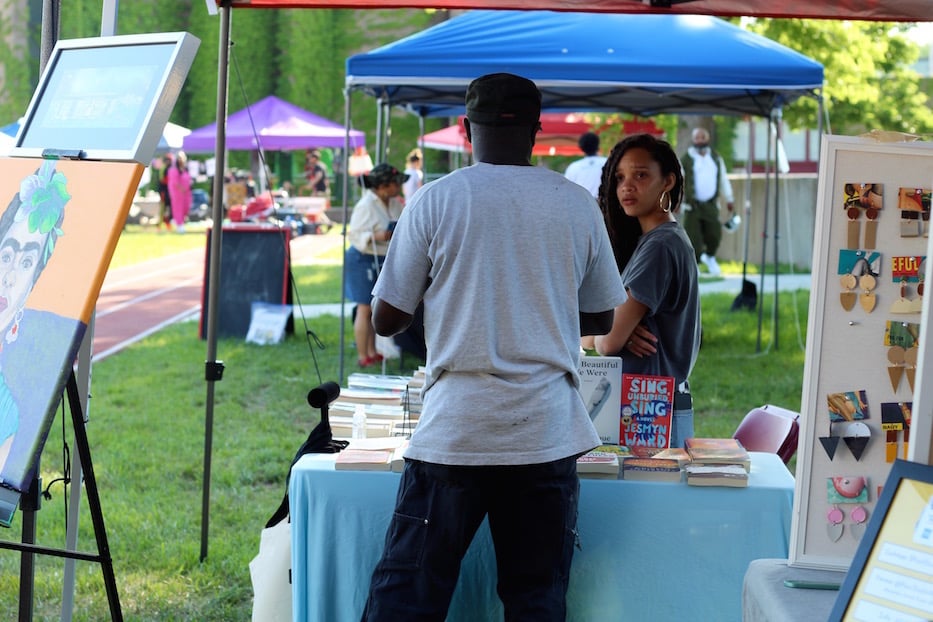 Nyzae of BAMN Books. The business stands for "By Any Means Necessary."
Often, it seemed like every other vendor—and attendee—had a Stetson or Q House story that they were excited to tell. In April of this year, poet, organizer, and Black Girls Are Sunshine founder Sun Queen led "For The Love of Poetry," an open mic in honor of National Poetry Month, from the library's second floor. A few booths down, artist Amira Brown remembered walking by the in-construction Q House on the way to her studio, and wondering what was going up there.
"It's been beautiful watching the community come together," Brown said, paging through a newly written zine about fresh eggs.
At a table covered corner-to-corner with titles nearby, BAMN Books Founder Nyzae (she asked to use only her first name) recalled going to Stetson as a kid, after days of classes at Wexler-Grant Community School. When that final bell rang, she and several friends would walk across the street, to the branch's old home at 200 Dixwell Ave. It instilled in her a deep love for libraries and the books they held inside their walls. Years later, she's continuing that work with her own mobile book business.
"It was a safe haven," she said. "It was just an opportunity for me to embrace literature, to give books a hug. School was great but libraries are where you're free to learn."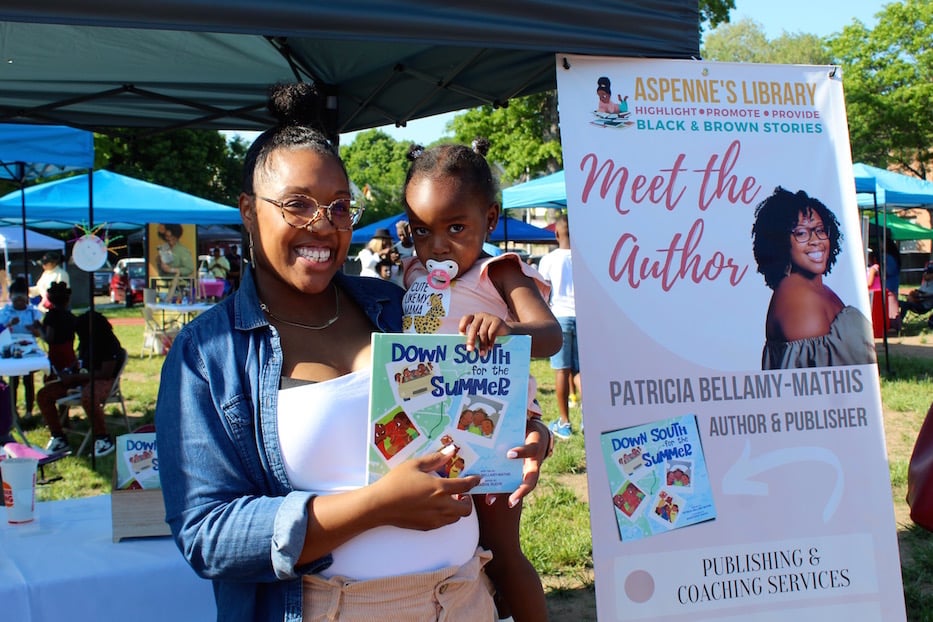 Patricia Bellamy-Mathis and Aspenne, who is two. The book is illustrated by Anastasiya Rudyk.
At a booth for her new book Down South for the Summer, author Patricia Bellamy-Mathis remembered her time as a young person in the Dixwell neighborhood, where she and much of her family still live. As a student at Wexler School (previously the Winchester School, and now Wexler-Grant Community School), "I grew up in the Q House," she said. "This is my community. This is home."
Years later when she became a mom, that same pride in community pushed her to found Aspenne's Library, named after her two-year-old daughter Aspenne. When Bellamy-Mathis started looking for books for Aspenne, she found that they often didn't spotlight Black characters in whom her daughter could see herself. Down South for the Summer, which tells the story of a road trip to visit grandparents in the South, is meant to fill that space.
At spaces like the new Stetson, she's in luck: Brown's diaspora collection includes a children's section, with Black and Brown protagonists who reflect New Haven's diversity. For years as branch manager, Brown has also added local voices to that collection, supporting them at vendor events and festivals in the community.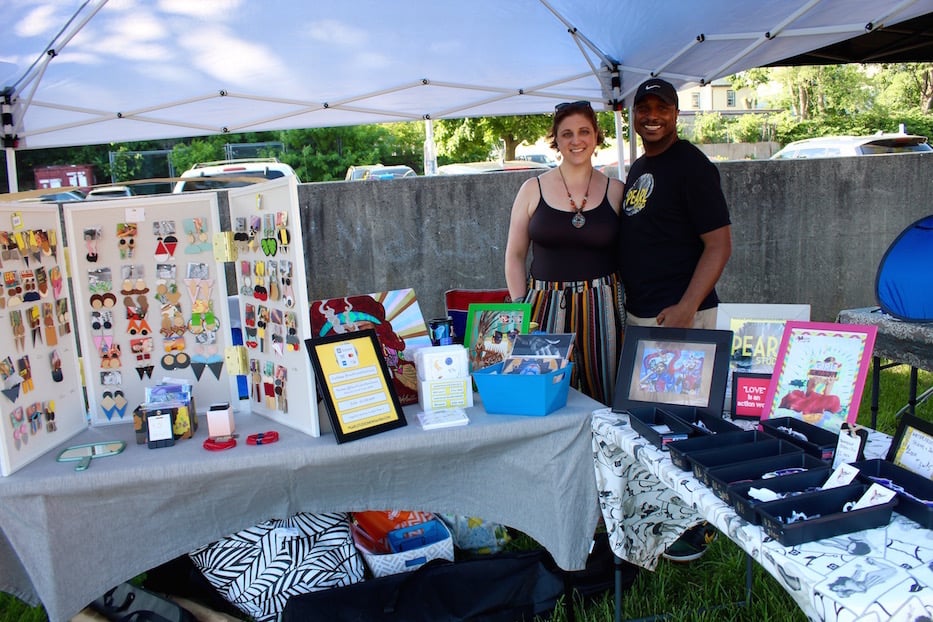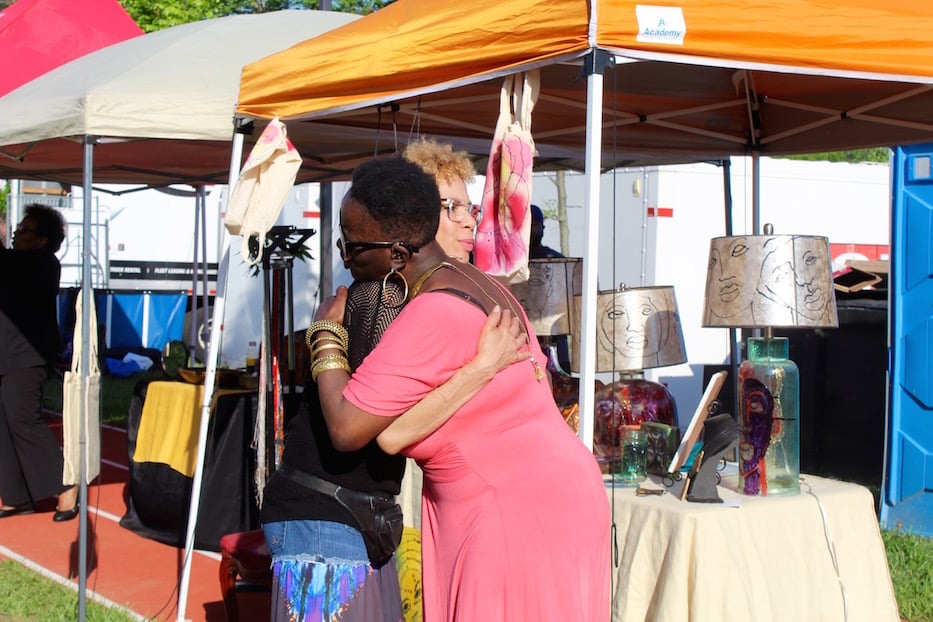 Top: Alex Novak Foster and Vancardi Foster of Pearl Studio. "The community feeling is so so strong," Alex said. Bottom: Shaunda Sekai Holloway (in pink): "We need institutions like this that aren't going anywhere," she said.
At a tent filled with painted lamps, upholstery, dangling ornaments and bright prints and canvases, artist Shaunda Sekai Holloway praised Diane Brown for her work in the community, calling Stetson far more than a library. As an artist who grew up in New Haven, "I've been coming to the library since before I could read," she said with a laugh. She's seen Brown's leadership transform the space in real time. Now, she sees it as "our Schomburg," a nod to the Schomburg Center for Research in Black Culture in Harlem.
She's equally grateful for the Q House, she said, and the opportunities that it will bring into the community. During her time as a student at Southern Connecticut State University (SCSU), Holloway spent time volunteering there as part of a social work class.
"We need institutions like this that aren't going anywhere," she said. "This really has become a cultural institution under Diane Brown."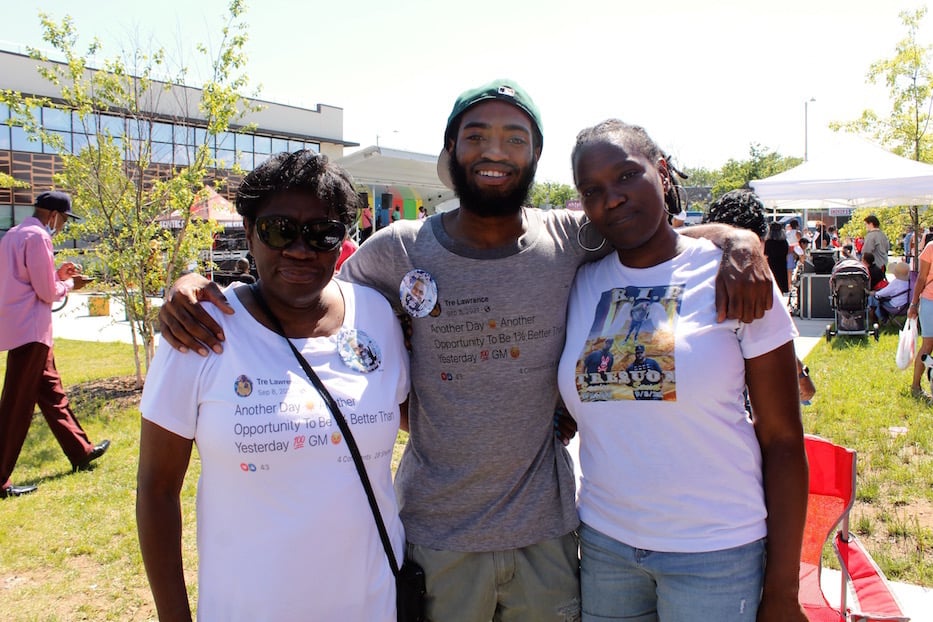 From left to right: Laverne Watts-Boatwright, Justin Watts, and Pashion Watts-Gaines.
Other attendees reflected on the need for not just the new Q House and Stetson, but community centers and more comprehensive before- and after-school programming across the city. At a tent for the Survivors of Homicide Victims Support Group, Pashion Watts-Gaines advocated for more resources like the Q House, including in New Haven's elementary, middle and high schools.
Her son, 27-year-old Trequon Lawrence, was shot to death on Newhall Street in September 2021. She said she would like to see more free, year-round programs that keep kids engaged in arts, culture, sports and scholastic activities instead of on the street.
Saturday, she described her late son as a "gentle giant" who worked at Yale New Haven Hospital, eager to help his family and his neighbors with any task they needed. Behind her, over 100 photos, each representing an unsolved homicide in the city, looked back out at passers-by.
"It's traumatizing," she said, adding that there had been gunfire on her street just an hour before the festival. "I know they [the city] say that they're doing a lot, but they need to be doing more. There need to be more things for kids."
A Passion For Fashion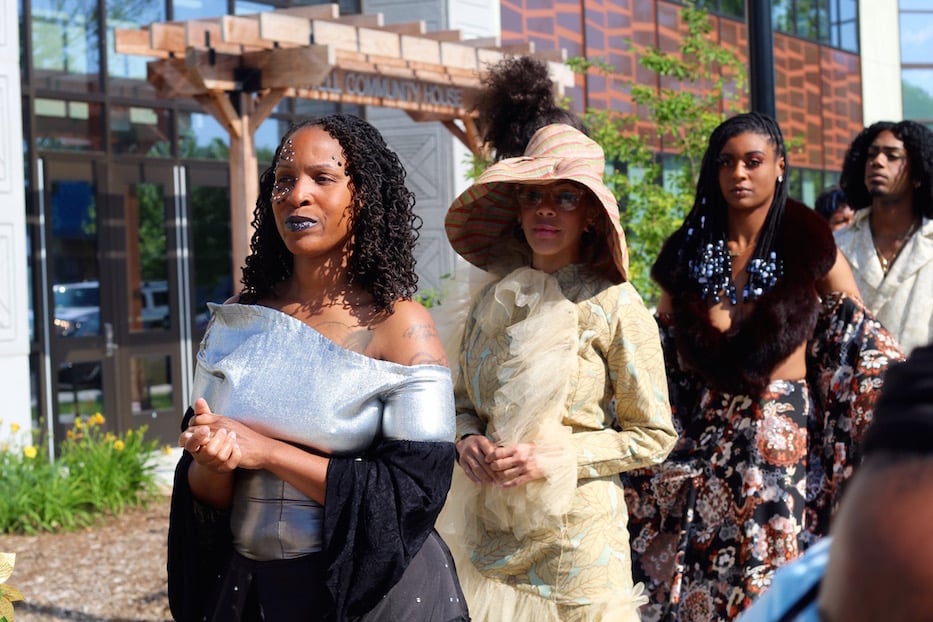 Tulani Dial and Jodene Minnis.
In part, Brown said, she and committee members designed Saturday as a symbolic passing of the torch from the old Stetson Library—which now stands empty across the street—to the new one, which opened to the public in March of this year. A little after 4 p.m., she marched across Dixwell Avenue to the old building, where designer Donald Carter had transformed the empty shelves and low lighting into a staging area. A video of the show, with Carter on the mic, is at the bottom of this article.
The plaza, which ConnCORP now owns, is ultimately slated for demolition and redevelopment into new apartments, office space, a performing arts venue, and a grocery store.
Inside, models lined up beside an abandoned reference desk, rocking prom dresses, Wakanda-esque high collars, bountiful bustles and couture from Carter's long-awaited Royal Collection. Carter himself swept across the carpet in a cream-colored half jacket and ruched bustle, channeling Prince and Marie Antoinette at the same time. The fabric shimmered, pearlescent even in the building's harsh fluorescent light.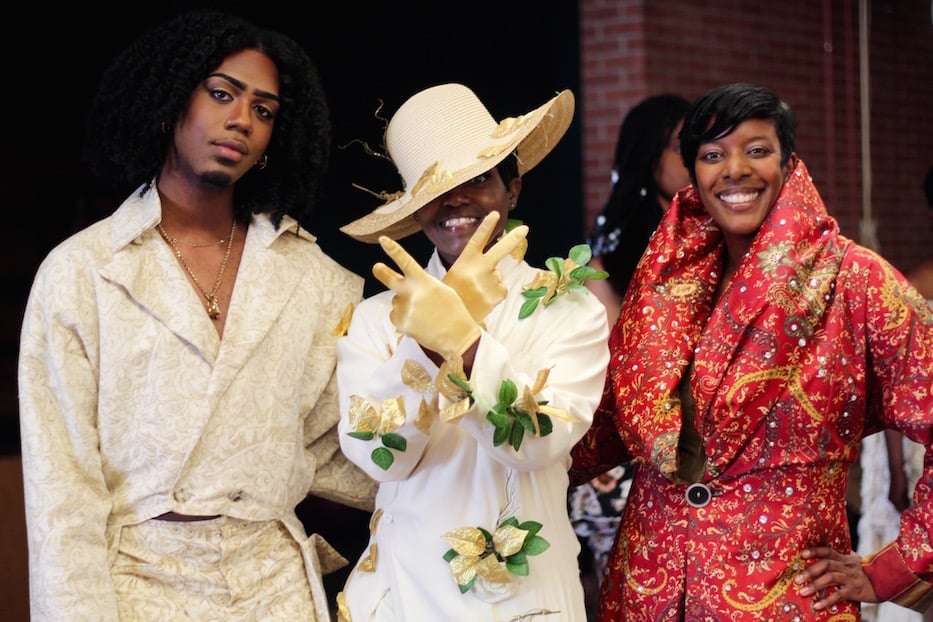 Jason Davis, Jaxx Gary, and Sherese Reddick. All are wearing Carter's Royal Collection.
Born and raised in Dixwell, model Sherese Reddick said it was "extremely exciting" to see the new Stetson and Q House rise across the street. As a kid, she spent time at the old Q House, and at Stetson's digs after it moved into the commercial Dixwell Plaza in 1969. Now, she plans to spend time across the street.
Model Nyla Kibler, a former student of Carter's at Cooperative Arts & Humanities High School, said she was grateful for the opportunity to both walk in the show and pay tribute to a library she grew up around. As a girl, Kibler didn't see plus-size or Black women in fashion. She knew she loved the field, but didn't see herself in it. Then while she was studying with Carter, he helped her design a lacy jumpsuit and shimmering white cape that she could wear to prom. She appeared Saturday with a braid wrapped in gold thread.
"This was a once in a lifetime opportunity," she said.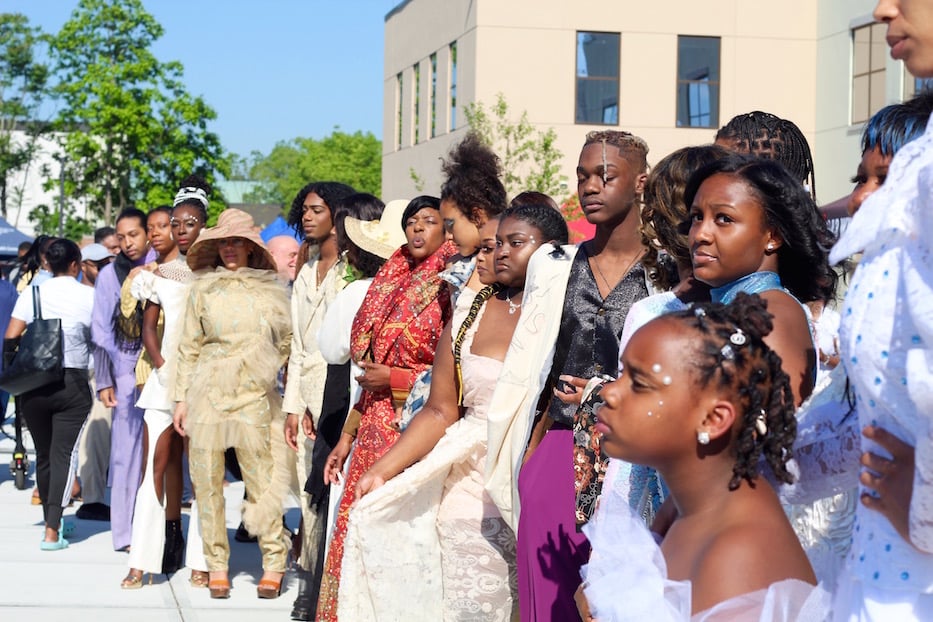 "This was a once in a lifetime opportunity," said Nyla Kibler. She is pictured at the center, holding her white cloak.
As 6 p.m. approached and musician Rahsaan Langley took the stage, the festivities showed no sign of stopping. With the weight of the show off of his shoulders, Carter floated across the lawn, pausing every so often for selfies with models and new admirers. After meeting Brown as a child—the two were about eight years old, he said—he got to know the old Q House. He said he's is excited to see what the new one holds.
"This is showing the love and feeling the energy," he said, motioning to the hula hoopers, young artists, and musicians who populated the space. "This is the world we're supposed to be living in."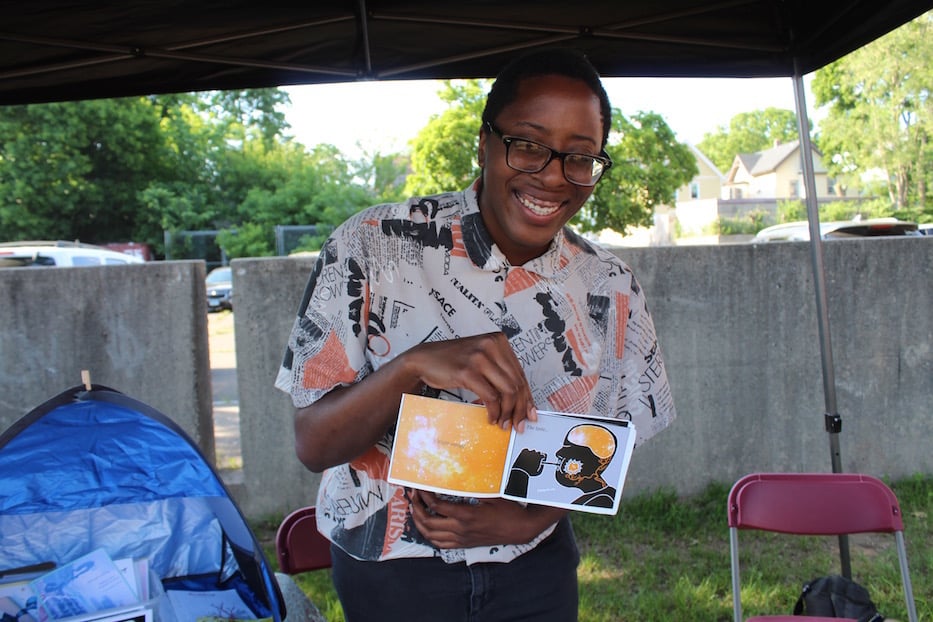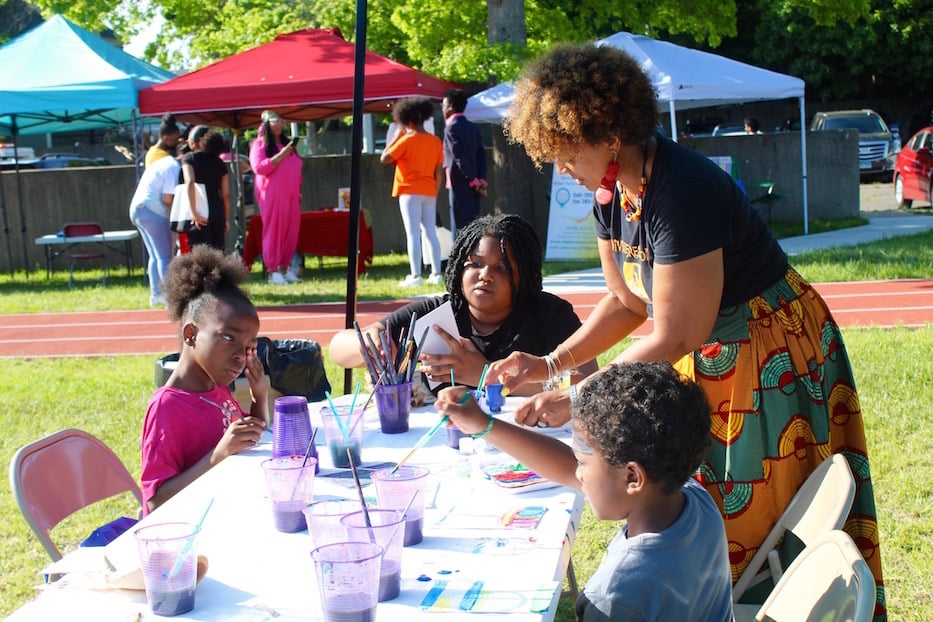 Top: Artist Amira Brown. Bottom: Sheree Baldwin-Muhammad let her painting station go through 6 p.m., even as some vendors began breaking their tents down for the day.
Back in the field beside the Q House, artist Sheree Baldwin-Muhammad rummaged around in a bin, and found three blank canvases for young visitors who had stopped by her tent. As she squeezed orange, green, blue and red paint out onto foam plates, she said that she saw the paint station as "a way to release" and to heal from the last several year. For hours, her booth had never been empty.
At the head of Baldwin-Muhammad's table, middle schooler Jasmine Tolson layered green, purple and brown, painting over the color with the words "Black Is Beauty." "When I paint, I put all my emotions on the canvas," she said.
Walking among the tents, Brown soaked it all in. For nine years, she said, she's been proud to bring the festival to the neighborhood—and has steadily grown it each year. Last year, she kept the momentum going with "Stetson On The Street," a multi-week, pandemic-cautious celebration behind the old library with music,
Next year, she, committee members, and a growing, grateful community plan to celebrate the 10-year mark with a large celebration and rekindled Freddy Fixer Parade. As she glided through the grass, her dress billowed in the breeze. Every few seconds, she stopped to talk to someone she knew. Just days after saying goodbye to Jessen, to a friend and fellow champion of public access and community building, she said it felt good to be celebrating.
"It's everything I could imagine," she said. "It's my vision. The community came out. Everything ran smoothly. It was a labor of love, and I would do it again."
Learn more about Stetson Branch Library here. Learn more about the Dixwell Community Q House here. Learn more about the International Festival of Arts & Ideas here.