Dixwell | Fair Haven | Arts & Culture | New Haven Free Public Library | Arts & Anti-racism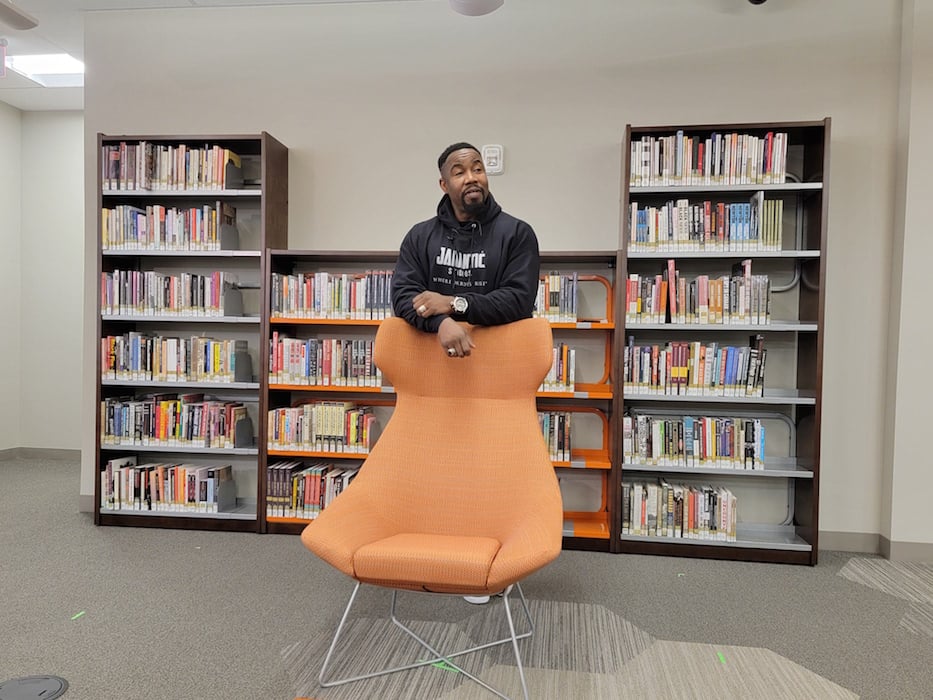 Danielle Campbell Photos.
Michael Jai White's whole life changed when someone walked into his school and told him about professional opportunities that were open to him. Now, he's working to do the same thing for New Haven's youth as he builds a film studio in their city.
White—the actor, martial artist, and creative force behind Jaigantic Studios—brought that story to the new Stetson Branch Library Saturday, in an effort to connect with some of New Haven's youngest creatives. As he spoke from the Dixwell Avenue space, he charted his own path from Bridgeport to Hollywood and back to Connecticut, where he is now working towards a "creator studio district" on River Street.
It marks one of the first events in the library, which anchors one end of the Dixwell Community Q House. Prior to Saturday, Jaigantic Community Relations Coordinator Los Fidel worked closely with Stetson Branch Manager Diane Brown to pull the event together. Saturday, representatives of the studio included Fidel, Chief Impact Officer Jackie Buster, Executive Assistant Kaiya Lawrence, spokesperson Devin Michael White. Young Minds and Family Librarian Phillip Modeen also attended.
"When you have street knowledge and you combine that with academic or just you know, business knowledge, you can't be stopped," White told a crowd of roughly 70 young people, parents, and mentors Saturday. "My whole thing is if I could find people who are local to hype up, that's what I'm going to do because I'm from Connecticut and I want to brag about it."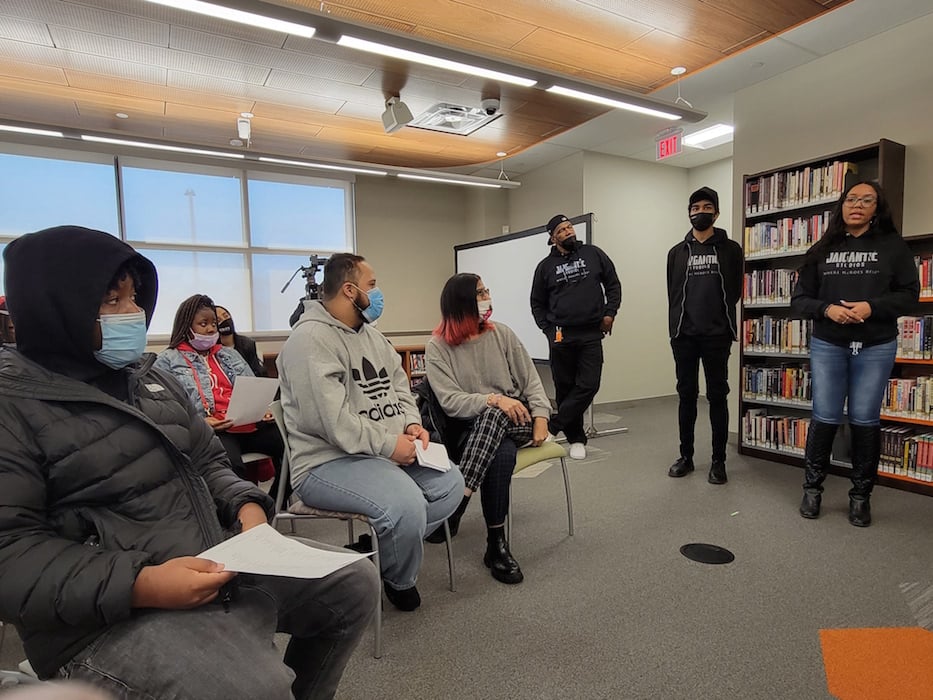 Saturday, White greeted young people as they trickled into the new library building, many taking it in for the first time. They included young representatives of the Monk Youth STEAM and Jazz Connective, Artspace New Haven, LEAP, and Creative Hearts, Inc., the Shelton Avenue arts incubator run by Manny James Sorrells. Prior to Saturday, Brown reached out to all of the organizations in an effort to bring neighbors in on the project. So far, much of Jaigantic's outreach has been limited to Fair Haven and its Shelton-based satellite, or virtual due to Covid-19.
Before launching into an introduction on the studios, White spoke to the youth in attendance as someone who saw his own story reflected back in many of the faces across the room. Born in Brooklyn and raised in New York and then Bridgeport, White said he struggled with school when he was a kid, and turned to "running the streets" after realizing he was on his own at just 14. For a few years, "I experienced stuff that you only see in movies," he said.
Then one day a lawyer walked into his high school to talk to the students about his work.
White remembered listening intently—just as some of Saturday's youth were doing as he spoke. The speaker seemed totally confident as himself. He realized that education, in which he later worked, could be a way out.
"He said something that made me think, 'You know, if he could do that I could do it,'" White said. "And it just planted a seed for me to probably think about doing my schoolwork and maybe I'll do what he does."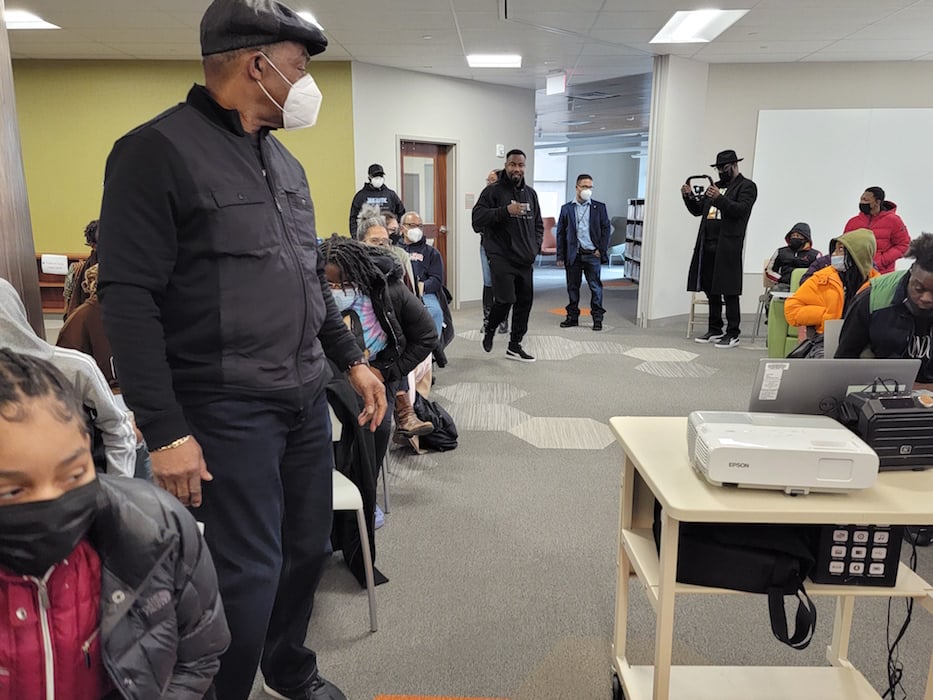 He started excelling in his classes, "and my teachers started paying attention to me and started investing in me," he remembered. After "one thing led to another," it became a launchpad to the film industry, and to higher education. He developed his own new kind of superheroes as he took on those very roles, breaking barriers for millions of viewers watching from across the country and the world.
"My heroes were people who kind of survived the street," he said. "I saw people who were going to school, learning things and moving into really nice neighborhoods and raising families. I realized this is why I've been angry my whole life, because that image was denied to me. I didn't get those opportunities."
Now that those opportunities have come to him—and kept coming to him—he wants to make sure to give back. He urged young listeners to pursue educational pathways that came their way, whether or not they were in a formal classroom or institution. At Jaigantic, for instance, that might look like a year-long paid apprenticeship in production. Staff at the studio have said multiple times that they are screening not for a list of educational degrees, but for potential skill. That means they're open to applicants of all creative backgrounds.
As if on cue, representatives from the studio handed out a list of production jobs they were soon going to be looking for. White said he wanted to fill those jobs with local talent before he started looking anywhere else. That's where young New Haveners come in.
"Don't let anybody tell you because you're from a poor place that that you're less than," he said.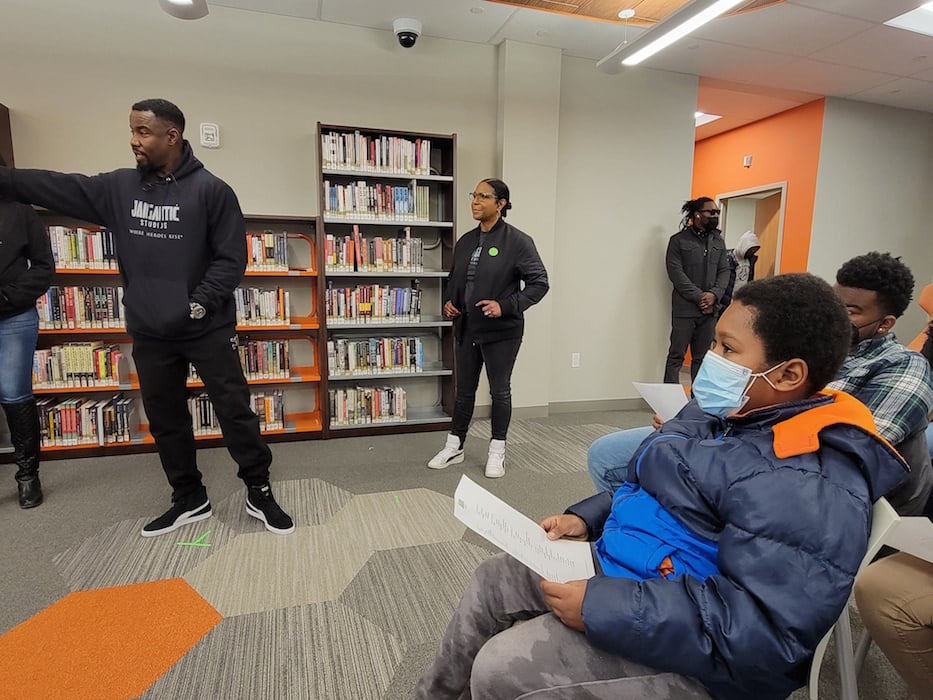 While youth listened intently, it was several of the adults who were fastest to ask questions. As the owner of Styledw.Purpose, Ta'Nia Bussey is a used to being creative director, set designer, stylist, graphic designer and photographer. So when she heard about the possibility of work at Jaigantic Studios, she wanted to know more about flexibility in the movie industry—and whether it was a good fit for her.
Buster stepped forward and described the "two sides to the studio." Operations, which is not unionized, is fairly flexible, she said—that covers the job she does. Production, which is unionized, is less flexible. So Bussey might have to choose—but Buster said that Jaigantic will be hiring for both.
Audience member Shirley Ellis-West, who works with the Urban Community Alliance, wondered about the studio's title of virtual production hub. White explained the studio uses virtual technology as seen in Maleficent, The Mandalorian and Alice in Wonderland. At the beginning of April, special effects artist Robert Stromberg will be joining the team in Shelton. Mayne Berke, chief operating officer and producer with Jaigantic, has already laid out a vision for seven sound stages and one virtual stage on River Street.
One young attendee did ask White if Jaigantic was planning to break into animation. He referenced White's involvement with Black Dynamite, the animated series created from his 2009 Blaxploitation hit live-action movie of the same name. White said that animation may be in the studio's future, but it isn't the main focus at the moment.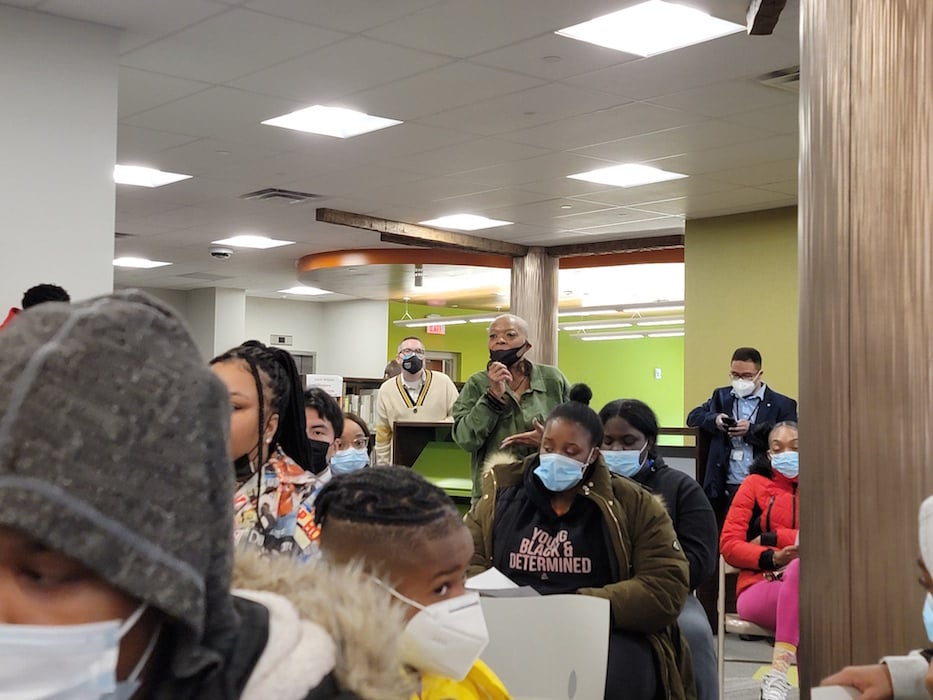 In a phone call after the event, Brown said it was important to her to involve the young people, particularly talented Black youth, that are a part of the city's vibrant but sometimes overlooked arts community. A few months ago, she attended a community meeting and outdoor press conference in Fair Haven, where she learned that White had already walked around Fair Haven, meeting business owners and community leaders in the neighborhood. Brown suggested he do some more outreach in other neighborhood.
"This is not just for Fair Haven," Brown said. "This is New Haven history-making that all the neighborhoods should know and should get a chance to meet him or understand what's going on with the studio."
"Everyone needs to be celebrating this," she added. "I was so excited about this. Have you heard the good news?"