Community Management Teams | Economic Development | Fair Haven | Arts & Culture | Film & Video | Jaigantic Studios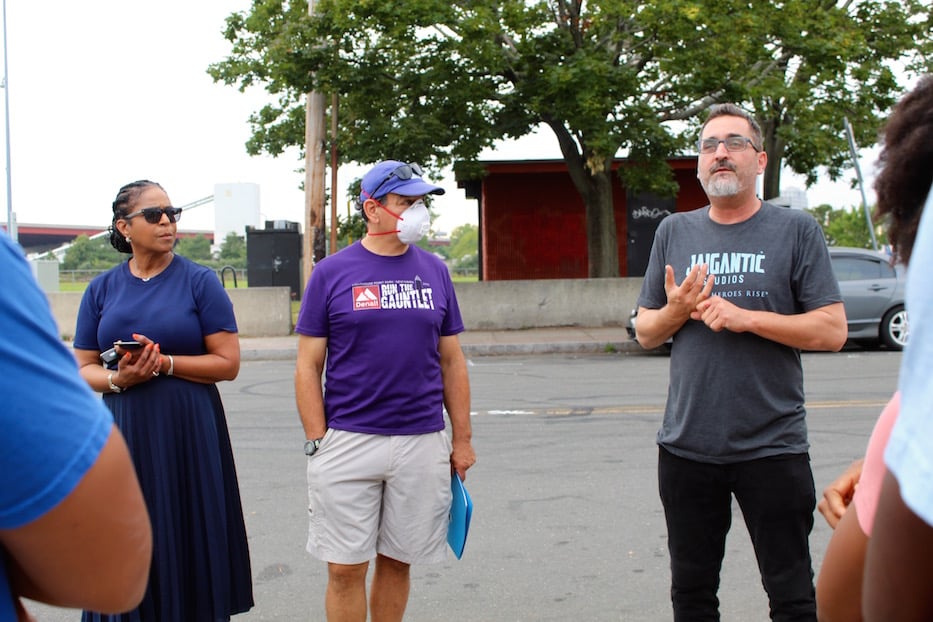 Jaigantic Chief Impact Officer Jackie Buster, Fair Havener Martin Torresquintero, and Partner and CEO Donovan de Boer. Lucy Gellman Photos.
Jackie Buster, Donovan de Boer, Mayne Berke and Grant Gilmore stood beside an open lot on River Street, thickets of grama grass and overgrown mugwort swaying in the hot air. Down the street, the former Bigelow Boiler Company stood vacant with bright graffiti and windows boarded up like teeth. Dirtbikes and ATVs growled nearby. Conversation bubbled up from the auto body shop across the street.
In the space, they envision seven sound stages, with a collective 950 jobs between them. That's the lip of a plan to revitalize the street into a movie-making powerhouse that supports home ownership and job growth in the neighborhood.
All four are members of the core team working to bring Jaigantic Studios, the movie-making brainchild of actor and martial artist Michael Jai White, to New Haven. Tuesday afternoon, they laid out a vision for a Jaigantic transformation of the area into a booming and environmentally sustainable "creator studio district" that would create hundreds of industry jobs in the city and across the state.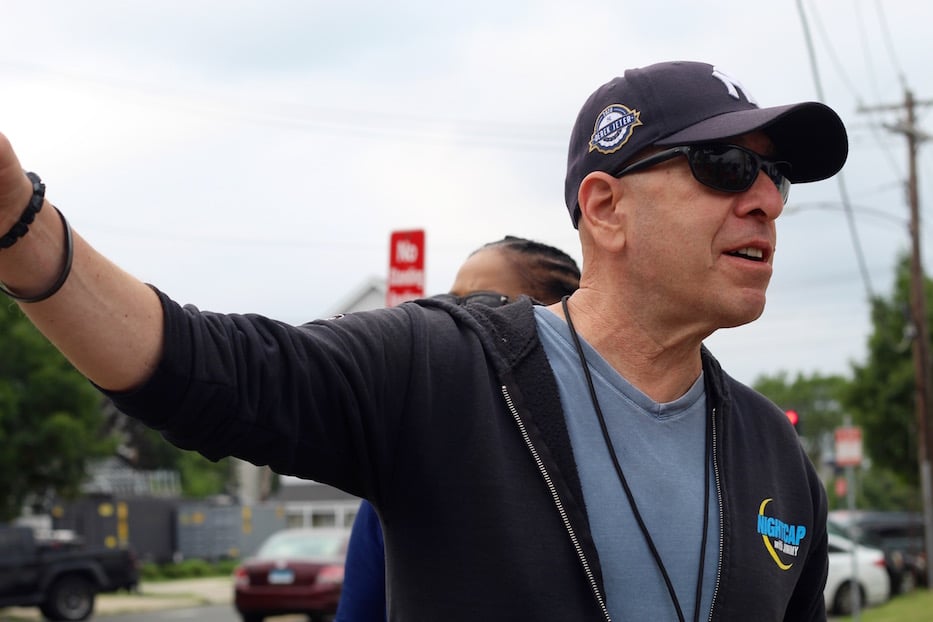 Mayne Berke, Jaigantic's chief operating officer.
So far, the team has identified developers Michael Berke of ​​Oxford Real Estate Services Group and Alan Tuchmann, as well as a third developer and an architect who they will not yet disclose, as partners on the project.
They ultimately envision a project that will start at 46/56 River St. and continue down the street to Criscuolo Park. Buster, a 13th-generation New Havener, has been the most visible presence in the community as the venture's chief impact officer. Mayne Berke is Jaigantic's chief operating officer; de Boer is a partner and the chief executive officer; Gilmore is the head of production. Kaiya Lawrence, an executive assistant on the project, also attended the walkthrough. Most relocated from Los Angeles earlier this year.
"The ultimate vision is that everything south of River [Street] to the water there is a studio campus," said de Boer as 20 neighbors and community management team members and reporters assembled for Tuesday's walking tour outside 46 River St. He pointed to a city-owned lot across the road at 112 Chapel St. "And then support services for the community."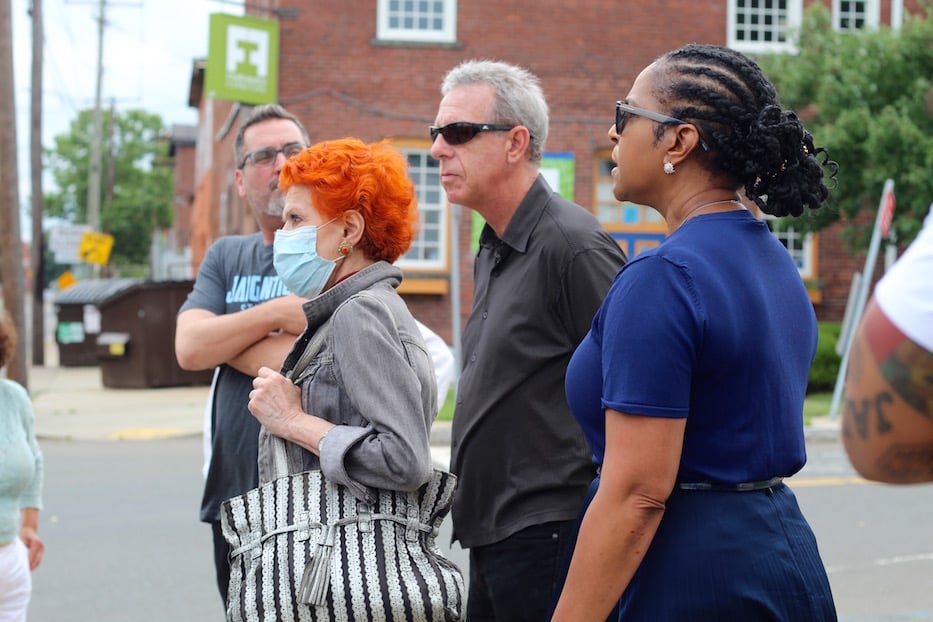 De Boer, Fair Havener Fereshteh Bekhrad, Grant Gilmore and Jackie Buster.
The walkthrough comes after a particularly tense meeting of the Fair Haven Community Management Team last Thursday night, during which Fair Haven residents, Jaigantic team members, city economic development officials and Armada Brewing Founder John Kraszewski found themselves at odds over the planned development of two breweries in the area.
Kraszewski has already signed a lease for a 3,000 square foot space at 190 River St., and plans to appear before the city's Board of Zoning Appeals next month. Last Thursday, Jaigantic representatives pushed back on the brewery and taproom, citing concerns over potential noise and traffic.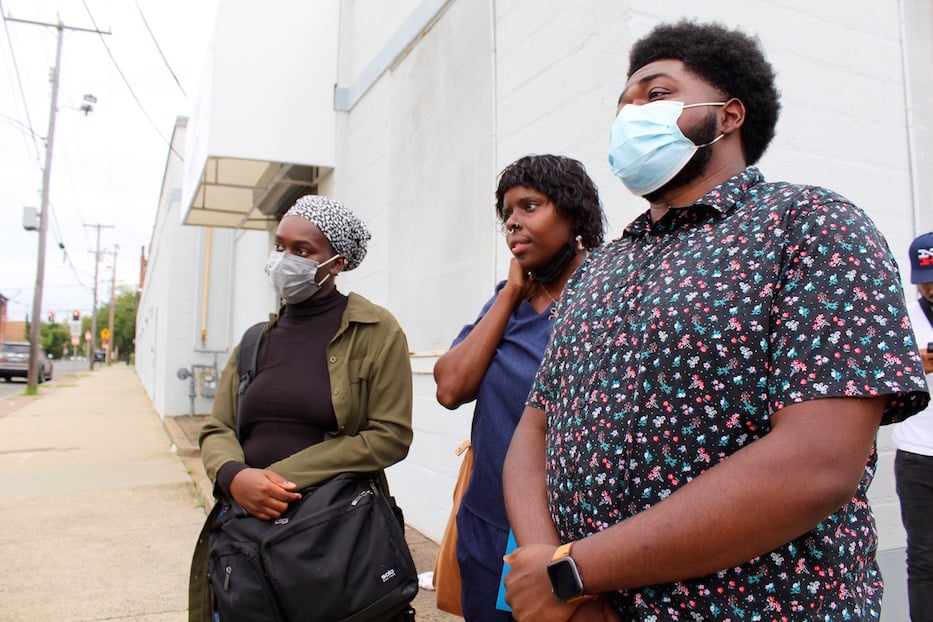 Members of the Black Haven team: Founder Salwa Abdussabur, Danessa Pedroso and Isaiah Edwards.
Tuesday, several community members arrived early, a few asking each other if they were in the right place as they eyed the empty space and overgrown lot. Standing in a shaded patch, Black Haven Film Festival Founder Salwa Abdussabur said they are excited about the studio's plans for the neighborhood, including potential collaborations with Black Haven.
Currently, they are among a list of New Haven collaborators that also includes Mill River Trail booster Ben Berkowitz, Scantlebury Skate Park Co-Founder J. Joseph, collector Robert Greenberg, Town Green District Director Win Davis, the Connecticut Department of Labor, and Adriane Jefferson, who heads the city's Department of Arts, Culture & Tourism, among others.
"I do believe that they are a lot more receptive than the community gives them credit for," Abdussabur said as Black Haven team members Isaiah Edwards and Danessa Pedroso arrived and gathered on the sidewalk.
Pedroso, who does social media and outreach for the film festival, nodded quietly. As a professional ceramicist, model and teaching artist in Hartford, she pointed to the need for jobs in the arts—and to her skepticism around any multi-million dollar project that parachutes into a community.
"I am excited, but also we still have to be cautious about what they're going to give us and what we're gonna get in return," she said.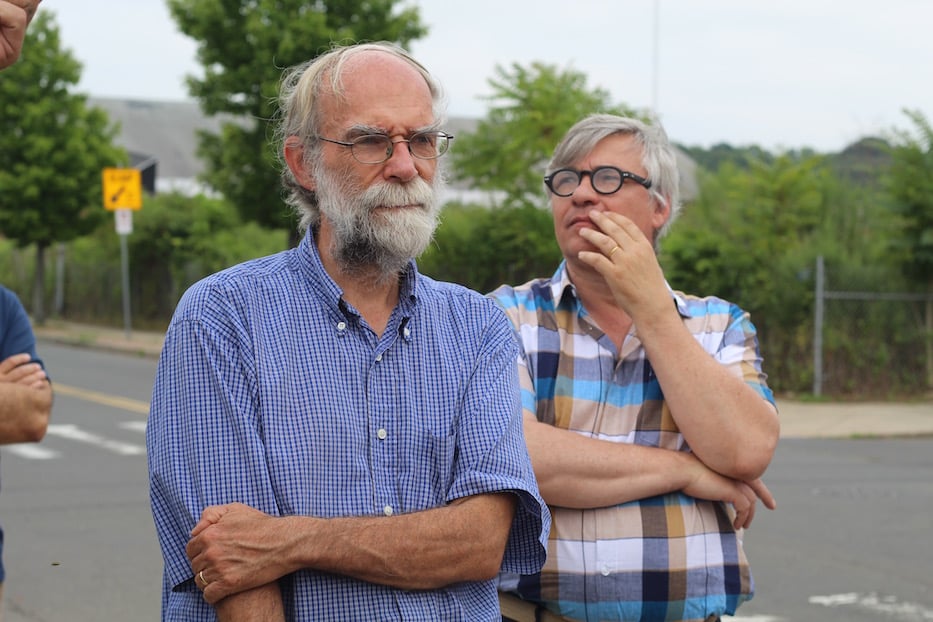 East Rock Resident Kevin McCarthy and Architect Fernando Pastor.
Edwards, who grew up in Westville and went to the University of Connecticut, said that he sees a need for a space where New Haven students can be part of a viable pathway to the arts. Until he reached college, "I didn't think Black and Brown people had access to a career as a filmmaker." He still doesn't see those opportunity for New Haven Public School Students, unless they attend an arts magnet school like Co-Op or ECA in the city.
When de Boer and Berke rolled in, community members gathered around them to listen. Berke began to paint a picture of seven sound stages and one virtual stage across the now-dilapidated property. In industry terms, he said, that translates to roughly 950 jobs and 168,000 square feet of closed off office space, dressing rooms, hair and makeup, costuming and filming space over multiple stories.
Pointing across the street, de Boer said that the team is already thinking about what that means for the surrounding community. At 112 Chapel St., Jaigantic already has a memorandum of understanding with the city for a lot that it plans to develop as part of the studio's footprint.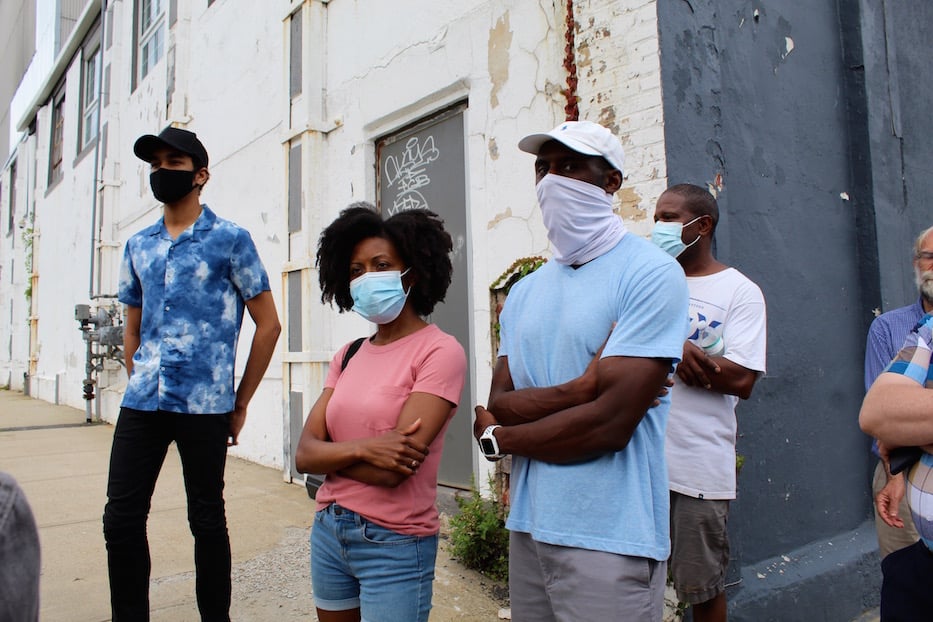 Devin Michael White, Shauna Pinkett, and Robert James.
"When you said amenities and support services, I was wondering what that meant," said actor Shauna Pinkett, who recently moved to Fair Haven from New York. Her husband, Robert James, is a science teacher who has lived in the neighborhood for six years. The two attended Tuesday to hear more about the project.
Buster said that some of the amenities include a green grocer, pharmacy, first-run movie theater, and potential live-work housing for artists. The Jaigantic team recently visited Armature Works in Tampa, a mixed-use event space that gave them some ideas for their own phased rollout in New Haven.
"You guys are planning on acquiring the property? I've seen you guys before, walking around," Poplar Street neighbor Rafael Fuentes started. He continued when de Boer told him that team members were "taking business' temperatures" about what they wanted to see there.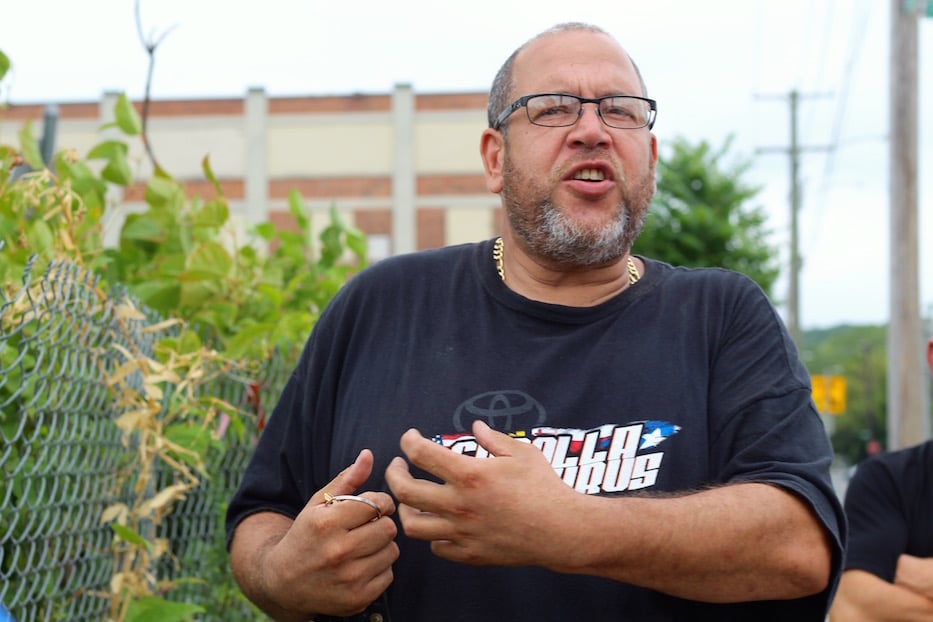 Rafael Fuentes, who owns Auto Authority LLC at 75 Poplar Street.
"How about feedback from the neighborhood?" he said.
As the owner of Auto Authority LLC and several properties on Poplar Street, he said that he worries that a new development of such size has the potential to drive up the cost of living in the neighborhood. He's lived and worked in Fair Haven for over five decades, and now shares a house with his father, adult children, and young grandchildren.
"It pushes me and people like me out of the neighborhood," he said.
De Boer said that Jaigantic has already been thinking about Fair Haven's 19,000 residents, and how to hire and talk to as many of them as possible while the project is in the works. Buster suggested that Jaigantic could be an ally in keeping Fair Haven liveable; she pointed to the recent multi-million dollar investment from Jay Z and Will Smith in Landis Technologies, a startup built on the rent-to-own model.
"We don't want gentrification to follow us," she said. "How do we bring something like that [Landis] here?"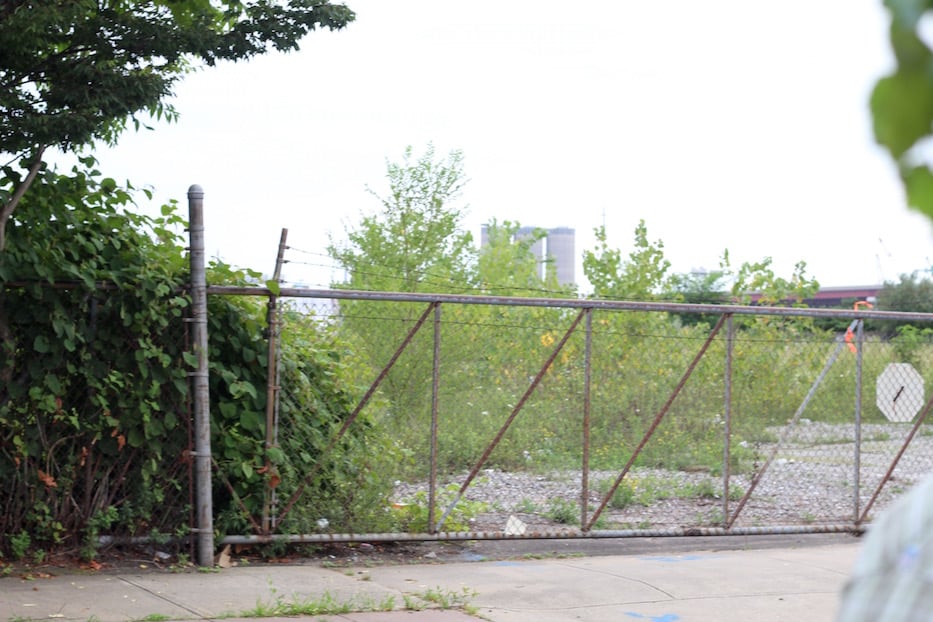 One of the parcels that Jaigantic hopes to transform.
Jaigantic team members continued the walkthrough at 100 and 142 River St., an eight-acre former​ Hess Oil Terminal and former National Pipe Bending Co. that the city now owns. On that property, the team envisions four virtual stages like the one on which The Mandalorian was filmed. De Boer called the stages "the future of filmmaking." The studio is already in the process of installing one at its temporary offices in Shelton.
None of Jaigantic's representatives mentioned the conflict that Buster referred to as "a potential land mine" last week: New England Brewing Company (NEBCo) has already announced plans to move its operations to the same parcel of land (read more about that here and here) and already has a memorandum of understanding with the city. In a preliminary map that Jaigantic shared at the Fair Haven Community Management Team last week, the brewery has been moved to Ferry Street.
In a phone call Wednesday morning, Deputy Director of Economic Development Steve Fontana said the city was still in negotiations with NEBCo and Doug Gray, owner of Eclipse Development Group, around the sale at 100/142 River St. Fontana added that the city's memorandum of understanding with Jaigantic currently extends to 46/56River St. and 112 Chapel St. only.
"T​​the goal with both of the projects is to move forward as expeditiously as possible," Fontana said.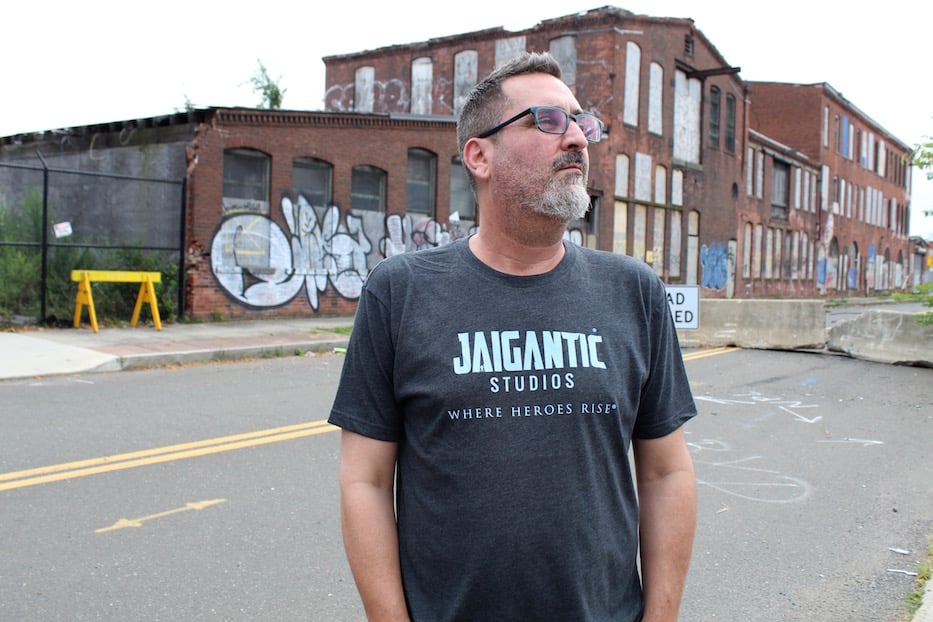 Donovan de Boer in front of 198 River Street.
Tuesday, there was no mention of it. Instead, Berke motioned to 198 River St., where sprawling graffiti designs and boarded up windows greet an onlooker. The building, which was hit hard last year during tropical storm Isaias, is where Jaigantic envisions its backlots and a "studio center" during a second phase of its buildout. The area would include a suburban cul-de-sac for shows and movies set in the suburbs.
Lee Cruz, a longtime resident of Fair Haven who is the co-chair of the community management team, looked to the building's long history: it was once a garrison for Black soldiers during the American Civil War, and has since fallen into complete disrepair. In January 1864, the abolitionist Frederick Douglass addressed soldiers on the site. Buster told attendees that her own New Haven history goes back to those years: she can trace her family to five Black relatives who fought in the Civil War.
"What we're hoping is to return it to its splendor," Berke said. He added that the team is looking at having a Fair Haven museum dedicated to that history on the site.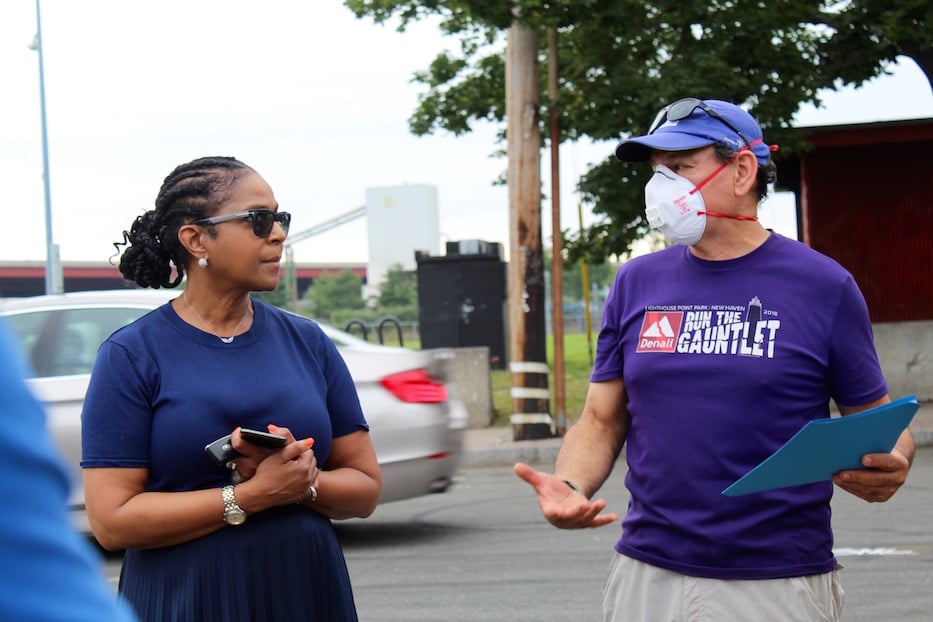 Jackie Buster and Martin Torresquintero.
As listeners continued down River Street, they seemed to multiply. Devin Michael White, who is Michael Jai White's 30-year-old son, buzzed through the group catching up with attendees he hadn't seen in years. Arts educator Marcella Monk Flake, who is Edwards' aunt, appeared from the back of the group. Members of the Fair Haven Community Management Team popped up at the front with questions every so often. Buster, Berke and De Boer wove through each of them, from a proposed internship and apprenticeship programs to solar panels to the intricacies of a virtual stage.
"I just want them to know we exist," said Monk Flake, who founded The Monk Center in 2015 and works with public school students across the district. "I'm here on a fact-finding mission just to see … there might be some synergy here. This is just phenomenal. I would not have dreamed that this would happen in Fair Haven."
As River Street emptied out into James Street, team members motioned to their final stop on the "creator district:" Criscuolo Park. In the park itself, Buster said that the team envisions a skate park, stage and hub for artists and community members to gather. In addition, Jaigantic also hopes to purchase the building at 17 James St., which is currently for sale, and turn it into a hotel.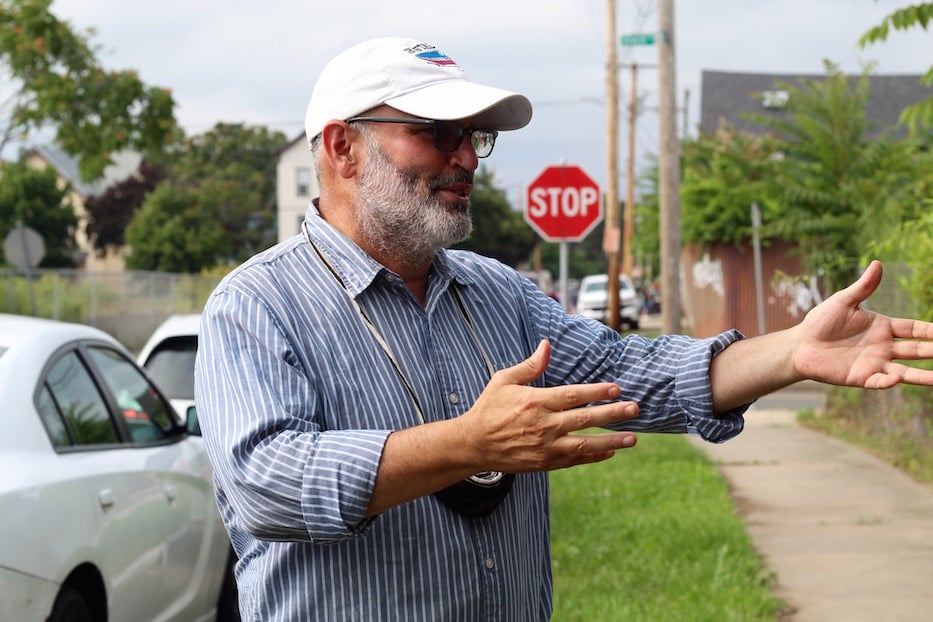 Lee Cruz, who is co-chair of the Fair Haven Community Management Team.
The building sits beside Phoenix Press, Inc. and Phoenix Press Farm, the latter of which is operated by Gather New Haven. Buster said that ultimately, Jaiganitc would love to be able to serve produce grown in New Haven as part of a model that supports the neighborhood. She added that Jaigantic has already been in conversations with the farmer incubator Cityseed about a market in the area.
Peter Noble, who runs Pequeñas Ligas Hispanas de New Haven, asked about opportunities for local high school students and early career professionals in the area. In addition to apprenticeships, De Boer said that Jaigantic plans to have commissary and craft services.
"This doesn't work for us if we don't build a local workforce," he said.
At the end of the walkthrough, Buster said that Jaigantic's next steps hinge on a land disposition agreement that is pending with the city. Then, the studio will begin work on further environmental remediation, meet with the city's Board of Zoning Appeals and City Plan Commission, and ultimately the full Board of Alders.
To view Jaigantic's vision for the area, click here.