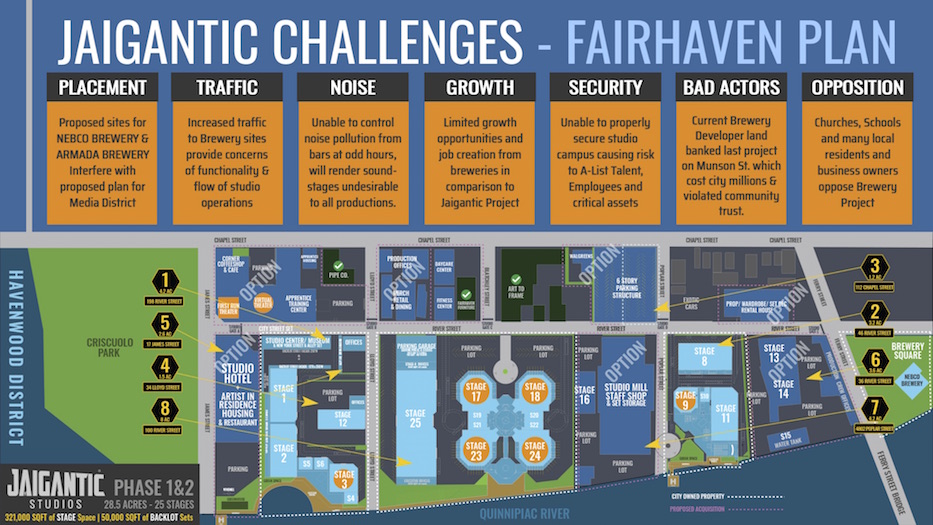 Beer | Community Management Teams | Economic Development | Fair Haven | Film | Arts & Culture | Jaigantic Studios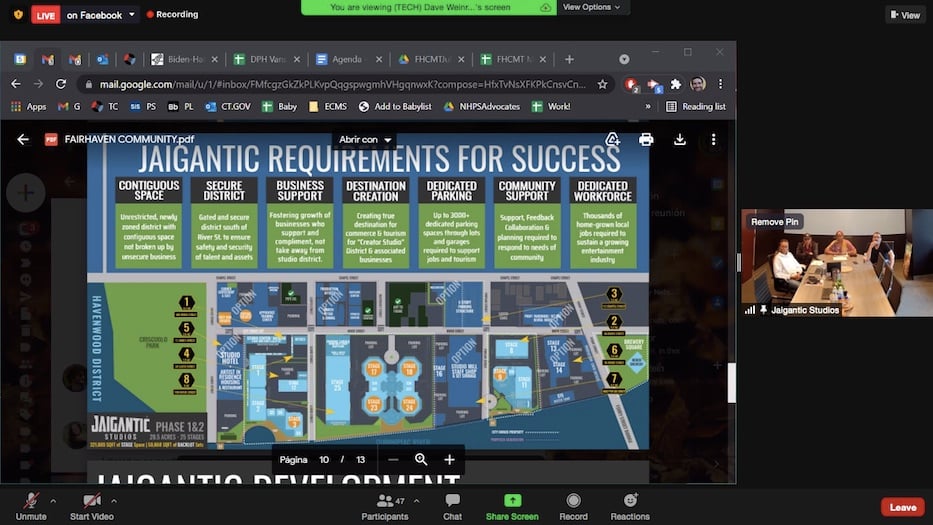 Screenshots from Zoom. The public meeting was also presented on Facebook Live.
Twenty-five energy-efficient sound stages with 100 employees working at each. A movie theater, outdoor stage and event center. An apprenticeship program for New Haven Public Schools students and nearby skate park, walking path and citywide film festival. A River Street "creator studio district," in the heart of a bustling Fair Haven.
But who will the business bring in or displace? Is there room for two nearby breweries in the mix? And if so, how much control does one new business get over the other?
City residents and members of the much-anticipated Jaigantic Studios team asked those questions Thursday night, at a packed and spirited meeting of the Fair Haven Community Management Team on Zoom. During the hours-long meeting, representatives from the studio bumped heads with Armada Brewing Founder John Kraszewski, who has leased space at a 3,000 square-foot recently restored section of the Bigelow Building at 190 River St.
Jaigantic is the movie studio initiative of actor and martial artist Michael Jai White, who grew up in Bridgeport and is returning to his Connecticut roots with the proposed River Street development. Armada is the hoppy brainchild of Kraszewski, who currently brews out of the Beeracks in East Haven. Thursday, he appeared before the management team seeking a letter of support for a Sept. 14 meeting of the city's Board of Zoning Appeals.
A Jaigantic Hurdle?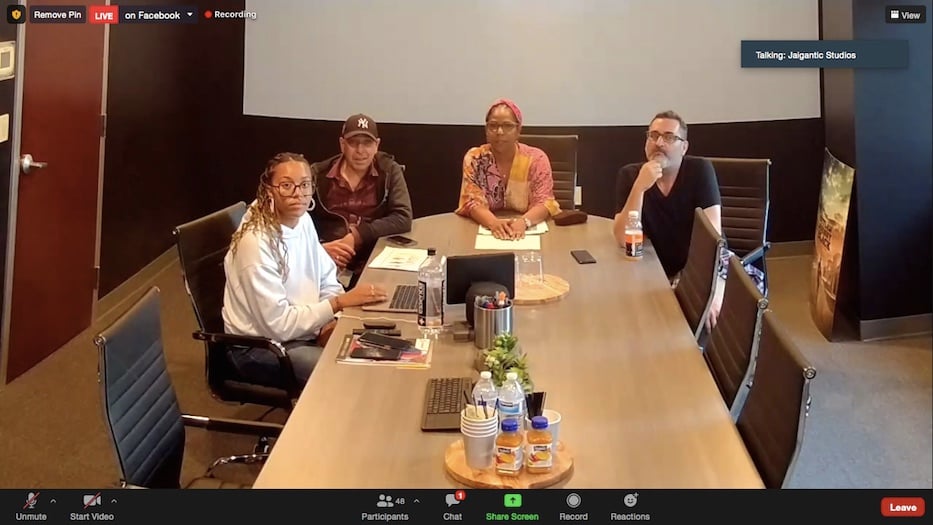 Zooming in from Studio One in Shelton, Jaigantic team members pulled up slides detailing a mission that includes local and regional job growth, a vibrant River Street arts district, and economic development that has a high return on investment for the neighborhood. In past presentations, Jaigantic team members and city officials have identified the parcel of land at 46/56 River Street and a city-owned parking lot at 112 Chapel St. as the project's future home.
Including parking, that area comprises 28.5 acres, according to slides from the studio. Plans currently include 50,000 square feet of backlot set space and 321,000 square feet of stage space. The Jaigantic team is still negotiating a Land Disposition Agreement with the city. In a phone call Friday, Chief Impact Officer Jackie Buster said that the team cannot disclose a budget for the project at this time.
Buster, a lifelong New Havener, painted the project as one that will create thousands of jobs in the neighborhood and in New Haven. Thursday, she introduced Partner and Chief Executive Officer Donovan de Boer, Head of Production Grant Gilmore, and Executive Assistant Kaiya Lawrence. She said that "we're all in for this"—many of Jaigantic's nine core team members have already relocated to New Haven from across the country, and others are planning to follow.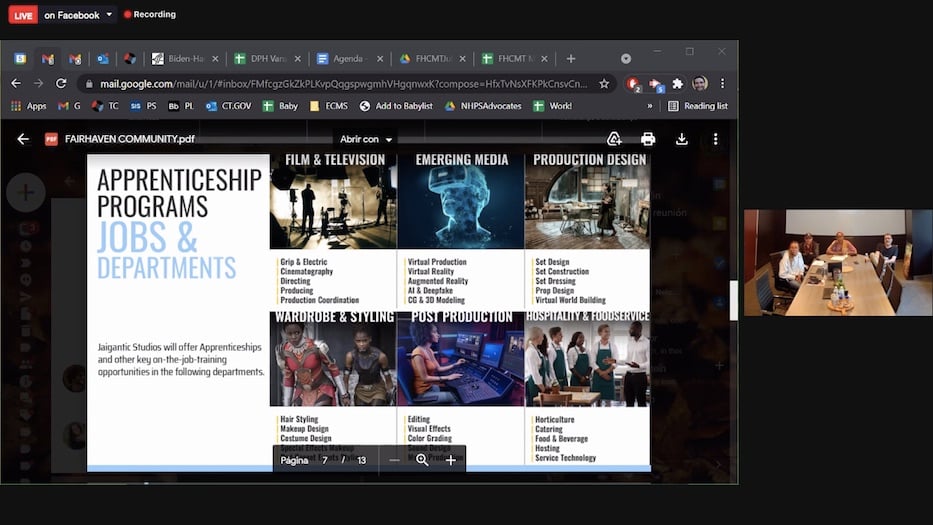 "We really want to stimulate the state and local economies," she said. "We truly believe that the number of jobs that we will have under our belt, the people working with us, they're gonna live here. They're gonna grow here. They're gonna be educated here. The number of people alone will help to support our local and state economy through every means and every form of service in the industry that you can imagine."
She pointed to the fact that Jaigantic has already begun discussions with both city and state officials and community partners, including Ben Berkowitz and boosters of the Mill River District, Scantlebury Skate Park co-founder J. Joseph, Black Haven Founder and multi-hyphenate artist Salwa Abdussabur and New Haven collector Robert Greenberg.
She said that the studio is excited to collaborate with film and media students at Sacred Heart University, Southern Connecticut State University, and Albertus Magnus College—all of which she expects will become feeder programs into Jaigantic apprenticeships and jobs.
She added that she sees the community as a partner: the Jaigantic team wants to add public amenities to the neighborhood, from making Criscuolo Park a "bigger thing" to adding a grocery store with fresh produce and prices that are still low enough for Fair Haven residents to afford.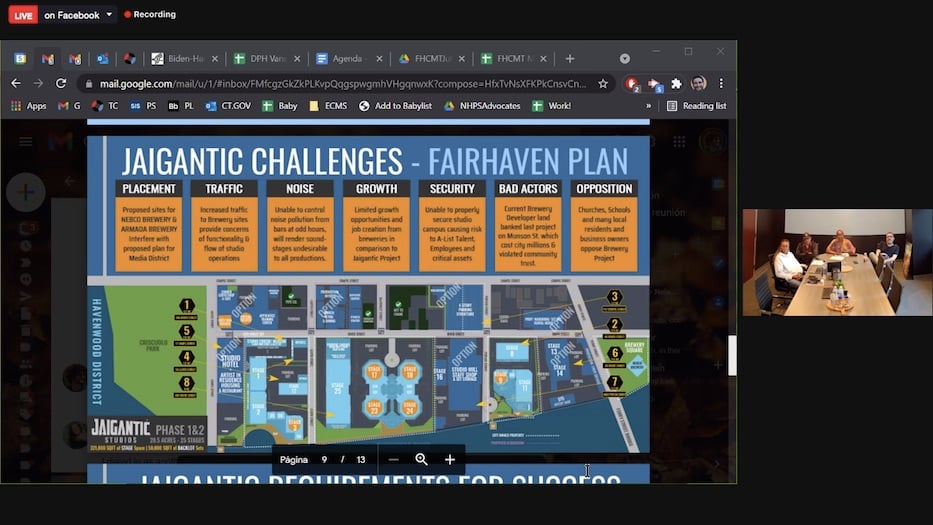 But, Buster continued, the studio has already run into challenges as it works with the city on the proposed development. She said that Jaigantic is concerned about potential noise and traffic from both Armada and the much larger New England Brewing Company, the proposed plan for which is at least 65,000 square feet.
In addition, Buster said, security is "really really a concern for us" if the businesses are forced to share space. She called the brewery a "potential land mine," citing developer Doug Gray's recent land banking and real estate flip at 201 Munson Street. Neither Gray nor NEBCO Owner Rob Leonard were present for the meeting.
"We've got property, we've got people, and we have talent that have to really be under lockdown during any given production," Buster said. "They would be placed in the middle of our development. Which really means, we probably can't function to full capacity, or maybe not be able to function at all."
She pushed for a newly-zoned district, including contiguous, uninterrupted space for the studio to grow. She said that the team has a vision of a walkable neighborhood in which residents can build wealth amongst themselves and their families. She asked the community management team for its ongoing support.
"That can happen if we get the support," she said. "We want to create a district of growth."
"I just want to say I am totally impressed," said Community Management Team Chair Diane Ecton. "You guys have taken my breath away, just watching this, and this would definitely be something good for the neighborhood."
Brewery Blasted, Defended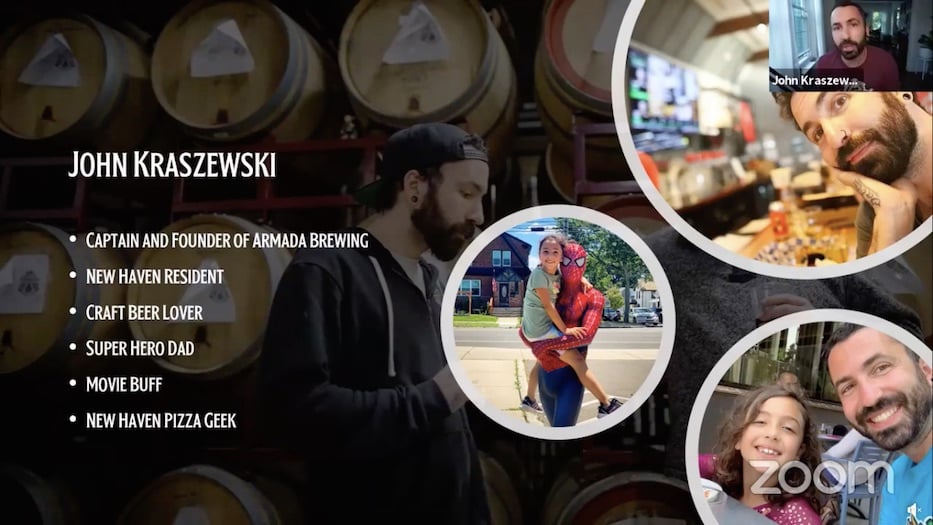 Management team members, who had been listening quietly expressed in turn their concern, excitement, and frustration around proposed new development in the area. In addition to Jaigantic, there are proposals for the 3,000-square foot Armada Brewing facility and the 65,000-square foot New England Brewing Company.
When Kraszewski appeared, he noted that Armada's new lease is "a very tiny facility"—just 3,000 square feet at the corner of Lloyd and River Streets. The two-story space, which will comprise a brewery, taproom and offices, will provide 15 jobs in the neighborhood if he is able to secure proper approval from the city's Board of Zoning Appeals next month.
The brewery would mark Kraszewski's steady growth as a craft brewer in Connecticut: he began as a home brewer and then opened The Beeracks in East Haven in 2018 with Overshores Brewing Co. Owner Christian Amport. Armada beer is now available in five states.
Kraszewski pulled up an image of the neighborhood decades ago, when the Bigelow Boiler Company was still in business and the community boomed around it. He proposed the brewery as a small part of bringing back that district. As a New Havener himself, he said, he's invested in that kind of revitalization. Already, Armada has been in conversation with New Haven Works about creating local jobs.
"We want to become your favorite local brewery," he said.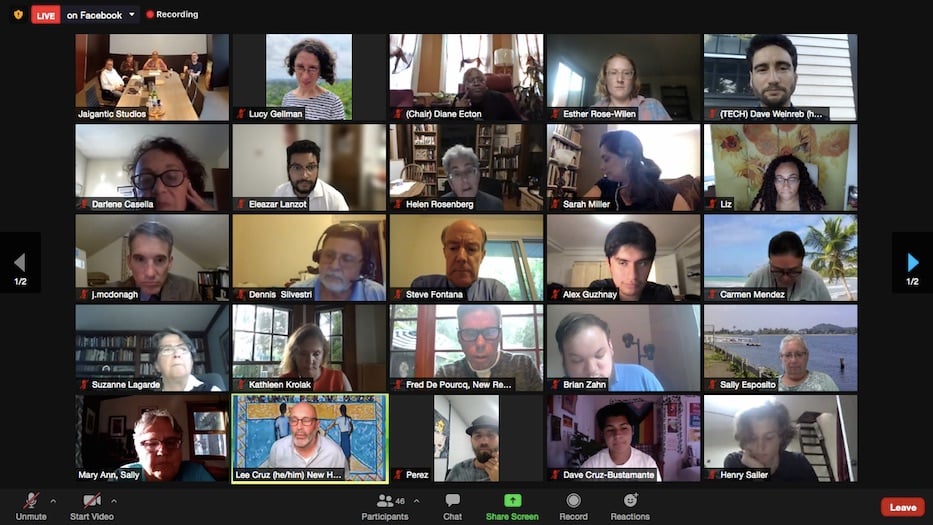 Community members, who ultimately voted to wait on a letter of support until next month's meeting, pushed back. David Weinreb, the team's corresponding secretary, said that he struggled with how long Kraszewski had waited to appear before the group, given that he had been in conversations with the city for months and had already signed a lease on the building. He said he is struggling to square how the different proposals for the neighborhood fit into each other.
"I expect that the economic development team for this city is thinking comprehensively about a development plan for our neighborhood, and I'm feeling confused right now as to how two ambitious plans that sound purposeful fit," he said.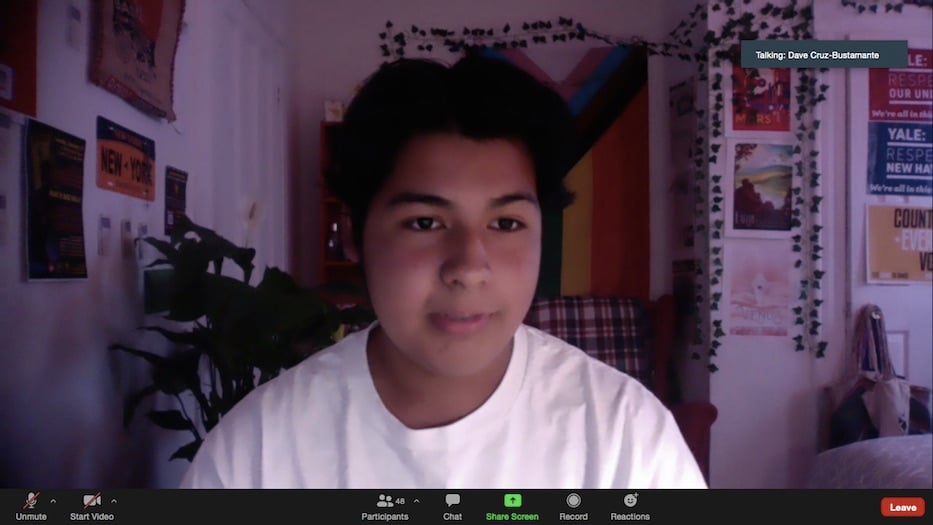 Dave John Cruz-Bustamante, who lives in Fair Haven and attends Wilbur Cross High School, asked whether businesses like Armada, NEBCO or Jaigantic could drive up the cost of living in the neighborhood. They said that they are excited about the possibility of economic development in Fair Haven—but remain skeptical of who it's for. They pointed to rising costs of rent across New Haven that make living in the city difficult for families who have been there for years.
Co-Chair Lee Cruz pushed further, asking Kraszewski how many jobs he would be providing, and at what pay grade. Initially, Kraszewski said he was hesitant to disclose that information in a public meeting. After pressure from Cruz and others in the meeting, Kraszewski said that the lowest salary at Armada is currently $35,000. He added that he hires people with little to no experience, in an effort to mentor and train new industry professionals.
"We do have to find a way to maintain the housing that we've been able to shelter from the market, and to create jobs to live at a higher standard," Cruz said.
Attendee Mark Firla, who has lived in Fair Haven and attended the meetings consistently for years, defended the brewery, pointing to its small size relative to the large footprint Jaigantic is promising. With officials from the city's Economic Development Administration on the call, he asked aloud whether there is a plan for Armada, NEBCO and Jaigantic to coexist harmoniously.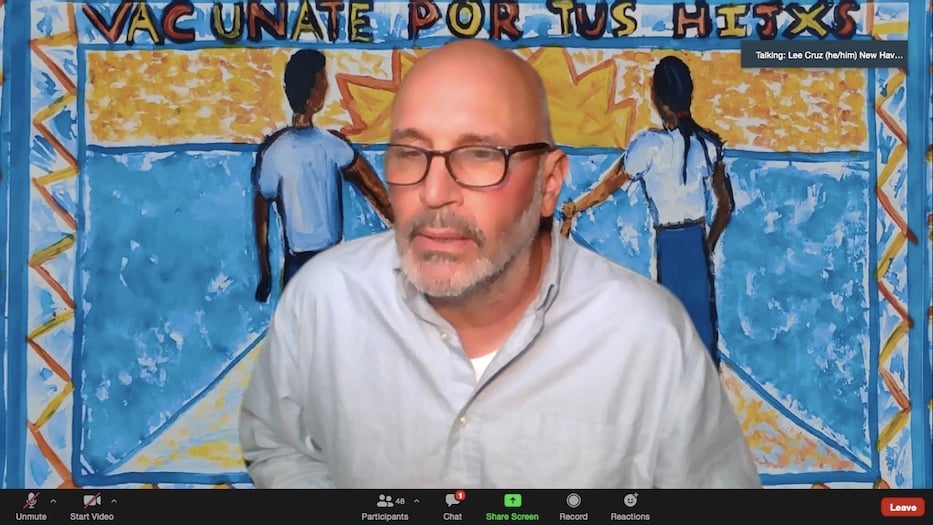 Lee Cruz: "We do have to find a way to maintain the housing that we've been able to shelter from the market, and to create jobs to live at a higher standard."
"Hopefully, if we're talking about community, we can all figure out a way to work through this together," he said. "I don't think it would be fair of us to judge one organization against another."
He added that he sees Jaigantic's critique of the breweries as a cause for concern. He pointed to the promised development of an outlet mall in West Haven over a decade ago—and to the fact it has not yet materialized. With Jaigantic, he's waiting to see proof of concept. He added that any economic development in the area will inevitably drive up property values.
"Having said that, I'm confident that given the lack of utilization of the space on River Street and some of the surrounding parcels, we could figure that out as a community—how to do that," he said.
Buster came back in, noting that members of the Jaigantic team "are really more collaborative" than the discussion was making them out to be. She suggested folding Armada into Jaigantic's plan, from making it the official brewery of the studio to working with Kraszewski on a different layout to reduce potential noise and traffic. Kraszewski has already said that traffic shouldn't be an issue: the brewery can host a maximum of 100 people at full capacity.
"We don't want anyone who is on this Zoom right now to think that we're here to say 'It's Armada or us,'" Buster said, adding that the Bigelow Building sits against the studio's back lot. "We'd like to more so say, how can we make this work so they can and we can coexist?"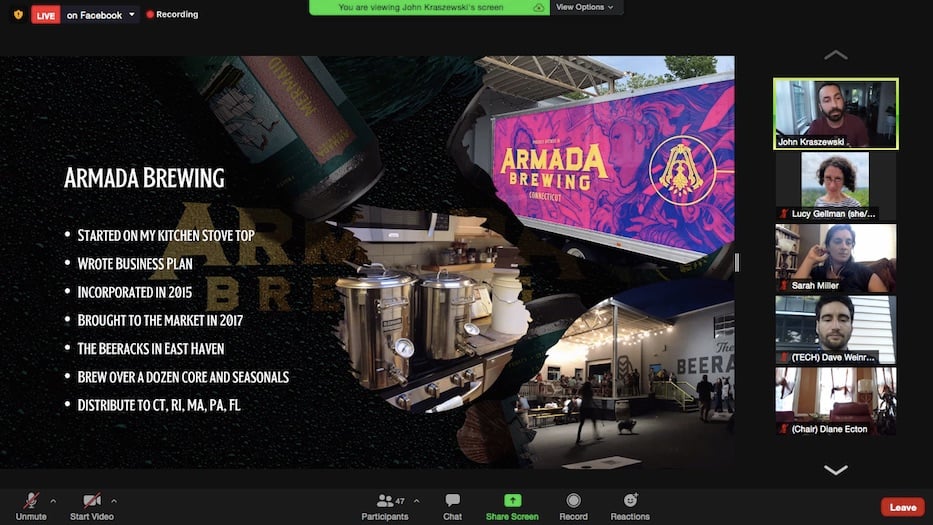 "It's not so much that the brewery can't or shouldn't be there," she later added. "It's, 'How do we position the brewery so that they can still exist, but it doesn't interrupt our business as well?'"
"I mean, it's a working river," Firla responded. "There's barge companies. There are oystermen. There's multiple businesses … with heavy equipment and heavy machinery. And so, I hope you've taken all of that into account as well."
Deputy Economic Development Director Steve Fontana jumped in. He praised the work that Economic Development Officer Helen Rosenberg has done to rehabilitate former industrial properties that were once too blighted and environmentally hazardous for use. He said that he, along with fellow members of the city's Economic Development Administration, has been working to attract businesses both large and small to work in tandem with each other and create jobs for New Haven.
"There have been meetings in the past that you've held where I've come, and some of you have said, 'Why is there nothing happening in Fair Haven, Steve? Why is there nothing going on in economic development?'" he began. "What you've seen and heard here tonight is some of the very dynamic and robust and vibrant kinds of conversations and proposals that we see in City Hall all the time."
"There are communities in Connecticut that would die, or kill, to have Jaigantic Studios, or New England Brewing," he said. "There are a lot of issues on River Street to deal with … and we're working through all of those, as well as with New England Brewing, in what's a very dynamic and rapidly changing situation."
Watch the full meeting above.