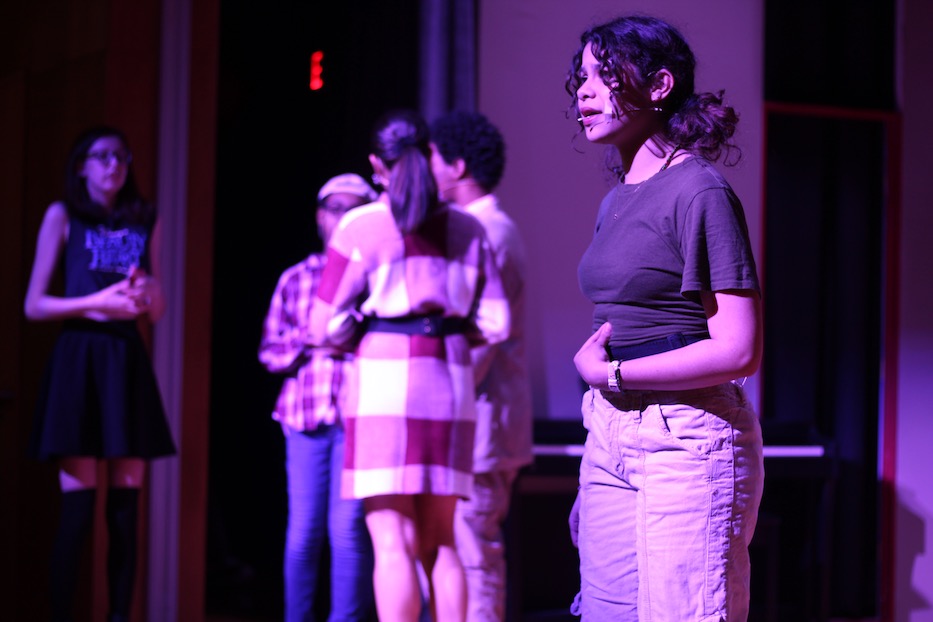 Culture & Community | Education & Youth | Arts & Culture | New Haven Public Schools | New Haven Academy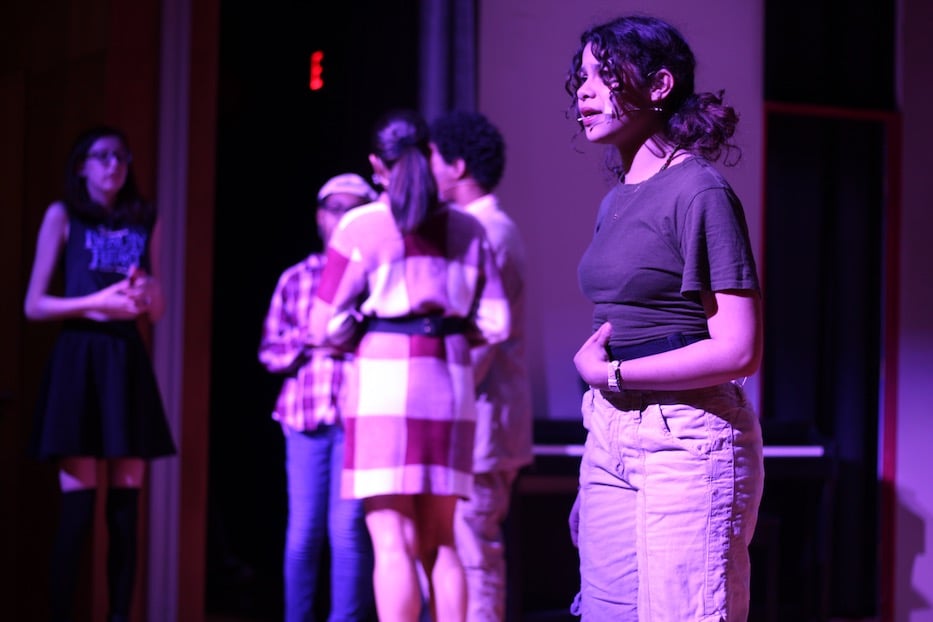 Tomitsela Engel-Halfkenny. Lucy Gellman Photos.
Tomitsela Engel-Halfkenny looked up toward the high ceiling, their face soaked in violet light. To their right, four students formed a half moon, a crooning knot of jersey and flannel. Engel-Halfkenny pulled their hands to the sides of their head, closed their eyes, and held a perfect high C. Even their skin seemed to glow with the music.
In the stillness, a listener could feel something crack open in their chest. On stage, Engel-Halfkenny's arms soared outward, and they stepped into a pool of pink light.
It's that intimate approach to Jason Robert Brown's Songs for a New World, running at New Haven Academy this Thursday through Saturday, that has turned the 1995 musical into a meditation on what it means to be young and human in 2023. Directed by NHA drama teacher Ty Scurry, it is at turns vulnerable, affecting, funny and gentle, ushering in a sense of possibility for the school and its nascent drama program.
It is also very much a triumph: Songs for a New World is the first musical in the school's 20-year history. Scurry, an alum of Wilbur Cross High School who also leads the drama club at James Hillhouse High School, has assembled a mind-boggling cast and crew of 31 students, in what grew out of a drama class he was teaching last semester.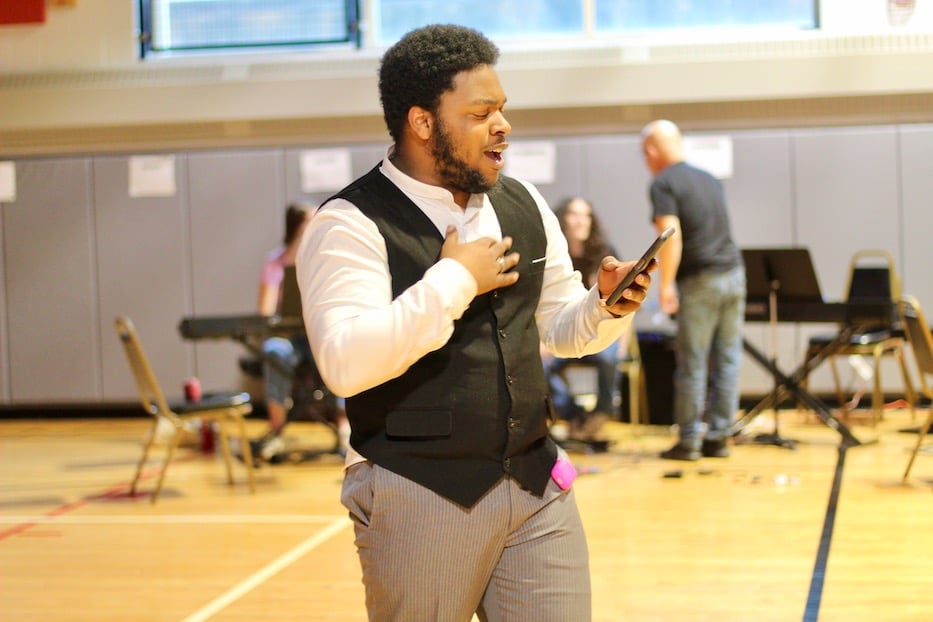 Scurry giving notes at a recent tech rehearsal. Lucy Gellman Photos.
"I wanted a show that was very small," Scurry said on Monday, moments before curtains opened on the first rehearsal of tech week. "This show only needs four people. Luckily, we got two times that plus one, not to mention all of our student directors and designers that came out of the woodwork. We've made it very challenging in year one to make sure we're ready for year two."
Written by Jason Robert Brown in 1995, the musical revolves around the idea of being on a precipice, and making the decision to step into the unknown. While some of the songs have historical context baked in ("The Flagmaker, 1775," for instance) it has no real narrative. Pieces are set on street corners, nameless and often abstracted battlefields, basketball courts and in characters' imaginations.
It makes for more of a 15-work, genre-defying song cycle, knitted together by a search for that which is new and still evolving. Almost three decades after it was written, it also holds onto a vocally demanding score, woven with strains of pop, gospel, jazz, and an old-school musical theater sensibility that is a little La La Land, a little The Producers and a little The Last Five Years before it was even a thing.
In this sense, it's the perfect show for these students, who are entering uncharted musical waters with wide-eyes, open hearts and sometimes an eight-octave range. While a few of the faces are familiar—powerhouse vocalist Carlie Matthews-Ramos and Hillhouse sophomore Mikaila Matta were both in Hillhouse's run of BKLYN last year—there's something about this constellation of actors that feels fresh and exciting, their anticipation palpable as they figure out how to work together.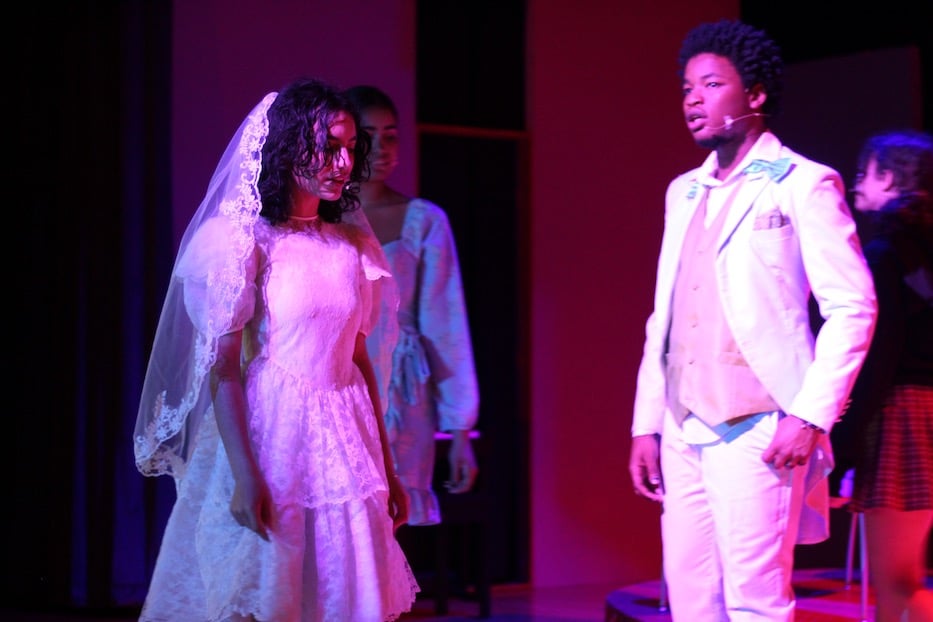 Mikaila Matta and Jeremiah McCullough. Lucy Gellman Photos.
In the school's gymnasium, it comes alive somewhere between the high ceilings and the flurry of activity backstage. When the curtain opens on "Opening: The New World," the stage is arranged like a classroom, with a podium to the audience's right and rows of chairs facing each other. This feels like it could be a homeroom or first period class, as school is just lurching into session.
It doesn't stay still for long. From the opening, students shape-shift into over three dozen characters, slipping costume changes in between songs in a way that bends time and space. When Engel-Halfkenny comes in with "Lord, save my soul! I am not wo-oo-r-thy!" just minutes into the play, it is as if the words come right from their ribcage, formed below their wildly beating heart.
In "The River Won't Flow," a listener can hear a rising tension between juniors Ale Cruz and Carlie Matthews-Ramos as they transform into two people struggling with homelessness, duking it out over a parcel of land. When Jeremiah McCullough sings through a history of fraught relationships, it's sweet, in the way that that first breath of young love is also sweet.
It brings Songs right into a 2023 New Haven, where topics from carceral reform to grief's long, nonlinear timeline are all within bounds.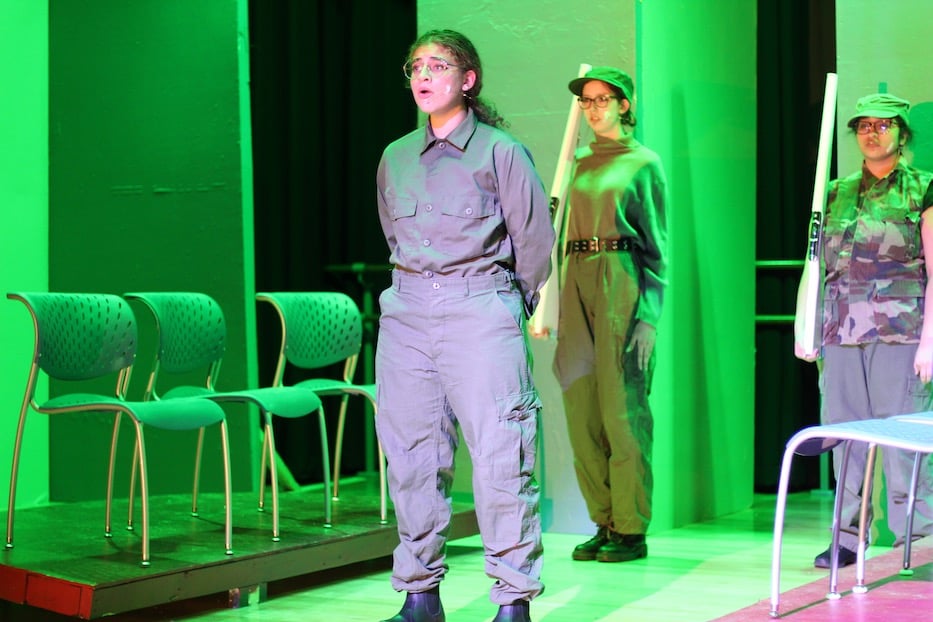 Ale Cruz in "Flying Home." Lucy Gellman Photos.
And who better to sing through characters' deep vulnerabilities, gnawing fears, and big, sprawling dreams than these young people, some still baby-faced? In the past three years, these 31 students have navigated a global pandemic, raised their voices to combat white supremacy, and lived amidst a growing epidemic of gun violence that has touched every corner of America, including its public schools. In a musical with no one reliable narrator, where every character is trying to find their voice, these students nail it.
With Scurry at the helm, this Songs for a New World has also taken on a creative life of its own. This year, he and the cast chose a theme of "new beginnings," to celebrate the school's first two decades in New Haven and to usher in its next 20 years. Taking the songs one by one—Scurry is intimately familiar with the show because he was recently in FUSE Theatre's production of it—he reworked them for a cast of nine, sometimes splitting solos into duets and trios.
As he staged pieces, he kept it minimal: "On The Deck of a Spanish Sailing Ship" has a cluster of actors in chairs upstage, as though they could be migrants on any long, uncertain journey anywhere. "Stars and The Moon," which he has made into a trio, relies on simple lighting and a series of coordinated arm movements to get its emotional message across. In "King of the World," the addition of deep blue lighting and a pair of handcuffs becomes a powerful indictment of the carceral state. Throughout, clean choreography keeps the actors moving through character changes.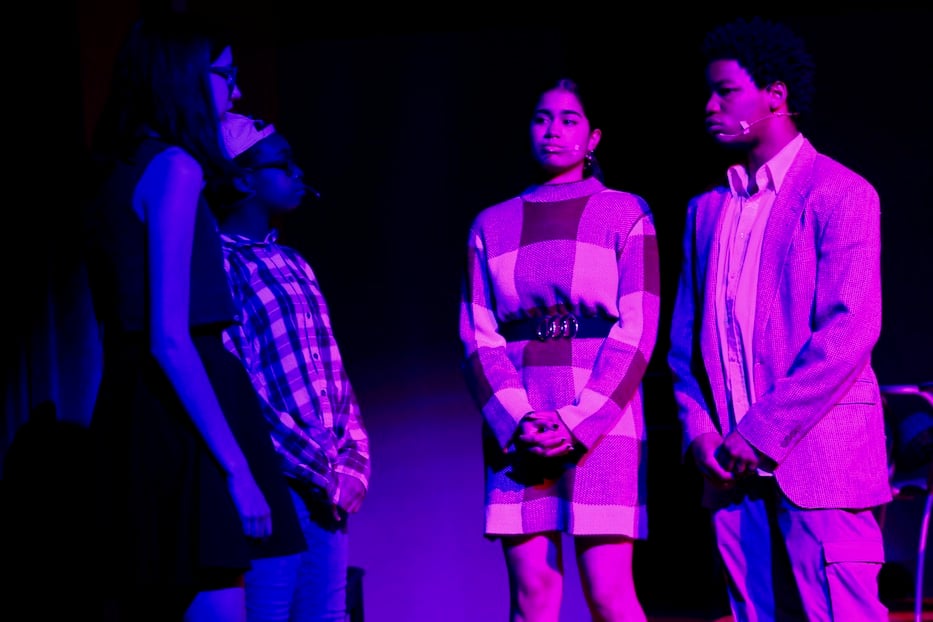 Lucy Gellman Photos.
Meanwhile, Scurry has put trust into a student crew that has figured out how to build a show as it they run it. As rehearsals stretched into weeks earlier this year, tables for lighting, sound and set materialized in the gym, where they are now covered in meticulous cues and color-coded notes. Dozens of feet back from the stage, a single, huge spotlight waits for sophomore Tianna Gray. Closer to the stage, Lauren Bond has assembled an eleventh-hour pit that helps carry the show.
Taken together, the result is as effective as it is affecting. In "Surabaya-Santa," Scurry has split a solo into a duet between Cruz and Lauren Sellers, meaning that the two must figure out how to share both space and vocal ground as they leap through the song's sweeping tempo, spoken sections and shifts in tone. In "Steam Train," Matthews-Ramos belts until she suddenly pulls back, and yields the floor to Engel-Halfkenny.
Other decisions are more subtle, and just as moving. When Engel-Halfkenny leans into a gentle, certain edge in "Christmas Lullaby," it's enough to bring a listener to tears—particularly after they realize that Engel-Halfkenny is singing to a future child in a world where having children feels like a wild, radical act of belief.
When Cruz takes the stage for "Flying Home," it is both their soaring vocals and an interpretive dance from Matta that pushes a listener to think of mental health, PTSD, vicarious trauma and America's long romance with war long after the work has ended.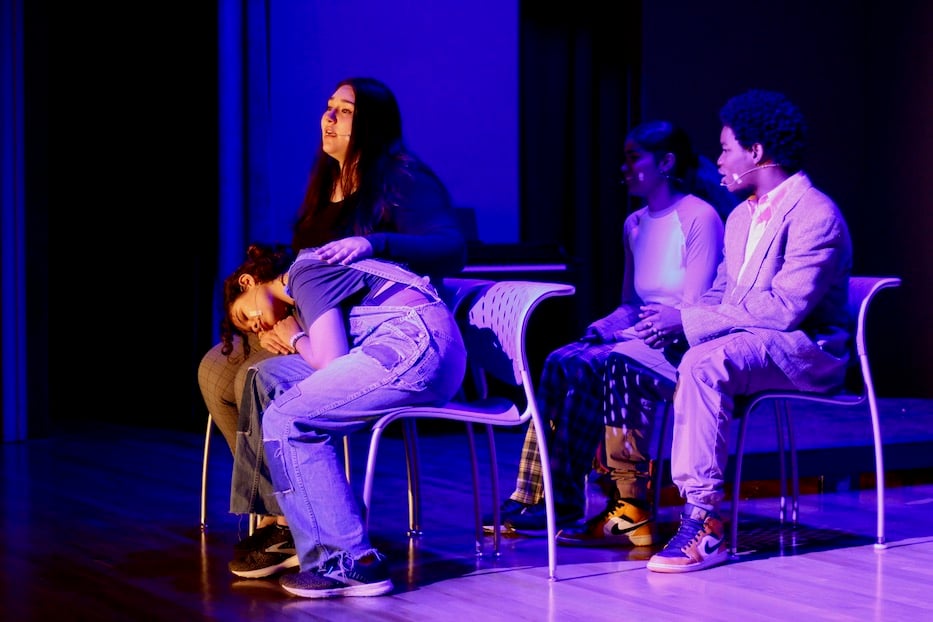 Carlie Matthews-Ramos, Tomitsela Engel-Halfkenny, Juliette Lao and Jeremiah McCullough. Lucy Gellman Photos.
Which is to say, Songs—a text that has not aged particularly gracefully—feels like so much more than a song cycle in these witty and caring young hands. On stage and off, students have transformed it into their own meditation on the present and the future. It's in the sharp, fear-scented inhale on "I'm Not Afraid of Anything," the abandon with which Matta dances, the sheer power and desperation that Matthews-Ramos harnesses every time she begins to belt.
"The songs in the show breathe new life," Scurry said. "What better way to do that than to inaugurate our new theater program with these songs that just breathe new life into everything?"
"This Kind Of Little Family"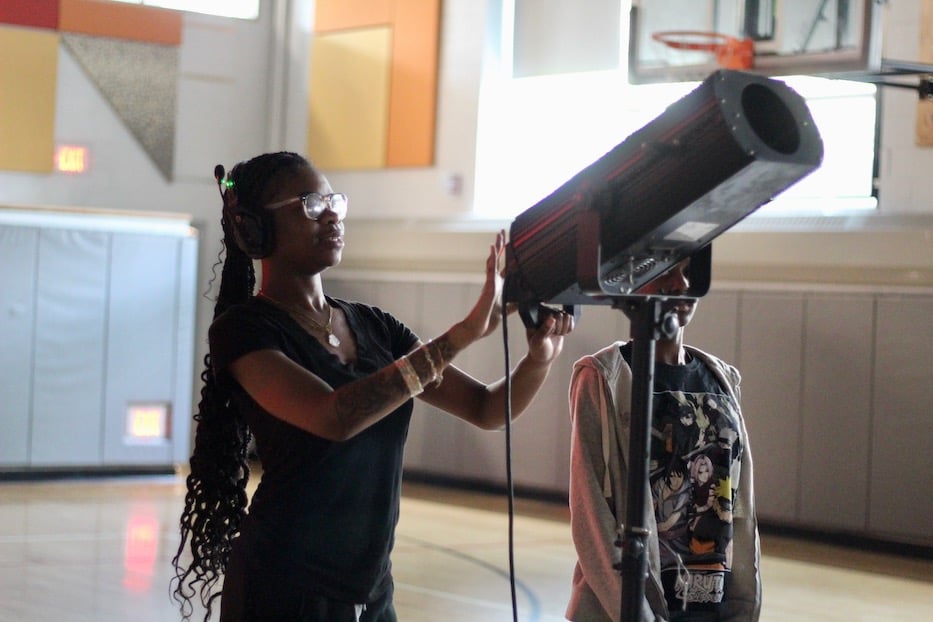 Tianna Gray, who operates the spot. She said that she knew she wanted to be crew, rather than onstage. Lucy Gellman Photo.
At a tech rehearsal Monday, those words seemed to echo over every corner of the gym, which has been transformed into a theater through hours of set, lighting, and sound design. In front of two massive color-coded screens, production stage managers Michael Crisafi and Kiersten Gentles made sure everything was in place, whispering directions into their headsets as 5 p.m. drew closer.
Seated in the cafeteria with their makeup, costumes and mics ready, a handful of actors said they were grateful to the work that Scurry—and their peers—have put into the show. For some of them, like freshman Engel-Halfkenny, it's a way to form friendships and work as a team at a new school. For others, like sophomore McCullough, it's a chance to take a risk he's always wanted to.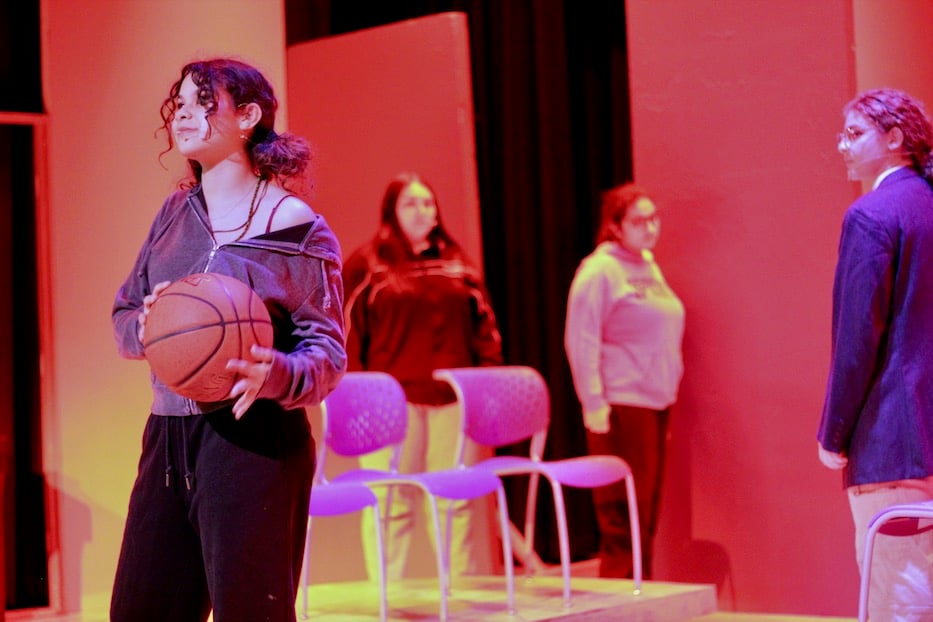 "For me, it's been incredible," Engel-Halfkenny said. After studying theater at an arts middle school, they'd worried that there wouldn't be opportunities for musical theater in high school. Instead, they watched Scurry birth the drama program in real time.
"This experience by itself has been so fun and exhilarating," they said. "Putting on a show in two to three months is really something that I haven't done before, and it's a really fun experience."
In the process, students have become both a family and a support network. Before auditions, McCullough hadn't sung alone in front of anyone, although he grew up singing in his grandmother's church. Senior Juliette Lao never thought a musical was in the cards for her. Matta, who is a sophomore at Hillhouse, wasn't sure students at New Haven Academy would welcome them.
"I think I've learned, through all the many, many rehearsals, to really believe and trust in yourself," McCullough said. "I had a lot of doubt about singing and stuff, but I've been becoming more confident because other people have been there to help me. I've also been working as hard as possible to try to make this the best show that will ever happen."
"Gotta leave behind a good legacy!" Engel-Halfkenny exclaimed, unprompted, in response. They added that they've learned how to step back and trust other cast and crew members, which was once once more difficult for them to do.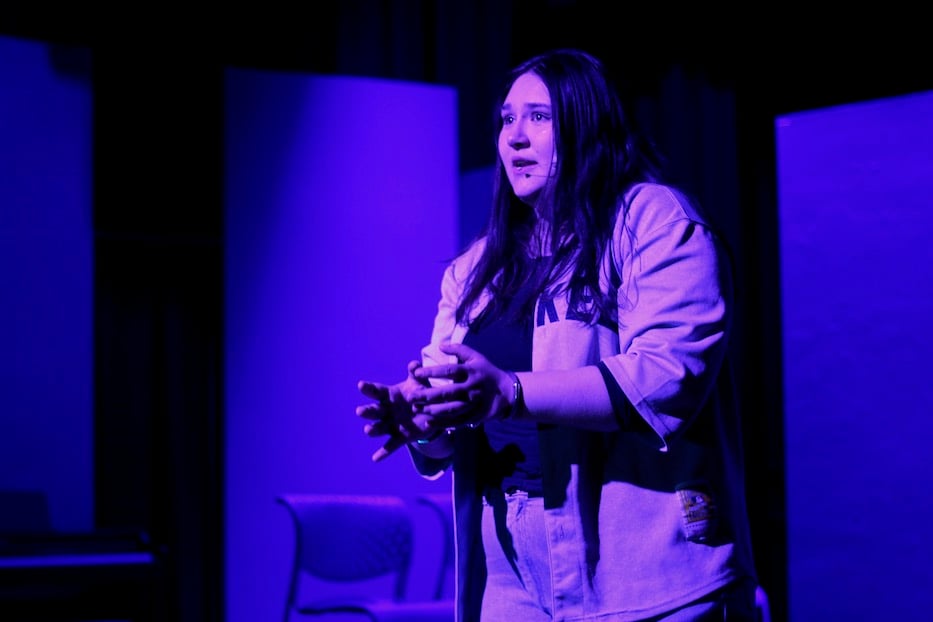 Matthews-Ramos. The belting sections of the show help her feel powerful, she said. Lucy Gellman Photos.
They're not the only one. Before this year, Lao didn't think musical theater could be part of her high school experience. When she arrived at New Haven Academy in 2019, her freshman and sophomore years were derailed by Covid-19. As she eased back into in-person school last year, she enjoyed working backstage with Long Wharf Theatre's "Stage Squad," but didn't think there would ever be an equivalent at her school. She said she's excited to step into the spotlight.
"Every day of rehearsal, we learn something new—especially from my cast mates and Ty, he always helps," she said. "I think it's just very nice to have this kind of little family, even before I leave. It was nice to have this moment."
It's a group that really feels like family, Matta added. When Scurry announced the musical, Matta was so excited that they auditioned despite being a student at Hillhouse. By the time rehearsals began, they were in Little Shop of Horrors at Hillhouse and Alice In Wonderland at the Educational Center for the Arts.
"It really came in handy, cause I met lots of cool people, and lots and lots of people, because there's a lot of people in this production," they said. "I feel like I've learned a lot about the cast members and the crew members. I've met such lovely people … they welcomed me with open arms, and it was the kindest thing ever."
The New Haven Academy Drama Club presents Jason Robert Brown's Songs for A New World on May 18 and 19 at 7:05 p.m. and May 20 at 12:05 p.m. and 4:35 p.m. Tickets are available here.