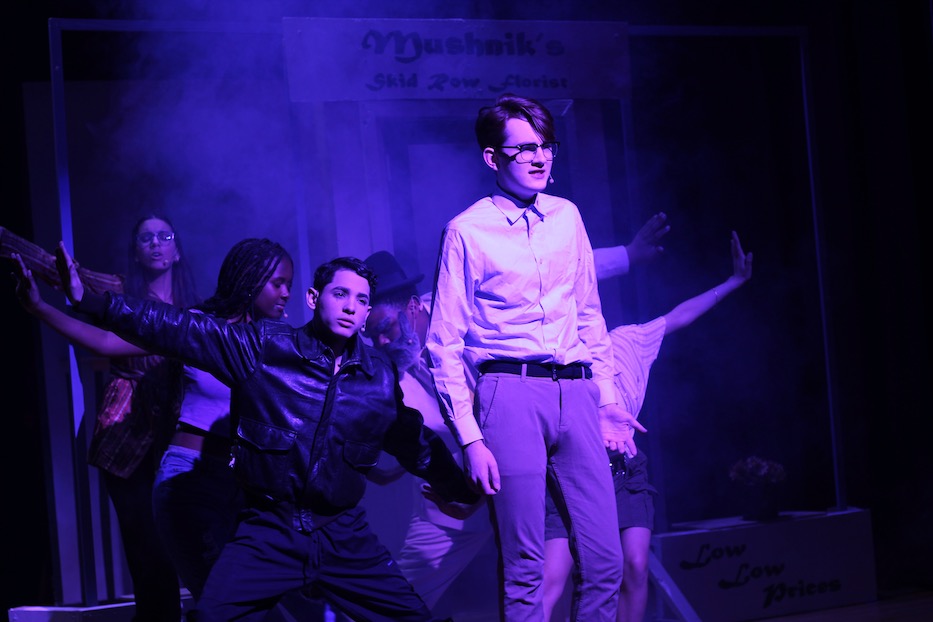 Drama | Education & Youth | Arts & Culture | Musical Theater | James Hillhouse High School | New Haven Academy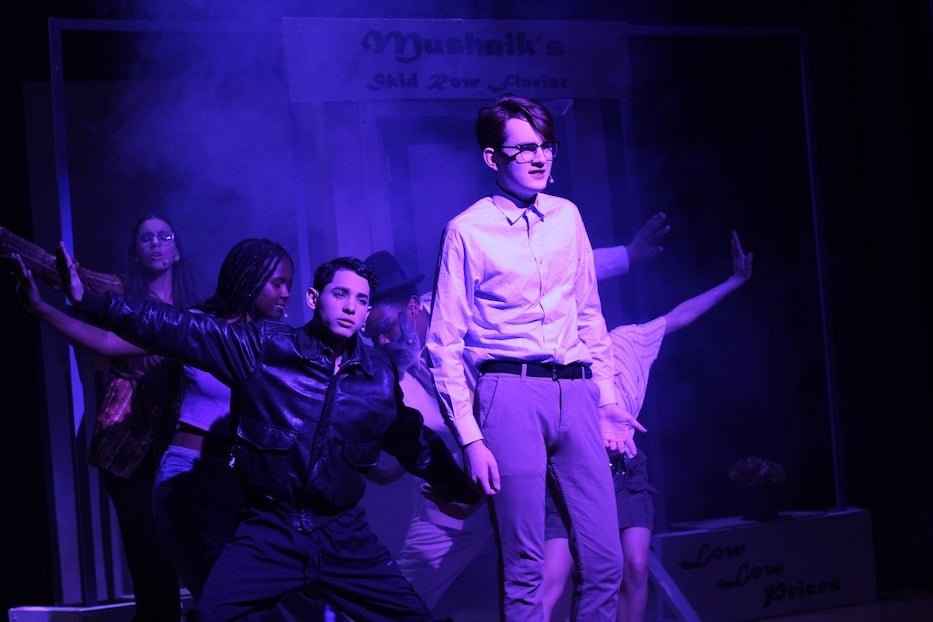 Finn Crumlish as Seymour. Behind him are Jose Saez, Mikaila Matta, Warren Letridge, Laila Wooten, and Amelia Tamborra-Walton. Lucy Gellman Photos.
Seymour is closing up the shop when the plant issues its first gasping demand. Feeeeeed me, it rasps, its pink and orange lips opening to reveal a cavernous, soft inside. Seymour looks around to see who has possibly spoken in the dark. Fe-ee-ee-d me! It breathes again, this time insistent. He checks himself, looking it up and down. Fee-d! Me!
The call comes again, and he starts to break a sweat, because the answer is going to require a lot more than Miracle Gro and Scott's Super Bloom.
Seymour (Finn Crumlish) takes center stage in James Hillhouse High School's delicious Little Shop of Horrors, running March 23 through 25 in the gymnasium at New Haven Academy. A production of Hillhouse's Academic Theatre Company, it is a testament to a small but mighty, talented and tight-knit cast and crew that has found family on the stage—and gotten creative with the limited resources they have.
"I'm very much a proud poppa," said Director Ty Scurry, a 2018 graduate of Wilbur Cross High School who has kept the drama bug alive at Hillhouse for the past three years. "I am their drama poppa—that's what they call me—and I am very proud of the work that they've done. They've been thrown through more hoops than I think anyone should have to be thrown through, and for them to not only stay on top of their game, but to want to do it, is spectacular to me."
Performances run March 23 and 24 at 7:05 p.m. and March 25 at 12:05 and 4:35 p.m. at New Haven Academy, 444 Orange St. in New Haven. Tickets and more information are available here. The company has received next to no support from Hillhouse for the show; more on that below.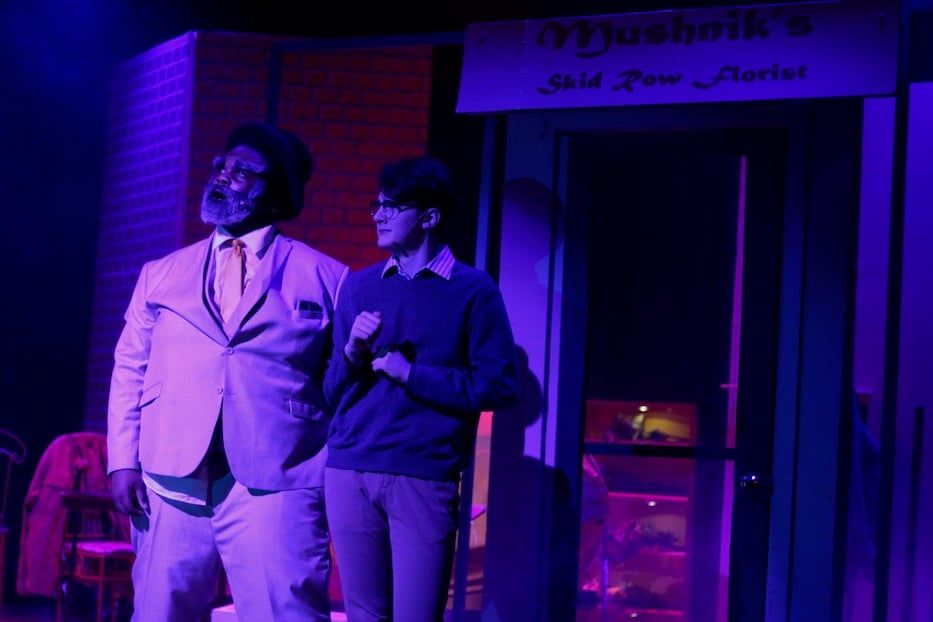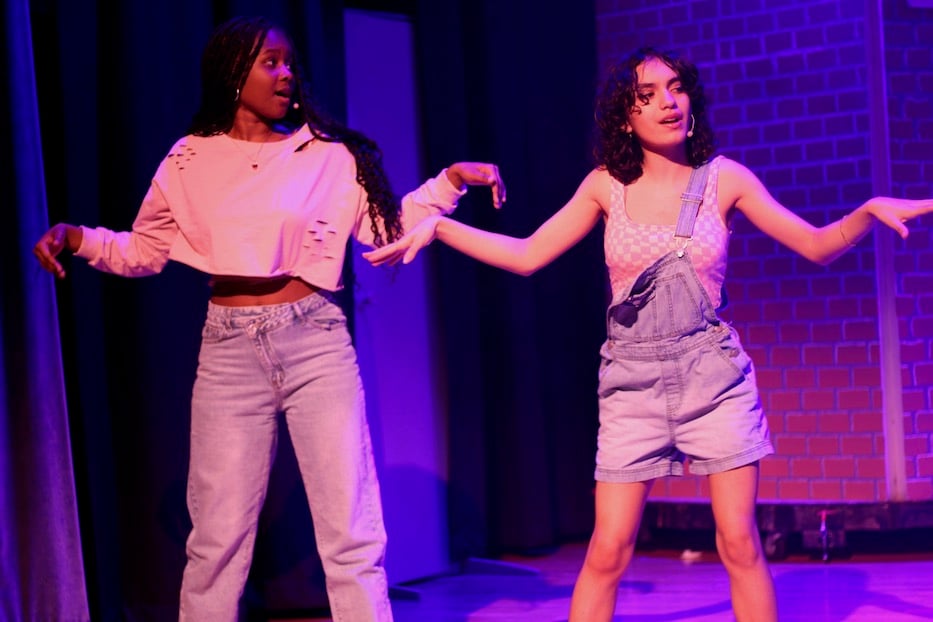 Top: Warren Letridge and Finn Crumlish. Bottom: Laila Wooten and Mikaila Matta.
Written by Alan Menken and Howard Ashman 1982 and based on the 1960 cult film of the same name, Little Shop of Horrors is that kind of dark, slippery and disbelief-suspending comedy that only works in musical theater. Set it New York's Bowery neighborhood in the 1960s, it follows Seymour Krelborn (Crumlish), a quirky, self-taught and promising young botanist whose work for the perpetually sour Mr. Mushnik (Warren Letridge) borders on indentured servitude.
Seymour makes do among the plants, so smitten with fellow shop employee Audrey (Amelia Tamborra-Walton) that he doesn't let Mushnik's hard edge get to him most of the time. When he discovers a new, flytrap-like specimen following a total eclipse of the sun, he names it Audrey II (voiced by Jack Marchand and operated by Janae Branham), hoping that it might save the shop from financial insolvency. At first, it appears he's right on: even placing the plant in the window lands Mushnik curious new customers.
There are just a few catches, made possible with the magic of otherworldly and gem-colored stage lighting, fog machines, puppetry, and a young theater company that has proved unstoppable. Audrey's biker-dentist-boyfriend Orin Scrivello (a side-splittingly funny Jose Saez) is an abusive sadist with a habit for nitrous oxide. Mushnik is one failed sale away from firing everyone and probably burning down the store. And Audrey II feeds on human blood. What could possibly go wrong?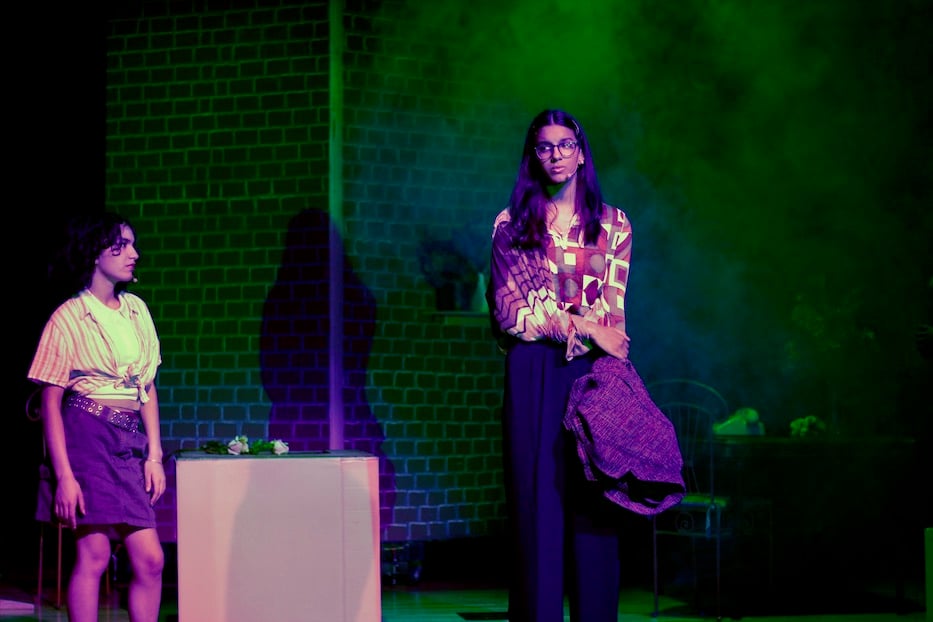 Mikaila Matta and Amelia Tamborra-Walton.
From the moment the curtain opens, the cast is entirely inside this world, delighting in every horrific and campy detail of the storyline. Before an audience even meets Seymour, a narrator (Marchand) is laying it on thick, preparing an attendee for the strange and unnatural events they are about to witness. Wisps of white smoke roll in downstage; sickly green light bathes the space. The voice cuts away, and viewers are left with a world of startling juxtapositions, including jaunty choreography from street urchins (Mikaila Matta and Laila Wooten), who also produce some of the smoothest harmonies in the show.
When Crumlish walks onto the stage, he embodies Seymour's sweaty-palmed, neurotic genius and anxiety, with an affected New York clip that is also a little bit Spock, a little bit Steve Urkel, and something undeniably Crumlish too. He is wonderfully not self-conscious, trusting in the punch and panache of musical theater where reason stops, and the stranger-than-fiction storyline begins. By the time he is deep into the number "Skid Row," it's hard not to dance along.
But the musical is not ever his alone: every member in this rag-tag crew of eight has made Little Shop into something of their own. As both Audrey II and assorted ensemble parts, Marchand jumps between octaves like it's his business, slipping into voices that make it seem like many more people are backstage at any given time. As Mushnik, Letridge adds both gravitas and schmaltz to the stage, a hard balance to pull off even for seasoned actors.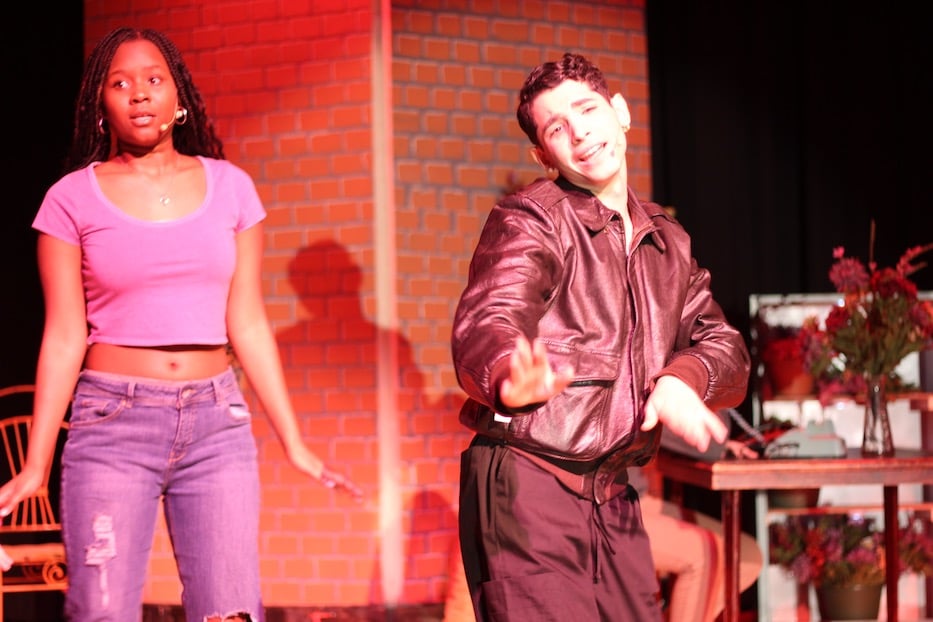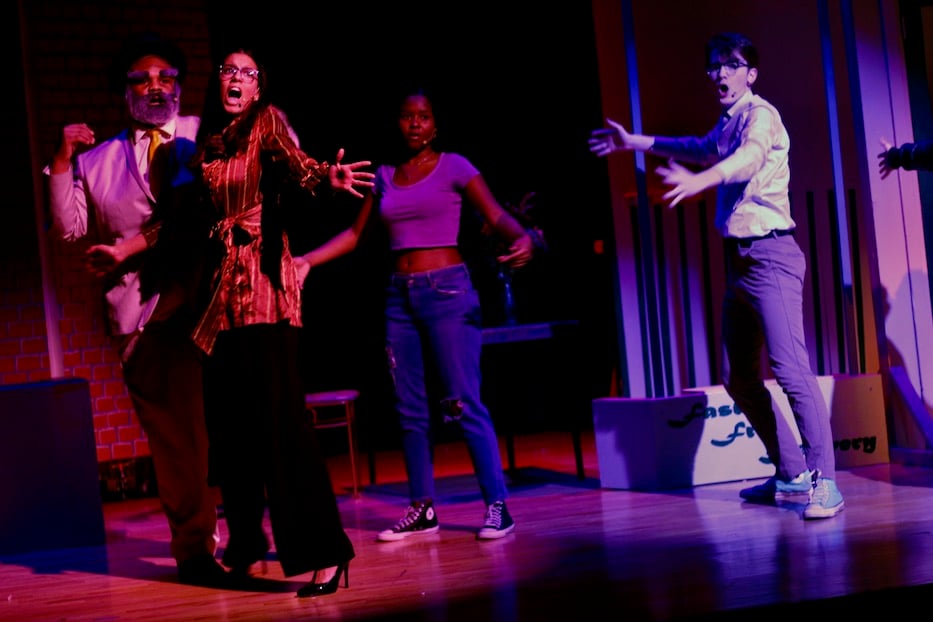 Top: Laila Wooten and Jose Saez. Bottom: Warren Letridge, Amelia Tamborra-Walton, Laila Wooten and Finn Crumlish.
Saez, a senior at Hillhouse who is making his debut, gobbles up the spotlight, with an ease for physical humor and torture jokes that lets him own the song "Dentist" with loose, gummy limbs and a final, gliding finish. Even Audrey II—yes, a puppet—has huge personality, with a vision from lifelong New Havener Isaac Bloodworth that blooms into something wild and uncontained. It's as if Wall Street and When Harry Met Sally have met My Best Friend's Exorcism, and created some strange horticultural artifact to remember it.
But it is Tamborra-Walton, a quiet, even-keeled freshman at Hillhouse who has never acted before, who is the great surprise and at times heart of the show. From her first entrance, she stuns as Audrey, filling the role with a gentle, nuanced, and sharply funny edge. When she dreams about a life in the suburbs in "Somewhere That's Green," she plays with the very idea of Audrey, finding the potential for laughter in her character's dreams of a dishwasher, tidy front lawn, and air that smells like Pine Sol.
There is dark magic here—isn't it horror and comedy that bring us closest to ourselves?—and the cast grabs onto it and doesn't let it go. Every member brings a new layer of quirk and chemistry that is fun to watch, from Seymour's obsession with Audrey to Branham's ability to gobble, smack, and open in exact time with Marchand's swelling, room-coating vocals. When a wailing, fuzz-flecked bass or keyboard comes in under them, it's more like being at a rock concert than a high school play.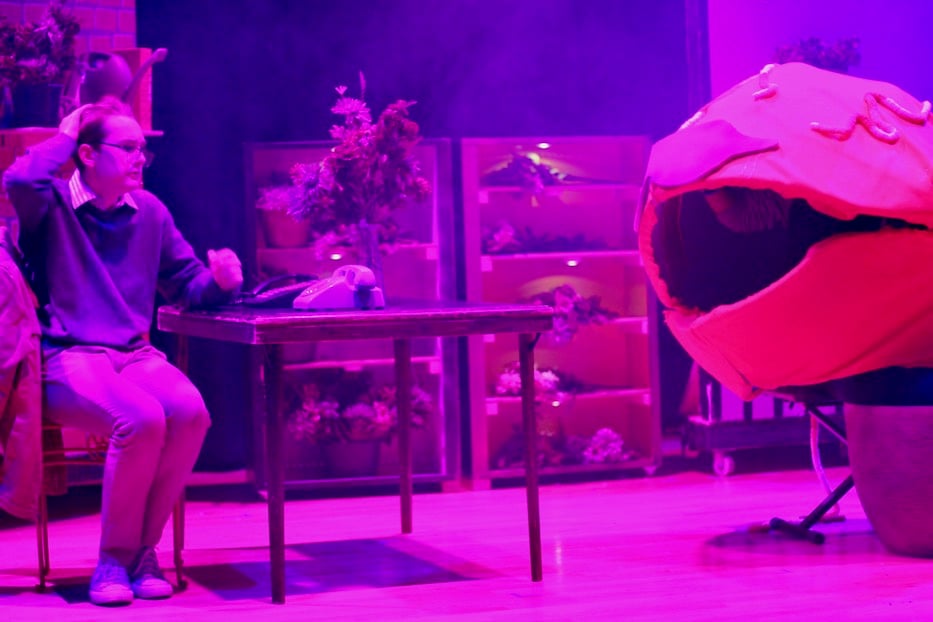 Finn Crumlish and Audrey II, a vision from puppet artist Isaac Bloodworth.
Around them, a whole village has rallied to make the show happen. Hillhouse English teacher Tim Kane, who has been an advisor to the group since its inception, has stepped on as producer, Renaissance handyman, scenic designer, and a creative force to be reckoned with. Music Director Kevin James, fresh off Hairspray at Cooperative Arts & Humanities High School, returned with a powerful pit and backup singers (Terrance Dill, Alex James, and Reggie Santana).
Santana, a recent alum who played Brooklyn in last year's performance of BKLYN, found time between three part-time jobs to assistant direct and devise the choreography, which marks a first for her. It feels like coming full circle, she said at a recent rehearsal: her uncle, the dancer Luis Antonio, choreographed the shows at Wilbur Cross High School for years before moving out of the state. Now it's her turn. Less than a year after graduating, she considers herself a sort of stage grandmother. During a pre-show interview, she referred to fellow actors as "kids"—despite an age difference that is months, rather than decades—multiple times.
Under Scurry's careful eye, no detail has been left to chance. Gone is a quaint, bright high school gymnasium on the edge of East Rock, replaced with a dramatically lit block of Skid Row that has been largely repurposed from last year's performance of BKLYN. Bloodworth, a graduate of Cooperative Arts & Humanities High School and UConn's puppet arts program, has dazzled with his Audrey II, a massive, soft and bright flower that becomes insatiably hungry. An earlier version of the plant, which resembles a full, orange-colored arm with a sock puppet mouth, is an equal delight.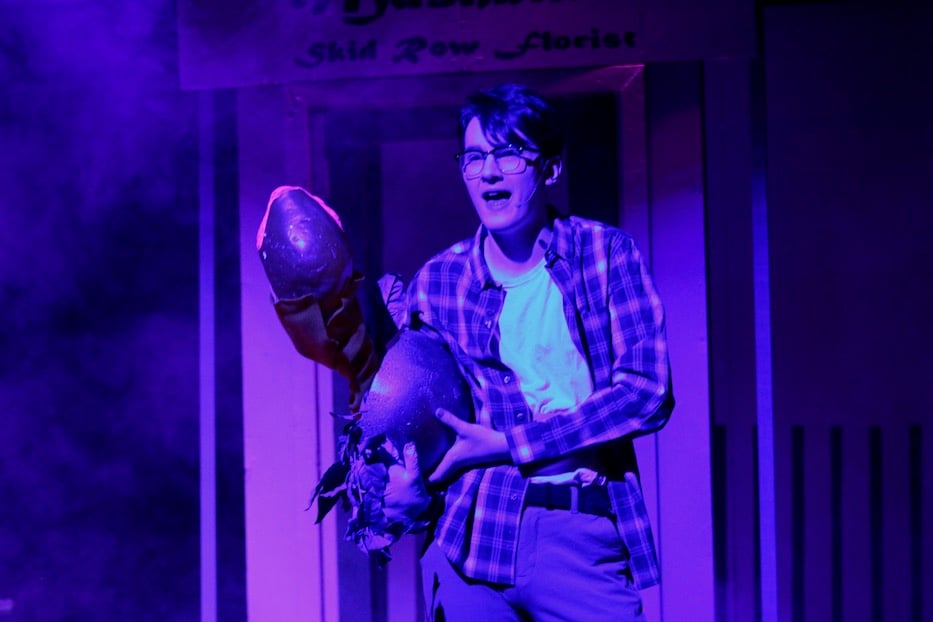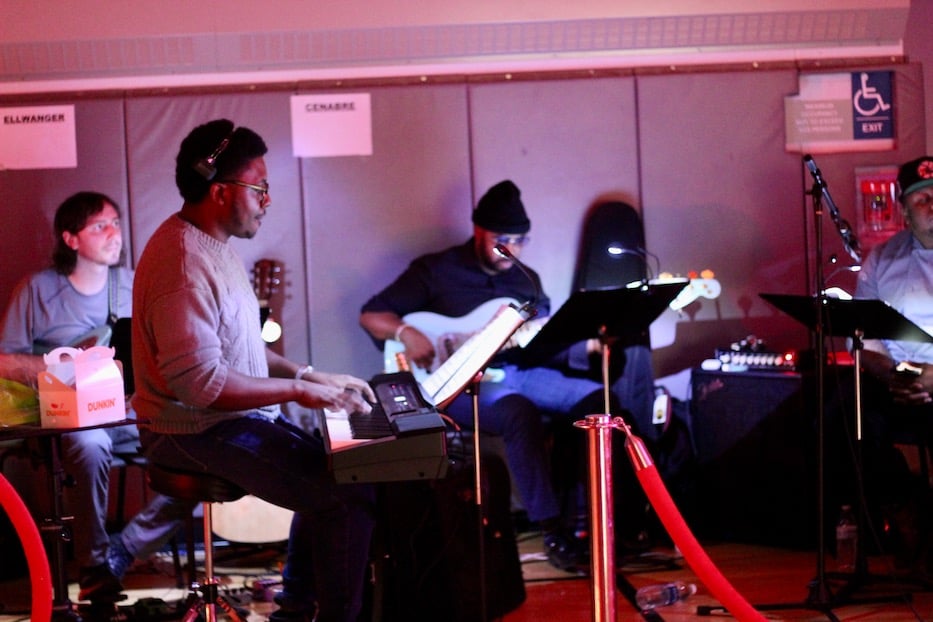 Music Director Kevin James. In the pit with him are Chris Brown (bass), Mike B (guitar), John Rispoli (drums), and Terrance Dill, Alex James, and Reggie Santana on vocals.
It makes for a musical that asks attendees, three years into a pandemic and at least one into a spectacular sociopolitical gaslighting, to confront their own demons with half as much willingness and verve as these young people do. So what if Audrey II needs human blood, flesh and bone to survive? So what if the dentist seems a little rough with his girlfriend? So what if Mushnik only gets nice after he realizes that Seymour might be his golden ticket?
So what if the needs of the collective stop coming first? Hasn't it always been that way?
"We're going to take some of those funny moments, and it might get real for a second," Scurry said. "I really wanted to show that."
"Here For You"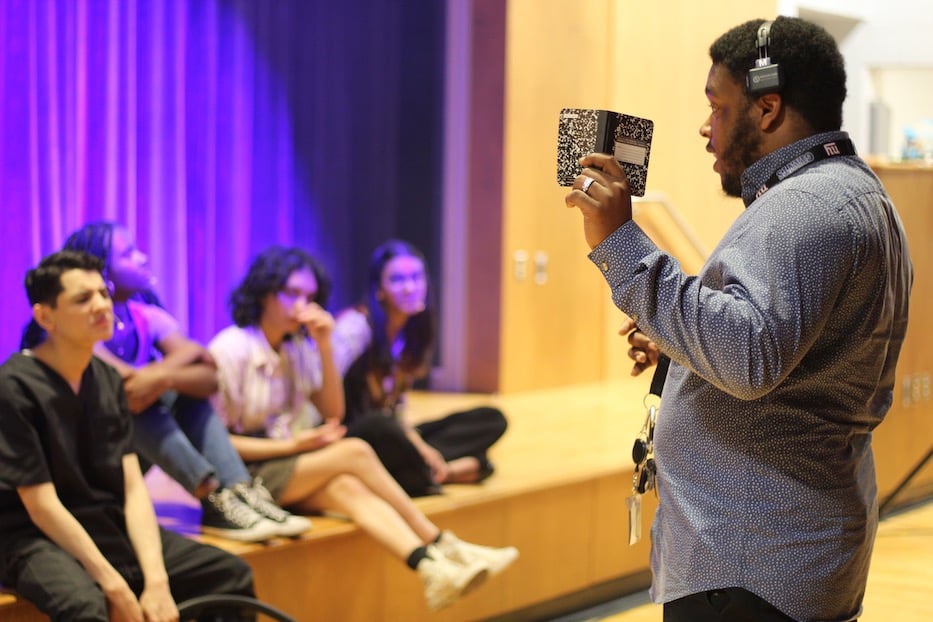 Scurry between acts at a recent rehearsal.
Three years after Covid-19 shut down Hillhouse's production of The Wiz and one after it bounced triumphantly back with BKLYN, the show is also the story of the little theater department that could, and can, and does. Many times in the last few months, Scurry has been aware that it almost didn't happen.
Last year, Scurry and five students were in rehearsals for Dominique Morisseau's Milk Like Sugar when they lost access to Hillhouse's Sherman Parkway auditorium, a blow that led to the work's ultimate postponement and then cancellation in January. The reason is multi-part, he said: other student groups wanted it, and the space has also faced leaking, mold, and water damage for years.
It put them back at square one for the musical. Scurry didn't want to give up on the play, because he'd seen how it lifted students' spirits last year. He also knew it wasn't going to happen at Hillhouse. So—with the blessing of New Haven Academy's Meredith Gavrin and Greg Baldwin—he moved the show to Orange Street, where he has been teaching part-time for the past year and is directing Jason Robert Brown's Songs for a New World in May.
The play comes out of a shoestring budget and a wellspring of goodwill that he has cultivated across New Haven. He added that he got lucky: a lot of the cast members are afternoon students at the nearby Educational Center for the Arts (ECA). The others take the city bus, which has been free.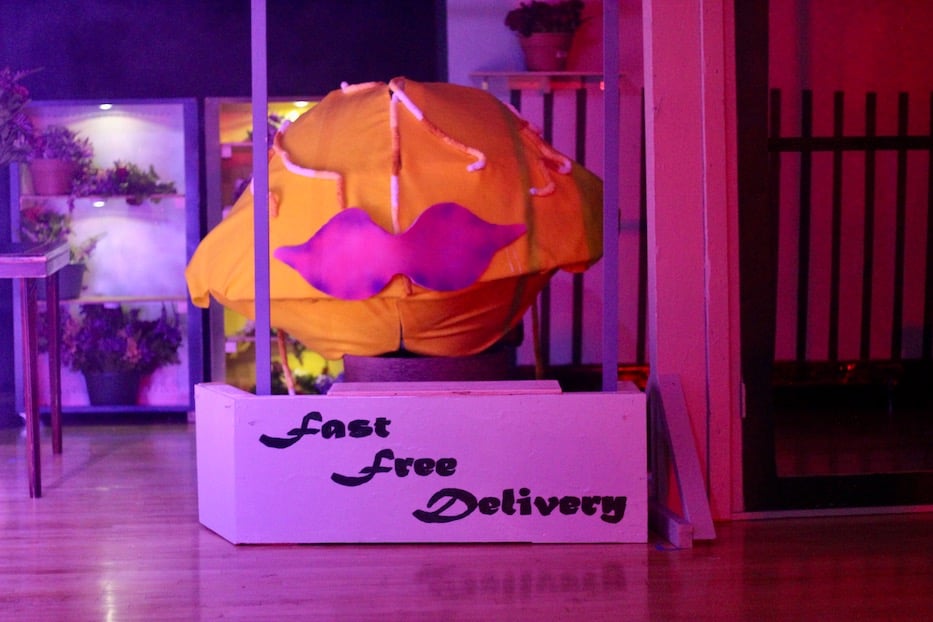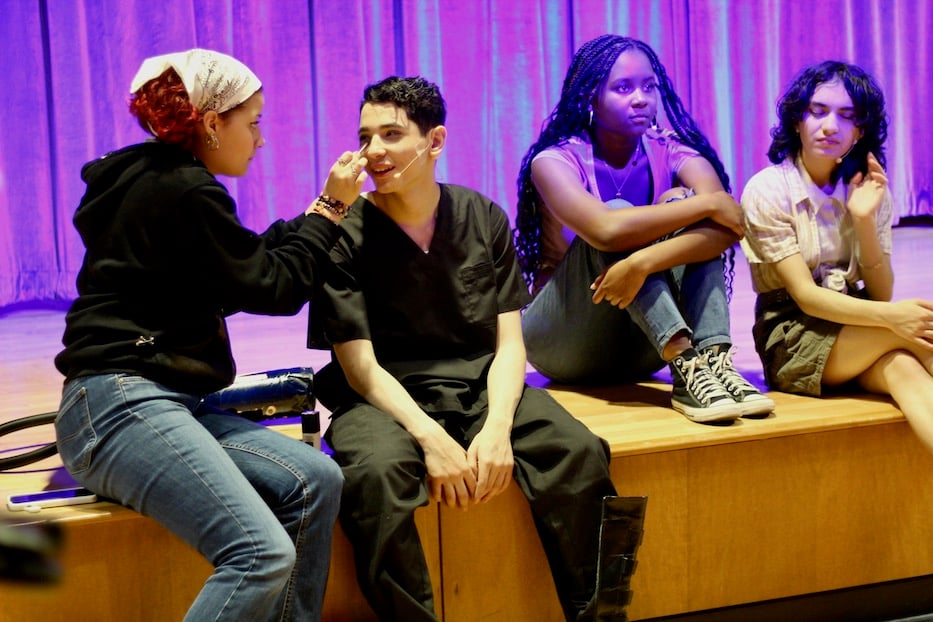 Reggie Santana and Jose Saez reapply makeup between acts.
"My 'why' has never changed," he said. "It has always been to give these students, who are now my babies, the opportunities that I didn't have when I was in high school … We spend all this time together, and sometimes it does hurt to let it go after. Even after a show's over, I'm not going anywhere. I'm here for you."
If he's stressed, he added, he tries not to let it extend to the students—who are only a few years younger than he is. In addition to rehearsal, he encourages group outings, including dinners, bowling games, dodgeball matches, and "Super Saturday" rehearsals that are meant to build character.
Before a recent run-through, cast and crew members reflected on the way the company, which includes three original members of The Wiz (Marchand, Branham, and hospitality director Amir Lee-Joyner), has become a kind of family. For Tamborra-Walton, who auditioned on a whim after a friend dropped out, the group has been extremely welcoming and given her a place to fit in outside of classes.
While she worries about academics—she's taking AP Bio as a freshman, and said that she feels like she's teaching herself—she likes being able to step into a totally different world. As she spoke about fitting in, Santana nodded knowingly.
"I came back for the kids, pretty much," Santana said. "It's so strange. But I love it. I get to see all these bright, beautiful faces on the stage. Even though I treat them like my grandkids, they're like, they're the only friends that I have. I enjoy spending time with them, even if it's just a couple of minutes. I can go from like, a really really bad day to a really really good one."
That's true for Crumlish too, although he said he's also ready for the run to be over and for life to return to a quieter junior year. While he has always loved musical theater—he joked he's in the top one percent of Andrew Lloyd Webber listeners on Spotify—he hasn't performed in a musical since his days at Edgewood School, where he was in Madagascar: The Musical with a younger Marchand in 2019.
When he acts, it's usually for Elm Shakespeare Company's Teen Troupe. So the musical gave him an opening to try something he hadn't done for a while, he said. In some ways, Seymour is the out-of-body role he's been training for for years. In others, working with such a small cast has reminded him to get back to the basics, like interacting with people, and knowing how to share space on stage.
"I really love campy stuff," he said. "I love the aesthetics of like, bad B horror movies, and I'm a big fan of like, old black-and-white horror stuff. So I love all the camp and all the goofiness in Little Shop. I think what makes it work is it never makes the show a joke—the campiness is that there is a talking plant, but it's taken 100 percent seriously in the story. And I think that's what makes it successful, and emotional."
"These kinds of stories help us talk about complex or hard issues," he later added. He pointed to Mel Brooks and Taika Waititi, who have both used humor to make sweeping, sharply funny works of art about the horror of the Holocaust. "It can be funny as hell and really get you to think about, 'Wow, the Nazis were the worst.'"
"For me, it's been about learning how to have fun, learning how to enjoy yourself without being embarrassed at all," Marchand added. "I like, will completely embarrass myself now because theater has like, removed a lot of like, social worries about like, 'What is he doing?'"
At a recent run-though, Scurry called five minutes to showtime, and actors emerged, no longer their high school selves. They were Audrey and Seymour, Orin and Mushnik, in button-ups and poofy biker pants and thick tweed that warmed instantly beneath the stage light. They circled up around James, ready for vocal warmups that had them breaking into four-part harmony.
Out in the hallway, Branham got ready to step into Audrey II's shoes. After a high school experience turned upside down by Covid, she said, she's learned to take the bitter with the sweet. In the weeks leading up to the show's opening, she's been focused on how proud she feels. In three months, she'll walk across a stage for her high school diploma. This is a last hurrah of sorts.
"Out of all of the good things, you have to take the bad that follows too," she said. "It's taught me to accept the bad that happens. I'm proud to be working with all of them."
Back inside, James took it away on the keys. From where he stood with a headset, Scurry began to clap, a jubilant, echoing sound that filled the room.
It seemed, for a moment, that they were ready to take on the world.
Performances of Little Shop of Horrors run March 23 and 24 at 7:05 p.m. and March 25 at 12:05 and 4:35 p.m. at New Haven Academy, 444 Orange St. in New Haven. Tickets and more information are available here.