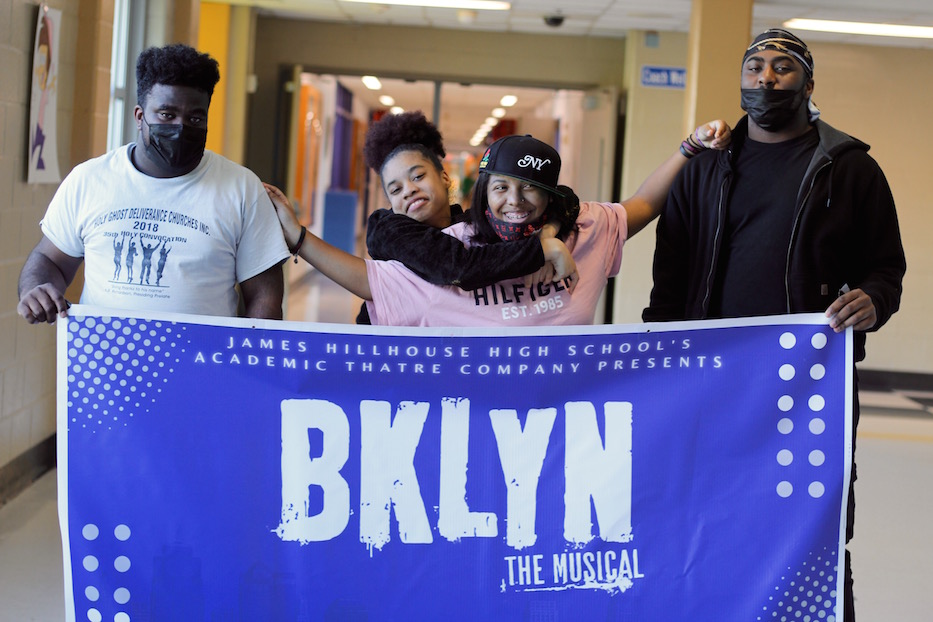 Education & Youth | Arts & Culture | Musical Theater | New Haven Public Schools | James Hillhouse High School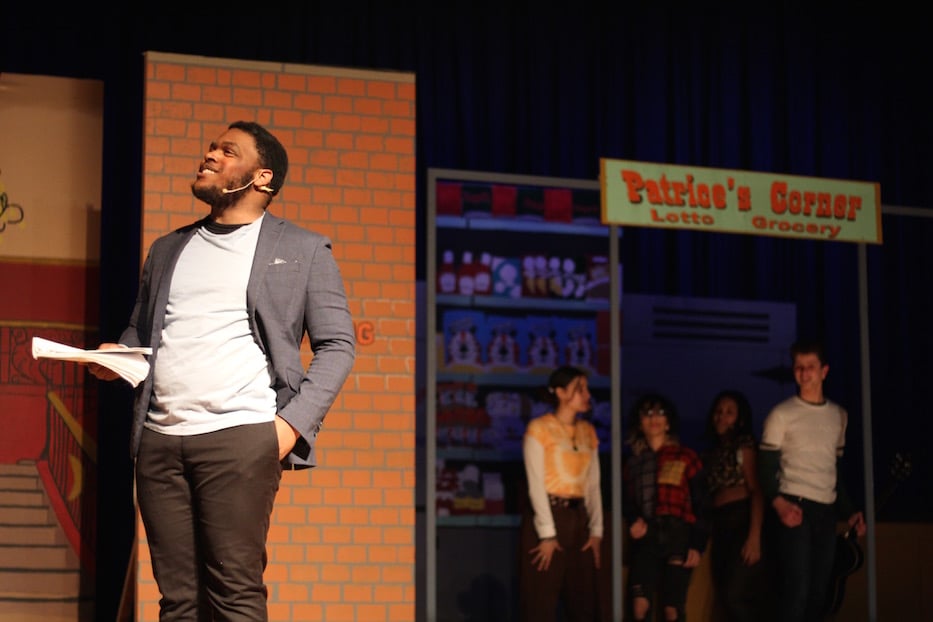 Director Tyheed Scurry steps in for the Street Singer Monday night. Normally, the role belongs to Carlie Matthews. Lucy Gellman Photos.
The Street Singer was making magic again. Stepping downstage, he took the doe-eyed character Brooklyn by the hand, pulling her into a pool of yellow light. Looking to his left, he extended a hand to Taylor Collins, watching for a flicker of recognition in his eyes. The three surveyed each other carefully, guarded, their hands joined for just a moment.
In one universe, they were figuring out how to do student theater after two years away from the stage. In another, they were on an enchanted streetcorner in Williamsburg, watching a miracle unfold before their eyes.
Students at James Hillhouse High School have built those worlds in the musical BKLYN, with which the Academic Theatre Company makes a triumphant return to the stage this week. Two years after the group's production of The Wiz became a casualty of Covid-19, students have come back to bring the school—and themselves—the play their peers never got to have. In the process, they have become a tight-knit family.
The production runs May 12 through 14 in the school's auditorium. At the helm is Director Tyheed "Ty" Scurry, a 2018 graduate of Wilbur Cross High School whose love for musical theater led him to form a drama club at Hillhouse in 2019. Tickets and more information are available here.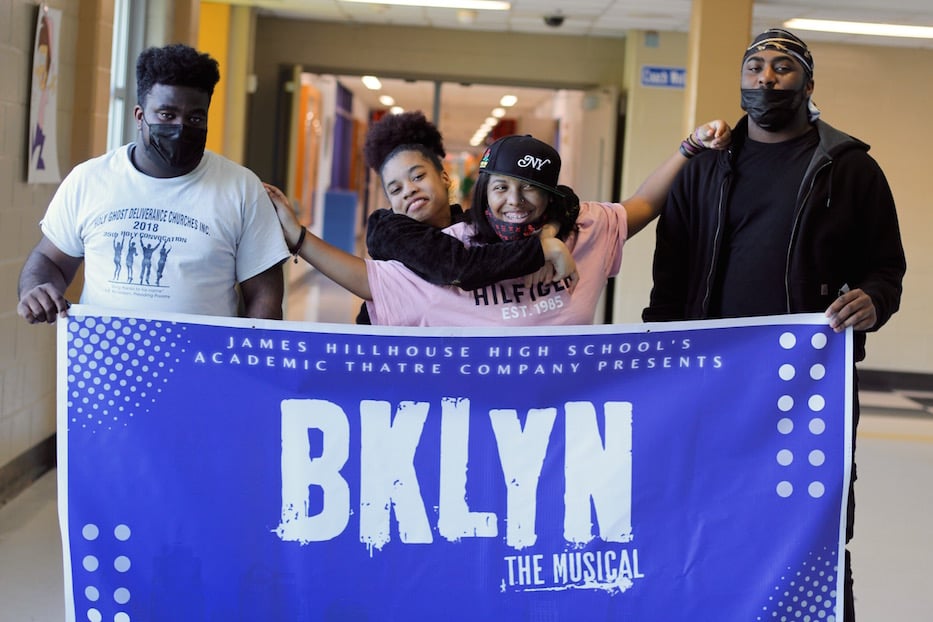 Amir Lee, Katrina Evans, Janae Branham, and Mekhei Johnson before rehearsal Monday. All of them described the cast and crew as extended family.
"I didn't think this moment was gonna happen," Scurry said Monday as students prepared for rehearsal. "The way money and rights and rehearsals went—everything that could have been thrown our way, it was thrown our way this year. And it was just crazy. And now that we're here and we're back, it's like, 'I think I can do this.' This year, it's lifted my spirits in terms of what can be accomplished with high school students."
For Scurry and members of the production alike, getting to tech week feels momentous. A little over two years ago—26 months, to be exact—members of the Academic Theatre Company were in the final weeks of rehearsals for The Wiz when the pandemic forced them to shut down. As classes went remote, students continued to check in on each other virtually. Scurry used a mixture of email, Google Meet, Zoom, email and Instagram to stay in touch with them. Inside the school, the brick and emerald-green set from Oz sat alone on the stage, just waiting for students to return.
Weeks became months, and months turned into whole semesters of virtual learning. Seniors graduated. An initial, hopeful postponement of The Wiz became a cancellation. When the 202o-2021 school year also began online, the Academic Theatre Company remained in hibernation. In the void that it left, Scurry ran the Hamden-based Family Music Center for several months before selling it back to its owner. He became a music instructor at Brennan-Rogers Magnet School, where he still works during the day. He never stopped dreaming about the incubator he had built with Hillhouse English Tim Kane.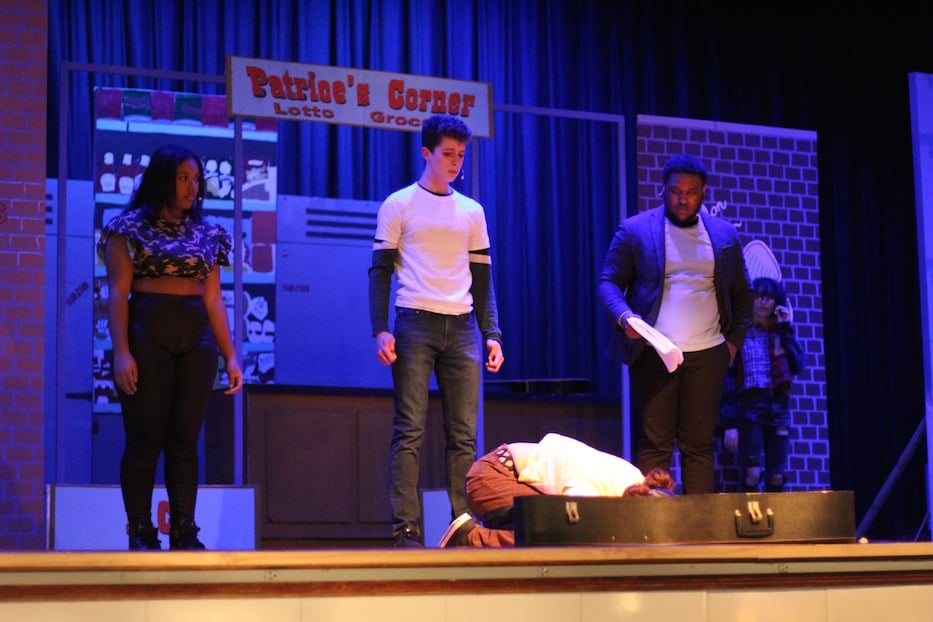 Janae Branham, Jack Marchand, and Ty Scurry gather around Regina Ines Santana.
This year, he vowed to bring programming back when classes resumed. Because "I didn't know what the turnout was going to be"—many of The Wiz' cast members, juniors and seniors in 2020, had graduated—Scurry looked for a show that he could mount with just a handful of students. He thought about his own mentor, Cross teacher Salvatore DeLucia, who rebuilt Cross' drama club with Jeffrey's Kindley's 12-person Is There Life After High School? in 2018. His search led him to BKLYN, which has only five lead roles.
When he needed extra voices for an ensemble, he and Music Director Kevin James added students and adult members to the pit. They include Cooperative Arts & Humanities High School seniors Rachel Kearse, Ajibola Tajudeen and Lauren Wiedenmann, as well as adults Terrance Dill and Alexandra James.
Scurry was totally delighted by the work, which Mark Schoenfeld and Barri McPherson first wrote in the early 2000s. A play within a play within a play, BKLYN follows Brooklyn (Regina Ines Santana), a Parisian chanteuse who has come to New York in search of the deadbeat dad (Taylor Collins, played by Jack Marchand) who drove her mother Faith (Mikalia Matta) toward a lovesick suicide years ago. In the city, Brooklyn must contend with Paradice (Janae Branham), an old-school diva who can smell competition from a borough away. Just imagine Amélie Poulain walked into some mashup of RENT, Superfly and Cinderella and that's the script.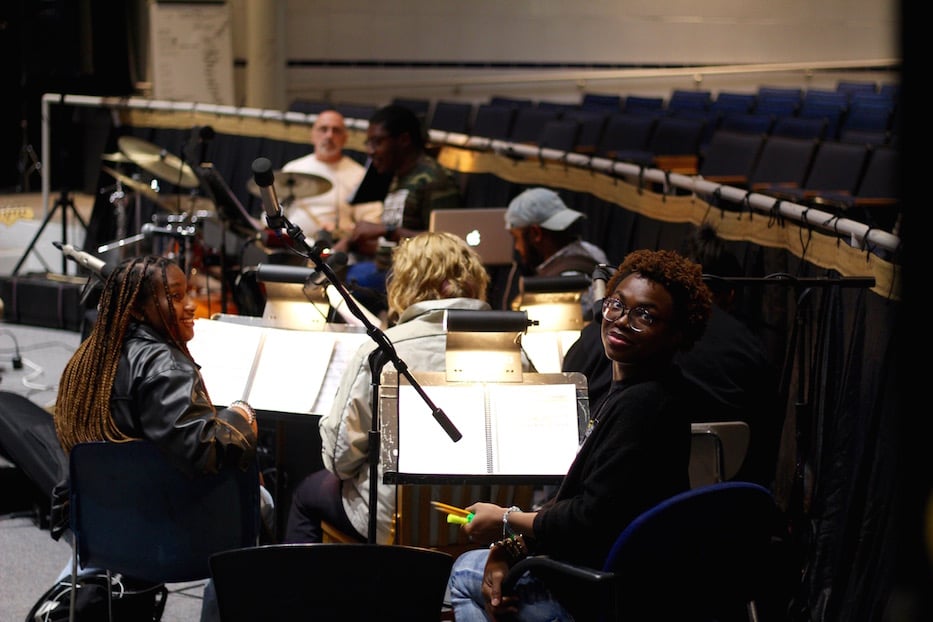 A pit includes backup vocals from Cooperative Arts & Humanities High School seniors Rachel Kearse, Lauren Wiedenmann and Ajibola Tajudeen.
A narrator-turned-magic maker (Carlie Matthews, for whom Scurry was the impromptu understudy Monday night) carries the show forward, often entirely in song. But there's another layer: the play is a performance among people who are housing insecure, gathered on a street corner beneath the Brooklyn Bridge. In other words, student actors at Hillhouse are playing New Yorkers who are housing insecure, who are in turn putting on BKLYN as a work of fully improvised street theater. The audience, in turn, gets three interlocking stories of people trying to survive.
The play moved Scurry, who was born in Rhode Island and moved to New Haven when he was eight. While it takes place in New York, it could just as easily be New Haven, or any dense urban area that struggles with housing insecurity and a city of haves and have-nots (Scurry, whose family lost their Newhall Street home in a fire last year, is no stranger to that reality). BKLYN's block becomes a gathering place, a sanctuary, and a multipurpose stage—just like the space Scurry has created in a single room at Hillhouse.
"What a better way for Hillhouse, the babies of high school drama theater, to come back and do this show that nobody's heard of?" he said Monday as crew members buzzed past him. "That almost no one has seen? To make their mark as far as creating a legacy for themselves? What a better way?"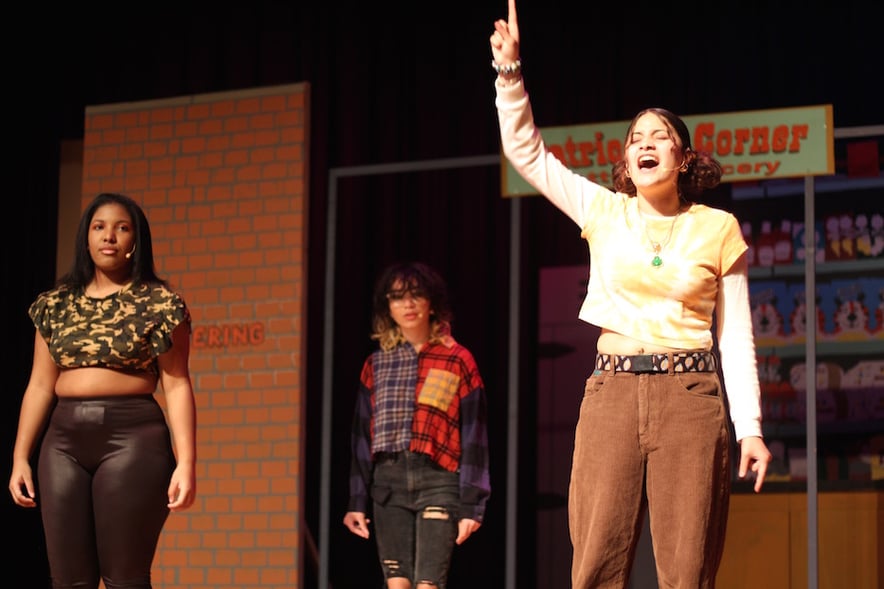 Janae Branham as Paradice and Regina Ines Santana as Brooklyn. Pictured in the background is Mikalia Matta, who plays Brooklyn's mother Faith and several ensemble roles.
It was "a roller coaster," he added. Rights to the show, which the New Haven Public Schools district agreed to cover, took longer than he'd hoped. Then scripts and music didn't arrive until late February. As soon as he had the show in hand, he got to work. Like arts teachers at Cross and Co-Op, he's recognizing 2022 as a rebuild year, in which he is working to reconstruct a program that the pandemic blew up.
He had help along the way. In Santana, a senior who wants to run her own nail salon, Scurry found a Brooklyn who could bring the play to life. She and Scurry "go way back," she said—her sister Noraida acted alongside Scurry at Cross. The two shared a stage in Arts In CT's 2017 production of Hairspray. When Scurry and Kane both asked her to come onboard, she didn't need convincing. From the moment she stepped onstage during auditions, Scurry knew that he had found the heart of the show.
Santana is quirky—she's a student who hand-beads her shoelaces and draws tiny, multicolored sunrises and squiggles on her black canvas low-tops. She can sail through the script without inhibition, morphing from a weepy baby Brooklyn to a musical powerhouse on a dime. Monday, she bounced into rehearsal with a tampon up one nostril, in an attempt to stop a nosebleed from her allergy medications. It didn't stop her from belting just minutes into the first act.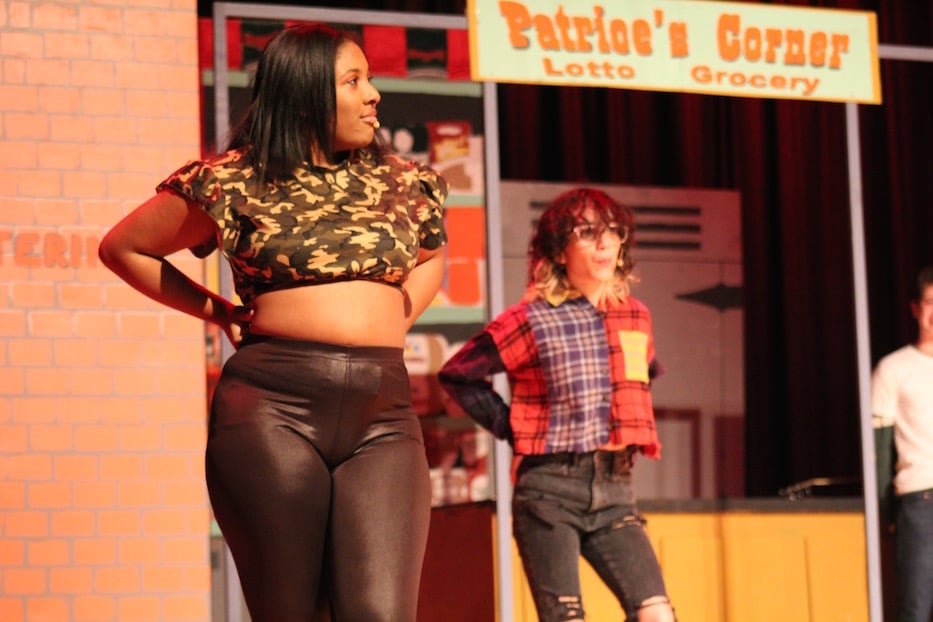 Branham as Paradice. "It's the type of family connections that we have here," she said of what keeps her coming back to the club. "I tell them stuff that I wouldn't tell my whole family. I feel like I belong."
But the show does not belong to her; BKLYN gives every character a chance to shine. As Paradice (so named "because I was born with nothing but a pair of dice around my neck") Branham allows herself to explore what it means to be jaded, jilted, manipulative, past one's prime—and not ever entirely evil either. She may be fiercest when crooning "Brooklyn In The Blood," but shows the audience how layered her trauma is—and high how high her defenses—in slower, quieter pieces including "Raven."
As she pirouettes across the stage in a quilted plaid shirt, Matta shows the audience every which way Faith has tried—and failed—to move through her thick grief in Taylor's absence. When she takes Brooklyn by the shoulders and sings a lullaby, her voice is ethereal and wispy, with something otherworldly that tries to nudge its way through. She becomes just as integral as a member of the ensemble, shape-shifting from music announcer to background vocalist to a spectral presence.
Marchand, whose ex-military Collins struggles with severe PTSD and substance use disorder, has found a sharp, hard edge in his voice, where a steely note can transform into a growl in seconds. When he debates Brooklyn on the merits of truth, he takes on the world-weariness of someone much older than a junior in high school. It's a reminder that the past two years of pandemic learning may have left students uniquely suited for a play in which trauma, memory, and a hunger for human connection all play a central role.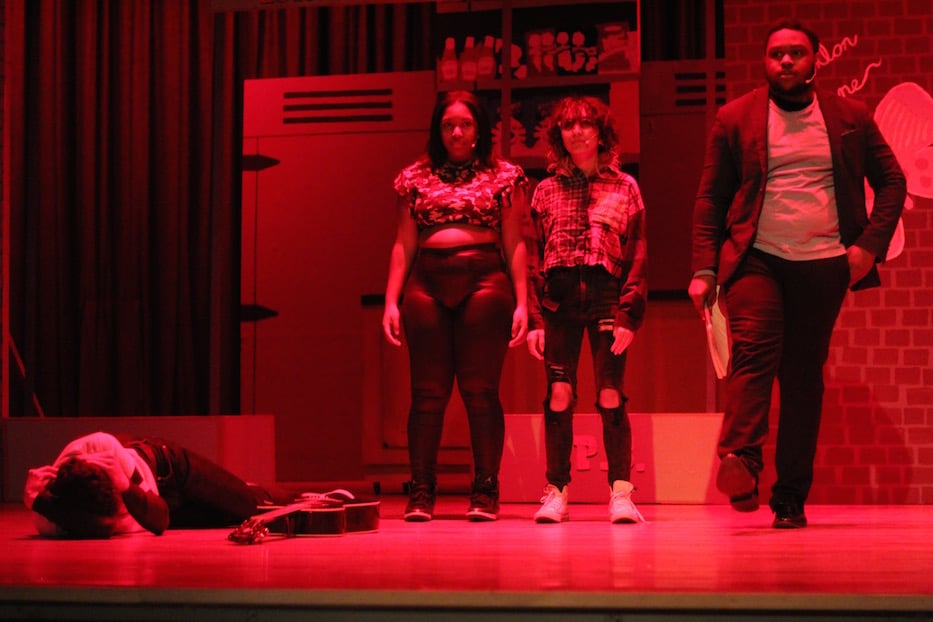 Marchand (on the stage) as Taylor Collins in a memory sequence. Branham, Matta, and Scurry all double as ensemble members.
At a rehearsal Monday night, students stepped onto the stage as jittery upperclassmen and left as storytellers and chosen family, often leaning on each other as they pushed through hours of rehearsal. By 5 p.m.—a full 90 minutes before a run-through started—several of them had arrived just to spend time with each other in the auditorium. In the pit, Marchand ran through song selections with Kevin James, still a fresh-faced, freckled high school kid in a soccer hoodie. Less than an hour later, he was in full costume as a veteran-turned-street musician at war with his own demons.
In the back row, Branham chatted with stage crew members Mekhei Johnson, Katrina Evans, and Amir Jihad Lee. All juniors at the school, the four still remember the day that The Wiz was canceled—and have returned to the Academic Theatre Company as a way to move past it. Branham, who plays Paradice in the show, was an ensemble member in The Wiz. When Covid hit New Haven, "it was stressful, depressing," she said. "The pandemic piled on a lot."
In the thick of Covid, Branham turned to her theater friends for support—and got it, every time. When schools closed their physical doors, she and her peers met on Google Meet and Instagram, trying to keep each other grounded. There were times they did warmups together just to keep each other fresh, tech glitches and all. A year ago, she chose to remain online when schools reopened for hybrid learning. When they reopened fully last September, she knew exactly who to gravitate back to. The thing that got her through was her friends, she said.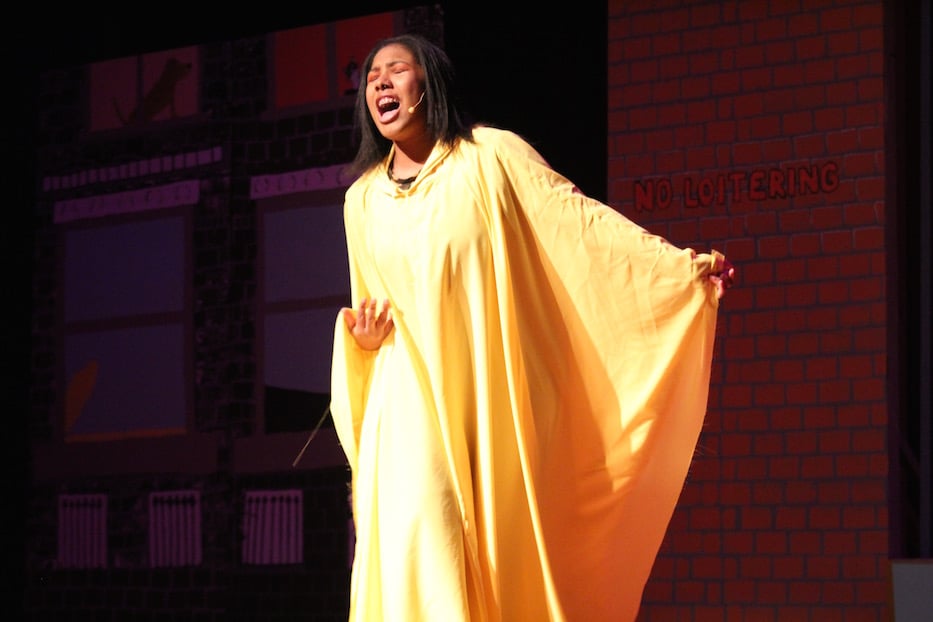 She now thinks of them as family. When her mother proposed a move to South Carolina earlier this year, she asked if she could finish high school in New Haven first. So far, she said, that's the plan. For the aspiring actor, the theater club is a second home.
"When I got here, I was thankful I got to do something I really wanted to do," she said. "It's the type of family connections that we have here. I tell them stuff that I wouldn't tell my whole family. I feel like I belong."
Johnson, who had been sitting quietly beside her with Evans' head on his left shoulder, jumped in. Two years ago, he was a freshman stage manager in training when The Wiz was postponed, and then canceled. He had just set the lighting cues, mastered the play's timing, and "gotten the hang of everything" when the school announced that it was shutting down. He remembered feeling crushed. Now in his junior year, he's grateful to be back in person with many of the people who were training right alongside him. He is the production stage manager on the show.
"It feels amazing to come back," he said. "There's a lot of energy. Even though Covid did play a big part, we always had each other's backs. Ain't nothing that stopped us from being together."
"We are a family," agreed Lee, who is the director of hospitality and a member of the stage crew. "We all have a good connection, and we love each other a lot."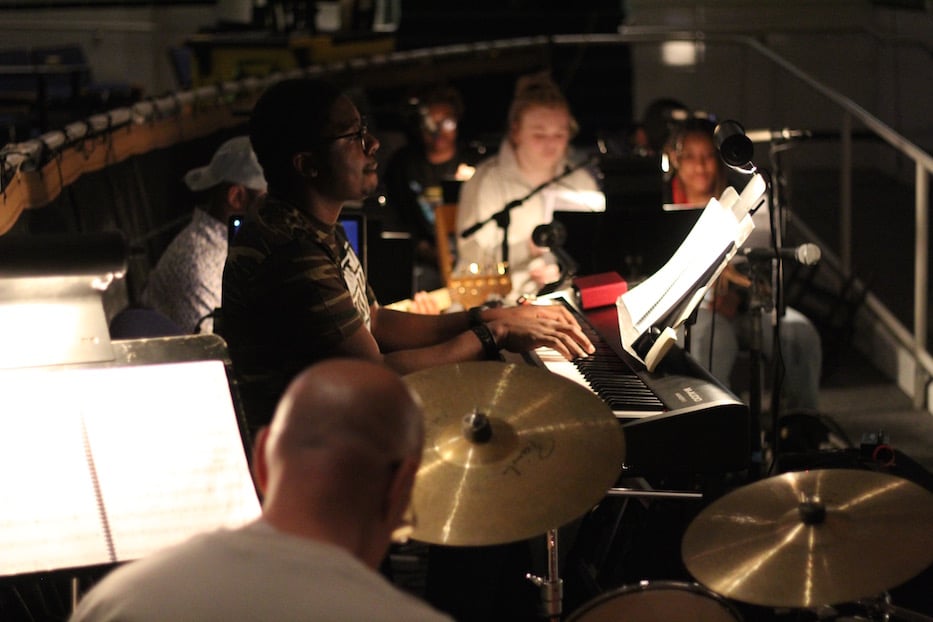 There was not a single cast or crew member, in fact, that didn't use the word "family" when talking about the return to the stage. The club is a family to William Jessie Nix, a senior who is headed to Central Connecticut State University for criminology. It's a years-in-the-making family for Santana, an aspiring Broadway star who was not part of The Wiz, but heeded the call when Kane "was like, 'we need you here.'" It's a tight-knit family for Marchand, who said he is inspired to step up his own acting when he sees other students onstage.
Monday night, that sense of family extended to the production team several times over. As music director, James has built a pit in which musicians outnumber cast members, and conjure up a sound that feels Broadway-ready. Ideas Unlimited founder Richard Ives, who did tech for Freaky Friday at Cross earlier this year, has come in to help with sound and lighting. Kane, an English teacher at Hillhouse who has become a beloved fixture in the club, stepped on as producer and built an entire set on the stage.
No detail slipped past him: there are dense storefronts, layers of brick and concrete, stacked milk crates that double as narrative devices. A graffitied sign and matching butterfly reads "Le Papillon Parisienne," in a nod to the name French newspapers gave Brooklyn's mother as she danced long ago.
Monday it rippled, electric, through the auditorium as actors took the stage for warmups. With Matthews out for the day, Scurry hustled up the steps in a blazer and slacks, a thick script in one hand. Onstage, Santana rocked her head, a tampon string still hanging from one nostril. Fellow actors gathered around her, paying it no mind. In the pit, James hit a staccato beat on the keyboard. Tajudeen and Kearse snapped instantly into motion with the music.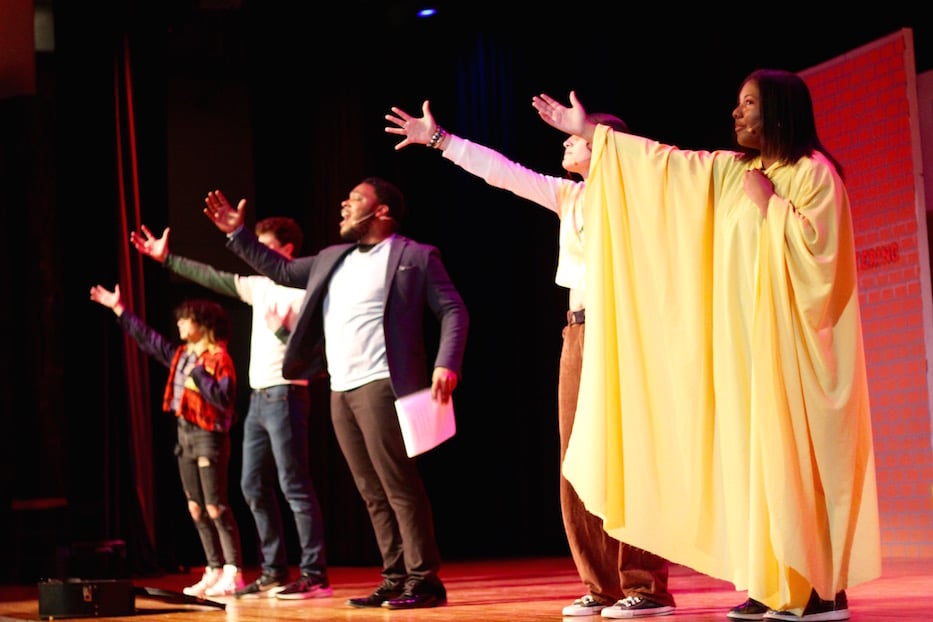 Students practice final bows.
"This is how we harmonize/Na na na na na na na na na na," students sang, splitting into perfect four-part harmony as they danced in place. Twenty six months of silence collapsed in on themselves in seconds. James burst into a big smile at the keyboard. Students raised the volume. "This is how we harmonize! Na na na na na na na na na na!"
In just 10 minutes, they would be back on the stage in character, immersed in the grit and fantasy of their New York. Before actors finished makeup and took their places, Scurry paused. His voice, usually rich and resonant, was almost prayerful. He looked at the actors and then back out at the empty auditorium, where he hopes for a full house on Thursday night. Then he looked back to the set, where the Kingdom of Oz never got to see an audience.
"This is a moment that never got to happen two years ago," he said. "We never got to three days before. So let's just live in the moment of this show for the next two hours. Let them [the audience] get a piece of what it's like to be on Flatbush Avenue with these five homeless people."
"I'm extremely proud of these kids, because as hard as I've pushed them for the past two months, they haven't crumbled at all," he later added. "They rose to the occasion. Do they have their days? Of course they do. But they're really, like, persevered and pushed through every single note and every single trial that we've had this year."
BKLYN runs May 12-14 at James Hillhouse High School, 480 Sherman Pkwy. Tickets and more information are available here.