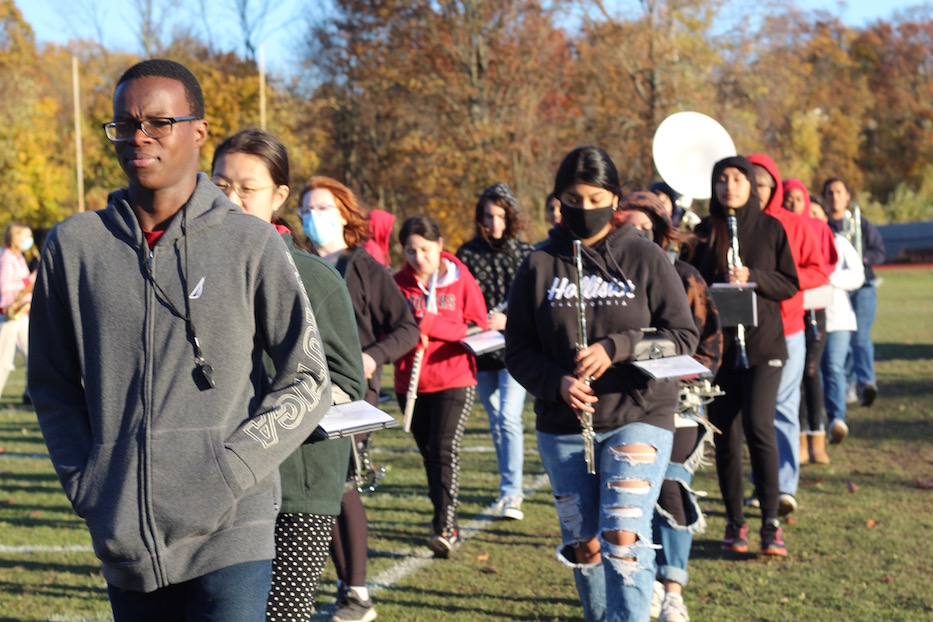 East Rock | Education & Youth | Arts & Culture | New Haven Public Schools | Wilbur Cross High School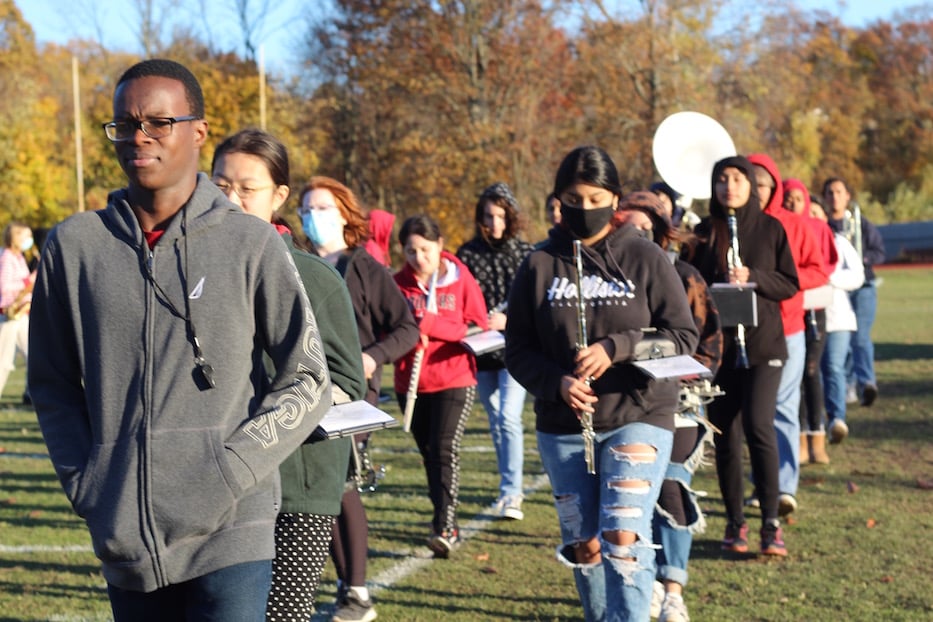 Jordan Wabahati, now newly minted as Mr. Wilbur Cross 2022, leads the band across the field. They will play the halftime show at the Elm City Bowl on Thursday. Lucy Gellman Photos.
Jordan Wabahati stood at the 50 yard line, a black whistle glinting in his mouth. Some 20 feet away, 40 musicians waited at attention. A bone-white sousaphone peeked out from the end of the group. Flutes and soprano saxes caught the sun and sparkled. Wabahati's arms sprang into motion, and suddenly the drums were hammering out a heartbeat that conjured The Sugarhill Gang.
Musicians started to sink into the music. Wabahati swiveled, suddenly in motion, and exploded into a smile.
Wabahati is a senior at Wilbur Cross High School, and the drum major behind the newly-reborn Wilbur Cross High School Marching Band. This Thursday, he will lead the band as it takes the field at the Elm City Bowl, the annual football game between Wilbur Cross and James Hillhouse High School. For the 40-member band, it tells a story of rebuilding, resilience, and keeping both the beat and the faith during a global pandemic.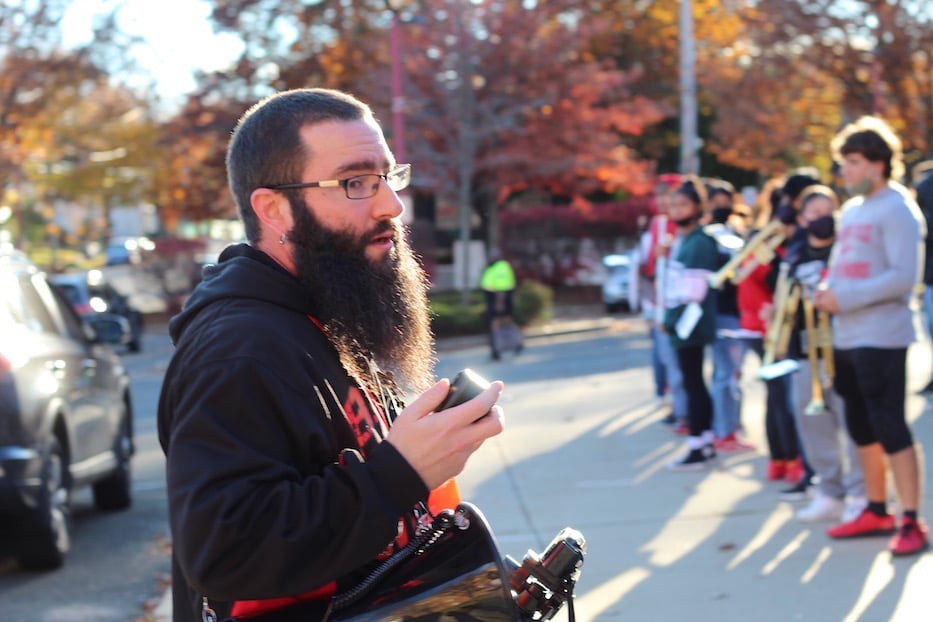 Teichman, who taught band in Queens before coming to Cross in November 2019.
"It's thrilling," said Eric Teichman, who directs the marching band with Cooperative Arts & Humanities High School teacher Matthew Chasen. "It's really satisfying. I'm overwhelmed at their enthusiasm and their excitement."
The performance would have been unthinkable a year ago. In November 2019, Hillhouse all but handed Wilbur Cross their cleats in a 37-0 win, during which the band's performance may have been the most compelling play of the game. Teichman had only been on the job for weeks, after transferring from a school in Queens, and found a band that was prepared. After the game, he dug into teaching with the band.
He had four perfect months in the classroom. Then the pandemic hit.
"Oh my god, it was terrible," he said at a practice last Friday. As schools went remote, band students were suddenly unable to do ensemble work. There wasn't reliable technology for any kind of multi-part music education; audio glitched, cut out, and lagged. He switched his teaching strategy to "basically conducting 50 to 60 private lessons" per week. In the spring of this year, he pivoted to hybrid teaching as half of his students returned to school and another half remained online.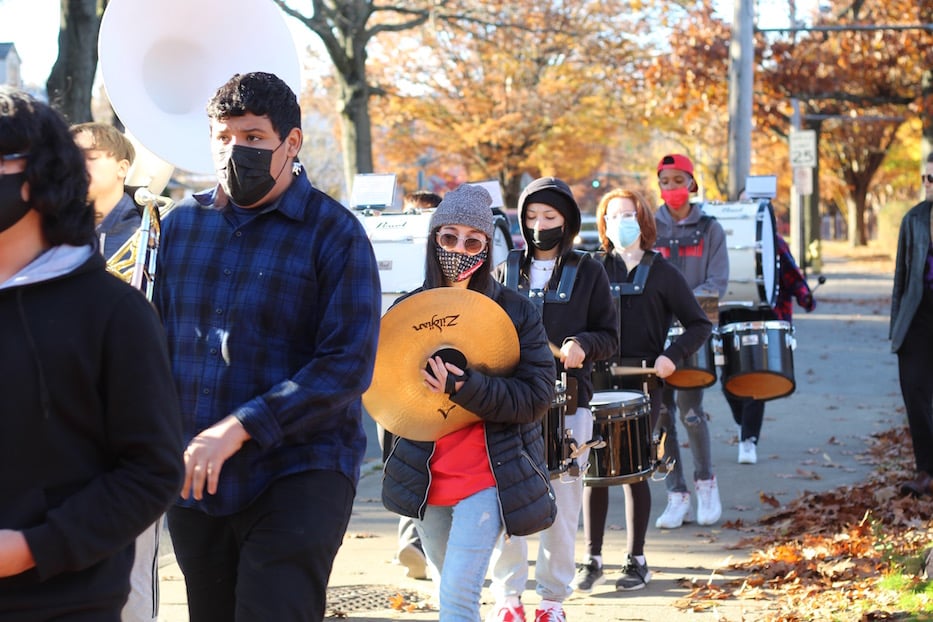 Senior Emily Stewart, who plays the cymbals, said that "it feels different" to be back.
He missed the immediacy of in-person instruction, he said. Teaching video-based lessons meant that a five-second piece of feedback became multiple email messages, sometimes spanning days. It also meant students totally lost the ability to play with each other. In the absence of ensemble work, he stitched together videos of students playing apart, together. It wasn't remotely the same.
At home, it turned out his students were struggling as much as he was. Wabahati, who has played the flute since he was in the fifth grade, suddenly found that it was hard to stay motivated. Senior Erika Velasquez, who plays the clarinet and is now band co-president, realized how lonely an instrument was all by itself. Her own students at ARTE's virtual Saturday Academy kept her going.
"It was really difficult," she said. "I think it was about how disciplined you are. I started practicing in order to grow my teaching skills. I missed the sound. That's what I missed the most. I never realized that [in band] you get closer to people you didn't know, people you wouldn't otherwise talk to."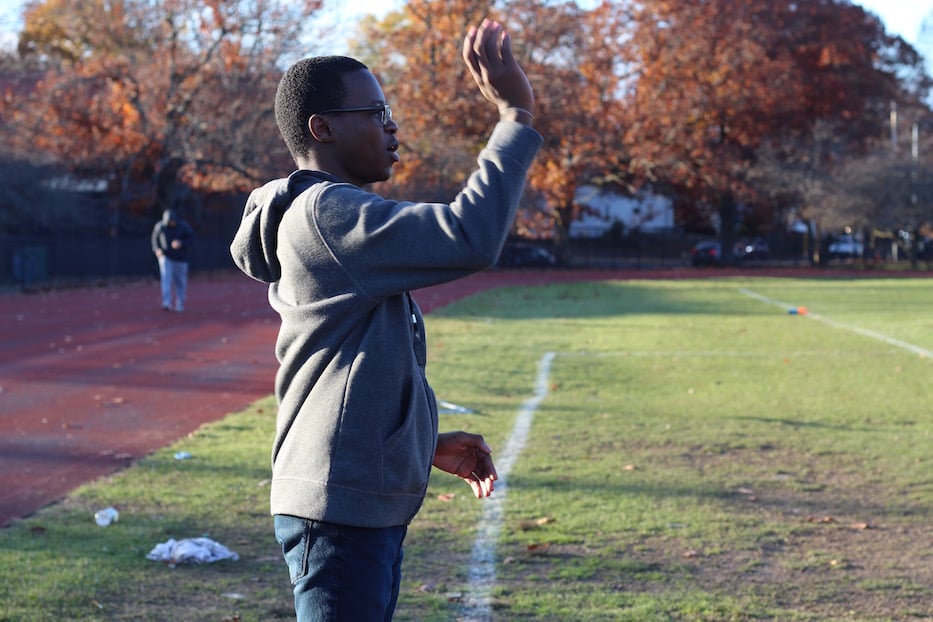 At practice last Friday, the silence and strain of those months melted into the background. A little after 2:30 p.m., students poured out into the Mitchell Drive parking lot with their instruments. Masks came off as they warmed up, newly unsheathed mouths pressed to trumpet valves and freshly-wetted reeds. Several of them buzzed with excitement, trading tidbits about the Coronation dance planned at the school that night. Others checked the doll-sized pages of music attached to their instruments and adjusted the drums strapped to their chests.
"Flutes are in the front! Flutes are in the front!" Teichman shouted through a bullhorn. Wabahati scanned the group, a whistle suspended in his mouth. He blew it, the sound shrill and ringing over the parking lot, and musicians fell into line. At another burst of the whistle, 40 pairs of feet began to step up and down, then march in unison.
As students marched down Mitchell Drive, a few drivers slowed down to look at the impromptu, cacophonous parade on the sidewalk. Afternoon joggers, not entirely clear on what was happening, sprinted to get to the gate before the students did.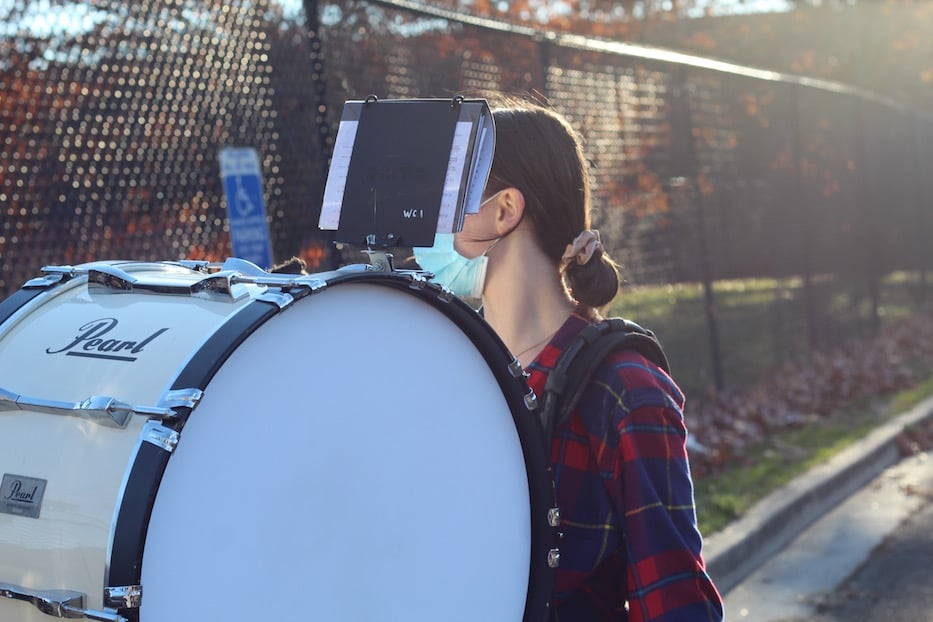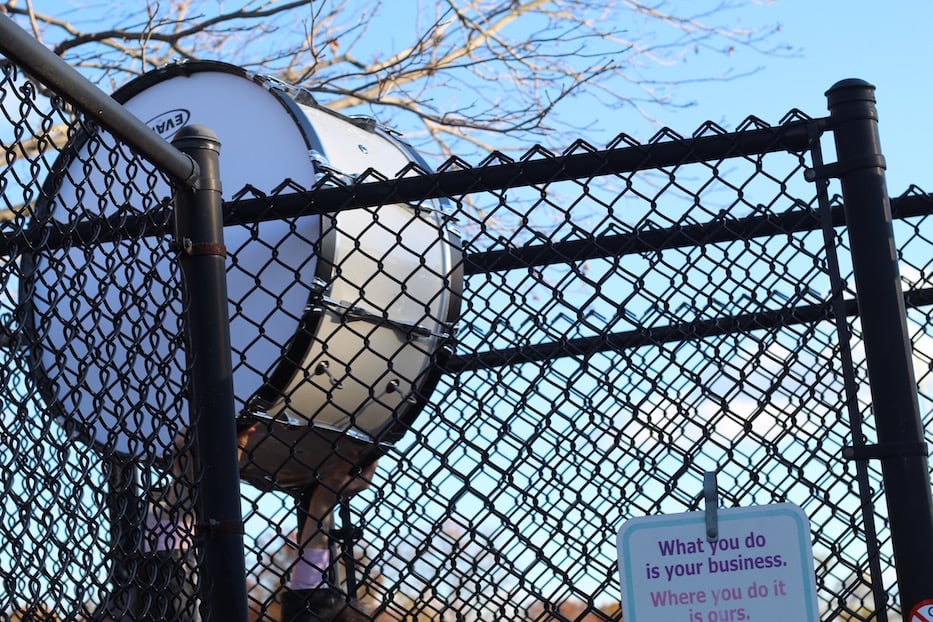 When musicians reached the gate to the field, they faced their first hurdle as an ensemble: the chain-link fence was locked. Students paused, bass drums and marching quads still mounted on their chests. A lone sousaphone player eyed the neat black chain-link with suspicion. For a moment, it seemed impossible that anything larger than a trumpet would fit.
"You gotta get in there!" Teichman shouted. "Let's go!"
Band members formed a careful assembly line, lifting drums above the fence and carrying them in. They went one by one, making sure that each instrument cleared the labyrinthine entrance. Teichman and Chasen watched the careful, improvised ballet as students stretched as tall as they could go, then gingerly passed instruments one by one. No sooner had they made it through then they hustled over to the top of the field for the Star-Spangled Banner.
"Does everyone know their spots?" Wabahati shouted over a wind that cut through the field. He shivered in his hooded sweatshirt. In front of him, students found their places as Teichman shouted out coordinates. Flutes and snare drums peeked out in the front. A trombone eyed Wabahati from the back. On cue, a steady patter-patter exploded from the drumline, carrying the brass and woodwinds as they came in, and split into harmony. Francis Scott Key stirred quietly from somewhere beyond the veil.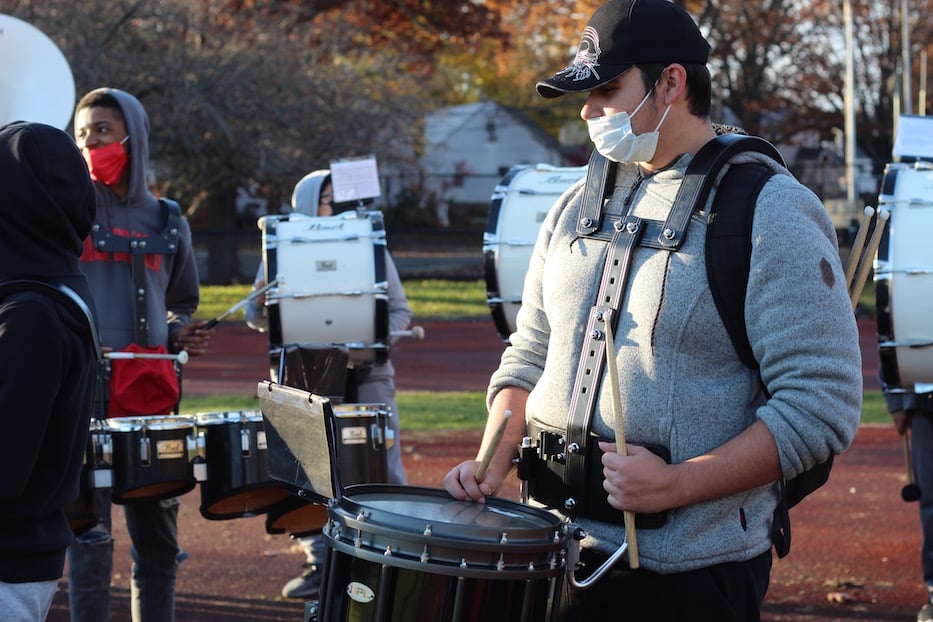 Wabahati and Teichman took them through their paces, which include a halftime show woven with dad jokes and punny plays on song titles. Gathered on the far side of the football field, they cycled through pieces from the American Authors, Bruno Mars and The Sugarhill Gang. At one point, Wabahati checked his spot on the 50-yard line.
He stood completely still, then his arms were cutting through the air. A drumbeat gave the Sugarhill Gang's "Apache/Jump On It" away instantly.
As he turned and began to march, members of the band followed him. He beamed, keeping time even as the temperature continued to drop. Behind him, two neat lines of musicians forked into a Y, and fanned out across the field.
With every step, they made the band their own. The trumpets tilted skyward, finding their light. Percussion stood still, then came in with a drumroll so full that it undulated over the field. Moments later, a hawk glided high overhead, and students were so engrossed in measure 29 of "Jump On It" that they seemed totally unaware.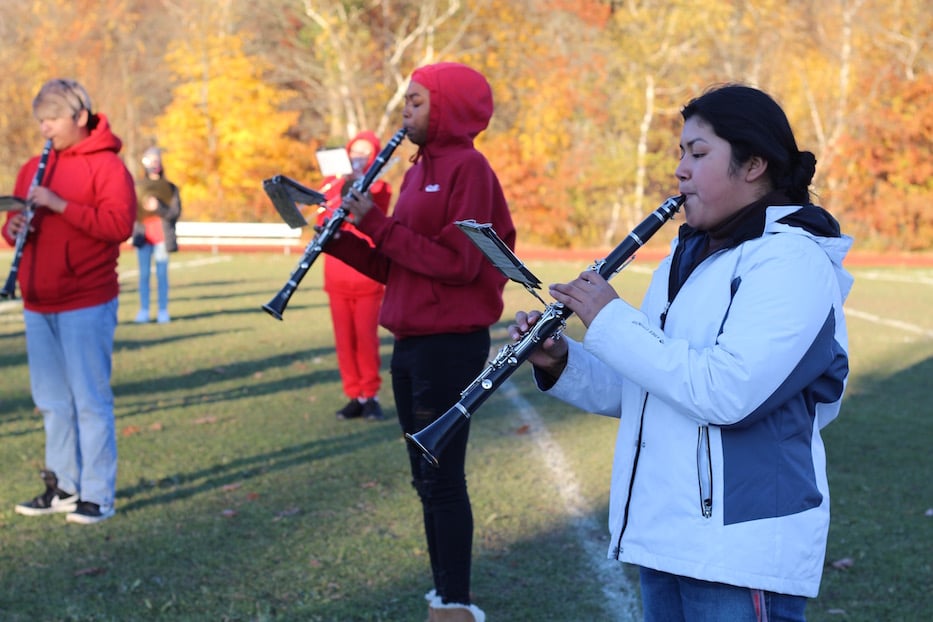 Senior Erika Velasquez, now band co-president, said that she missed the sound.
After practice, Teichman remembered the nerdy, full excitement with which students received their uniforms and instantly started snapping selfies earlier this month. He can't wait to see them take the field on Thursday—even if it means missing an annual tradition of listening to "Alice's Restaurant" with his family. It's the first fall that he's been able to work with Cross students in-person from August onward.
"We're presenting challenges that are attainable," he said. "I want my students to grow, to be challenged, to have success."
"They took super quickly to what we gave them, and it's just been a joy to watch the camaraderie and the joy that they get from being a unit," Chasen added, leaning over a chair in the band room after practice. "That's what high school band is. It's a family environment, with students from different backgrounds who might not otherwise know each other."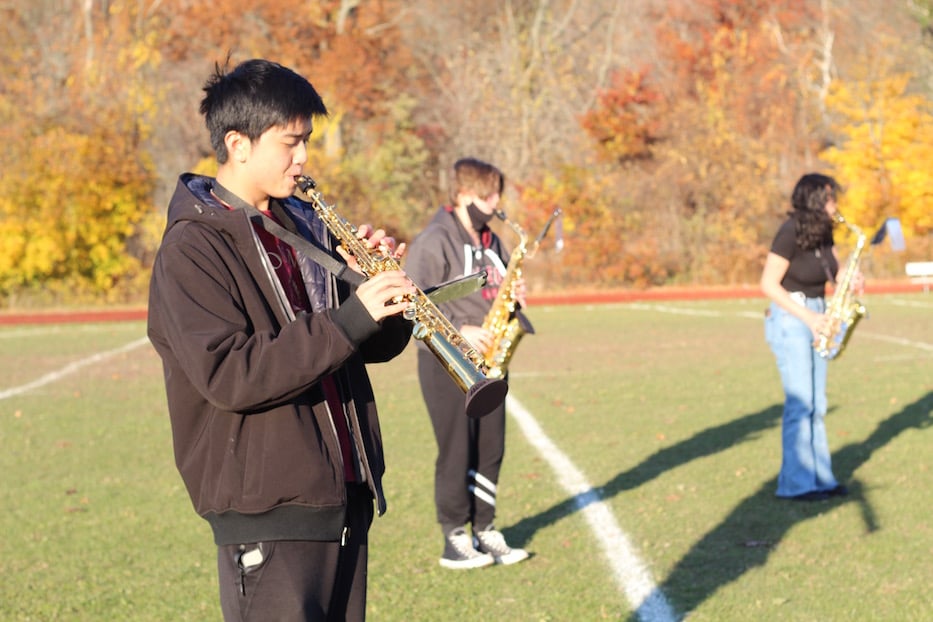 Junior Young In Kim: "It's so amazing."
As he packed up his soprano saxophone at the end of the afternoon, junior Young In Kim said that being back has given him the chance to slip back into ensemble work. When the pandemic hit, he was a freshman. Even after returning in April, he didn't have the chance for group work until the fall. Now he is band co-president with Velasquez.
"It's so amazing," he said. "For over a year, I played by myself."
After practice on Friday night, Wabahati became this year's Mr. Wilbur Cross, the Coronation equivalent of a homecoming king. On Thursday, he'll have the chance of wearing his sash and crown over his uniform. He'll take the field, raise his hands, and lead the band toward a win.
To watch some of the music from the practice, click the video above or visit the Arts Council's Facebook or Instagram.