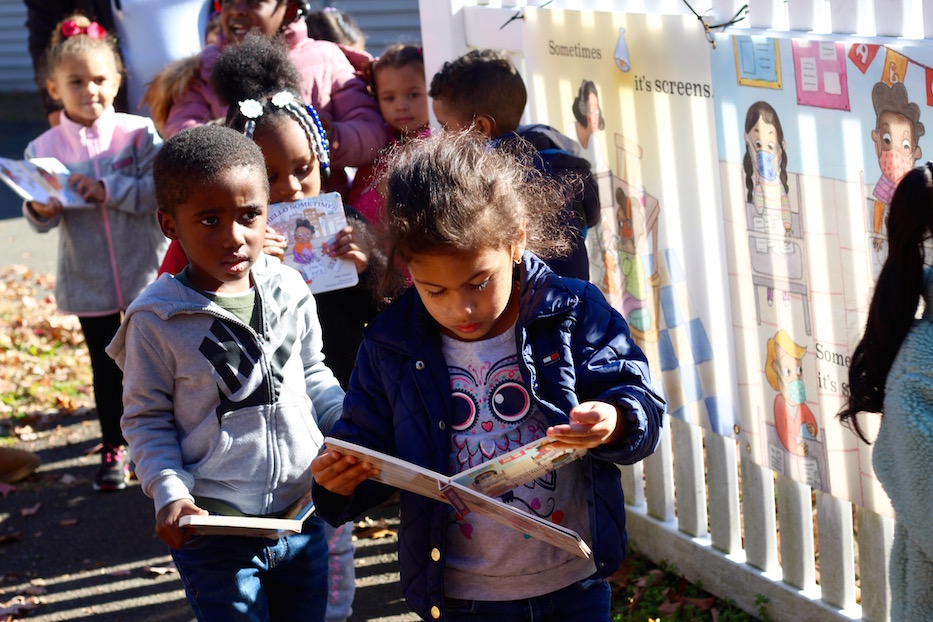 Books | Arts & Culture | West Haven | Literacy | West Haven Community House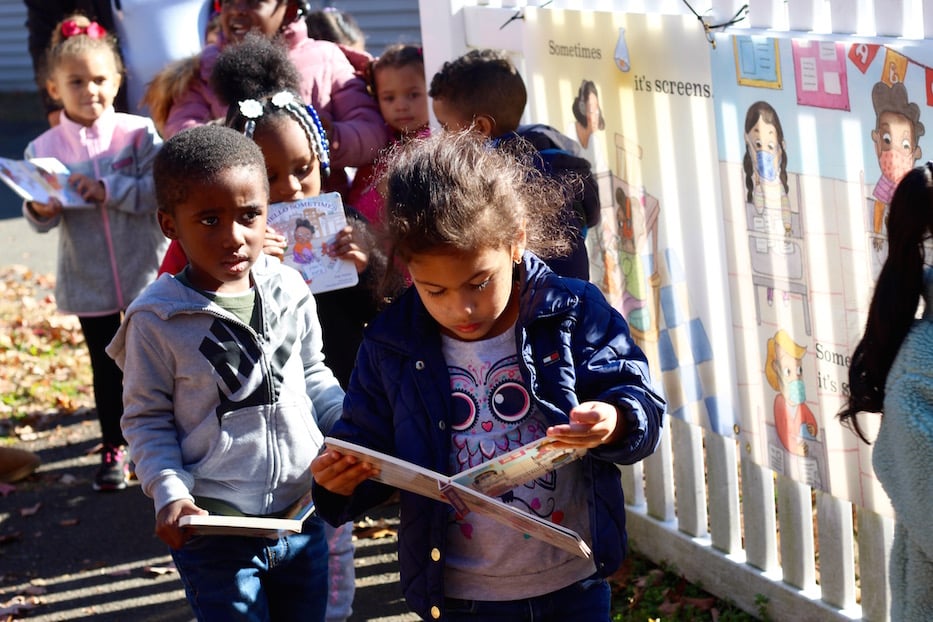 Four-year-old Jaqueline Cintron. Lucy Gellman Photos.
Four-year-old Jaqueline Cintron looked down at the book in her hands. On the page, a little boy walked up a flight of stairs, a tiger cape trailing behind him. In his right hand, he carried a stuffed toy tiger by one arm. His eyes were wide over a red mask printed with whiskers.
To her delight, a larger version of the picture stretched across the fence at her preschool, soaked in sunshine. She looked up and squealed as a life-sized tiger pranced across the lawn and settled in to read with the group. The words "Covid" or "pandemic" or "sick" didn't appear anywhere on the page.
The tiger comes straight from Hello Sometimes, a new Read To Grow board book from author Amy Vatner and illustrator Gabriella Svenningsen. Released earlier this year, the book gives both young readers and their parents a chance to process the ongoing realities of the Covid-19 pandemic without ever mentioning the pandemic by name. Wednesday morning, Read To Grow unveiled a new interactive "storywalk" at the West Haven Community House as part of its work to get the story out.
The Branford-based nonprofit has also distributed 12,000 copies of the book, many of which have been in Spanish. It has funding to distribute 20,000. To buy or request a copy, visit Read To Grow's website.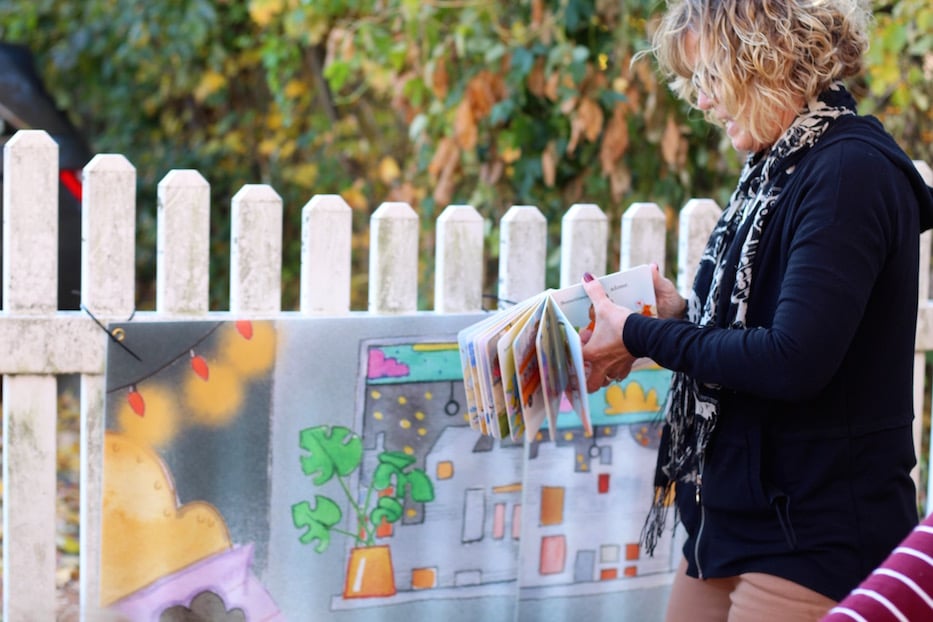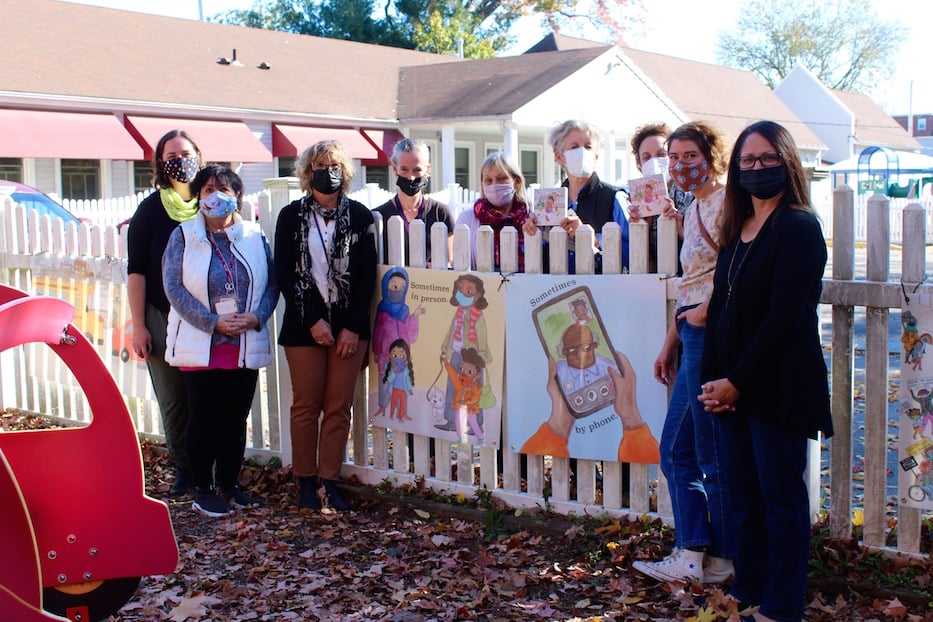 Top: Jean Vitale, executive director of the West Haven Family Resource Center​​​​​. Bottom: Members of Read To Grow, funders, and Svenningsen (at far right, in jeans and pink converses).Suzannah Holsenbeck is pictured at the left, in the green scarf.
"I think Amy really wrote the text to give space for adults to talk to kids about what's happening," said Suzannah Holsenbeck, executive director of the organization, motioning to the young characters in masks. "In the book, there's no mention of Covid. As soon as children see it, they make that connection."
While Hello Sometimes may not refer to Covid-19 by name, it is very much a book shaped by the pandemic. Before the coronavirus hit Connecticut, Vatner was already in conversations with Holsenbeck about working on a book with the nonprofit. She looped in Svenningsen after a friend suggested that the two, both members of a group for children's picture book writers, could be a good fit for each other. When Holsenbeck asked her if she had an illustrator, Svenningsen jumped to mind.
Vatner was still working on the idea when Covid-19 hit the state. Schools went online. Businesses shuttered. Parents were suddenly doing their jobs on Zoom, and trying to shepherd their kids through hours of remote learning. Vatner, an attorney who does work with the Yale Child Study Center, was home with her three kids. So were Holsenbeck, who has two young sons, and Svenningsen, who became a new mom in April 2020.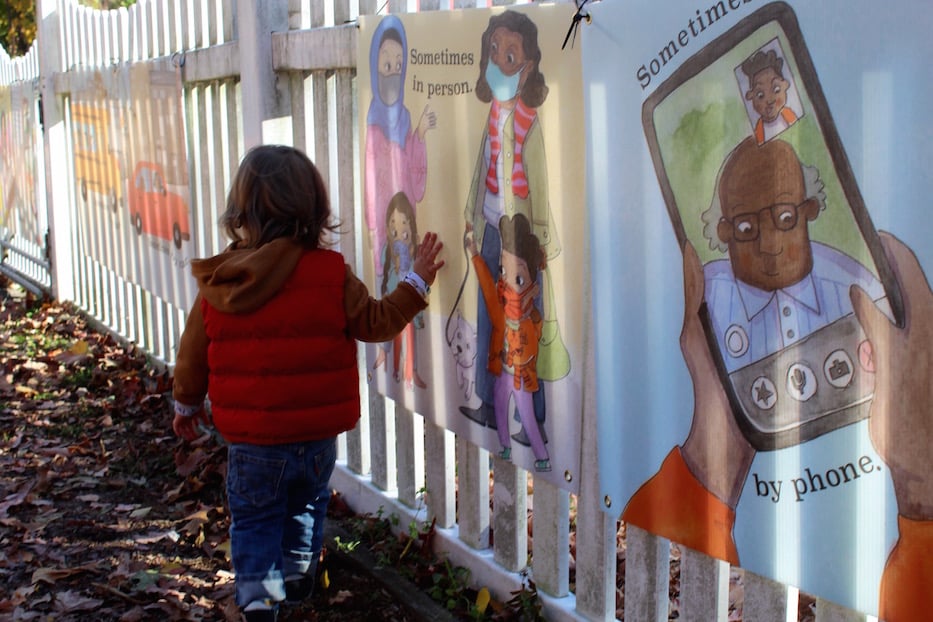 "We felt that this was sort of a magic time to do something that was timely and responsive that would put a book in the hands of kids," Vatner said. Working over Zoom, she and a creative team began to design the book in biweekly meetings. In addition to Svenningsen, it included Holsenbeck, artist and art director Isaac Bloodworth, and translator Viviana Nunez, who worked on the text for a Spanish version titled A Veces Hola. The project secured initial funding from the Valley Community Foundation that made it possible.
"This project was one of the things that certainly kept me going, and I hope kept us all going in a way," Vatner said. "It was very much a feeling that we knew we were going to be able to create something and get something out there that would be meaningful and would be much bigger than us … it carried me through."
She praised Svenningsen, who worked on the illustrations at night and during her son's nap time, as particularly open to redirection. That willingness to engage in long discussions, reimagine the pint-sized protagonist, and go back to the drawing board—literally—ultimately pushed the team to publication.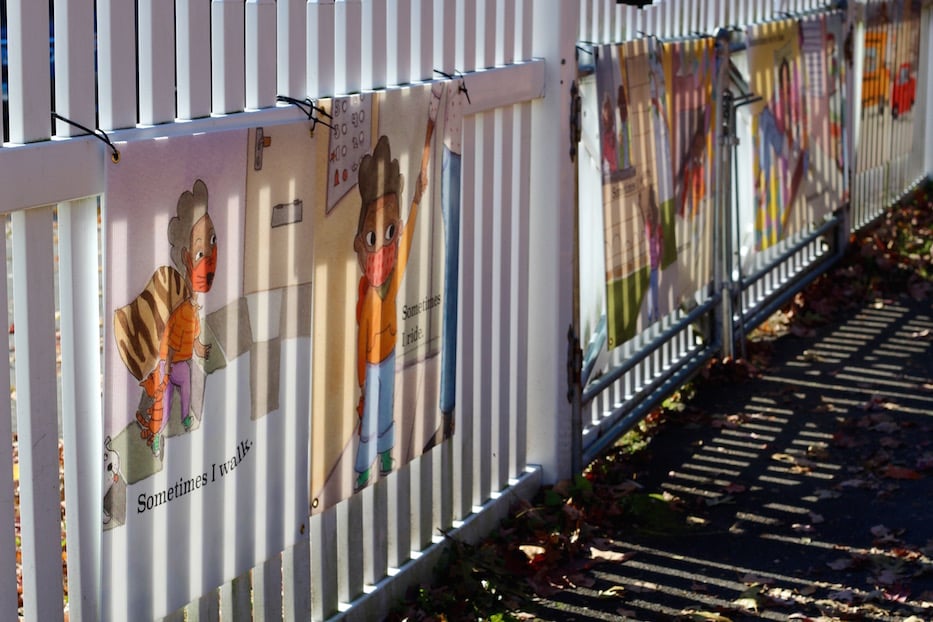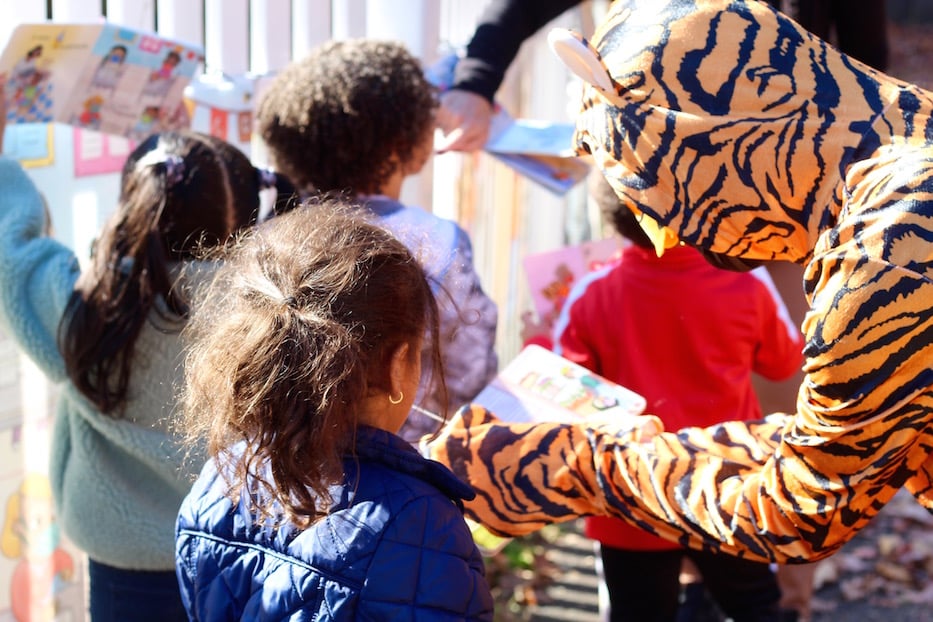 In the finished book, a young boy guides his reader through a world that may look a lot like theirs, with softer, watercolor edges and a sense of wonder and whimsy in even mundane activities. As he wakes up, brushes his teeth, and heads outside, he dons a cloth mask in public—and watches as other kids do the same.
The mask is on as he heads to school, learns to skate, waits in a socially distanced line and attends a march with signs that read "Love Is Love" and "Black Lives Matter." It comes off as he cuddles and reads with his mom, FaceTimes with grandparents who cannot be physically proximate, and goes to school virtually.
It's a wildly accurate portrait of the past 19 months, written in clean, simple verse and bright illustrations for young readers and adults alike. In almost every frame, he is accompanied by his comfort object, a plush tiger who is sometimes dragged by one hand and sometimes nestled into the crook of his arms.
The illustrations and text are deliberately open-ended, Holsenbeck said Wednesday. While adults may see one thing—a Black Lives Matter protest, for instance, or a classroom now fitted with plexiglass partitions—young readers are encouraged to draw and talk through their own conclusions. When Holsenbeck's older son read the protest page, for instance, he saw it as a celebration.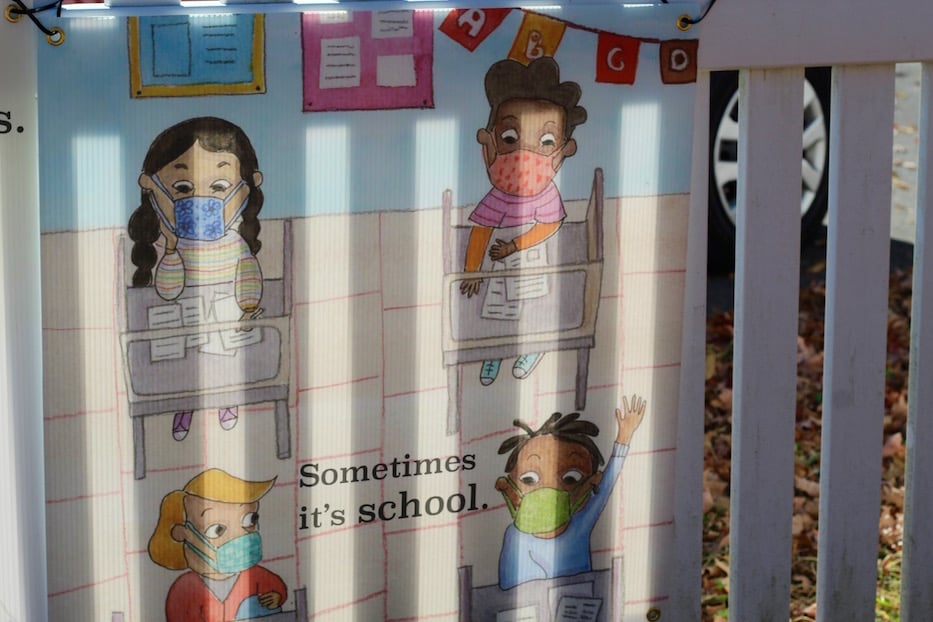 Svenningsen, a senior museum assistant at the Yale University Art Gallery who gave birth to her son Abe in the early days of the pandemic, said that the project gave her something to work on when the world seemed upside down. After coming home with a newborn, she worked on the book at night and when he was napping. Almost all of her work starts with real-life materials, from which she layers color using watercolor and pencil.
Holsenbeck, whose sons are now three and five, said that it has also helped them talk about some of what is going on. Her husband is a nurse, meaning that he would come home, strip down, isolate his work clothes and get right in the shower after work. Both of their sons "were early readers" of the book, she said, learning from it in real time. They still turn to it as a tool.
Wednesday, class after class of chatty preschoolers walked up to the storywalk panels, some running their hands over the flat images. Jean Vitale, executive director at the West Haven Family Resource Center​​​​​, walked with them from panel to panel, singing songs as they spotted letters hanging from the classroom walls and characters who waved at each other. Without fail, Family Support Worker Gaelle Frazer would come running out in a tiger costume, a basket filled with books on one arm.
Both Jaqueline and her young friend, Joseph Guerrra, said they were excited to see the tiger. Jaqueline said she plans to read it at home, where she has her own set of comfort objects from the movie Frozen. Whispering between questions, Joseph added that the book may soon become a part of his daily routine, including storytime with his mom and hours spent with a prized collection of tiny toy dinosaurs.
"This is very important, especially because we've been separated for so long," Vitale said between classes. "This is so relatable to everyone. We're able to get back to our routines."
Going forward, Vatner said she hopes the book can build a national audience, but "whether that happens or not, I can say this has been beyond my wildest dreams." Recently, her son told her that a friend found and read it in his doctor's office. Vatner, who has started reading the book in libraries and classroom visits, welcomed the news.
"People really seem to be touched by it," she said. "Everyone feels a sort of sense of ownership with the book, and I think that's a mark of how inclusive and direct that is. I'm very happy that that has been the response."
To learn more about Hello Sometimes, visit Read To Grow' website.