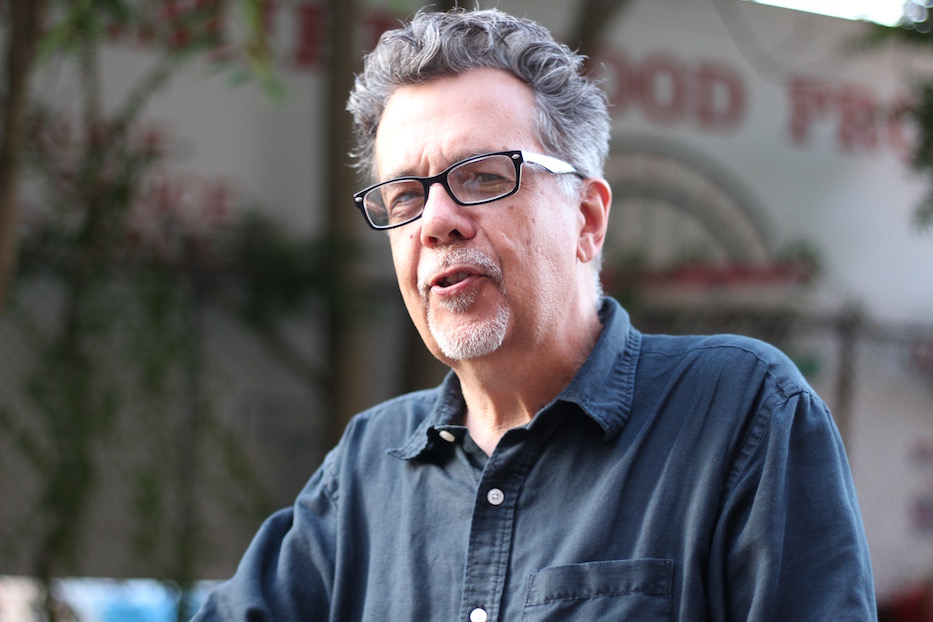 Downtown | Arts & Culture | NH Docs | COVID-19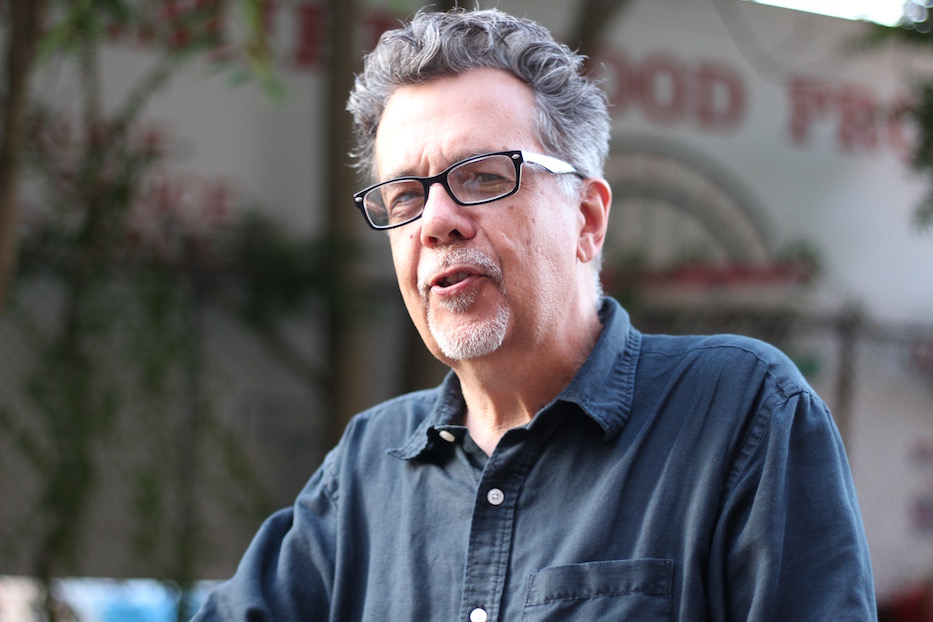 Bechard, at the New Haven Clock Factory last year. Lucy Gellman File Photo.
Gorman Bechard has a routine for this time of year. The smell of documentary film hangs over New Haven. Time speeds up, then slows down. The air is warm and breezy, just right for standing in line outside any New Haven pizza joint. The city hovers on the lip of townie summer. It's time for the New Haven Documentary Film Festival, or NH Docs.
But this year, the city is on pause. Those pizza joints are closed or have moved to curbside pickup. Willoughby's, where he runs on a steady buzz of caffeine, has been doing the bulk of its business online. A pandemic has moved the festival to late August—and that's the best estimate.
Without his normal June, Bechard is looking to a new-old competition to keep students shooting through quarantine. It is spearheaded by filmmaker Lindsay Thompson, a longtime festival supervisor and head juror for the student competition that the festival typically runs each year.
"Every year, I knew that with the student competition, students are usually finishing their films over the spring semester," she said in a recent interview via Zoom. "That was taken from them with COVID. I knew we needed to adapt, and that's how I came up with the Student Quarantine Short Film Competition."
It comes at a time when the festival is in the midst of its own transition. In 2014, the festival was co-founded by Bechard and filmmakers Jacob Bricca, Lisa Molomot, and Charles Musser. For the past years, the bulk of its screenings have been held at Yale's Whitney Humanities Center, with a few satellite events at Cafe Nine and the New Haven Free Public Library. The more Bechard listened to community members, the more he wasn't sure that Yale was the right location for anything.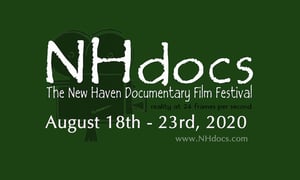 "I remember one young woman said to me that she's afraid to touch the walls of Yale as she's walking by because they're gonna burn her hand," he recalled.
Last December, he announced that NHDocs would be ending its partnership with the university and working more intentionally with the New Haven community. He has also been working on growing diversity at the festival, in both the filmmakers he invites and the audiences that the documentaries attract.
"A lot of the arts programs in New Haven are very much geared towards old, white people," he said. "And so, one of the things we really tried to do with NHDocs is make it by far in the way the most diverse audience, the most diverse collection of artists."
Last year, the festival featured 60 films directed by women. Bechard also made sure to include several international and non-white filmmakers in a weeks-long lineup. While the festival brought in 6,000 people throughout the tristate area, Bechard acknowledged that NHDocs needed to do more to engage the local community.
"We honestly did find out that people weren't coming because of Yale," he said. "As someone who is completely a townie, who works with Yale a lot, I see it."
This year, NHDocs planned to expand its operations from the Whitney Humanities Center to Cafe Nine, the New Haven Free Public Library, and the New Haven Museum. COVID-19 had other plans.
For one, the festival's start date moved from early June to late August. If quarantine continues into the fall, Bechard hopes to move screenings and panels online. Last Saturday, he tested that theory when he screened his film Pizza, A Love Story online for the first time. Community members fought Zoom fatigue to come out—virtually—for the screening.
He and Thompson have been working to also create something for students to do while they are at home. The idea behind the Student Quarantine Short Film Competition is straightforward: Connecticut students to make a short documentary about their time in quarantine using the resources available to them inside their homes.
Participants will have access to a mentor as they shoot and edit—filmmakers Karyl Evans, Suki Hawley, Michael Galinsky, Ed Gendron, Bechard, and Thompson have all committed their time to the project. After they are submitted at the end of June, films will be judged by age group. As dictated by student competitions in past years, prizes will be rewarded to first, second, and third place in each age category.
So far, Thompson has found the diversity of applications astounding. In the 13 or so submissions the competition has received so far, students from 12 to 21 years old have submitted film proposals. A Yale student wants to analyze how this quarantine is "potentially affecting people's subconscious and dream lives."
A sibling duo based in Weston aims to explore the effects of COVID-19 on the environment around them. A New Haven art school student intends to incorporate her choreography in a film about "the coronavirus' effects on mental health in the African-American community." Another wants to focus on the virus' effect on her family by documenting her father as he recovers from breathing on a ventilator.
"There's always something that defines a generation—I look back at when 9/11 happened and all the stories that came out of that even though it was a horrible thing," Thompson said. "Coming out of this pandemic, we're going to be seeing really interesting stories from a variety of perspectives of people and how they got through this. The beginning of that will be this festival and the kids' quarantine competition."
Any Connecticut student, from middle school to undergraduate, can participate in the Student Quarantine Short Film Competition. The proposal form, which is free, is online here.
"No prior experience is required," said Thompson. "If you have a story, please apply."