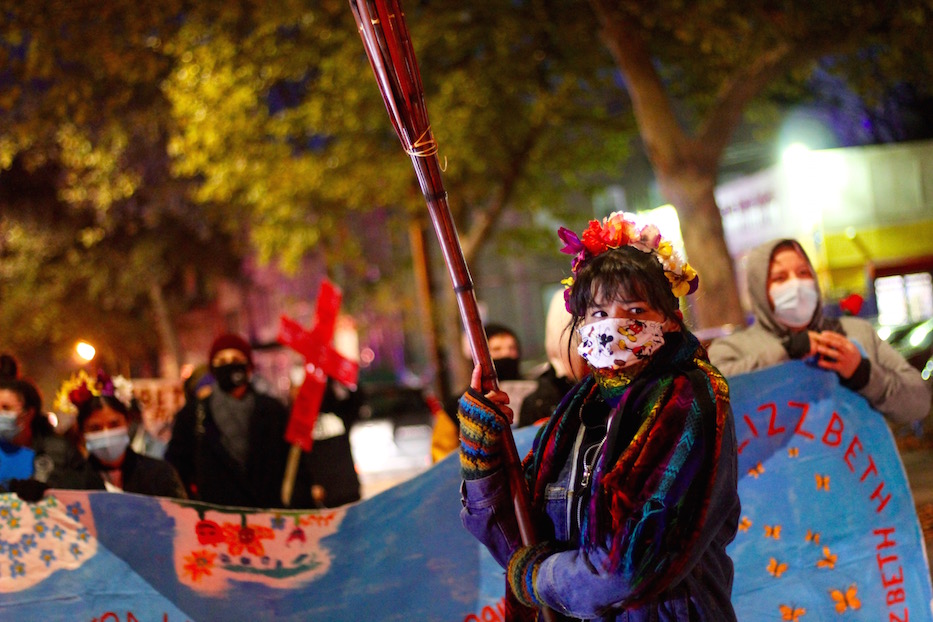 Dia de los Muertos | Fair Haven | Immigration | Arts & Culture | Indigenous rights | COVID-19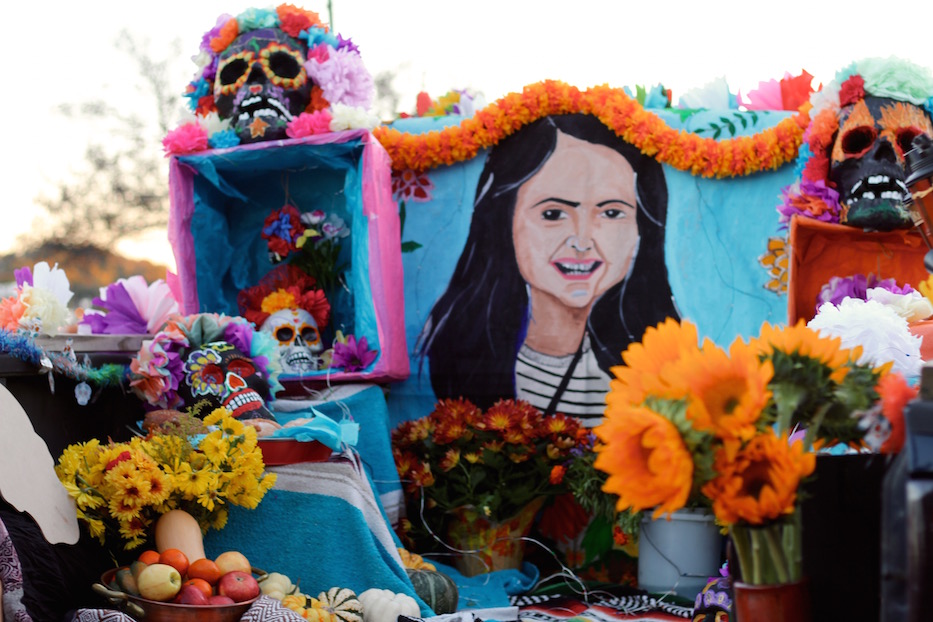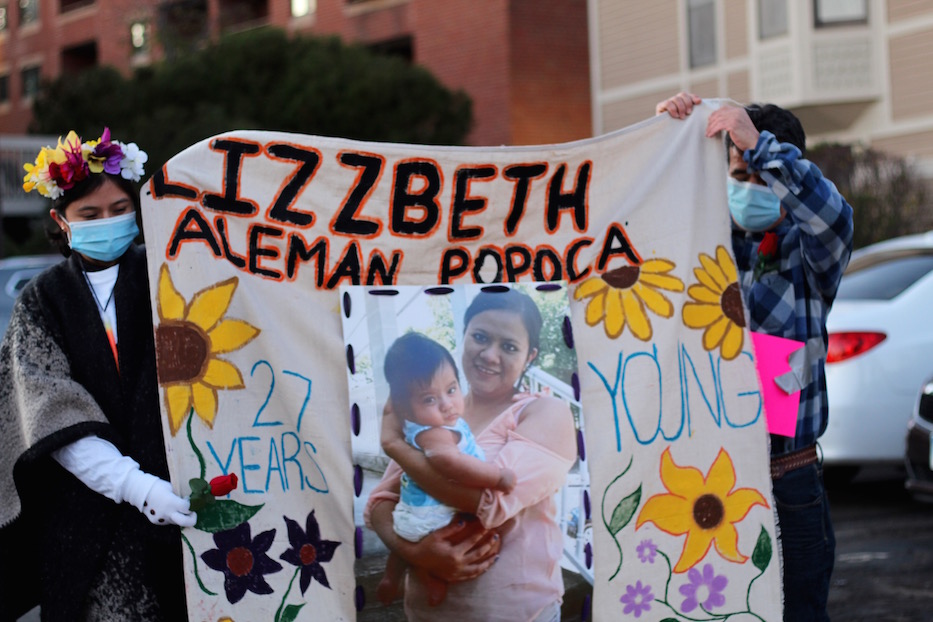 Top: the altar for Lizzbeth Aleman-Popoca. Bottom: Aleman-Popoca's sister Yaneth supports a banner for her late sister. Lucy Gellman Photos.
The truck moved forward as Ana Tijoux' "Antipatriarca" blasted over a speaker in the back. Buckets of sunflowers, daisies, and autumn-colored marigolds bounced to the bass. On the left, a skull flickered white and blue. From the center of a truck-turned-altar, a portrait of Lizzbeth Aleman-Popoca smiled, sending a beam of light to the marchers behind her.
Speeches, song, and calls to action filled Fair Haven Monday night, as members of the Semilla Collective gathered for a march and celebration of Día de Muertos in Quinnipiac River Park and the surrounding neighborhood. The day is meant to honor and celebrate the dead, welcoming their spirits with decorative, often ornate memorial altars, incense and candles, fanfare and song. About two dozen attended the event, meant to honor victims of femicide and state-sanctioned violence.
"Our procession is honoring women, it's honoring Lizzbeth and our sisters," said Vanesa Suarez, a member of the collective and organizer in New Haven. "This is with so much love. We know that when we remember our ancestors, when we remember our sisters, they walk with us, they guide us, and we can feel them. So more than anything, let's remember them. Let's celebrate them always and have them in our hearts."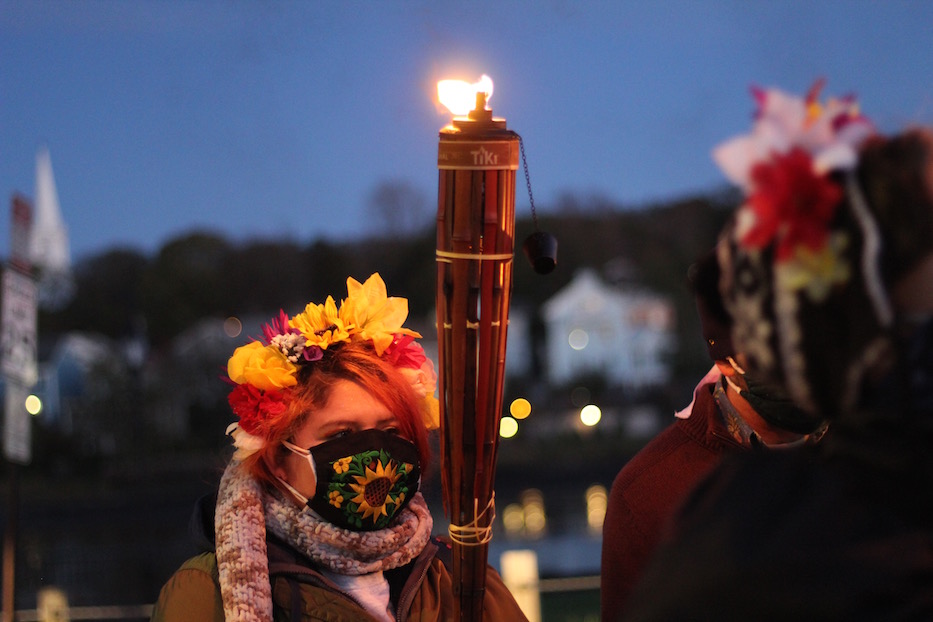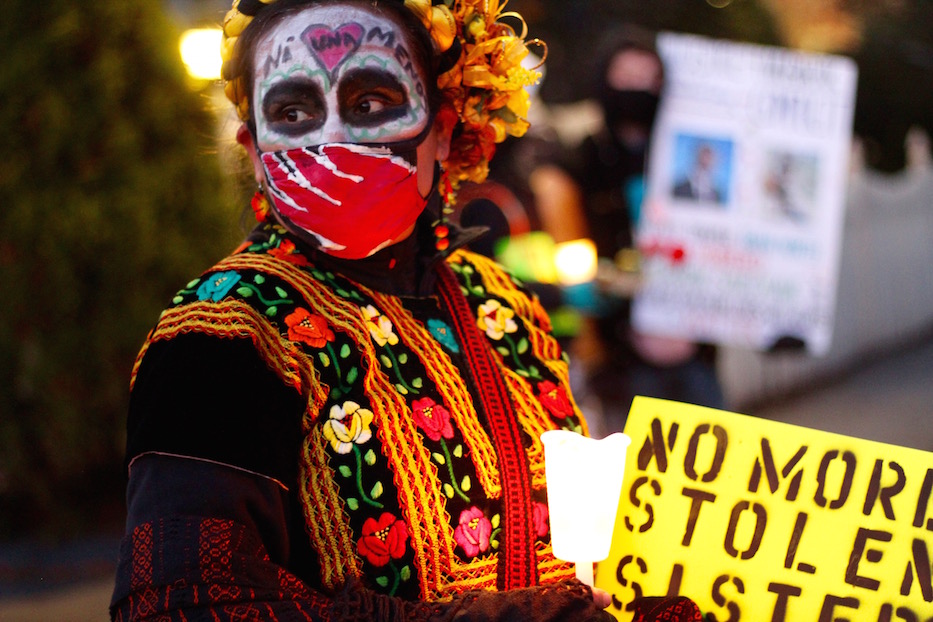 Top: Hazel Mencos, who has been a vocal advocate in the fight for Aleman-Popoca. Bottom: Enedelia Cruz with a sign that reads "No More Stolen Sisters."
The procession began at a dusk in Quinnipiac River Park, criss-crossing Front Street, Chapel Street, Ferry Street and Grand Avenue before turning onto Blatchley Avenue to begin a loop. As marchers donned flower crowns, white shirts and dresses, embroidered shawls and makeup that transformed their faces into calaveras, music filled the night air. From somewhere in the group, the smell of white sage drifted upwards in fragrant wisps.
Suarez handed out candles and tiki torches to those who would be walking, their faces shining yellow and orange in the light. As they assembled behind the truck, attendees picked up signs that read "No More Stolen Sisters" and crosses that read"Ni una menos." At the center of a knot of people, Enedelia Cruz sported a mask emblazoned with the red handprint that has become synonymous with missing and murdered Indigenous women.
As dusk fell, marchers lifted their flames and began to move forward in time with the truck. Drivers slowed on Front Street, some trying to slide by before realizing that they could not get through. Chancha Via Circuito's "La Victoria" sailed over the cars and into the bone-cracking cold night. Marchers let the music do the talking, hoisting up their pink, posterboard crosses that read "Ni una menos. Candles flickered against their faces, illuminating masks with huge, exploding sunflowers and delicate cross-stitched embroidery. The music flipped to Ruby Ibarra's "Us" and the beat rippled through the crowd.
In addition to Aleman-Popoca, the march focused on New Haveners Leila Rivera, Ines Carmen Perez, and missing sex workers Lisa Ann Calvo and Evelyn Frisco. On the front end of a truck, volunteers assembled a collection of photographs, with Breonna Taylor placed in the center like an extra headlight.
A spray of sunflowers—Aleman-Popoca's favorite—sat against the windshield like an offering. Other young faces dotted the space: Jayson Negron and Mubarak Soulemaine, both of whom were killed by police in Connecticut.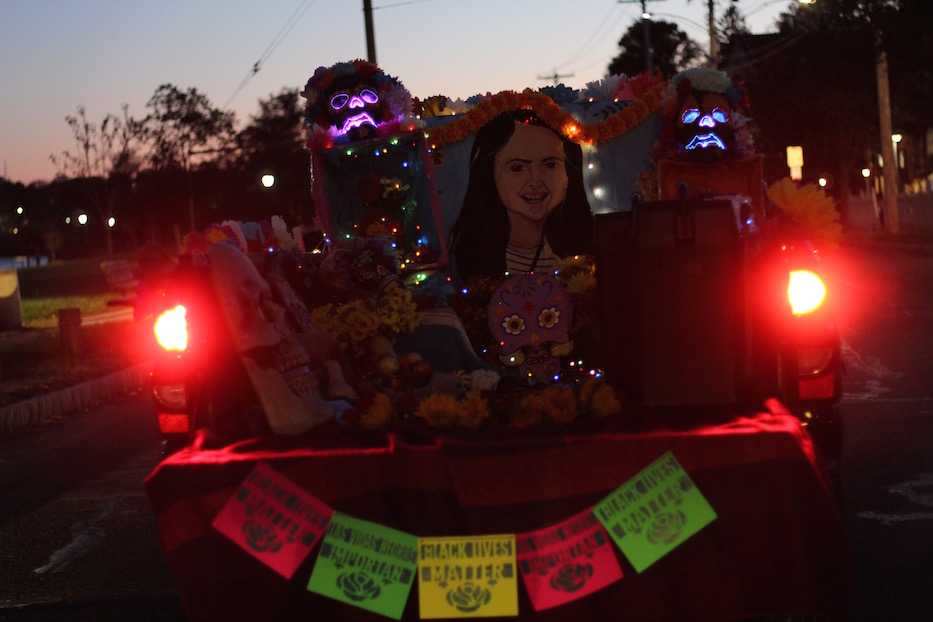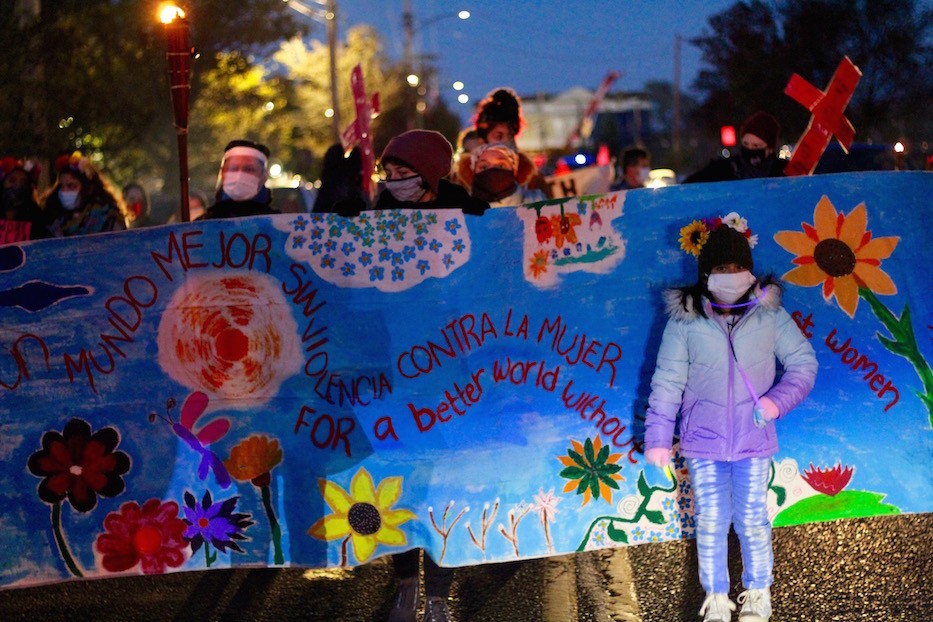 A 27-year-old Mexican immigrant and doting mother to her seven-year-old Astrid, Aleman-Popoca was last seen on July 1 in East Haven, where she was living. She was reported missing on July 3. Her remains were found two weeks later at LoMonaco's Ristorante in Branford, buried behind a dumpster in a shallow grave. In September, a medical examiner determined that the cause of death was "homicidal asphyxia."
East Haven police have yet to make any arrests in the case. Suarez and fellow organizers have worked to bring attention to the case with monthly actions in New Haven, East Haven and Branford.
"I keep fighting, doing this, because I have a niece, and she needs me," said Lizzbeth's sister Yaneth Aleman. "This is a way of remembering my sister when she was alive. It's painful that she's not here."
As marchers turned from Front Street onto Chapel, a few cars honked with impatience, slowing in the road as they looked through their windows to see what was going on. Buses that had been rumbling down Front now waited, cautious. A few neighbors came out of their homes, some with their phones recording the procession. At Ferry and Exchange Street, Suarez stopped the group to speak about Rivera and Perez, both of whom were sex workers who were murdered.
"If you try to look up Leila Rivera, you won't find stories, you won't find a lot of articles—as if she never existed," she said. "But she did. So we're here. We're going to honor our sisters. While the rest of the world is very quick to forget about them and erase them, we will not!"
When a cop car pulled up down the street, Suarez kept speaking, illuminated in the flashing red light. To each name, she urged attendees to bellow presente! in a call-and-response that felt almost like verse.
"They didn't leave," she said of Frisco and Calvo. "Somebody disappeared them. And likely killed them."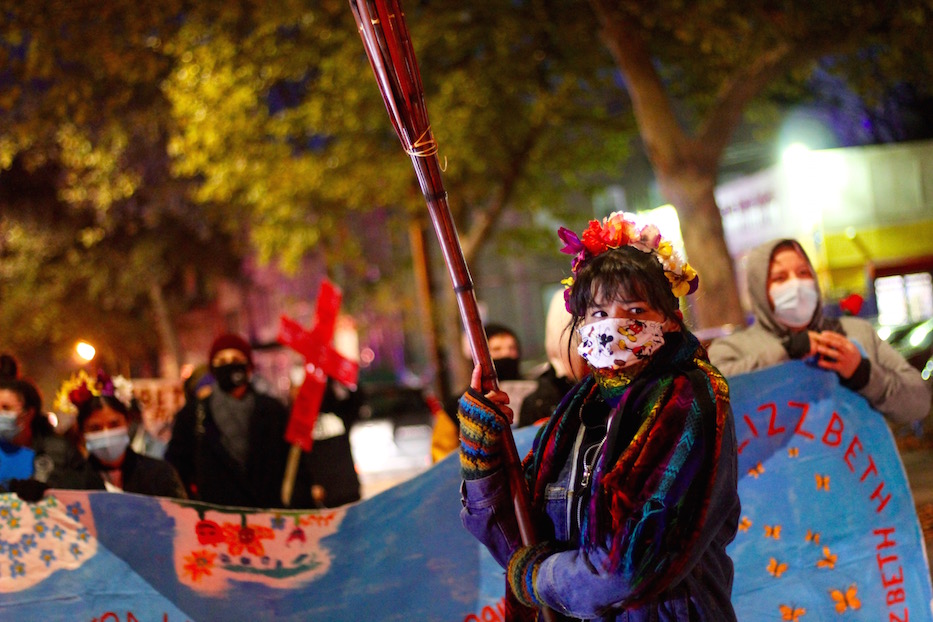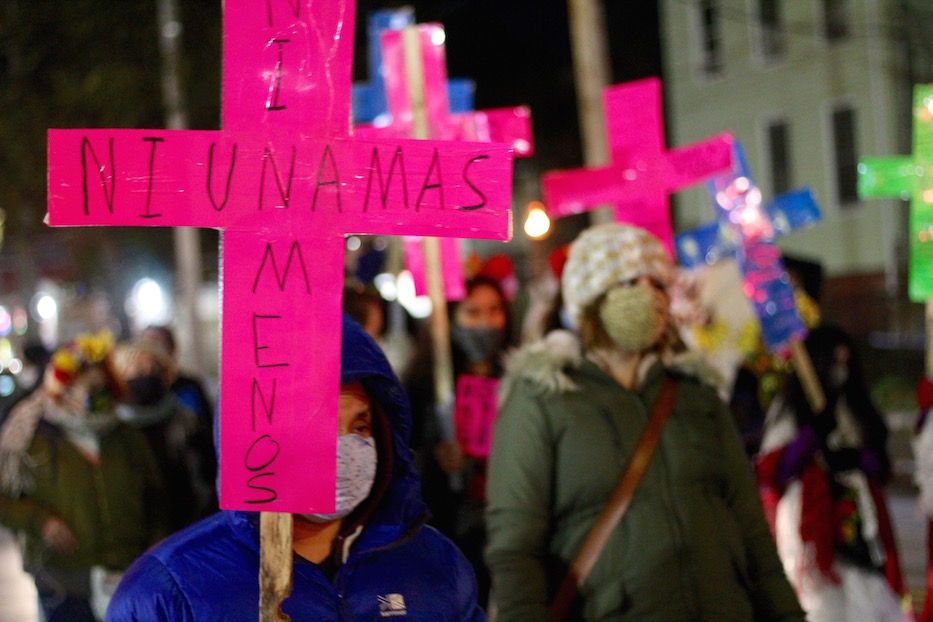 Top: Vanesa Suarez at Ferry and Exchange Streets. Bottom: Marchers.
The group marched onward, bodies dancing to the stylings of Femigangsta and Ofelia Fernández to keep warm in the plummeting temperatures. A few latecomers rolled in on their bikes, and found a spot in the crowd. At Ferry Street and Grand Avenue, poetry cracked through the speaker, coasting over a chorus of drivers laying on their horns.
Semilla member and organizer Fatima Rojas led the group in Vivir Quintana's "Canción sin miedo," a song that finds its roots in Mexico, and has become an anthem against femicide since its premiere in March of this year. In the street, her daughters Ambar and Jade glowed in layers of white, singing along through their masks and careful makeup.
Cantamos sin miedo, pedimos justicia
Gritamos por cada desaparecida
Que retumbe fuerte: ¡Nos queremos vivas!
¡Que caiga con fuerza el feminicida!
At Grand and Blatchley Avenues, organizer Norman Clement took the mic. Clement is a confederate member of the local Quinnipiac tribe and a member of the Penobscot nation. He motioned to the large brick building that stood empty behind him. A lone janitor in a face mask looked out a side window to see what was going on.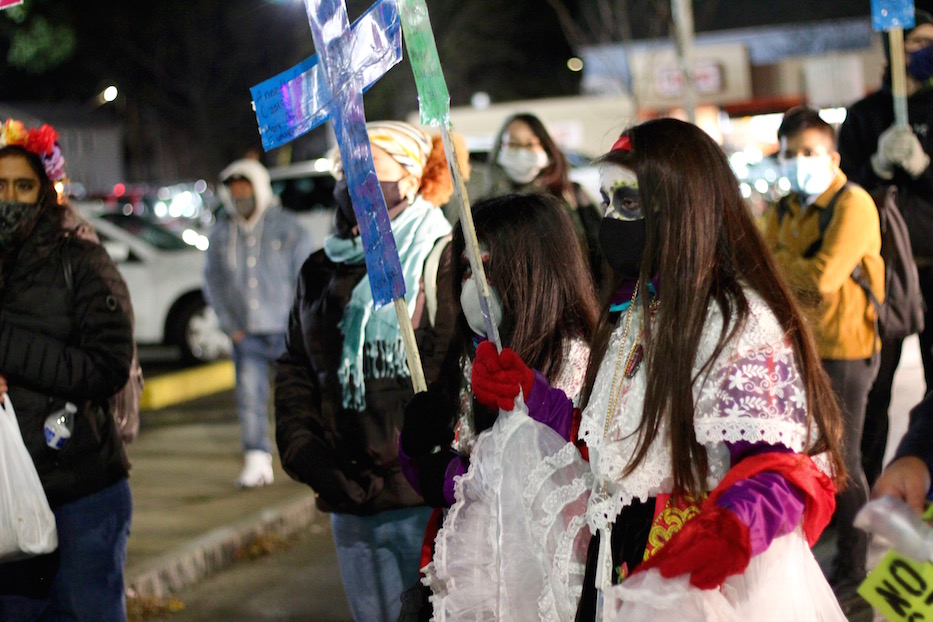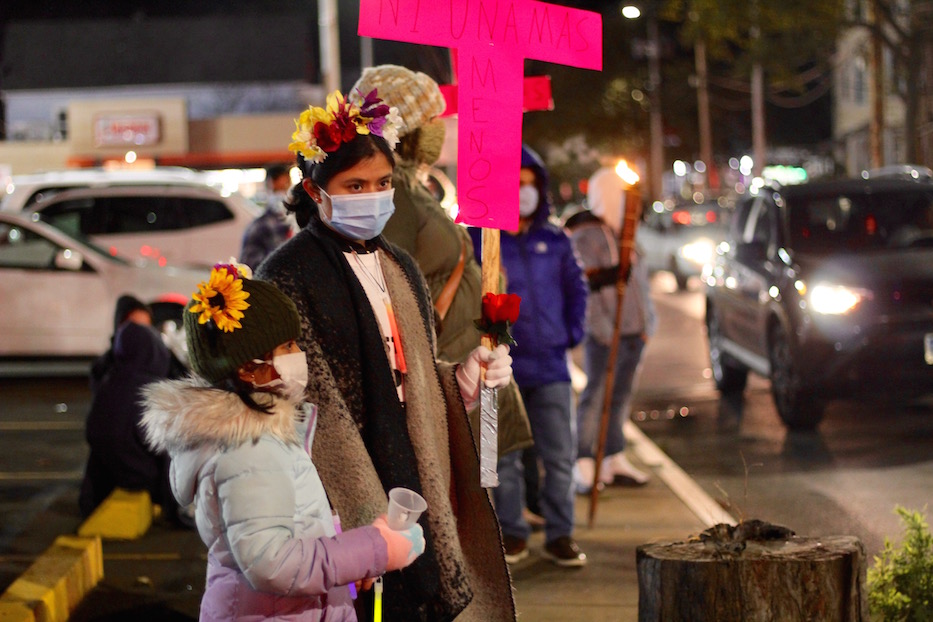 At the beginning of this year, the school was still named Christopher Columbus Family Academy. Then in June—following years of protest and the removal of a Columbus statue in Wooster Square—the city's Board of Education voted to change the school's name. As he looked from the school back to the two dozen marchers, he reminded them that New Haven sits on Quinnipiac land.
He explained that Indigenous Americans led a matriarchal society, upended by white supremacy and colonization. He urged attendees to pay more attention to the epidemic missing and murdered Indigenous women, calling on men in the crowd to "dismantle this patriarchy."
"When we talk about femicide and violence against women, it was Columbus who brought that to our land," he said. "We need to decolonize our lives, our minds, and start a new system. A new system where women are safe. Where women can walk down the street. Where I don't have to worry about my granddaughter being out at 11 at night. Where these children that are here will be able to walk freely, without having to worry about the violence."
Suarez stepped forward to tell Aleman-Popoca's story, alternating between English and Spanish as she spoke. When Aleman-Popoca was 13, she and Yaneth joined their father in the U.S. from their home in Guerrero, Mexico. She was a Mexican migrant woman, with big hopes for her young daughter and hopes of one day becoming an artist. That ended with her untimely death earlier this year. Unlike the case of white author Jennifer Dulos, her name has largely been absent from news headlines.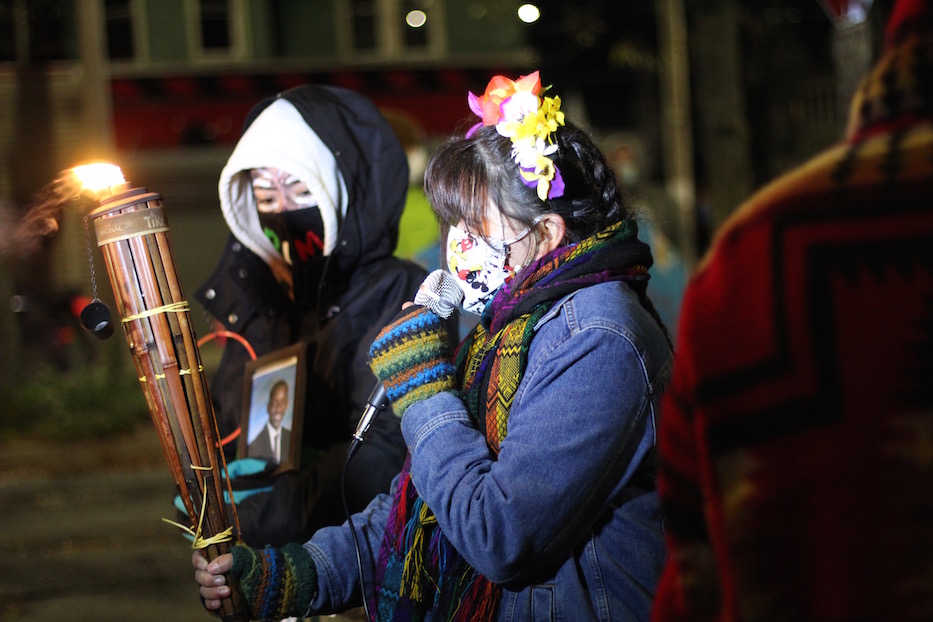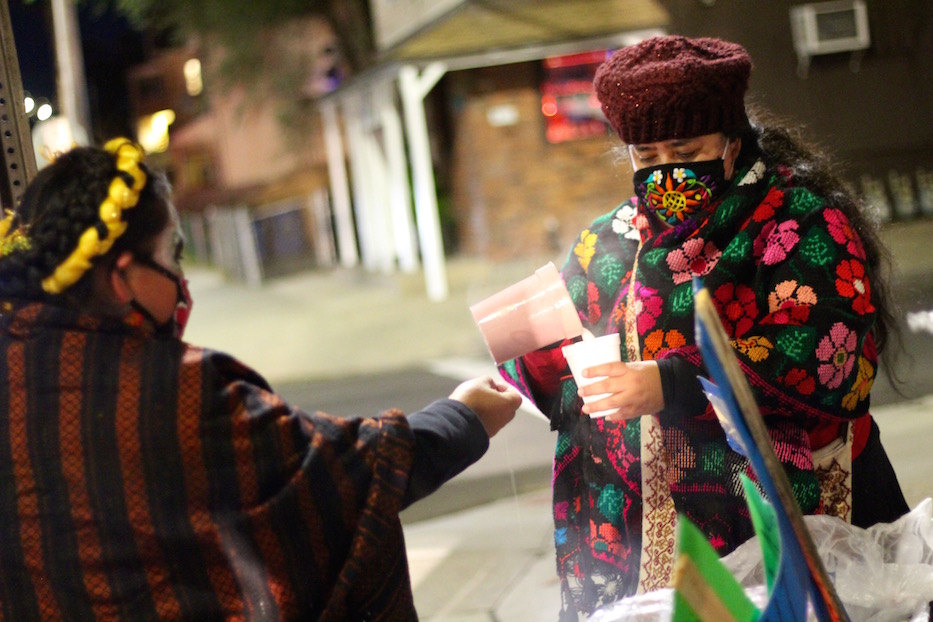 Vanesa Suarez: Violence against women in everywhere, and it's happening all the time." Bottom: Fatima Rojas ladles steaming cups of atole, a spiced milk and rice drink.
"Violence against women in everywhere, and it's happening all the time," she said. "Women are being disappeared every single day. Women are killed every single day. And women are beaten and raped by the hour. None of that is okay. It is not fair that because I was born a woman, because we were born women, we have to face so much violence. It has been normalized."
As they marched down Blatchley Avenue to the police substation, organizers also remembered Oscar "Primo" Rivera, who died of a ruptured spleen after police allegedly kneed him in the back. Justice for Mubarak founder Kira Ortoleva took time to speak about 19-year-old Soulemane, a friend and classmate of hers who was killed by police during a schizophrenic episode in January.
"Every time that he saw somebody frowning or sad, he would share the only light that he had inside of him left," Ortoleva said. "He didn't want anyone to have to face the same horrors that he faced alone in schizophrenia. He wanted to share the love that he had through all of his friends and all of his family. And that's what we're trying to do … spread his love, and his story, and his dignity to each and every one of you. So that when we go to the polls, or that when we go to the streets, that love will be able to show you the right way. "
On the sidewalk, Semilla member Fatima Rojas ladled cups of still-steaming atole into foam cups and passed out fragrant, yeasted rounds of pan de muerto. The sweet bread is eaten on the Day of the Dead with the belief that the dead are invited back with the scent and taste of their favorite mortal foods.
If felt, for a moment, like a normal gathering. Friends chatted at an appropriate distance. A few marchers danced to Beyoncé, Rebeca Lane and La Misa Negra. Then the crowd gathered once more, and continued onward.