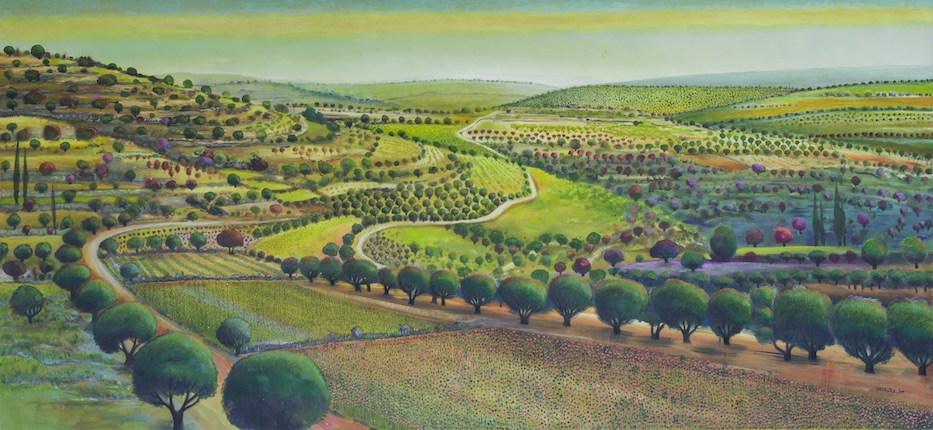 Arts & Culture | Woodbridge | Museums | Palestine Museum U.S. | Arts & Anti-racism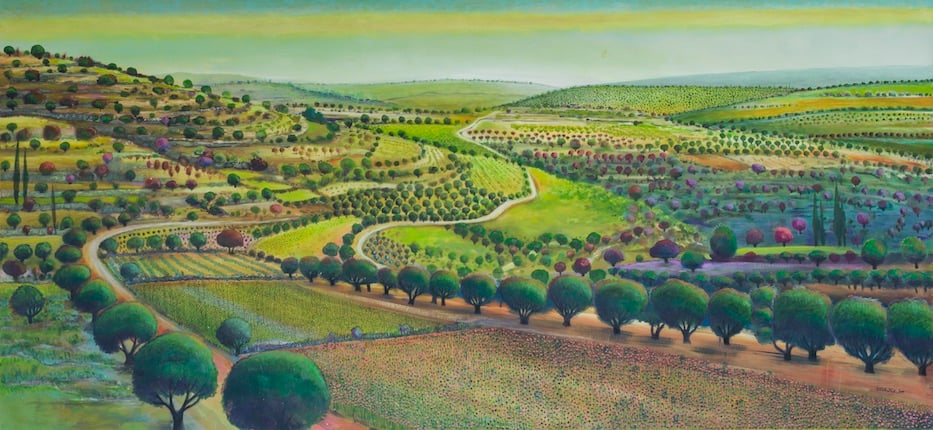 Nabil Anani, In Pursuit of Utopia #7, 2020. Photo courtesy Ziad Anani, Zawyeh Gallery.
The Palestine Museum US made history when it opened as the first institution dedicated to Palestinian art in the Western Hemisphere. It made history again when it celebrated the breadth of a diaspora through its "Palestine Art Week," which has continued to grow in a pandemic. This spring, it will break another global barrier with its participation in the Venice Biennale.
Palestine Museum Founder and Executive Director Faisal Saleh made that news public this week, as he announced the museum as one of 31 "Collateral Events" to participate in the 59th annual La Biennale di Venezia curated by Cecilia Alemani. Curated by Nancy Nesvet, head curator at the Palestine Museum, the exhibition From Palestine With Art will feature 19 Palestinian artists who are living across the diaspora, from New York, Boston and New Jersey to Kuwait, Jordan, Luxembourg, and Palestine itself.
The exhibition, a multimedia homage to Palestine's natural wonder and resilience, runs April 23 through November 27 of this year at Palazzo Mora in Venice. While it is up, Nesvet said, she is hoping to have a virtual component for viewers who cannot physically make it to Italy. After that time, she and Saleh plan to bring the exhibition to the United States, where it will live temporarily at the museum's 1764 Litchfield Turnpike home in Woodbridge. They expect that a mix of original works and replicas will travel to Connecticut.
"The mantra of the exhibition is very optimistic," Nesvet said on a recent Zoom call with Saleh. "I wanted to show that this is such a beautiful place that is shared by a beautiful people that is still there after 4,000 years … that despite all the violence and destruction that's going on, the connection that people have to nature in Palestine has not been abandoned."
"We're walking into a place that's ours," Saleh added of the exhibition. "It's pride of place, it's pride of identity, it's recognition for people who are Palestinian, but it's also recognition by the world."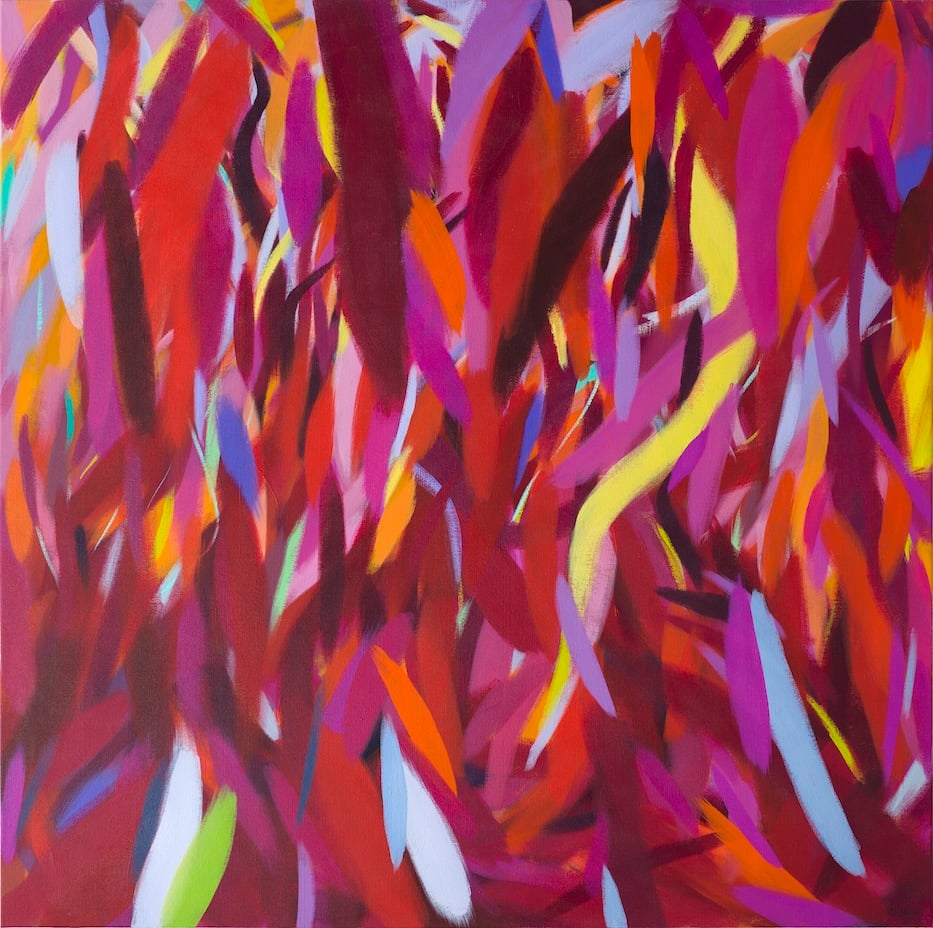 Samia Halaby, Venetian Red, 2021Photo courtesy Samia Halaby.
Saleh and Nesvet began working towards Collateral Event status in June of last year, shortly after the museum finished a virtual "Palestine Art Week" in the midst of Israeli bombardements that left over 250 Palestinians dead, including almost 70 children. Because Italy will not recognize Palestine as a nation—meaning that it cannot have a formal pavilion at the Biennale—they knew that a collateral event was the museum's best chance of giving voice to both emerging and more well-known Palestinian artists. They submitted a proposal last October, and then got to work almost immediately.
"You literally have to plan the entire exhibit" beforehand, Nesvet said. "Needless to say, there was no rest for the weary." From the outset, both she and Saleh knew that they wanted to showcase and celebrate the land of Palestine itself, and worked closely with 19 artists doing so across embroidery, painting, sculpture, photography and multimedia installation.
The show's anchor is a tall, hardy, living olive tree that Nesvet could see clearly in her mind as she started planning the exhibition last year. For the curator, the olive tree was a logical center: it is a millennia-old symbol of the connection that Palestinian people have to their land, even after centuries of forced migration and displacement from it.
While Nesvet and Saleh maintain that the show is not political, the olive tree is also a symbol of resilience. Each year, Israeli forces and settler-colonizers set fire to groves of Palestinian olive trees, in an effort to thwart the olive harvest and undo centuries of their growth. Just weeks ago, the Salhiyeh family announced that it was bringing a case to ​​International Criminal Court (ICC) after Israeli forces drove them from their home in East Jerusalem, destroying their family nursery and grove of olive trees in the process.
"It is a symbol of life," Nesvet said. "It does spring from the earth, and it goes on, and it grows, and it's living. And that's what the exhibition is centered around. Around a people and a land that are living."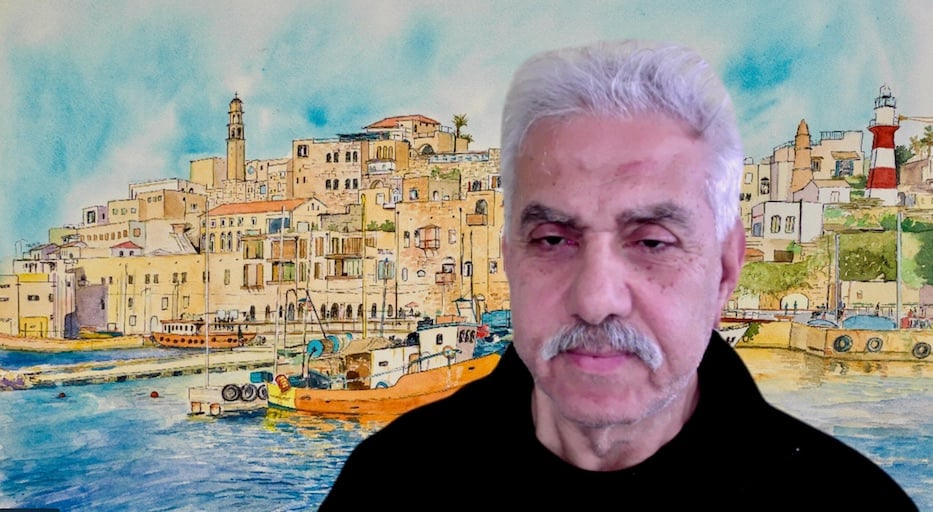 Faisal Saleh, founder and executive director of the Palestine Museum US. The artwork in the background is Yafa by Palestinian artist Shaima' Farouki. The work is part of the museum's collection.
Once she had the tree in place, she also situated the show around an 1877 map of Palestine, which includes "all the Indigenous locations, cities and towns prior to the advent of Zionism" and to a colonial-settler state. It is a nod to not only the sanctity of Palestine, but also to the years-long work of Salman Abu-Sitta, a Palestinian cartographer and historian who has mapped Palestine—and the ways in which it's been carved and whittled away by settlers—during decades of his own displacement.
"The name, From Palestine With Art, may sound very simple," Nesvet said. "But upon further examination, when we use the preposition 'from,' it implies that there is a physical place. That it exists. That the name, and its map, and its people, conflicts with other narratives that are being pushed … It's a very subtle linguistic aspect to the show."
That love for the land is apparent in every curatorial choice Nesvet and Saleh have made, from Palestinian oud music and recorded stories that will float through the gallery space to paintings from artists Samia Halaby, Nameer Qassim, Nabil Anani and others. Palazzo Mora is a 560 square foot space, and Nesvet has all but planned out each square inch.
Together, the 19 artists include Mohammed Al Haj, Sana Farah Bishara, Samar Hussaini, Ghassan Abu Labanm, Jacqueline Bejani, Samia Halaby, Karim Abu Shakra, Nabil Anani, Rania Matar, Nameer Qassim, Taqi Sabateen, Susan Bushnaq, Ibrahim Alazza, Lux Eterna, Hanan Awad, Mohamed Khalil, Salman Abu Sitta, Nadia Irshaid Gilbert, and Rula Halawani.
Among them are both long-recognized voices in the diaspora—Halaby and Anani are perhaps best known—and emerging ones. Viewers will have a chance to see, for instance, Alazza's balloon-like Kufiya cloth bundles, an adaptation of the installation All That Remains that the artist hung across Boston last year. At the Biennale, the Kufiya cloth pattern will be translucent and stuffed with letters from Palestinians living across the diaspora, such that viewers will be able to see the writing on the pages. Nesvet has worked with the artist to have loudspeakers installed in the show, so that the letters' contents play out over the gallery.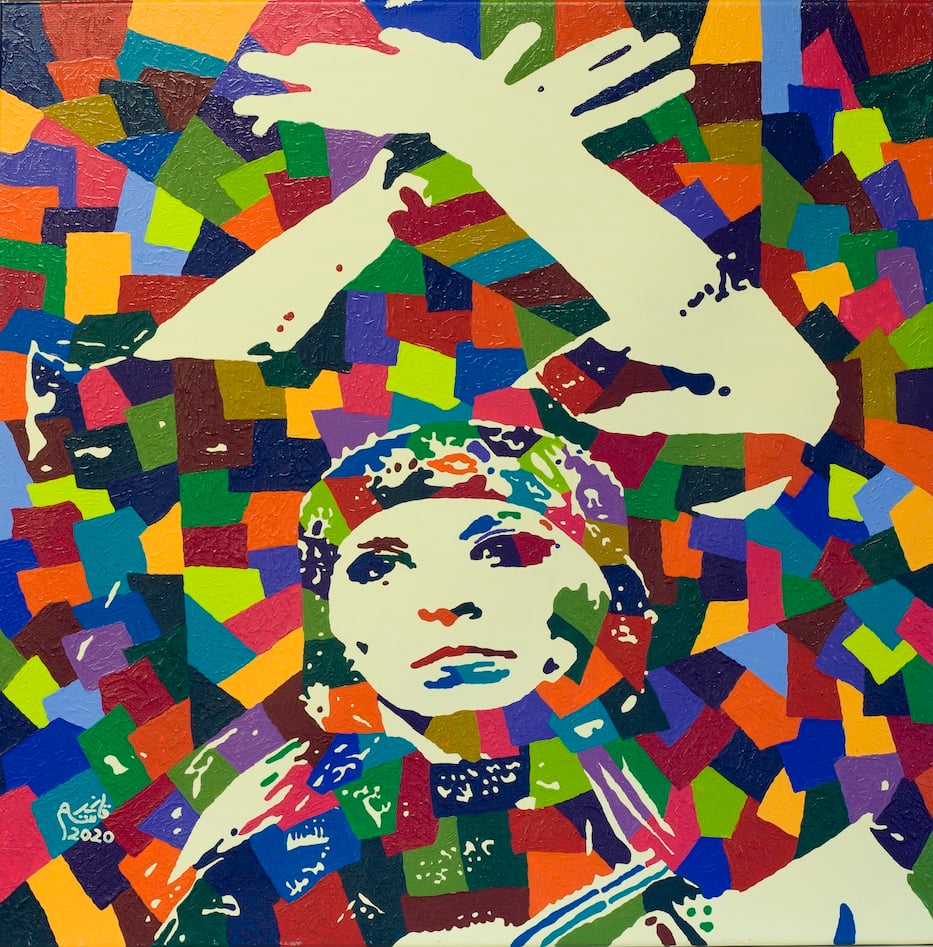 Nameer Qassim, Enough, 2020. Photo courtesy Nameer Qassim.
There are also more traditional works like Anani's 2020 In Pursuit of Utopia (pictured at top), which imagines a settlement-free, verdant Palestine stretching out towards the horizon line. In the painting, dominated by greens, purples, and hints of pink, olive groves, fruit trees and conifers dot the landscape in every direction. The land, criss-crossed only by a few smooth roads, is defined by its expansiveness. Gentle, rolling hills rise up to greet the viewer as they move from the foreground into the distance.
It is, in the words of Zawyeh Gallery, "the Palestine of his [Anani's] dreams, a utopia inspired by his memories as a child growing up on the hills of Halhoul." It gives viewers a very literal, grounded connection to the land and the possibility of Palestinian liberation.
"We wanted to represent a cross-section of artists," Saleh said. "Palestinians are all over the world. and they all basically have the same story to tell. The story of displacement, the story of the loss of property, the disinheritance and the loss of home, and the occupation, the persecution. There are people living in subhuman conditions, and they have been doing that for 73 years.
"​​Despite decades of injustice and a lot of suffering under occupation, Palestinians continue to produce and excel in these arts."
It represents the most sweeping take on the artwork of and in the Palestinian diaspora in the Biennale's 125-year history. In 2003, Biennale curator Francesco Bonami mentioned the possibility of a Palestinian Pavillon, a suggestion that earned him immediate allegations of anti-Semitism in the Italian press. That year ultimately included a much smaller installation by Palestinian-Italian architect duo Sandi Hilal and Alessandro Petti.
Six years later in 2009, the Biennale hosted Salwa Mikdadi's Palestine c/o Venice, its first collateral event directly addressing the displacement of Palestinian people and ongoing Nakba. In the years since, Palestinian artists including Bashir Makhoul and Aissa Deebi and Larissa Sansour have been able to bring their work to the Biennale, largely through their affiliation with other countries.
The announcement of From Palestine With Art also comes at a time when some Palestinians are asking why the world has reacted so differently to the current plight of Ukrainians suffering under Russian invasion. As recently as last week, curators and artists from the Pavilion of the Russian Federation pulled out of the Biennale in protest, effectively canceling Russia's ability to participate in any part of the Biennale. It was immediately lauded as a "noble act of courage" by Biennale leadership.
Saleh and Nesvet are both hopeful that From Palestine With Art will foster more appreciation of, interest in, and support for Palestine, Palestinian people, and Palestinian art and artists. Saleh added that while the museum has received enough financial backing to make the event possible, it is still taking donations to support it. Both he and Nesvet added that they see the exhibition as part of the museum's continued growth, including a pandemic-era pivot that has included weekly virtual programming from artists living across the globe.
"Very often, you'll go to an art exhibition not knowing anything about the exhibit, and you're impressed," Nesvet said. "I'm hoping that people who are inspired by the art there take the time to learn about the history."
Learn more about the Palestine Museum U.S. at their website.