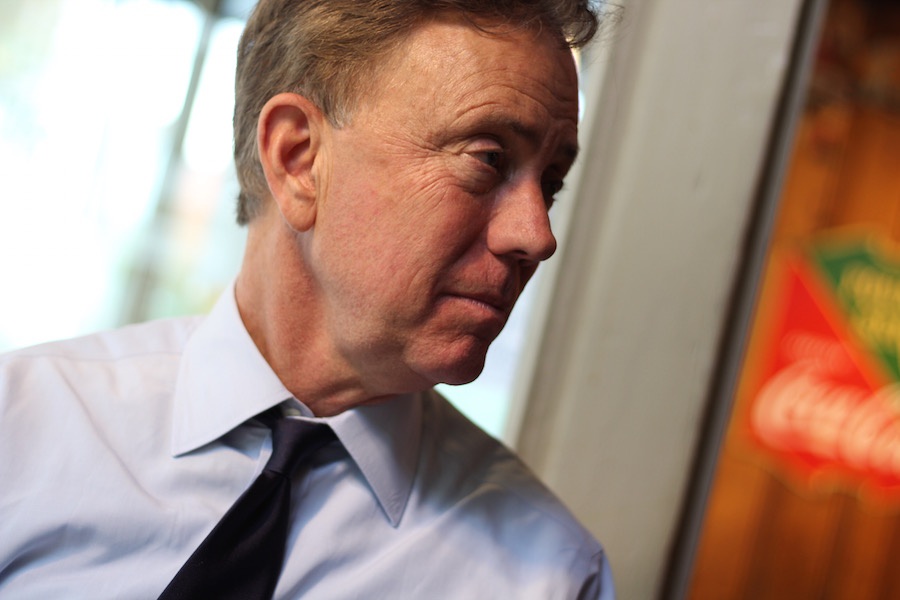 Music | Politics | Arts & Culture | Ned Lamont | Campaign 2018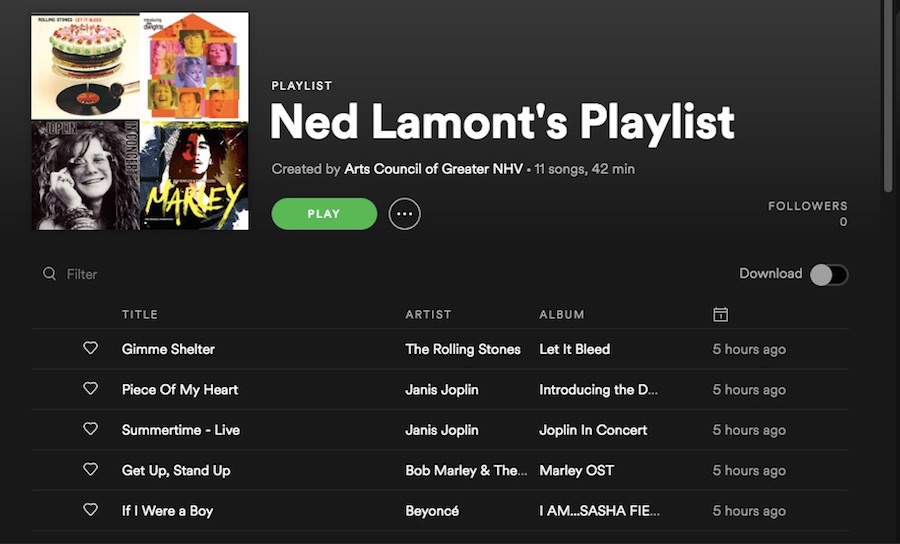 A week out from Connecticut's Nov. 6 election, Democratic gubernatorial hopeful Ned Lamont is reaching into the fond recesses of his memory—not for data or talking points on the state's pension crisis and solutions for statewide debt, but for several well-loved songs that help him relax on the campaign trail.
Lamont spoke about some of those songs Monday afternoon at Archie Moore's Bar & Restaurant in East Rock, just down the street from his Willow Street headquarters. Over a plate of the restaurant's signature BuffaQ wings and a cup of clam chowder, he unspooled those musical memories, jumping from "Woodstock" at the end of the 1960 to "Oldchella," a music festival held with some of the same musicians in the California desert just a few years ago.
Earlier in the campaign season, The Arts Paper extended invitations to all three gubernatorial campaigns to assemble and release a candidate playlist, a tradition first popularized in 2015 by President Barack Obama. This week Lamont offered 10 tight picks, noting that there are several more he's listening to at any given time. Unaffiliated gubenetorial candidate Oz Griebel deferred Monte Frank, his running mate for lieutenant governor (read about and listen to that playlist here). Republican Bob Stefanowski's campaign did not respond to multiple requests for comment.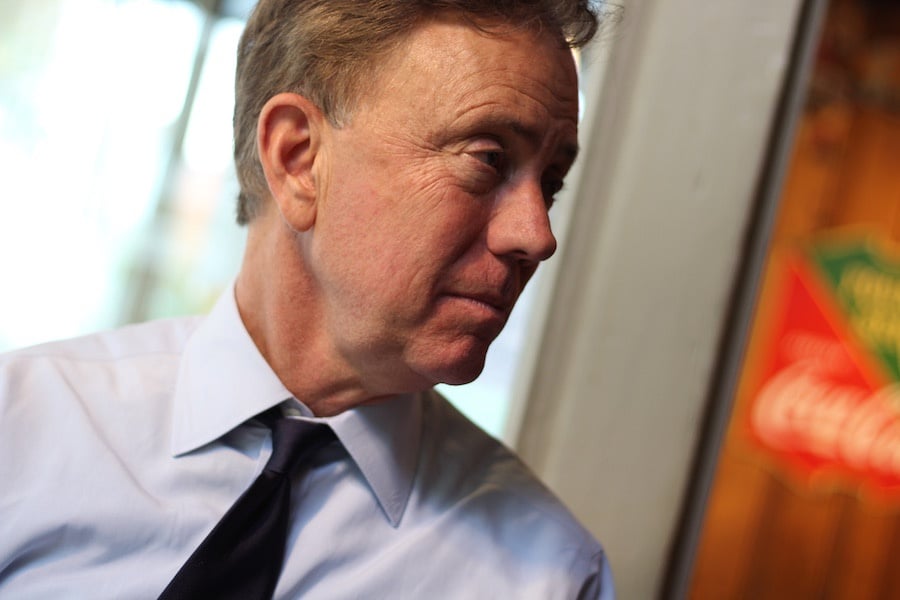 During his time on the campaign trail, Lamont has been known to turn to music as a source of comfort, and a way to bond with voters. He has sung Bob Marley's "Get Up, Stand Up" at several rallies in New Haven, and stopped at piano benches in smaller towns, public greens and spaces, and at senior centers "because it's cheaper than a psychiatrist and just as therapeutic."
Reflecting on the playlist, he joked that talking about some of his most-loved songs "sure beats the pension crisis."
"Certainly, if you're 64, they all bring back memories of a pretty good time in your life, a pretty wild time, a pretty controversial time, a pretty young time," he said.
In all, Lamont submitted 10 songs—mostly an homage to a bygone era of classic rock and roll, with a few contemporary hits mixed in. The following is his commentary on some of them from a 30-minute interview held Monday at Archie Moore's, close to his East Rock headquarters.
The complete playlist is embedded at the bottom of this article, and public on Spotify as "Ned Lamont's Playlist."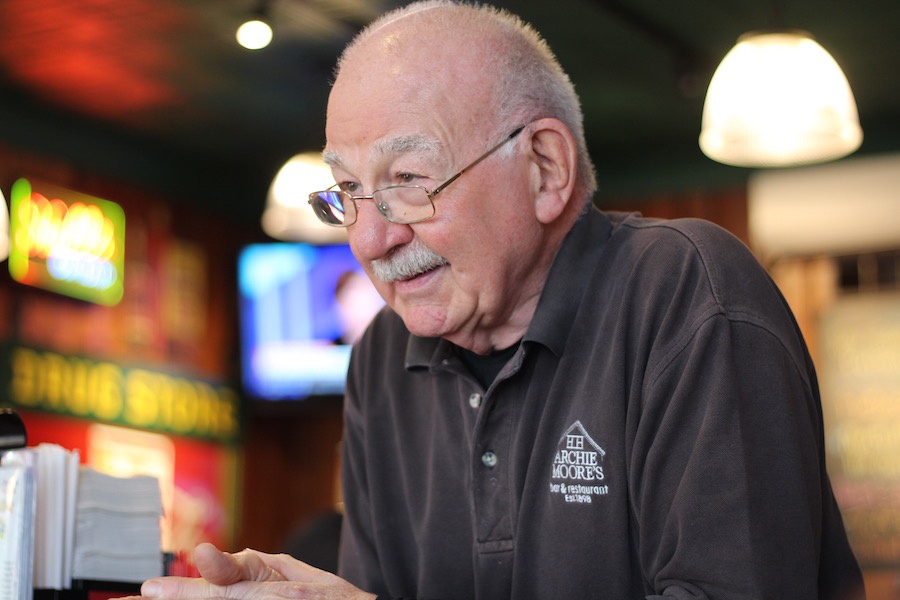 Lamont's visit to the restaurant included a 10-minute digression with longtime server Carl Apuzzo about the spot's legendary wings.
Tracks 2 & 3: "Piece Of My Heart" (1967) & "Summertime" (Joplin covered the 1935 Gershwin original in 1968) - Janis Joplin
You know, she went out to Haight-Ashbury, she was in Big Brother and The Holding Company, and then she goes out to Houston, gets married, lives in a suburb and then says, "this doesn't work." She pulls out and back to Haight-Ashbury to get a job at that point. But that was a year and a half of going back to the old world.
We always have a special birthday when our kids pass 27 [the age at which Joplin and fellow rock and roll icon Jimi Hendrix were when they died]. And I used to play "Summertime" on the piano. I'd play it by ear—I can't read music—and it was her version of it that I'd listen to. Not Louis [Armstrong's] or anybody else. You know, Louis Armstrong was probably the most famous man in the world for a year or so in the 50s.
Track 5: "If I Were A Boy" (2008) - Beyoncé
Well, Annie [Lamont's wife] loves it. We went to hear her in concert eight years ago, at Madison Square Garden. Everybody was there, in the sense of all race, color, creed and age. I'm a little more conscious of age than other people.
But she was great in that album [I Am … Sasha Fierce]. She's gotten a little commercial since. A little diva to me.
You know the lyrics? "If I were a boy, I could stay out all night, I could come back, I could be an asshole." That's basically the lyrics. And it's probably a good thing for me to listen to once in a while. Everybody else says "put a ring on it" ["Single Ladies"], but you know, "If I Were A Boy" has a little more soul.
Track 6: "Birthday" (1968) - The Beatles
Well, Bob [Stefanowski] said "happy birthday" at our first debate was the song he'd sin in karaoke bars (Lamont went for Bob Marley), so I've listened to a little Beatles' "Happy Birthday."
They say it's your birthday! Happy birthday to you! We used to sing that to our kids when they were little. Our kids turned five, six, seven, eight, nine and I would come in to their room each morning and "dah dah dah dah dah dah they say it's your birthday!" and then their older sisters would come in and we'd do it as a foursome, and that's how you woke up.
They had this thing a couple years ago called "Oldchella," down in the Palm Desert (where Coachella is also held). It was the last chance to see everybody. So Bob Dylan was terrible, The Rolling Stones just did their riff, and Paul McCartney was magic.
Track 7: Star-Spangled Banner (1969) - Jimi Hendrix
Jimi's Star-Spangled Banner … it was maybe five o' clock in the morning in front of 100 people left at Woodstock. It's a little cheaty, because I was just thinking about it. Sen. George Logan did a cover of it in Hartford. I was at a hospital event, and they said"you're gonna have to listen to the Star-Spangled Banner." And I go out there, and it's George Logan lettin' it rip. He was really good.
I went to this school in New Hampshire [Phillips Exeter Academy], where you weren't allowed to go more than 100 miles away. They didn't want all the foreign students to be stuck there and everyone else going away. But I was a little controversial, I did one of those things where I'd find out what was exactly 100 miles away from Exeter. And that was Providence, Rhode Island.
So I went down to Providence and who was playing there but Jimi Hendrix. So that's where I got to know Jimi Hendrix. That was it, the only time, in some grungy gymnasium. You guys all have your iPhone, you hold it over your head, we had maybe 5,000 people with matches over their heads.
Track 9: "I'll Do Anything For Love, But I Won't Do That" (1993) - Meat Loaf
I listened to that with my kids all the time. I had the top down in my convertible, I would drive them to school, I would crank up Meat Loaf in November. So me and the oldest, Emily (she is now 31 and has taken a break from her job to work on the campaign), in the front seat would be warm and listening to the music, and Lindsey and Teddy in the backseat were freezing their tails off, cause that's life.
You know his story? So He does Rocky Horror Picture Show [he plays Eddie], and then he gets into a dispute with his agent and he loses a legal case, and he can't do music for something like 10 years. And then in the late 80s, he comes back … and that's when he does "I'll Do Anything For Love." So 10 years apart, he has two breathtaking albums. Which is pretty good.
Track 10: Honky Tonk Woman (1969) - Rolling Stones
They're not the greatest, but we know where we were when we heard every Rolling Stones' song.
Bonus Track: "Imagine" (1971) - The Beatles
My favorite song I play on piano is "Imagine." It was his [John Lennon's] answer to "Let It Be," right? Paul McCartney was kinder, gentler, more spiritual, wrote "Let It Be." And then John Lennon, who was a little more secular, a little edgier, a little more of an ideologue has a go at it.
To listen to the full Ned Lamont playlist, click on the embedded playlist below or visit it here for free on Spotify.