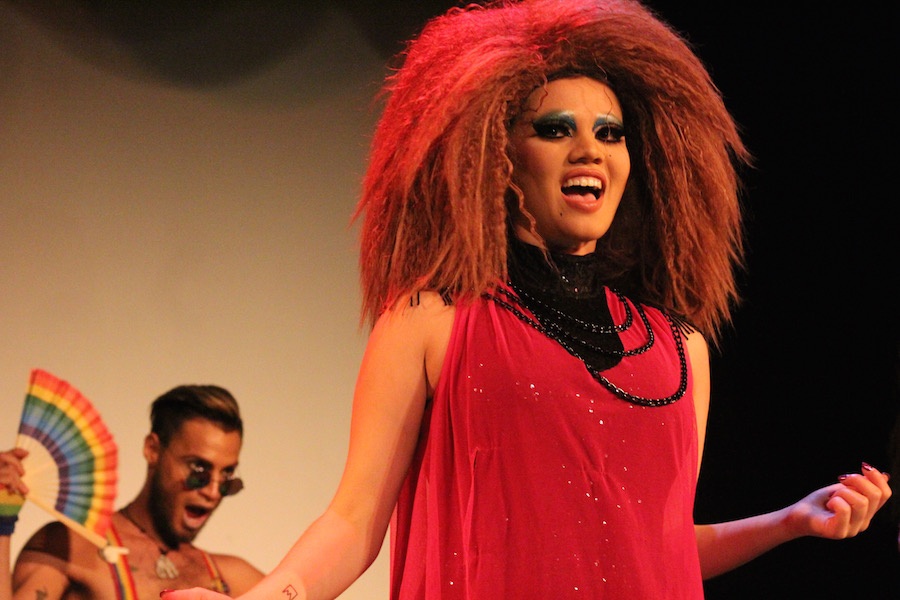 LGBTQ | New Haven | Arts, Culture & Community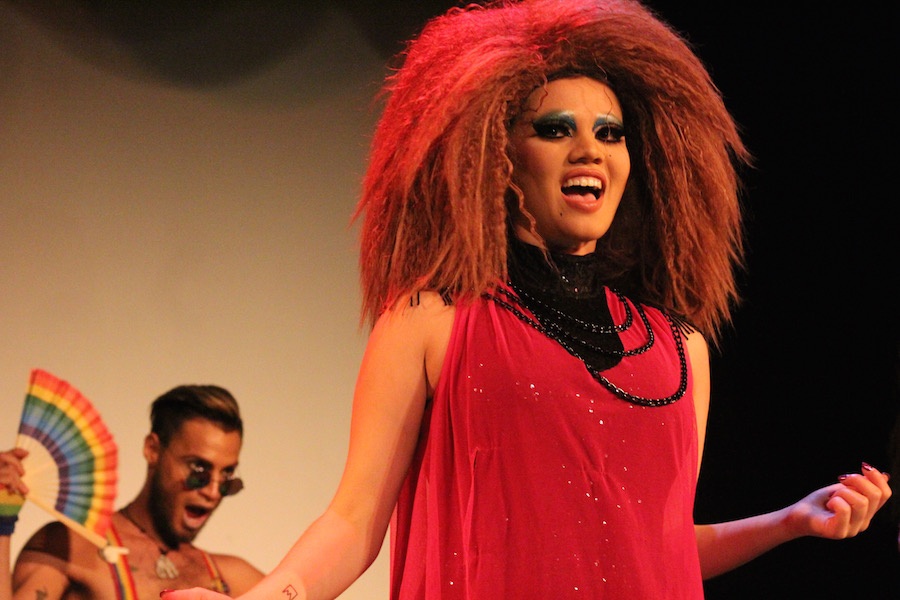 This is the second installment in 2018's "Queen Of The Week" series, which we will be running each Friday this September for PRIDE New Haven. Last week, we opened the month with Xiomarie Labeija. Last year's installments profiled #NHVDrag, Robin Banks, Malaya Love Nations, and Tiana Maxim Rose.
A red tutu, red leotard, red cape and shimmering red hood. Rory Roux Heart didn't know it then, but that would be all it took to send her down a 19-year road that led to drag.
Heart, 19, is one of Connecticut's two bio divas or faux queens, a term used to describe a drag queen who is biologically female. Earlier this year, she burst onto the scene at Connecticut's third annual Dragapalooza, bringing the house down as Ivy from the musical Bare. This weekend, she returns to the stage at PRIDE New Haven's downtown block party, after several numbers in Escapade: An Unusual Experience on Thursday.
But drag did not always come naturally to her. Nineteen years ago, she entered the world as Mimi Zschack, her family's first child and eldest by five years. For the first three years of her life, Zschack and her family lived in New Jersey, relocating to Orange, Conn. before she could remember anything specific about the Garden State.
In those early years, Zschack's mom found herself talking about ballet classes with another parent, ultimately signing Zschack up for the New England Ballet when she was just four. Zschack recalled filing tentatively into a dance classroom, mirrors running across one wall and barres standing by on another. She was surrounded by a class of pint-sized complete strangers.
And yet she took to it, easing into the steps. The first routine she ever performed was based on Little Red Riding Hood, with all-red costumes, tan or pink tights, and a red velvet hood that slipped on and off. The one boy in her class played the wolf. Zschack was hooked.
As the routines got harder—Little Red Riding Hood turned into The Nutcracker, and The Nutcracker evolved into longer rehearsal hours—Zschack fell in love with New England Ballet. While her fellow elementary school students picked up instruments, team sports, and video games, she picked up more classes: classical ballet, tap, and contemporary dance. By the time she was in middle school, she was taking three to four ballet classes, adding hours to her schedule for rehearsal and performance.
"You get to a point where you've been in it for so long," she said in an interview earlier this week. "I feel like there's something so expressive about dance. There's something unique about each of them [the types of dance] … you can express something that you can't specifically with words."
In middle school, dance became Zschack's reprieve. At school in Orange, she tried desperately to fit in with the girls in her grade, listening as they compared notes on periods, bras, and body hair. But it "was the worst period" in her young life, caught in the in-between of a changing body and changing social cliques where conformity was a form of power. Coming from a "big Italian family," Zschack recalled her embarrassment in the halls and locker room as new, dark hair sprouted on her legs and underarms, little brown dots visible even after she shaved.
"At the time that made me super uncomfortable," she recalled. "You're transitioning from being a child, I feel like it's a time of exploration. Now it feels obvious that I was exploring gender fluidity. But then, I just wanted to blend in with everybody."
She didn't know it then, but she was building a pop-culture arsenal that she'd go back to years later for drag. There were references soaked in nostalgia: early Lady Gaga, Beyoncé circa B'Day and I Am … Sasha Fierce, Miley Cyrus and her pop star alter ego Hannah Montana, and Disney's High School Musical, the first installment of which came out when she was just six.
Away from school, she ventured further into her New England Ballet family, close with Founder and Executive Director Kenneth Hopkins and his longtime partner Drew Mancuso. Their love was a revelation to her: they were the first out queer adults she had seen.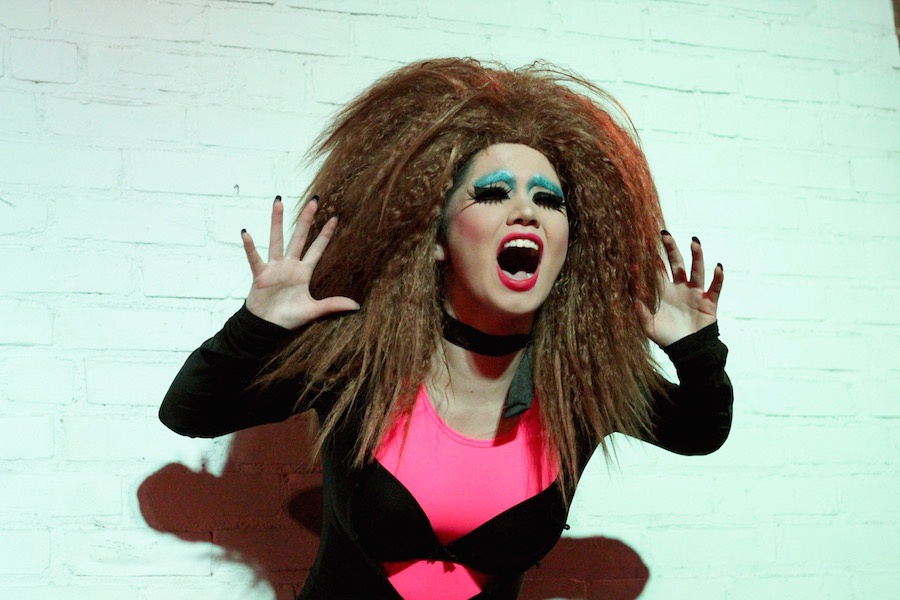 Zschack performing at Dragapalooza in June.
When Zschack was in sixth grade, Mancuso arrived at a Halloween party as Sassie Saltimboca, the beloved and outspoken Connecticut queen who succumbed to cancer in 2015. Just 10 or 11 years old at the time, Zschack had never seen anyone in drag before. She was transfixed, then delighted. And she wanted to figure out how to fit into that tradition herself.
"I was like—this is amazing," Zschack recalled. "It wasn't weird. "That didn't occur to me, it just seemed natural … I feel like so much of who I am today is influenced by her."
During those years, Saltimboca had started holding her "Vaudeville Frolics" at Bridgeport's Bijou Theatre, opening the all-ages drag show to students and instructors from New England Ballet. At 13, Zschack joined her first Frolic, planning to stay largely behind the scenes. Until she stumbled out onto the theater's balcony, and saw local queen Dandy Lions (boy name Shawn Miller) rehearsing on the half-lit stage below.
Zschack was filled with the same wonder she'd had a few years earlier, when she met Saltimboca at that Halloween party. On the stage below, Dandy Lions wasn't fully in makeup or costume, caught somewhere in between Shawn and Dandy. She was unaware of everything around her, focused on her steps and music, the tilt of her head, the way she carried herself. Instead of spectacle, Zschack saw royalty.
Amidst the Frolics, Zschack applied to Cooperative High School in the Arts & Humanities, desperate to get out of Orange for high school. Instead of dance, she declared a last-minute specialty in theater, pulled to the stage almost as soon as she arrived. By the end of her cohort's first play together—David Ives' whimsical play collection "All In The Timing"—she was hooked. As she grew into a teaching role at the ballet, she was an eager student in the theater classroom, soaking up everything she could.
Zschack discovered that theater was a familiar world, where dance was never too far out of reach, and never superfluous. She dove into Bob Fosse's work, studying how the choreographer had collaborated with writers and lyricists on Pippin and Chicago. She kept performing in the Frolics, the specter of Rory Roux humming just beneath her skin. And then, just as Zschack was on the cusp of her junior year, Sassie died after a long fight with cancer. The Frolics stopped. Any hint of Rory disappeared, replaced with the introverted girl who preferred ensemble parts to lead roles.
Her junior year, she took a break from ballet, taking roles in Arthur Miller's moving The Crucible and then Pippin. While dance "wasn't taking over my life" in the studio, in crept into her work at school, directors relying on her as a dance captain and then choreographer. As she returned to ballet her senior year, she stayed on to choreograph, doing the movement for her friend's capstone presentation of Bare, a pop opera about students at a Catholic school.
The thought of drag didn't occur to her again until after high school, from which she graduated last year. By then, Zschack was a principal dancer with the New England Ballet (she has spent considerable time dancing alongside Luis Antonio, who was once her teacher) and a dancer with CT Theater Dance Company. Co-Op had hired her back to do the choreography for its performance of Heathers, and she had joined the cast of Escapade: An Unusual Experience at Lyric Hall for the first time in October.
It was there that she became close with Summer Orlando and Sylvia Heart, both local queens whose routines rely on precision and glam, who can raise a show's bar before the end of a minute-long lip sync. During a photo shoot for the show, Heart placed a wig on Zschack's head and laughed it off, calling Zschack her drag daughter. Halloween was just around the corner, and Heart gave her a hand-me-down skeleton dress, telling her not to worry about giving it back ("although it totally still fits her," laughed Zschack).
Zschack could feel that familiar humming beneath her skin again. She began to do her face in drag makeup, but hesitated before going out. She had spent years watching queens cross the stage as royalty, and had never once seen a bio diva perform within the state (there are now two, of whom Polly Amory is the other). She didn't know if it was kosher.
Then, while volunteering with Co-Op's Gay-Straight Alliance, she heard Kiki Lucia (boy name Patrick Dunn) talk to a group of LGBTQ+ teens at the New Haven Pride Center. Kiki asked the group if anyone was interested in drag. Zschack tentatively raised her hand, then voiced her concerns.
Nonsense, Kiki insisted. "Bio queens are amazing and anyone who says they're not valid is wrong," she said.
Within days, Rory Roux Heart was born. Zschack chose the name from three parts of her life: "Rory" is what her parents would have named a third child, and "Heart" is for her drag bloodline, which starts with Sylvia. "Roux," meanwhile, is for Sassie: there's a picture in Hopkins' bathroom that was one of her favorites, that reads "Roux" below the image. By June, she had entered the drag community. Now, she said she feels not unlike childhood idol Hannah Montana—that she can rock the world when she's in drag, no one recognizes her when she's out of it, and there's power in both.
"I'm so surprised to be welcomed into the community as fast as I have been," she said. "It's hard to get involved and truly be part of the community. Everyone has been super welcoming, super supportive, and it really does feel like a second family."
This weekend marks another milestone, she added. At a drag brunch that Sylvia Heart is hosting on Sunday, she'll have the chance to meet Sylvia's drag mom Madison Mansfield, who is technically her drag grandmother.
"I can't wait," she said. "I'm so excited."