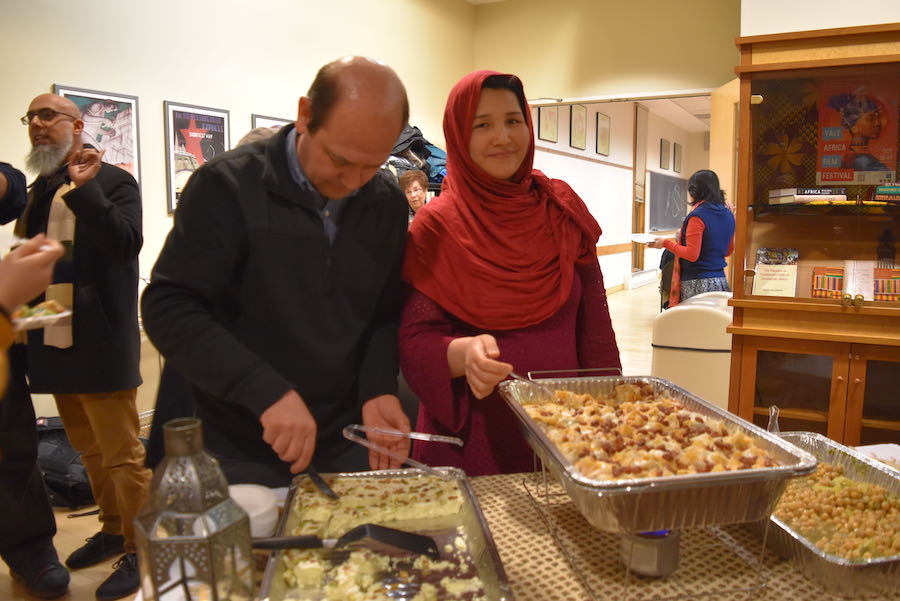 Culture & Community | Food & Drink | Sanctuary Kitchen | Yale Council for Middle Eastern Studies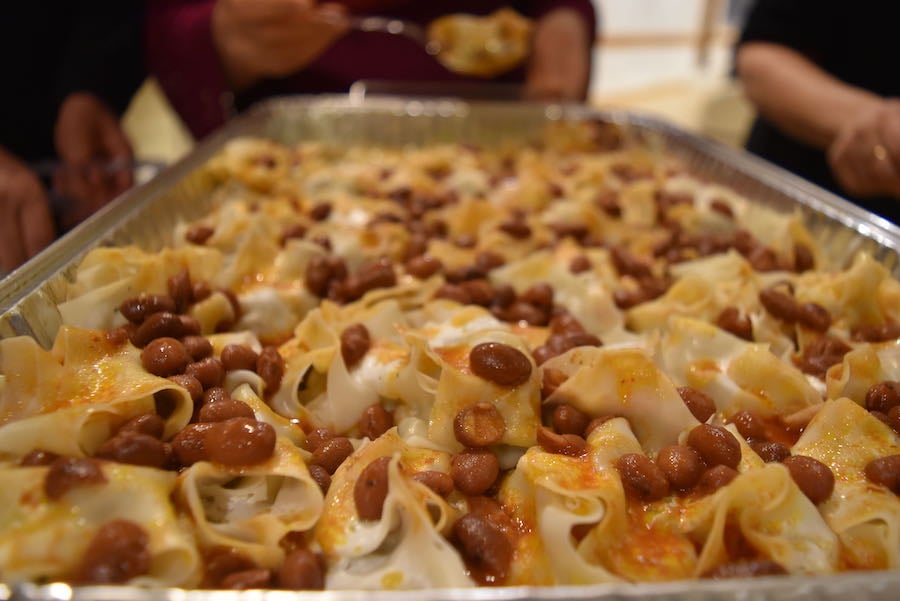 Mantu, an Afghan dumpling stuffed with ground beef. Leah Andelsmith photo.
Biryani spiced with cardamom, cinnamon, and black pepper, the rice studded with chunks of chicken and almonds. Muhamarra made of roasted red peppers and bulgur, and walnuts, all combined into a soft, smooth spread. Pillowy sambosas and lip-smackingly tart hibiscus tea just sweet enough to keep you going back for another sip.
A dozen dishes like these defined the first annual "The Middle East in New Haven," a celebration of Middle Eastern culture held Tuesday evening at Yale University's Luce Hall. The event, which drew around 200 attendees , was produced in partnership with Yale Council for Middle Eastern Studies (CMES) and Sanctuary Kitchen at City Seed New Haven.
The event featured two panel discussions in addition to a sampling of Middle Eastern food from four different countries—Afghanistan, Iraq, Sudan, and Syria—prepared by Sanctuary Kitchen chefs Fatima, Zainab, Azhar, and Laila.
CMES Program Director Cristin Siebert said the celebration was a way to provide new perspectives on a region that many people learn about primarily through the news.
"People aren't getting the history and culture. They're getting what's happening now in war-torn zones," she said. "We just realized that there was an opportunity for us to do something positive."
City Seed Kitchen Program Manager Sumiya Khan said that this was the first time the organization has done an event at Yale that combined a formal educational component (Sanctuary Kitchen has catered several events at Yale). By offering dishes from four distinct countries, Khan said she hoped to highlight the diversity that exists within the Middle East.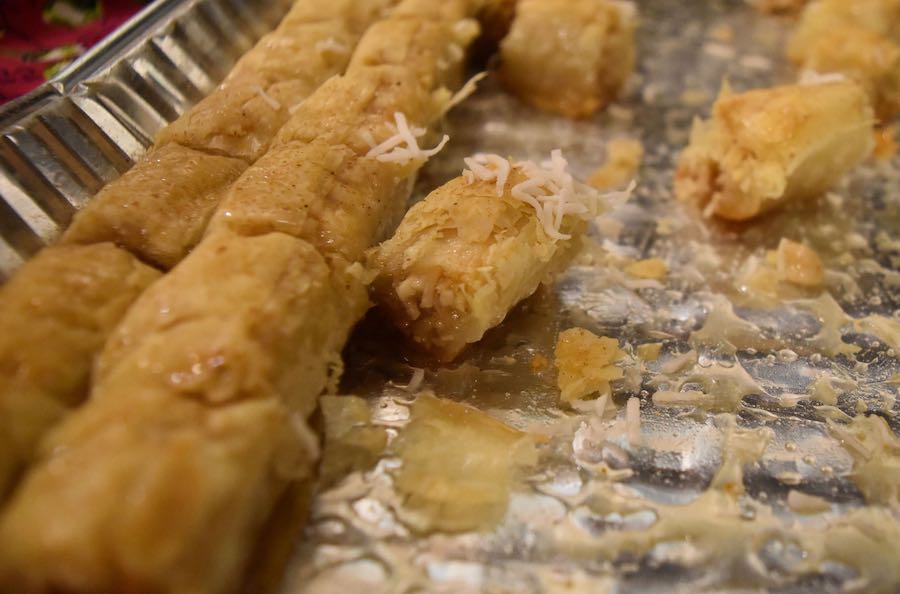 Sudanese baklawa, made with a peanut and coconut filling. Leah Andelsmith photo.
"It's not just one homogenous, Arab culture," she said. "Each country has very distinct histories and cultural stories and recipes and tastes and flavors. We really wanted to show the human side of this beautiful culture."
One of the panel discussions highlighted the experience of coming to New Haven as a refugee. Sanctuary Kitchen chef and Syrian refugee Abir was joined by Sanctuary Kitchen Volunteers Karima El-Hamraoui and Lamiaa Ben Ayad, as well as Jewish Community Alliance for Refugee Resettlement (JCARR) volunteer Pamela Teitelman. Abir explained to the group why she had to leave Syria.
"There was war everywhere. I couldn't live with my children. Not safe for anybody," she said.
When she came to the United States, Abir took an English class with Integrated Refugee and Immigrant Services (IRIS), which she said "gave me a push to the future." Then she began to work with Sanctuary Kitchen, and now she has grown to love it. Ben Ayad and El-Hamraoui helped Abir with translations as she explained why.
"It pushes me to cook more than I was and to perfect my skills as a chef," she said, adding that she feels "blessed" that more and more customers want to taste and learn more about Syrian cooking.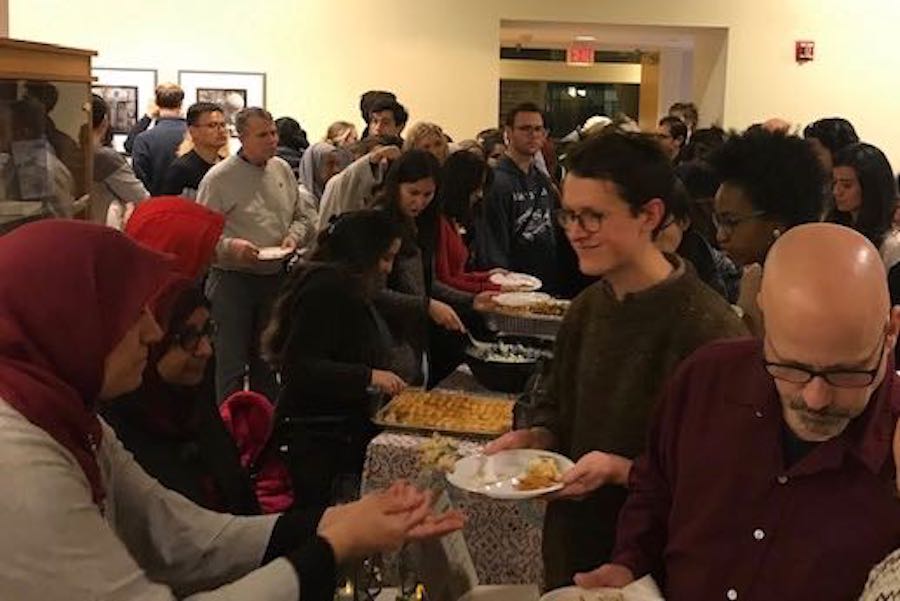 "When I cook at Sanctuary Kitchen, I feel like I'm in Syria," she added, explaining that Sanctuary Kitchen uses market-fresh produce and no preservatives, just like she did back home. "When I'm at Sanctuary Kitchen or in New Haven, it touches my heart. I feel safe and comfortable in this city and happy to be here."
Next door, another group heard from Shawkat Toorawa, Yale Professor of Near Eastern Languages and Civilizations, about his work testing and translating recipes from medieval Arab manuscripts in order to make them accessible to the modern cook.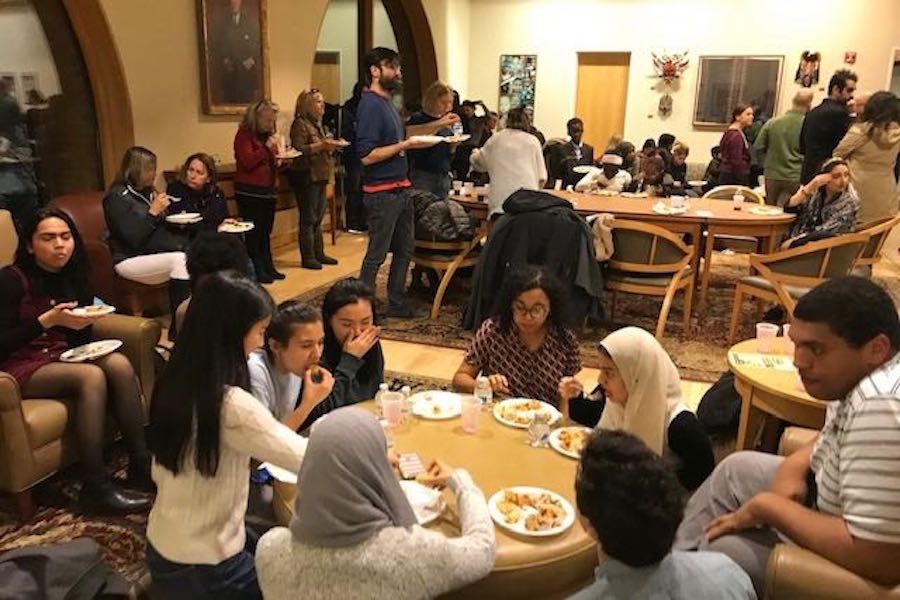 As soon as the panels finished, attendees poured out into Luce Hall's second floor common space to grab a plate and sample some new dishes. The room buzzed with conversation as participants passed through the line, getting a spoonful of each dish, served by the chefs that made them. Then, balancing their plates on their knees, attendees from toddlers to retirees squeezed onto couches, nabbed a desk in a classroom, or just found spots on the floor, digging in to the aromatic food.
Sanctuary Kitchen chef Fatima offered several Afghan dishes including shor nakhod, a chickpea and potato salad topped with a cilantro-mint chutney so fresh it tasted like summer in the middle of February. Instead of competing with each other, the two strong, herbal flavors danced on the tongue, brightening the potatoes and peas.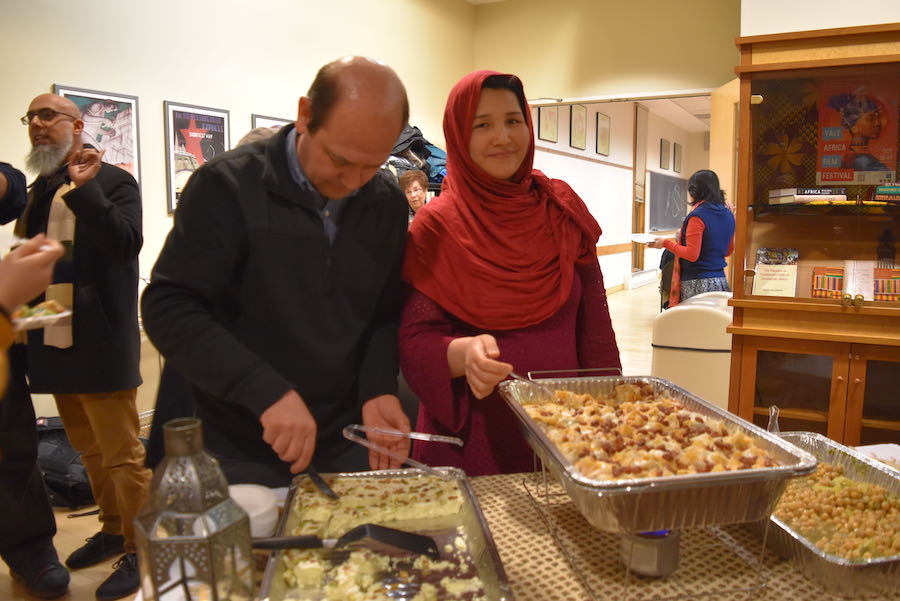 Chef Fatima, right, serving sheer pira, mantu, and shor nakod. Leah Andelsmith photo.
Alongside the salad was a pan packed full of mantu, little beef dumplings topped with tender, well-seasoned beans and a garlicky yogurt sauce. The dumpling wrappers were soft and pleasantly chewy, and the richly spiced ground beef was studded with savory onions.
For dessert, Fatima prepared sheer pira, a rose-scented milk fudge with nuts. The fudge was intensely sweet with a decadent texture: dense and smooth. The rose scent was not quite placeable on the initial bite—this American palate thought it was cardamom at first—but after a few nibbles, the floral aroma came through, making each bite addictively tasty. The pistachios and almonds on top provided a nuttiness just savory enough to cut the sweetness and keep the palate wanting more.
The Sudanese food from Chef Azhar included peanuts in unexpected and delightful places. First there was the salata aswad, a warm salad comprised of fork-tender eggplant, sweet, red peppers, tomatoes and peanuts. The nuttiness of the peanuts enhanced the earthiness of the eggplant, while the acidity of the tomatoes cut through some of the richness and created balance.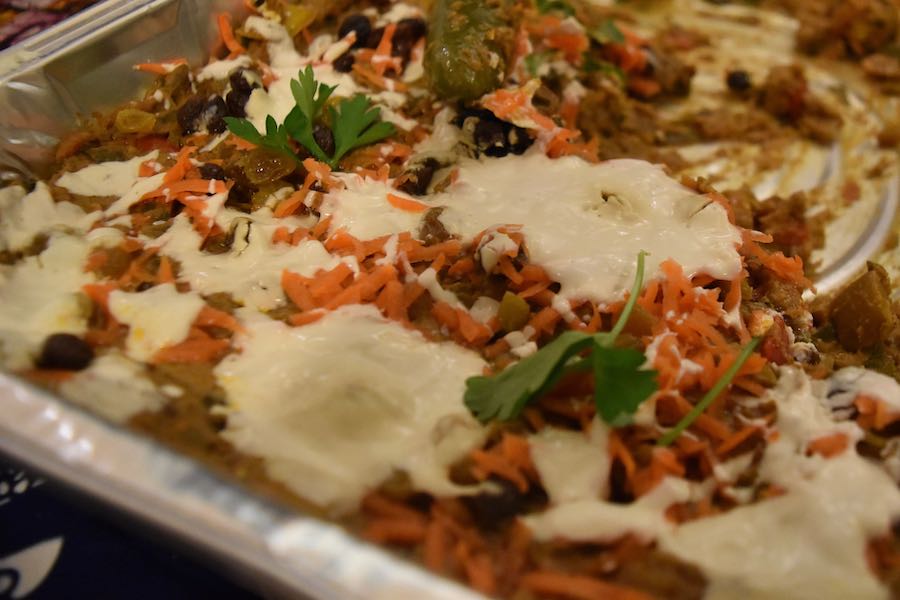 Salata aswad, made with eggplant, tomatoes, and peanuts. Leah Andelsmith photo.
Then there was a Sudanese baklawa, rolled phyllo filled with peanuts, cinnamon, and coconut. It was soft and flaky, the layers giving way with a light crisp at each bite. The coconut added a satisfying chew to the filling, while the peanuts combined their salty, savory flavor with the sweet honey drizzled over the top.
Throughout the hall, participants sampled the dishes, heading back up to the tables for seconds of their favorites and enjoying the company of new friends.
Khan said that she hoped attendees left the event "with a better sense of who their neighbors are in the area," ready to share the new cultural knowledge they gleaned. Siebert felt the event was a success and is looking forward to repeating it next spring.
"It's just a way of bringing people together, and what better way than around food," she said. "Breaking bread is a really good thing."
Yale CMES will host a free Nowruz—or Persian New Year—celebration at Luce Hall on March 31. More information can be found here.