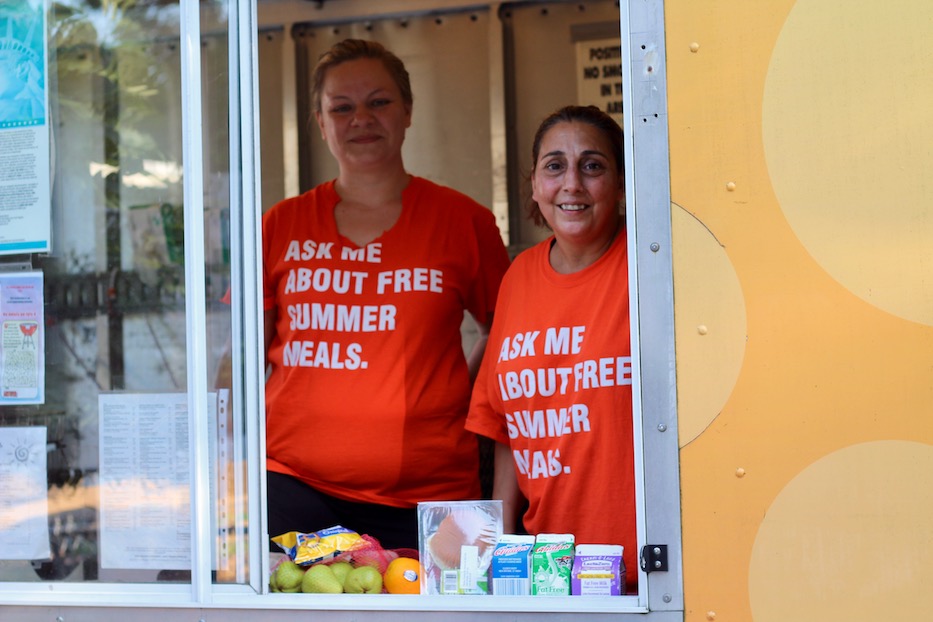 Culture & Community | Food Justice | The Hill | WNHH | Food Policy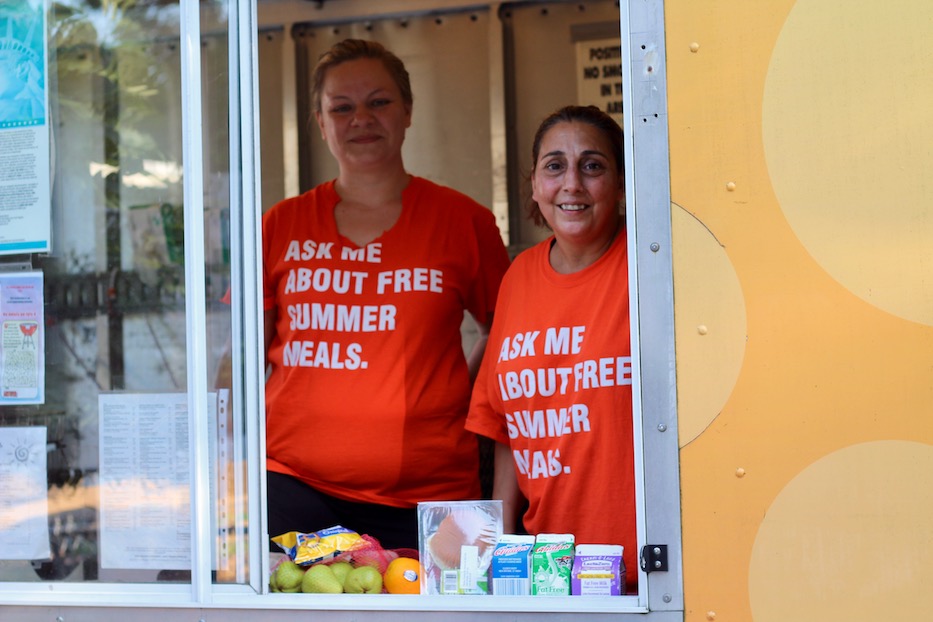 Barbara Libretti and Melissa Foster. Lucy Gellman Photos.
Berta Lopez was intrigued when she stumbled on a bright orange summer meals truck two years ago in the city's Hill neighborhood. Now, she visits it every evening with her two young daughters.
Lopez, who now lives in West Haven, is one of thousands of Connecticut parents to benefit from New Haven's free Summer Meals Program, which continues this month at several lunch and supper locations through Aug. 16. In New Haven, it has become a response to high food insecurity in the city, where data from the Community Alliance for Research and Engagement (CARE) has shown hunger on the rise, at around 22 percent in New Haven and close to 14 percent in nearby Hamden.
Funded by the U.S. Department of Agriculture's Summer Food Service Program (SFSP), the program provides free meals to kids 18 and under during the summer months, when schools close and the National School Lunch Program (NSLP) goes on hiatus for the summer. A complete list of sites is available here. Last year, the program served 195,000 meals in New Haven and 12,000 in Hamden. Stats are not yet in for this June and July.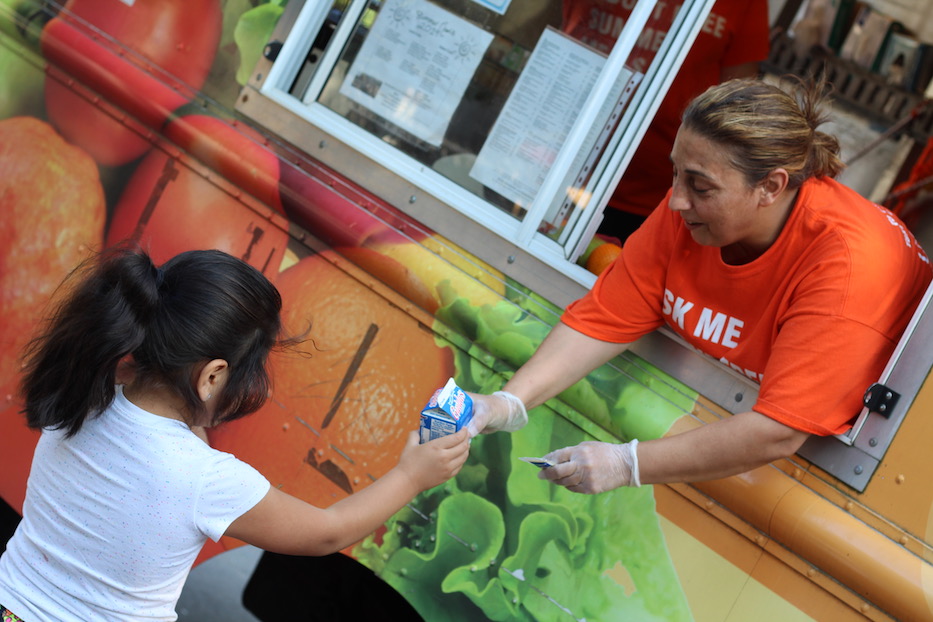 Barbara Libretti with Emily Contreras. Emily said she prefers fruit juice to milk, meaning that her little sister gets some extra calcium.
"You hear a lot of people talk about how nutrition and getting enough to eat in the summer is really the foundation to be able to hold together health and hold together summer learning," said Billy Bromage, director of organizing for the Yale Program for Recovery and Community Health and a member of the New Haven Food Policy Council, on a recent episode of WNHH Radio's "Kitchen Sync" program. "To keep the kids able to keep up and able to feel ready to learn and feel nourished all summer, which is such a basic need for people."
That's true for Lopez, who first learned about the program in 2017. That summer, she noticed a bright orange truck in front of the Amistad Catholic Worker House, close to her former home on Truman Street. The truck's sides were wrapped in bold lettering and images of big fresh vegetables, advertising free summer meals. Now, her daughters Emily and Uritzi eat there almost every evening, lining up with neighborhood kids around 5 p.m.
They've gotten to know summer meals staff members Barbara Libretti and Melissa Foster, who show up every night on their journey to four sites across the city (the Amistad Catholic Worker House marks site number three, followed by Edgewood Park). The meals—sunbutter and jelly or turkey sandwiches with mustard and mayo on the side, fresh fruit, apple and orange juice and milk—help them stay full.
They've worked out a system: Emily loves the sandwiches but won't touch the milk, meaning that Uritzi gets an extra boost of calcium several days a week.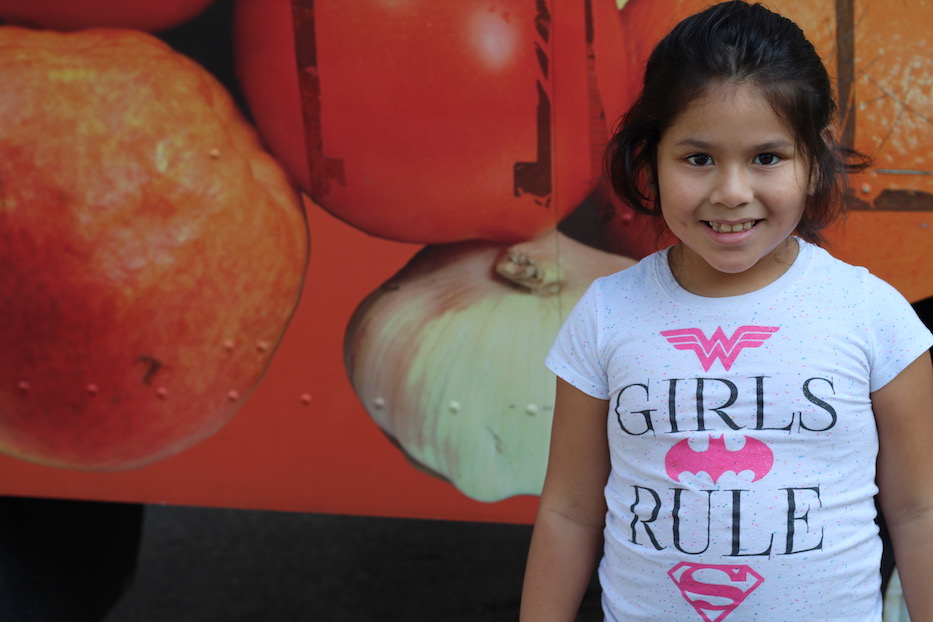 Emily: "I love the sunbutter, and the apple and orange juice."
"It helps ends meet," Lopez said Thursday, rocking Uritzi on her lap. "And if they don't eat it today, they'll eat it tomorrow."
Thursday, the site's 56 young visitors also got help from volunteer Tracy Blanford, a retired nursing instructor who works with the food rescue group Haven's Harvest and had swooped in to be an extra pair of hands.
In addition to summer meals, volunteers and partner organizations host games of jump rope, sidewalk doodling sessions, free puppet theater, instrumental interludes and "petting zoos" from the New Haven Symphony Orchestra, and visits from the New Haven Fire Department, Emergency Medical Services, and New Haven Free Public Library's Readmobile.
"The students eat there, they talk to my staff, and they are just having a little picnic at the sites," said Gail Cairns Sharry, food service director for New Haven Public Schools. "We're just trying to make it a fun time for the kids to come in and enjoy a meal."
Libretti, who has worked for the city for 18 years and served summer meals for eight of those, said she loves being part of the program because she of the kids she gets to serve every day. Normally, she said, demand for the program grows toward the end of the month, as families run low on their Supplemental Nutrition Assistance Program (SNAP) benefits, which are federally funded.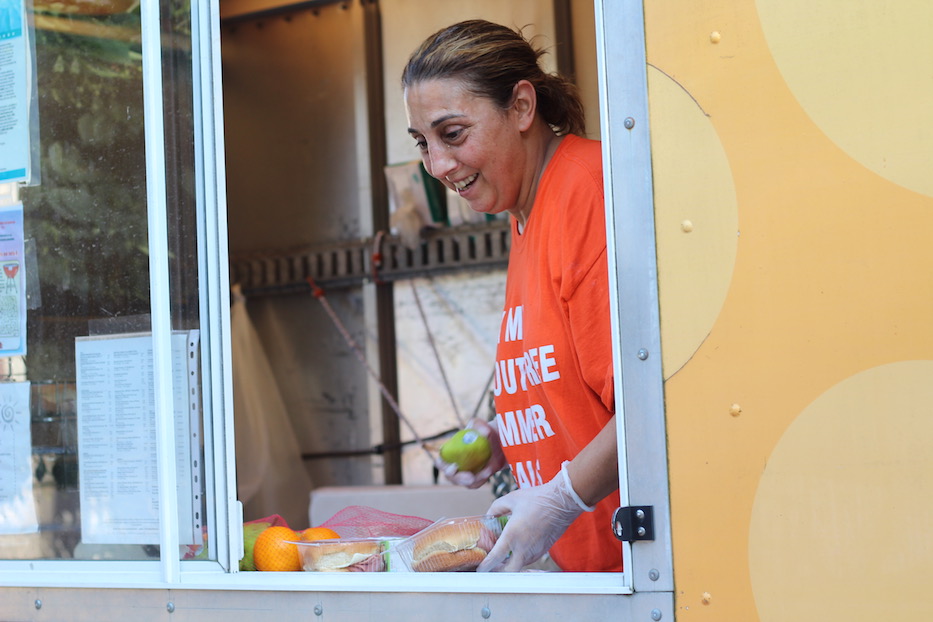 "I love it [the program]. I love this truck. But it's also sad—even when it's downpouring, you see the same faces out here. The kids get to know you."
But this year, she has seen a need that's remained steady throughout the summer. The summer program comes as SNAP is are under sizable potential cuts from the federal government, through which over three million Americans risk losing their monthly benefits.
"I love it [the program]" Libretti said. "I love this truck. But it's also sad—even when it's downpouring, you see the same faces out here. The kids get to know you."
She recalled an afternoon earlier this week, when she stepped out for a few minutes to use the bathroom and left Foster to serve meals. In the four or five minutes that she was gone, kids started asking where she'd gone, and when she would be back.
"It just melts your heart," she said. "I just wish this were all year."
In the final weeks of the program, summer meals advocates are focusing not just on the Aug. 16 end date, but on solving an "August gap" that takes place between the end of the program and the beginning of the school year. Bromage said that food advocates plan to partner with local organizations to "fill that gap in" with a series of huge community picnics that all New Haveners can attend, regardless of age or need.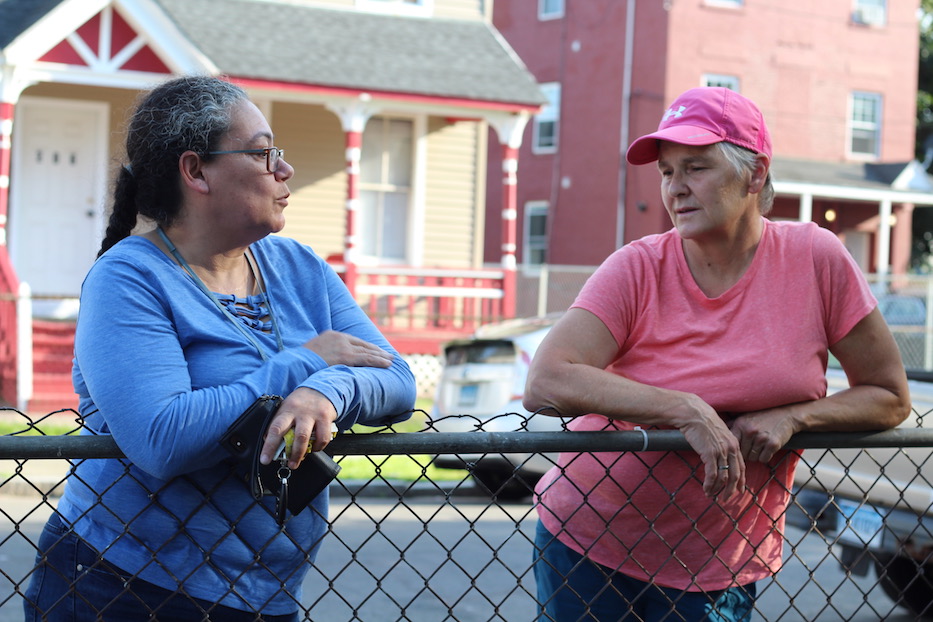 Luz Catarineau Colville and Tracy Blanford.
At the Amistad Catholic Worker House Thursday, that end date still seemed deceptively far away. As Emily finished her supper, Lopez gathered the girls and headed on to West Haven. Luz Catarineau Colville, who runs the Catholic Worker House, chatted with Blanford on the sidewalk outside. Emily cautiously petted Colville's five-year-old dog Bhodi (short for Bodhisattva). Then she cracked a huge grin and waved to Libretti. Libretti waved back cheerfully.
"Bye!" she yelled to Emily as she packed up the last of the truck. "See you tomorrow!"
To find out more about the Summer Meals Program, listen to or download the podcast above, an interview with Gail Sharry, Billy Bromage and Witnesses To Hunger Member Kim Hart. This piece is made possible through the Arts Paper's content sharing partnership with WNHH Community Radio and its longstanding news affiliate, the New Haven Independent.