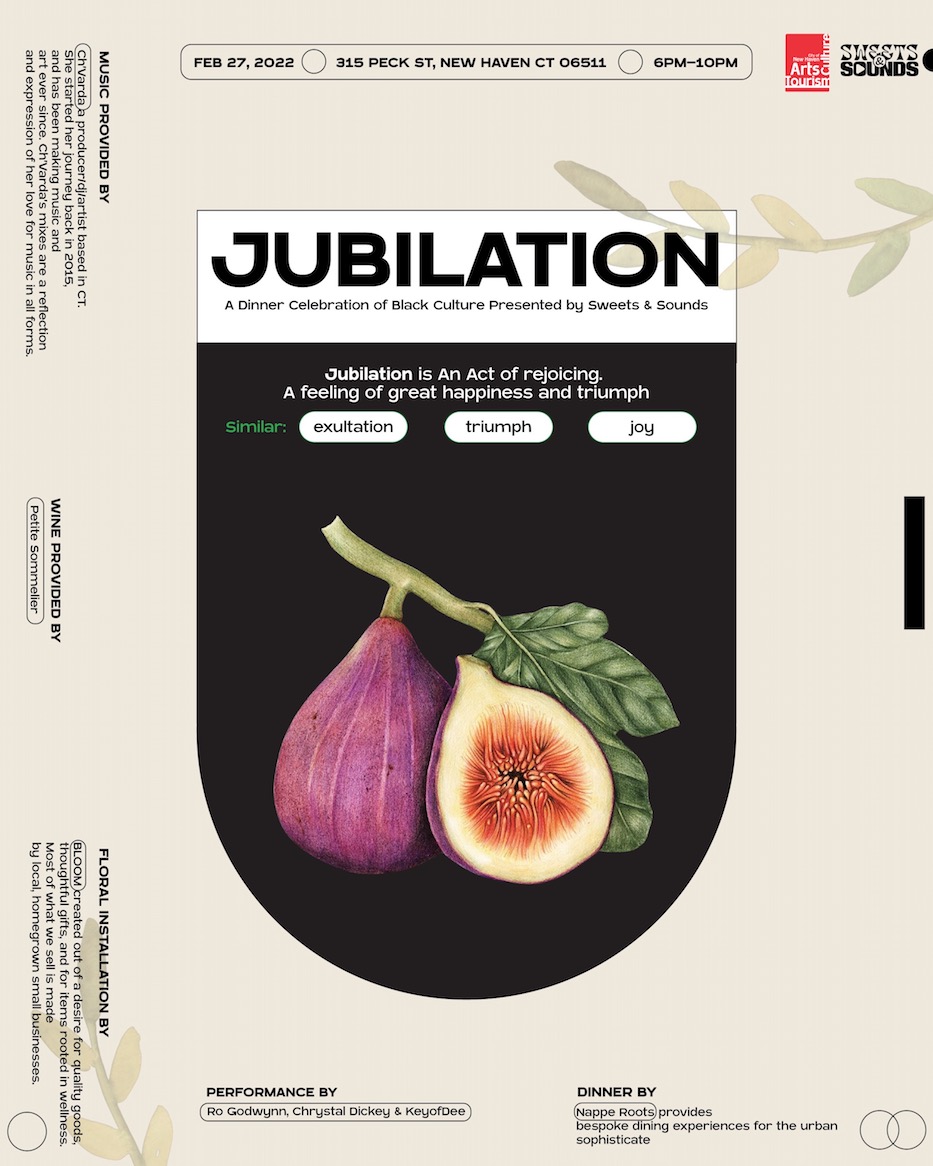 Black-owned businesses | Culture & Community | Erector Square | Arts & Culture | COVID-19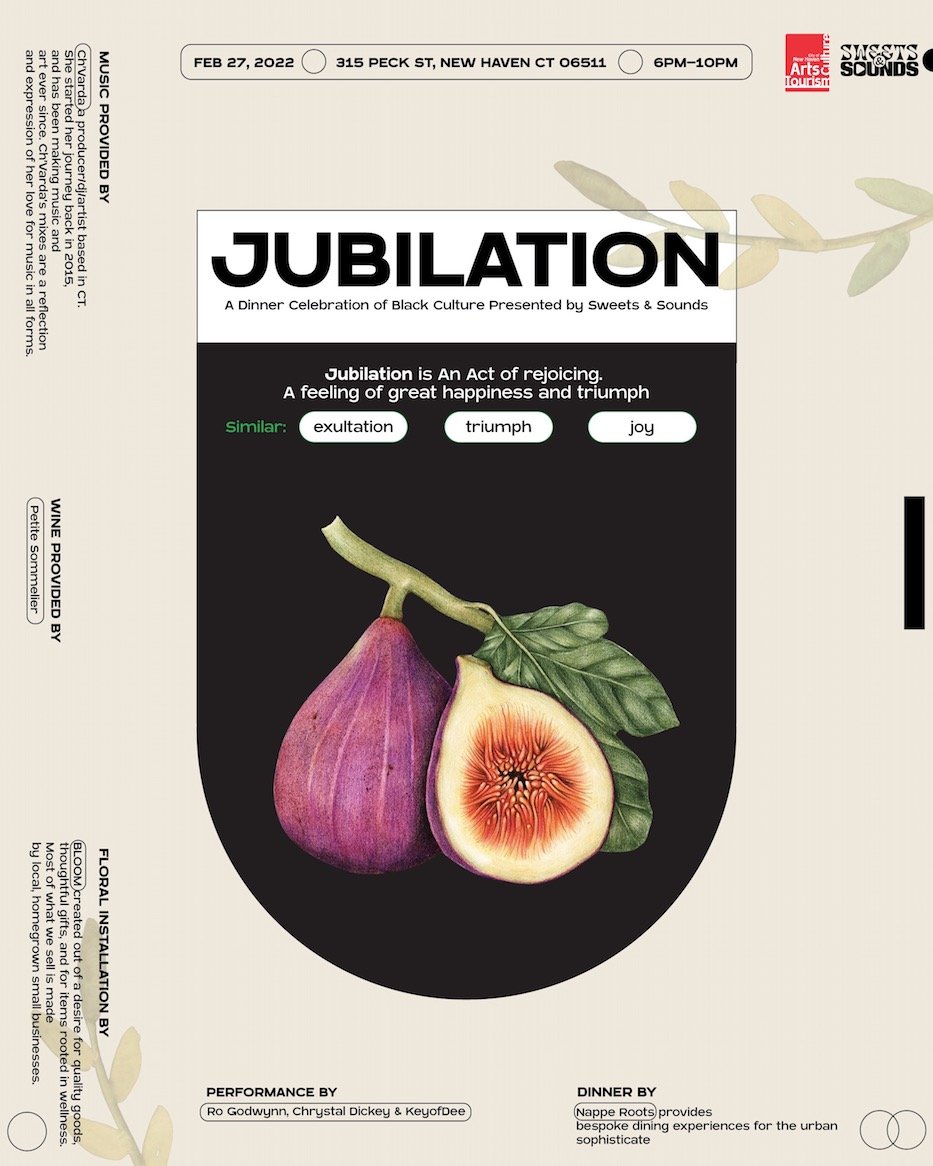 Dahfay's program for Jubilation, courtesy of Sweets & Sounds. She is pictured below.
The image is sharp and clear in Angel Dahfay's mind. Twenty-five Black people are gathered in Studio i, the room warm and glowing against the velvety night outside. Music bounces off the walls, burrowing into the space's nooks and crannies. A buzz of conversation slides along the floorboards. The scents of fish curry and jerk chicken float through the air.
Everything there pays tribute to the breadth of a diaspora, from the wine to the ingredients to the bright bouquets arranged atop the tables. Music is woven tightly through every course.
That's the idea behind "Jubilation," a Black History Month dinner from Dahfay and her evolving brainchild Sweets & Sounds. Three years after she first founded the startup with camera equipment, production experience and a few recipes, Dahfay has grown the concept into a full-fledged entertainment company and event series. After a successful first "Sweets & Sounds Con" in Hartford in December, she is looking ahead to 2022 with an evolving lineup of events. The company's name comes from her love for both sweet treats (she herself is an accomplished pastry chef) and music.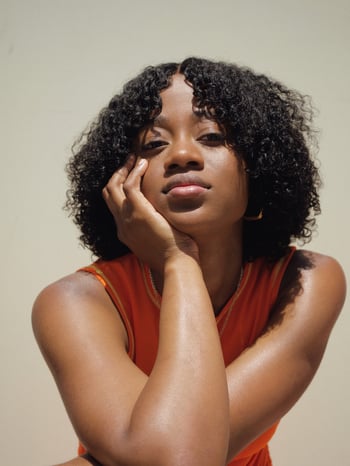 "For me, it's still food," she said in a recent Zoom interview with the Arts Paper. "But it's also curating content and events that connect you through food, music, and art centered around people of color. All those outlets within food and art and music will be centered around people of color, because it's a place for us to come together and know that we're not just one dimension."
Dahfay began transitioning Sweets & Sounds to an entertainment company last year, as a long pandemic winter gave her the time and space to think about what she wanted it to be. In early 2021, she grew the music side of Sweets & Sounds slowly, rolling out monthly playlists alongside a system for online bakery orders that is still active today. As the world slowly reopened, she thought about how to take Sweets & Sounds from the digital sphere into the real world.
Last September, she began building out a one-day "Sweets & Sounds Con," which she ultimately launched from downtown Hartford in early December. As she planned it, she imagined up a pop-up bakery, musical guests and DJs, panel discussions around music, writing, and visual art, and stations from Black artists and entrepreneurs. As that vision came to life, she thought about how filmed segments like Sweet & Sounds' "Sweet Talk" series might translate to multi-artist panels, and brought together artists, graphic designers, and filmmakers to speak about their work. She looped in Bizzie Ruth of The Photobooth, LLC., for whom she has been a vendor, to document the event in dazzling style.
For her, the importance of that kind of event is twofold: it's both showing Black artists that they have support, and showing attendees that they are welcome in creative fields that are often depicted as overwhelmingly white. She credited New Haven Bank and Cafeteria Radio, the Hartford-based company with which she works, for their support.
"It was exactly what I wanted," she said. "It's taking what I do digitally as Sweets & Sounds and making it a real-life, live-action thing … It's being able to curate content that shows people of color are everywhere."
In the new year, she is hitting the ground running. This month, "Jubilation" is dedicated to lifting up Black history and culture, with a night curated by and for Black people. Based out of Studio i New Haven, Dahfay is working with skateboarder and chef Steve Roberts, also sometimes known as Nappé Roots, Petite Sommelier owner Raven Blake, and the Westville-based small business Bloom, as well as Black-owned grocery stores in New Haven and New York.
She has pulled in musicians Ro Godwynn, Chrystal Dickey and Dee Davis, as well as DJ Ch'Varda, for live music. Everything is Black-owned and Black-operated, including wine companies like Maison Noir, Sun Goddess and the McBride Sisters Collection.
Roberts, who has built a menu including black eyed pea fritters and spicy pimento cheese, she-crab soup, fish curry and jerk chicken, praised Dahfay for creating the space to lift up and experiment with Black cuisine and specifically soul food. Certain touches, like spiced figs and pecans in a field greens salad, are inspired by his great-grandmother's pecan tree in small-town North Carolina, from which she would send the family "bags and bags and bags of pecans" during the year.
As a kid, that house became synonymous with childhood (Roberts' grandfather still sends bags of pecans years later, he added with a laugh). Roberts received candy every time he successfully shucked a bowl of field peas, savoring the sound they made as they hit the side of the bowl. He spent visits shelling pecans and playing by the chicken coop. He wants to bring some of that wonder and warmth to the dinner through each carefully plated dish.
"I'm grateful for the chance to carry on the tradition of Black food, Black cuisine, and give it the respect it deserves," he said in a phone call Wednesday morning. "Every time I see soul food, I don't want it to be in a to-go box. Working in kitchens, working in the restaurant industry, you learn to slow down and appreciate the food. I can take the time to make soul food kind of elegant."
For Dahfay, it's also a chance to grow her own creative skill set. When she was a student at Southern Connecticut State University, she majored in media production. She still loves getting behind the camera and focusing her lens. As Sweets & Sounds expands, she wants to hold design and media workshops and bring back her original "Sweet Talk" series, which taped local chefs walking viewers through how to cook a dish. She is also planning a larger Sweets & Sounds Con, this time set in New Haven, for July 2022.
As she maps out the year beyond Jubilation, her biggest challenge now is finding and sustaining funding, she said. This winter, she's working toward fiscal sponsorship for Sweets & Sounds, and applying for a number of grants to make the July convention in New Haven a reality. To get the word out around the brand, she has also started vending at events around the state.
"The pandemic—it's a horrible thing," she said. "It's really, really horrible. But for me, it has given me time to really sit with myself and figure out what I want for my company, for Sweets & Sounds. How I want to showcase it to people, and how I want people to experience it. Without that time to myself, without that time sitting in my house and not leaving to go anywhere, I wouldn't have a plan of what I want to do for the year."
Learn more about Sweets & Sounds here.