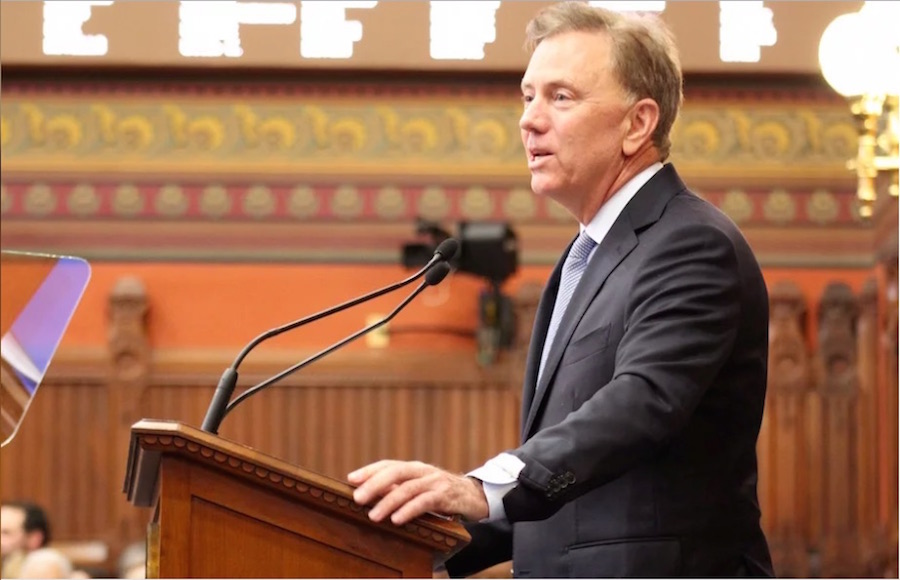 Politics | Arts, Culture & Community | State Legislature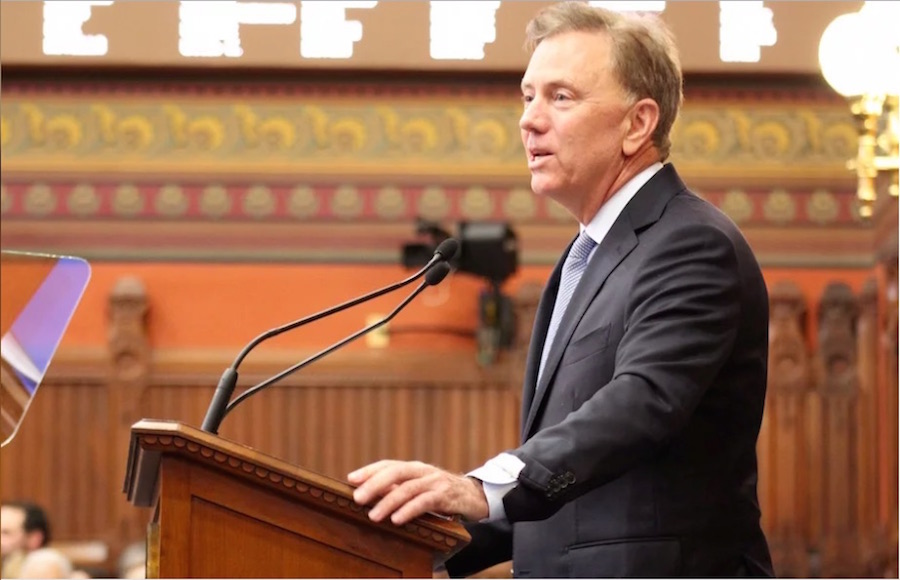 Gov. Lamont earlier this year. Lucy Gellman Photo.
Could arts and tourism funding be growing in the next two years? According to the Lamont administration's newly-released budget, no. But if a handful of legislators can push their bills through, maybe—and then some.
That was the news Wednesday afternoon in Hartford, as Gov. Ned Lamont presented his first two-year budget proposal to a joint session of the Connecticut General Assembly. Among new proposals to increase taxes, stabilize the teacher's pension fund, and grow public transportation all while on a "debt diet," the budget holds steady on current levels of arts and tourism funding.
"Together we can turn this fiscal challenge on its head, use it as a wakeup call to jump start our economy that works for everyone, that grows the revenues we need to continue investing in our amazing future," he said in the address Wednesday afternoon.
In the administration's proposed budget, Lamont maintains current levels of funding to arts and tourism from line item spending to a $4.1 million tourism budget. It follows months of cultural advocacy from arts organizations and comes at a time when the Office of the Arts is still without an executive director (or any announced plan to hire one). Last month, Lamont appointed former Goldman Sachs executive David Lehman to run the Department of Economic and Community Development (DECD), under which the Office of the Arts currently lives.
"I am not surprised, but pleased to see that the Governor's budget maintains level funding for arts, culture and tourism given Connecticut's fiscal situation and major changes being proposed," wrote Wendy Bury, executive director of the Southeastern Connecticut Cultural Coalition and ACT committee co-chair, in an email Wednesday evening. "Who knows what would have happened had we not advocated through Create the Vote CT and actively engaged with the Governor on the ACT policy committee."
"There are still opportunities to benefit arts, culture and tourism through legislative bills and continued negotiations with the budget," she added.
And indeed, there are. There has been a flurry of proposed legislation recognizing arts as an economic driver. If some or all of it is passed, arts and tourism funding may get a bump after all. And some more regulation could bring—and keep—creative jobs in the state. These are six of the bills of the we're monitoring this session.
House Bill No. 6842: An Act Increasing Occupancy Tax Deposits Into The Tourism Fund
Proposed by: Republican State Rep. Devin Carney, who represents Old Lyme.
If passed, this bill would reallocate the annual percentage of Connecticut's occupancy tax that goes into the state's tourism fund from 10 to 20 percent.
The bill follows a proposal from the Lamont-Bysiewicz Arts, Culture and Tourism (ACT) Transition Committee late last year to allocate 25 percent of the lodging tax to the state's tourism fund as a path to job creation and statewide economic development.
At the time, committee members suggested that such a change could raise the tourism fund budget to $31.5 million a year, up from a current $4.1 million. Specifically, ACT committee members suggested it has the power to be an economic engine, boosting the state's economy with $57 million in tourism-related tax revenue and $89 million for arts and culture.
The bill has been referred to the Joint Committee on Commerce. No further action has yet been taken. Read the language here.
H.B. No. 6806: An Act Establishing A Connecticut Cultural Facilities Fund
Proposed by: Democratic State Rep. Christine Palm, representing Chester, Deep River, Essex, Haddam.
The bill would free up additional bonding dollars to create the state's first-ever Cultural Facilities Fund as a pipeline to job growth and arts accessibility. The idea behind a cultural facilities fund, typically funded with a mix of state and private money, is that job growth in the arts translates to a whole creative ecosystem—from the architects and engineers who oversee the expansion of a museum to the new security officers that staff it once it's open.
The proposed Connecticut Cultural Facilities Fund has an analogue just across the border in Massachusetts. Since its creation 10 years ago, that fund has awarded over $100 million in grants to almost 900 cultural projects, while creating thousands of jobs and bringing in millions of tourists. Following Massachusetts' model, funding would come from both bonded state dollars and private matching dollars.
The bill has been referred to the Joint Committee on Commerce. No further action has yet been taken. Read the language here.
HB-5444: An Act Requiring Licensure Of Art Therapists
Proposed by: Republican State Rep. Mitch Bolinsky, representing Newtown.
The bill would expand the state's General Statutes to formally recognize art therapy as part of the mental health profession, requiring practitioners who use the words "art therapist" or "certified art therapist" be properly licensed through an accredited graduate program and the Connecticut Department of Public Health. The proposal follows a trend in several states across the country to regulate the profession.
In a public hearing earlier this month, the bill received immense bipartisan support, including from students in Albertus Magnus College's Art Therapy and Counseling degree program and several doctors and mental health professionals who see it as protecting both practitioners and particularly at-risk patients. It's a topic that hits close to home for Bolinsky and his district: in the wake of the shooting at Sandy Hook Elementary School in 2012, the American Art Therapy Association began a Recovery Task Force, sending in clinical art therapy services to work with students.
In her testimony, Weston, Conn. resident Carleen Lyden Walker praised the legislation as long overdue, noting the role that art therapy played in her daughter's own struggles with mental health and calling it a measure that could "protect the public," open access to better mental healthcare, retain art therapists and art therapy students, and grow Connecticut's economy.
"Art therapy establishes a straight path from the subconscious to the paper; there is no language to dilute the truth," Bolinsky wrote in his own testimony for the bill. "Creative arts and movement can open the soul to healing."
If the bill passes, unlicensed professionals still using the title "art therapist" or "certified art therapist" would be guilty of a class D felony.
The Public Health Committee held a hearing earlier this month, after drafting language for the bill. Read the committee's revised bill here and the full public hearing testimony here.
H.B. No. 6939: An Act Concerning The Establishment Of Municipal Cultural Districts
Proposed by: Republican State Sen. John Frey, who represents Ridgefield.
If passed, the bill would allow for the creation of state-designated municipal cultural districts. These districts would "create awareness and promote economic development," Frey said, around the creative, cultural and historic significance of neighborhoods. In a public hearing held earlier this month, advocates of the bill pitched it as a potential driver of in-state and out-of-state tourism as well as cross-sector economic development.
Jeff Shaw, director of public policy and advocacy for the Connecticut Community Nonprofit Alliance, also honed in on the economic potential of the bill, citing a $7 to $1 return on investment on funding for arts and cultural programs
"Establishing Municipal Cultural Districts could provide additional visibility and awareness of these institutions and increase economic activity and opportunities for all cities and towns," said Shaw.
Read the language here and public testimony here.
H.B. No. 5805: An Act Concerning The Taxation of For-Profit Secondary Market Ticket Sellers
Proposed by: Democratic State Rep. Patricia Dillon, who represents the West end of New Haven.
The bill has a fun origin story. Sort of. Last year, Bushnell Performing Arts Center president and CEO David Fay watched tickets sell out fast for Hamilton when it came to Hartford—and then realized they were appearing on secondary market sites like StubHub at a significant markup. When they sold for a second time—because fans want to be in the room where it happens even when it costs a pretty penny—Connecticut didn't get to see any of that profit.
Technology to regulate the secondary market does exist—as in, the Department of Revenue Services can register entities and require them to submit monthly payment—but there's no existing legislation for it in the state. Under this bill, for-profit secondary ticket sellers offering events in Connecticut would be taxed.
The bill has been referred to Joint Committee on Finance, Revenue and Bonding. No further action has yet been taken. Read the language here.
S.B. No. 259 An Act Concerning The Imposition of Sales and Use Taxes On Peer-To-Peer Hospitality Services
Proposed by: Democratic State Sen. Norm Needleman, representing Chester, Clinton, Colchester, Deep River, East Haddam, East Hampton, Essex, Haddam, Lyme, Old Saybrook, Portland and Westbrook
This is a very fancy way of saying Connecticut would expand the occupancy tax to services like AirBnB, HomeAway, and VBRO—commerce platforms that connect people with lodging, but aren't currently required to pay taxes like hotels and inns do. An increase in the revenue generated from the occupancy tax means an increase in the revenue that goes into the tourism fund, of which the arts get 40 percent.
At a meeting in December, Connecticut Tourism Coalition President Stephen Tagliatela said that AirBnB has been the only group to get onboard with paying without extra legislation making the company do so.
Want to see more? Read the proposed language here and the public hearing testimony here.