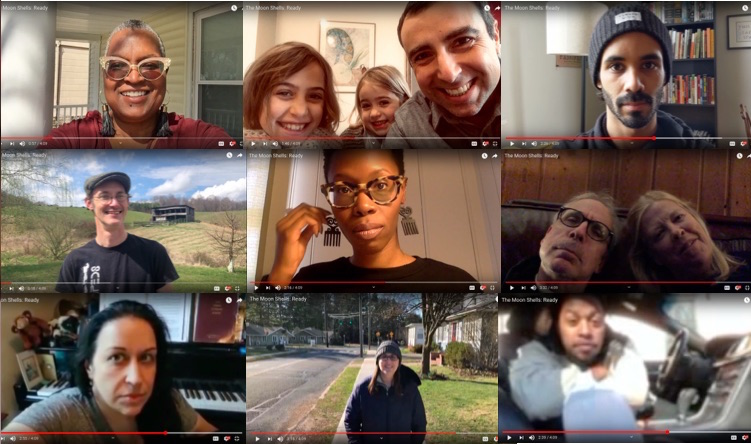 Music | Arts & Culture | COVID-19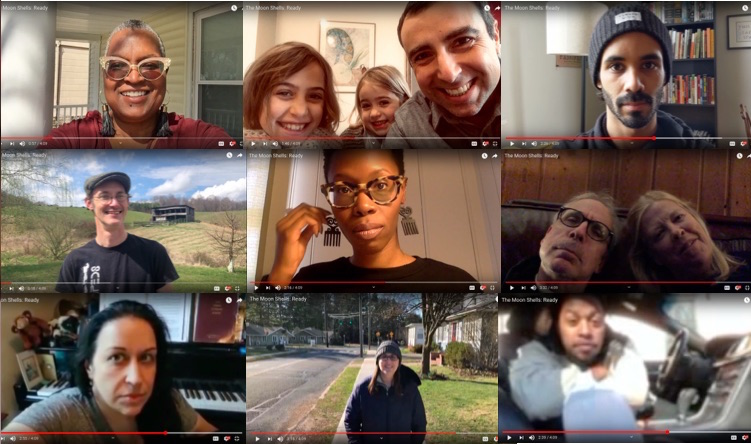 Just a few of the screenshots from "Ready." The Moon Shells have shared the video via Facebook and YouTube.
The faces fill the frame one by one. A woman blinks and gives the camera a tight-lipped smile. Another, her hair still wet, grins as sun-soaked farmland stretched out behind her. A boy holds his cat to his chin and lets it climb on his face. Banjo rises behind them, rolling slowly enough to climb onboard. The longer the music plays, the more bearable the distance feels.
"And we're ready, yeah we're ready, hey heyyyyyy," the band sings over the track. "And we're ready, yeah we're ready, hey."
The video comes from The Moon Shells, a collective of musicians including Maggie Shar, Brian Slattery, Laura Murawski, Molly Merrett, and Charlie Shaw. Wednesday morning, the group surprise-released the video for "Ready," a track off its upcoming album, as a sign of resiliency in the midst of mounting COVID-19 fears in New Haven and around the country.
"We were going to make a video for this new song, 'Ready,' by getting the band together this weekend. But this is better," the group wrote on its Facebook page Wednesday. "Thank you so much to everyone who sent us videos. Hang in there, everybody. See you on the other side of all this."
It's a taste of what the new album might sound like that also warrants a good cry. Made in under a day, the video features dozens of the musicians' family members, friends, and friends of friends looking into their respective cameras for seconds at a time. Submissions range from high-resolution to fuzzy and pixellated, which becomes part of the video's charm pretty quickly.
Some people smile, step into patches of sunlight, and shift in front of the lens like no one is watching. Others juggle bright balls, make silly faces, and snuggle with their pets and their loved ones. A few just stare, or regard the camera with an "are you kidding me" kind of wide-eyed exhaustion.
All of them are experiencing some form of isolation. The lyrics, delivered with a soaring, ebullient calm, coast over them one by one.
Rain falls on the metal roof/It's been coming down for years
Through the broken window the people come and go in and out without a sound
When the wind makes the lights go out/We open up our ears
The beat starts in our hands and feet and moves us 'round and 'round
Slattery, who lives in Hamden, said that he and Shar came up with the idea to ask for 10-second-submissions earlier this week. Originally, band members had planned to meet this coming weekend to film a live video for the song.
It would have been the final, missing piece to what Slattery called "the big production number for the next album:" in addition to the band, "Ready" has lush, layered vocals from local musicians Sam Moth and Adam Matlock and Tennessee-based singer-songwriter Drew Bunting.
But Slattery, Shar, and Murawski all live in different states. As they watched a growing number of shuttered businesses and shelter-in-place orders materialize, meeting didn't seem like a good idea. They still wanted a way to shout out the musicians who had pitched in on the video—and give back to the wider community while they were at it.
After the group had agreed on the concept, they sent out a call for submissions via social media on Tuesday. Dozens of friends responded almost immediately.
"The more we talked about it, the more it became 'let's see how many people we can get in on this,' because the song is long enough and if you make the cuts short, there's enough room for about 50 people," Slattery wrote by email on Wednesday. "It seemed really in the spirit of the song—not just what the words say and how it all sounds, but the process by which we put the whole song together even before the outbreak started."
The finished video feels exactly right. Subjects smile and frown and stare penetratingly at the camera. A few, many of whom are fellow musicians, sit on their couches playing to a live audience of one. They bring listeners into their backyards and bedrooms and kitchens, onto their piano benches and nearly-deserted streets. There's a whole range of emotion: exhaustion, grief, sun-dappled joy. Parents bring their kids in close and the urge to smile back is matched by a big lump in one's throat.
"It came together really quickly, and turned out to be pretty emotional—all these people I knew and cared about just looking back at me all day,' Slattery wrote. "I just want them all to be okay."
It also feels right on time. As working musicians, members of The Moon Shells are all grappling with the fallout from COVID-19 themselves, as are almost all the artists they know. Merrett, who is a cook, works out of a grocery store. Shar is navigating what it looks like to reconfigure her classes for online learning. Slattery, who writes and edits for the New Haven Independent, is exploring how the pandemic shows up in arts and culture. As educators, Murawski and Shaw "are sort of in limbo," Slattery wrote.
"I think it's really important that we find things to bring us a little happiness every day, whether it's a walk around the block or listening to music or talking to our friends and family on the phone," he added. "In this case, I know it's just a song. But it's better than no song."
For more on The Moon Shells, visit their website.