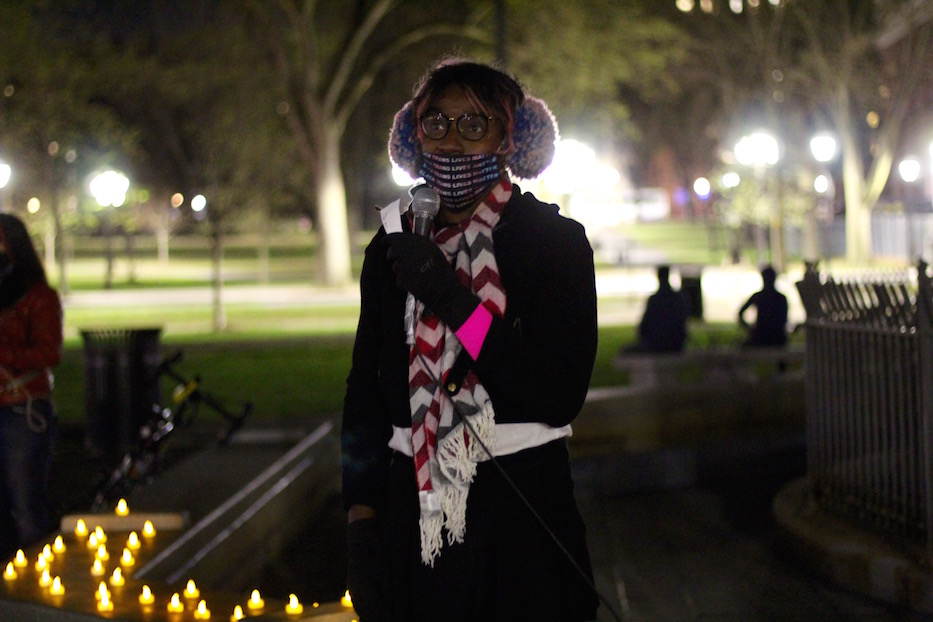 Culture & Community | Downtown | LGBTQ | Arts & Culture | New Haven Pride Center | Transgender Awareness Week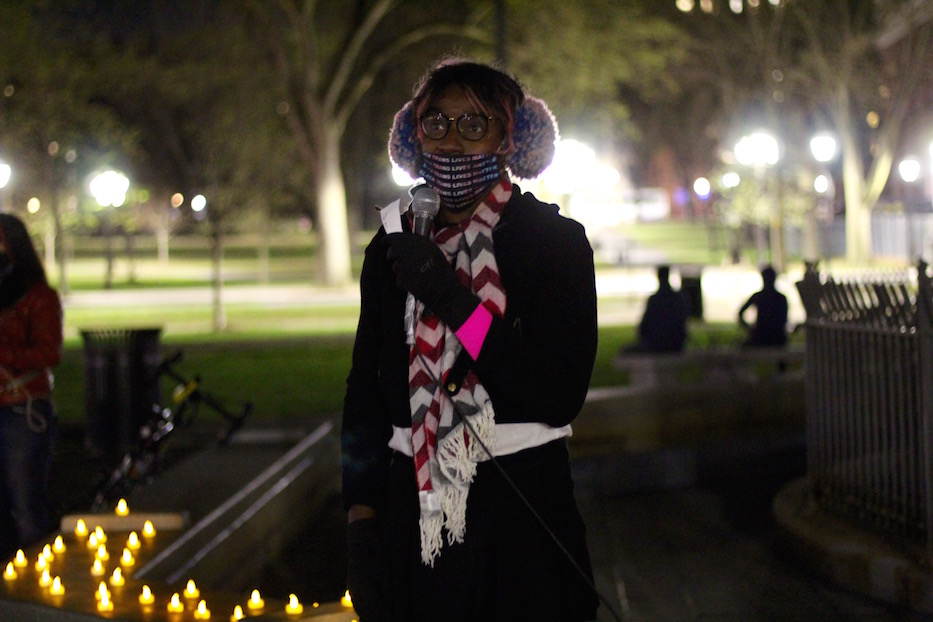 Karleigh Webb on Nov. 20. "I look forward to a day when our humanity is no longer debated," she said. Lucy Gellman Photos.
Mercy Mack, 22, from Dallas, Texas. Dustin Parker, 25, in McAlester, Oklahoma. Lexi, 33, New York, New York. Nina Pop, 28, from Sikeston, Missouri. Tony McDade, 38, in Tallahassee, Florida. Felycya Harris, 33 in Augusta, Georgia.
Friday night, those were just six of the 43 names remembered, mourned, and honored on the New Haven Green during a masked, socially distanced Transgender Day of Remembrance vigil from the New Haven Pride Center and Party for Socialism and Liberation (PSL). Close to 30 gathered for the event, held against the flicker of tea lights and a blue-and-pink trans pride flag by the Green's flag pole. Dozens more joined through a livestream online.
"I look forward to a day when our humanity is no longer debated," said organizer Karleigh Webb, dressed in a blue-and-pink "Black Trans Lives Matter" mask and matching striped knee socks. "I look forward to the day when no transgender child is kicked out of their home. I look forward to the day when no trans elder is denied the rest they deserve. I look forward to the day when no one is deadnamed when they die, and deadnamed twice when their death is reported. I look forward to a day when November 20 is like any other day."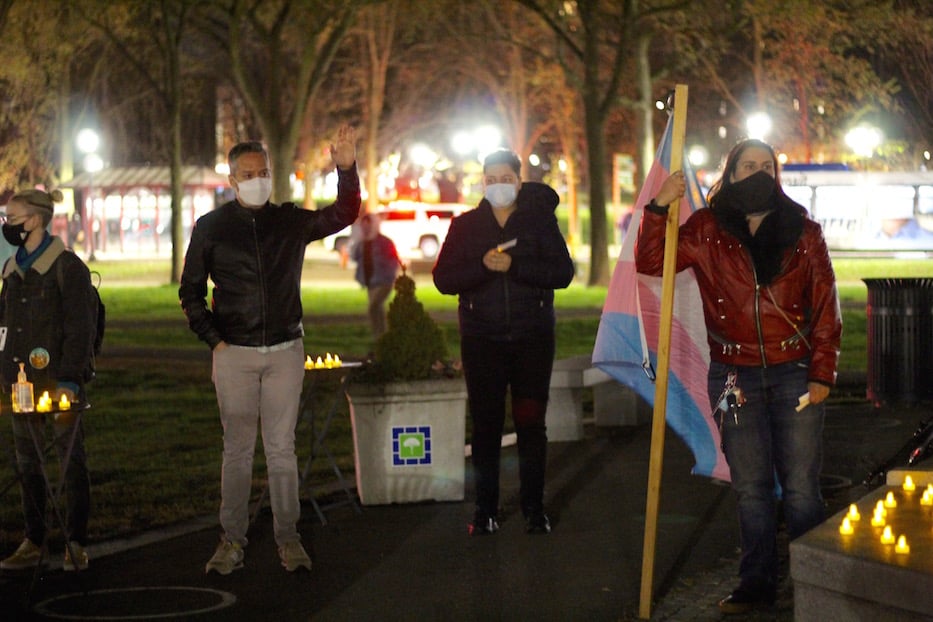 "How many people here, by show of hands, are tired?" Webb asked at one point during the vigil. Within seconds, every hand went up.
Transgender Day of Remembrance (TDOR) began in 1999 to honor Rita Hester, a Black trans woman who was murdered in her Allston apartment in November 1998. Twenty-two years later, 2020 marks one of the deadliest years on record. Between September 2019 and October of this year, Transrespect Vs Transphobia documented 350 murders of trans people, most of them women of color.
Since the beginning of this year, the Human Rights Campaign (HRC) has reported 37 acts of fatal violence against transgender and gender nonconforming people in the United States; Friday's vigil included 41 from this year and 2 from December 2019. Last year at this time, that number was 22. By the end of 2019, it was 25. As both the HRC and speakers at Friday's event noted, the number is likely much higher due to the number of trans people who are misgendered or unaccounted for at the time of their death.
Due in part to COVID-19, violence is also on the rise behind closed doors: many trans people have been killed within their own homes or spaces they once considered safe. Meanwhile, members of the trans community are also fighting legislative assaults from the Trump administration, including in New Haven and Connecticut. In a sweeping attack this fall, the Department of Housing and Urban Development (HUD) proposed changes to its Equal Access Rule that would target transgender people with housing insecurity.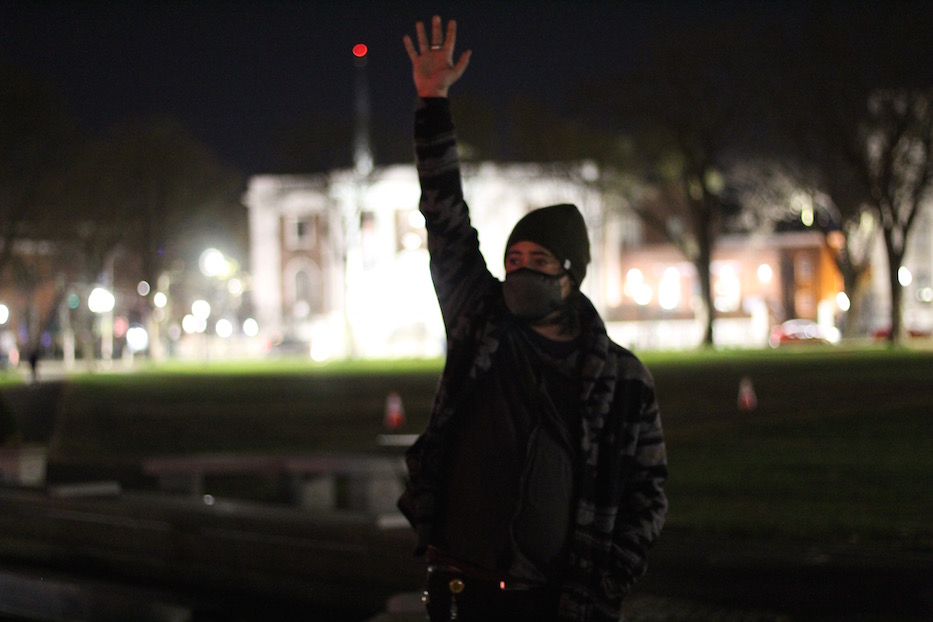 Eliot Olson, who joined the New Haven Pride Center as transgender, nonbinary and intersex program officer earlier this year.
"That is not the first time that we should be mentioning their names," said Eliot Olson, transgender, nonbinary and intersex program officer at the New Haven Pride Center. "During their lives is the first time that we should be mentioning their names. Supporting them in their livelihoods is the first time that we should be mentioning their names."
As names rang out into the wet, cold air, participants paused on pronunciations and locations, weaving the story of an epidemic that spans the country and the globe. Spread out on the grass, attendees read not in a line but from feet and sometimes yards apart, in a ballet of grief that spanned the space. Cacophonous cries of "rest in power" went up after each name, remembering the mothers, daughters, sons, brothers, cousins, family members and friends lost far too soon.
During an hour-long program, Olson and other speakers also focused on the intersections of trans rights, immigrant rights, an end to police brutality, and equitable access to jobs and healthcare. Musician Maia Leonardo, marketing and development coordinator at the New Haven Pride Center, pointed to the direct correlation between anti-trans bias in the job market and a reliance on the underground economy, including survival sex work.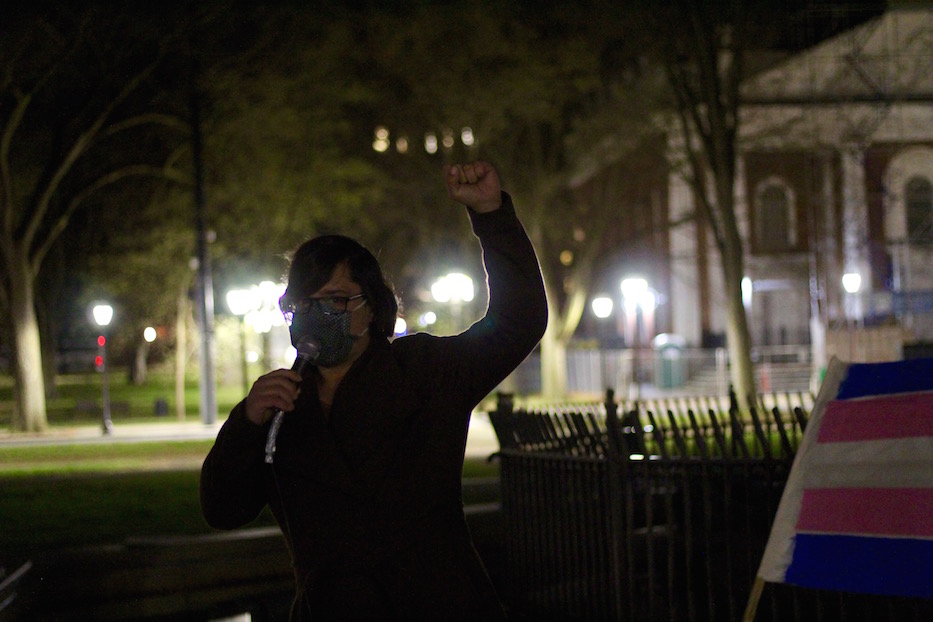 "I think tonight, we need to make a pledge when we're leaving here that we're gonna fight."
Chris Garaffa spoke on Friday's decision among Trump-appointed judges on the 11th Circuit Court of Appeals, which ruled that banning conversion therapy for minors violates First Amendment rights. Garaffa pointed out that judges on that court, like the Supreme Court, are lifetime appointees. They added that each year they come to the event, they spend time thinking about the names that aren't read, because no one has recorded them.
"I think tonight, we need to make a pledge when we're leaving here," they said. "That we're gonna fight. And we're gonna fight in our communities, and at our universities, at our workplaces, in our neighborhoods. We're gonna fight in our city halls, and at the State House, and in D.C. And we're gonna stay in the streets too. We're gonna stay in the streets too."
PSL member and Trans Lifeline Hotline Director IV Staklo urged attendees to honor, support, and celebrate trans people during their lifetimes, rather than remembering them only after their premature deaths. They returned to a phrase that became a rallying cry at last year's TDOR vigil and rally on the Green: "Give us our roses while we're still here."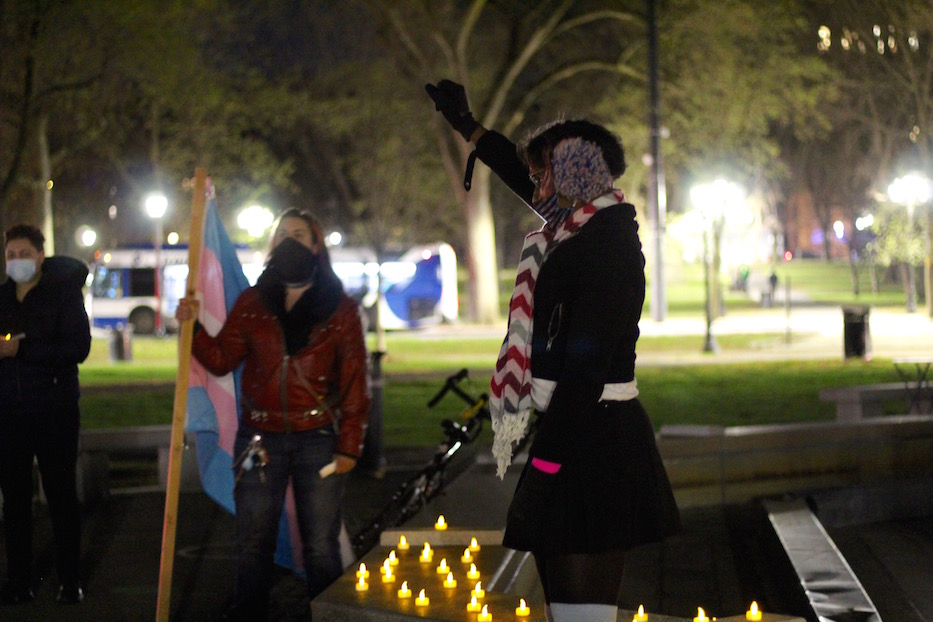 Staklo (in the red jacket) with Webb.
"One of the things that slowly murders us as trans people is the erroneous, poisonous, disgusting and absolutely wrong and violent thought that we're alone," they said. "No matter where you are, no matter who you are, no matter who you're with right now and no matter who you're stuck with, no matter how they treat you, no matter how the world treats you … you're not alone. There's so, so, so many of us reaching out our hands to each other, even six feet apart."
"Trans people aren't just sad," they continued. "Trans people aren't just dead. We get to be a lot more things than sad and dead. We get to be together, and we get to be powerful, and we get to be beautiful, and we get to be resilient, and we get to be leaders."
Around the space, attendees shouted out adjectives to add to Staklo's list. Resilient. Creative. Magical. Human. Here to stay.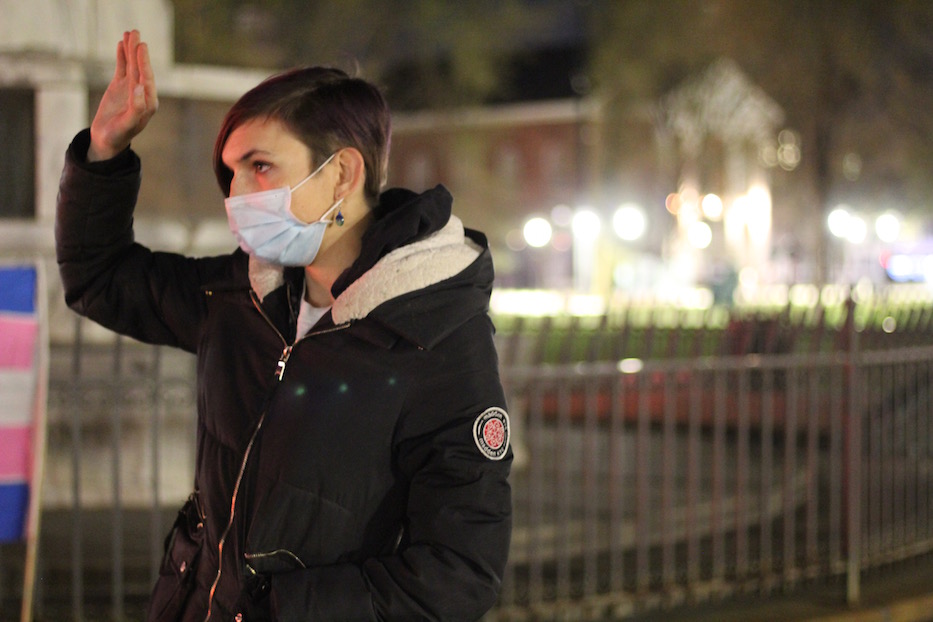 PSL Member Tanya Burley, who lives in Middletown. "We are a living and thriving community, and we are not just defined by those that we're lost,"Burley said during the event. "There are many of us that are alive. There are many of us that are still struggling. And we need to mourn the dead. But we need to fight like hell for the living."
And, Webb noted as she closed with poetry, beautiful. She took the time to honor Monica Roberts and Jerimarie Liesegang, both trans activists who died this fall. Roberts, who passed away in October at the age of 58, was a trans Black woman and journalist who ran the blog TransGriot. Closer to home, Liesegang served as the founder and inaugural director of CT Transadvocacy Coalition. She passed away earlier this month, on Election Day, at the age of 70.
As Webb repeated their names, the crowd bellowed back "Presente!"
"Their charge is now ours," she said. "They may be gone, but their spirit lives in each of us. Let that spirit carry us forward to do the work that they courageously lived and died for. Their charge is ours now."
As a journalist for OutSports and operator at Trans Lifeline, Webb also recalled her first Transgender Day of Remembrance in New Haven four years ago, on the steps of the city's Superior Courthouse across from the Green. She arrived feeling isolated. Then she heard activists speaking about trans pride, and giving their testimonies one by one.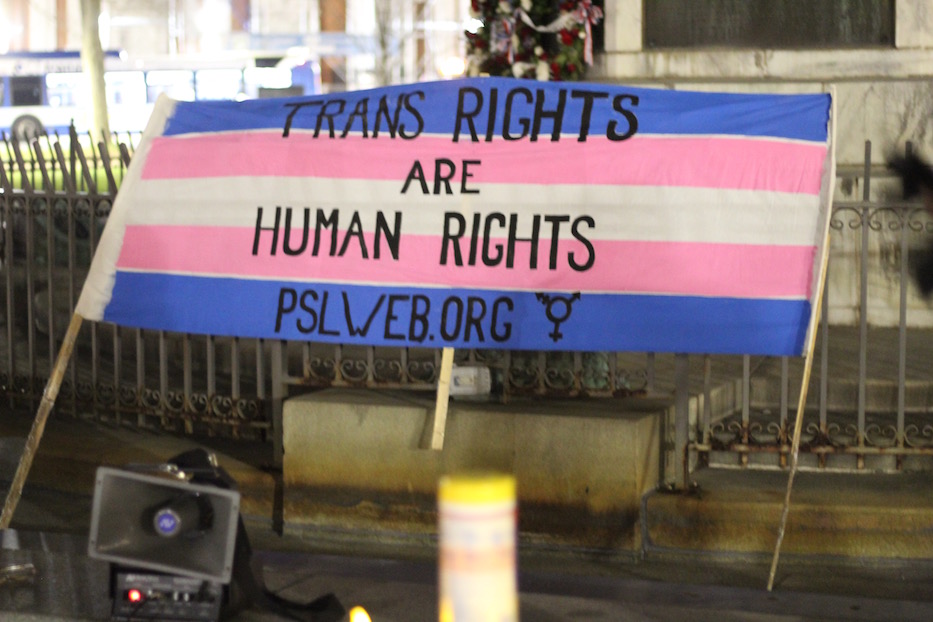 With over 100 attendees, she marched through downtown New Haven, finishing at the New Haven Pride Center on Orange Street. While COVID-19 made a post-vigil gathering impossible, she encouraged attendees to leave with at least one new friend. For Webb, that first friend was Staklo. Their support for each other has changed her life.
"I'm there," she said. "And because someone embraced me, that led to a chain reaction, and another chain reaction, and I met more and more people. I realized that there was an entire community of trans people and allies with open arms saying come, come on in."
To view Friday's livestream, click here. If you or someone you know is looking for trans support and community, Trans Lifeline is accessible 24/7. The Trevor Project offers 24/7 confidential support for LGBTQ+ youth in crisis. Other resources include The Trans Women of Color Collective, The Sylvia Rivera Law Project (SRLP), and The National Center for Transgender Equality.