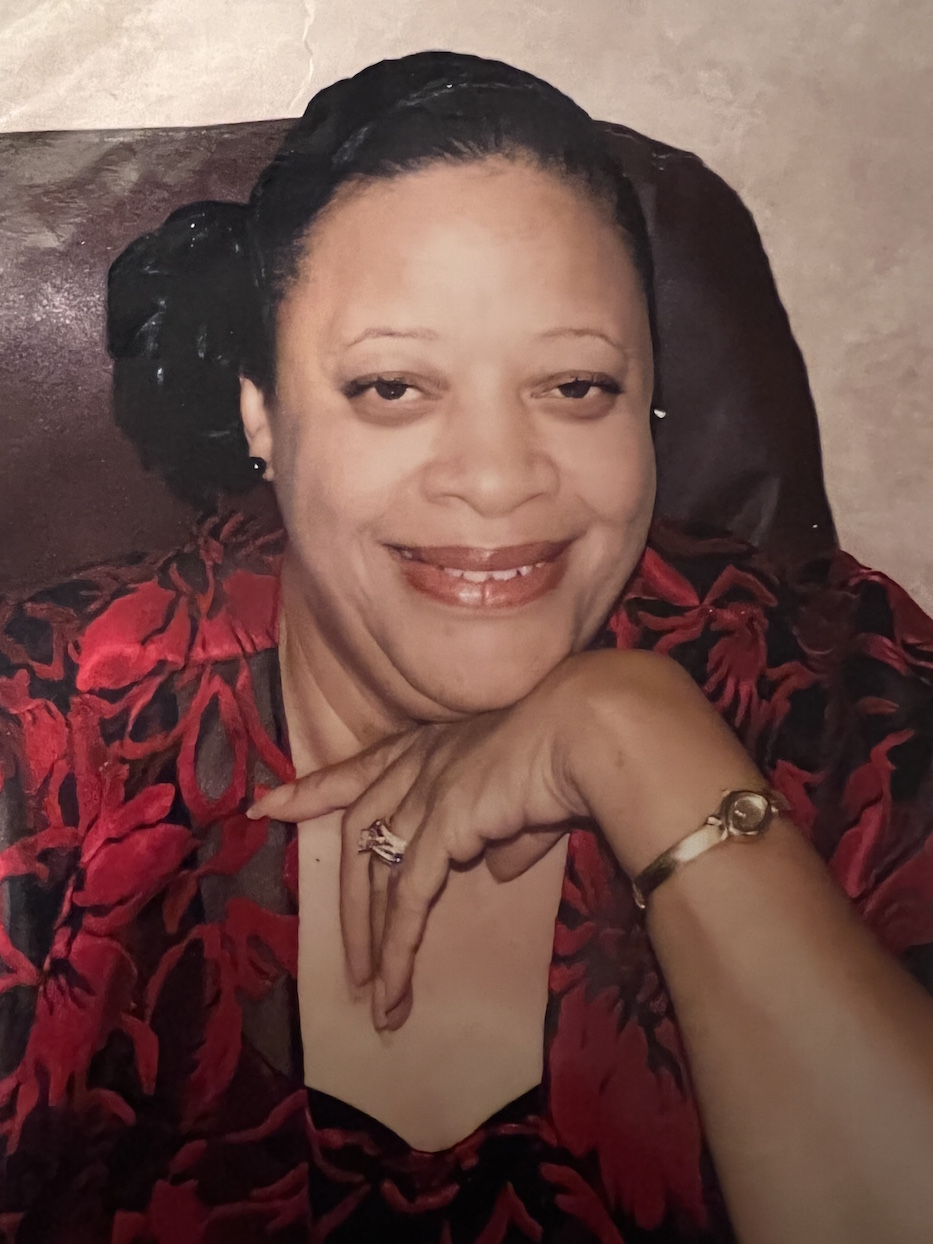 Black History Month | Education & Youth | Music | Arts & Culture | Community Heroes | Arts & Anti-racism | Education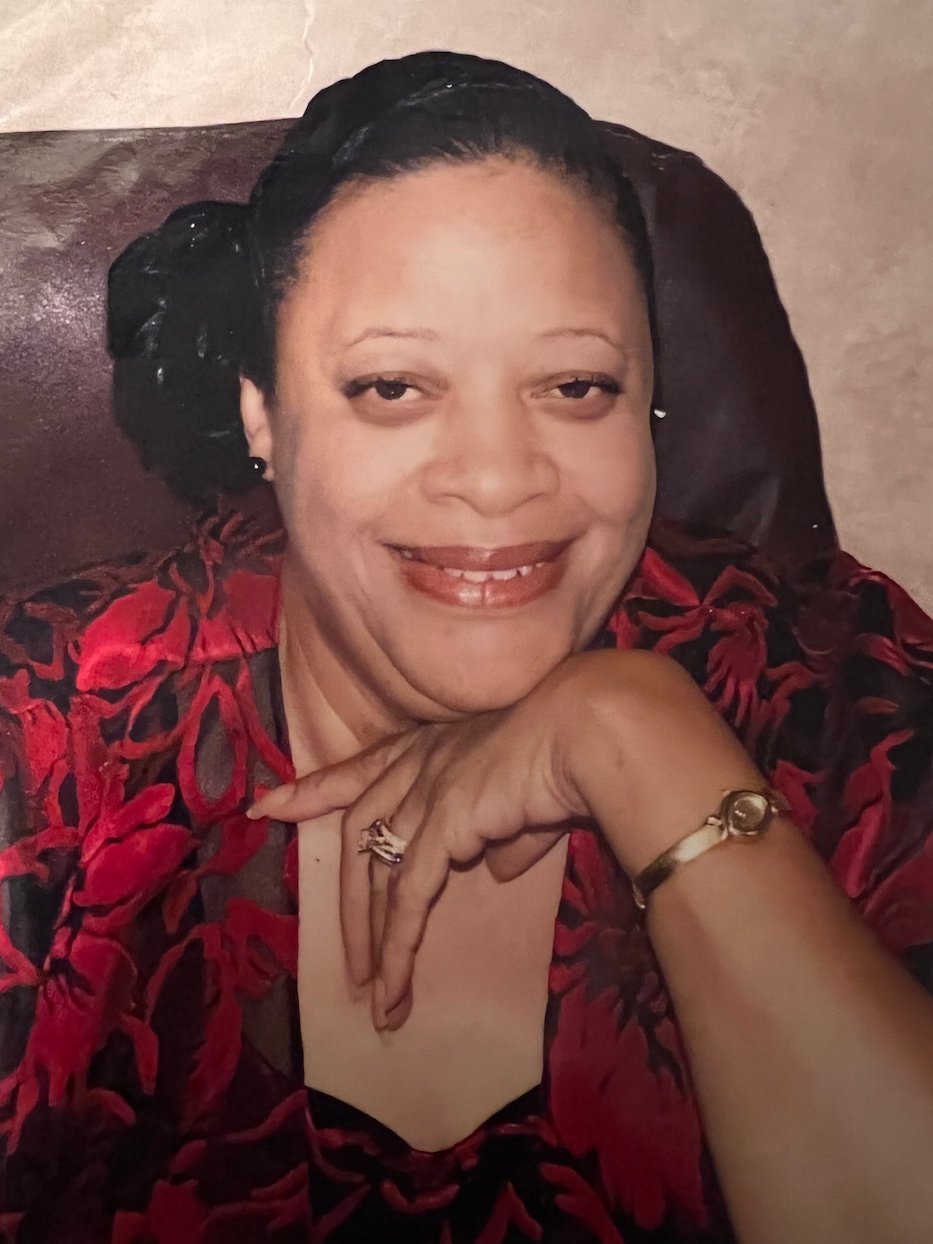 Photos contributed by Tiara Valentino-Perkins.
Ms. Lillie Perkins always had room for you.
Maybe she added you to her twice-daily prayers. Or pulled up an extra chair at the table, where finding space was never a problem.
Maybe she paid for your books the first semester of college, or for your starched white shirt before a choir concert. Maybe she gave you that first nudge toward the microphone. Maybe it was just a run-in at the grocery store that left you smiling.
Maybe you didn't even know that Ms. Perkins was looking out for you. But she was.
That's how family members, friends and hundreds of New Haveners are remembering Lillie Perkins, who died at Yale New Haven Hospital's Saint Raphael Campus on January 24. In just over seven decades she touched thousands of lives—as a teacher at Helene W. Grant and Dr. Martin Luther King, Jr. Elementary Schools, founder and director of the Unity Boys Choir of New Haven, as a mother, sister, and a devoted member and teacher at Bible Gospel Center on Dixwell Avenue. She was 71 years old.
A celebration of Perkins' life is planned for Friday Feb. 11 at Beulah Heights First Pentecostal Church. Her family has also started a memorial fund in her honor. Donate to it here.
"She was the most adorable, loving sister that one could ever ask for," said her younger brother, James Walker, in a phone call last Tuesday night. "She's been a sister, my best friend, a mother—just a caring, open heart. If she met a stranger, she would just welcome them with open arms. I've been praying daily that God would give me the strength to rise above this pain."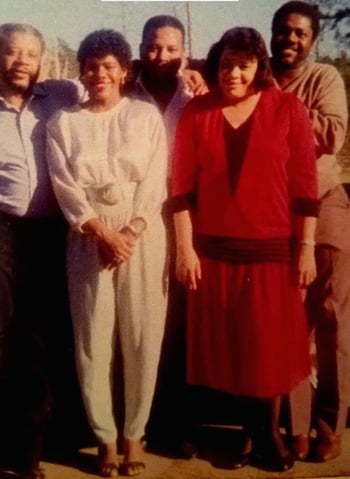 Perkins was born Lillie Elouise Walker in 1950, the third child of five in Hallsboro, North Carolina. When she was three, her father put her younger brother James in her arms, told her to take care of him, and went to the family's backyard to chop wood. He was splitting logs back there when he suffered a massive heart attack at 42, leaving her mother, Flossie Walker, to raise five children in the segregated South.
As she navigated a world turned on its head, Perkins learned to care for her siblings from her mother, who never let the family's own need get in the way of her ability to give. In her mother, Perkins learned about strength from a woman who fed and clothed five children, then worked in cotton and tobacco fields to put all of them through college. Flossie Walker cautioned them never to forget that their responsibility was to each other and to their neighbors, even those they didn't know.
"She would alway open her door to anybody who just wanted to sit at the table and eat," James Walker remembered. Each morning and again each night, their mother gathered the children to kneel and pray, a ritual that stayed with Perkins until her passing. In return, "He [God] made a way out of no way," Walker said. "We didn't have much, but what we did have, we shared. They say it takes a village to raise a child, and we had that village."
Perkins carried that with her in everything she did, including her lifelong love for education and the arts. In a story that was passed down from Flossie Walker to Perkins' siblings to her daughter, Tiara Valentino-Perkins, Perkins frequently lined her dolls up in a row, and began teaching them lessons from the family's home.
She fell in love with music and theater, ultimately following that spark to Fayetteville State University and then on to Connecticut, where she pursued further studies at the University of Connecticut, Southern Connecticut State University and the Connecticut School of Broadcasting. During her time in Fayetteville, she also became a member of Alpha Kappa Alpha Sorority, Inc., a title that she wore proudly for 51 years.
When Perkins was in her early 20s, she married her high school sweetheart James "Rudy" Perkins, who her brother James described as "the love of her life." The two moved to New Haven, where she began teaching at the now-razed Martin Luther King, Jr. Elementary School at 580 Dixwell Ave.
The Path Of An Educator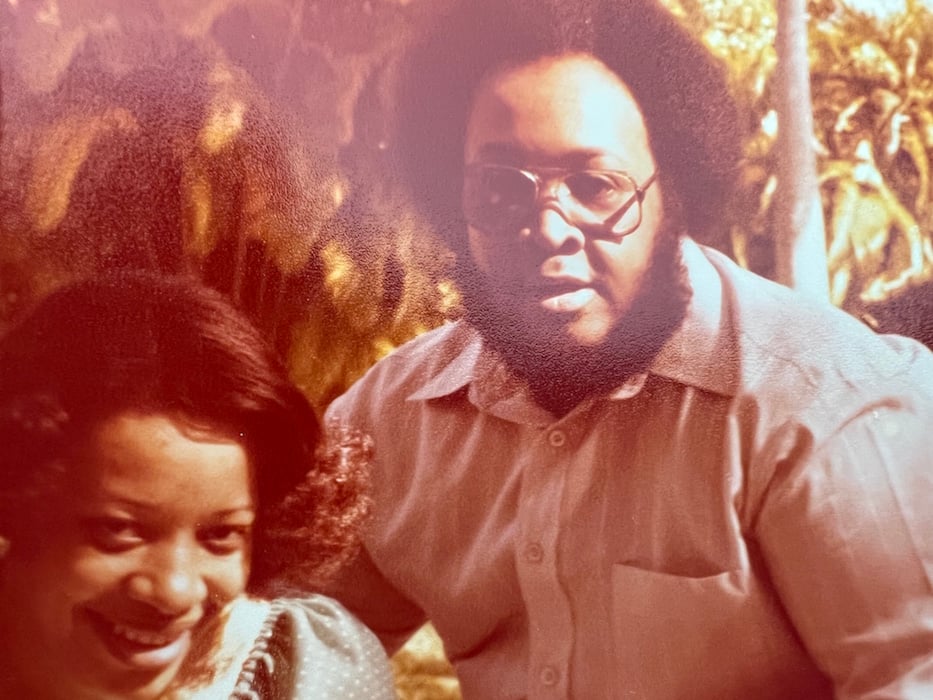 Photos contributed by Tiara Valentino-Perkins.
Just one year into her tenure as a second grade teacher at Martin Luther King, Jr. Elementary, Perkins founded the school's choir on a nonexistent budget, and then started raising funds to take the students on choir trips.
She would conduct that choir until 1985, while also becoming a mother, teaching hundreds of students, and working with James Comer and the Yale Child Study Center to radically change student performance and academic engagement at the school. Those who knew her knew that her work never ended when she walked out of the classroom: she was also active in church and deliberate in following students' progress after they left the school.
"There was something about her where she just had a peace about her and a sense of calm that almost seemed other worldly," said Marcella Monk Flake, who met her through church, and revered her "from a distance" before calling her a friend and fellow educator in the city's Talented and Gifted program."Lillie was just different … Everything about her was just class. I know it's kind of dated to be a lady, but she was that, and she was strong. You knew that she loved God and that she loved people, and you knew that those kids were her life."

It was at Martin Luther King, Jr. Elementary that Pastor Kevin C. Hardy walked into her classroom as "this very timid and quiet and shy young man with big eyes and a big afro" in 1976 or 1977. Now the pastor at St. Matthew's Unison Free Will Baptist Church, Hardy was going into second grade at the school. As he walked through the door, he found this "lovely, gentle woman named Ms. Perkins" who became his first Black teacher and a lifelong mentor.
"Oh my goodness," he said in a phone call last Wednesday night. "She was so sweet and so nurturing, so very loving, so very encouraging and affirming, and at the same time, she demanded respect. Her presence just spoke affirmation. You knew that you felt very loved by this woman."
Hardy left the school after second grade, but he and Perkins stayed in touch. As a kid, he remembered watching her preach in multiple churches in the city, sometimes bringing the choir to perform. He was amazed and delighted by the fact that she lived in the community and kept tabs on her students. It didn't matter if he was eight, or 18, or 38—when they ran into each other, she always referred to him as "baby," an immediate and lasting term of endearment.
Almost three decades ago, Hardy became a middle school teacher at Harry M. Bailey Middle School in West Haven, and then the pastor at St. Matthew's. When she learned that he had gone into both education and ministry, Perkins responded with a pride that was contagious. He estimated that the two last saw each other four or five years ago.
"She was not flippant with her words," he said. "She saw that as an opportunity to build people up. That's why I believe they still resonate with me 40-plus years later. They were very life giving."
Perkins and her husband Rudy, who had once been told that they could never have children, also welcomed their daughter Tiara during those years. Born in March 1976—her mother's birthday month—Tiara learned early on that she was going to share her mother with the community. Perkins continued to teach, growing the choir with trips that took them though the state and along the East Coast. If either of her parents "ever saw a child in need," they found a way to help.
"I loved it, because it was like I had other brothers and sisters," she said in a phone call last week. While her parents poured into her—with violin lessons, singing at church, New Haven Symphony Orchestra concerts and visits to World's Fair exhibitions in Knoxville and New Orleans—they expended that same energy on an expanding village in New Haven. It instilled in her a lifelong sense of responsibility to her community, which included providing care to both her father and her mother for years at the end of their lives.
Valentino-Perkins saw everyday miracles in the life her family was living. When she was three, her mother fell ill with meningitis after returning from Miami's "Little Miss Half Pint" pageant, in which Valentino-Perkins had represented New Haven's Carvel Ice Cream shop. She recovered against all medical odds, and lived with extreme hearing and balance issues for the rest of her life. "God delivered her," Valentino-Perkins said.
While it hindered her ability to travel—flights were off the table for years, because of altitude—she never let it get in the way of her educational and choral work.
"That was my mom," she said. "She would always say that her life was God's gift to her, and what she did with that life was her gift back to God."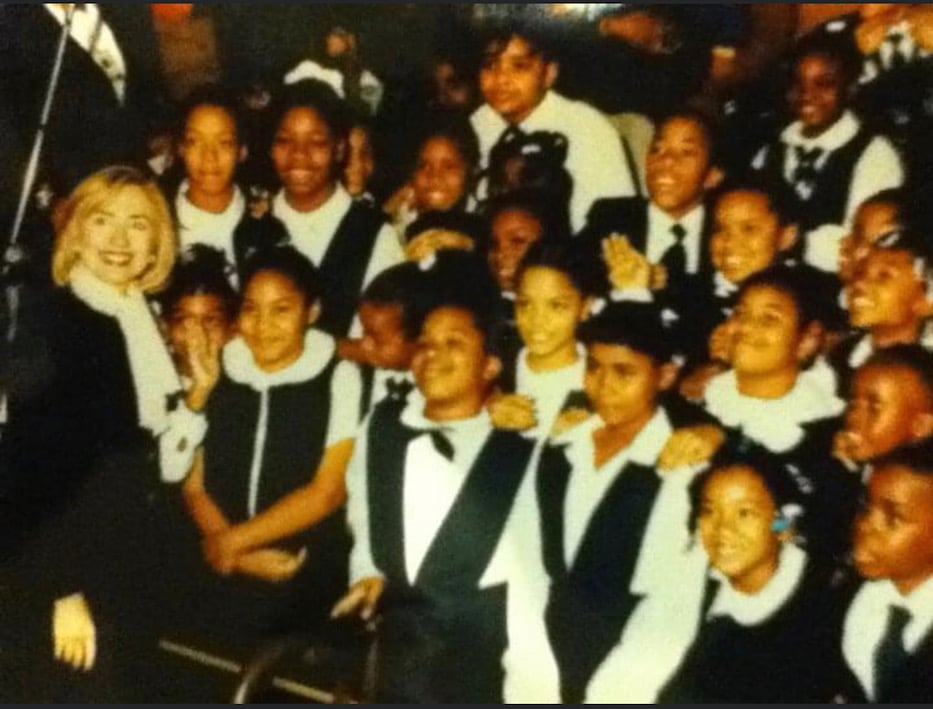 Former First Lady Hillary Rodham Clinton. Photo contributed by Marcella Monk Flake.
In 1985, Perkins transferred to Helene W. Grant Elementary School, then under the storied and historic leadership of Jeffie Frazier, to become a third grade teacher. She became legendary in the classroom for her direct and gentle style of teaching, and outside of it for founding the school's choir, which she led until 1997. During her tenure, the choir travelled along the East Coast and Northeast Corridor, performing for dignitaries that included Archbishop Desmond Tutu, Harvard Law Professor Lani Guinier, and First Lady Hillary Clinton.
LaShante A. Kelley James, who was a third grader at the time, remembered how a student could enter the choir to sing, and leave it knowing that the world was bigger than New Haven. As a member of the historic and multigenerational Monk family, she fell in love with Perkins first as a teacher, and then as an extended family member. That was true for many of her family members, including a brother who loved Perkins well after he had graduated from elementary school.
"We became a sight to see, between the discipline, passion and talent that she drove out of these students from the heart of New Haven," James, now the assistant principal of Brien McMahon High School in Norwalk and president of the ​​Theta Tau Omega Chapter of the AKA Sorority, Inc., said. "We went up and down the East Coast, singing gospel music. We sang like angels."
Whether she was behind a music stand or behind a desk, Perkins turned every moment into a teachable one. Before James was part of the choir, she was a third grader who came into her classroom to carry something out with one of her peers. Perkins listened attentively as they figured out how to share the weight; she later recruited James for the choir, and followed her progress after she graduated.
The two remained in each others' lives for decades, whether at Monk family reunions where Perkins served as the Mistress of Ceremonies or at AKA gatherings where they were proud to call each other sorors. For James, Perkins was part of a group of Black women educators who understood, to their bones, that their task was to lead by example and usher a generation of future teachers and leaders. Frazier, who instituted school uniforms and started school with the anthem "Lift Every Voice And Sing," was another.
"You just became a part of her," she said. "She had one biological child, but you truly felt like you were a part of her. She still found a way to connect with her children. We were her children."
In the 1990s, Virginia Bailey-Barnes became another of Perkins' third grade students, and later a member of the school's choir. In a recent phone call, she remembered Perkins as a dynamo in the classroom, who folded memory devices and song into her lessons (Bailey-Barnes still makes her twos "pop" while doing multiplication tables two decades later). In her role as choir director, Perkins was kind but also firm, dedicated to expanding how her students saw the world.
"Anywhere that was welcoming for children, anywhere that we could go, Ms. Perkins made it happen," she said. From third to fifth grade, the choir sang for distinguished guests, made its way to Disneyworld, and visited suburban Connecticut schools to see what learning looked like in other parts of the state.
"Coming from New Haven, it gave children an opportunity to do something positive," she said. "It allowed us to see people that we probably would not have seen in our life … Desmond Tutu, Lani Guinier, Jesse Jackson, Hillary Clinton. Singing allowed us to touch them. It was education for life."
It made the world feel accessible, Bailey-Barnes said. Like several of her peers, she stayed in education. She went on to become a school counselor in Atlanta, where she still lives and works today. She said she holds fast to a lesson that Perkins taught her: that "tolerance is not what we do. Respect is what we do."
"The Heavenly Choir"
Perkins followed that vision to the Unity Boys Choir, which she founded in 1997. After 25 years directing choir groups in the city's public schools, she mapped her blueprint onto a completely independent project, working with fellow educator Sylvia G. Hayes to bring it to life. On a nonexistent budget, the choir became a resource for after-school programming, free childcare, and a family that extended well beyond the confines of a given stage.
Hayes, whom Perkins asked to be the accompanist in 1999, called saying yes to the project "one of the best decisions I ever made in my life."
Within years, the choir grew from a handful of students to dozens. Just as she had before, Perkins found a way to fund trips to Disneyworld, along the East Coast, to Amish Country in Lancaster, Penn. and into Ontario, Canada. When concerts rolled around, she and Rudy covered the cost of white shirts and red bowties and cummerbunds for students who couldn't afford them. When more students wanted to join the choir but didn't have reliable access to transportation, she petitioned the Board of Education for funding for a bus.
"She was a staple in the community, similar to Jeffie Frazier," said Stetson Library Branch Manager Diane Brown, who met Perkins in the 1980s and invited the choir to Stetson in the early 2000s. "She advocated for that choir … and parents trusted her with their children. I've been in her presence when she had to discipline the children. It was the discipline of a mother, of a grandmother."
Hayes, who had known her for over two decades by then, called her a "big sister" multiple times in a phone interview Saturday afternoon, and again in an email Sunday night. At some point early in their friendship, "we adopted each other," she said. At the end of concerts, Perkins always introduced her as family.
Together, they delighted New Haven and went far outside it. Hayes remembered visits to Niagara Falls in 2000 ("the girls went wild over the boys as though they were celebrities," she wrote of a performance there), a call from Hillary Clinton requesting them at the Shubert Theatre in 1999, a performance of Black Nativity at Long Wharf Theatre in 2004, a collaboration with gospel singer Vickie Winans in 2006.
The key to their success was mutual trust and a kind of tender discipline, Hayes added. At the beginning of rehearsals, "she [Perkins] would sing 'R.E.S.P.E.C.T.' and they would sing back 'I am in control of me,'" Hayes said. "She would sing, and she would have their attention."
Perkins' love for and belief in students never stopped after they left the choir; she and Rudy started a scholarship fund that made sure of it. Musician Paul Bryant Hudson, who joined when he was eight, remembered receiving money for books his first semester of college, and realizing that dozens, if not hundreds, of past choir members had had the same experience.
He called it an invaluable community resource that managed to be many things at once—free biweekly childcare, after-school arts programming, an educational family. In Hudson's family, Perkins became a mentor to him, to his brother, and to their mom. At the helm, she led with love.
"She was legendary, and she was so deeply loved and respected," he said. "I think she educated folks with her whole being, and she just wrapped us up in love and support."
Broadway actor, producer and writer Douglas Lyons estimated he was four years old when Perkins found him at Helene W. Grant and put him in the Unity Boys Choir. Maybe he was too young, he joked, "but she gave me the mic anyways." It ignited in him a flame that he has nurtured for decades.
"Lillie Perkins was one of my first music teachers and would later turn out to be a family relative," he wrote in an email Thursday. "In the Unity Boys Choir she instilled excellence in us, and she'd always remind me that she was praying for and proud of me. She was a quiet force that made an incredible impact on hundreds of New Haven children. May her hands now conduct the heavenly choir."
A Daily Walk
Perkins' faith followed her in everything she did. In 2000, she boarded a plane to California to compete on an episode of "Wheel Of Fortune," flying for the first time since her meningitis diagnosis in the 1970s. Valentino-Perkins and Rudy Perkins cheered her on from the audience. When she got to the bonus round, only four letters popped up for a four-word phrase.
In a video from the show, a listener can hear host Pat Sajak say "It's a phrase, talk it out, you never know, good luck, 10 seconds …" before she comes in, totally sure and steady, with the answer. It flies out of her mouth: "A Leap Of Faith."
When she realizes she has won, she cheers in delight, embraces Sajak twice and starts to cry. "It was like God was coming right out her mouth," Flake remembered. To her family watching in the audience and her friends who later saw it at home, it was divine intervention.
The miracle of Perkins' work never went unnoticed. In the last decades of her life, she was honored by the YMCA, Women's International League for Peace and Freedom, National Association of Negro Business and Professional Women, National Association of Black Social Workers, Arts Council of Greater New Haven, Amistad Committee, Inc., New Haven Board of Education, and over a dozen other organizations. When she wasn't directing a choir or a classroom, she was a dedicated Sunday School teacher, including most recently Bible Gospel Center on Dixwell Avenue.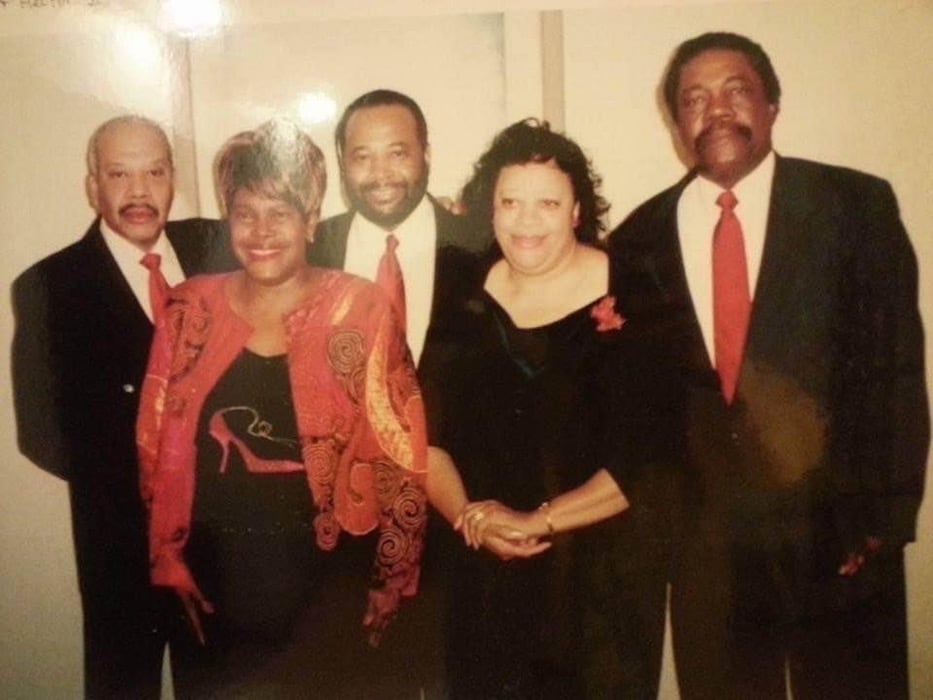 Photo Contributed by Tiara Valentino-Perkins.
Bible Gospel Center Pastor Darius Good remembered her as "very honest, so you knew where you stood, but she was extremely loving." After meeting Perkins when he was in middle school—he and Valentino-Perkins were only a year apart—he got to know her as a fierce educator and spiritual leader. He took over as head pastor at Bible Gospel in 2013, after watching both of his parents lead the church for years.
There, Perkins helped out with the youth choir and taught adult education. Good had watched her work with the Unity Boys Choir for years, and was continually moved by how much of herself she put into every young man who came through the choir. He saw that her dedication never stopped.
"When you surround children with love, they just flourish," he said. "Many of them went off to college, and they are doing well in life. She was one of those central pieces to get them through those years."
Brown, who knew Perkins from the Helene Grant years on, called her "like a second grandmother to those children" in a phone call Friday night. After becoming branch manager at Stetson in 2006, Brown asked Perkins what it would take for the library to form a choir—a project in which she's still interested. The group later performed there.
She also praised Valentino-Perkins for sharing her mother so generously with the community. As the daughter of New Haven matriarch Lillian Brown, who passed away in 2018, it's a subject she knows something about.
"That was an honor, that it wasn't just our mother," she said. "We were so grateful to have that in our lives. She's gonna be missed. I'm proud to have known her and to have worked with her."
"Oftentimes you have people who talk the talk as a Christian, but they don't walk the walk," said James Walker. "But Lillie, she was a God fearing woman, she talked the talk. She had that affectionate love toward one another. She believed: 'If I can help someone, I will.'"
A celebration of Perkins' life is planned for Friday Feb. 11 at Beulah Heights First Pentecostal Church. Her family has also started a memorial fund in her honor. Donate to it here.