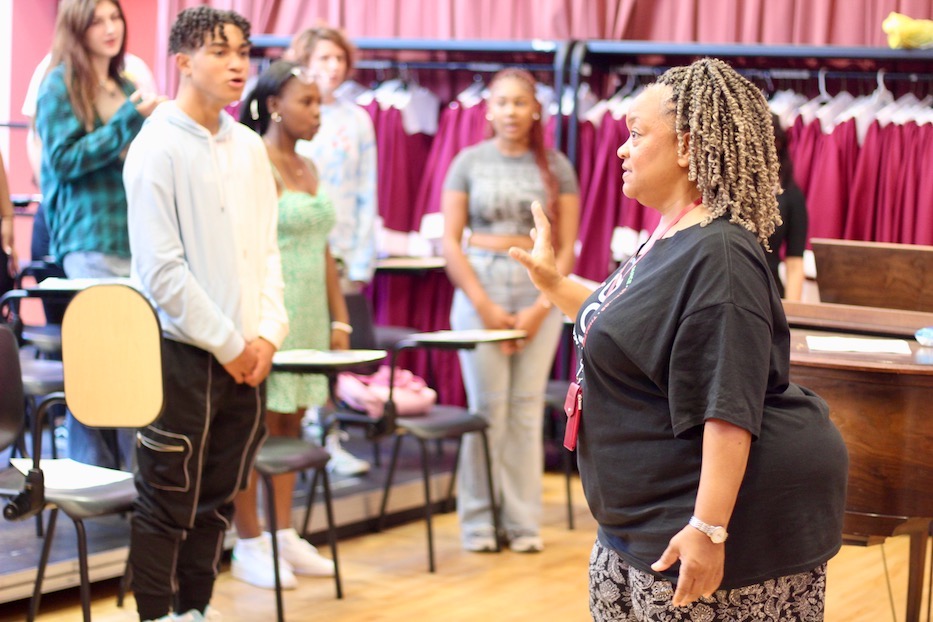 Co-Op High School | Culture & Community | Downtown | Education & Youth | Music | Arts & Culture | New Haven Schools | Community Heroes | Arts & Anti-racism | Education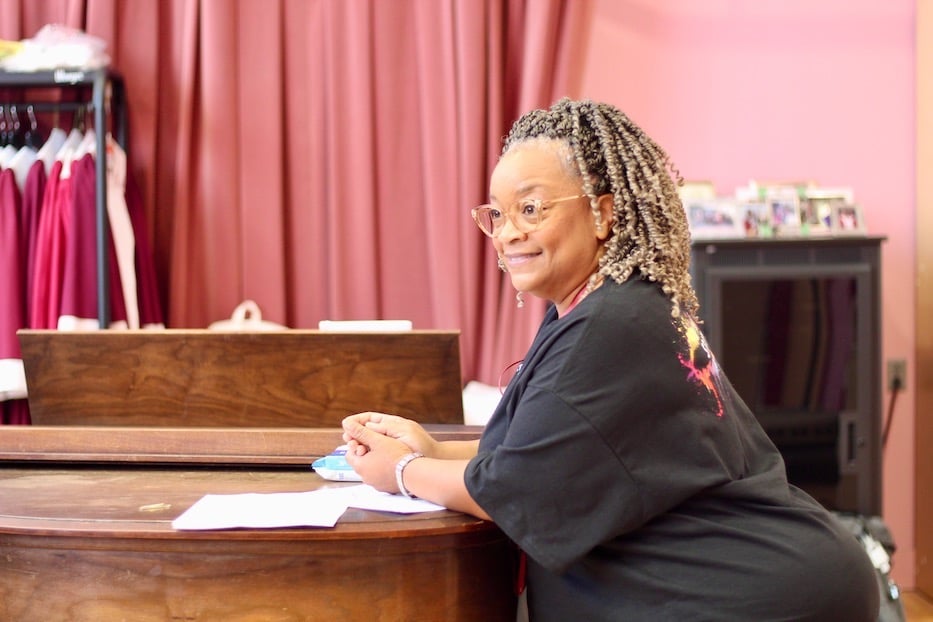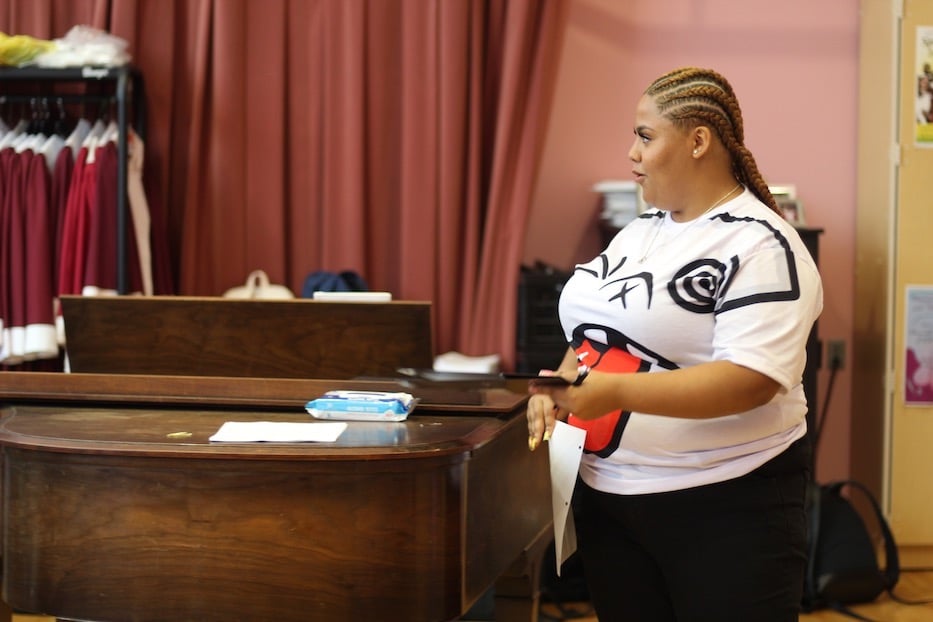 Top: Harriett Alfred, who is starting her 37th year in the district. Bottom: Jamie Harris, who said that choir has helped get her through high school. Lucy Gellman Photos.
Harriett Alfred stepped forward, running her right hand alongside a piano that had sat silent all summer. She took a deep breath, her face glowing in the morning sunlight. In the second row, senior Jamie Harris lifted her Spongebob-patterned nails to the desk, knowing exactly what was coming next. It was her last first day of high school, and she was ready to lead the charge.
"Good mooor-ning!" Alfred belted. In a still-sleepy soprano, Harris answered, her voice blending with over a dozen for the first time in months. She was ready to be back.
Thursday, Harris was one of 564 students to begin their year at Cooperative Arts & Humanities High School, where the fall semester comes with a new principal, a focus on student advisory groups, and a plan to strengthen students' connections with the arts.
From the first bleary-eyed freshmen who stumbled into the building to a lunch block that had them running through the hallways, the school day became a testament to the way art can and has saved lives, and is continuing to three years after the start of the Covid-19 pandemic.
"It feels great to be at Co-Op!" said Principal Paul Camarco, who most recently served as assistant principal at James Hillhouse High School and replaces Val-Jean Belton in the role. "I'm excited for the students. When you get to work with the arts, it opens up your mind. Arts and academics, to me, are one in the same."
One Day Down, 181 To Go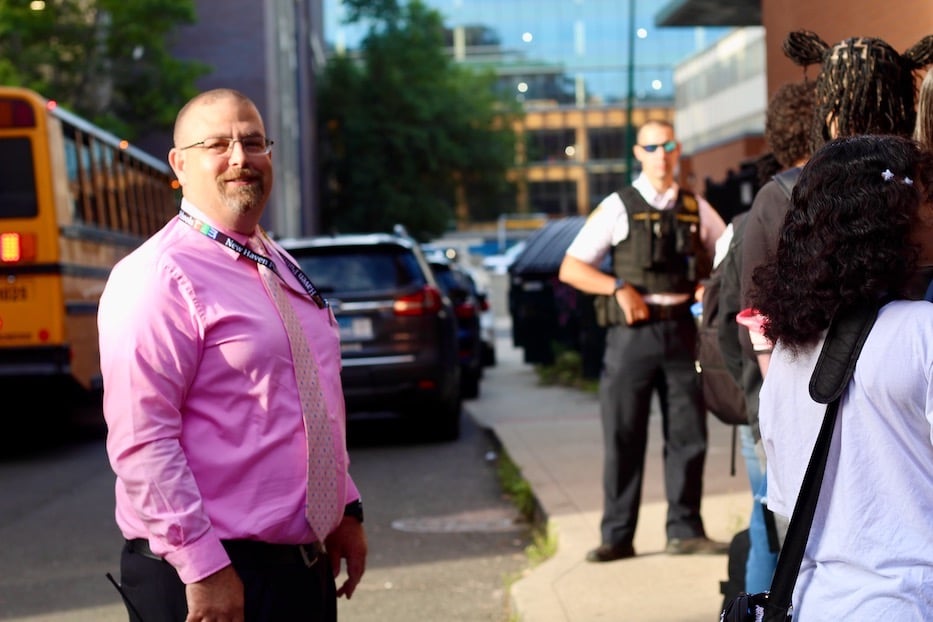 New Co-Op Principal Paul Camarco. "When you get to work with the arts, it opens up your mind," he said.
Outside the school, Camarco worked to muster that energy as students, still waking up and shuffling out of summer, slow-walked into lines at the school's Crown Street back entrance. Side-stepping a yellow school bus as it pulled in, freshman Yandiel Munoz said he was excited for his first day of high school. After elementary and middle school at Roberto Clemente Leadership Academy, he was ready for the change.
"I just really like the arts," he said. Thursday, he was bracing for a first period theater class, taking in how big the building seemed after years learning the ins and outs of the same building in the city's Hill neighborhood. "It feels good to be here."
Closer to the front of the line, sophomores De'asia Fewell and Jara Xochicale watched the doors swing open with fewer first-day jitters than either of them felt last year. As freshmen, both came in with an interest in fashion and visual arts—and were instantly overwhelmed by the scope of the building.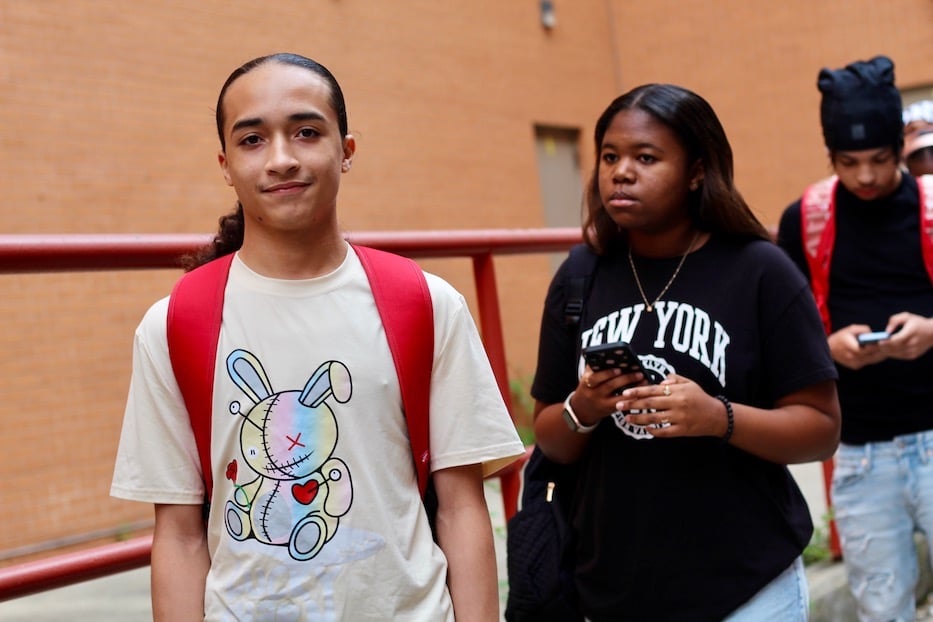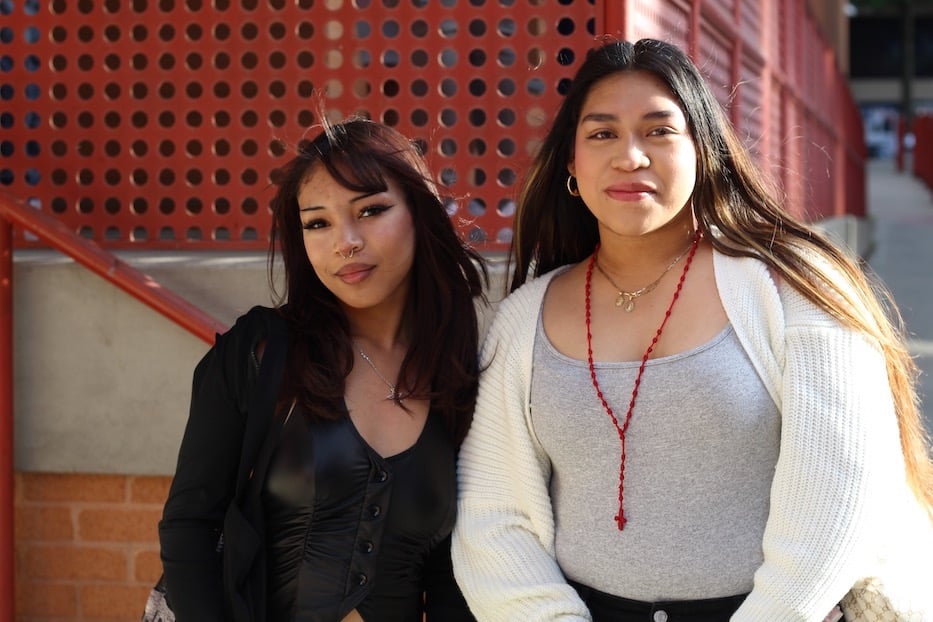 Top: Freshman Yandiel Munoz. Bottom: Not as scary this year for sophomores De'asia Fewell and Jara Xochicale.
This year, the two know every corner of the school, from the front office to their art classrooms upstairs. They were excited to get their schedules, which would tell them if they had art teacher Ryan Minezzi for a second year in a row. Fewell added that it also felt like starting fresh, after ending last year with a lockdown that lasted nearly three hours.
"Last year, my mind was on other things," she said. "To be honest, it was a lot to me. I wasn't really mentally there. To be back, it feels refreshing. I'm going to be more motivated."
"I'm going to pay better attention," Xochicale added.
As he directed students between two lines, part traffic cop and part dad, Camarco said that he's been excited to set priorities for the new year, including getting students and teachers to open up better lines of communication both between and amongst each other, and "bringing the joy and fun back into going to school."
He said that as a principal, he plans to be very present, with frequent classroom visits and open lines of communication with teachers, staff and students.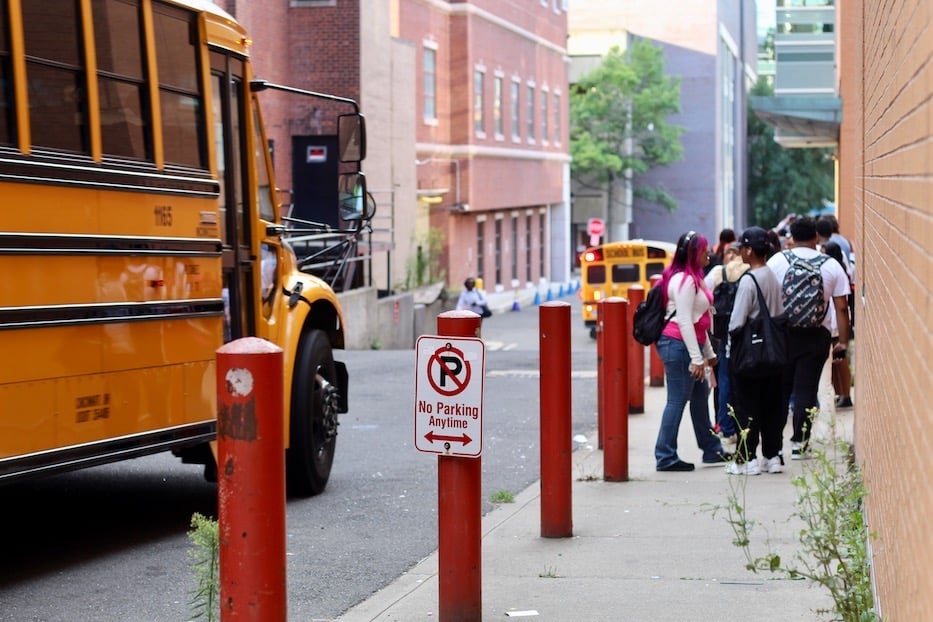 He acknowledged that the past three years have been particularly difficult: New Haven Public Schools students are still in the midst of a literacy crisis, and struggling with district-wide chronic absenteeism and social and emotional disturbances. Last year, Co-Op ended the spring semester with a lockdown that lasted almost three hours, during which they often received more information from each other than from the City of New Haven and the district.
And yet, he said, he believes in the healing power of the arts. When he's not in school, Camarco is a self-described "dance dad," and takes the responsibility extremely seriously, he said. He's watched the change that movement has made in his daughter's life, and he's also read the findings that support arts learning for social and emotional development and academic performance.
At the mouth of the driveway, Dean of Students Anthony Stanley kept an eye out for latecomers making their way from the city bus to Co-Op's front door. Every so often, he reminded students to look out for buses that were still coming into the driveway, watching as dozens made their way back into the building.
"It feels great," he said. "We got a new beginning."
"Something That's Bigger Than Yourself"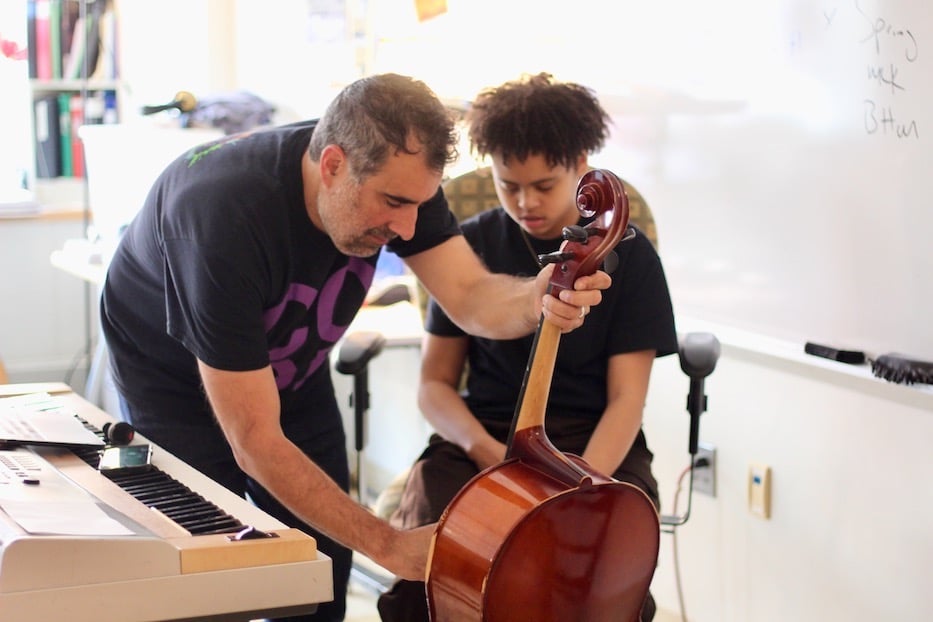 Lugo with sophomore Angel Glass.
As dozens of students headed toward the gym for their schedules, strings teacher Henry Lugo welcomed freshmen and sophomores into his first period strings class, watching as 27 bodies slipped quietly into their seats. Lugo busied himself writing concert dates, the importance of a full ensemble humming between each word. As class swung into session, Camarco poked his head in the door.
"Good morning everybody!" he said. "If you're asleep, raise your hand."
No hands went up. "Well, welcome," he said. "This is my first year here, glad to see all of you. Anyone else's first year here?" About half the class' hands went up. "Welcome welcome welcome. Glad to have you here on the first day of school. We have 181 to go after this."
"It happens fast," he added. "Four years will fly by."
By the street-facing windows, a spray of red tulips gave the room a pop of color, aglow against the morning sunlight and the glare of College Street. Nearby, portraits of Selena, James Baldwin and Ruth Bader Ginsburg looked out, all of them sizing up the newest faces to walk through the door. But it was the instruments, some still in their black cases, that students looked at as they swiveled in their seats.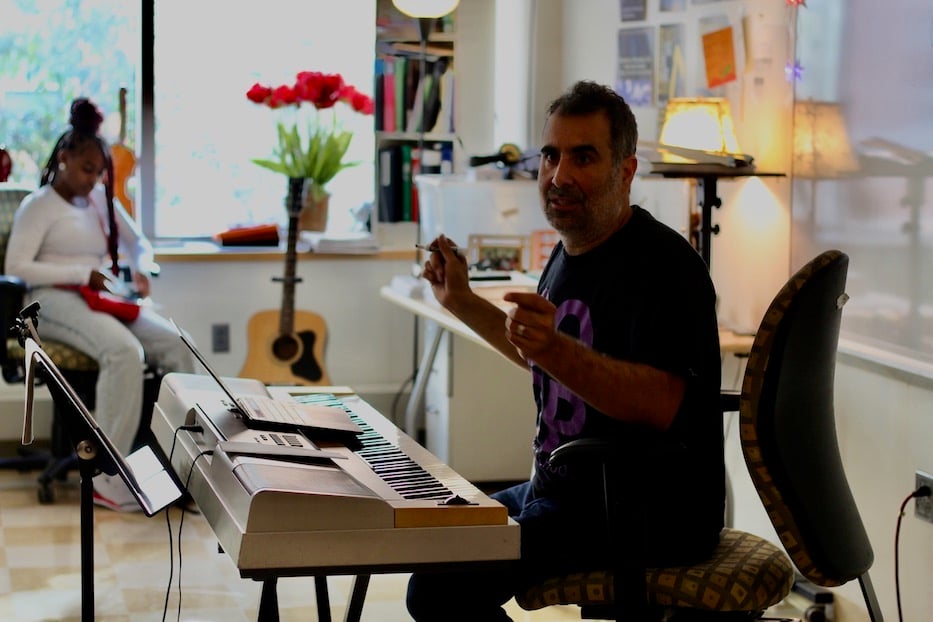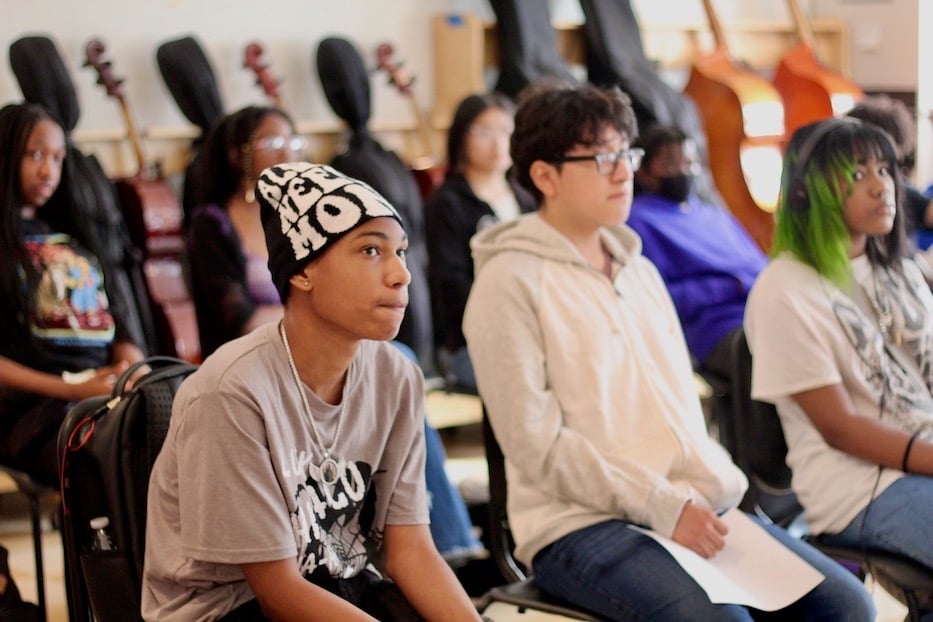 Top: Lugo. Bottom: Sophomore Gio Garcia, who chose the viola last year for its tone.
"If you want to study strings in this town, this is the place to do it," Lugo said as he pointed to upcoming performances for Parking Day and Hispanic Heritage Month. "You guys are in a really cool spot. I'm glad you're all here—I love starting people off, I love working with people who already play. It's all great. Right?"
Part of that, he said, is getting peers to teach each other. This year—his second at the school, and sixth in the district—he's still working to repopulate a string orchestra that didn't often play as an ensemble, and went heavy on the violins. Last year, the orchestra was 29 students, and played events outside of school for the first time in years. This fall, there are 44.
It's important to him that every one of them feels like they get a chance in the spotlight, Lugo said—he doesn't pick favorites, and he encourages students who are struggling to keep playing. When students learn to read music and play together, he said, they're learning skills that go well beyond the classroom, and often "facing the thing you didn't think you could do."
"Freshmen, raise your hands?" he said. About half the hands in the room went up. "Okay. Take your hands down if you already play." Four hands remained in the air. Sporting a Rob Zombie shirt that dripped purple, Khaydian Vines raised one arm, lowered it, and then raised it again,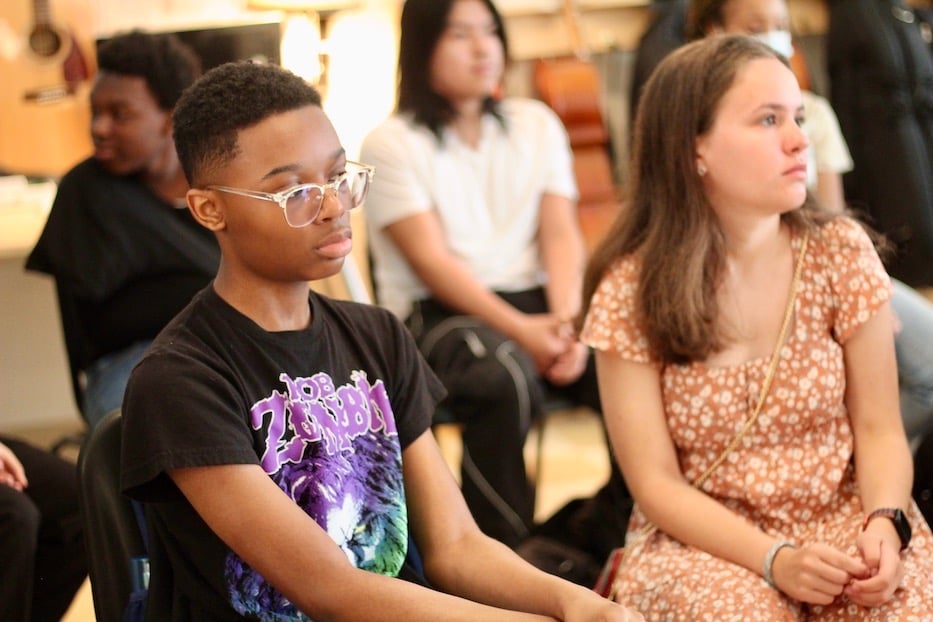 Khaydian Vines.
"Is your hand up or down?" Lugo asked, jumping from the importance of ensemble practice to students' winter concert, which is already set for early December. Vines took a beat, then kept it raised. Scanning the room, Lugo asked if any freshmen could name the four string instruments that made up the orchestra.
"Violin?" a student ventured from the back of the classroom, where two cellos sat waiting to be tuned. Another voice piped up: "Viola!" Gio Garcia, who chose the viola last year for its rich tone, smiled at the mention. The cello and bass, for which Lugo has a special affinity, followed closely behind.
"I want to make sure that we're pretty well spread here," Lugo said. "When I got here, the orchestra was very violin heavy. Which was fine, right? But what I like to have is a nice thick orchestra, which means we need to have violas, and cellos, and basses. We need all of that."
There was a flurry of activity as students stood, some gravitating toward the instruments that lined the walls at the back of the room. For the first time since first period had started, chatter rose over the desks, sometimes halting as freshmen introduced themselves to each other, and debated which of four string instruments they would spend the next four years with.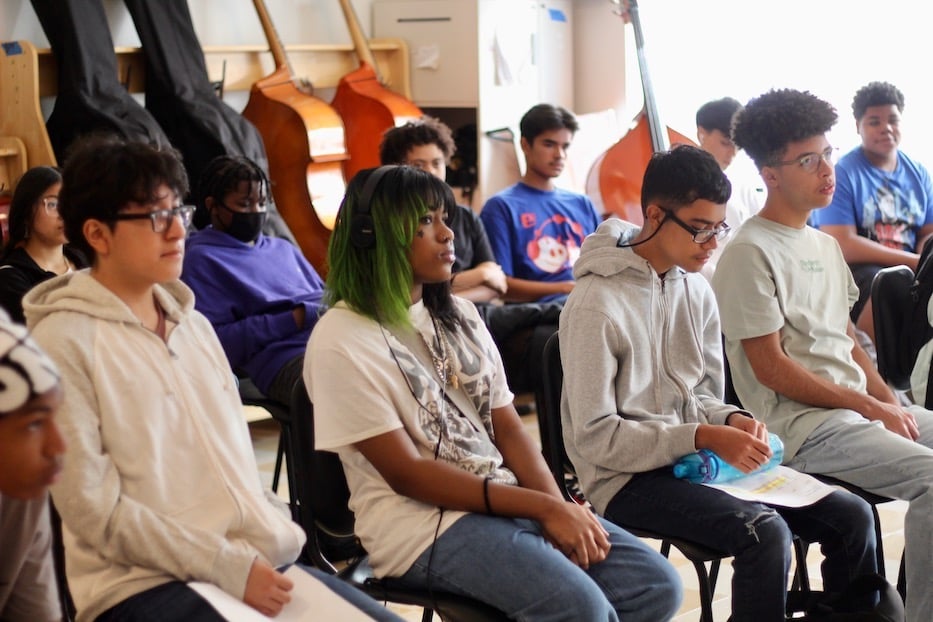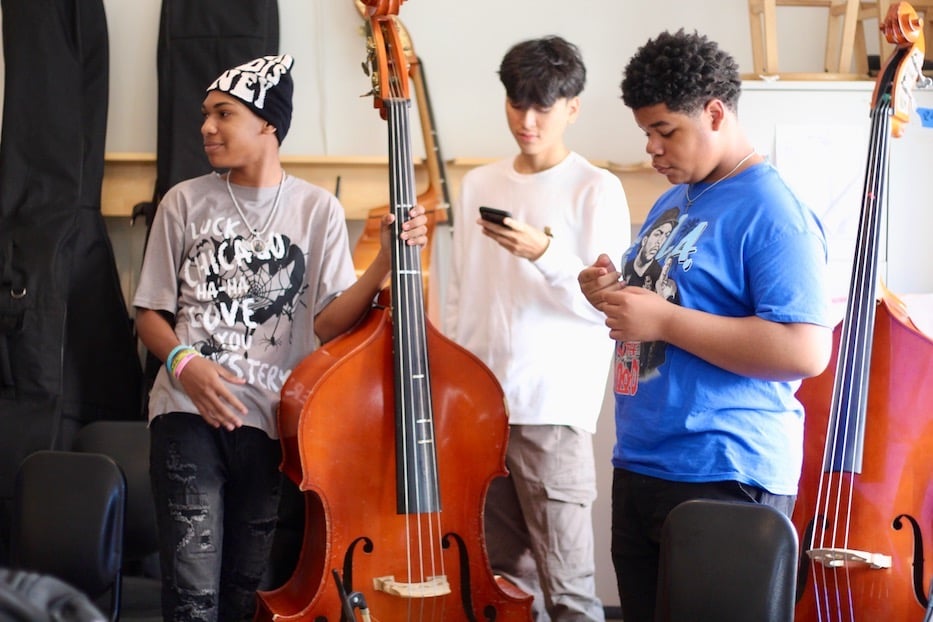 Davonna Woods: Bass all the way.
Gingerly lifting a cello from a trio of instruments, sophomore Angel Glass made her way to the front of the room, where Lugo often bounces between a keyboard and a dry erase board. When she got to Co-Op last year, Glass already played the guitar, and wanted something different. She found the cello after trying the violin and viola, and realizing they were uncomfortable on her neck. The bass seemed cool, she said—but it was too tall.
"It definitely taught me a lot," Glass said as she started to tune the instrument. When she came in, she didn't know how to read music, and became a quick study under Lugo's guidance. "I've just always loved music and I knew if I had the opportunity to pursue it, I would."
A few feet away, sophomore Davonna Woods selected the upright bass, excited to try the instrument after transferring into Co-Op from James Hillhouse High School. Three seats away, freshman Tahzir Streater picked up a cello for the first time, set his feet flat against the floor, and set bow to string.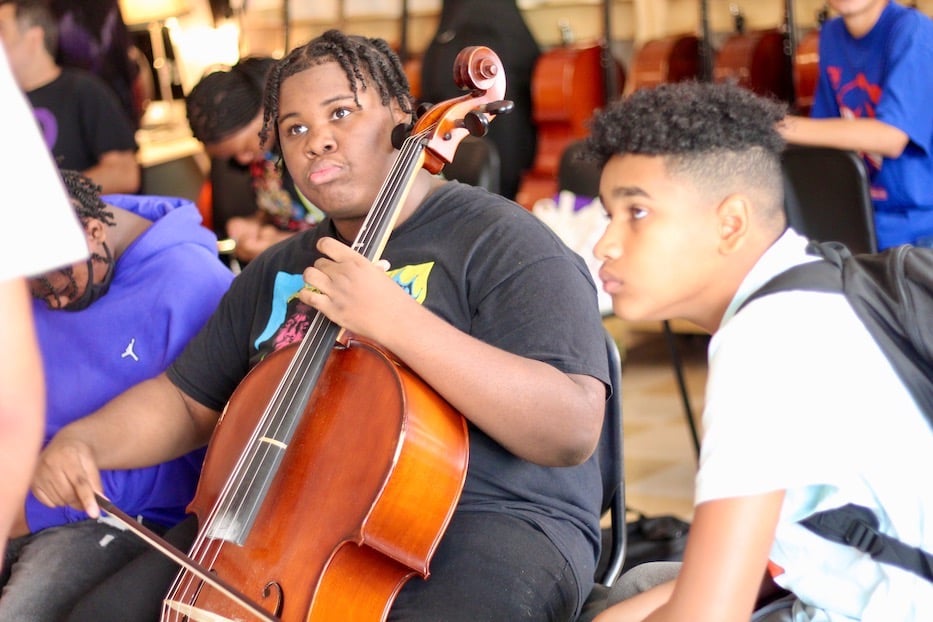 Tahzir Streater: "It's gonna take a lot of practice."
As he took a deep breath, a Warholized Biggie looked out inquisitively from his shirt. When the instrument began to sing, a low-bellied sound that was still gentle, tentative.
At home and as a student at John C. Daniels School, Streater picked up piano, acoustic and electric guitar and drums. When he got to Co-Op, "I wanted to try something new," he said. "At first I was nervous, but I'm thinking it's gonna be okay. It's gonna take a lot of practice."
As he made his way around the room, Lugo checked the clock, and gave a three-minute countdown to the end of class. On the board, the list of concerts had already made room for the spring: Lugo makes it a point to add extra appearances in the community as well (last year, students performed at Possible Futures bookspace in June). Before students headed out, he stressed the importance of coming together as a full ensemble.
"If you don't play on a sports team, this is the closest thing you're gonna get," he said. "I think that's the value of taking orchestra or strings. You get a chance to be part of something that's bigger than yourself."
"We're Gonna Have A Good Day"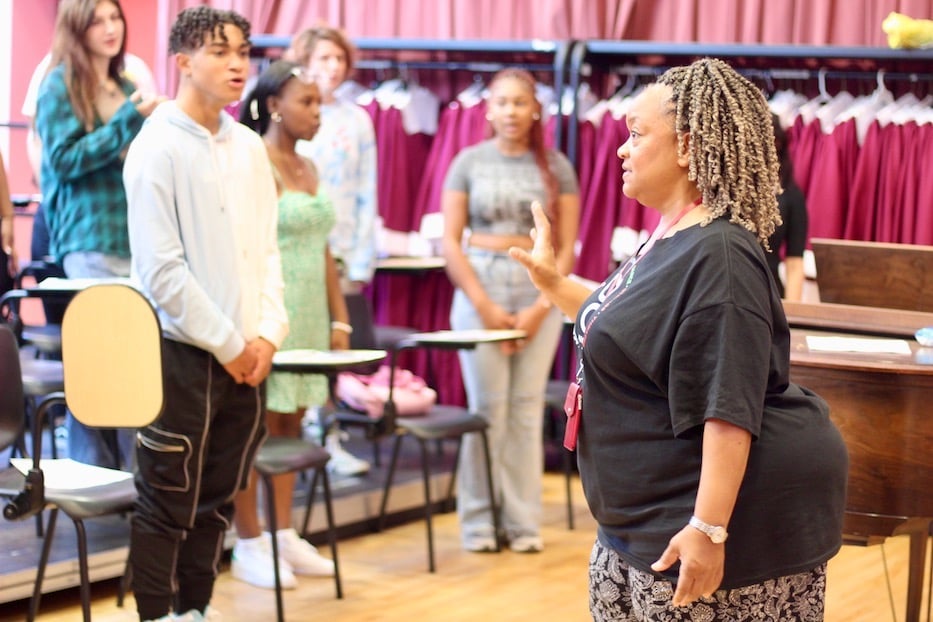 Two minutes into second period choir, Harriett Alfred called the class to attention at the piano. In the first row, juniors Laila Kelly-Walker and Zanijah Tucker-Cruz fell to a hush as they launched into a warmup, old repertoire pushing itself to the front of their brains.
Behind, them the methodical click-clack of Hayden Earnshaw's knitting needles ceased. Jamie Harris drew in a deep breath, smoothed a new shirt from the New Haven shop Mindless Thoughts, and sat up a little straighter.
"Good morning!" Alfred sang, and immediately, the class echoed her back. "How do you do?"
Students were ready. "How do you do?" they sang. The back and forth continued: "We're gonna have a good day/And I'm starting with you."
Alfred beamed. "Welcome back! Did you miss me?" she scanned the room, pouting for just a moment when she saw that her entire bass section had graduated. "I can't believe some of you are seniors."
"I know! I still look like a baby right?" Harris said with a smile from across the room.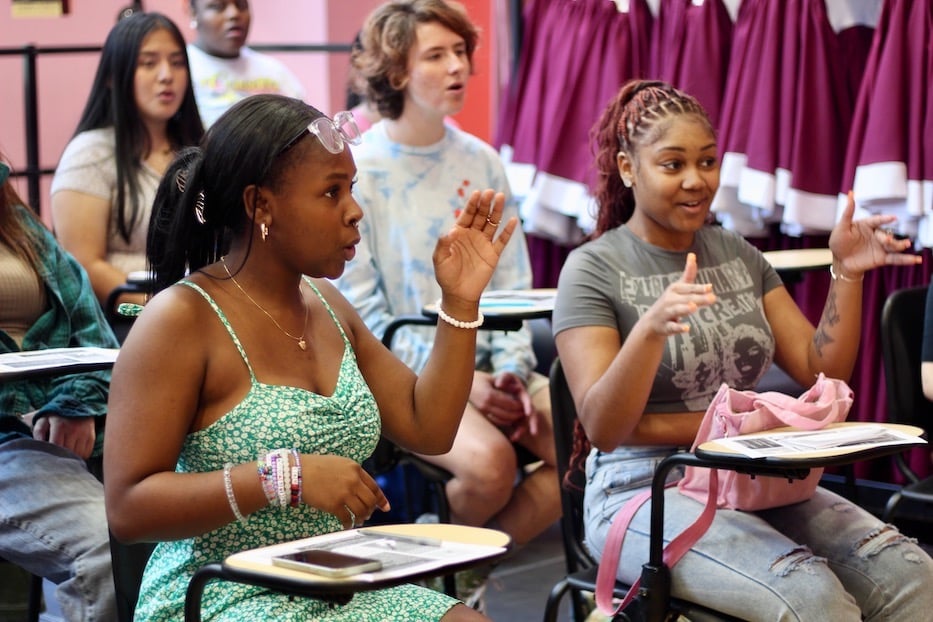 Laila Kelly-Walker and Zanijah Tucker-Cruz, who are both juniors this year.
Alfred smiled, motioning to her cell phone number down on a whiteboard as she passed out contact forms to students and began running through concert dates. As students jotted down their information, she collected their stories of summer, delighting in trips to Ecuador and the Dominican Republic to visit extended family members.
Alijah Steed, who Monday sang the National Anthem at New Haven Public Schools (NHPS) convocation, recalled singing with gospel star Tye Tribbett in the midst of teaching in the summer program at King Robinson School. The easiest way to get his preschoolers' attention? Music, he said.
It was an eventful summer for Alfred too, she said. Between a family reunion in Kansas City and preparations for the new school year at Co-Op, she received a lifetime achievement award for her teaching from Yale. Arick Lyde, a Co-Op grad who teaches music at Nathan Hale School, was recognized for teaching in an early career award. She pointed to other Co-Op grads who have returned to the district, Tim Jones, Paul Bryant Hudson, and Trinity Webber among them.
"For me and most of the teachers here, that makes us feel like we've done something right," she said, moving from one side of the room back to the piano. Putting her hands to the keys, she listened as students launched into warmups, with a mee-may-miii-mooo-muuuu that had her teasing out the sounds in her head. Every so often, she motioned to her lips, making a wide O with her mouth.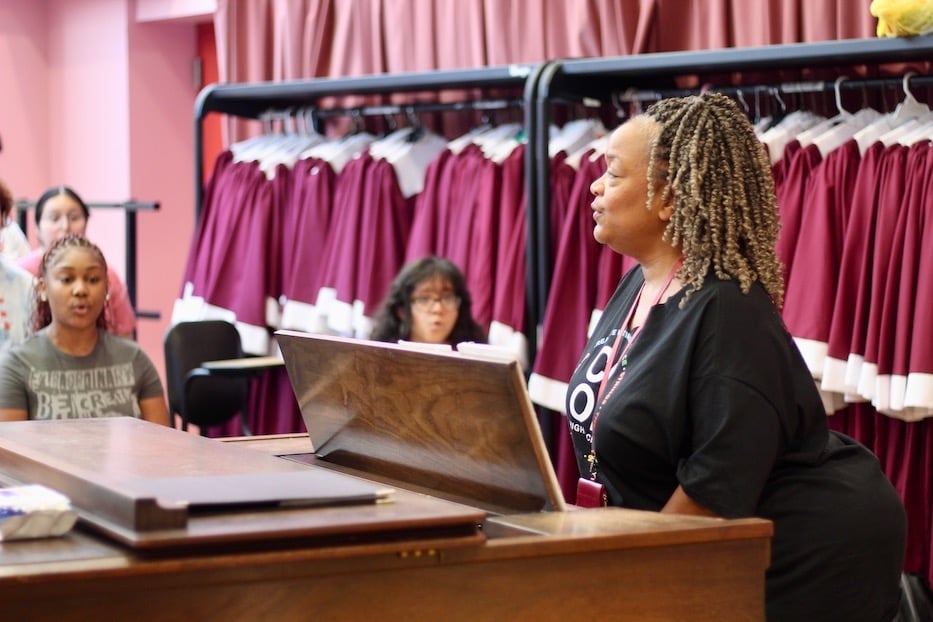 "Ladies and gentleman, we have a new principal, we have a new assistant principal, we're starting fresh, anew," she said as students finished the warmup, and turned their attention to a student handbook. After running through her general expectations—nothing beyond water in the classroom, and no unexcused delays or absences—she paused for just a beat.
"If for some reason vocally you're having a challenge, emotionally you're having a challenge, what do you do?" she asked.
"Talk to you," students mumbled in a tangle of words that fell over each other.
Alfred nodded. "I want you to communicate."
In the classroom, she added, they mostly communicate in song, learning techniques from deep breathing to the stretches that start almost every class. Thursday, the room filled with a familiar hissing as students stretched their arms toward the ceiling, placed their hands on their diaphragms and exhaled in unison.
"That's what a choir is!" Alfred said, moving to vowel sounds as students' hard E sounds transformed into soft, round Eh sounds, full at the edges. "We're trying to sound unified ... listen to each other."
Within moments, she had flowed into works from last year, an arrangement of "We Shall Overcome" filling the room with warm, silken tones that split into a clean harmony. Students had gotten nearly a minute of the song in when Alfred held up a hand.
"Stop. That O should be deep," she said. There was a collective breath, then students picked up right where they had left off.
For many of them, it's the belief in this music—and in Alfred's teaching—that keeps them dedicated to the art form. Kelly-Walker, who spent her summer teaching music at the Foote School, hadn't been ready to return to school Thursday until she thought about Alfred's choir classroom, and realized that she was going back to a place that she loved.
This year, her goals are remaining motivated and managing her time, including during the school's not-yet-announced spring musical. By the halfway point in class, she was asking for old favorites, including an arrangement of "Sing Alleluia" and "Keep Your Lamps Trimmed and Burning" that the choir performed last year.
Before the final bell, she scurried over to Alfred's desk, a blur of green in a printed summer dress.
"Ms. Alfred!" she said. "I brought you back a song." She explained that she had helped students perform it over the summer. "It's called 'SiSi Ni Moja. It's Swahili.'"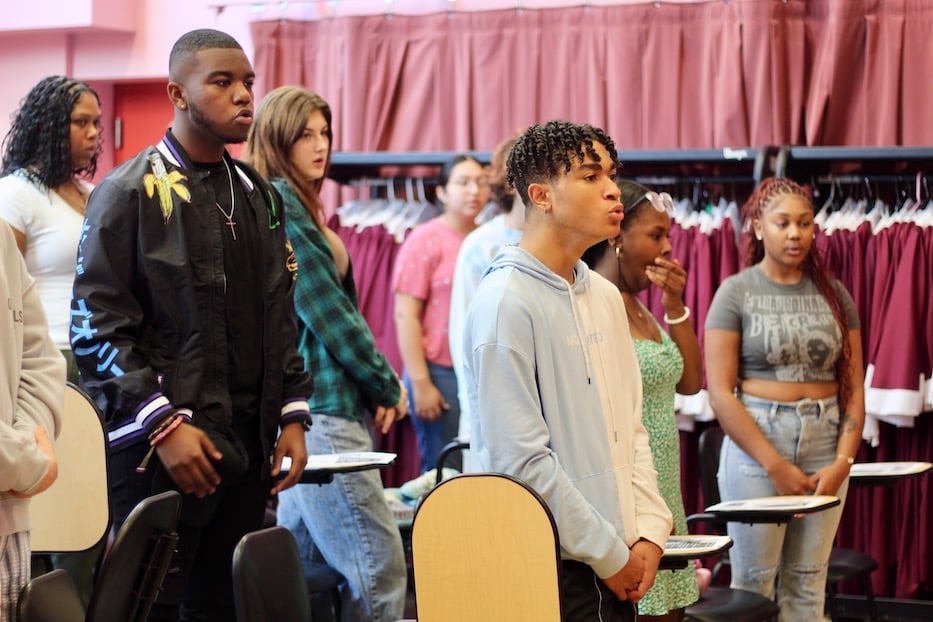 She's far from the only one: After 37 years at Co-Op, Alfred has nearly four decades of loyal followers, and students who have been transformed by the power of choral music and ensemble singing. Harris is one of them.
When she transferred into Co-Op her sophomore year. "I had been going through a lot," Harris said. After coming into the school after a year of remote learning at Hillhouse, it was Alfred who often helped get her pull through. "Ms Alfred is amazing," she said. "She's like a second mother to me."
Steed, who is starting his junior year, echoed her as he fastened a durag over his back-to-school haircut on the way to lunch, using his phone as a mirror. Over the summer, he saw how Alfred's call-and-response "Good Morning" warmup could transform the moods of the preschoolers he was working with.
"It definitely teaches us teamwork and how to depend on each other," he said.
That enthusiasm—and a belief in chorale music, which she now sees as an endangered species—keeps Alfred coming back, too. Raised in Gary, Indiana, Alfred started singing at four years old in church and elementary school, and has taught for almost 40 years in the New Haven schools. When she jokes about retirement, it makes some of the students visibly upset.
In nearly four decades, she's learned to both meet students where they are (she is considering a song called "I Want to Stare at My Phone with You" for the winter concert) and push them to where she knows they can be. For her, choir is a pathway to social and emotional development, with the ability to both spark joy—chemically, ensemble singing releases serotonin and oxytocin—and teach empathy, group work, and world languages.
"Who knew that that so much would come out of something that they're trying to cut," Alfred mused aloud Thursday to students, between clips from composer and choral music evangelist Eric Whitacre. "I would just like to remind you of the importance of choir. We're in a state where chorale music is not performed as much. It's still alive. We're trying to keep it alive. When you sing, you're giving a piece of yourself to the audience."
"I want you to understand how valuable your art is, okay?" she added before students headed out. "When you get up to perform, you're not just up there. You're making a difference. It's community building and healing."
Learning To Listen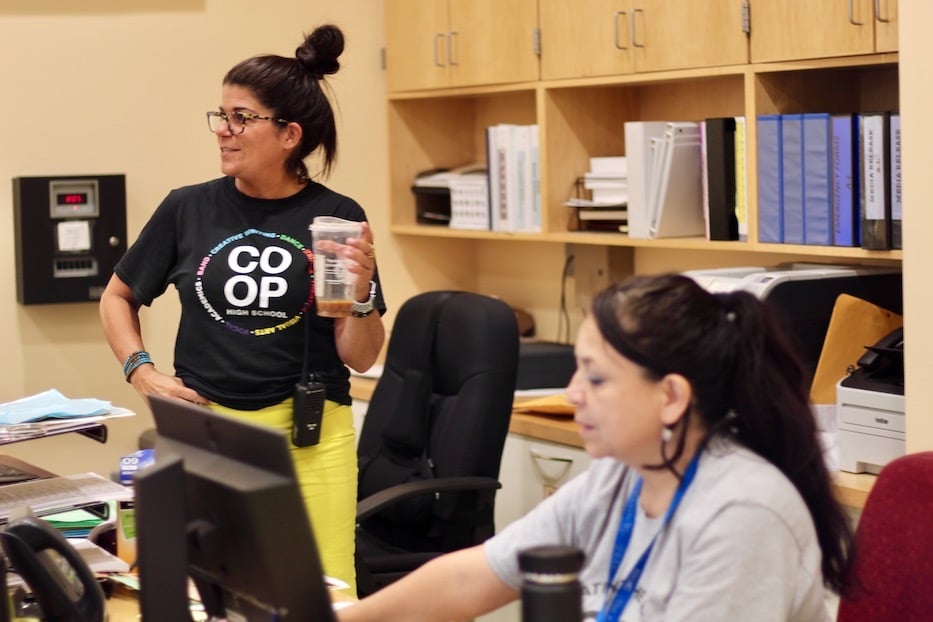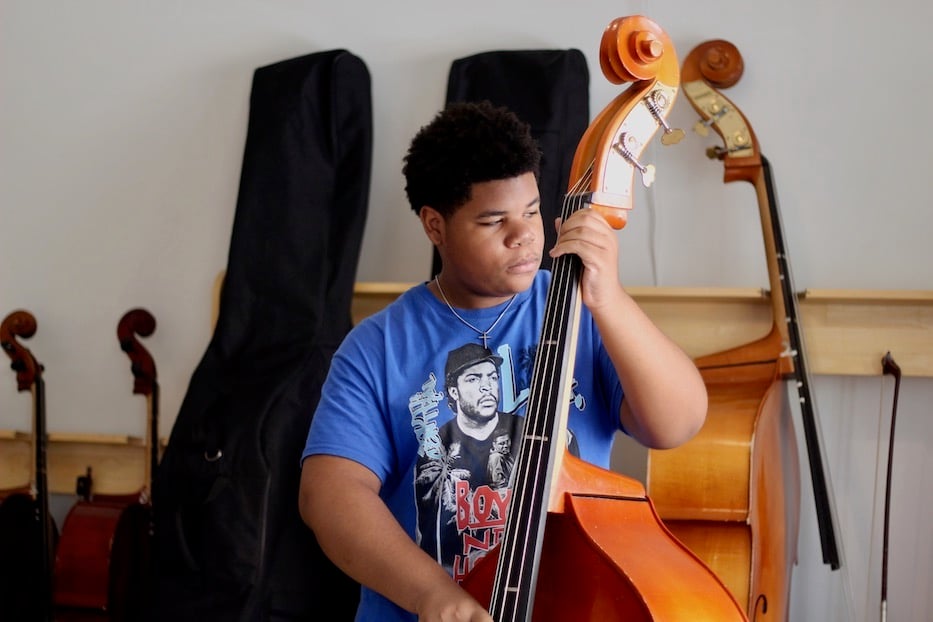 Top: Amy Migliore in the central office. Bottom: Sophomore Zakai Henderson, who practices his bass during lunch block almost every day.
In Arts Director and Assistant Principal Amy Migliore's office, that vision was already coming to life. When the pandemic hit, she and teachers pivoted to make it through the year—then pivoted again, and again, and again. With new leadership this year, she said, "I feel like I can refocus," including on growing Co-Op's footprint in and partnerships with arts organizations in the community.
It makes her feel more prepared to deal with district-wide hurdles like chronic absenteeism, she said. "I think because we're creating a community, kids really want to come to school. I'm excited for this year. I'm happy to see the kids back in the building."
Down the hall in Lugo's room, sophomore Zakai Henderson was happy to be back in the building, too. Last year, he spent almost every lunch block in Lugo's classroom, honing his technique on the bass, or decoding sheet music with Lugo.
As a student at John C. Daniels School before high school, Henderson played the trombone and trumpet. Since he started playing the bass, he said, it's helped him make connections that he plans to one day bring to his work as a mechanical engineer. He also has a soft spot for the instrument, he said, which he grew to appreciate through a love of Motown, old-school hip hop, and R&B.
"I get encouraged by it," he said.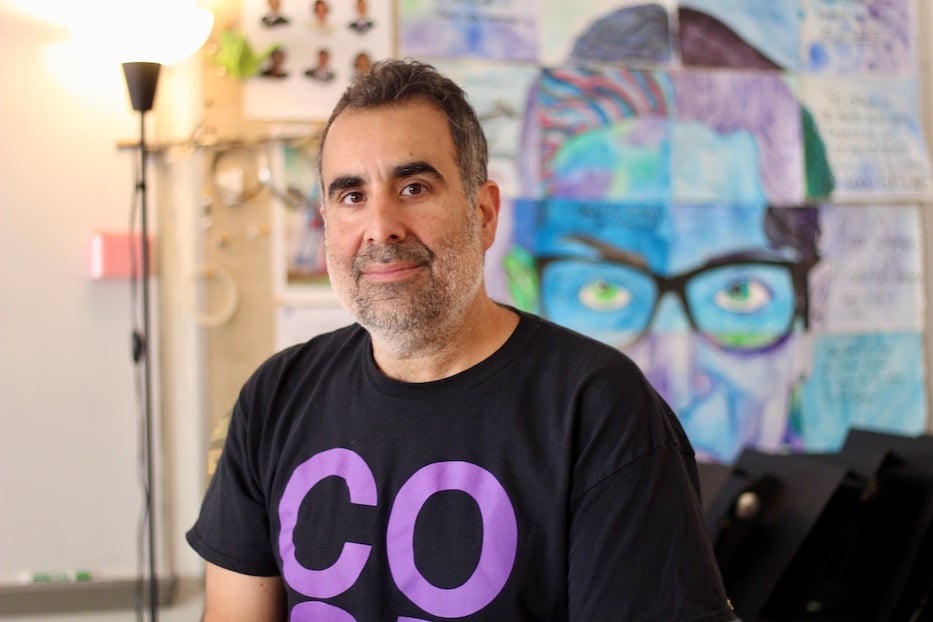 Lugo: "You can learn so much about how your head works."
"That's a huge part of why I think music is included in the common core," Lugo said. "You learn to listen [to other people], and that translates to how you interact with each other. Being in an orchestra, you're responsible to the group. It's good to feel responsible to something bigger than yourself."
"And—" he continued. "It gives you confidence in the ability to learn new things. You can learn so much about how your head works."