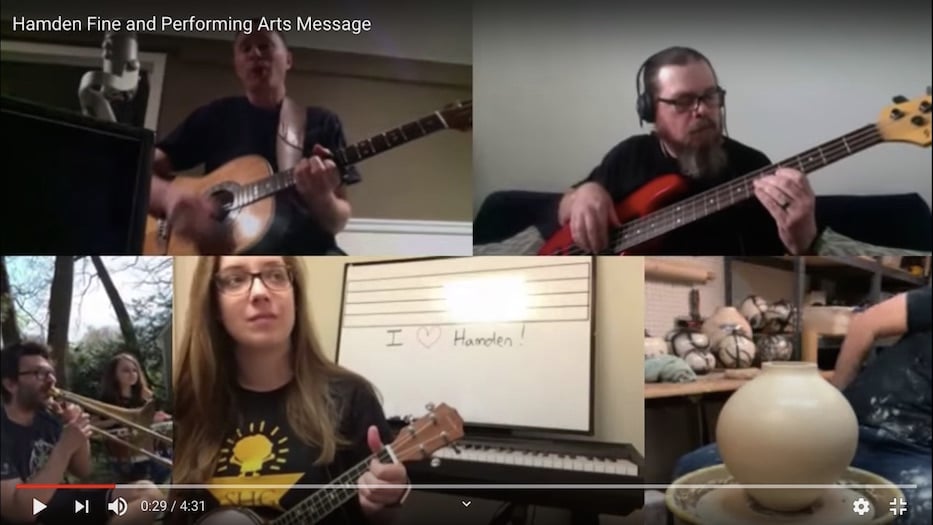 Education & Youth | Hamden | Arts & Culture | Hamden Department of Arts & Culture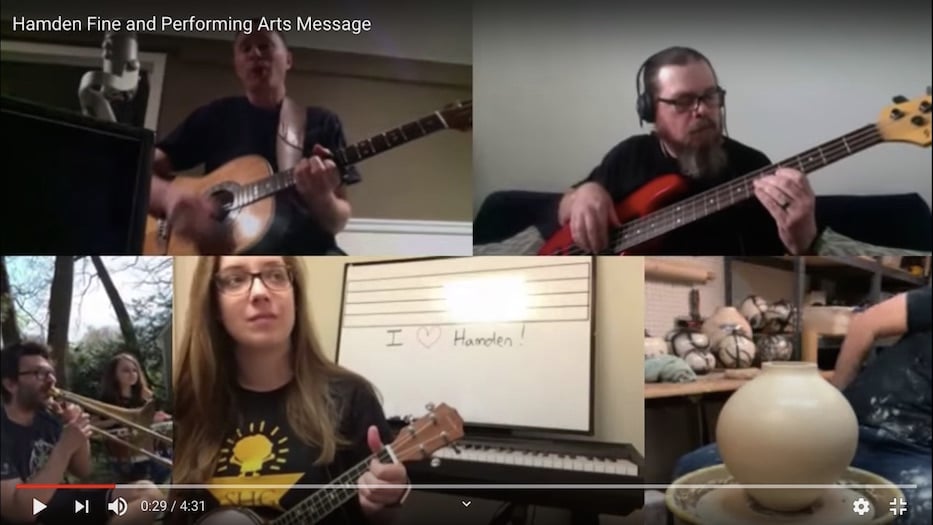 Eric Nyquist: For teachers, our whole existence comes from the energy that's shared back and forth with our students." Screenshot from YouTube.
Eric Nyquist stands against a brown wall with white piping, a guitar strapped over his neck and shoulders. He takes a deep breath and starts to play. He's not alone for long: a teacher appears with a baby on her hip, holding a sign that reads Let's All Be Well. A huge rainbow explodes over the words.
This week, fine and performing arts instructors from the Hamden Public Schools joined a growing movement to show, sing, and play through their support for students as coronavirus-forced school closures pass the two month mark. The video was arranged by Eric Nyquist, who is the director of fine and performing arts for the district, with help from music teachers Aaron Barkin and Elizabeth Caldwell.
"Teachers are desperate to find a way to connect with their students and to let students know that we care about them," he said in a phone call Thursday afternoon, in the midst of meetings around the city's budget. "It goes beyond knowledge and teaching. It's beyond a job. Teachers really care about their students, and they want them to be okay."
The idea for the video was born earlier this month, after Nyquist suggested he wanted to create a message for students and sent colleagues a video of Jimmy Fallon and the Roots as an example. Since school closures began in March, the district has been in emergency mode: teachers and administrators catalogued and distributed 1,000 chromebooks in four days, for students struggling to bridge the digital divide. The district worked to set up new hotspots for students without WiFi connections.
Teachers reconfigured their lesson plans for the remainder of the year, transitioning to Google Classroom. Like New Haven, Hamden has put live teaching on hold for liability issues, from the possibility of students and teachers in their bedrooms and bathrooms to the threat of Zoom bombing. Teaching on Zoom is not yet something the district has discussed for the fall, should COVID-19 force longer-term closures.
Most fine and performing arts teachers, he said, "are putting more time in" to class preparation than they were before the pandemic, because they can't be there to explain something in the moment. He told the story of Pamela Mancini, a visual arts teacher at West Woods School who has 96 percent class participation rate and spends hours responding to each of her students by email.
Sometimes, it will take four email messages to communicate something "that would have been two minutes in class," Nyquist said. The same is true of music and theater instructors, including himself, who have had to figure out new ways to move everything online.
When he suggested a video, they jumped onboard. Of the song suggestions fellow educators sent him, Louis Armstrong's "What A Wonderful World" felt right for the moment. After he laid down guitar and vocals, other teachers jumped in with vocal accompaniment, horn, and strings. Others sent videos of themselves making art, as they would be doing with their students if their classrooms were still open.
"This whole distance learning thing has been incredibly challenging for our department," he said. "It's pretty tortuous. For teachers, our whole existence comes from the energy that's shared back and forth with our students. These teachers are just—they're scouring for good resources and for things that will be helpful for the kids. They have been working so hard."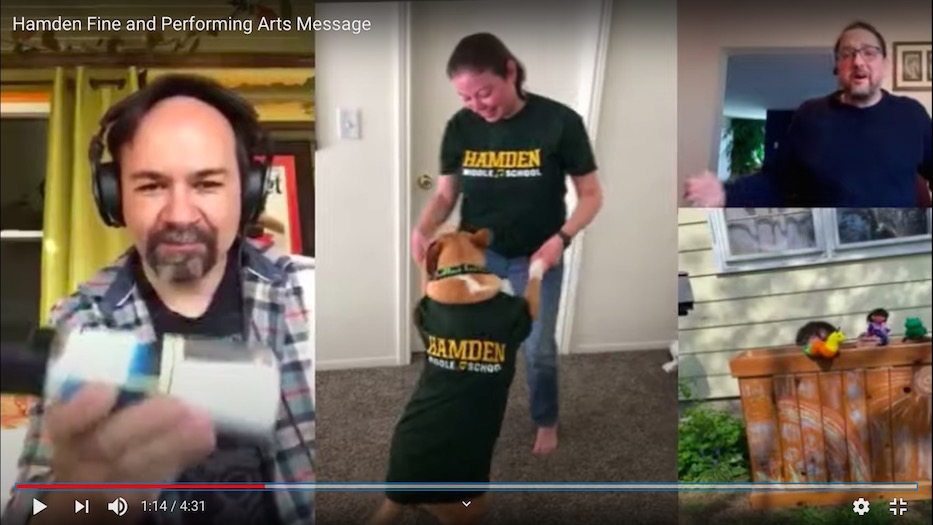 "We wanted to send a positive message to our kids that there's hope, that they're okay, that we're still here for them," he added. "The biggest thing is the connections with the kids. We're giving kids every benefit of the doubt. We're giving extensions on everything."
In the video, teachers build a YouTube ensemble that Caldwell and Nyquist have stitched together. No sooner has Nyquist started in on the lyrics than an art teacher is waving from her backyard. Trombone and ukulele edge onto the screen, with encouraging messages scrawled in the background. In one frame, a guitar joins in the upper right as a teacher leans over a pottery wheel below.
In another, an art teacher sits with her dog, urging students to keep going with the message "when life gets blurry, just change your focus" and a picture of a camera. The image shifts again, and someone is doing percussion with a homemade shaker. Teachers dance with their dogs and cats, tap dance in their driveways, and turn their hubcaps into impromptu drum sets. In part, participants in the video used what they had at their disposal because they've been asking their students to do the same.
The video comes as Hamden Public Schools face a $2.8 million cut in funding, a number that Nyquist said feels impossibly large. In the weeks before Mayor Curt Leng closed the town's schools, the city's Board of Education Finance Committee had submitted a budget that reflected an increase in funding. Earlier this year, Nyquist also spoke to the Hamden Board of Education Equity Committee about the need to provide more free or low-cost resources to students in the arts. Suddenly, he is looking at a department and a district that will have to pull back instead.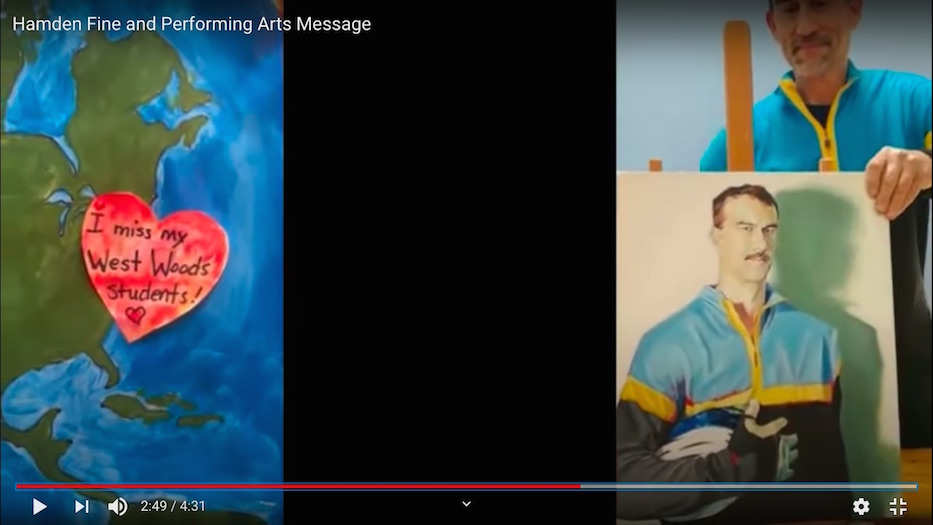 "The thing I fear is that with the distance learning, we need more resources for them next year," he said. "We're in a people business. It's heartbreaking, the effect that it will have on our kids. And they're the future."
He sees COVID-19 as a trauma from which students—and teachers—will need to recover. They've lost time in the classroom that they're not going to get back. Some of the district's high schoolers are the only people working in their families right now, with part-time jobs in the grocery and food industry that have continued.
Others have been struggling with social and emotional learning that's been put on hold. In the midst of distance learning, he has also been fielding calls from parents and Board of Education members who are worried about the lasting damage that cuts may cause.
As he pointed out, $2.8 million doesn't just mean cutting back on supplies like books and colored pencils. It translates to cuts in vital programming and summer and after-school programs designed to bridge an educational gap for students. In January, the board began to reimagine a curriculum aimed at equity work in the classroom and minority teacher recruitment and retention. It's unclear how that will play out now.
"We have a great team in Hamden," he said. "I've got to trust that the administration is going to do the best they can."