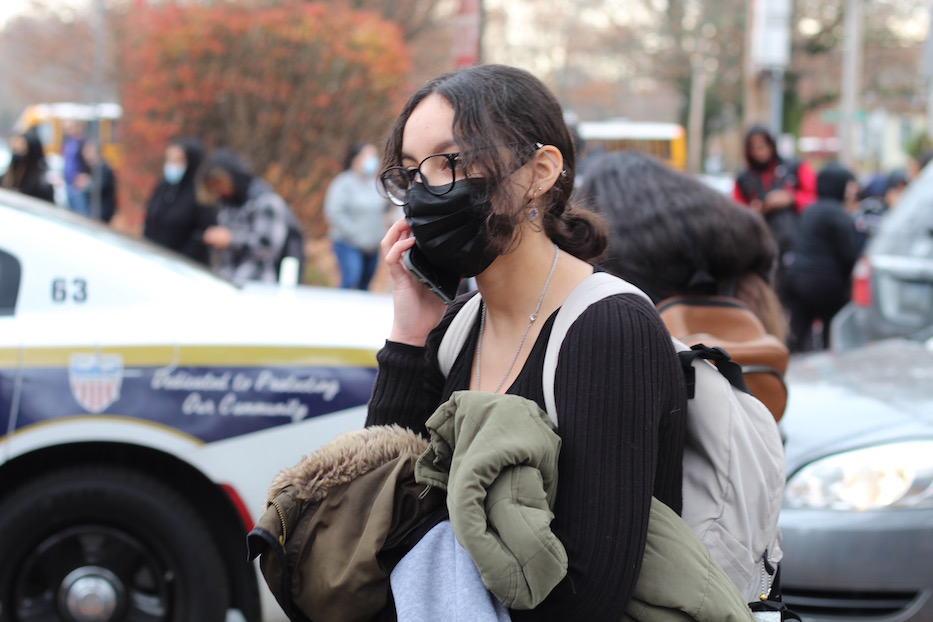 Education & Youth | New Haven Public Schools | Elicker Administration | Wilbur Cross High School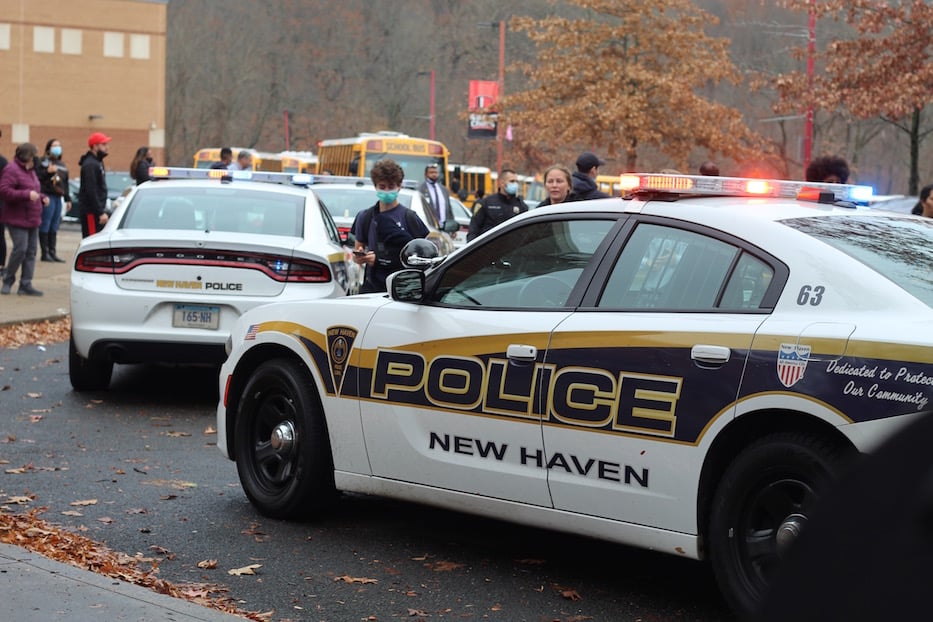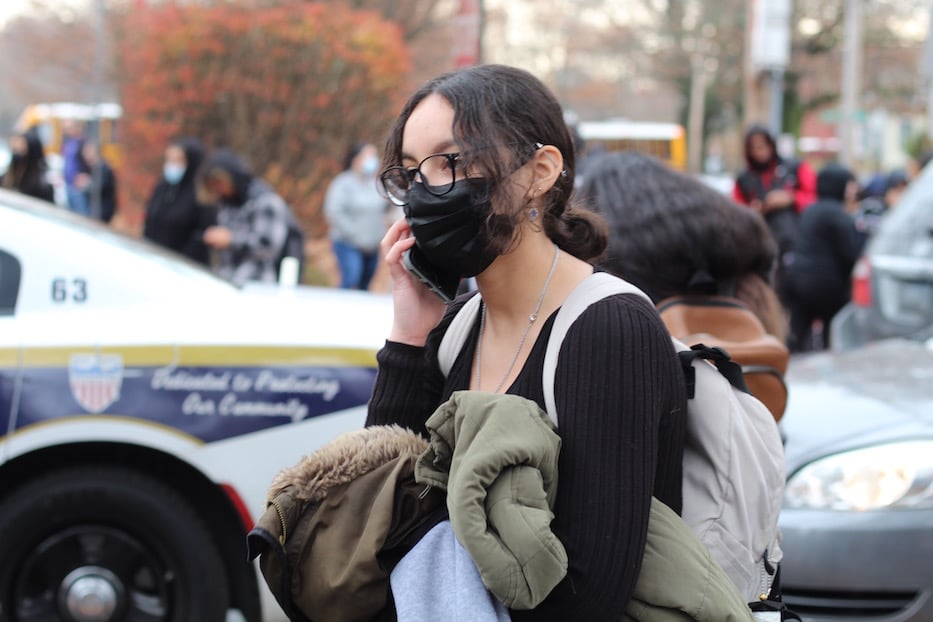 Mikayla Torres, who is a junior at Wilbur Cross High School, on the phone with her mom. Lucy Gellman Photos.
Mikayla Torres was in her homeroom Monday morning when the announcement came on the speaker. The voice, which she thought belonged to Principal Edith Johnson, was shaking just slightly. The school was in lockdown, it said. Within seconds, the classroom's lights were off and students were silent. She realized that it wasn't a drill.
Torres is a junior at Wilbur Cross High School, where students were placed on lockdown and then evacuated from the building Monday morning. Officer Scott Shumway, media liaison for the New Haven Police Department, confirmed that the cause was a report of a student with a gun, called in to 911 at 8:51 a.m. Monday morning. He said that police could not comment on the source of the call while they were evacuating and "checking every square inch" of the building. He confirmed that the NHPD is working with regional partners, including the FBI.
After a threat on social media, Eli Whitney Technical High School in Hamden was also placed on lockdown Monday morning (click here for a story in the New Haven Independent). James Hillhouse High School and Amistad Achievement First High School also held early dismissal Monday. New Haven Police are also evaluating whether to close Hill Regional Career High on Tuesday, after a threat appeared on social media Monday morning.
"We've been dealing with the need to manage the situation and the need to keep our students and staff safe," said New Haven Public Schools (NHPS) Director of Communications and Marketing Justin Harmon in a phone call Monday afternoon. "This is a terrible circumstance and frightening for our students and staff. We're grateful for the New Haven Police Department and all their efforts to ensure that our students, staff, and that our community is safe."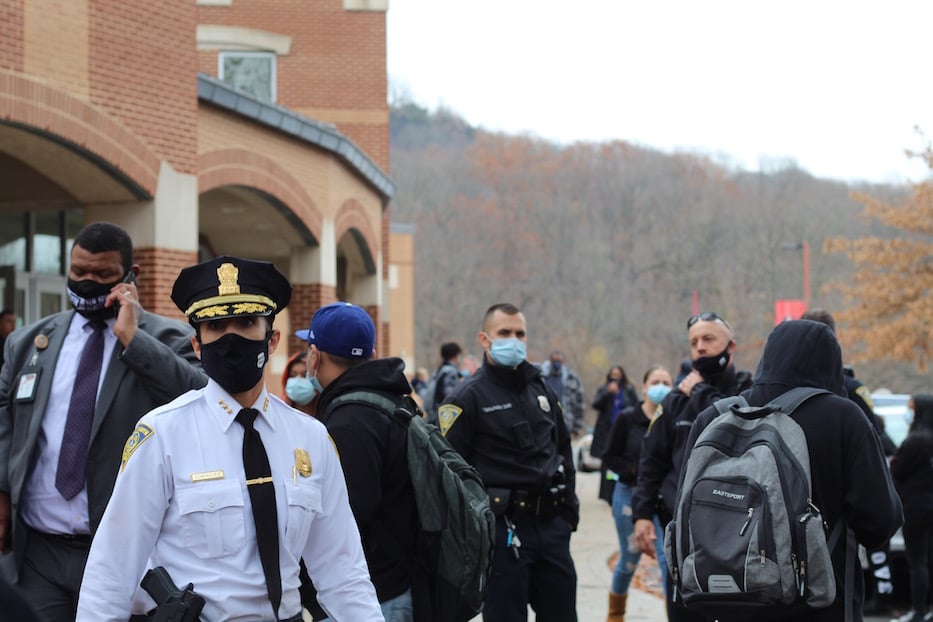 NHPS Assistant Superintendent Dr. Paul Whyte and New Haven Police Department Chief Renee Dominguez on the scene. Students were evacuated into the parking lot, where parents picked them up and buses took them home early.
According to Shumway, lockdown at Cross began shortly after 8:51 a.m., when the local 911 dispatch received a call reporting a student with a gun inside Wilbur Cross High School. Students, who had just started second period homeroom, were told to stay in their classrooms. Those walking between first period and homeroom ducked into the nearest classroom, just as they have learned to do during lockdown drills at the school.
Torres said that there was initial confusion, because students had a lockdown drill last week, in the wake of a deadly shooting at Oxford High School in Michigan. As the evacuation process unfolded, some students were ultimately in their classrooms for over two hours.
At 9:27 a.m., Wilbur Cross Principal Edith Johnson sent a message to staff asking them to look for a male student in a "dark hoodie, black face mask, jeans, white Timberland boots." Students started circulating the message on social media. Torres said that she and her peers mainly use Instagram to get information out.
"Please calmly look at students in your classrooms or the spaces where you are locking down," read the email from Johnson. "If you have a student who matches this description … please send Mrs. Johnson and a copy to [Assistant Principal] Ann Brilliante with the room number you are located and the name of the student if you have it. This is urgent."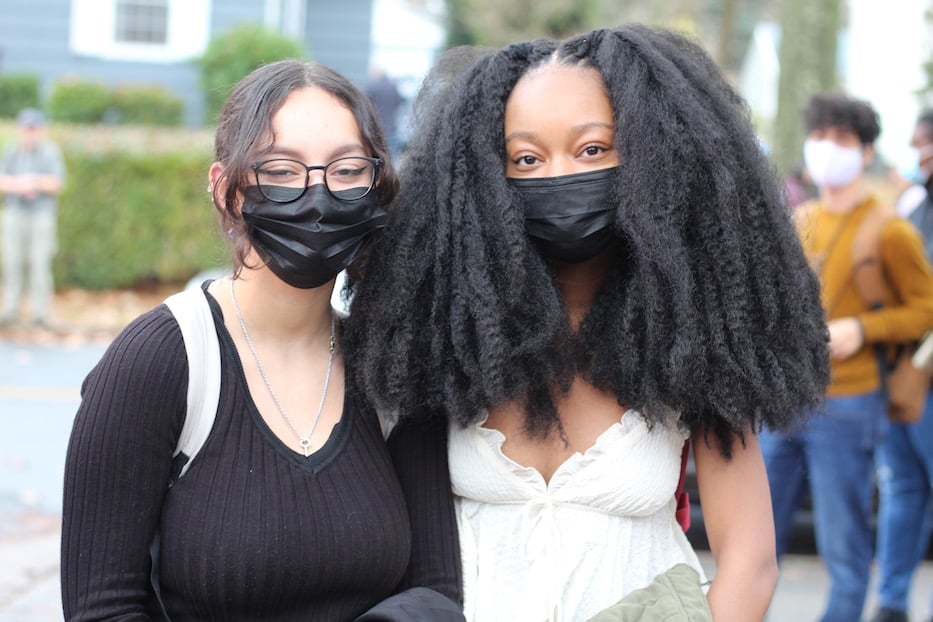 Mikayla Torres and and Saniah Peterson.
Several students said they felt like they were kept in the dark, unsure of what was happening as they called and texted their parents. One student, who asked to remain anonymous, arrived late for homeroom and saw a police car outside the school. Unsure of what to do, she stayed outside. She was rattled when more police cars started pulling up.
She added that information came out in pieces, so she didn't know what to believe until she started talking to other students.
"It's a little nauseating because you don't know what's going on," Torres said as she waited for her mom outside the school. "It's really unreal. We don't know what's going through people's minds, or what something really is."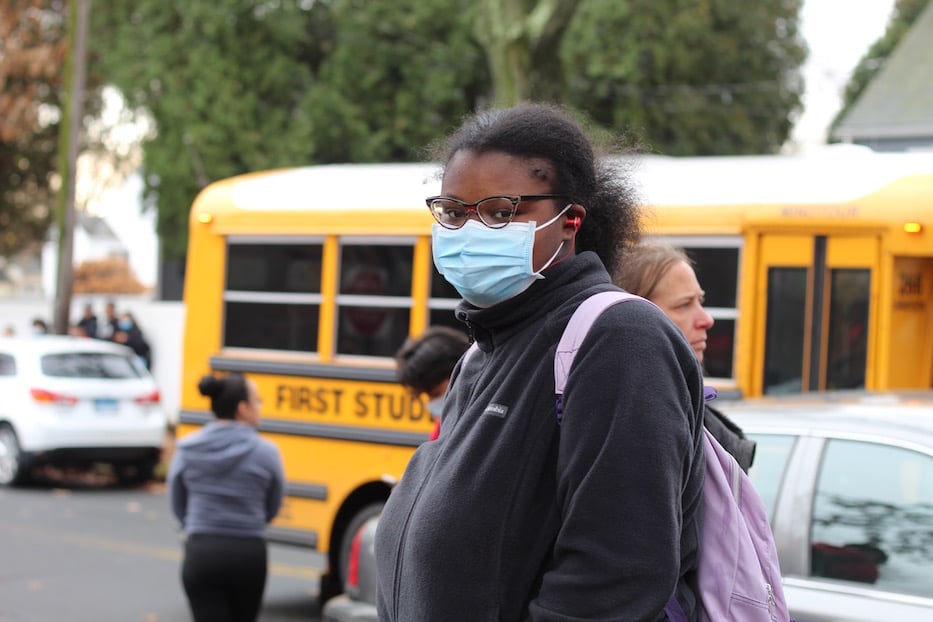 Keziyah Williams: "It's pretty sad and scary."
Sophomore Keziyah Williams was in her film editing class when the speaker system crackled to life. She was sure the voice belonged to Johnson. In the room, teacher Jim Bellantoni turned the lights down. Students fell to a hush and went "to the other side of the room," said Williams. She doesn't remember how long the group stayed like that. At some point, staff members and a security guard came in, and escorted the group in a straight line outside the building.
"It's pretty sad and scary," she said at 11 a.m., waiting outside for her mom. "You see that stuff in other states—it's crazy. All I can do is pray."
Like many of her peers, she said that last week's school shooting in Michigan, as well as the closure of Hamden High School last Friday through this Tuesday, has been weighing heavy on her mind. Because the threats at Eli Whitney High School started on Instagram, some students were the first to see and share them. She said that students shouldn't have to worry about their physical safety when they walk into a school building.
As she spoke, students and teachers continued to file out of the school building, some on their phones and others searching the crowd for their parents and friends. A fleet of buses waited in the parking lot with their blinkers on. Sophomore Saniah Peterson scanned the parking lot until she found Torres, who was holding her coat. She slipped it on and gave Torres a little squeeze. Around them, the pulsing red and blue of police lights continued to flash. Some parents, who had parked on the side streets, found their kids among huddles in the parking lot and outside of the school.
"I feel lucky to be alive, but it was very scary, especially not knowing if it was real or not," Peterson said. She added that she worries that "people are following what they see on social media," making copycat threats.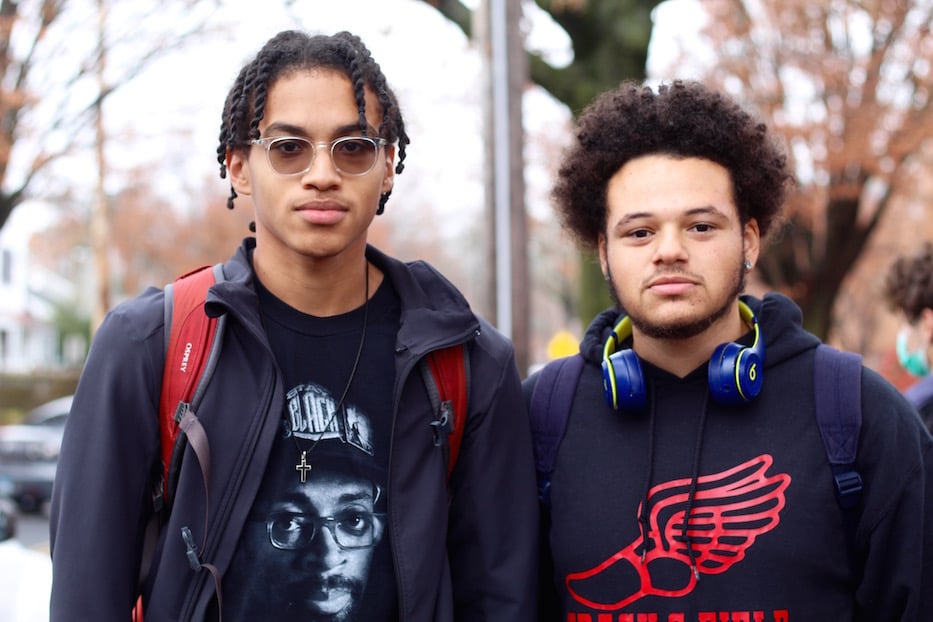 Junior Tre, who asked to be identified only by his nickname, and senior Matthew Cain.
Fielding calls from his dad as he waited on the sidewalk, a junior who asked to be identified only as Tre said he's frustrated by the rise in violent threats that he sees across both the district and the country. At 8:55 a.m. or so, he had just sat down in his second period homeroom class when the speaker came on. He said he couldn't tell who was speaking, but they sounded worried.
"She sounded out of breath," he said. "I was like, 'This is really real.'"
When he comes to school, he said, he doesn't want to think about whether he's safe or not. He wants to think about his classes, including his dreams of becoming an actor. It's why he chose Sal DeLucia, who teaches acting and video editing, as his homeroom teacher. Monday, he recalled how DeLucia turned off the lights and locked the door as the class fell into silence in one corner of the room. When his dad called, he texted a response because it was quieter.
Calling it "worrisome," he said he feels like schools have become more dangerous in the past five years, as "a whole bunch of kids are getting their hands on guns." He remembered feeling angry when he read about the fatalities at Oxford High School last week, and saw that the 15-year-old shooter's parents had bought him the handgun that ended four young lives and injured seven others. He called for stronger gun control in both Connecticut and across the U.S.
"Something has to be done about the gun situation," he said. "They value guns and property more than they value people's lives."
"Students should not have to be worried about this," chimed in his friend, Matthew Cain. "We should all come to school and not be afraid of school."
Cain, who wants to study journalism next year at UConn, added that he did his best "to stay as calm as possible" while trying to get answers from teachers and filling his mom in on the situation. "It was a regular day" until it suddenly wasn't, he said as he started the walk home down Orange Street.
"It was very choppy information," he said. "I didn't want to believe it."
In a phone call Monday afternoon, Mayor Justin Elicker said that police, city, and NHPS officials will be holding an internal meeting Monday afternoon at 3 p.m. to discuss next steps. He added that he hopes to "find who made these threats and hold them accountable."
After students left the school this morning, he met with NHPS Superintendent Iline Tracey, Wilbur Cross Principal Edith Johnson, New Haven Police Chief Renee Dominguez and teachers in Cross' large auditorium. He said it was clear that teachers, who are also concerned for their own safety, are worried about their students' physical safety and mental health.
Cross is currently one of the schools where students are asking for more counselors through a student-led "Students Over SROs" campaign. Elicker said that as of Monday afternoon, Clifford Beers had volunteered its services to the district.
At the 3 p.m. meeting this afternoon, he added, "we will be discussing how to ensure that students can remain in school, learn, and practice their safety at the same time."
"We have to take these threats very very seriously for obvious reasons," he said. "We've also got to make sure that students are able to learn in a safe environment."
In a press conference Monday afternoon, Elicker said that Wilbur Cross, James Hillhouse High School, Hill Regional Career High School, Cooperative Arts & Humanities High School, Riverside Academy, Conte West Hills Magnet School and Edgewood Magnet School all received threats. Assistant Schools Superintendent Paul Whyte said that there will be additional emotional support staff present for students and faculty in the coming days.
As of Monday afternoon, Dominguez said that the 911 caller, a 17-year-old Wilbur Cross High School student, has been arrested for a breach of peace and interference. New Haven Police also found that three of the Instagram posts came from a juvenile in a separate state. The department is still investigating multiple social media posts and one email message.
"At this time, we have not found that any of those threats are credible," Elicker said. "We take things very seriously ... and cherish the safety of our young people and the people who are working in our schools."
"I want to be clear that when someone makes this kind of threat, it is illegal, you will be arrested, and we will find you," he added. "It creates a significant amount of trauma in a community that is already quite traumatized."
Watch the press conference from the New Haven Independent here.