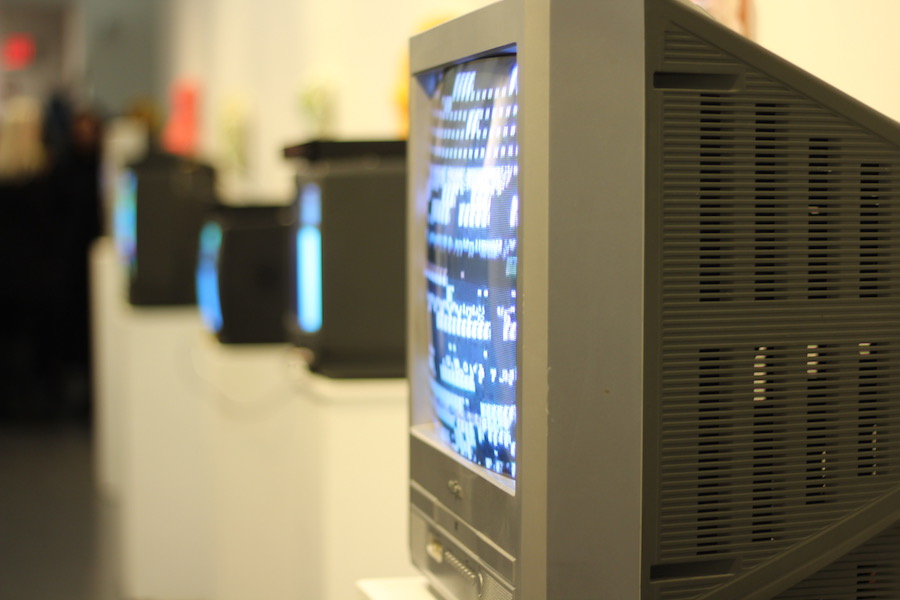 Arts & Culture | Artspace New Haven | Ninth Square | Visual Arts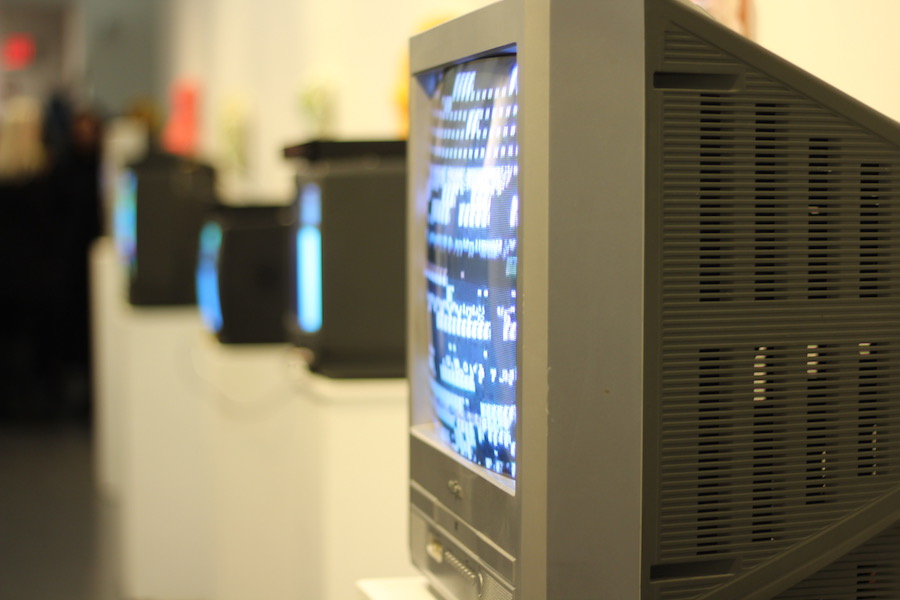 Lucy Gellman Photos; all work by the artist.
The televisions are what catch you first. A video flickers to life, then freezes and unfreezes with bars of static. On another screen, blocks of color shift at a glacial pace. Music hums overhead: a rising, shrill frequency that can't possibly be human. Somewhere nearby, the flatly-tuned ghost of Super Mario turns over and goes back to a tumultuous sleep.
It's all par for a raucous, brightly lit and innovative course at Artspace New Haven, where artist-in-residence Binwanka has rolled out his week-long solo show 変身 (Henshin) through March 23. One of three artists in residence for the 2018-2019 year, Binwanka will return with an eight-week solo exhibition in October, during Artspace's annual City-Wide Open Studios celebration.
Earlier this year, 変身 (Henshin) began with a realization: there was no one place where a collection or catalogue of Binwanka's art lived. Not in the physical world, at least. When the artist was selected as one of Artspace's three artists in residence earlier this year, his creations were scattered to all corners of the internet, a space that was constantly getting larger and harder to keep track of.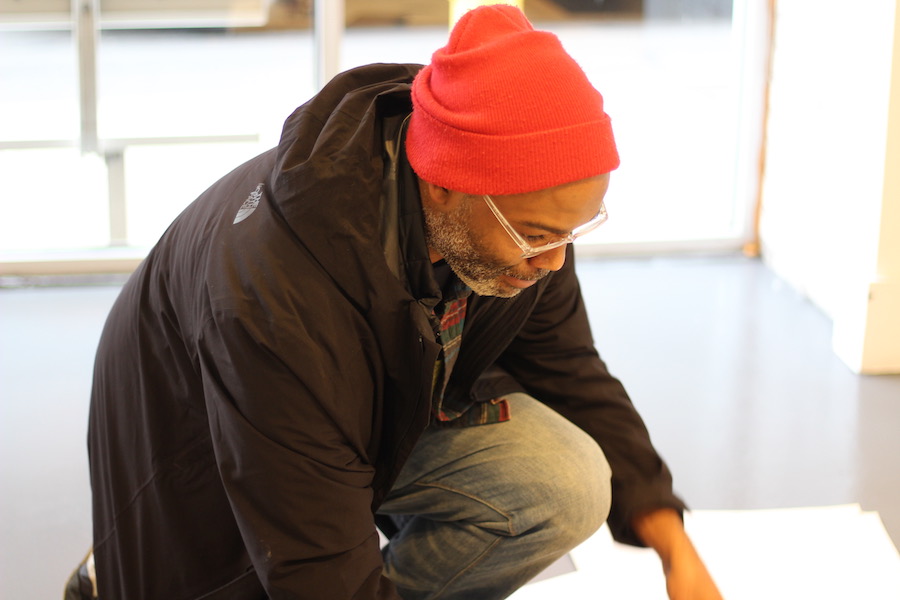 "A lot of his work lives on websites," said Artspace Curator Sarah Fritchey at an opening last Friday. "It felt like we needed to play around with these works as objects, to see what they wanted from us."
変身 (Henshin), named after a Japanese gaming term for transformation, remedies that blank space in Binwanka's exhibition history with a real-life gallery filled with work from the last decade. Beyond a short introductory text, television screens flicker with big, blocky letters and blue and green bands of color. A series of monitors show art that is both from the cyber world and ours, like a video of the artist's friends playing ping-pong. After being processed by a video synthesizer, it looks a little like it has been chopped up and put in the blender.
On some, shapes come to life and then stand still, unhurried as if no one is watching and they've got nowhere to be. The longer you look, the more trance-inducing they become, pulsing with light that is too bright, yet weirdly beatific.
There are pieces like se cr is 06 (Secret Thesis Project) (2012), in which Binwanka has hooked a Super Nintendo into a television set "after he noticed it malfunctioning and producing an interesting image." In the work, a set of glowing lines oscillate just a tiny bit—not quite enough to set off seizure triggers in one's brain, but enough to see them do their thing, and get knocked a little off balance.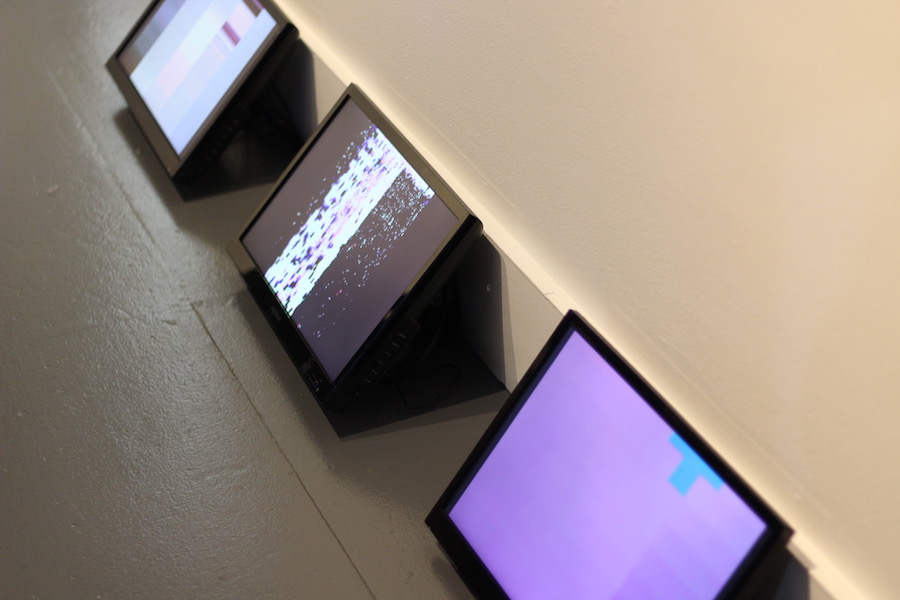 There's something else there too—rainbow shades that fuse into each other, like a color field painting made of Saturday morning cartoons. It's a symphony of glitch: systems that don't fit together like they're supposed to, with code that the artist has unspooled and mashed back into place the wrong way. Something beautiful, despite the wiring being terribly off.
There's no rise of the machines here, so much as a throwback to the end of the last century, equal parts carefully rendered and nostalgic. Trained in game design at Southern Connecticut State University (SCSU), the artist turned to glitch art, databending and experimental music as an extracurricular extension of his work, taking the regimented knowledge he was learning and turning it on its head.
It has created an imperfect, fascinating world where the wrong answer is far more interesting than the right one. In the process, Binwanka critiques the limits of technology while making it hard to look away.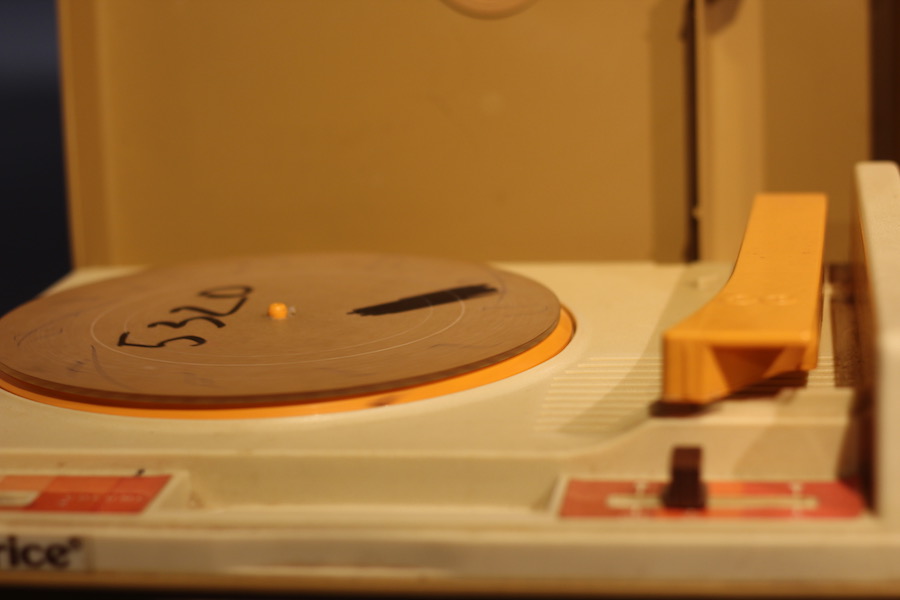 That approach has been literally decades in the making. Binwanka was first drawn to video games as a kid, pulled into their forcefield of jumping, pixellated blobs, and caricatures of mustachioed, pot bellied Italian men. Some of his friends, he joked, liked the Beatles; he was drawn to the ring and beep of video games instead. By the time he was 14, he was competing in tournaments, in which he described himself as "a pro" at an Artspace event last fall.
For a while, he wanted to work for Nintendo. Then he realized it was more interesting to break those systems instead (last week, he described hacking Super Mario with unbridled joy). In school, a class called "Art As Social Practice" led him to make his first tape loops, learning about something he now calls "rhythmic art." He became fascinated by Onkyokeia, a school of Japanese music that focuses on the sound of sound itself.
It has translated to pieces including american onkyo 2 + 3, a sort of rising tide of sound that actually comprises "sound itself … a mixer and plug effects and feedback loops." Set to a 14 minute, 30 second loop, the sound grows to a point where it is distracting and shrill, then jumps to an even higher frequency. There's something full and sculptural about it in the space—for viewers who are willing to listen for the loop.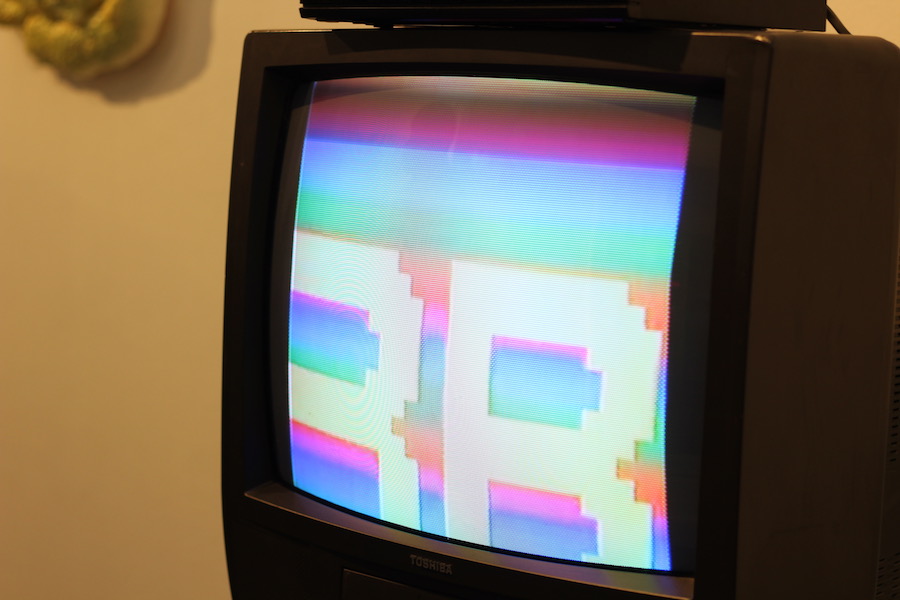 "It's rhythmic art," he said. "You might be listening and not even know it is there. Your attention goes in and out."
For the artist, this sound is a whole other element to his work. A fleet of newer, battery-powered robots (Beam Drawings, 2019) hum and buzz mechanically as they whiz around sheets of white paper, filling the page with markers that are attached. Throughout the show, the automated drone of video game music announces itself. With eyes closed, the viewers may feel more like they're inside an animated gaming subreddit than an arts incubator.
But instead of distracting from the work, the sound meshes with it. In Artspace's large central gallery, two long videos ask viewers to sit and stay a while and check out the way their color moves and shifts mechanically. Across a row of old-school monitors, Binwanka conjures something that is both new and old: a rainbow-colored, pixelated dude from Street Fighter Turbo runs across one screen, while another splits open into a deep, layered technicolor V.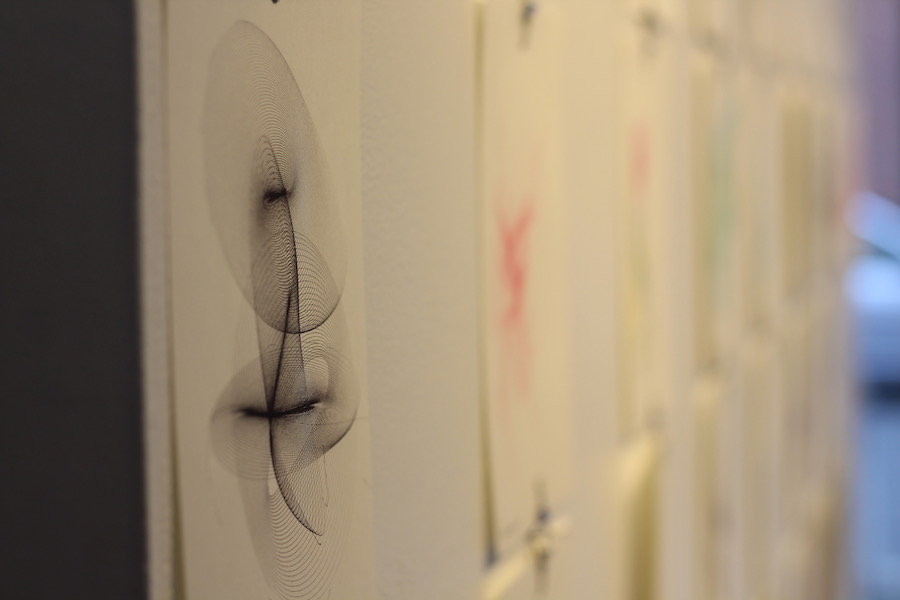 From these older practices, the artist said, have emerged his new experiments. In addition to the palm-sized robots, a series of harmonograph drawings warrant a closer look (or two or three), entrancing because of their own hard-to-spot glitches. Tacked across a wall, they first strike as a sort of exacting patchwork, their defects an integral part of their design.
They are a little reminiscent of Dan Gries' works from code, which were on view at the public library earlier this year—once you know the imperfection is there, you can't help but look for it. Like Where's Waldo, but for technology.
For the artist, viewers only get to see a small, curated version of that. When Binwanka isn't into a piece of glitch art he has produced, he discards it and starts again. The drawings are a little different—he has set out to make 1,000 and is well on his way—but adhere to the same kind of principle.
"I really think I'm collaborating with technology, but also I'm the boss," he added. "The things that I don't like can become raw materials that I can manipulate again and again until they become something I like."
"Inanimate things kind of do have a soul and personality," he added.