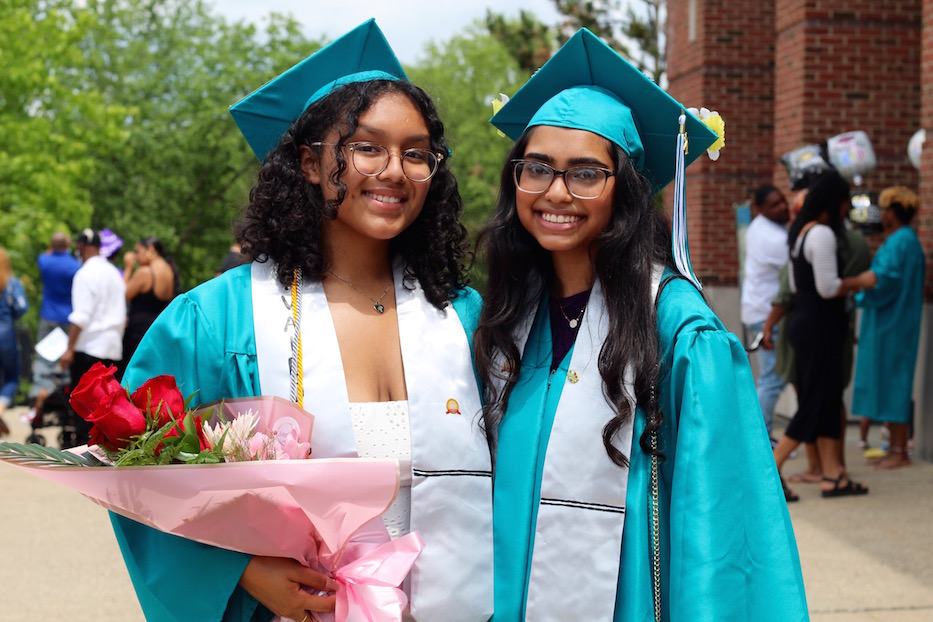 Education & Youth | High School in the Community | Arts & Culture | COVID-19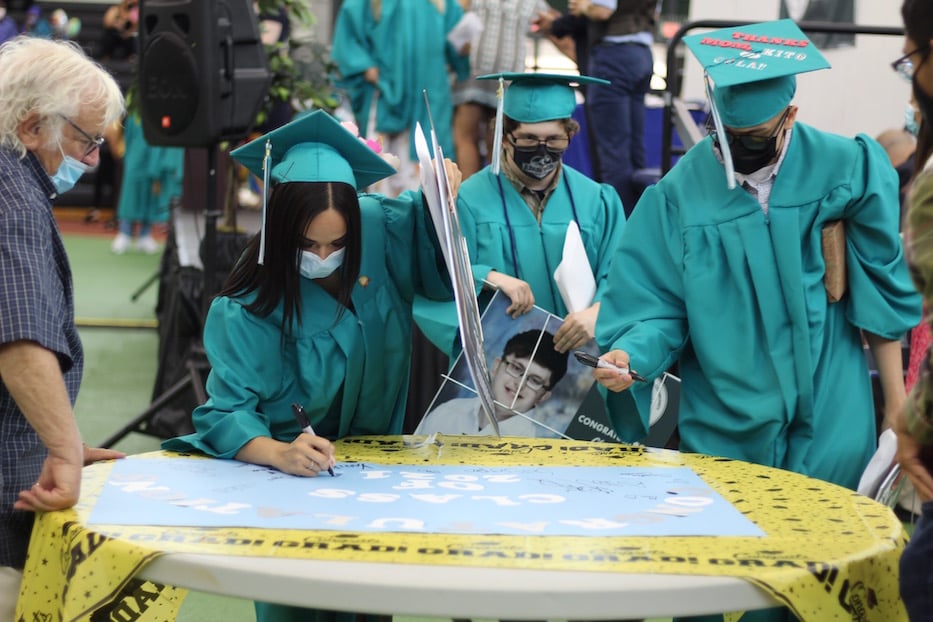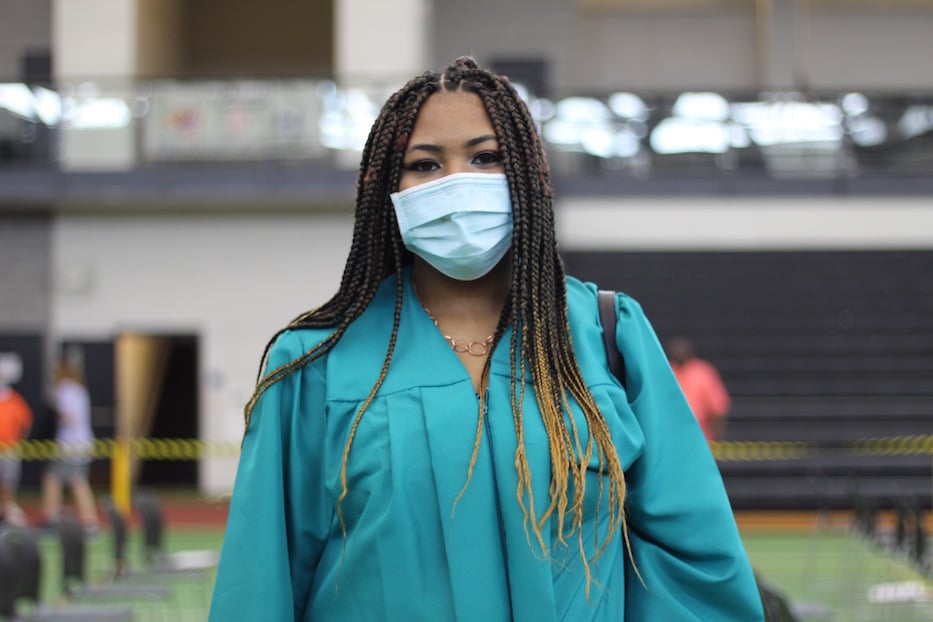 Top: Students sign a poster that reads "Congratulations Class Of 2021!" Bottom: Reed.
Zaniyah Reed didn't know if she would make it through her senior year. First came the pivot to remote school, and a world of sudden social isolation. Then she struggled with an unexpected mental health diagnosis. She focused on a single source of inspiration: her little brother Jayden, who passed away of head trauma when he was just two years old. She kept going for him.
Tuesday afternoon, the aspiring neurosurgeon donned a cap and gown, walked across the stage, and into the next chapter of her academic career.
Reed joined 50 of her classmates at High School in the Community's graduation ceremony, one of four held Tuesday at the Floyd Little Athletic Center at James Hillhouse High School. In an intimate, funny and sometimes tear-jerking ceremony, graduates celebrated making it through a year that Covid-19, remote classes, and ongoing racism have turned on its head.
Graduates include environmental activists, spelling bee champions, jazz musicians, future urban planners, marine biologists, and horticulture nerds, pandemic-era mentors to underclassmen, and a handful of students who saved the senior prom at the 11th hour. The class also took time to remember 18-year-old alum Brandon Jenkins, who died unexpectedly after graduating last year.
"All of you have been living through a crisis," said Building Leader Cari Strand. "You've learned compassion, resilience, strength, and amazingly, gratitude. Since we've been back in person, you have demonstrated all of these skills by creating a prom and a senior lounge and a garden in the parking lot out of thin air. And by partnering with your teachers and peers to do so, you have left your mark. You have lived history, and you are making history."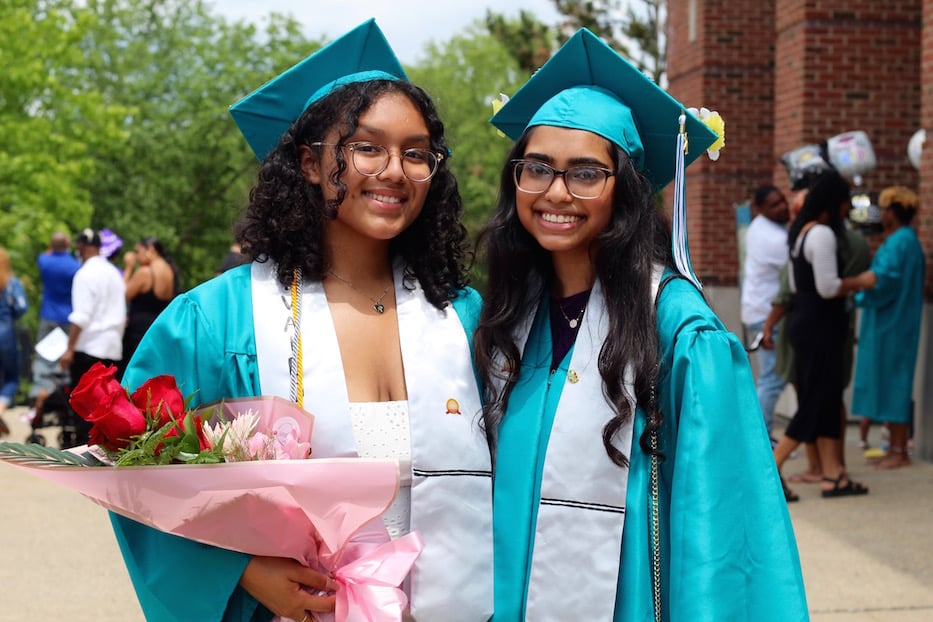 Co-Valedictorians Shakshi Patel and Johanyx Rodriguez.
Co-Valedictorians Shakshi Patel and Johanyx Rodriguez picked up on that history in back-to-back speeches to the class. Taking the podium in a long teal gown, Patel told fellow students that she did not feel fully at home among her classmates until she arrived at HSC.
As the child of Indian immigrants, Patel spent her youth jumping between schools and sometimes states, in search of the best life she and her parents could find in a new country. There were schools in New Jersey, Pennsylvania, Virginia, and Connecticut.
"I get the question 'where did you go to elementary school,' and I choke up," she said.
She said that schools would often accept her, and then tell her that she was not welcome as she rose in the academic ranks. She said she knew that she was being penalized for how she looked, rather than what was inside her head—and didn't know what to do about it.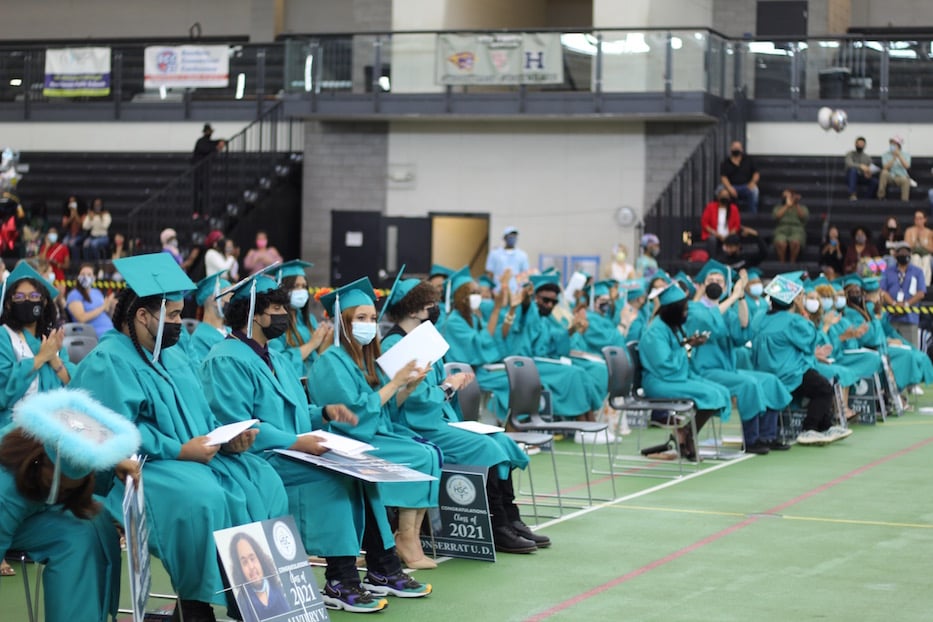 Then she got to HSC. Around her, Patel saw students who were Black, White, Latinx, and South Asian—and were all proud of their cultural identities. She loved a learning environment where it was okay to pick up lunch in the cafeteria, and then head to a classroom to spend the time talking with a teacher. When school went online last year, she realized how much she missed being in the building—and in physical community. She thanked her teachers for challenging her in and out of the classroom, from tasking her with school announcements to saying hello in the hallways.
"Although those moments may seem small, they are the ones I will never forget to cherish," she said. "I can proudly look at my friends and say thank you. Had we not met our freshman year, I would never have known confidence."
Four years after she first stepped foot in HSC, she hopes to become an immigration lawyer, working with some of the most marginalized people in the court system. She urged fellow students to keep pushing forward to achieve whatever their goals may be. She will begin that journey at the University of Connecticut in the fall.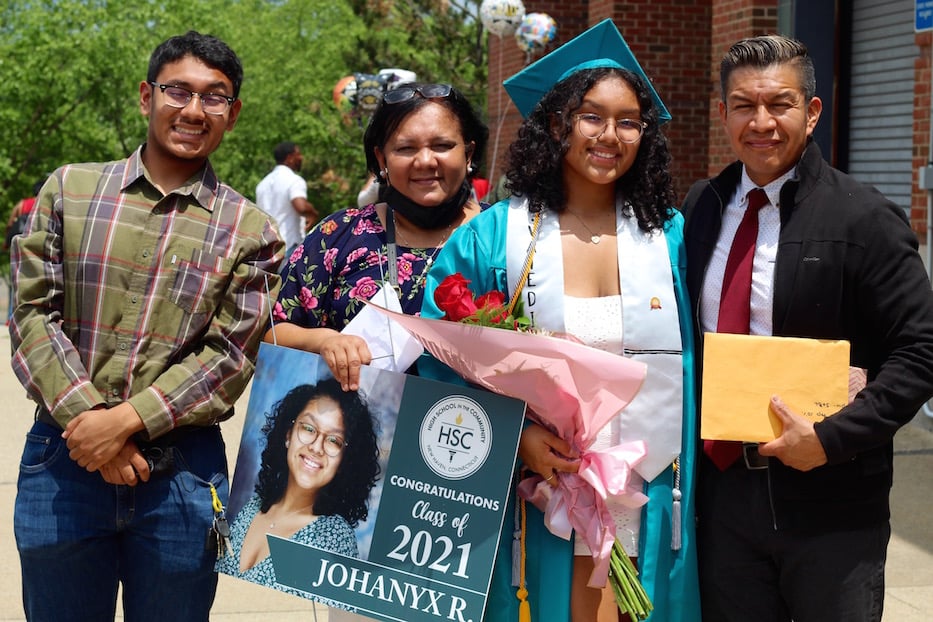 16-year old Gian Rodriguez, Marta Vega, Johanyx Rodriguez, and Santos Rodriguez.
Thanking her family and friends to uproarious cheers, Rodriguez wound the clock back to 2017, as HSC's new freshman class walked timidly through the doors and scoped out the place that would be their home for the next four years. It seemed like ancient history, she said to laughs.
"'Despacito' was the number one song in the country, the two most popular snapchat filters were the dog filter and the flower crown, everyone had a fidget spinner, [HSC math teacher] John Cornelius still had hair."
She remembered learning alongside her classmates. On a pre-Covid class trip, students took a boat ride as the city of Boston glittered magically in the distance. They burned the midnight oil writing language arts and history essays that made them think differently about the world. They picked up new sports and went hiking, including up Mount Washington in sub-zero temps.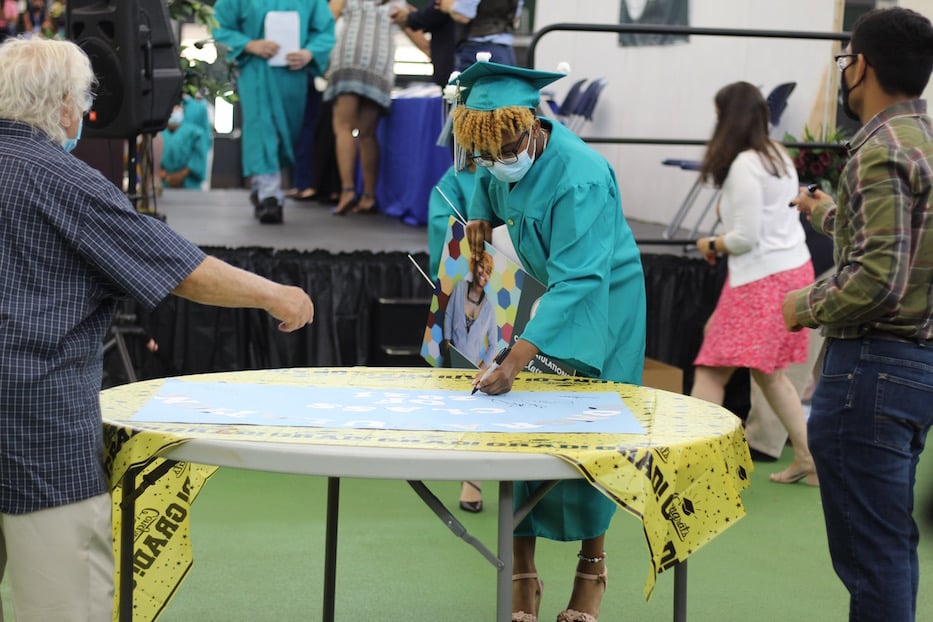 They were together on a fateful Thursday of their junior year, when an announcement in sixth period classes informed them that schools would close due to something called Covid-19. At the time, they thought that the building would be closed for two weeks. It was closed for over a year. Before it reopened, Rodriguez took to the streets with many of her classmates to march for Black Lives Matter and climate justice. She shouted them out for taking a year upended and getting through it together.
"This class of 2021 at High School in the Community has been undoubtedly one of the most resilient classes to walk these halls," she said.
Before she could continue with a sentence that began "What does it mean to be resilient," the crowd began to applaud. Some people stomped their feet. Others cheered and screamed loudly.
"Yeah, give it up!" Rodriguez said, lifting her hands. She seemed to take a moment to also celebrate herself; Rodriguez is headed to the University of Rhode Island to study marine biology in the fall.
"Finishing high school during a global pandemic, that is resilience!" she said. "I may not know every one of your personal stories, but you are here today because you were resilient. Don't let anyone tell you differently."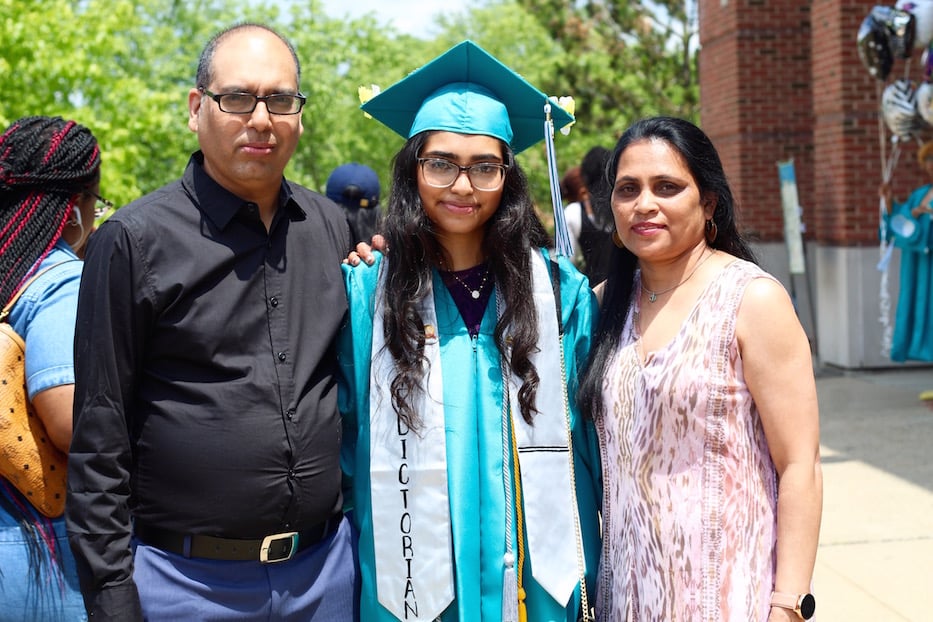 Patel's parents, Vaishal and Sushma Patel, cheered her on Tuesday.
That message echoed through the field house as students collected their diplomas and signed a poster that read "Congratulations Class Of 2021!" in big, bubbly silver letters. On the sidelines, parents gathered with their phones in their hands and cheered them on. No sooner had the final grad crossed the stage than Pharrell Williams' "Happy" exploded from a loudspeaker, and students began to dance.
Some, like Reed, kept their eyes on the diploma. For years, she has wanted to become a pediatric neurosurgeon in honor of her baby brother Jayden, who died of head trauma in 2010 when a screen fell out of a second-story window in his bedroom. He was two. Reed was six.
"As I got older, I realized that things happen for a reason," she said. "That I'll be okay, and that I'll do it all for him. I've done it for him."
In the past 16 months, she has struggled with remote classes and a new mental health diagnosis that came as she battled loneliness and a strained home environment. She praised visual art teacher Nicki Vitali for helping her find ways to cope with the isolation she was feeling. She plans to attend San Antonio Community College next year, and then transfer into the University of Texas at San Antonio.
"HSC has helped me through it, and kept me grounded through everything—reminding me that I'm wanted and I need to be here, because I have things to accomplish," she said. "And I'm happy about it."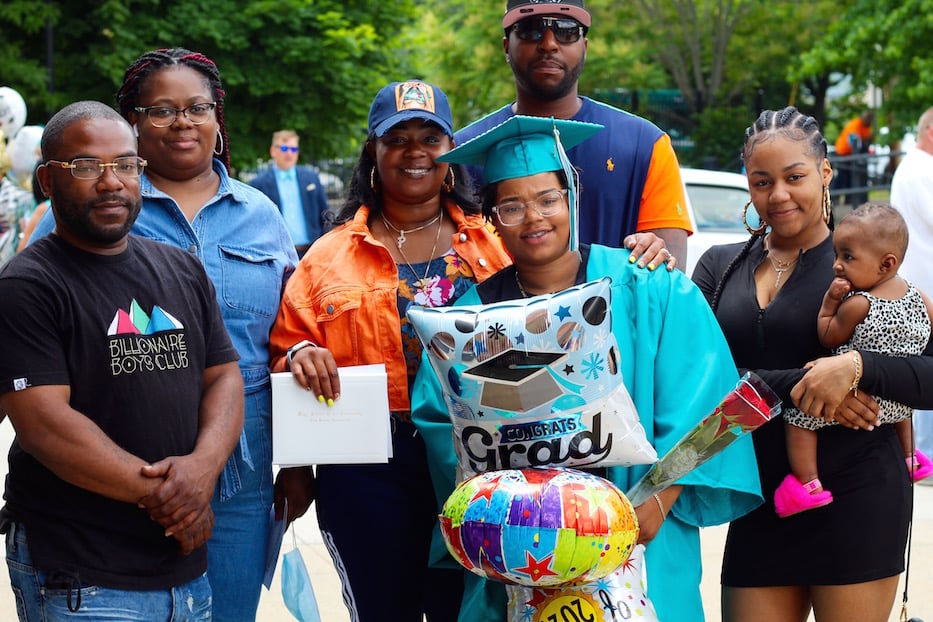 Davis with her family. She said that her mom has helped her make it through.
Outside the athletic center, 18-year-old Kimah Davis pressed her face to the sun in between photos with family members. Balloons bounced from her hands, catching the light. For Davis, it was a celebratory moment that almost didn't happen. She credits her mom and her teachers with helping her get over the finish line.
"I didn't think I was gonna make it," she said. "I was behind. I didn't have any motivation."
Her mom, Paulisha Brown, never gave up. Before Covid-19 hit New Haven, Brown would get Davis to finish her schoolwork with the promise of basketball, which Davis has loved for as long as she can remember. For three years, Davis played with the girls basketball team at James Hillhouse High School. Then the pandemic hit.
With sports cancelled and schools online, her daughter struggled. Brown pushed her to stay in school. She worked with her daughter's teachers and watched assignments as they got turned in. When she saw the teal cap and gown on Monday, she burst into tears.
"This year was so challenging," Brown said. "It took everything we had … we made it by the inch of a thread. Words can't even describe how happy I am. I'm thankful."