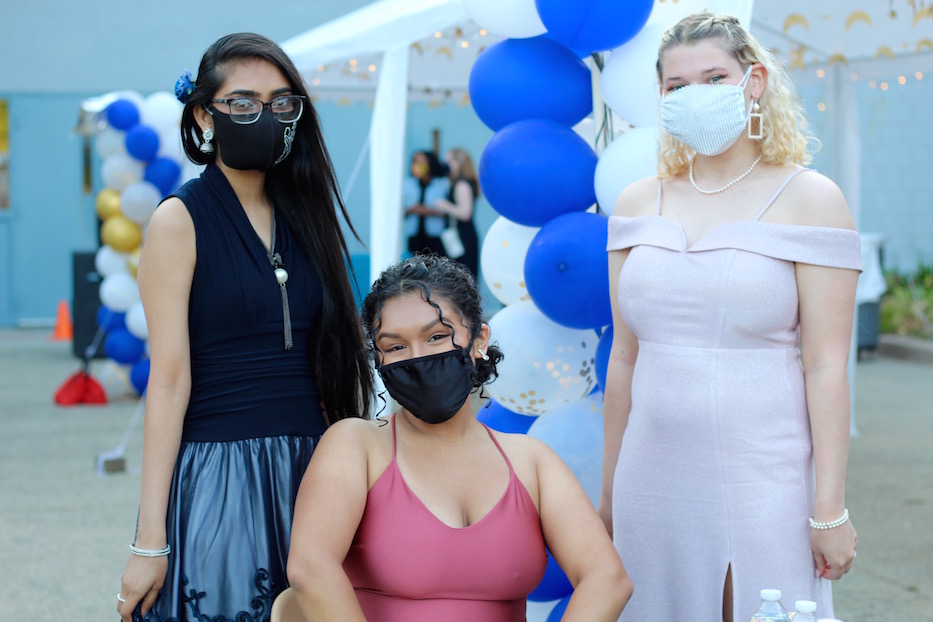 Education & Youth | High School in the Community | New Haven Schools | COVID-19
Shakshi Patel, Johanyx Rodriguez and Hallie Hushion. They are headed to the University of Connecticut, University of Rhode Island, and Franklin & Marshall College in the fall, respectively. Lucy Gellman Photos.
Cutouts of stars and moons glittered and spun beneath a white tent, bouncing to strains of "Party In the U.S.A." Laughter rose from dinner tables, nary a Chromebook in sight. Hula hoops and basketballs appeared out of nowhere and went into use almost as quickly. And once the Cupid Shuffle came on, even the most reluctant of dancers hit the floor.
Thursday night, students at High School in the Community transformed the school's parking lot for their senior prom, the first in-person event that the class of 2021 has had together in over a year. After last year's prom became a casualty of Covid-19, students rallied to save this year's event with an outdoor celebration dubbed "A Night Under the Stars." Close to 40 students turned up, many buzzing with excitement after months of remote and hybrid school.
Some are finishing the year remotely, meaning that it is the first time they have seen their friends and teachers in over 12 months.
"Having a last gathering with everyone feels really special to me, especially because with graduation coming up, I feel bittersweet about it," said Hallie Hushion, a student organizer of the event who is headed to Franklin & Marshall College in the fall. "I'm just glad I get to be with everyone. It's a last hurrah."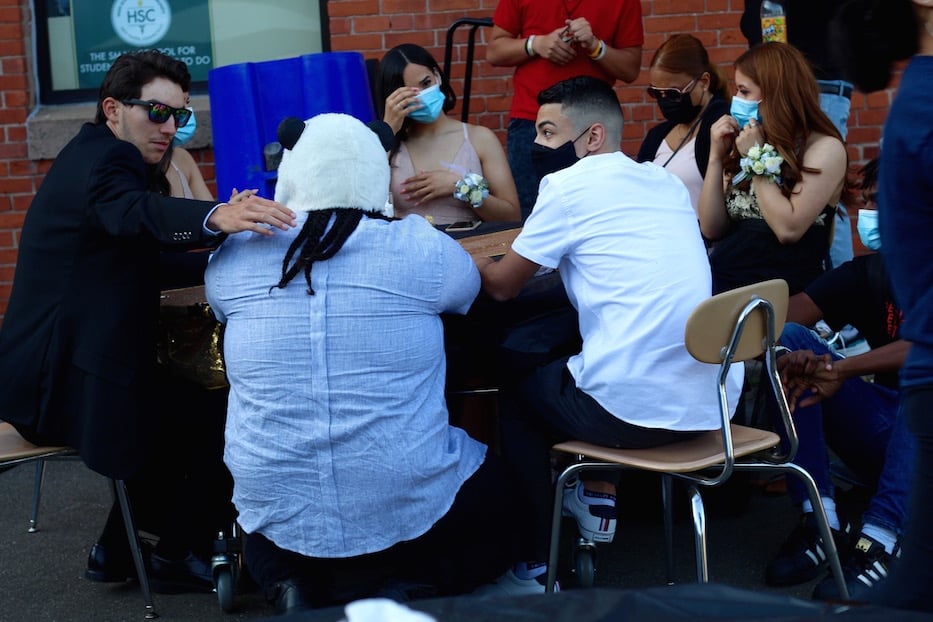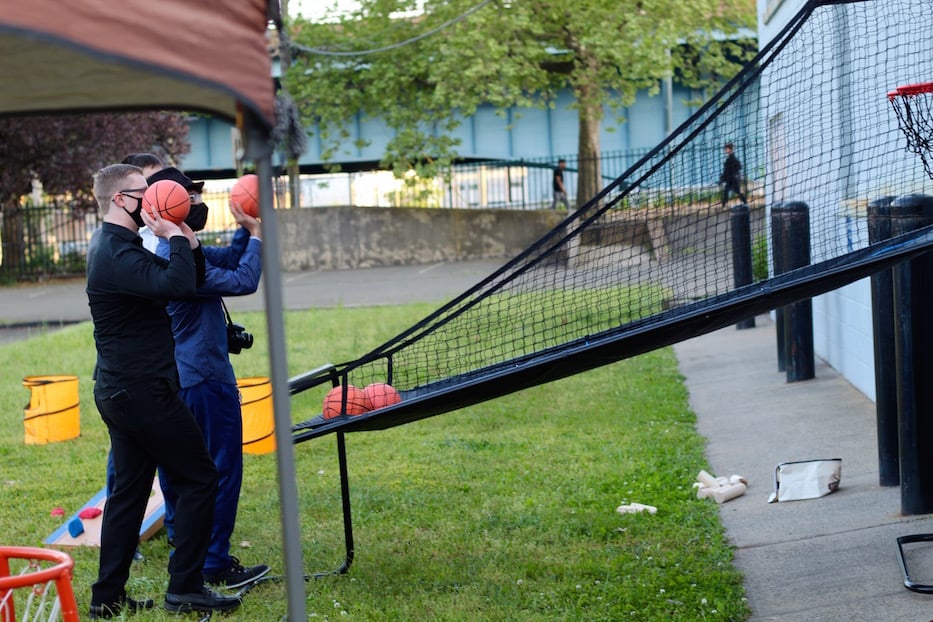 Just hours after the school day, the parking lot transformed for the event. Beneath a large white tent, twinkling lights and shiny, gold-colored crescents and stars glinted in the last of the day's afternoon sun. Blue and white balloons crept up its edges, one popping every so often. A fleet of tables with black plastic tablecloths filled up as students rolled in. On the grass nearby, multicolored hula hoops and a basketball arcade waited eagerly for young hands to hold them.
The project to revive prom was born just weeks ago, after Hushion joined forces with fellow seniors Johanyx Rodriguez and Shakshi Patel to raise funds and design a celebration that didn't require a banquet hall or other indoor venue. The three, who are all headed to different colleges in the fall, watched the class of 2020 graduate without any sort of prom or party. The pandemic is in a very different place now: vaccines are available to students, and school has returned to the classroom. After a senior year spent mostly online, they didn't want their class to suffer the same fate.
Using a GoFundMe, they raised $850 in under two weeks, which was enough for decorations and entertainment. They discovered that local restaurants, many of which have suffered during the pandemic, were happy to donate food. HSC provided assistance and a deejay on the house in Future Project Dream Director Christian Shaboo. As students mingled cautiously with and without masks, he pumped out a steady mix of old school TLC, Miley Cyrus, Rhianna and Drake.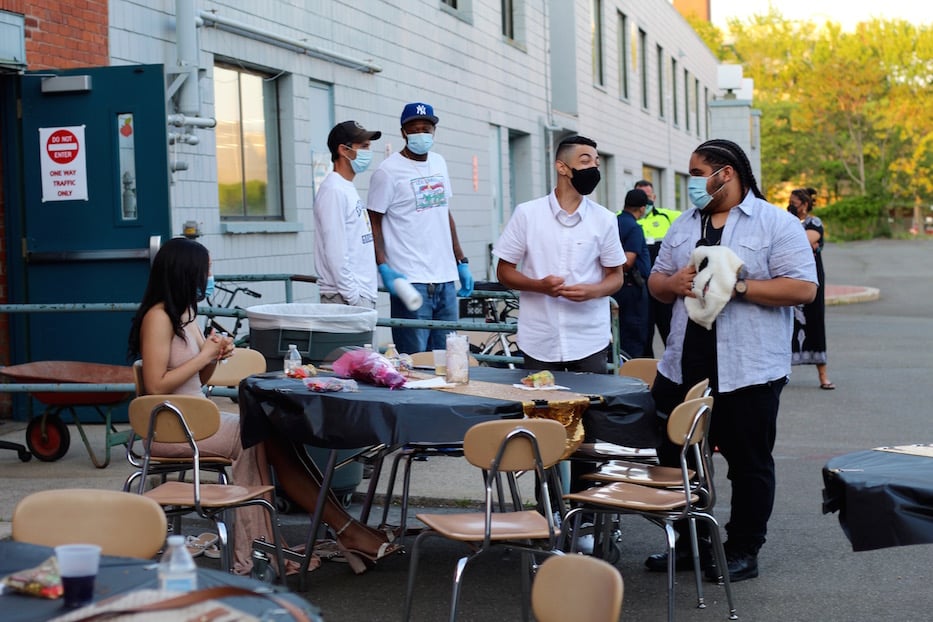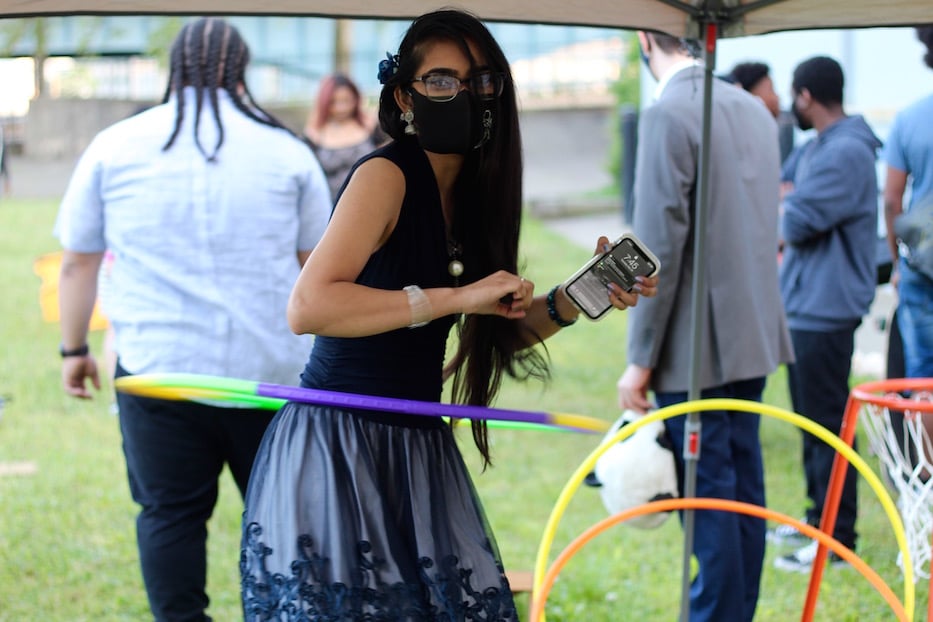 Top: Matthew Reyes and Alviery Vasquez. Bottom: Patel tries out the hula hoops. "It's gone by so quick—especially with junior year and senior year kind of being blurred out," she said of senior year.
At a table close to the tent, Rodriguez, Hushion and Patel chatted in long, shimmering gowns over plates of fried chicken, spinach-stuffed bread, red rice and pasta with thick tomato sauce. Rodriguez, who plans to study marine biology at the University of Rhode Island in the fall, said she doesn't think about prom in rom-com-esque terms—she just wanted a chance for seniors to be together one last time before graduation.
After over a year of online school and fierce climate activism that keeps her in jeans and sneakers, she still didn't pass up the opportunity to get dressed up. She chose a simple, crisp black mask to go with her pink dress and swept her curls up into a bun.
"We literally spent up to February on the computer," she said. "We really didn't see each others' faces, we didn't get the normal high school senior experience you usually get. I think this is a way to make it up. It's not the most perfect year, but I bet you this is like, a very special year. We're wearing masks at a prom. That's something people haven't seen before."
As the celebration unfolded across the parking lot and surrounding lawn, friends laughed, shot hoops, and cautiously tested out their footwork. Far away from the dance floor—although they braved it eventually—seniors Jojo Credle and Carlos Rivera traded notes on their anime-inspired outfits. Credle, who commutes from Ansonia, used the series Naruto to inform their sartorial choices.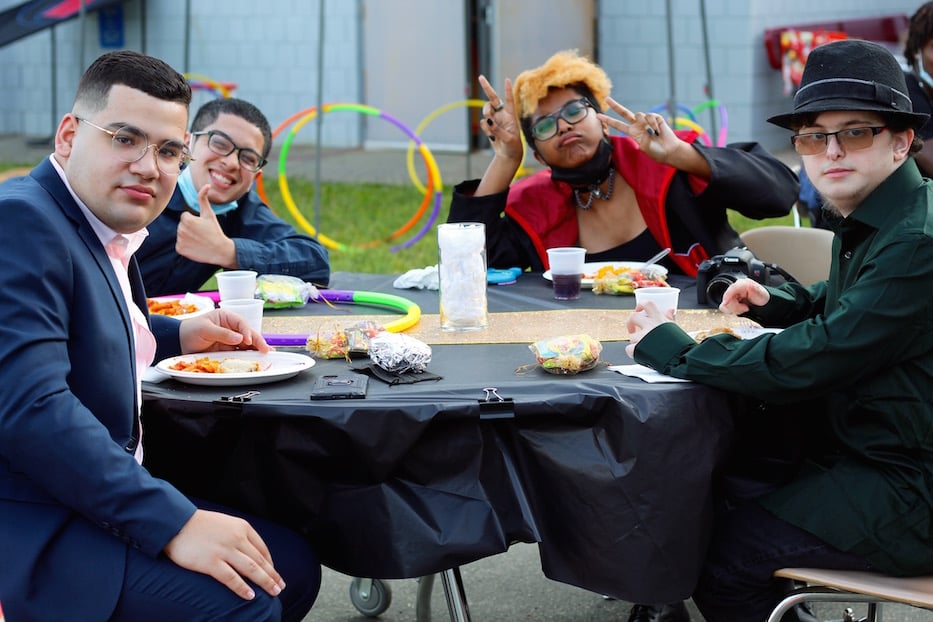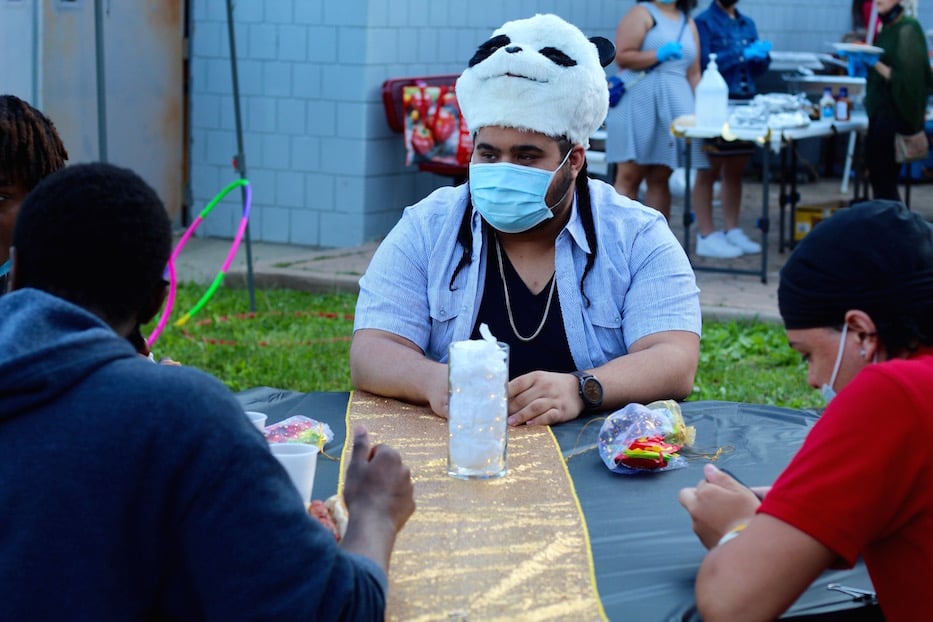 Top: Carlos Rivera, Christian Galarza, Jojo Credle, and Daniel Gitelman. Bottom: Vasquez catches up with Ayao Tossah.
Between bites of rice, they joked about soggy school lunches and the merits of pizza day. They pulled in fellow senior Christian Galarza, who is finishing the year remotely and hadn't seen his friends in months. It felt normal, except for the mask suspended like a piece of jewelry from Credle's chin. Galarza did a double take at the school building, as if he wanted to be sure it was still standing.
"It's been a strange year," Credle said. "Prom isn't really a big deal to me, but I'm looking at it as a way to hang out with my friends."
"I feel like everybody is a huge family," Rivera chimed in from across the table. "For me personally, I came for that."
Other students took the tradition of prom to heart. At one table beside the school's squat brick building, students laughed and spoke in rapid-fire Spanish with corsages, ball gowns and slicked-back hair. Giggles bubbled up from the group as someone cracked a joke. Phones came out to photograph the moment. No one batted an eye when a teacher joined the conversation. Matthew Reyes, who helped pack care packages for freshmen last winter, called it a once in a lifetime opportunity.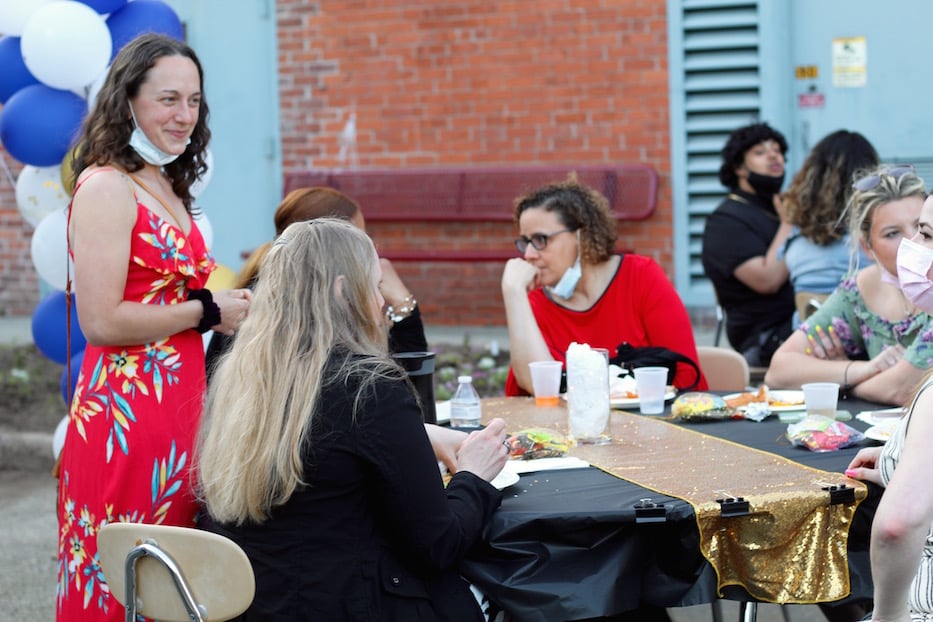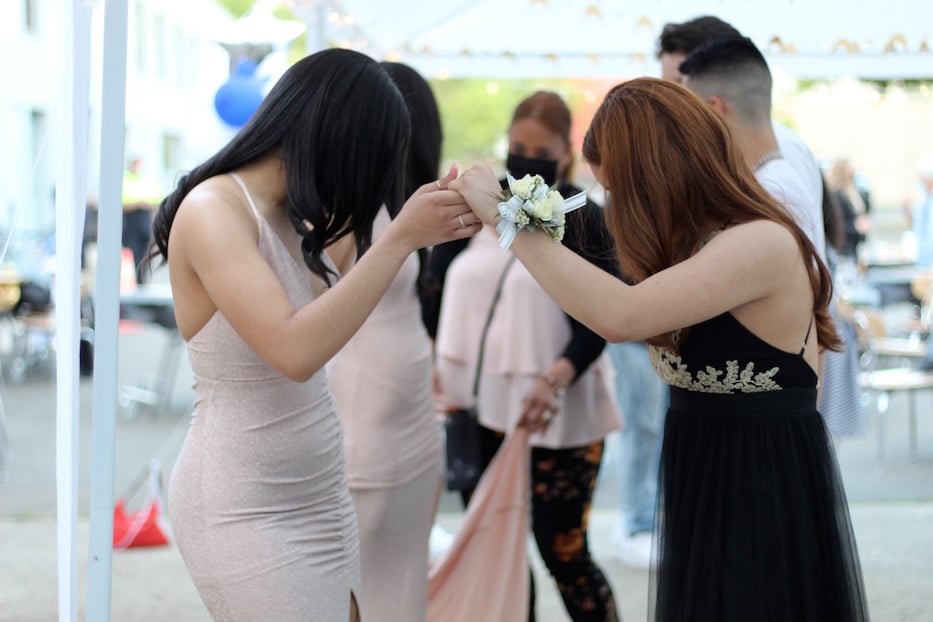 Top: Klair Rodriguez and Jose Quezada. Bottom: Monserrat Urcid (in black) tries out her best moves.
Monserrat Urcid, who returned to school in April, said the year has been a difficult one for her. Like many of her classmates, she didn't enjoy remote learning, and often found it hard to concentrate. Everything fell back into place when she came back to the classroom in April—except the sense that she'd missed out on a year of memories with her friends. She was thrilled when she heard that "A Night Under The Stars" was going to happen: she's been dreaming about attending her senior prom since she was a freshman at HSC.
"That's the only thing you actually wait for since freshman year," she said. "It's in every movie you see, and it's something you want to experience yourself."
Across the table, Thomas Sabin urged fellow students to get their dinner as the food arrived. At the beginning of this school year, Sabin promised his classmates that they would be back in time for prom and in-person classes in a virtual school-wide address. Even as the city's Board of Education pushed back an in-person opening date, he said that his faith in that message never wavered. It turns out he was right. He said he's excited to spend the summer with friends before heading to Albertus Magnus College in the fall.
A few alumni mixed and mingled among the class. Khalif Johnson, who graduated last year, rode his skateboard from Newhallville to Wooster Square to attend the event. He caught up with Alviery Vasquez, who wore a furry panda head over his mask. Since graduating last year, Johnson has been working long hours at the Amazon warehouse in North Haven to support his family. He lives at home with his mom, brother, cousin and two sisters.
"In the beginning, this year was pretty rough," Vasquez said. "Now that we're doing hybrid, it's much better. We all just wanted to have fun and see each other. This school is like a small family."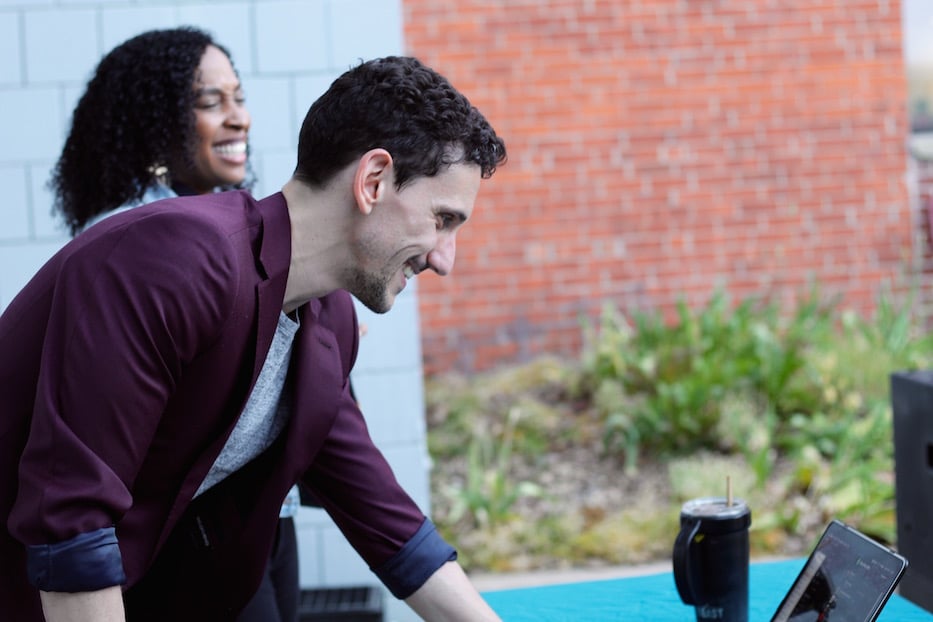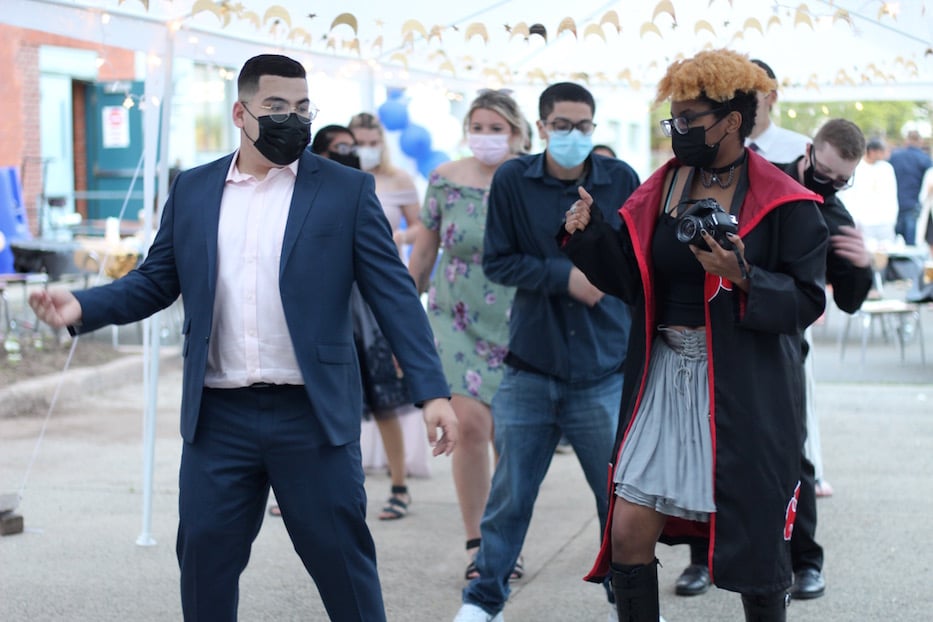 By the school's foyer, Shaboo was still trying to get students to dance. A few teachers swayed to salsa and merengue, then stepped off the floor. First-year health and physical education teacher Renee Baker guessed that Drake's "Best I Ever Had" would do it, but no one moved as the lyrics pumped over the tent. Shaboo waited a few songs, then switched his tactic. He wound the clock back to 2000. The beat of the "Cha-Cha Slide" pumped through the speakers. He lifted the mic to his mouth.
"HSC let's gooooooooooooo!" he exclaimed.
In a flash, the dance floor was full of masked students. Urcid's corsage-wrapped wrist sailed through the air in a flash of white petals. Galarza hopped perfectly in time with the music, and other students followed. Klair Rodriguez and Jose Quezada led each other onto the dance floor and joined in. A few students added shoulder shakes. Credle and Rivera stuck around to break it down for an encore of "Baby Shark."
Then they dispersed, and kept catching up with each other. Overhead, the sky was streaked with pink and blue as twilight fell. Dianna Carter, an English teacher who has also served as a member of the school's leadership team, watched students catch up as she stood with other teachers.
"I think it's fantastic," she said. "I think they need celebrating. It's been an extremely challenging year. I think they learned so much, and they grew so much. But it was a challenging year."