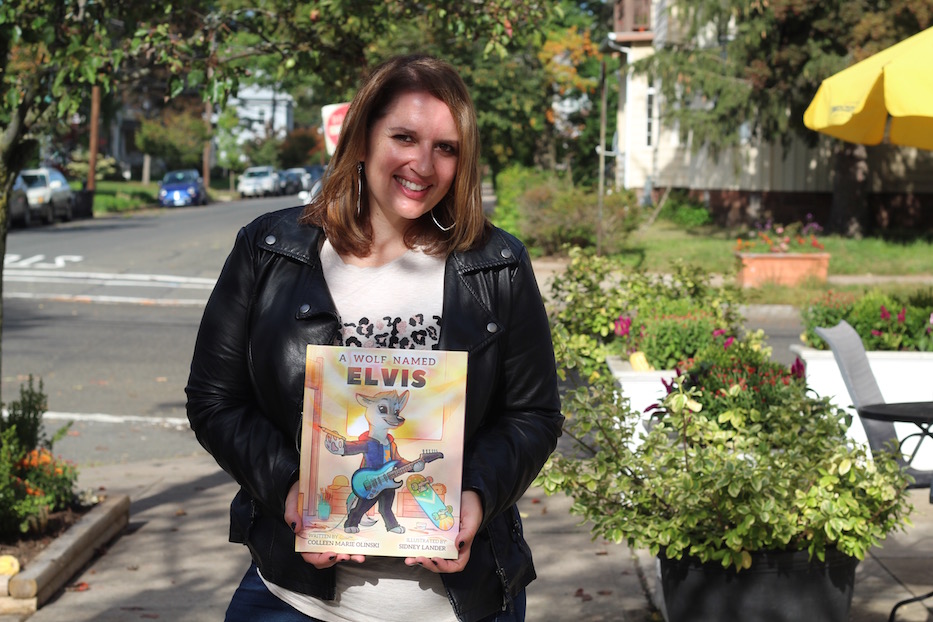 Books | Education & Youth | Morris Cove | Arts & Culture | Literacy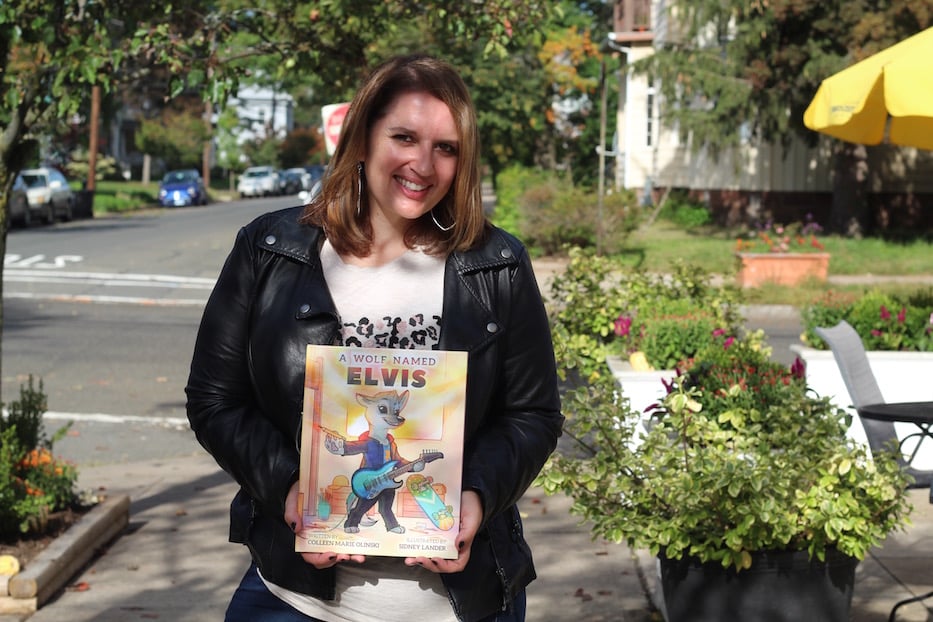 Colleen Marie Olinski. Lucy Gellman Photos.
A wolf pup soars through the air, following a seagull as it extends its wings. He paws his way up a tree, looking out at the landscape below. He lifts his soft, pointed ears and chases an orange sunset across the beach. Beside him, a red rock crab raises its pincers triumphantly. As the pup runs, a sleek gray-and-white tail bounces from the seat of his cargo pants.
The bright-eyed pup is the main character in A Wolf Named Elvis, a new children's book from Morris Cove mama wolf, educator, and author Colleen Marie Olinski. Illustrated by Sidney Lander and inspired by the Covid-19 pandemic, the book tells the story of Elvis, a wolf pup who must learn how to address his "enormous feelings'' and make his own kind of magic when a mysterious illness rips through town and separates him from his friends.
It is published under Mama Wolf Publishing, a new imprint that Olinski founded when she was forced out of work during the pandemic, and found support in circles of other mothers facing the same reality.
"A little wolf pup without his pack," she said in a recent interview outside East Rock Coffee. "That's what we all are, right? How important and crucial is a pack to a wolf? They're pack animals. It would be devastating to a wolf to not have his pack. And that's exactly what we've all lived through."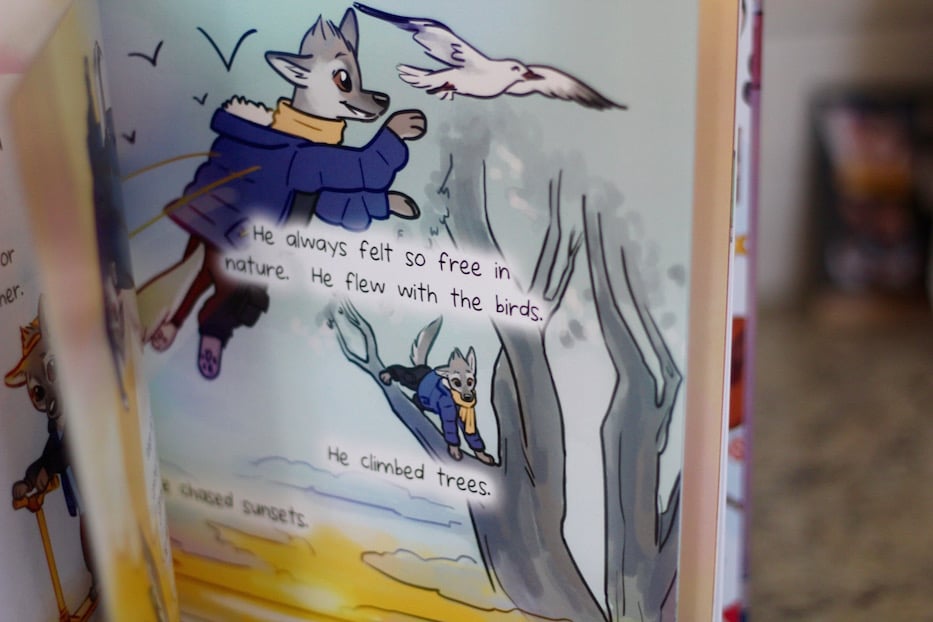 A Wolf Named Elvis is written by Colleen Marie Olinski and illustrated by Sidney Lander.
The story of A Wolf Named Elvis begins in March 2020, although the book was written and published this year. When the pandemic hit New Haven, Olinski was in her twelfth year of teaching Pre-K, most recently at Calvin Hill Daycare in New Haven. Her son, now six, was in Pre-K at Carrot Patch Early Learning Center. As he sat through virtual classes, she braved the remote pivot with her own students, getting them through the end of the year.
It was a lot, she said—but she assumed that both of them would be back in their respective classrooms come September 2020.
Then in late August of last year, New Haven's Board of Education announced that the city's schools would remain online just as her son started kindergarten at Nathan Hale School. Calvin Hill's students were going back in person. Like many parents in New Haven—and across the country—she and her husband don't have parents or guardians who can provide childcare close by. They scrambled for a solution. She made what she called the "non-decision" to leave her job, and take care of her son. Overnight, they watched as their two-job rhythm became a one-income household.
"The thing about going back [to teach] is, I was really pumped up to help kids socially and emotionally," she said. "I knew what state they were in. I was ready to bring it as a teacher ... and then we got this news, very late in the game, that New Haven was not opening. So I was like, 'Alright. I need to show up for this one kid the same way that I had planned to for everybody else.'"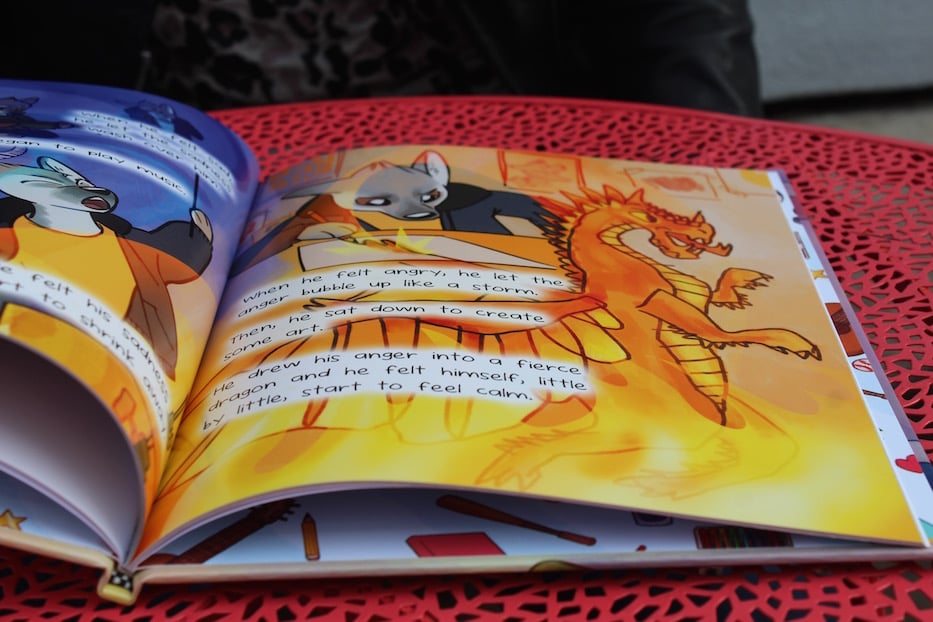 A Wolf Named Elvis is written by Colleen Marie Olinski and illustrated by Sidney Lander.
At home, she watched as her son entered a second year of online classes. She saw firsthand how "he learned to make his own magic," from playing his dad's drum set and his own pint-sized guitar to drawing fantastical landscapes when he got upset. In the book, an illustration of a fiery orange dragon is taken directly from one of his pandemic-era crayon drawings.
He kept the magic alive by getting off his screen and playing whenever he could, she said. Just as they had early in the pandemic, he and Olinski made magic out of daytime walks and sandy strips of abandoned beach near their home. They bought scooters, and scooted their way around Morris Cove. They chased the sunset as it stretched its long, wispy pink fingers towards the horizon line. In the book, that magic glows, a pocket of honey-hued light in Elvis' tiny paws.
In the first half of 2020, her son had learned to read while Olinski was still teaching. As fall dragged on with no plans for in-person teaching, he escaped into books. He read, and read, and read, and then read some more. He "adopted" a wolf online, and visited him virtually when school seemed overwhelming. When sports became safe, he rode his bike, played baseball, and learned how to skateboard. When protests rocked the city last summer, he created art supporting the Black Lives Matter movement, and later helped paint a mural celebrating Black Lives Matter New Haven downtown.
He and Olinski, depicted as a tall mama wolf in solid v-necks and neat high-waisted pants, learned to conjure their own magic wherever it was. For months, it kept them both centered as the world turned on its head. She told him, as she writes in the story, that "we can do hard things." In turn, he learned to "flip his script," and use artmaking and outdoor play as a way to regulate his feelings.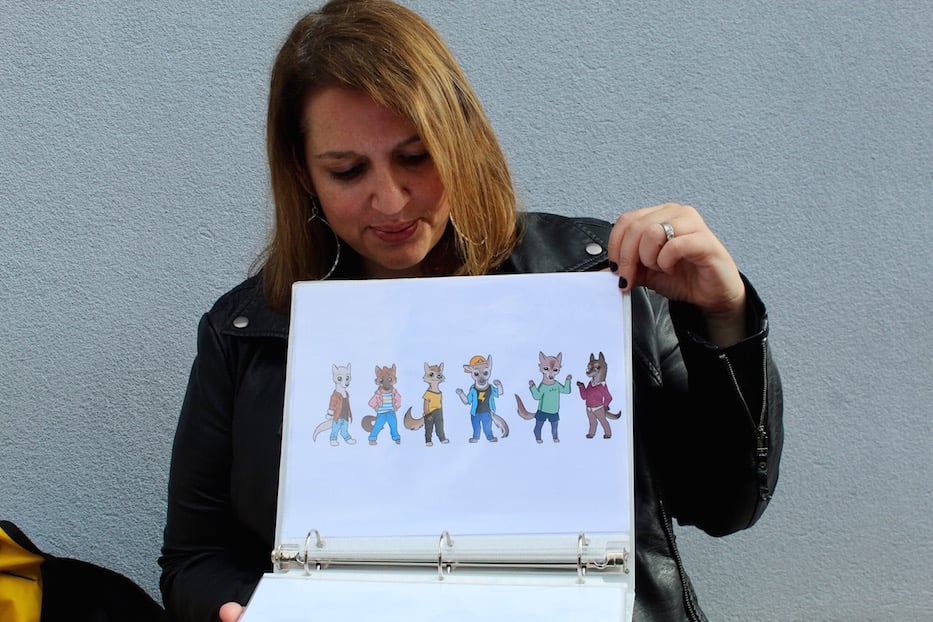 Olinski shows off some of Lander's early wolf drawings for the book.
Then on January 10 of this year, "I woke up with almost the entire book in my head," she recalled. By then, she hadn't been in a physical classroom for almost a year. She hadn't seen her own students since June 2020. She "was feeling the trapped-ness" of spending whole days in her basement, she said. "Writing this book seemed like a tangible thing I could do for kids."
Initially "I had no idea" what steps she needed to take to write a book, she added. And then a network of mama wolves, teacher wolves, aspiring authors, artists and wolf pups from across New Haven stepped in to help her.
In her neighborhood, musician Stefanie Clark Harris pushed her to do the project. On the day that the book popped into her head, she and Harris found an abandoned desk in Morris Cove that became her writing station. At Nathan Hale, her son's teacher got on board. Halfway across the country, a friend who was living at home with her two young kids started a small-batch clothing company. As the book found its feet, she offered to make swag as the book came together.
Online, Olinski joined a group for authors learning how to self-publish, the path that she believed would get the book out most quickly. She connected with Lander, one of her son's favorite illustrators, through children's book author Gahmya Drummond-Bey. Because Lander is currently based in Singapore, the two would meet virtually at 6 a.m. New Haven time. It was the only moment that Olinski's house was still quiet. In Singapore, Lander was starting to think about what she would be eating for dinner.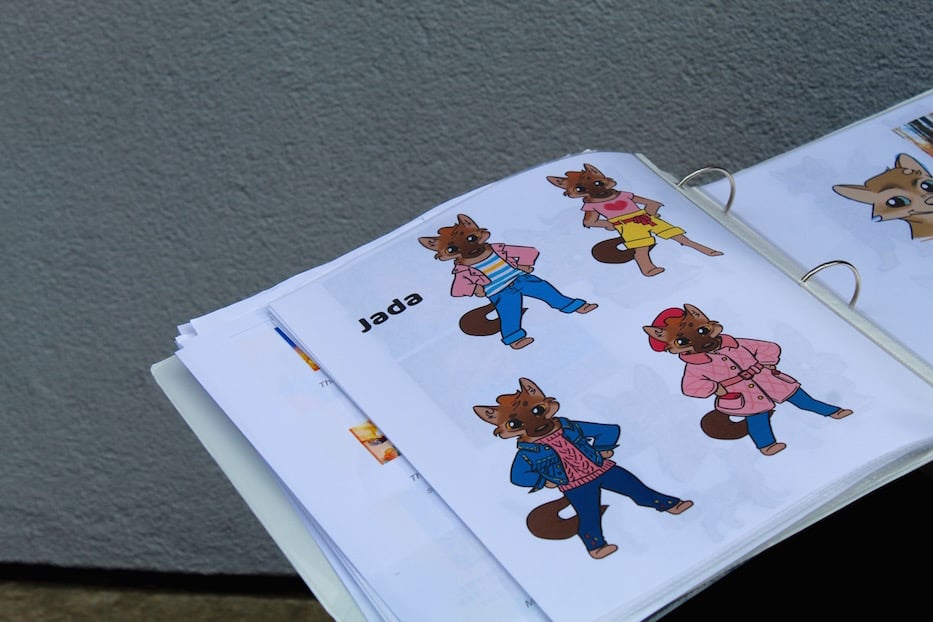 Lander modeled the wolves that appear in the book after kids in Olinski's orbit.
"We got to work right away," Olinski said, snapping her fingers to show how quickly the manuscript came together.
As she showed Lander her storyboards, whole wolf families bloomed across the pages. There was Elvis, a sweet doe-eyed wolf modeled on Olinski's son, playing the piano and scribbling furiously at his desk. There was Mama Wolf, pulling a bright orb of magic from her back pocket. There was Papa Wolf, fretting as he worked from home. There was Elvis' circle of friends, all of whom are modeled on real-life kids in Olinski's orbit.
None of the wolf pups are the same: they have glasses, black, brown, and toffee-colored fur, superhero capes and cutoff shorts. At least one is nonbinary. Lander was attuned to every small detail, from a blooming, rainbow-colored cloud of feeling to clothes that got heavier with the changing New England seasons. In one of his sunset chases, Elvis wears a thick coat and a butter-colored scarf to show that winter has started.
To get the word out, Olinski put her storyboards into a binder, and started bringing it everywhere. Sometimes, there were drafts of drawings to show her young audiences. Sometimes the story stood on its own. The binder came to the baseball field and the pediatric dentist's office. It came on outdoor walks and sunset chases. In the spring, it went on an Elvis story tour to Graceland, Sun Studios, and Dollywood, where she read to families in line.
She presented it to Dolly Parton's nieces and musicians in Nashville. She brought it to Charlotte and Pigeon Forge, where she visited friends and read to kids in city parks and playgrounds. To her amazement, she found that parents were relieved to have someone read to their children for a few minutes—and that kids were her best editors. She folded the feedback from those readings into the finished book.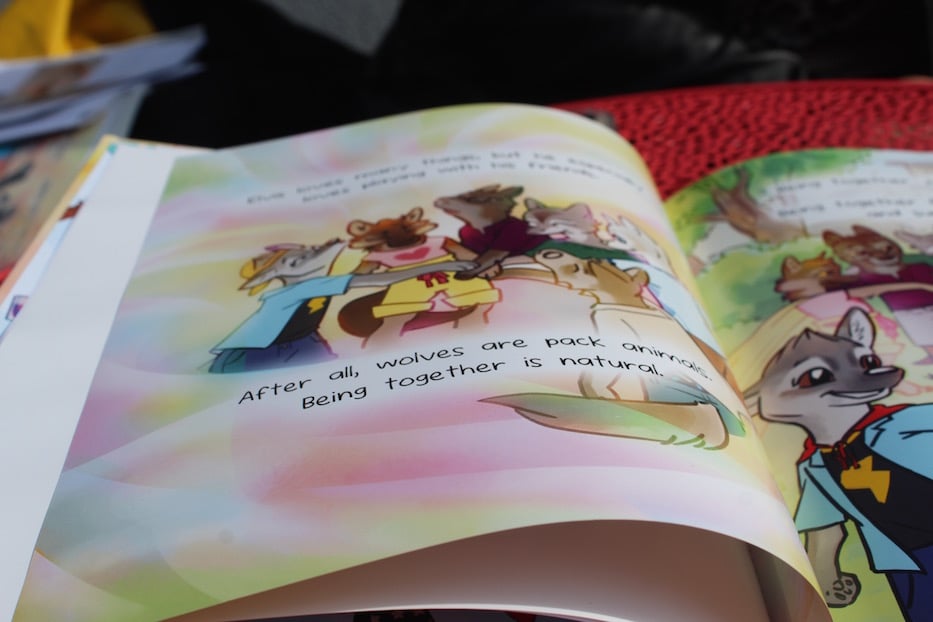 A Wolf Named Elvis is written by Colleen Marie Olinski and illustrated by Sidney Lander.
"The more we shared it, the more I saw a need for it," she said. "Kids were connecting with it. They were sharing their stories. And honestly, they were acting like it was the first time anyone had given them permission to talk about it. And adults! I would share it with adults, and they would cry!"
She told everyone she met about her dreams for the book. She shared photos on social media, which was and remains a new and strange place for her. When she launched a Kickstarter campaign earlier this year, fellow moms—particularly those who had been pushed out of the workforce during the pandemic—were her biggest supporters. Her friends all agreed to give at 6 a.m., because it's the only time of day that the house is still quiet for them. The campaign was over 50 percent funded in the first two hours. It was fully funded in seven.
In the finished book, Olinski and Lander have channeled all of that pandemic weight into a narrative that feels fresh and hard-hitting in all of the right ways. At the beginning of the story, readers can see Elvis playing with his friends, with no idea of the illness that is rolling in on the wide, far-away horizon. At school. Elvis gathers with fellow pups, circling up and paw-bumping them outside school.
"Being together just feels good," the text reads. It's reminiscent of those first few days of the pandemic, when school closures seemed impossible and families still made holiday travel plans. Then the sickness hits, and Elvis' world freezes. In the book, he looks up with huge, wet eyes and a mouth that just hangs open. Images of his friends dance above his head. His sense of loss is almost palpable from the page.
In a particularly moving scene, Elvis sits in front of a computer, slouching at a makeshift desk as his teacher asks a question. On screen, a grid of wolf pups look back, eating chips, bouncing through their homes, fighting with their siblings, or turned off entirely. On the next page, Papa Wolf raises a hand to his lips and asks Elvis to quiet down during a Zoom meeting. Elvis sits on the couch, his eyes fixed on his lap.
For any reader who has braved a year and a half of remote work with another person in their home, it's immediately relatable. For parents, it may be especially striking.
In another, Elvis scurries out of his house and sits in the driveway, his shiny nose pointed at the sky. His mouth becomes a rough O, wide at the edges. As he exits his home, five of his furry wolf friends do the same thing. Separated by time and space, all of them howl at the same blue sky. When Olinski reads the book in pubic, she has kids howl together in a big, boisterous cacophony. She howls too. "We do it until we get it all out of our systems," she said.
"I really wanted to get to the real feelings for kids," she said. "I think as adults, especially when things were changing in the pandemic, we want to forget about this as adults. We want to just not remember all this, we don't want to honor this time, we want to move on with our lives. And for children, they are left wondering, you know, what just happened? I just went to school in my basement."
The pandemic has changed the way Olinski thinks about her career, she added. Currently, she's promoting the book and setting up readings, including one she held with Harris at Best Video Film & Cultural Center earlier this year. Next fall, she doesn't know if she'll return to the classroom, because she's seen how quickly schools can go back to remote learning, or send students home to quarantine. She said that she's doing what the past 18 months have taught her to do: take it one day at a time.
"I want them [kids] to know that this is all possible," she said of her young readers. "That they can do that. That they are that powerful. So much of being there for kids is just like, showing up. Being present, and showing that you care about them as individuals. And allowing them to be unique individuals."
Find A Wolf Named Elvis here.