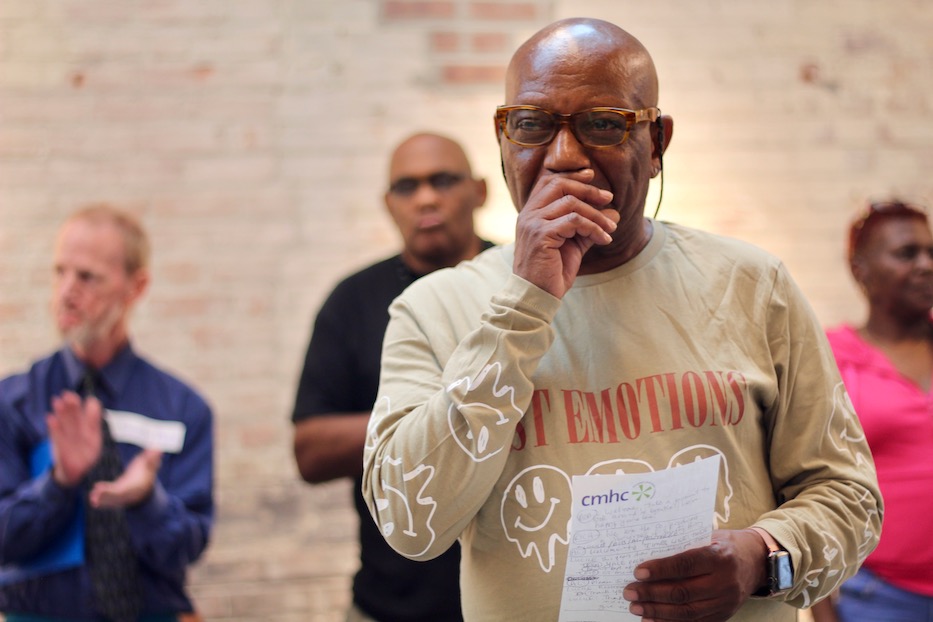 Culture & Community | Arts & Culture | Connecticut Mental Health Center | Public Health | Arts & Anti-racism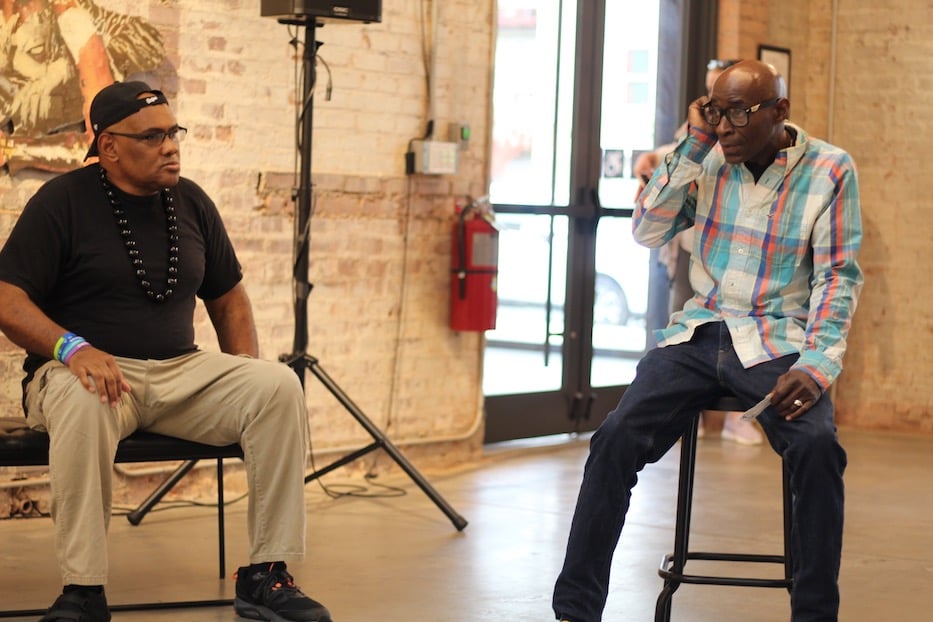 Mark Griffin and Al Gamble in Times Like These at NXTHVN. Lucy Gellman Photos.
A man is in too much pain to sleep, but the doctor won't see him because his insurance doesn't cover a consultation. In an office across town, a woman has requested a female physician, and listens slack-jawed as she's denied care. An angel and a devil bicker above her head. In a nearby neighborhood, a woman has just gotten out of prison, and doesn't know where she'll be able to sleep for the night.
Who steps in to help? And who leaves them behind?
All of these are real-life anecdotes in Times Like These, an interactive, immersive new play from Survivors of Society Rising Theater Company that premiered at NXTHVN last Friday. A collaboration among the Connecticut Mental Health Center (CMHC), Yale Program for Recovery & Community Health (PRCH), and Theatre of the Oppressed NYC, the work interrogates systems that are not working, from mental and physical healthcare to reentry and the carceral state.
Over five dozen attended the opening, held in the 169 Henry St. incubator space. The show, which includes audience participation and discussion, will have an encore performance at Oddfellows Playhouse in Middletown at 2 p.m. on Friday June 23. Tickets are free; more information is available here.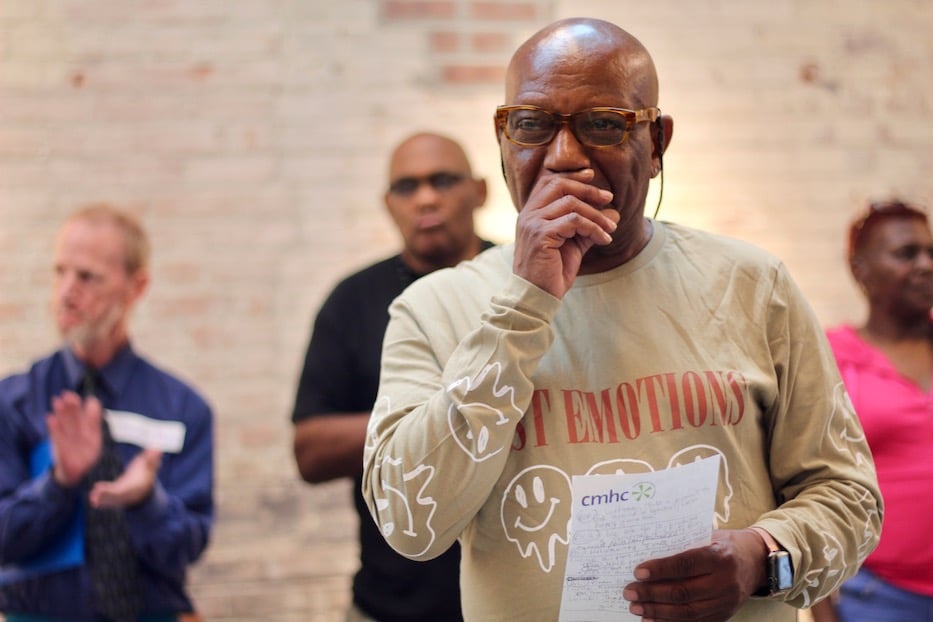 Youins.
"What 's unique about this is the vulnerability, the idea of working with other people who have experienced some of the similar situations," said Richard Youins, a peer support specialist at CMHC and longtime member of the Citizens Community Collaborative (CCC) at PRCH. "It's a chance to create something that means something from our experience that maybe can change some things. That the theater can actually be honest, and be sincere, and get to the point. It isn't watered down."
Times Like These, which came together in three days at NXTHVN, has been years in the making. In 2019, Survivors of Society Rising grew out of a partnership with Long Wharf Theatre, a collaboration that also included Integrated Refugee and Immigrant Services (IRIS), Tower One Tower East assisted living center, and Youth Continuum.
At the time, actors wrote and performed their own work, a series of vignettes that centered on mental healthcare, housing insecurity, what it meant to be living in recovery and critical gaps in New Haven's social infrastructure.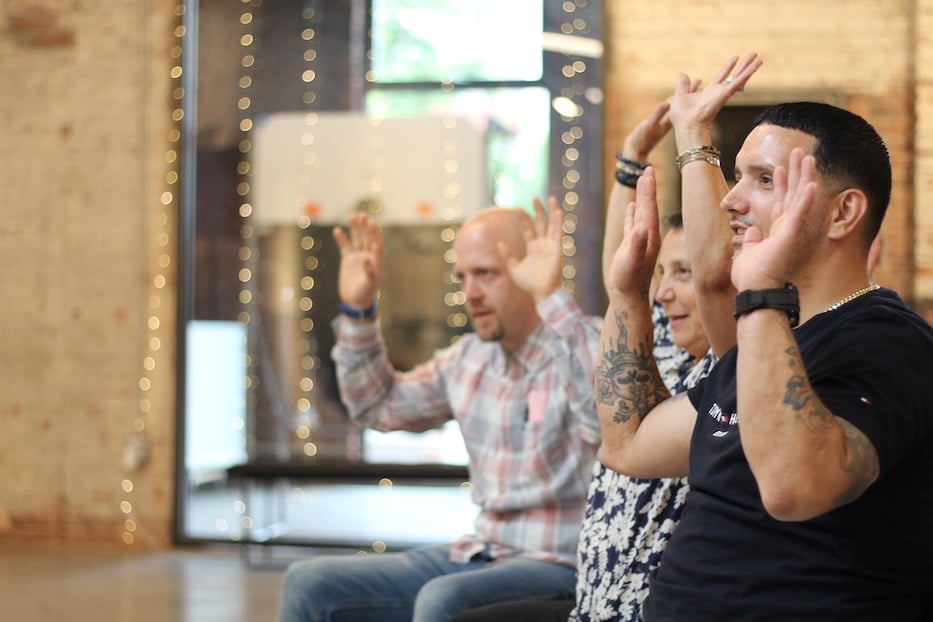 From Long Wharf's Claire Tow Stage, it opened an audience's eyes to a city and country in contrasts, where those at the margins are often left hanging by a thread, and those with concentrated wealth and power don't change the system because it's still working for them.
At the time, Youins said, there were murmurs of another potential collaboration. Then Covid-19 hit New Haven.
The pandemic was especially stressful for those living in recovery, for whom isolation, unemployment, deep anxiety and sickness were all potential triggers. There were members of the ensemble that began using substances again, as well as those who shut themselves in, Youins said. In 2021, the group mourned the death of Paul Hammer, a longtime champion of mental health, after he took his own life. Then earlier this year, members grieved Kevin Creech.
"We lost people," Youins said. "The residue of Covid, it's really been strong. I think that the effects of Covid, the mental health part of it, is gonna be felt for years, and it really shows in our community."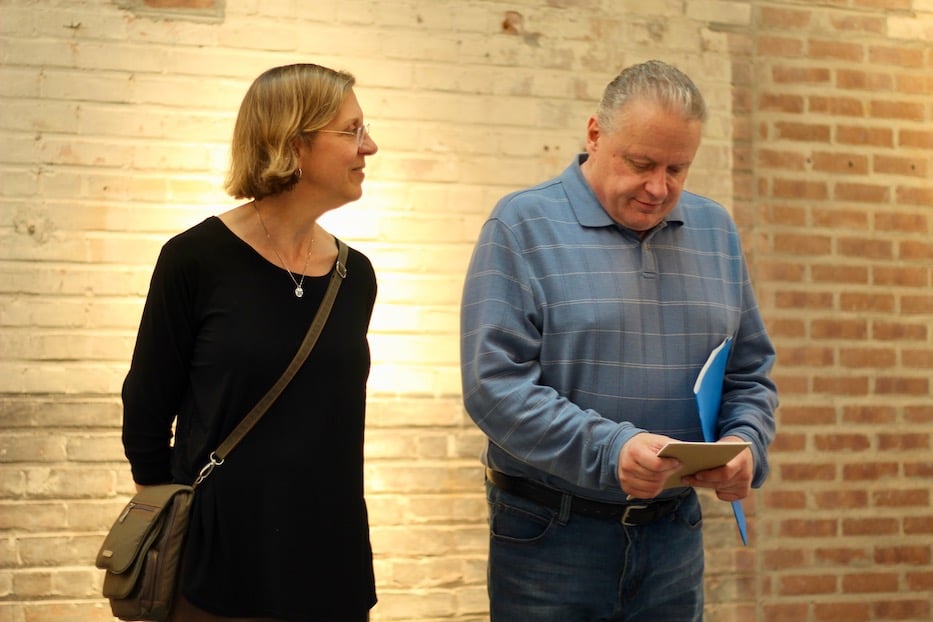 Lucile Bruce and Bob Forlano.
Earlier this year, the group came back together, welcoming new ensemble members along the way. Before Friday's performance, they met several times with workshop leaders in the arts, including musician and educator Marcella Monk Flake, CEIO Rising Leadership Team (RLT) member Elizabeth Nearing, and Oddfellows Co-Director Marcella Trowbridge. Friday, CMHC Communications Officer Lucile Bruce pointed to how transformative the process has been.
As they took the stage Friday, company members both addressed those long effects of Covid—and made the case for how to fight for and create more effective systems in healthcare, hospitals, recovery and reentry centers, homeless shelters and social services offices. After opening with an interactive exercise and song, ensemble members Mark Griffin, Al Gamble and Do Walker came to the makeshift stage, spreading out across chairs that became a doctor's office and waiting room.
"I need help!" Griffin exclaimed as he entered. "Can I see the doctor today? I've been having trouble sleeping—"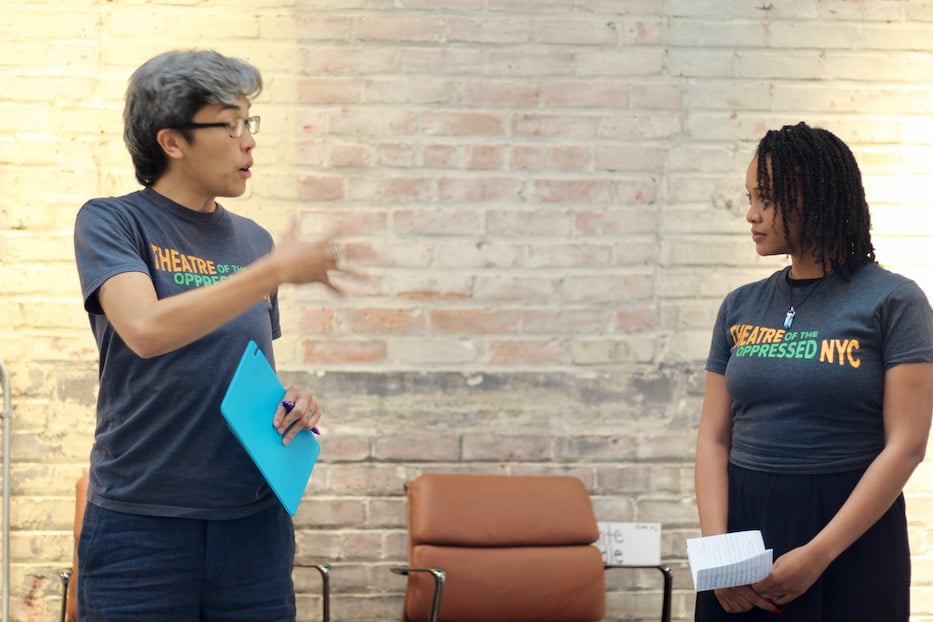 Theatre of the Oppressed Facilitators Sulu LeoNimm and Amani Huell.
Gamble asked for his insurance—then explained that he wasn't in network, so he couldn't see the doctor. "That's why you can't get no help," he said, shrugging his shoulders as he assessed the situation. In the audience, a few attendees laughed at just how routine the whole interaction seemed, as if Gamble said it several times a day.
Then Bob Forlano entered, dragging his right foot and ankle with an extra weight. He approached Gamble and explained that he was there for a broken foot. When asked for his insurance, he pulled out a card from Blue Cross Blue Shield. Gamble checked in with the doctor (Walker) and then waved him through.
"Mr. Al, that's not right man!" Griffin ventured back in the waiting room. "That's not right!"
Nothing about the situation was, it turned out. In Walker's office, Forlano began to struggle with a doctor who refused to stay on topic, and wouldn't treat the ailment for which Forlano had come in. In the waiting room, things weren't going very well, either. As Griffin pointed to how differently the two were treated—a white man and a Black man, one with private insurance and one without—Gamble referred him to 211, and then called security on him.
By the time facilitators called the scene, it felt all too familiar.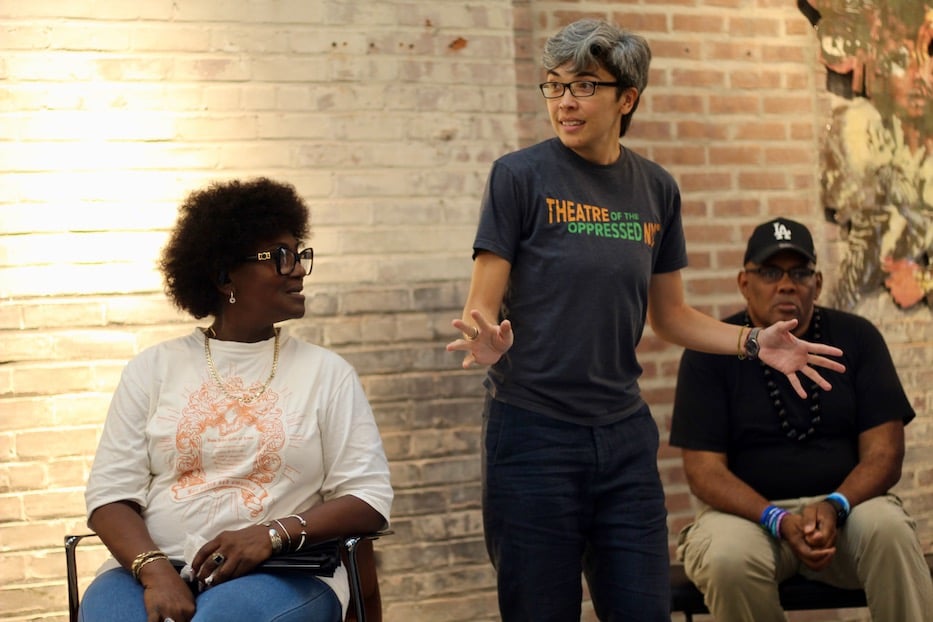 Dedra Davis, Sulu LeoNimm and Mark Griffin.
"Can someone name problems they saw?" asked Sulu LeoNimm, a facilitator with Theatre of the Oppressed. Answers bubbled up from the audience. Denial of care because of insurance. Racial discrimination. A doctor who was, for reasons that remained unclear, unable to listen to what his patients needed.
"Raise your hand if you can relate," LeoNimm said. Across the room, dozens of hands went up. In the second row, Dedra Davis recalled going through a similar situation last year, after undergoing treatment for breast cancer. When she asked for an additional mammogram, her doctor insisted it wasn't necessary.
"It's really something that happened to me," Davis said. LeoNimm asked if she wanted to step in, opening the show to audience interaction. Within seconds, she was sitting across from Walker on the stage. When she asked for a second mammogram, he gave her a quizzical look.
"How are your legs?" he asked to a few laughs. "Your legs ok?"
"I don't have an issue with my legs," she pushed back. "I have an issue with wanting another mammogram." The audience began to applaud.
"She was ready, you know?" said Jasmin Oneal from the front row. From the side of the room, LeoNimm hopped back in.
"We are all individuals," they said. "But how do we as friend groups, community groups, political groups address this problem? How do we change the bigger systems?"
"It Starts One System At A Time"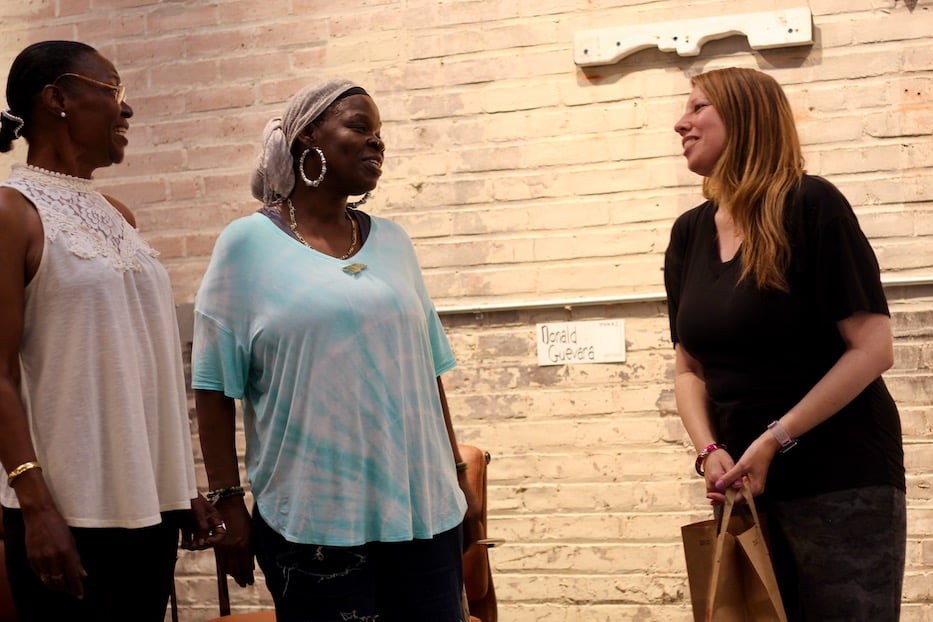 In the two scenes that followed, it was a frequent reminder that another world—in which depression is not seen as a moral failing, in which housing is a human right, in which second chances and equal access to care are not so radical at all—is entirely possible if people choose to invest in it.
The audience could see glimpses of it in the second scene, as a patient named Dorothy Reynolds (Aquillah Shamsiddeen) asked the fictitious Dr. Afterthought (Youins) for a female doctor. Over her shoulder, a devil (Cheryl Rabe) and angel (Isaiah Rangel) bickered over his motives. Rangel urged her to temper her expectations. Rabe warned her that she deserved better.
"We run a tight ship!" Youins insisted, rattling off a list of reasons that a female doctor wasn't available. Long waiting lists of patients. Too busy. She had missed a previous appointment. He shrugged off her concern that she didn't feel comfortable with a male doctor. "We have a policy and procedure."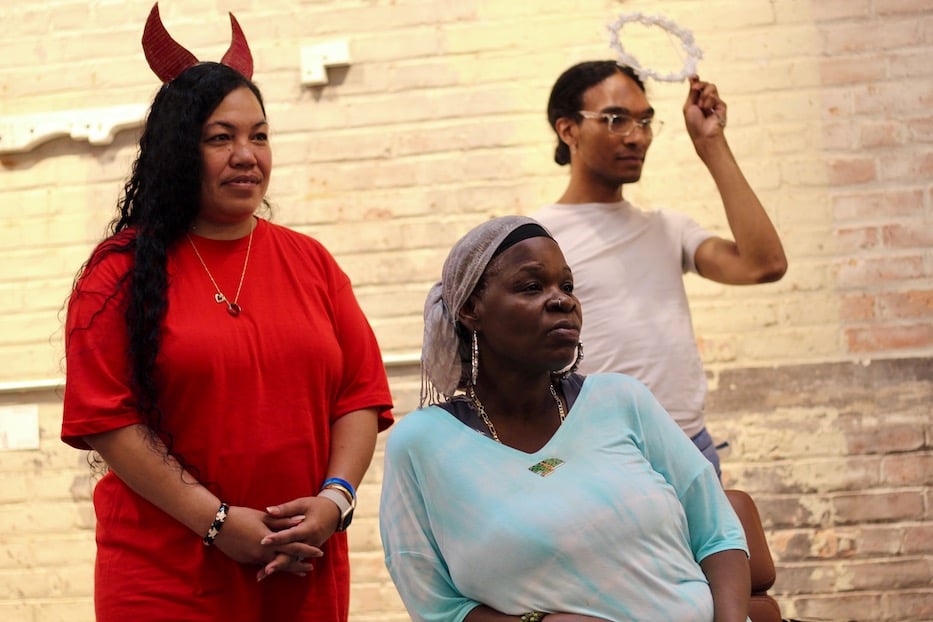 Theatre of the Oppressed Facilitator Amani Huell paused the scene. She asked attendees what they saw. Half a dozen hands went up.
"She should see who she wants to see!" Oneal said, leaning forward for emphasis as she spoke. She remembered having a similar experience three years ago, when she was pregnant with her son Kaison and asked for a female physician.
"He invalidated her trauma!" said Marcella Monk Flake from the first row.
"I was going to say, he was seeing her file and not her," another attendee said.
Attendees could see it again in the final scene, in which a woman leaving prison (Tammy Imre) has no money, no belongings, nowhere to sleep—and almost no support from her probation officer. As she tried to navigate a small mountain of paperwork, she faced the officer with wide, almost-watery eyes. "Is that gonna give me a space to sleep tonight?" she asked.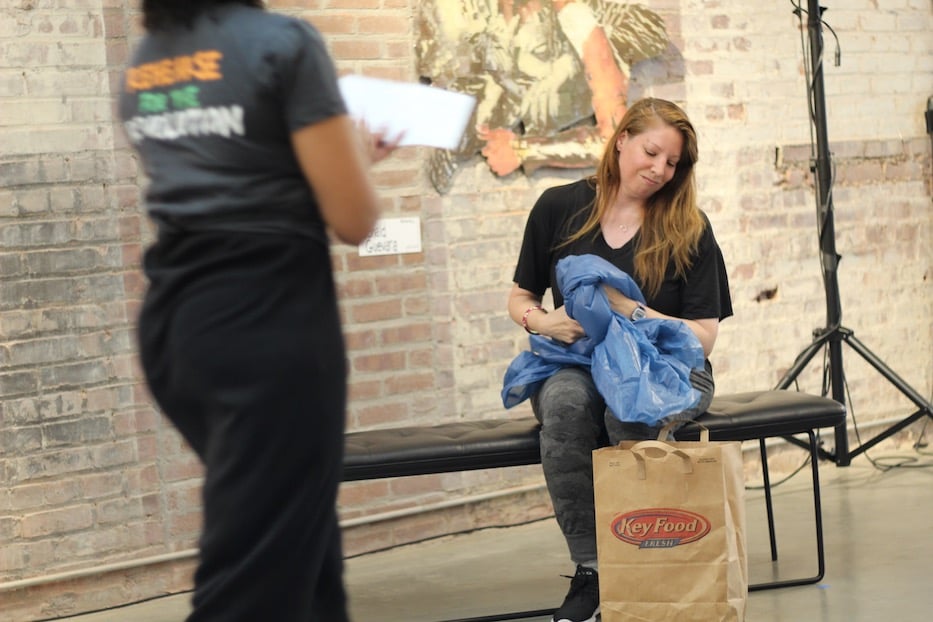 In a year that has included the city's abrupt demolition of tent city, the line hit right at the chest. When the scene ended with Imre on a park bench, covering herself with a blue tarp, it was enough to bring a viewer to their knees. In under 10 minutes, she had articulated a reentry system in which homelessness, poverty, and a lack of resources all make recidivism much more likely.
It also echoed through the group's closing number, an ensemble performance of Bill Withers' "Lean On Me" that facilitators and supporters joined. Introducing it in a big, booming voice that bounced off the rafters, Gamble urged both attendees and fellow Survivors of Society Rising members to take the song literally, and learn to lean on each other.
"This song right here—if you got someone to talk to, to lean on, you know what I'm saying?" he said. "We know how to ask for a dollar but we don't know how to ask for help."
"There are systemic situations and problems that there are solutions for," Youins said after the show, as he received a line of adoring fans one by one. "Everybody seems like they're so overwhelmed with the system itself. But it can change. And it starts one system at a time."