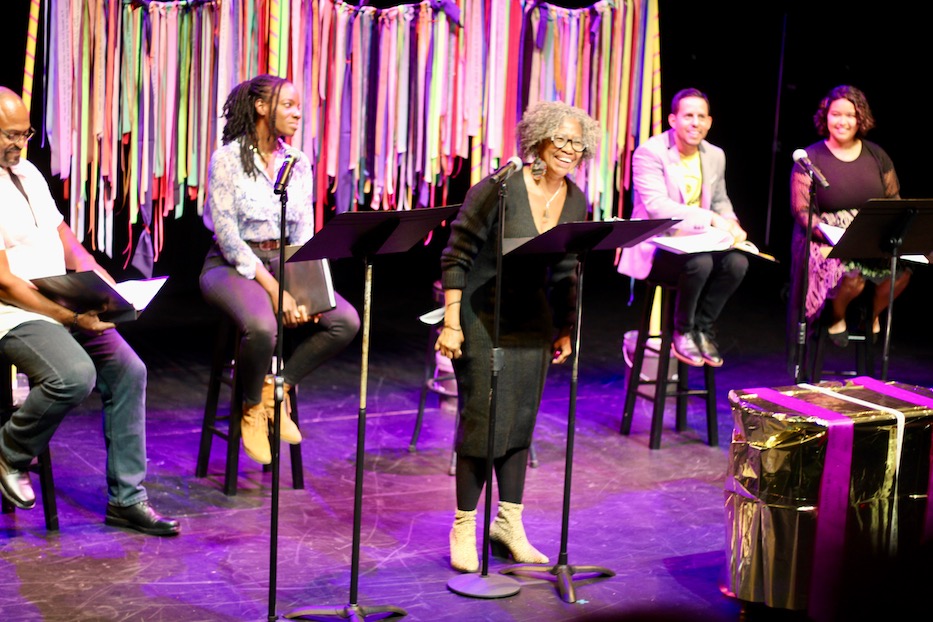 Audubon Arts | Culture & Community | Long Wharf | Long Wharf Theatre | Arts & Culture | Theater | Arts & Anti-racism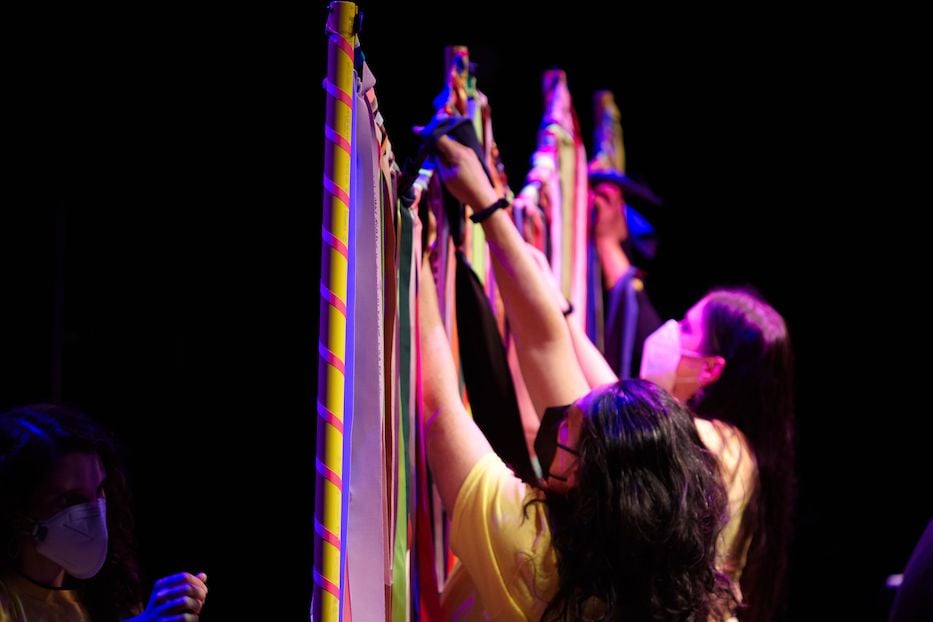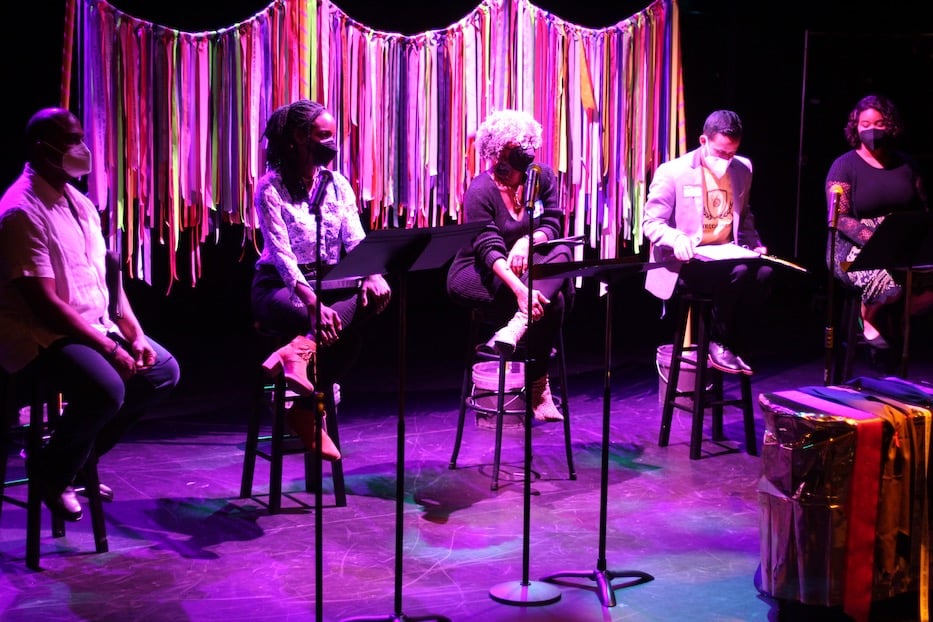 Top: LWT Associate Artistic Director Rachel Alderman and Assistant to Artistic and Managing Directors Jessica Durdock Moreno. Carter Marberry and Mistina Hanscom Photos. Bottom: Members of artistic leadership and the artistic ensemble on the Claire Tow Stage. Lucy Gellman Photo.
The lines rose over the Claire Tow Stage, each followed by cheers. To 58 years of memories and laughter! called out one voice in the half-darkness. Of opening nights … and closing nights, crooned another. Of midnight strikes, and of bright ghost lights, a third added. To audiences that shared and cared and longing. Between them, the applause rarely stopped.
That scene unfolded Friday night during Home(Coming), a two-day, multi-site goodbye to Long Wharf Theatre's 222 Sargent Dr. building from New York-based theater director Jenny Koons and New Haven-based line producer Jes Mack. Friday, close to 100 people came to the organization's longtime home for tours of the space, short performances, and a goodbye toast complete with streamers and confetti.
Saturday, the theater welcomed people to its new administrative home on Audubon Street with hours of artmaking, a photo booth, short procession and live music that kept the street jamming into the evening. Read more about that here from Karen Ponzio at the New Haven Independent. The final work on the building's Claire Tow Stage will be Melissa Tantaquidgeon Zobel's Flying Bird's Diary, which is directed by Madeline Sayet and arrives Oct. 22 and 23.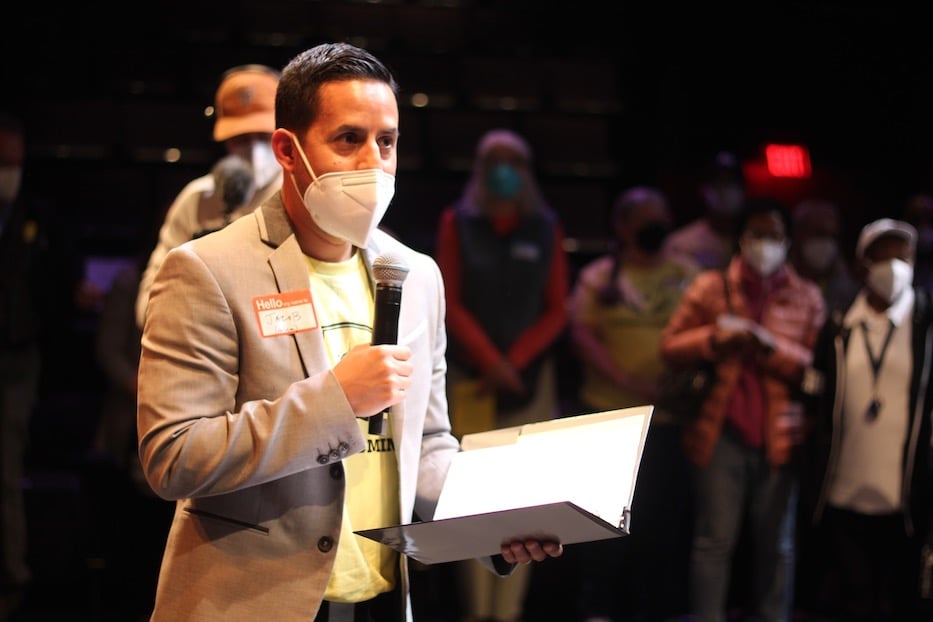 Long Wharf Artistic Director Jacob Padrón. Lucy Gellman Photo.
"On this momentous evening, we will revisit some of the memories and performances that were created in the 58 years in this space," said Artistic Director Jacob Padrón Friday. "Thank you for joining us to commemorate the past, and celebrate all that is to come in the future."
For months, the staff, artistic leadership, and board members at Long Wharf have been working towards the goodbye. The theater, which has occupied the space since 1965, announced the move to itinerancy in February and will be completely out of the building by the end of the year. In between, it has held several emotional town hall meetings and identified a new space at 70 Audubon St. Because that office is largely administrative, it will maintain storage for the theater's thousands of props, as well as lighting and stage equipment, at a location offsite. Earlier this month, Managing Director Kit Ingui also hinted at "another soon-to-be-announced location."
Friday, tour groups rotated through the building, moving from the Claire Tow Stage to a cramped space behind the scenes where producers, prop managers, stagehands, and hundreds of designers have made magic come alive for almost 60 years. Memories floated everywhere: backstage pep talks from Every 28 Hours and Survivors of Society Rising, the smell of cake and roasting chicken from Having Our Say, the quiet before student monologue competitions and performances that went on to Broadway alike. Attendees stood everywhere, packed shoulder to shoulder to get a final look.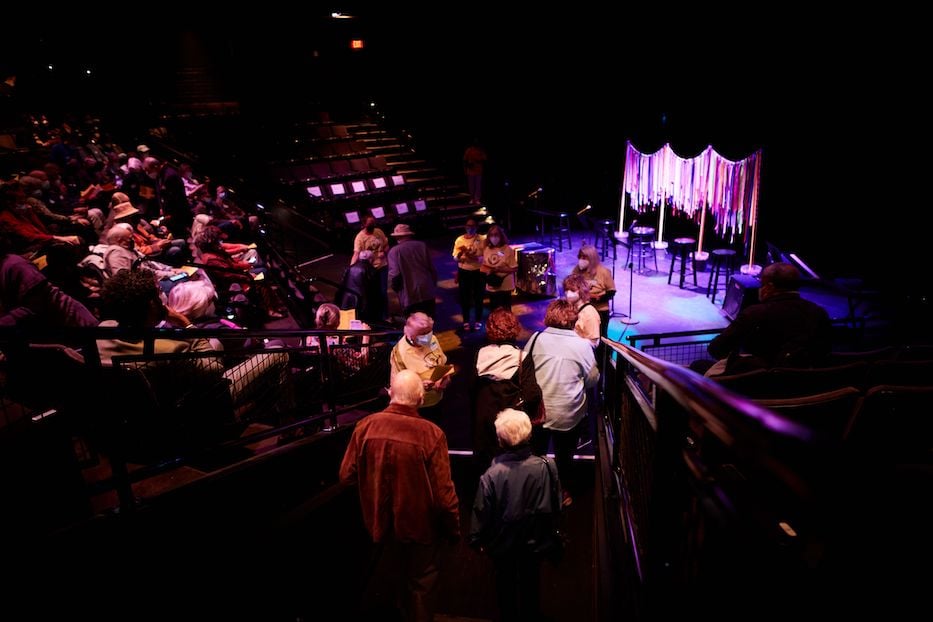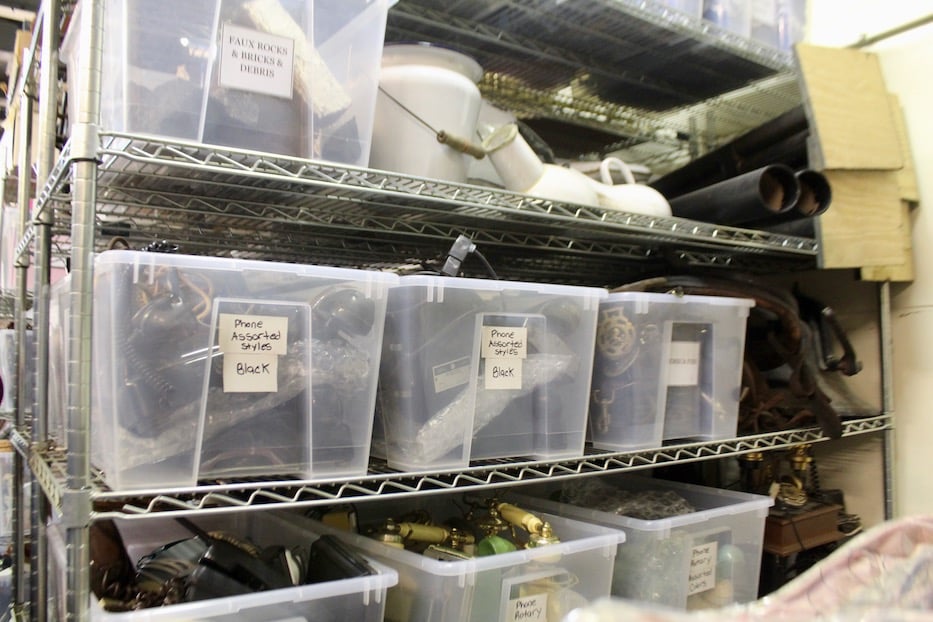 Top: Carter Marberry and Mistina Hanscom Photos. Bottom: A detail from the prop room. Lucy Gellman Photo.
For many of them, it marked a bittersweet transition. As he walked from backstage to a storage space in the back of the building, lifelong New Havener Michael Twitty said that he'll miss shows at Sargent Drive—but is rooting for the theater's success. He's been attending Long Wharf since the mid 1970s, and joked that "at my age," he can't remember the first show he saw, and has too many favorites to count.
As he talked, he walked toward the prop room, careful not to fall into the dumpsters of de-scaled fish and empty tomato cans that sat on the other side of the walkway.
"I feel sad, in a way, going through the theater, knowing that I spent here over the years, over 40 years or so, and now we're seeing it for the last time really," he said. "So I'm sad. But happy that they're still staying in New Haven and they're still working in New Haven."
Inside the room, one could imagine a whole play taking place. Everywhere a person looked, there were props: shelves of glass tupperware, steel and porcelain dishes, a dozen black and white coffee pots, color-coded cotton batting in vacuum-sealed bags.
An upholstered wheelchair waited behind a shelving unit. Plastic boxes of old phone equipment sat on another. Outside, the smells of striped sea bass and porgies rose into the still-warm night air. Every so often, butchers in plastic gloves and white cloth aprons stepped into the light to see what all the commotion was.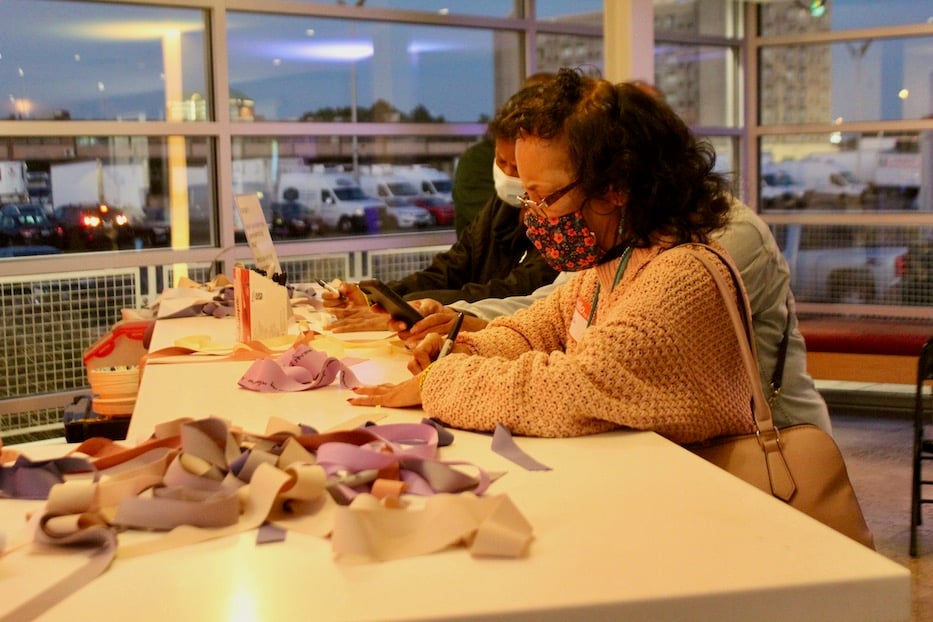 Linda Teixeira (in floral mask) with her sister Cynthia and a friend. Lucy Gellman Photo.
Inside the lobby, attendees wrote out their wishes for the theater's future, from simply "Hope" and "Good luck!" to "Box Office!!!" One cryptically read "sushi," a reference to the theater's discontinued "40 Under 40" program. Among them, sisters Cynthia and Linda Teixeira stood over lavender-colored ribbons, not quite ready to say goodbye.
Born and raised in New Haven, Cynthia said she's struggling to part with the building but will continue to support the theater as it moves into its new chapter. As a girl, she grew up in the city's Hill neighborhood, a mile away from 222 Sargent Dr. on Lafayette Street. In the late 1950s—just years before the theater opened—she and her family moved uptown. While she can't remember the first show she saw, she can remember the feeling the building has often given her.
"I have mixed feelings," she said, adding that Lloyd Suh's The Chinese Lady is among her recent favorites in the theater's history. "I love the venue. It's been home for so many years. It's about coming together."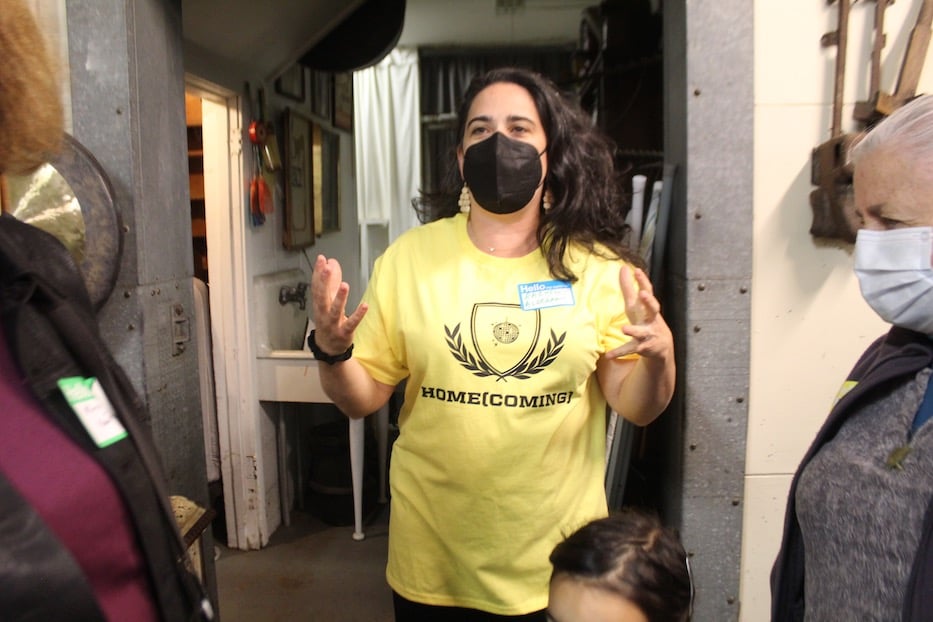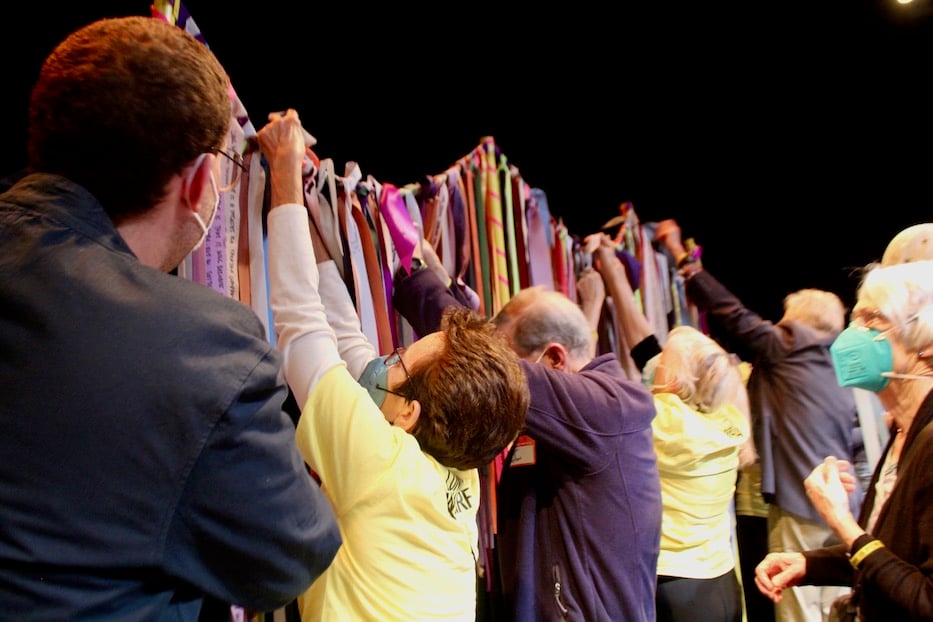 Top: Alderman in prop storage. Bottom: Attendees tie their wishes to the installation. Lucy Gellman Photos.
As dusk fell and attendees gathered in the Claire Tow Stage, Home(Coming) kept the mood buoyant, using the lessons of the theater's own dramatic history to send it off on a bright note. On stage, Padrón gathered faces of Long Wharf past and present: An Iliad's Rachel Christopher, playwright and performer Terrence Riggins, former staff member and Elm City LIT Fest Founder IfeMichelle Gardin, and Program Manager Betzabeth Castro. Taking turns, the group cycled through the theater's early history and present, from a two-week run of Arthur Miller's The Crucible that opened the space in 1965 to a honey-sweet performance of Queen that closed the 2021-2022 season in June.
Singing Rick Besoyan's "Look For A Sky of Blue," Castro took the audience back to Little Mary Sunshine, a parody of bombastic Broadway revues that graced the stage when the theater was still in its infancy. Riggins read the poetry of Mary S. Mitchell, a longtime Long Wharf patron whose memories of the theater include meeting schmoozing with the likes of Paul Newman and Arthur Miller, and finding Joyce Ebert's ring in the theater's bathroom.
In a not-so-subtle reminder of the risk in looking back, Christopher read Emily Webb's soliloquy from the end of Our Town, her voice coasting through the theater as staff members joined in. Long Wharf put on the work for its 50th anniversary in 2014, with New Haven residents performing as the citizens of Grover's Corners.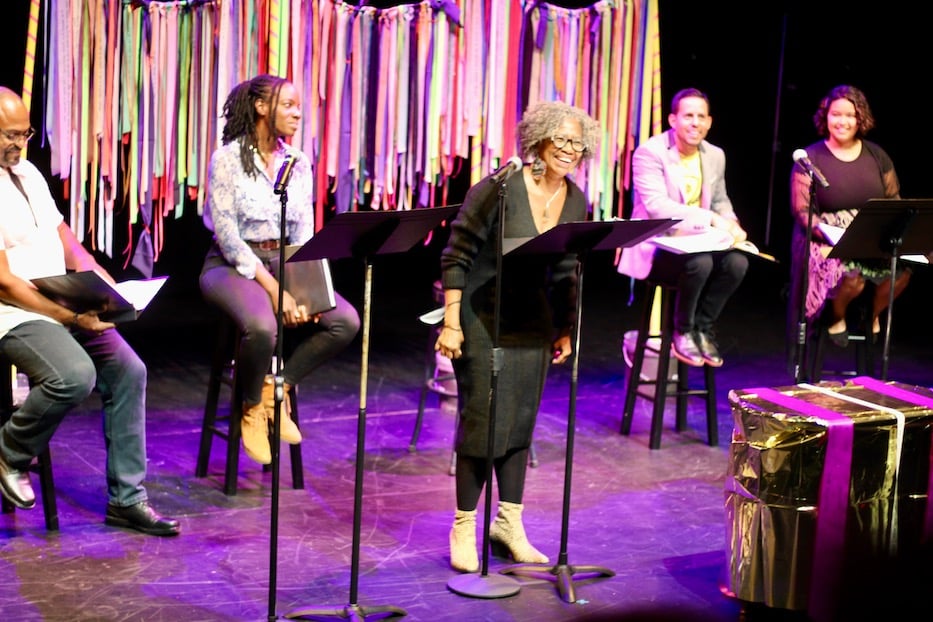 IfeMichelle Gardin reflects on her time at LWT. Lucy Gellman Photo.
Gardin, who grew up in New Haven, moved away, and later returned and worked at the theater from 1997 to 2001, remembered learning about Long Wharf in the 1980s. At the time, she'd met the actor Ebony Jo-Ann, and offered her a place to stay in New Haven during a reading.
As the two chatted on the Metro North, "I realized how much I did not know of the notoriety of Long Wharf outside of New Haven," she said. "I felt ashamed that I didn't know more, likely because the community I grew up in did not feel welcome or seen enough to regard Long Wharf as a place to visit."
When she joined the theater as a house manager in 1997, Gardin worked to change that. She organized opening night receptions. She launched an annual Kwanzaa celebration with New Haven-based artists and entrepreneurs. She created "Jazz on the Wharf Noir," a low-cost, post-show event that opened Long Wharf to musicians who had never felt welcome.
And in 2004 she started "Arts @ Work," which gave New Haven public high schoolers a window into tech theater and performance for eight weeks over the summer. Students went on to perform at the National Black Theatre Festival in North Carolina.
"Creating opportunities for community and within community creates legacy," she said. "As we are here celebrating the next chapter of Long Wharf Theatre, let us cheer and show our support for the vision of Jacob Padrón as he moves forward in the mission of Long Wharf being dedicated to producing boundary-breaking theater for its many kaleidoscopic communities, propelling the vibrant cultural Renaissance in the greater New Haven area and beyond."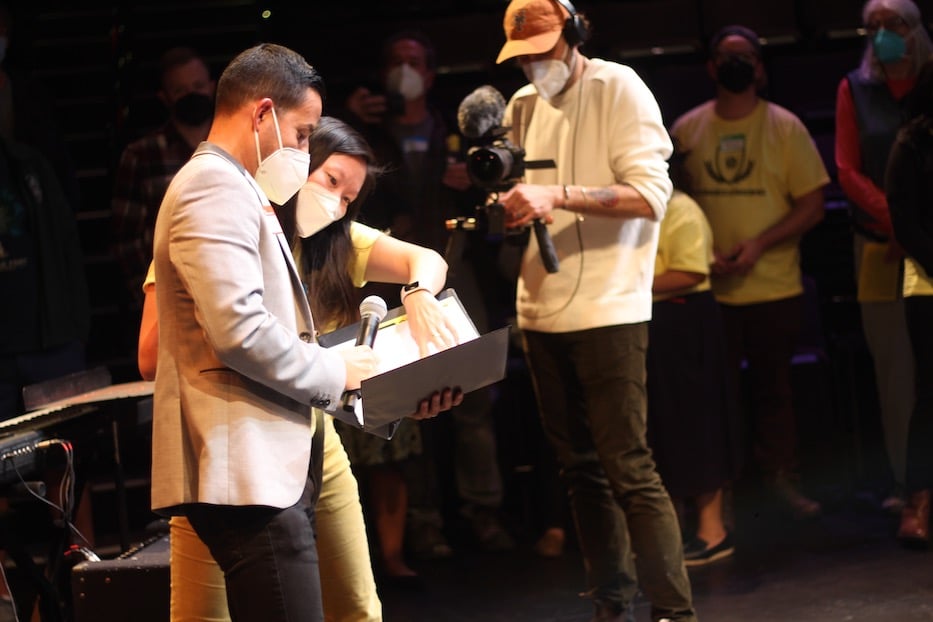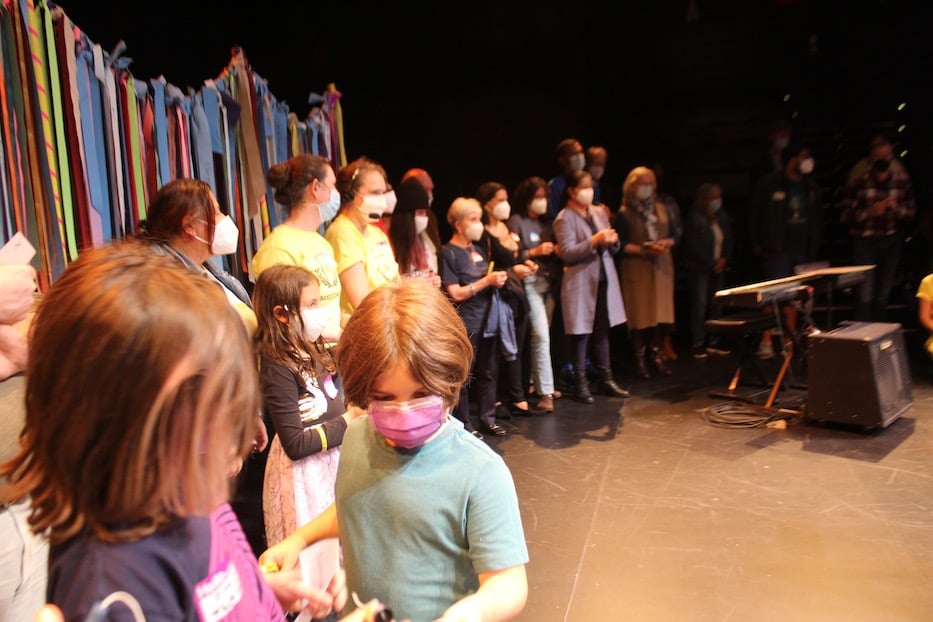 Top: Padrón and Jenny Koons. Bottom: Attendees gather for a final toast. Lucy Gellman Photos.
Throughout, Padrón and others also reminded audiences that the institution has long taken the road less traveled, and framed itinerancy as simply the next step. When the building first moved into the New Haven Food Terminal in 1965, then-Board Chair C. Newton Schenck made the quip that "local politicians likened the placement of a theater in the city's meatpacking district to bringing cabbages to Tiffany's," Padrón recalled.
Even so, it continued to grow, drawing audiences in from not just New Haven, but across Connecticut and the tri-state region. Prior to the pandemic, it survived multiple economic recessions, mayors that never seemed to agree on the fate of the theater, and several leadership transitions of its own. This is part of its ongoing story, Padrón and Ingui said.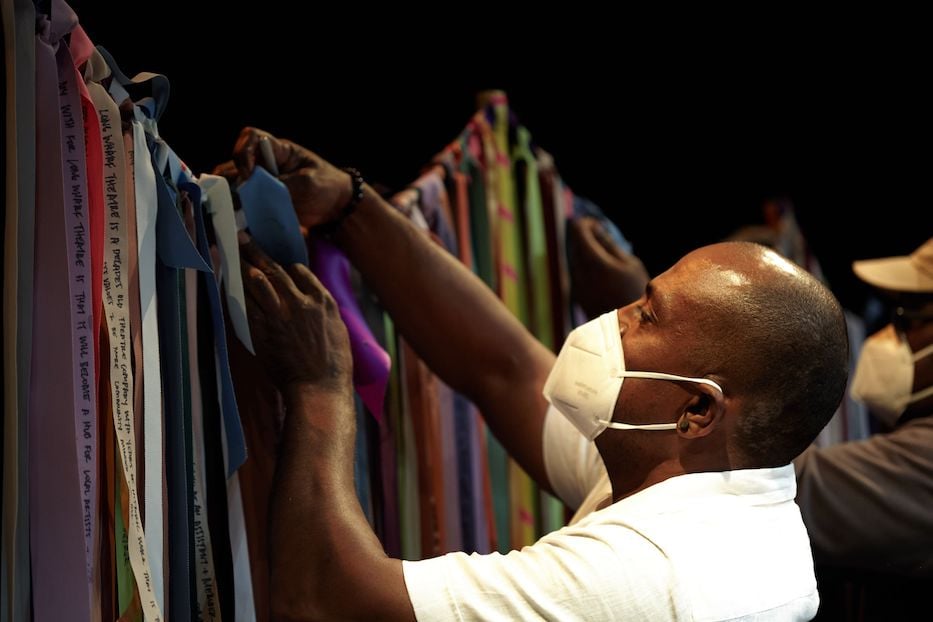 Playwright and performer Terrence Riggins shares his wish. Carter Marberry and Mistina Hanscom Photos.
They are bringing that history with them into the future, they added. As Padrón and others spoke, they celebrated the theater's past, present and future with a mobile installation on which attendees, staff, and artistic associates had written dozens of "wishes" for the theater.
Honoring the past, staff tied six blue ribbons to the display, for the nearly six decades the building has stood at 222 Sargent Dr. Moving to the present, they added ribbons with stage directions from the end of Flying Bird's Diary, the last work to take place at Long Wharf.
When they reached the future—or "dreaming toward our future," as Christopher said—they invited attendees to join in, and add their own wishes to the display. As dozens of people flooded the stage, waiting their turn, Long Wharf staff walked around with buckets of confetti poppers for a toast to the theater's life. Laughter and conversation bubbled up from every corner of the stage
Looking out into the audience, Padrón said he was very moved by those who had come.
"My heart is very, very full," he said. "Thank you so, so much for being here and being part of this tremendous moment in the life of this historic theater company."
Read more about Long Wharf's transition to itinerancy here. Learn more about Long Wharf's 2022-2023 season, "Everywhere For Everyone," here.