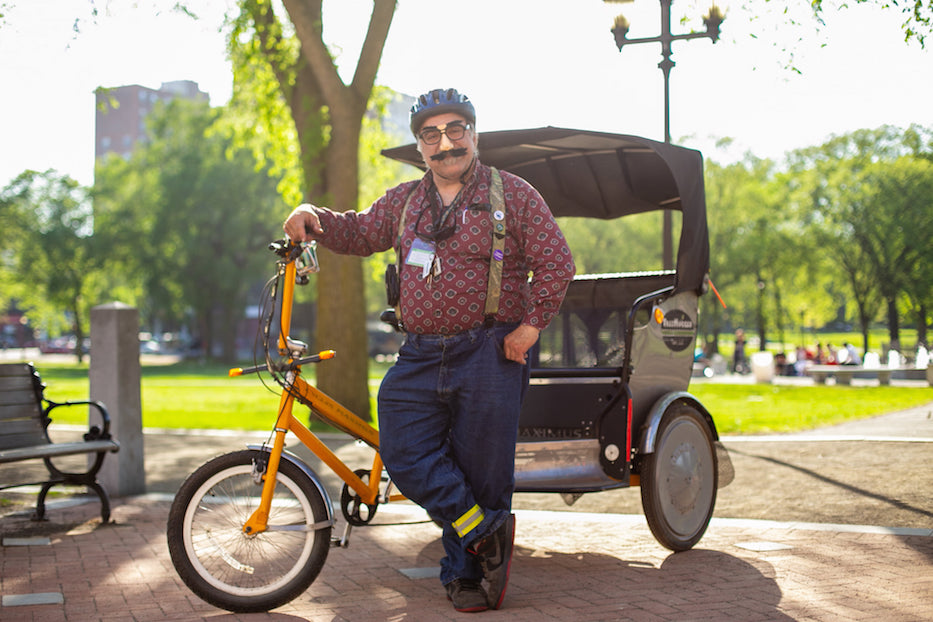 Bradley Street Bike Co-Op | Culture & Community | Integrated Refugee & Immigrant Services (IRIS) | Arts & Culture | Theater | Community Heroes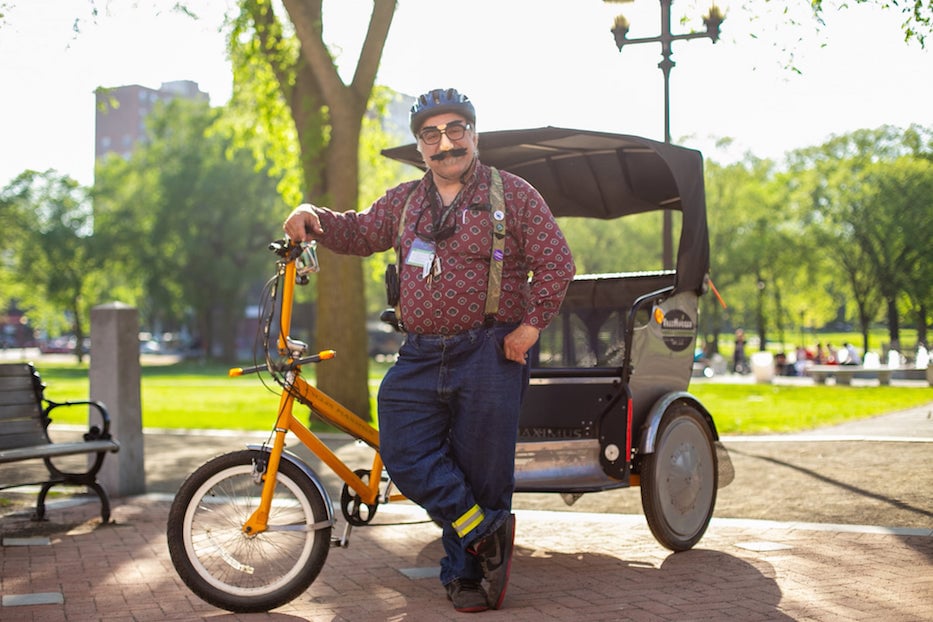 Chris Randall Photo.
New Haveners never knew where they might see Paul Hammer. For years, he glided through downtown on a mission to make people fall in love with two wheels and a titanium frame. He graced the city's stages and dreamed up fringe festivals in the wings. He walked, ran, and biked his way to refugee advocacy and prison abolition work. Then at the end of each day, he pushed—and pedaled—for more.
His sudden death on Sunday has led to an outpouring of grief—and a flood of memories—from those who shared the city with him along the way.
"Paul was brilliant," Long Wharf Theatre Director of Learning Aleta Staton told the Arts Paper. "He was full of joy all the time, but also hurting all the time."
Hammer took his own life Sunday afternoon, after speaking openly for decades about living with bipolar disorder. He had recently told friends that he was transitioning off a longtime medication. He was 64 years old.
The number for the National Suicide Prevention Hotline is 800-273-8255.
Hammer was an outspoken advocate for suicide prevention and access to mental healthcare and medication, particularly for those who were uninsured. He pulled no punches in speaking about a 2004 suicide attempt from the top of East Rock, during which he fell 400 feet and sustained a traumatic brain injury (TBI). The fall resulted in disability benefits and access to Medicare and Medicaid, for which he estimated he would have otherwise waited years.
"I had to jump off a cliff in order to get good healthcare," he quipped bitingly in a 2020 StoryCorps Interview with New Haven Register reporter Randall Beach. It became part of his quest for access, a battle he fought alongside mental health advocates and those in recovery until his death.
Hammer was never defined by his illness. He was a lifelong bike and pedicab enthusiast, actor and playwright, peacekeeper, and serial joy-maker, with thousands of ideas at his fingertips. A practicing Quaker, he often joked with his friend Kim Stoner that he was "a Quaking Jew, one of the few," drawn to repairing the world through multiple faith traditions. He dreamed about bike-themed play festivals, youth hostels, and a world without prisons and man-made borders.
The hundreds of lives he touched spanned the city, from weekly Quaker meetings in Fair Haven Heights to the Connecticut Mental Health Center in the Hill, from Bike Month gatherings in Dixwell and Newhallville to the stage at Long Wharf Theatre. They started on a bike trip of the Northeast when he was 14 years old, and lasted through a final Quaker meeting Sunday morning.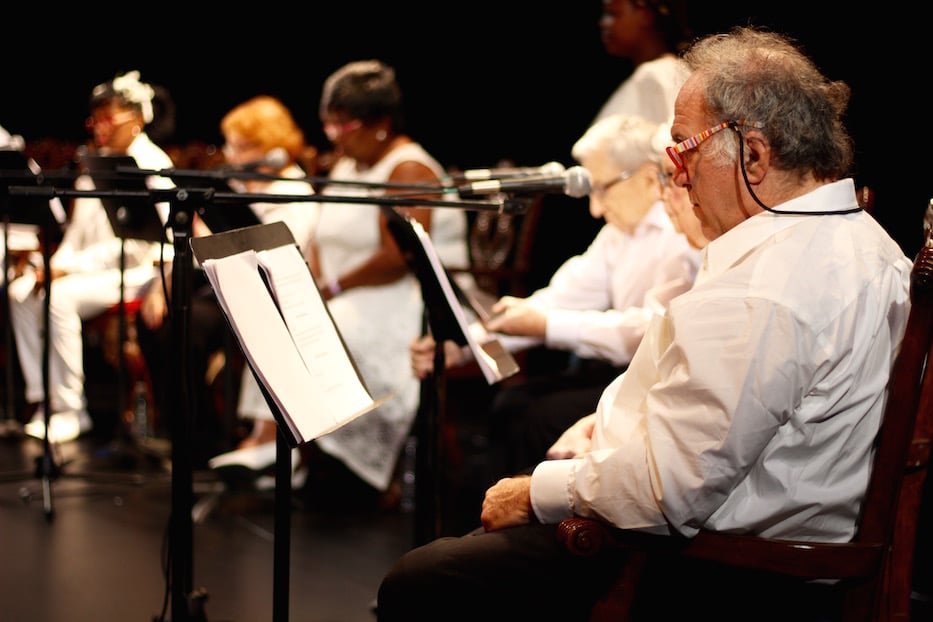 Hammer at Long Wharf Theatre in 2019. Lucy Gellman Pre-Pandemic File Photo.
One of his first homes was the stage, where he started acting seriously as a student at Wesleyan College. Aleta Staton, director of learning at Long Wharf Theatre, remembered meeting Hammer during her freshman year. The theater department was putting on Maxim Gorky's The Lower Depths and Hammer, a sophomore, had immersed himself in the text. He went on to work as the technical director for Second Stage, the student theater at Wesleyan, and as an improv teacher at a then-nascent Oddfellows Playhouse.
"We became friends immediately," she said. "It's easy to imagine, because he never changed. … It was a beautiful friendship from the beginning all the way through."
Their friendship ultimately spanned decades and dozens of cups of tea, script readings, and discussions around theater and social justice. The two had children at the same time, and kept tabs on each other's partners and parenting skills. Years ago, the two staged one of his plays at Bethesda Lutheran Church on Whitney Avenue. Staton said they often talked to each other about bringing more of his work to the city's stages.
On their last meetup together a few months ago, they went for a bike ride on the Farmington Canal. She remembered how he stopped her early in the ride, suddenly aware that her seat was too high and her arms were too low.
"He took out his toolbox and he said 'I gotta make sure you ride this thing!'" she laughed. "He knew every apartment I ever lived in, because we were always visiting each other from time to time, and he was always dreaming up these brilliant social justice responses to what was happening."
In those years, Hammer also met Dic Wheeler, then a starry-eyed underclassman in the Wesleyan drama department. Wheeler, who went on to co-found ARTFARM and now leads Oddfellows, recalled how completely unlike other students Hammer was. He questioned everything. He was sharp and also kind. He liked to make everyone around him laugh, and often succeeded.
After college, "our lives kept intersecting at certain points," Wheeler said. After Wheeler and Marcella Trowbridge co-founded ARTFARM in 2001, Hammer would show up for an annual Shakespeare Slam, always dressed in outlandish costumes and ready to "do these really wacky Shakespeare performances."
"It's just a real loss," Wheeler said in a phone call Thursday. "So much of what he brought had to do with humor and joy, and what he brought to the world in a different way. Questioning assumptions."
During his time at Wesleyan, Hammer also grew his roots as a pacifist and a budding playwright. In 1976, he worked with the American Friends Service Community to bring the Continental Walk for Disarmament and Social Justice to Connecticut. It was there, marching the 27 miles between Middletown and New Haven on the side of the highway, that he met New Haven Register reporter Randall Beach. At the time, Beach was working for the Morning Record, based out of its Wallingford office. The two peace activists walked together, led by a group of Tibetan monks.
They stayed in touch, and reconnected when they both moved to New Haven. When Beach heard that his friend had jumped from the top of East Rock in 2004, he checked in with Hammer at Yale New Haven Hospital and wrote an article about it. The two later talked about Hammer's attempted suicide just before the pandemic hit New Haven, in an interview for StoryCorps at the New Haven Free Public Library.
"I'm not sure that there is an omniscient, omnipresent God watching over us at every moment," Hammer said during the interview. "But I like to act as if I was spared for a reason. And the reason, as I see it … is to help others who feel the same way that I felt and are at risk of taking their own lives."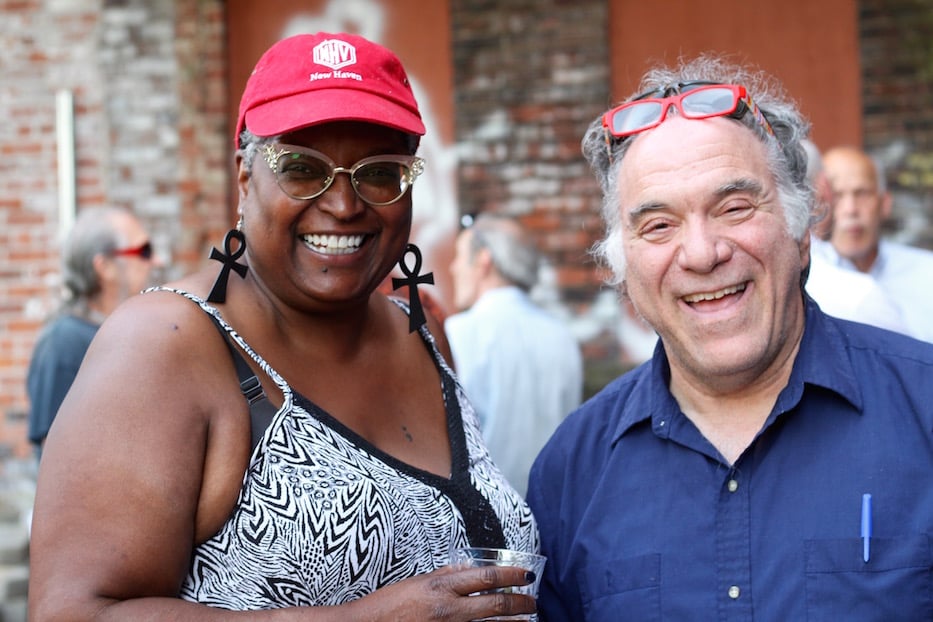 Inner City News Editor Babz Rawls-Ivy with Hammer in July 2019. Lucy Gellman Pre-Pandemic File Photo.
When Hammer graduated from college, he worked multiple jobs in theater and performed for a Branford-based improv team at the Stony Creek Puppet House, now the Legacy Theatre. Devil's Gear Owner Matt Feiner, who competed for the New Haven troupe Snazz 'n' Guffaw, remembered the pluck and wit with which he performed. His first thought—one that he returned to often—was "he is so fucking intelligent." He was sharp-tongued and funny too, enough to keep the room howling.
"When I met him, it kind of took me off guard that he was so open about his illnesses," Feiner said. "Mental illness is such a nasty circle, and he wanted to see that stop."
For the next three decades, their paths continued to cross and deepen. When Feiner returned from living in Austin, Tex. and started working at Baybrook Bicycles, Hammer "was one of the first people that I re-met." At the time, Feiner said, New Haven was still in the early stages of a bicycle renaissance that Hammer was very much part of. After Feiner left Baybrook to start The Devil's Gear, the two worked together to make that dream of widespread bicycle access a reality.
Joel LaChance, who is now known as the Goatville Cyclesmith at the corner of Orange and Cottage Streets, also watched Hammer's transformation into an outspoken champion of cycling for all ages and abilities. In the 1980s, the two met each other just off Whalley Avenue, at the now-departed New Haven Food Co-Op. LaChance, an auto worker turned bike mechanic from Detroit, taught Hammer in his weekly bike repair classes.
They remained friends until Hammer's death. The last time they saw each other, they were fitting kids for pint-sized bicycles at Kensington Playground. After Hammer taught a class on bike safety, the two grabbed lunch.
"He cared for everyone, and recognized as we all do that cycling is by no means a hardship but a joy, and something we all benefit from," LaChance said. "So many people can benefit economically, as well as their health. Cycling makes us all happy, and we wanted to share that."
Shared it Hammer did, at every opportunity he had. In the early 2000s, Hammer was among a group of bike and transportation advocates that pushed the city and the state on bike safety, from a proposed "bike summer" to more cyclist-friendly train lines. He pushed for better bike access for kids, refugees, and adults across neighborhoods. Many knew him as the Zipcar guy, a job in which he was impossibly cheerful. With Doug Hausladen, who leads the city's Parking Authority, he helped jumpstart a program that got bikes to veterans struggling with access to reliable transportation.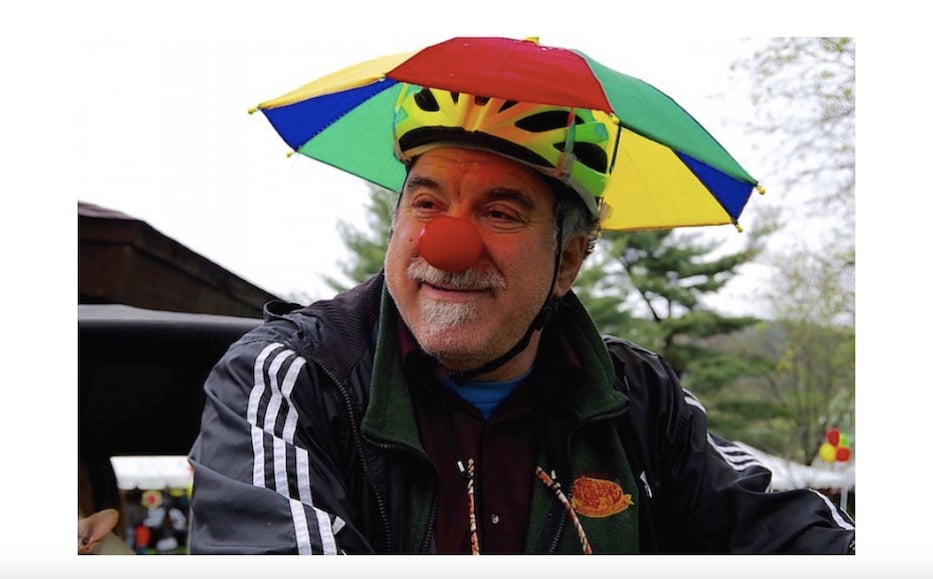 Hammer at Artwalk in May 2016. Lucy Gellman File Photo for the New Haven Independent.
A little over 10 years ago, he rallied for pedicabs when proposed legislation hit the city's Board of Alders. In 2009, he estimated that the city could maintain two dozen. Hausladen said that there are only three registered in the city—and two of them belonged to Hammer. By 2010, Hammer had started his own pedicab company. He rarely, if ever, asked for a fare.
"Almost every year, we would try to work around the regulations to fit into the box that he had created," Hausladen said. "Anything to get these pedal cabs. Starting a business is hard when you're not trying to make money off of it. He just wanted to ride bikes and ride in pedal cabs, because it would spark joy for other people."
He also was instrumental in getting bikes to immigrants and refugees, for whom they became a vital and reliable form of transportation. Chris George, the executive director of Integrated Refugee and Immigrant Services (IRIS), welcomed Hammer to the organization over ten years ago as a volunteer and then as an employee. During his time there, he ran IRIS' bicycle program, through which bikes were recycled, refurbished, and fitted for new owners.
In a phone call Friday, George recalled looking over the building's fire escape on Fridays, and watching Hammer distribute bikes and helmets, then lead the "Paul Hammer Safety Tour" that became a hallmark of his advocacy. Hammer was also the guy who would burst into song in the office, respond to every new development with an idea, and talk for hours without running out of things to say.
In March, George received two emails from him. One was about biking. The other, "sort of reflecting the renaissance guy that he was," was an op-ed that he penned in the CT Mirror with 11 other Quakers, asking for an end to solitary confinement. Hammer later traveled to Hartford to speak out against solitary in May.
"His optimism made him a great fit for refugee resettlement, although his outlandish costumes, wacky humor, and tendency to break into song, often raised eyebrows," George wrote in an email to colleagues earlier this week.
In 2015, Hammer met John Martin, the bicycle nerd behind what has become the now-flourishing Bradley Street Bicycle Co-Op. By then, Hammer was also helping lead Bicycle Education, Entrepreneurship, and Enrichment Programs (BEEEP), which Martin described as "kind of the bones of the Co-Op." With Martin, he became a force behind the Co-Op's robust bicycle recycling program, which now rehabs 250 bikes per year.
In particular, Hammer oversaw the Co-Op's relationship with IRIS and the Connecticut Mental Health Center (CMHC), where he was a recovery support specialist and assisted with the CMHC Cycles initiative. Hammer also worked for the Yale Program for Recovery and Community Health, or PERCH.
With a team that included Martin, LaChance, Caroline Smith, Elizabeth Nearing, Melinda Tuhus, David Joyner and others, he helped revitalize New Haven Bike Month and built new circles around bike advocacy and infrastructure in the city. In 2017, he added a bike-themed film festival to the end of Bike Month activities. Martin said he adored him, even when the two bumped heads.
"We had a kind of strong loyalty and love for each other that family members have," he said. "It's like a brother or sister or cousin. That's like what captures it for me. In some ways, the people who can annoy me in my life are like, my mom, my dad and Paul Hammer. We'd always end our conversations with 'I love you.' Even if we were fighting."
That advocacy also brought me in touch with Hammer five years ago, during a particularly wet Artwalk in Edgewood Park. Down a rain-splattered pathway, Hammer was sitting with his pedicab, taking in everything around him. He wore a bright red clown nose and a vinyl umbrella hat bursting with primary colors. He waved hellos at old friends and new acquaintances. It was hard not to smile looking at him.
Within moments, we were talking about mental health and the joy he felt while spreading the gospel of riding. Hammer and I were TBI twins, and he was one of the only people around whom I never had to explain myself. He called my bluff when I said I couldn't ride a bike because I was disabled. Two years later, he taught me how to ride a recumbent in the same park where I'd first covered him.
"I'll fish you out if you go into the river," he told me as we pedaled.
He was good at bringing his worlds together, connecting people who otherwise may have passed each other unknowingly in the city they called home. Of all of A Broken Umbrella Theatre's works—of which he was a champion—the company's 2012 Head Over Wheels and 2013 Freewheelers may have been his favorites. He had, according to Nearing, "this catalogue in his head of every play that had to do with biking," and the concept for a multi-day bicycle-themed theater fest where New Haven could celebrate all of them.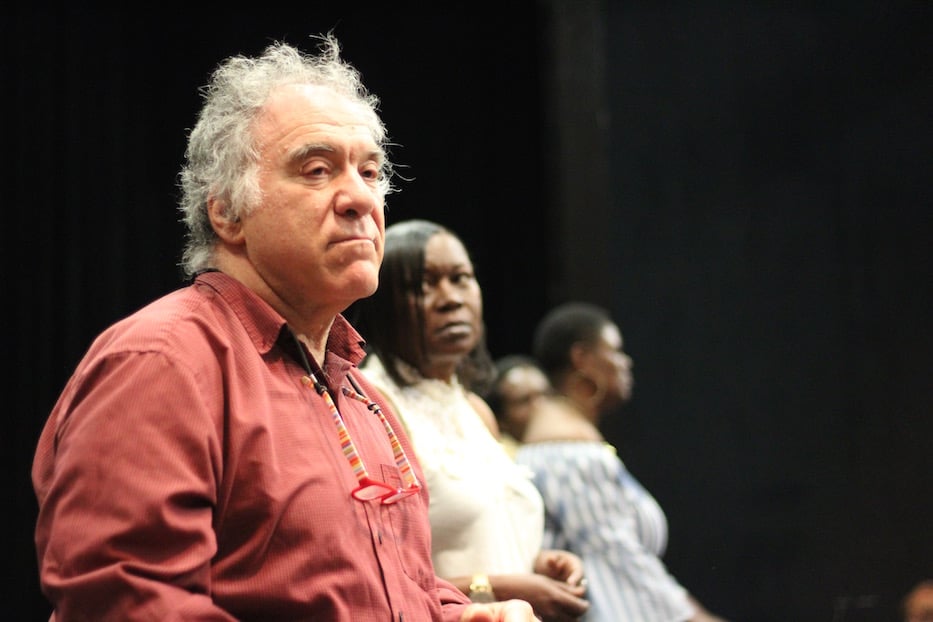 Hammer on stage at Long Wharf in July 2019. Lucy Gellman Pre-Pandemic File Photo.
During her time as the community partnership manager at Long Wharf Theatre, she worked with him in Survivors Of Society Rising, a work devised and performed by a 14-person theater troupe of people in recovery. From the moment Hammer joined the project, Nearing said, he became a one-person cheering section and support system.
He made sure that cast members had rides, sometimes shuttling as many as six people around the city in a single day. Despite his large personality, he stepped back and listened to what others in the group needed. Nearing recalled watching him coax one particularly shy actor out of her shell over several rehearsals.
"She just lit up," she said. "His role in that group was so much to say 'yes and' for everybody else. To invite theatricality and magic into places that people couldn't always see. He could see the magic in other people."
Nearing recalled watching him work on a scene with fellow troupe member Rosalind Lewis, in which he had the audience make rain sounds with their hands before launching into "Singing In The Rain." Then, the two danced around the stage.
"He showed up for stuff and he showed up for people," she said. "He believed in the power of story and the power of theater really hard. And on days that I didn't believe, he made me believe twice as hard. He's a person who couldn't feel the light that he emitted in the world."
CMHC Communications Officer Lucile Bruce, who also worked as a liaison on the show, said she was moved by the work Hammer put into the performance and the way he did it. Hammer pushed the cast to work with text—a first for them—when he wrote a section of the script around newspaper headlines.
During the play, he also told the story of his own survival. In another particularly poignant scene with Do Walker, he talked a character struggling with addiction down from suicide. She said she has been thinking about that scene with Walker, playing it over and over again in her mind. The scene was called "Learning To Love Life."
"When people were struggling, he was tuned in to what was going on," she said. "It seemed like the theater was the place where he was the most comfortable and most himself. His personality is very large and he could take over, but he didn't do that. He gave of himself. He was beautiful."
His final days in New Haven were filled with people who cared for him. Last Thursday, Feiner ran into him on Fair Haven's Front Street, a chance meeting that turned into a trip down memory lane.
"When he turned around and said goodbye, he said, I'll talk to you soon," he said.
Stoner, a fellow Quaker who knew him through the New Haven Friends Meeting, said he had been coming to virtual meetings each week. On Saturday, the two attended Ice The Beef's performance of Romeo & Juliet on the New Haven Green. While she did not attend the Friends' virtual meeting last Sunday morning, several Friends said that he was there.
In the days since learning about his death, she and several others from the New Haven Friends Meeting are in the process of organizing a memorial effort and have set up the email address paulhammermemorial@gmail.com for those who wish to share memories.
"A Toast To Toast!"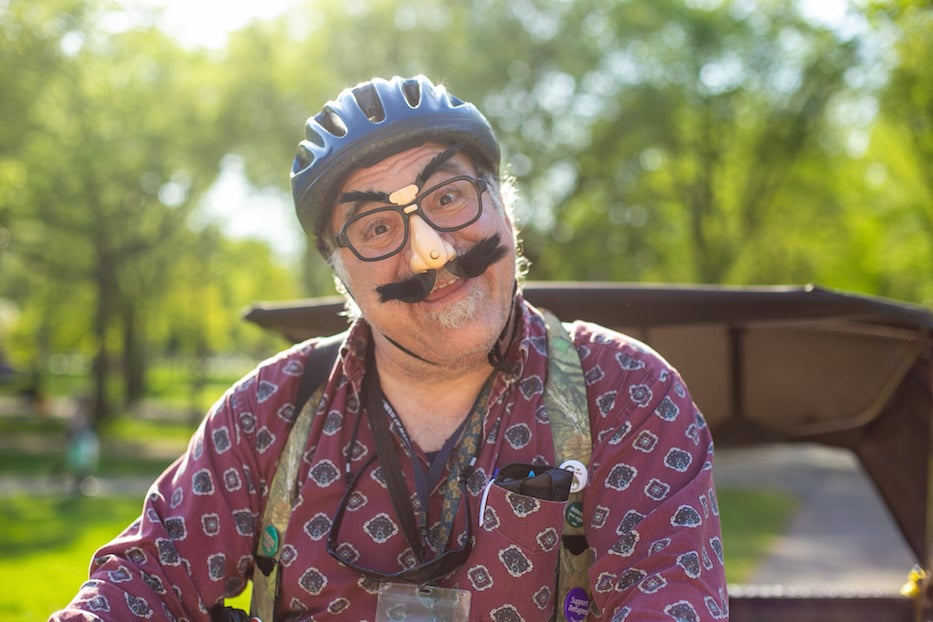 Hammer on the New Haven Green in May 2015. Chris Randall Photo.
Perhaps the best words by which to remember Hammer's infectious joy are his own. In several of the interviews for this story, people mentioned a prose poem that Hammer sent them in the last months of his life. A copy of it is printed below, in full.
A Toast To Toast
Paul Hammer
I'd like to propose a toast to toast!
Toast, the much-maligned toast, as in "you're toast," "you're finished," "you're done with." No, my friends, toast is a fitting end, not to one's life or aspirations, but to grains, flour and to bread.
Toasting began in Roman times as a method of prolonging the life of bread. So, when I tell you you're toast, I am saying that I hope your life will be extended until, at last, the earth swallows you up.
Granted, not all people mean it that way, and let's say they are just mean. To be fair, tostum is the Latin word for scorching or burning, so it's no wonder that people feel singed when they're told their toast.
But the old adage "the best thing since sliced bread" refers not only to the slicing machines that enabled bread to be sliced and packaged individually in wax paper but to the fact that slices can be inserted into electric toasters.
When, in 1943 in the U.S. government banned sliced bread, deeming it an unnecessary use of resources in wartime, baking companies, urged on by the public, launched an American Revolution, with the New York Times proclaiming "how important sliced bread is to the morale and saneness of a household." The ban was quickly reversed.
And now, allow me to tout the benefits of toasted bread.
Eating some kinds of bread alone without toasting them can raise your levels of blood sugar! Toasting bread may also lower its fat content, and it is crunchy! Toast a slice and the butter or jelly will drip deliciously into the holes as opposed to sitting on top of the bread. Mmm! Mmm! Just be sure to use an energy-efficient toaster and you won't get burned by the electric company.
Indeed, the Bible instructs us that man does not live by bread alone! To enjoy the finer things in life, we must have it toasted. Let them eat toast!
The number for the national suicide prevention hotline is 800-273-8255. Those wishing to share memories can reach out to paulhammermemorial@gmail.com.