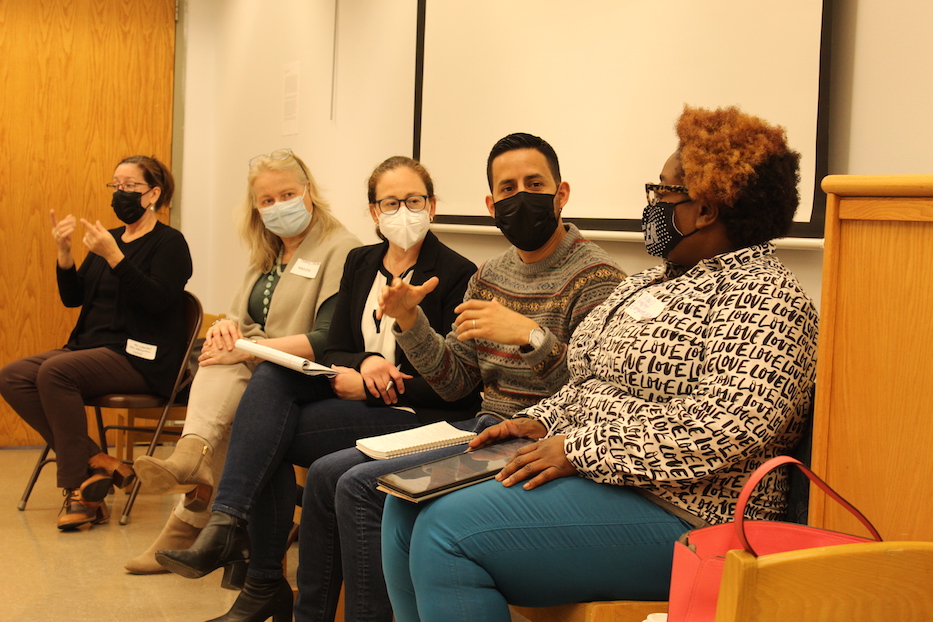 Long Wharf Theatre | Arts & Culture | New Haven Free Public Library | Theater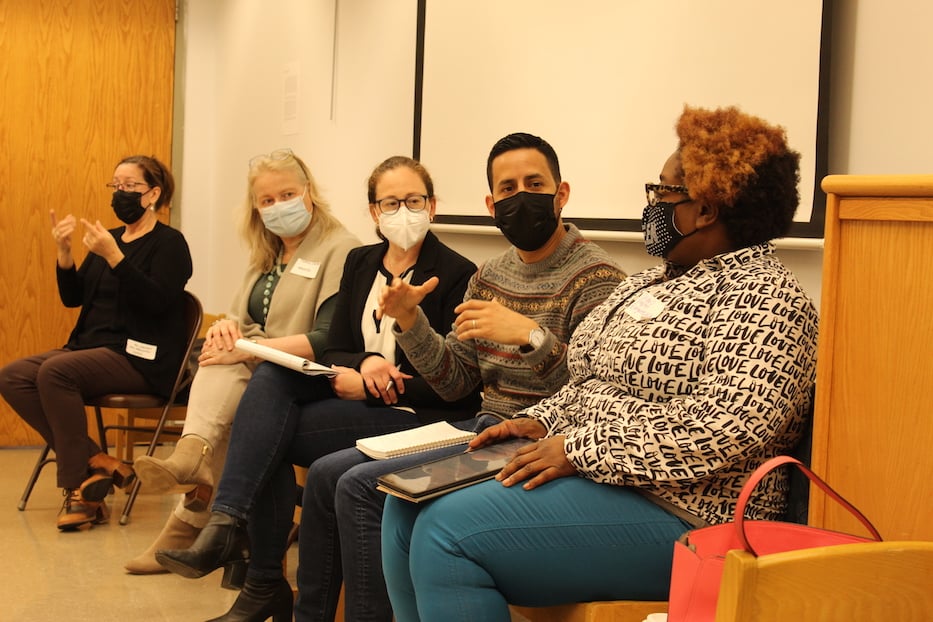 From left to right: ASL interpreter Mo Minter, LWT Board Chair Nancy Alexander, Managing Director Kit Ingui, Artistic Director Jacob Padrón, and Arts Consulting Group Vice President Calida Jones. Al Larriva-Latt Photos.
When Melanie Wolf of Westville heard that Long Wharf Theatre was leaving its home of 57 years in June, she saw the potential to give New Haven Public Schools (NHPS) students closer access to the theater.
When Faith Barrington of Branford heard that Long Wharf Theatre was leaving its home of 57 years in June, she wondered what the theater was going to do with the millions of dollars worth of equipment in its Sargent Drive building, including the lighting system.
Both were attendees at Long Wharf Theatre's third hour-long "town hall," held in person Saturday afternoon at the Mitchell Branch Library in New Haven's Westville neighborhood. In addition to Long Wharf Artistic Director Jacob Padrón, Managing Director Kit Ingui, Board Chair Nancy Alexander, and Institutional Giving Consultant Ann Hamada-McLaughlin, 21 people attended.
The meetings are meant to open the floor to feedback in the wake of Long Wharf's announcement that it will be ending its lease and leaving its longtime home at 222 Sargent Drive this year.
Arts Consulting Group Vice President Calida Jones, who is herself a violinist and serves as president of the Connecticut Arts Alliance, facilitated the meeting—as she has done for two virtual town halls held on Zoom (read about those here and here). Mo Minter provided American Sign Language interpretation. As the theater's first in-person town hall, it also marked the first chance for community members to speak outside of a chat box.
"Hold on to the hope and the vision and the dreams that are living inside of Long Wharf Theater," Jones said at the top of the meeting. "You all are part of that, you are all part of the legacy–and that's huge."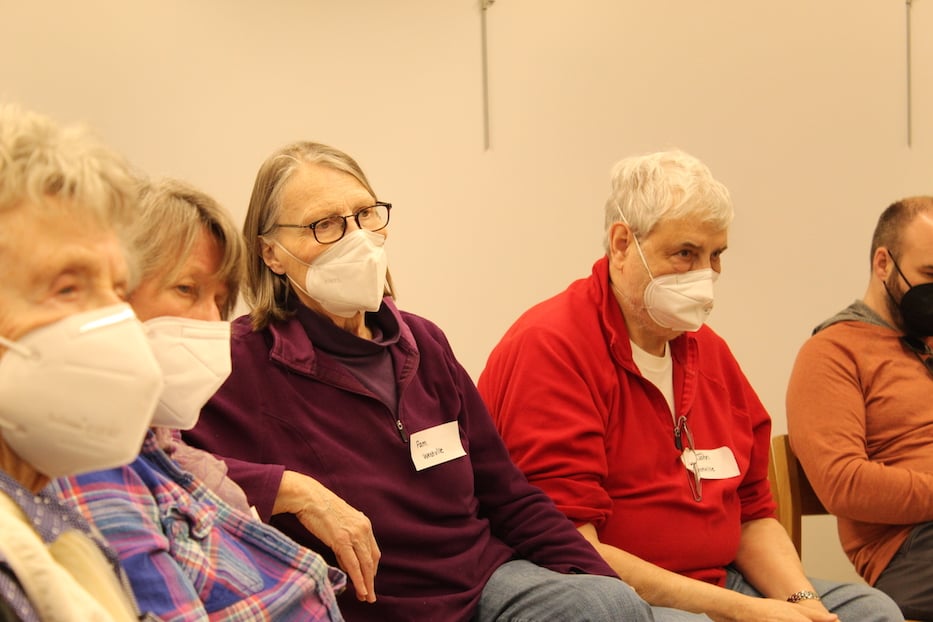 Pam Stanton and John Sawyer. Al Larriva-Latt Photos.
Attendees—the majority of whom were white and over the age of 50—comprised longtime season ticket holders, patrons, educators, and donors. A few had ushered for or acted in past Long Wharf plays. Others were former art or theater teachers. They came from all over the state, some from as close as Westville and others from Hamden, Milford, and West Hartford.
From the beginning, some were reticent, others optimistic. All appeared to be united in a shared investment in the future generations of artists, performers, and theater-goers.
Wolf, for instance, turned her thoughts and comments to the future of theater for young people and particularly students in New Haven. She was a special education teacher and department chair in New Haven's schools for many years, and her daughter taught theater at Betsy Ross Arts Magnet School. As a longtime theater-goer at Long Wharf, one of her favorite parts of the experience was seeing local youth in attendance.
"There was always a group of kids way up on the left of the top two rows. And they were usually high school or college or middle school kids," she said. "That's so so important to me."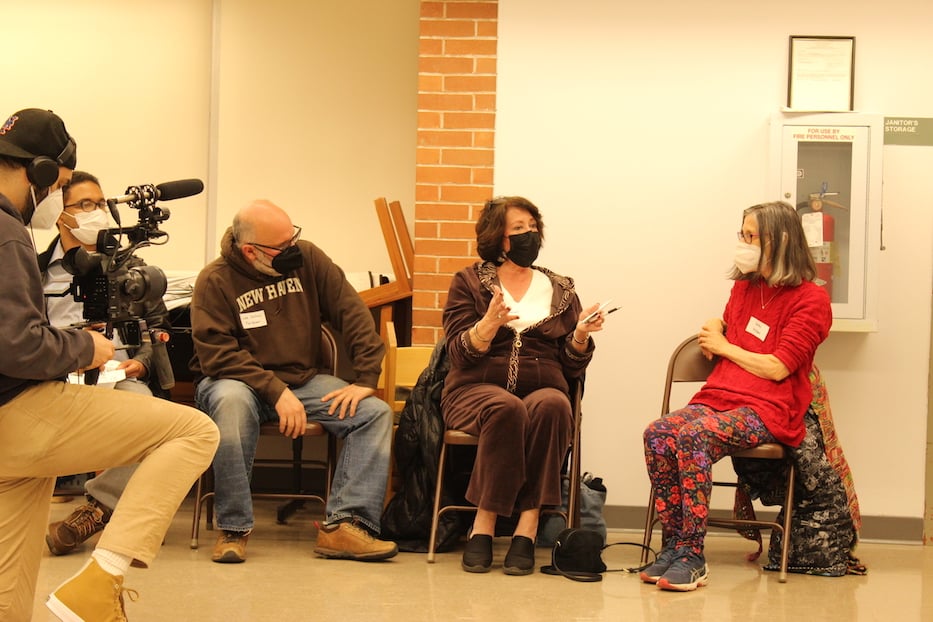 Bonnie Pelaccia (at center): There is just such a discrepancy between those that do and those that don't." She is flanked by Fair Havener Lee Cruz and Betsy Ratner.
Bonnie Pelaccia, a Milford resident and a founding member of the Orange Arts Council, saw the possibility of using the theater's educational resources to jumpstart chronically underfunded theater programs in the New Haven Public Schools (NHPS). Currently, most of the city's programs run on shoestring budgets, with teachers who dip into their own paychecks for set pieces, costumes, and even equipment. Some programs, like James Hillhouse High School's drama club, laid dormant for years.
"Would you be behind helping them put on productions as a whole other angle of reaching and teaching?" she asked. "Because some schools don't have art programs and some do. There is just such a discrepancy between those that do and those that don't."
There were nods and sounds of agreement from the audience.
"What I'm hearing from this group is the critical importance of supporting the next generation of theater-makers, theater-lovers, and making sure that we are deeply intentional and connected to our youth," Padrón said.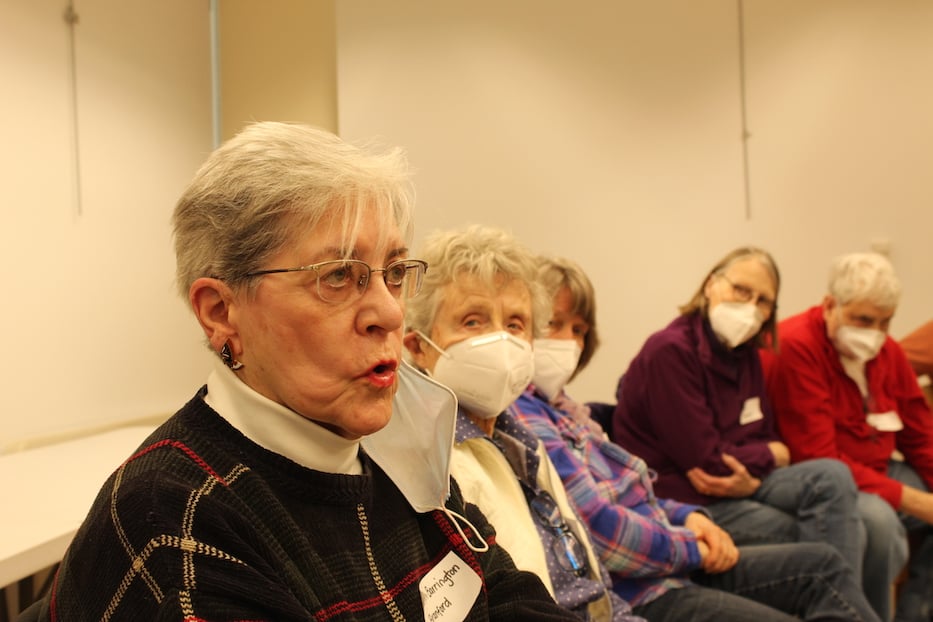 Faith Barrington of Branford.
Barrington said she was troubled by the hundreds of thousands of dollars that families, including her own, had invested to update and modernize the Sargent Drive theater.
Alexander reassured attendees that the theater's staff will be bringing as much of its equipment as possible with them, with the hopes of eventually reinstalling it in a new campus location, to be determined in the future. In past discussions with Arts Paper, Ingui has emphasized that Long Wharf will not be looking for that permanent home for at least the next three to five years.
"Everything is coming with us," Alexander stressed. She then added, "There is very very serious thought and exploration already happening about where we might land as a theater campus in the future. We're going to take a little time to explore that with folks like you."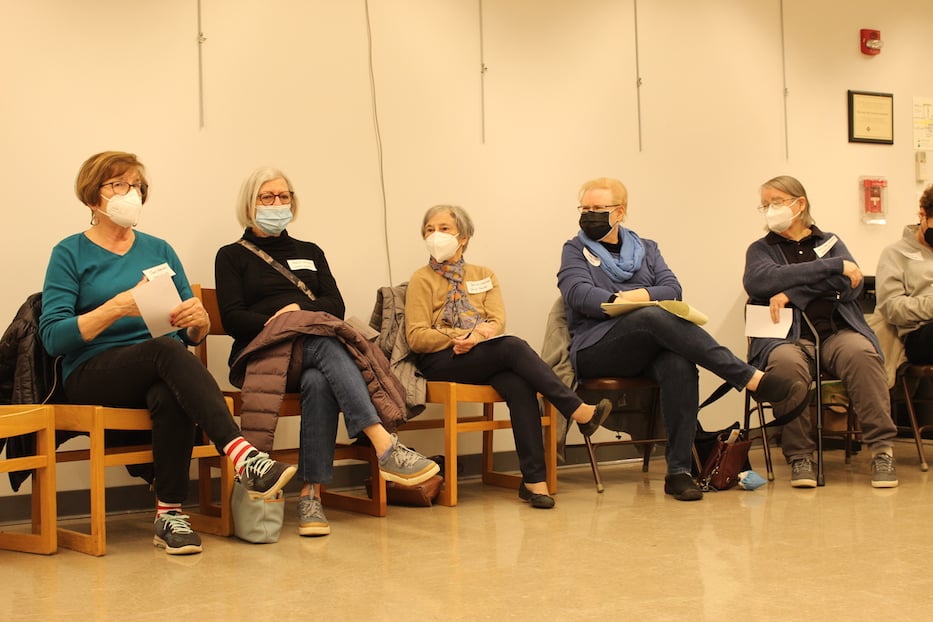 Padrón hedged Alexander's statement, implying that the process might end in a campus—or it might not. In a phone call Monday afternoon, Alexander also clarified that Long Wharf's future in regards to a campus is uncharted. What is charted, she said, is the theater's intention to continue engaging the community.
"If at the end of our process of creating and building with community, we get to a campus—wonderful," Padrón said. "Right. But at least it will have been built with that input of the communities."
Questions about the equipment were on multiple attendees' minds. Pam Stanton wondered whether the hearing loop system would also be coming with the theater as it moved into itinerancy. She noted that people with hearing impairments, including herself, rely on those systems to hear a productions' score, sound effects, and actors' lines.
Padrón agreed, noting that the theater has also been working to accommodate its theater-makers' accessibility needs. He referenced the work of Ryan J. Haddad, a member of Long Wharf's artistic ensemble with cerebral palsy.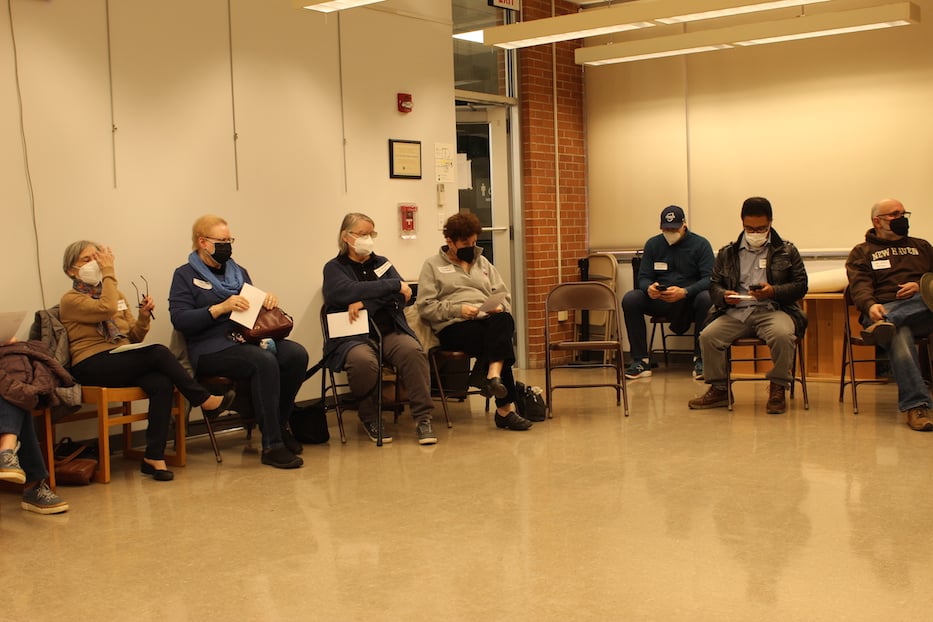 Sue Weisselberg of Westville brought her perspective as a former coordinator of the NHPS construction program. For years, she helped build and renovate schools, including their theaters. She wondered whether Long Wharf would consider using the variety of theaters, auditoriums, and school facilities across the NHPS. She pointed to the auditoriums at Cooperative Arts & Humanities High School downtown and Fair Haven School on Grand Avenue, the latter of which hosted opera in the 1930s.
Weisselberg also envisioned an outreach opportunity for schools without theaters.
"In different neighborhoods, not every school has an auditorium or theater, but they are in different parts of the city and they also allow for a different relationship with the students," she said.
Ultimately, the town hall appeared to be an exercise in attendees and Long Wharf leadership and staff listening to and at times disagreeing with one another—while making room for multiple perspectives to coexist.
Long Wharf leadership assured attendees that it is in the right position to be prioritizing these talks.
"Nothing is done, we can't stop fundraising and still be successful, but we're in a position where we can move forward, try something, maybe even fail a little bit, and still be okay," Alexander said.
The meeting ended in applause.
Long Wharf will be hosting its next town hall on Thursday, April 7 at 222 Sargent Drive. Register here.