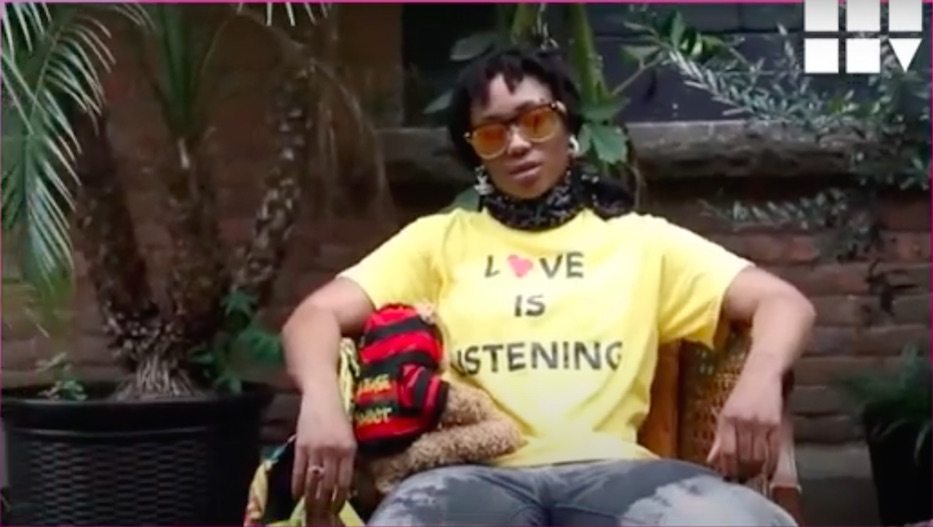 LGBTQ | Arts & Culture | New Haven Pride Center | Elicker Administration | COVID-19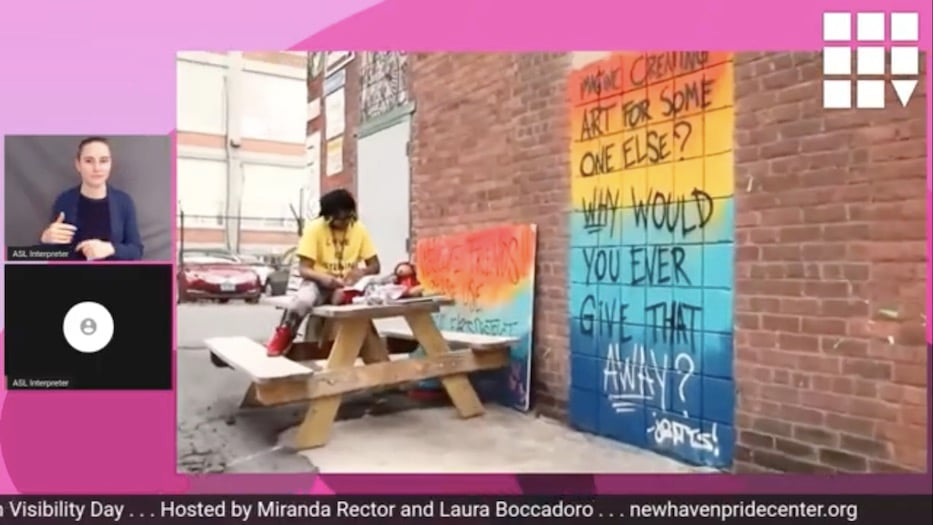 One one screen, Anne Gogh held the audience with every word, vocals climbing as she sauntered towards the camera. On another, Patrick Dunn painted a vision of New Haven where queer voices always have a seat at the table. Both showed how the New Haven Pride Center, working from a quiet basement on Orange Street, has broadened its reach within the city during a global pandemic.
Monday night, members of the center fêted Lesbian Visibility Day two ways, with both online programming and a step towards LGBTQ+ representation in City Hall.
Early in the evening, Executive Director Patrick Dunn came before the Aldermanic Affairs Committee to answer questions about his nomination to New Haven's Cultural Affairs Commission, which if approved would have him join as early as June. Less than an hour later, Women's Program Officer Miranda Rector and Administrative Coordinator Laura Boccadoro unveiled the center's first "Sapphic Social'' via Facebook Live, YouTube and Twitch.
"While we can't come together in person just yet, we can connect online," Rector said. "And that includes shared experiences like this."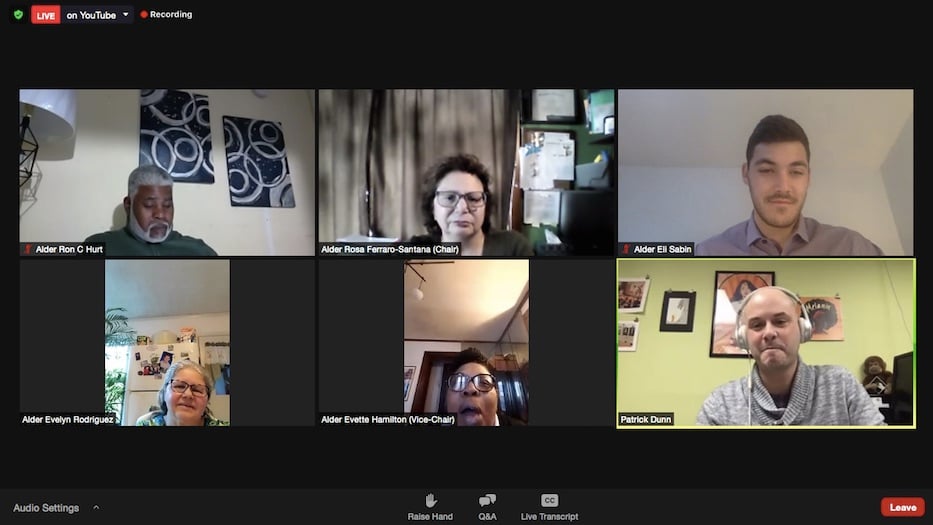 The evening began on Zoom, as members of the Aldermanic Affairs Committee filed in from their homes to interview nominees for City Plan, Humane, Historic District and Cultural Affairs Commissions among others. Dunn, who has served as the Pride Center's executive director since 2017, has already been vocal about his willingness to serve on a city commission that skews overwhelmingly white, heterosexual, and older. When Edgewood Alder Evette Hamilton asked him why he wanted to join early in the evening, he beamed.
After working with Cultural Affairs Director Adriane Jefferson for "150 years at least" in their different roles—he at the International Festival of Arts & Ideas and the Pride Center, she at the state and then the city—he's excited about her focus on cultural equity. He pointed to his own work as an artist, performer, and event producer at the Pride Center. During the pandemic, he has continued to run those events online, curate in-person art exhibitions, and perform in drag as Kiki Lucia.
"Oftentimes, the art that I do is not considered art by many folks, and unfortunately the work that the New Haven Pride Center does in the arts and culture sector is not classified as arts," he said. "When I approach equity, particularly in arts and culture, I think of it through the lens of someone who is often kept out of those spaces, both as a professional and as an artist."
"I was wondering if you could talk a little bit briefly about equity in culture and arts and how you want to bring that to the city," said Downtown Alder Eli Sabin.
Dunn explained that he sees equity work from the intersections at which he stands. In addition to being an openly queer man and vocal advocate of LGBTQ+ rights in Connecticut and across the country, he is an observant Muslim and a product of multiple nations. Years after making his home in New Haven, he still has one foot in the U.S. and the other in Turkey.
"For me, the way that we will find true equity in our city is recognizing that there's many, many, many different beautiful forms of arts and culture," he said. "Many which are not recognized or [are] thrown away as being crafts or hobbies. It's important to remember that art comes in every shade of the rainbow."
"Happy Lesbian Visibility Day!" he added before popping offscreen. As alders continued interviewing candidates, Dunn put on his producer hat and slid behind the controls from his desk at the Pride Center.
Less than an hour later, the space was getting sapphic on screen and in households across Connecticut. Performing against a backdrop of paintings, Hartford-based poet Versatile Poetiq wove a line from systemic racism, intersectional identity, heteropatriarchy and heart disease with her poem "Triple Bypass" (watch it in the video above).
She pushed on to her second poem, then gave a quick history of spoken word and snapping, as Rector and Boccadoro snapped silently in their one-inch boxes. Rector asked what message she wanted to leave with queer women on Lesbian Visibility Day.
"You matter!" she said to listeners. "You're the sugar honey iced tea—and you're not alone. Even if you feel that you are alone, you're not alone in this world. So be you, stand up for you and what you believe in."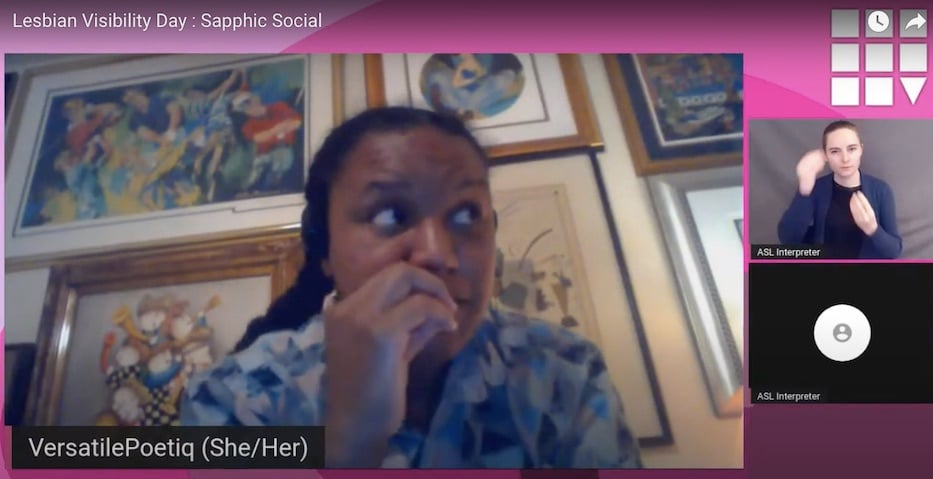 Poetiq kicked off an evening of celebration that bridged the distance. Lifting her guitar in a t-shirt that read "Human" against a rainbow background, singer-songwriter Carrie Ashton serenaded the audience with a few originals, talking between songs as if she was back in a low-lit theater. As she belted, an American Sign Language (ASL) interpreter signed along to the song in the upper right corner of the screen.
"It's such a pleasure to be here, especially on a day like today," she said before finishing her set with a cover of Melissa Etheridge's "Come To My Window." Ashton, who came out at 19 years old, said that Etheridge was one of her early role models. As she played, sound ebbing and flowing through the computer, she walked a line between Etheridge's fierce original and a softer version that has always been underneath.
Fellow performers spanned media, using the online format to stretch the bounds of what they could do. In a video selection from Gogh, music came in techno-kissed and heavy on the bass before her vocals sailed over the track. Suddenly, she was on screen, moving to the music. In one cut, she sat wide-legged in a chair, commending the space. As the tape moved to another track, she climbed a ladder, spinning lyrics against a purple-soaked mural. As the video rolled, emoji-studded comments filled the chat.
"Don't dim your light," she said. "Like, don't ever dim it. No matter what you may feel, you think, don't dim it. Just shine. Just shine. Like, always."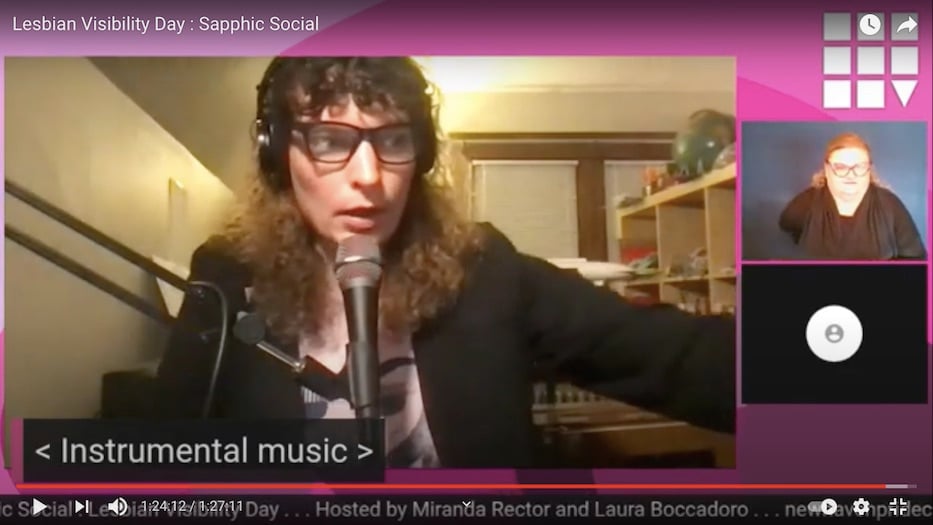 In between trivia questions (before Amazon was a corporate giant, did listeners know that it was a feminist bookstore cooperative?) and performers, Rector and Boccadoro laughed, chatted with each other and the audience, and sourced suggestions from performers on how to make the most of lesbian visibility both Monday and every day.
When she appeared as the night's final performer, Maia Leonardo brought the message home. The musician and organizer, who also performs as Juno Hawke, dropped the album Agony and Ardor last year. She works as the marketing and development coordinator at the Pride Center.
Before synth wrapped the room and spilled from her speakers, Leonardo told the story of preparing to get her hair done, which she is doing this month for the first time since the pandemic hit New Haven. For a moment, she said, she started questioning whether her hair defined the kind of lesbian she was able to be.
"I was creating all this stuff about 'Do I need short hair to be a butch?'" she said as Rector audibly burst out laughing. "Are long-haired butches valid? Yeah. I came across something, an Autostraddle article, that was like—you're butch when you say you're butch. You're lesbian when you say you're a lesbian. You're a femme when you say you're a femme. You're a futch when you say you're a futch. And you're anywhere along the lesbian presentation spectrum when you say you are."
"However you choose to define yourself is totally valid and worthy of celebration," she added. "There's no such thing as queer enough, or bi enough, or lesbian enough. However you express your queerness is totally valid."
Back in another city Zoom meeting, members of the Aldermanic Affairs Committee unanimously approved Dunn's recommendation. It will now go to the full Board of Alders for a final vote of approval on May 3 at 7 p.m., just a few hours after the commission's May meeting.