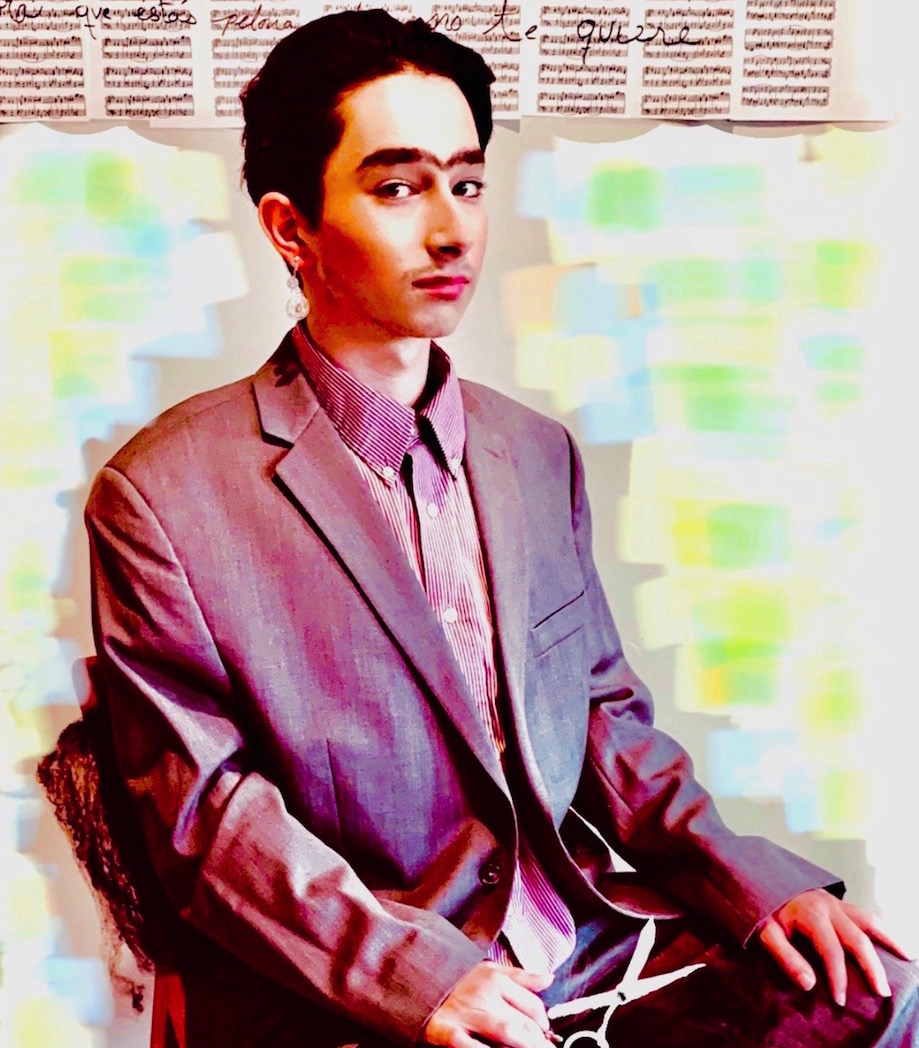 Music | ARTE Inc. | Arts & Culture | Visual Arts | COVID-19 | Hispanic Heritage Month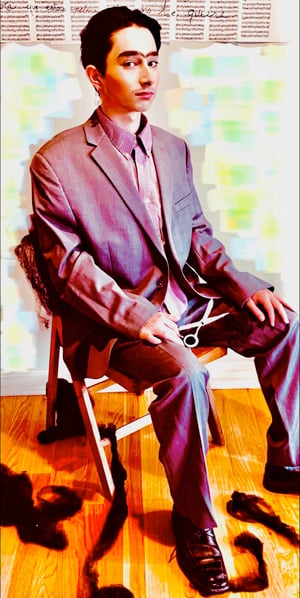 The boy is sitting in the chair, his eyes fixed on the viewer. His hands rest on his knees, framing a pair of scissors. Behind him, the wall is a wash in green, blue and yellow paint, full of light. Scribbled text appears above his head, a scrawl on top of music notes. Locks of brown hair sit on the floor, curled and bunched as if they were moving not that long ago.
Kaleb Diaz' take on Frida Kahlo's Self-Portrait With Cropped Hair (pictured to the left) is one of the winning entries in Arte, Inc.'s virtual CopyCat Art Contest, one of the culminating events in its virtual celebration of Hispanic Heritage Month. Last week, the Fair Haven nonprofit announced the winners of the contest and performance challenge, both designed to give students an educational and creative outlet as schools remain remote.
"I think these kinds of things are extremely important," said David Greco, who co-founded the organization with Daniel Diaz in 2004 and serves as its executive director. "We try to talk to a lot of kids and families, and these kids are hurting. Especially because they can't be in school. So I think projects like this that can help kids escape for a little while, work on something else for a while."
In a regular year—which Greco said 2020 has been anything but—Arte's Hispanic Heritage Month celebrations are meant to yoke culture, history and education with a series of public events. Over the past 16 years, Arte has hosted exhibitions, special guests in the visual, movement, musical and culinary arts, educational talks, and a colorful booth at the Peabody Museum's annual ¡Fiesta Latina! Celebration. When COVID-19 hit New Haven in March, that formula no longer worked.
This year, Greco realized that everything would have to be virtual. In August, he and Diaz announced an online-only Hispanic Heritage Month lineup, running from early September through late October. The program was meant to build on the organization's pivot to online programming, which included a full summer session in July and August and an upcoming virtual Arte Saturday Academy that runs through the academic year. After a rocky start in April and May—Greco attributed that in part to lack of access to reliable technology among students—the organization found a sort of remote rhythm.
In preparation for Hispanic Heritage Month, they scheduled guests, solidified partnerships and virtual activities, and assembled close to 200 pick-up packets for a virtual science demo that was taught in real time. Greco also turned his attention to socially distanced art making. He pointed to the copycat art contest and performance challenge as a sort of stealth education: both encouraged students to go online and search for Latinx artists and musicians. The former in particular introduced students to artists with whom they may not have been familiar.
"We've been calling kids and families since the shutdown," Greco said. "We said: What can we do that can be nice, that can be fun for the kids? That's how we came up with the contest."
After the contest opened, Greco watched as local kids—and sometimes grown ups—riffed on artists Patssi Valdez, Diego Rivera, Frida Kahlo, Pablo Picasso, Rafael Tufino, Sixto Cotto and others. Educator Abie Benítez brought the living Puerto Rican artist Samuel Lind to life with her take on his Raquel, a bomba dancer in motion. Others posed as Cristal Gutiérrez' fierce Resist, which the California-based artist exhibited on International Women's Day this year. Less than a week later, the world had shut down around her.
Greco said that he and a four-person jury were so excited about the pieces that came in that they awarded Amazon gift cards to everyone who submitted, as well as a series of cash prizes to the winners. Ultimately, the organization gave out roughly $2,000 to artists of all ages. Judges included Urban Policy Strategies President Marta Elisa Moret, Arts Council of Greater New Haven Director Daniel Fitzmaurice, Arte, Inc. Board Member Richard Stephens and author Nancy Roldán Johnson.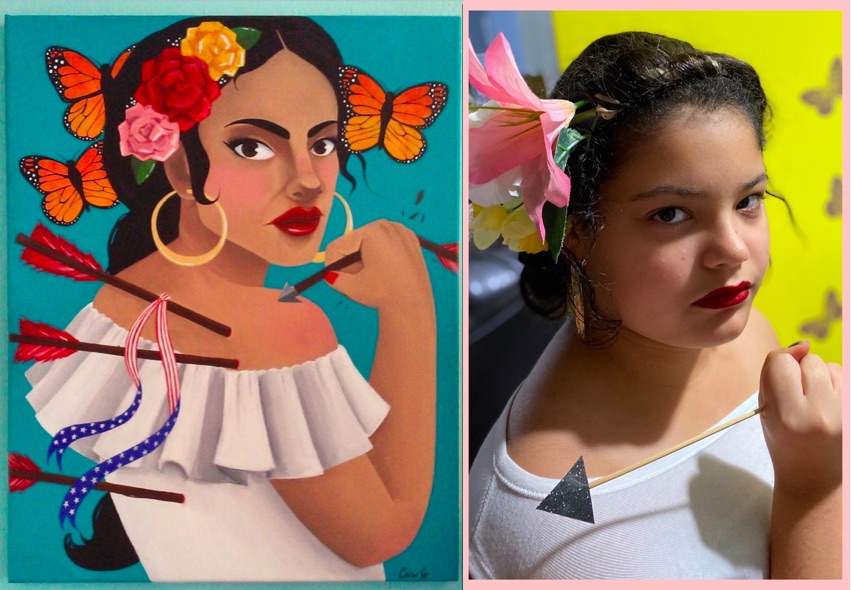 Left: Cristal Gutiérrez' fierce Resist. Right: Myriam Ayala.
Kaleb Diaz, who took first place, decided to enter the copycat art contest on a whim. A junior studying string orchestra at Cooperative Arts & Humanities High School, Diaz said he saw the contest as a way to learn about Latinx artists with whom he wasn't already familiar. While he likes visual art, he hadn't spent time specifically looking for Latinx artists—nor did he find them in his regular curricula. He recalled finding Frida Kahlo's 1940 Self-Portrait With Cropped Hair and staring at the piece in wonder.
"Everyone knows about Frida Kahlo, right? But I looked around, and when I saw this one, I just knew," he said. "I love this painting. I had never seen it before."
To prepare for the portrait, he did research on the artist's life and work, including her marriage to the artist Diego Rivera, dalliance with Leon Trotsky and lifelong relationship with chronic pain. He watched Julie Taymor's 2002 biopic on Kahlo, in which the actress Salma Hayek paints through a chronology of extramarital affairs, artistic brilliance and Kahlo's gender fluidity.
When he was ready to bring the piece to life, he worked with his aunt, Yvin Alvarez, to pull the piece together. The two spent hours doing makeup, gelling his hair carefully back, and dressing him in an oversized suit for the right shot. Only after he won did he tell his mom that he'd entered the contest in the first place.
"It's so great," he said. "I feel like I learned a lot about Frida."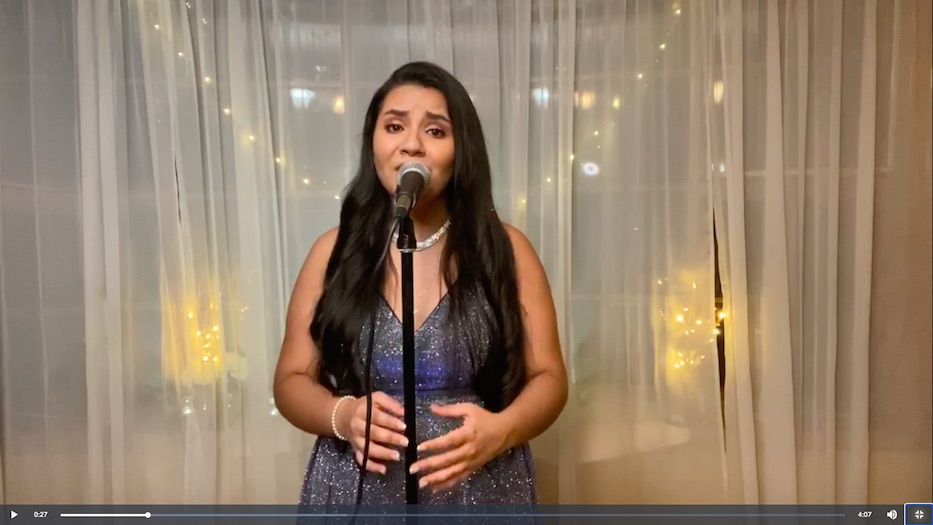 Across town at the same time, vocalist Gabriella Xavier was preparing her entry for Arte's performance challenge (watch it here), which ultimately took first place by popular vote. A junior at Wilbur Cross High School and the Educational Center for the Arts, Xavier chose "Por Ti Volaré," the Spanish version of Andrea Bocelli's "Con te partirò." As an aspiring classical vocalist, she follows Bocelli with something close to a religious fervor.
After performing the Italian version twice earlier this summer, she chose the Spanish as a way to pay homage to Hispanic Heritage Month and to her own family. Xavier's mom is Colombian, and her dad is Puerto Rican. When she sings in Spanish, she said she feels closer to her roots, which criss-cross the globe with family still overseas.
She added that because of the amount of Colombian and Puerto Rican pride in her home, every month is Hispanic Heritage Month—even though it's nice to have the designation.
When she prepared for the challenge, she tried to think of the performance as special "because it's more intimate," she said. COVID-19 has been hard for her and her family: she takes classes at Cross remotely, and had to cancel a trip to Puerto Rico to see her dad's family earlier this year. She praised ECA, but added that there are a number of restrictions on students because of the pandemic. When she took her place before a mic and closed her eyes to record, all of that went away.
"When I sing classical music, I just feel free," she said. "I love to share that with people. Growing up with those roots, it means so much. In my household, I'm speaking Spanish every day. I'm eating the food every single day. I carry that in my heart every single day."
"Winning, that was such an amazing thing," she added. "That was special. It was so beautiful. This program, this competition that they've created—it means the people of New Haven can come together and really share their talent together."
To find out more about Arte, Inc.' s Saturday Academy, click here.