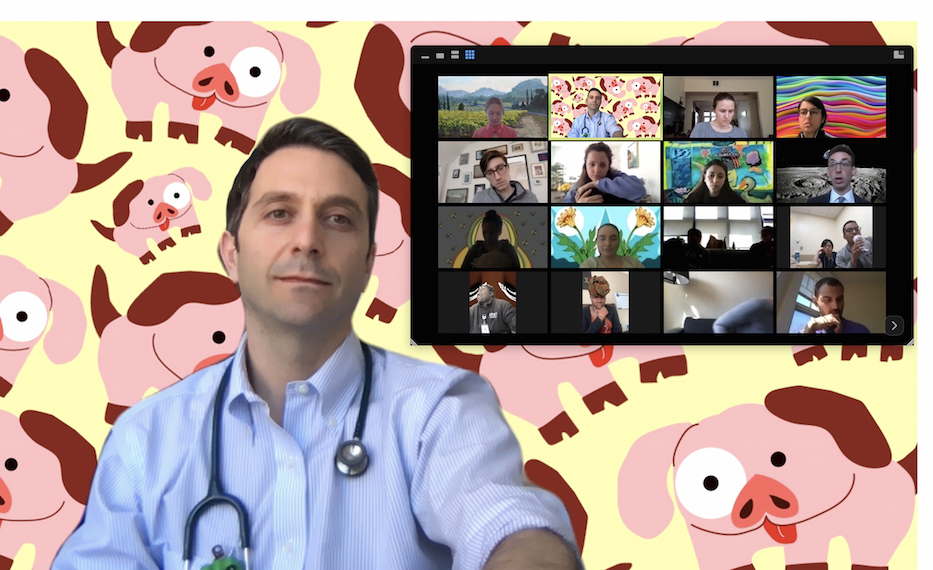 Culture & Community | Arts & Culture | Artspace New Haven | Public Health | COVID-19
Chen Reichert, Disco Pink. Images courtesy of Artspace New Haven.
The figures are dancing beneath a disco ball, legs moving in time with the music. Arms lift up. Fingers spread jubilantly, tips pointed to the ceiling. Across angular, blue and orange faces, slivers of smile explode. The ball spins on. Blue, orange, purple and green squares, winking from its round surface, shimmer just so.
The dancers aren't breaking any social distancing protocols, because it's all on a screen.
Chen Reichert's Disco Pink is one of over 50 backgrounds in Project Zoomie, a nascent and ongoing initiative from Artspace New Haven to improve the Zoom experiences of frontline healthcare professionals. It comes at a time when, in addition to providing critical care, they are spending time on Zoom talking to colleagues, friends, and families.
It is spearheaded by Artspace Curator and Gallery Director Sarah Fritchey and her partner Adam Berkwitt, a pediatric hospitalist at Yale-New Haven Hospital and an assistant professor of pediatrics at the Yale School of Medicine.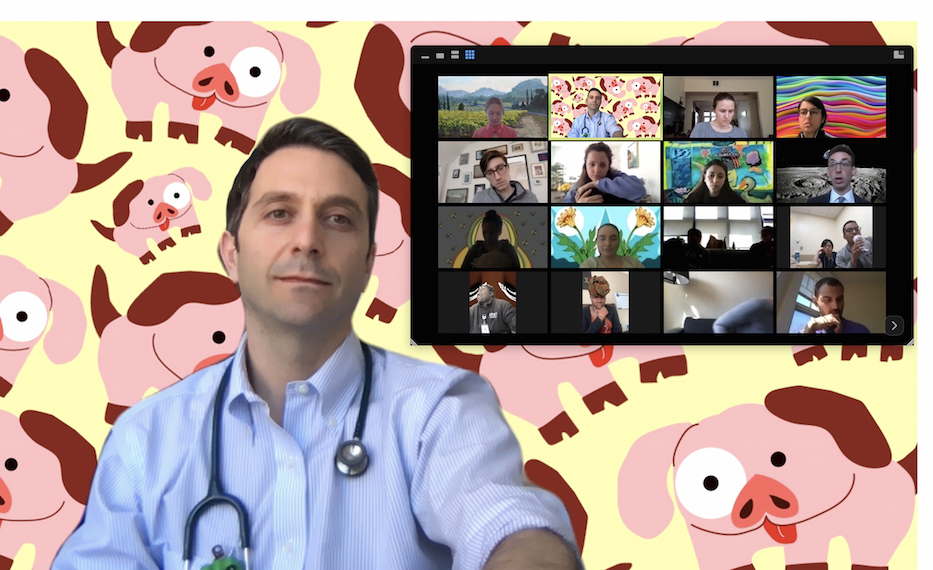 Berkwitt, with colleagues who are trying out different Project Zoomie backgrounds.
"To our healthcare workers," she wrote in a call for artists. "While we know that this creative action is the humblest of gestures, it will not save lives, nor will it give you the deep tissue massages you truly deserve, we hope that it will bring a little joy to your day. Please know that as you work in the trenches, we are thinking of you, care for your safety and are deeply grateful for your service."
The idea was born close to a month ago, as YNHH prepared several of its doctors for a surge in COVID-19 cases at the hospital. Berkwitt, who generally works with kids, was taking a crash course on how to treat adult patients. For almost an entire weekend, he and his colleagues were glued to a screen, their faces suspended in inch-high boxes with white walls and home offices in the background.
In between harrowing bits of information—that "there aren't enough rooms, there aren't enough beds," she recalled hearing—Fritchey watched Berkwitt and his colleagues slog through hours of online meetings. There was no privacy for doctors taking Zoom calls from their homes, as their personal and professional spaces were collapsed onto each other. By the end of the weekend, the two agreed there had to be a better way.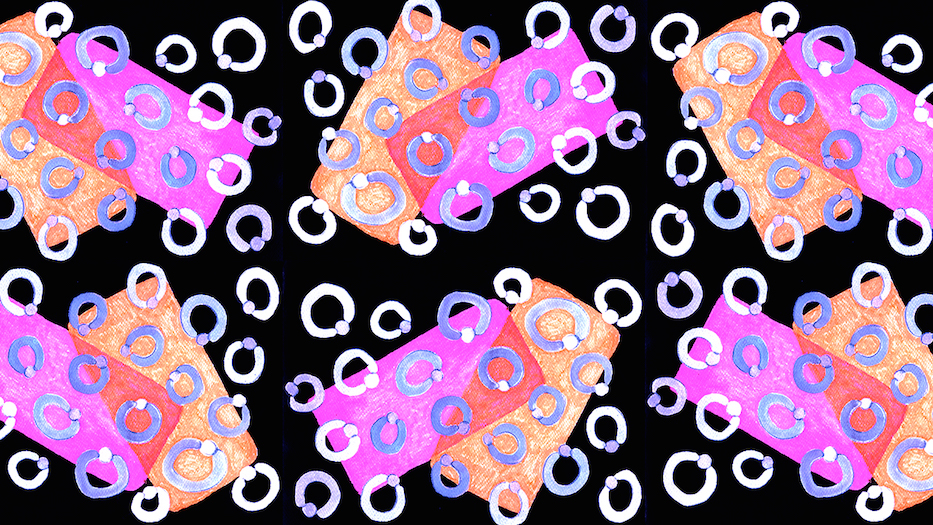 Cayla Lockwood's Hot Topic. Image courtesy Artspace New Haven.
"It's very stressful," she said. "You need something to be uplifting. We came up with this idea of having artists design backgrounds. You can have hospitalists talking about protocol, and all of a sudden there's a group exhibition on their screens."
As soon as the two put out a call, backgrounds started flooding Fritchey's inbox. Many of the artists live in New Haven and have exhibited at Artspace; others read about Project Zoomie over social media and sent in designs from states away. Fritchey said they were all eager to help with a small gesture of visual art.
She acknowledged that the project may come at a liminal time for artists as well: as workers in the gig economy, many have lost their jobs and are figuring out how they will make ends meet. Others are navigating virtual schooling and how to practice while taking care of young kids and immunocompromised partners.
The images now build a wild virtual library, where frontline providers can choose from subdued abstractions, still life paintings, cacophonous riots of color and several moving images. Each has a story to tell: a sketch from Kwadwo Adae's Women's Empowerment Mural catapults viewers back to a time when the community could gather to paint, no protective gear required.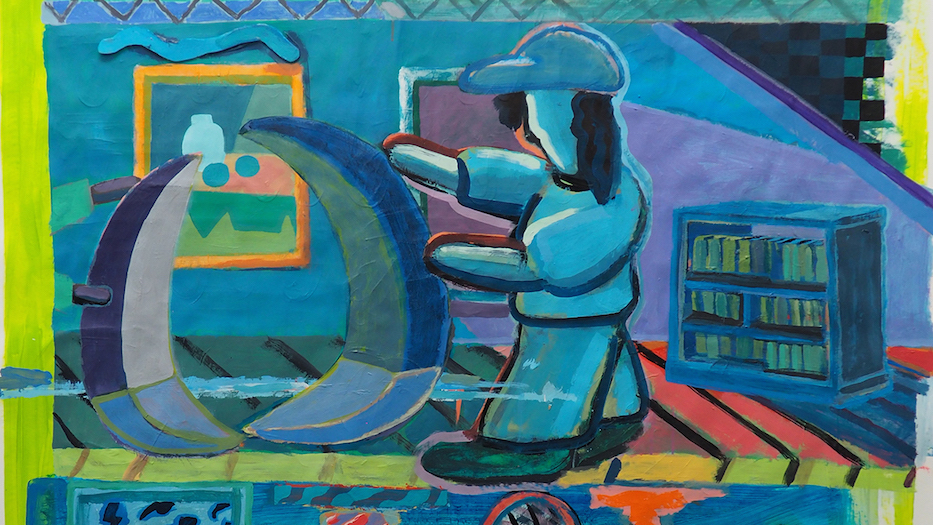 Noé Jiminez, Slice of Heaven 2. Image courtesy Artspace New Haven.
Noe Jimenez' Slice of Heaven series, bathed in other-worldly color, reminds people that there is a technicolor world outside hospital walls and home offices, and it will still be there in a few months. Nina Yuen's Glove, a drawing of tens of gloves arranged neatly in a rectangle, feels a little on the nose in a moment of dwindling personal protective equipment (PPE) and MacGyver-esque approaches to homemade safety measures.
Others are meant to transport viewers to a happier moment in time and space. Reichert's punchy Disco Pink and Piggy Puppy, of which Berkwitt is particularly fond, have become favorites for end-of-day meetings. Westville artist Frank Bruckmann's Provence, an oil painting that he completed during a 10-month stay in France with his family last year, puts its user in front of a sun-kissed vineyard in southern France.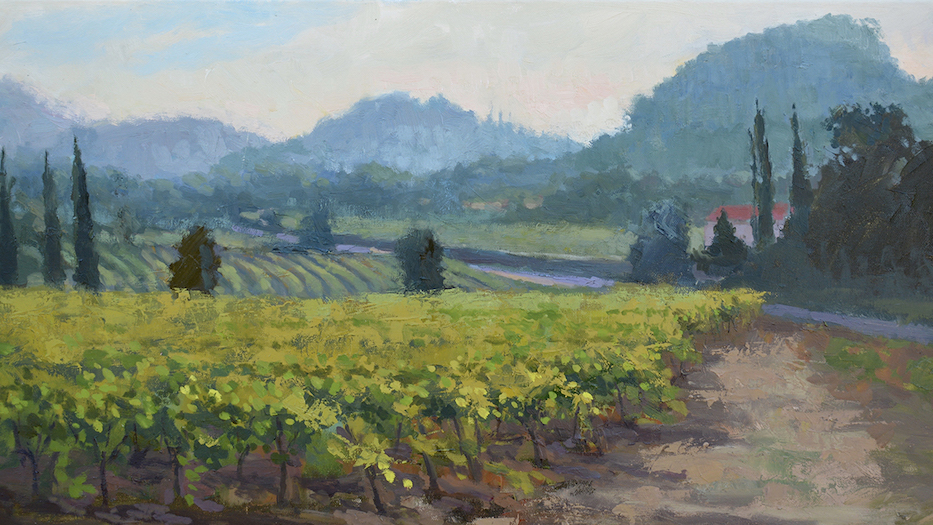 Frank Bruckmann, Provence. Image courtesy Artspace New Haven.
For Bruckmann, contributing to the project felt natural. While the shape of his life has not been significantly changed by the pandemic—he has added an iTour of his show at Kehler Liddell Gallery in the absence of visitors —he said he's been watching the world change around him.
"When I heard about this, I thought, 'This is for the doctors and the nurses and all these people who are trying to hold things together,'" he said. "They are putting their lives on the line. I've got so many images that are bucolic images, landscapes. It was an easy thing to do."
He said he's particularly grateful for the frontline workers keeping New Haven running, particularly as he hears about limited supplies of PPE. Last week, a fellow Westvillian stopped him—at a distance—while he was out walking his dog, just to let him know that she'd used the background during one of her conferences. It had helped her get through the day.
Besides, he added, "who wouldn't want to be in the south of France?"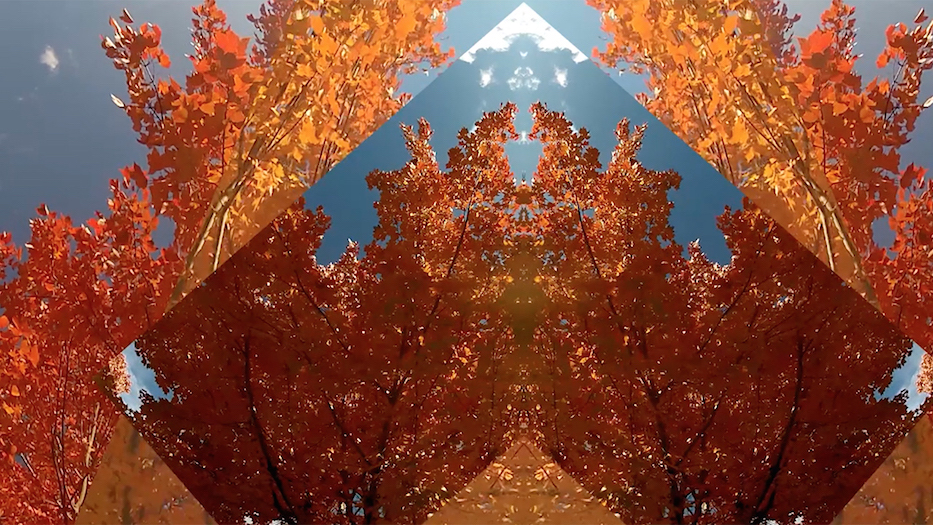 Lani Asuncion's Fall Kaleidoscope, which is presented with still and video options. Image courtesy Artspace New Haven.
Artist Lani Asuncion has also taken the viewer back in time, not to France but to a warm New England fall that feels much further away than several months ago. In her video Fall Kaleidoscope, of which there is also a still image, Zoom users watch as a screen blooms with triangles, half-diamonds and cutaways of burnt orange leaves, stark against a New Haven sky.
Sunlight filters in through the branches. A crunch underfoot, followed by the dank and stringent smell of wet leaves, seems almost within reach.
As a studio manager at the School of Fine Art at Tufts University, Asuncion is used to being on a screen—it's how she takes a lot of her meetings. But, she said, she can't imagine that that's true for many of the healthcare professionals and frontline workers in her life. Fall Kaleidoscope came out of a collaboration that she did last year with artists between Berlin and Sarasota, Florida. She said the finished product, an image of fall in New Haven, felt right.
"I hope it just kind of creates a different environment," she said. "The stress and the depression and the reality is so heavy. At least it can create a little bit of privacy. Physicians do not have a safe and private space."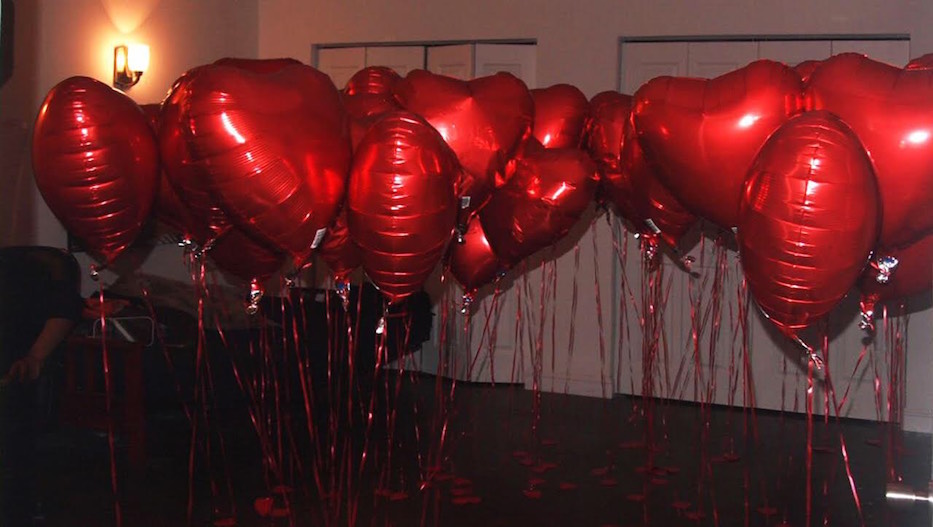 Joe Bun Keo's submission. Image courtesy Artspace New Haven.
Joe Bun Keo, who normally works as a preparator at the Wadsworth Atheneum Museum of Art, said it was a project in which he was excited to get involved. As a practicing artist and as a dad, he watched as COVID-19 turned the world on its head in a matter of days.
He classified himself as lucky: the museum has found work for him to do remotely, meaning he's still making money. Many of his friends aren't in the same boat. His submission, a photograph of a few dozen heart-shaped balloons, pays tribute to the millions of essential personnel who are still reporting to their jobs each day.
"I think what we're all going through is pretty chaotic," he said. "Whether it's the associates working at WaMart, the police and firemen, the healthcare professionals at ground zero ... let's spread some levity and some positivity into this paradigm shift that we're doing through."
He added that he is hopeful that COVID-19, which has exposed the precariousness of employer-based healthcare, worker rights, economic stability, and uncompensated domestic labor, will result in a shift in how the U.S. treats its employees and healthcare workers alike.
"We're still humans and we're still looking to find that light at the end of the tunnel," he said. "We're all going through this together. These projects, as small and modest as they may be, are meant to have some semblance of hope. This too shall pass."
To find out more about Project Zoomie or to contribute, check out Artspace New Haven's website. Participating artists currently include Althea Rao, Aude Jomini, Barbara Marks, Binwanka, Cayla Lockwood, Chen Reichert, Crystal Heiden, Dan Gries, David Borawski, David Livingston, Eben Kling, Ellen Hoverkamp, Frank Bruckmann, Gar Waterman, Greg Garvey, Joan Fitzsimmons, Joe Bun Keo, Kwadwo Adae, Jeffrey Gangswich, Lani Asuncion, Linda Lindroth, Margaret Roleke, Mark Mulroney, Megan Craig, Michael Quirk, Noé Jimenez, Philip Lique, Stephen Grossman, Susan Clinard and Tracie Cheng.