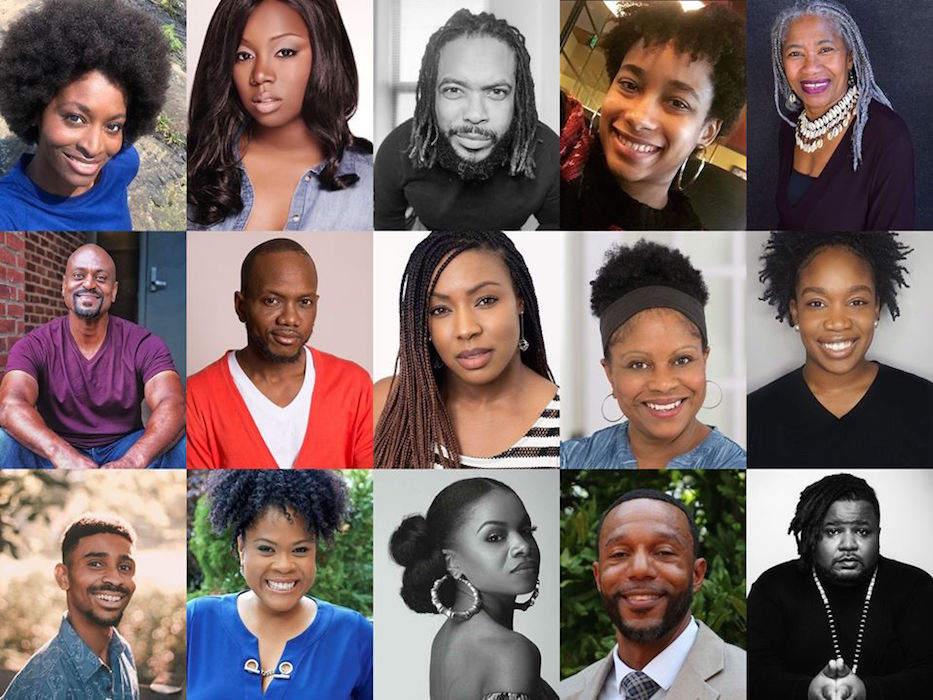 Arts & Culture | Theater | Black Lives Matter | Sharece Sellem | COVID-19 | Arts & Anti-racism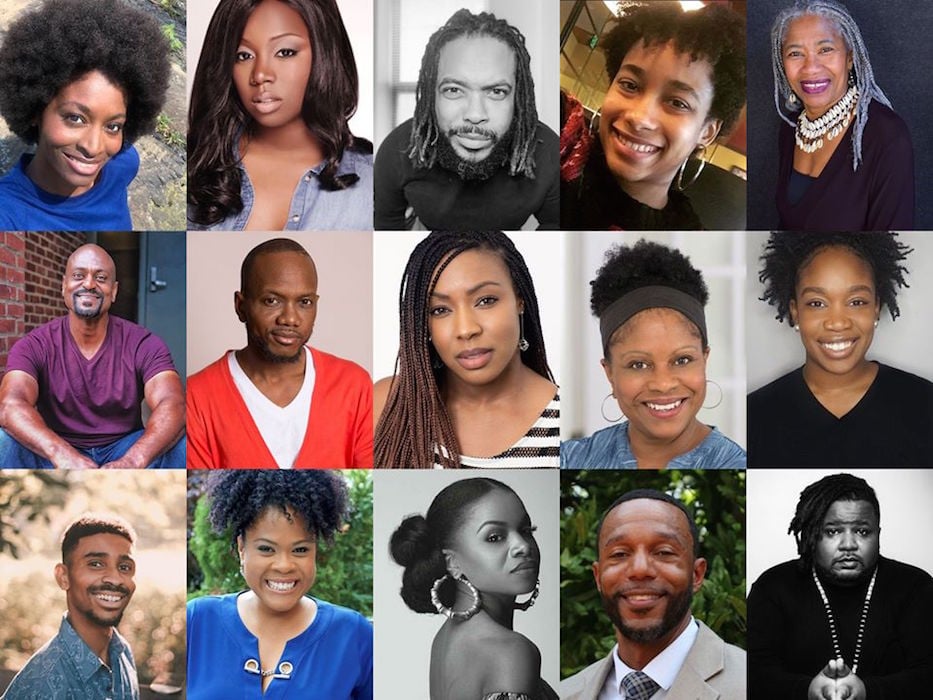 Vintage Soul Productions Photos.
A man leans back in a desk chair with a creak, then looks into the camera. There's a glass of scotch bourbon in his hand. A cigarette hangs between two fingers, sending streams of white smoke into the air. Time seems to slow down. Jazz plays softly. Everything is soaked in blue light.
"Say her name," he says into the camera, and the frame shifts to just his mouth. "Sandra Bland. Breonna Taylor. Shante Davis. Fannie Lou Hamer."
A beat. He re-lights his cigarette with a crackle. "Say his name. Amadou Diallo. Tayvon Martin. Tamir Rice. Ahmaud Arbery. George Floyd. Emmett Till."
Chris Regent is one of 10 actors and five playwrights in the latest round of the Quick Quarantined Play Festival, dedicated to honoring Black voices in a theatrical landscape that does not always make room for them. The festival, started by playwright and director Sharece Sellem in early April, invites playwrights and actors to create, memorize, block and perform work from quarantine within two 24-hour windows (one day for the playwright, one day for the actors). It is a project of her theater company Vintage Soul Productions. The tenth round took place last weekend.
Throughout, Sellem has encouraged playwrights to be nimble, using the space as an open forum to talk about the past, present, and potential future of COVID-19 in the U.S. and the sheer weight of job loss, unemployment, and sick family members. After the murder of George Floyd by Minneapolis police earlier this year, she dedicated round eight entirely to social justice, pairing Black playwrights with Black actors.
In late June, she announced that the tenth round would be dedicated exclusively to Black voices. The round was supported by Bregamos Community Theater, Coalescence Theatre Project, and the Arts Council of Greater New Haven.
"Theater, we need to do better," she said in an announcement before the festival. "Simply saying, Black Lives Matter, Black voices matter, is not enough. We need to be elevating voices, local voices, of Black people, so they can share the experiences of Black lives."
"So please," she continued. "When you are thinking about putting your seasons together, when you're thinking about programming, if you're truly trying to serve your community and you're trying to honor what you have put in your grant applications, consider elevating local Black voices."
In the ten works that emerged, which together run just over an hour, playwrights and actors take on the current moment with wit, poetry, humor, honesty, candor and nuance, often addressing the parallel pandemics of COVID-19 and racism. They make clear the point of the festival: to not only raise up Black voices, but to reveal the cracks and fissures that will continue to exist if mainstream, overwhelmingly white American theater continues to exclude them.
In IfeMichelle Gardin's Black Lives Have Always Mattered, Regent is suspended somewhere between spoken word and philosophy, memorializing the prematurely dead as he folds in excerpts of James Baldwin's Notes On A Native Son. He delivers the monologue from a single spot, in a voice that hushes and booms.
Deftly, Gardin grafts Regent's life onto Baldwin's, showing how a truth that Baldwin often returned to—that to be Black in America was to be "in a state of rage almost, almost all of the time, and in one's work"—still holds true decades after it was first written. Regent, who is a host of the podcast Highly Melanated, performs the entire monologue drenched in blue-light, as if he should be in a jazz club or music venue rather than his home office. Occasionally, a band of pink-red fluorescence slips in.
"When Black people are outraged and protest, and take down fake heroes of your history, it's a result of our story of being here, in these disunited states," he says at one point. His voice is cavernous. "Black lives have always mattered."
He uses the entire space: in some shots, he comes so close to the camera that only his lips and mouth are pictured. In others, he affords himself a long stare while his mouth draws out the final syllables of a word. Close to the end, small frames appear, so that multiple frames of his face fill the screen. It's a sequence that asks to be watched multiple times, long after he has faded from the screen.
Almost all of the scripts take on the current moment, sometimes with choice words for well-meaning white allies, white people who do not understand their whiteness, and Black people within the Black Lives Matter movement. Across ten works, there is room for all of it: the poetry, the grief, the calls to joy, the dreaming, and the need to rest.
In Terrence Riggins' The Inside of Hate, actress Valerie Brookshire channels the very real cost of white supremacy, playing a grieving wife who refuses to cry for the news cameras that sit in front of her. Her husband has been killed by police in a crosswalk they once used as kids. In her words—which are of course also Riggins' words—are the normalized, state-sanctioned murders of Black men and women that have become a trademark of white America.
"There is enough spectacle being made of murder and grief," she says, steel in her voice. "Too many people performing hate. Too many of us left behind making a public showing of our grief."
Riggins' love of language and myth shines though: he spins a world in which due process is possible, and then snatches it from the viewer just like that. His text is poetic but never florid; by the time he takes on police brutality by name, it is a prayer.
Performing Lori Sinclair Minor's A Day Off, actress Tamika Pettway plays Jheri, a mother to three Black children who has chosen to take a vacation day for herself and her family. As she describes exhaustion, emotional pain, and a total lack of understanding from her white coworkers, a familiar feeling settles in. While the monologue is delivered from a single spot, Pettway has an ability to transport her listener to exactly the moment she is describing.
"We all feel we've gotten too heavy," Jheri says right to the camera. "Not our Blackness. That never gets heavy. That's always light and gorgeous, grand. But the burdens that have been placed upon our skin have become too much."
In under four minutes, Minor world builds: viewers learn that Jheri's son is a spoken word artist, that her family has been out protesting, that her white coworkers are oblivious. The playwright does not pull punches: While Jheri's day off is a call to rest as resistance, it's also a cautionary tale of white supremacy's glaring, sometimes lethal blind spots.
Minor seems to be asking the viewer: Are you Jheri? Are you her son or her twins? Or are you one of the people who has left her running on empty? If you're the third, what are you going to do about it?
Others are magical, conjuring ancestral spirits, pushing back on white narratives, and speaking truth to power. Jacque Simone communes with the ghost of Josephine Baker. Rain Raphael manages to be a revelation while talking about moving houses and finding pancake syrup. In Bryan-Keyth Wilson's The Monsters Outside, Jason Hall speaks in whole paragraphs of harrowing poetry, conjuring the image of his heart trapped in a straight jacket.
In Isaiah Reaves' A Mother Speaks, a character named Joan (actress Katrina Mervin) addresses attendees on a screen, candid as she hosts a sort of Zoom meeting. That the viewer can't see her conversation partners doesn't matter: she's made everyone believe they're there.
Reaves unwinds the story gradually. At first, Mervin-turned-Joan is just a mom greeting listeners on the other side of the call. Then she pivots: she has something to get off her chest. Deep breaths. She explains that she is the mother of a trans woman, a "gorgeous, resilient" beautiful Black daughter. Images of Tony McDade, Dominique Rem'mie Fells, and Riah Milton—names often omitted at Black Lives Matter protests—jump to mind.
"Her life matters, Black cis man," she says. "Her dreams matter, Black cis woman. Yes your life matters, you matter, but so does she and so many others who are like her."
Instead of a big reveal, the action is diffused, her honesty and own self-education laid bare. Mervin lets herself transform into a mother who didn't accept her daughter for years. She sits with it and begins to weep. It's easy to imagine her at a kitchen table—back when it was still safe to do that—having the same conversation with a friend or relative.
In an announcement that she recorded for the festival, Mervin stands behind a silver-toned masquerade mask, quoting the first lines of poet Paul Laurence Dunbar's "We Wear The Mask." Then she brings it down. Music plays softly in the background.
"See when you're behind the mask, you can't fully be seen," she says. "You can't freely speak. It's hard to breathe. That's why Black voices matter. Because they can speak our truths. They can share our stories. They can write the narrative and reveal to the world who we really are. So that when they see us, they see us. Unmask our voice."
Playwrights included Lori Sinclair Minor, Terrence Riggins, Bryan-Keyth Wilson, Ife Michelle Gardin and Isaiah Reaves. Actors included Tamika Pettway, Rain Raphael, Valerie Brookshire, David Hannah, Jason Hall, Ria Alexander, Chris Regent, Chelsie Grant, Jacque Simone, Katrina Mervin. Following round ten, Sellem announced plans for rounds 11 and 12. More information is available at her website. To watch an interview with Sellem on WNHH Community Radio, click below.