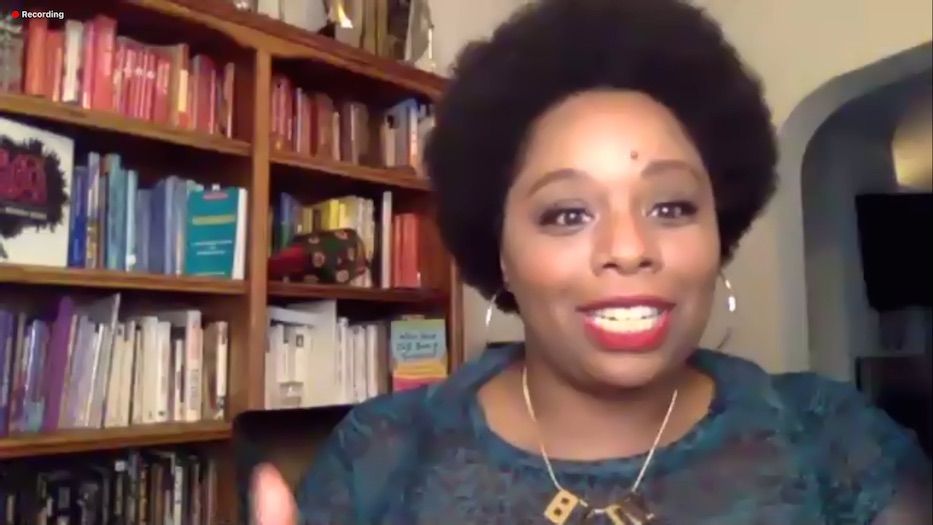 Culture & Community | Dr. Martin Luther King Jr. | Arts & Culture | Black Lives Matter | Yale University | COVID-19 | Arts & Anti-racism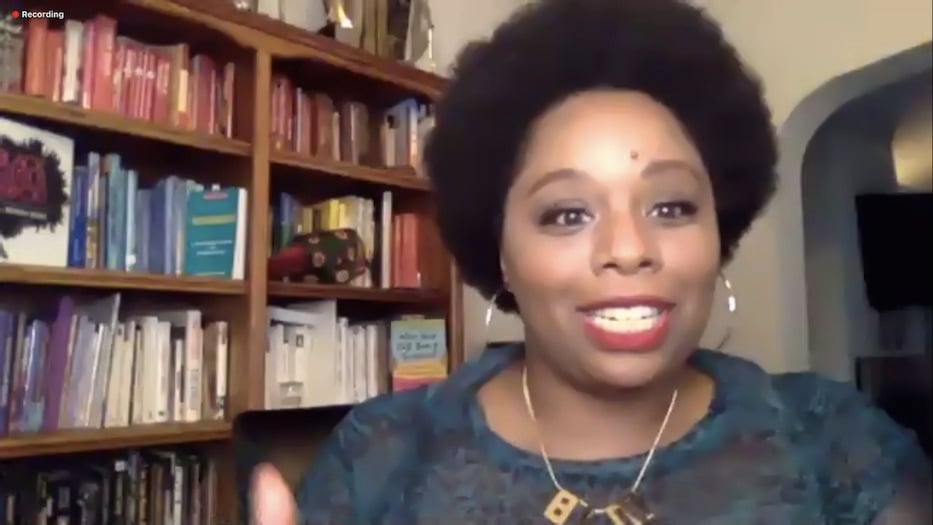 Patrisse Cullors Wednesday night.
White supremacy is alive and well. But culture—particularly that which lifts up, protects, and celebrates Black life—can be the antidote.
Black Lives Matter Co-Founder and Executive Director Patrisse Cullors and journalist Yamiche Alcindor brought that message to New Haven Wednesday night, in Yale University's annual Martin Luther King Jr. Keynote Address. Titled "The Work Ahead, The Work Within: Reflecting on King's Dream," the hour-long keynote featured a discussion between Cullors, who founded Black Lives Matter with Opal Tometi and Alicia Garza in 2013, and Alcindor, who is currently a White House correspondent for PBS Newshour.
For the first time in the university's history, it was billed as an intercollegiate event, with support from Gateway Community College, Quinnipiac University, and Southern Connecticut State University as well as the Afro-American Cultural Center at Yale and a bevy of university-affiliated institutions.
"What a wild four years it has been," Cullors said at the top of the discussion. "And so many people didn't make it through those four years. And I feel like the work I'm doing, and that Black Lives Matter is doing ... is a reflection that's building into the future."
The two began not with culture but with the absence of it, palpable in the vitriol lobbed against King during his lifetime, the ease with which white people have since co-opted and manipulated his words, and the violence of the white mob that stormed the U.S. Capitol earlier this month. On screen, both seemed to register the sheer weight of the moment, in which over 400,000 Americans have died as two parallel pandemics continue to ravage the country. They took a beat before they jumped in.
Don't act like everyone loved my father. He was assassinated. A 1967 poll reflected that he was one of the most hated men in America. Most hated. Many who quote him now and evoke him to deter justice today would likely hate, and may already hate, the authentic King. #MLK. pic.twitter.com/NF5yHxgi0R

— Be A King (@BerniceKing) May 29, 2020
Alcindor seized on a recent tweet from King's daughter Bernice A. King, pushing back against the celebratory deluge of quotes and rosy statements that accompany MLK Day each year. In the tweet, King noted that her father was, according to polling, one of the most hated men in America just a year before his death. Over 50 years later, many of the same people espousing hate, partisan violence, and election fraud twist his words for their benefit.
"Many who quote him now and evoke him to deter justice today would likely hate, and may already hate, the authentic King," she wrote.
As she reread King's statement, dozens of examples came to mind, including freshman U.S. Rep. Mary Miller, a congresswoman from Illinois who quoted Hitler and Martin Luther King, Jr. within two weeks of each other this January. Earlier this year, the New Haven Republicans also took to social media to celebrate King's legacy, while seeking policies that would grind it into oblivion.
"What does the authentic King tell you about this moment and how does that guide you?" Alcindor asked.
Cullors said she's been holding onto the idea of King's full humanity—both the fiery King who warned of the danger of the white moderate, and the King who took the time to reflect on and assess the sick nation that he saw before him. She recently discovered photographs of King's 1967 trip to Jamaica, during which he completed the first draft of his book Where Do We Go from Here: Chaos or Community?
What struck her, she said, were images of King that the public so rarely sees and discusses. Often, leaders are not expected or allowed "to be messy," and Black leaders especially. But these photos captured King in his contemplative, in-between moments—looking up from the clear blue water of a swimming pool, or sitting across from his wife, Coretta Scott King, at the dinner table. She was moved by the sense that he was taking time to consider the breadth of the situation before him.
She urged attendees to practice the same reflection when considering the present moment—including the newest residents of the White House. In her own life, she brings the authentic King into her fierce advocacy for Black liberation, and policy measures including the BREATHE Act, which would take federal dollars out of law enforcement and the carceral state.
"As we move into a new administration, now is the time more than even for us to remain vigilant about white moderates," she said. "I wholeheartedly believe that this administration has to move forward in really creating a Black agenda."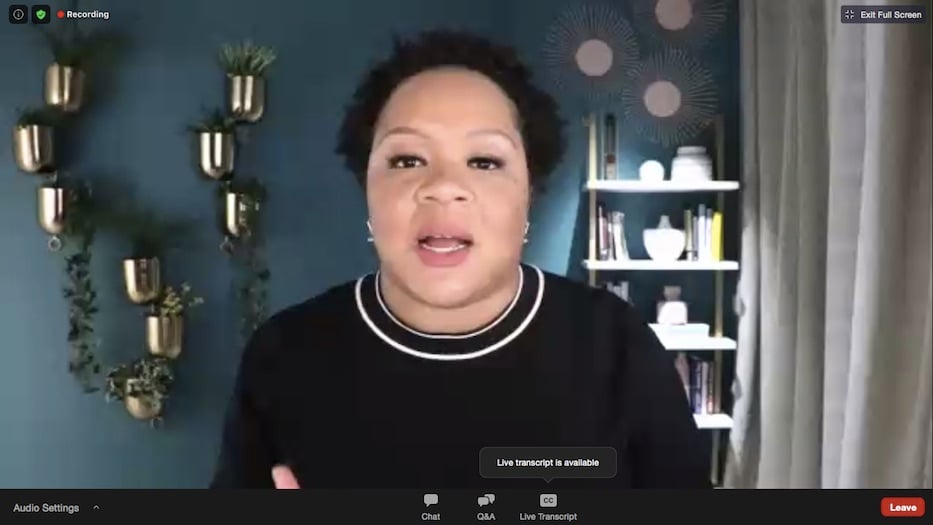 "This reminds me that as reporters, as a society, we have to keep saying it," Alcindor said at one point. "We have to keep saying that white supremacy was at the heart of this."
Whether it will do so remains a question on her mind. She brought the audience back to the afternoon of January 6, as she watched a white mob that included "police, real estate agents, firefighters, suburban moms," several men in redface, and Nazi sympathizers breach the U.S. Capitol building in an attempt to injure and assassinate elected officials. Her first thought was: what if the protesters had been Black?
"It finally seared into the American public that white supremacy is alive and well, and that it exists everywhere, and that we have to do something about it," she said. "These folks were there to capture and kill elected officials. And that idea that these are just ignorant and stupid people really does undermine what they were trying to do."
Her second though, amidst calls for national unification, was that it is not the time to wait patiently for a new presidential administration to craft policy in response to white nationalism and terror. Often, she said, Black organizers are told to give the legislative system time to work up to their demands. When they push back, they're labeled as radical, just as King was labeled a communist and terrorist during his lifetime.
She recalled one of her earliest actions, as she and fellow organizers appeared before the all-white Santa Monica City Council. Members of the council, all Democrats on paper, told her "that our group was asking for too much, too soon." In the time that legislators wait, she said Wednesday, more Black people die at the hands of law enforcement. More Black students are harassed in their educational environments, some in schools that have cops but not guidance counselors.
"Waiting doesn't actually get us anywhere," she said. "It's when we push and challenge … If it only works for one group of people, then it's not Democracy. White people in particular can differentiate themselves from the white people at the Capitol, but what are you doing when another Black life is taken? What are you doing when children in your schools are being attacked and harassed by police?"
She added that to her very real, constant fear of white supremacy, she sees arts, culture and education as potent remedies. An artist herself, she pointed to the genesis of the Black Lives Matter movement, which began as a policy-oriented platform after the murder of Trayvon Martin and non-indictment of his killer, George Zimmerman, in July 2013. As the hashtag #BlackLivesMatter gained momentum in protests across the country—and on social media—it became a cultural movement unto itself.
"Culture also shapes policy," she said. "Think about it. Black Lives Matter goes viral in 2014, and it becomes a cultural phenomenon. Black Lives Matter became popular because it changed our culture, it reorganized how we arrange our culture."
She said that she sees the red-hatted vitriol of MAGA, which defined Donald Trump's candidacy and time in the White House, as a direct attack on the Black Lives Matter movement. Even as MAGA fought it, Black Lives Matter galvanized millions of people to march, protest, and push anti-racist policy and education initiatives on local, state, and federal levels. Last summer saw more white and non-Black people of color allies at protests than any other point in American history—even in the midst of the Covid-19 pandemic.
Black art, she continued, has a particularly rich legacy of social justice. She recalled watching a recent episode of Misha Green's Lovecraft Country, in which the character Hippolyta Freeman travels to another planet. The episode, full of art and music, ultimately doubles as a love song to Afrofuturism, Black genius, and the majesty of Black womanhood.
She pointed to the singular power of Black women within cultural and organizing movements, noting that they are often robbed of the credit—and the compensation—that is their birthright. She noted that there are currently no Black women in the Senate, as if the tradeoff for Kamala Harris' vice presidency was a step backwards elsewhere in government. She looked to Stacey Abrams, whose 2018 run for Georgia governor was thwarted by voter suppression. Last November, Abrams went on to help a Democrat win Georgia for the first time in 28 years.
"I think there has to be a sort of complete forward face with what really exists," she said. "We live in a system that is not just wedded to white supremacy, but wedded to white people in power. We know that Black people have the skills and the capacity. We are often relegated to the sidelines.
"From there, I think Black women are owed the world," she continued. "And that is going to take a dramatic shift when it comes to white people and their need to be in power."